Zermatt Must-READ Guide
This article may contain affiliate/compensated links. For full information, please see our disclaimer here.
Zermatt's History:
Zermatt is all what you have thought of and more….it is a chocolate-box village – quintessentially Swiss, that have been hosting guests for many years – mainly those trying to reach the peak of the Matterhorn. The area had human traces from 8,000 to the 1,800 BC with the "Schwarze Tschugge" shelter at Schwarzsee, a cup-marked stone at Ofenen, above Zmutt and a stone axe blade from the Theodul Pass. The Theodul Pass was used as a crossover and trade route for the Romans for finding coins and the Romanised Celts.
On the 8th century the Alemannic took possession of Upper Valais and German replaced Latin. But speed the time forward to 13th August 1792 when Genevese scholar Horace Bénédict de Saussure climbed the Klein Matterhorn. From the Theodul glacier, he determined the height of the Matterhorn to be 4,501.7 m (today 4,477.5 m) using a 50-foot-long chain spread out on the glacier and a sextant.
In 1813 the Breithorn is the first four-thousand-metre peak to be climbed.
In 1839 Zermatt surgeon Lauber opens the first inn (hotel Cervie) with three beds. Today is Hotel Monte Rosa.
It is not until 1852 that State councillor Jos. Anton Clemenz from Visp builds his Hotel Mont Cervin with 14 beds. A post office was opened and the post was carried back and forth to Visp by foot.
In 1853-54 Alexander Seiler, originally from Blitzingen in the Goms Valley, leased Lauber's inn. He purchased it in 1854 and expanded it into the "Hotel Monte Rosa" with 35 beds.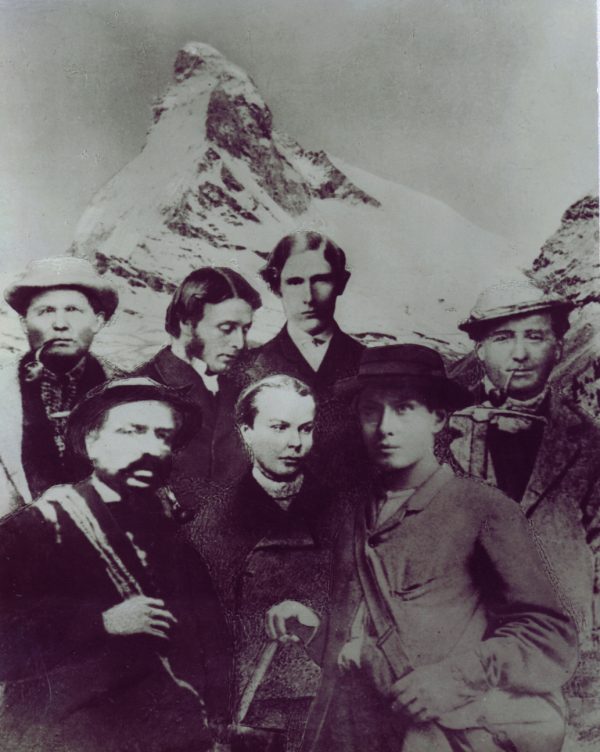 In 1858 the Zermatt Mountain Guide Association (Berfgführerverein Zermatt) was founded.
On 14th July 1865, together with Zermatt mountain guides Peter Taugwalder senior and junior (father and son), the mountain guide Michel Croz from Le Tour near Chamonix and the Englishmen Rev. Charles Hudson, Douglas Robert Hadow and Lord Francis Douglas, Edward Whymper was the first to reach the top of the Matterhorn via Hörnligrat.
Croz, Hudson, Hadow and Douglas perished in an accident during the descent.
American author Mark Twain composed the comic story "Combing the Riffelberg" while visiting Zermatt in 1878.
In 1879, the citizens opened the Hotel Zermatt, what today is the Grand Hotel Zermatterhof- which was partially constructed using forced labour.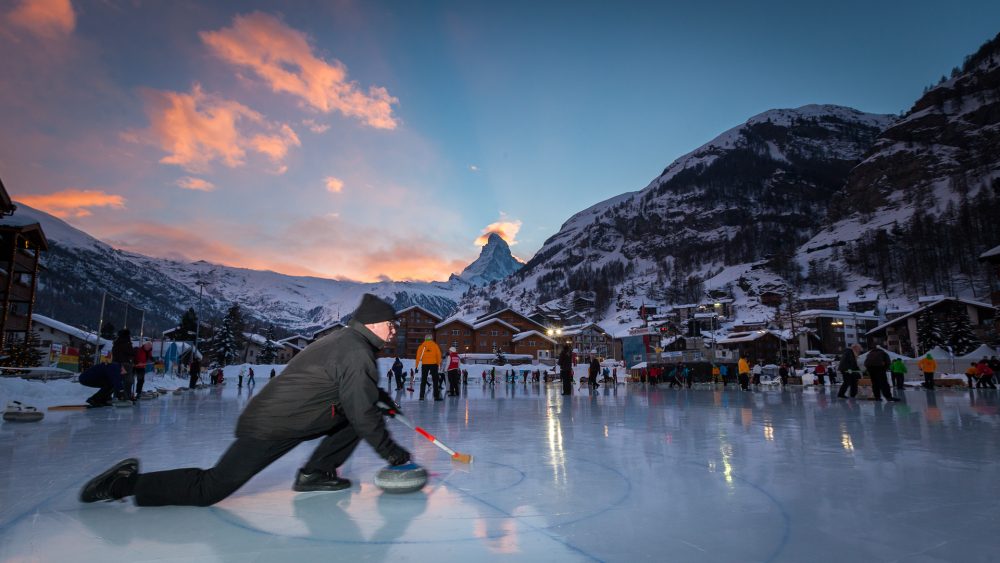 In 1884, after six years of construction, the Hotel Riffelalp with 150 beds was opened.
It was on 6th July 1891 that the steam-operated Visp-Zermatt railway (VZ) went into operation. Until 1933, it only operated in summer, from May 1st to October 31st. The first train to leave on schedule from Zermatt took along the coffin with the corpse of Alexander Seiler.
Getting there:
Arriving via the Glacier Express to Zermatt, in a slow and pleasant ride going up the mountain- in a train with big windows to absorb all the views and awe at the landscape, you get into a town boxed in the mountains. Zermatt lays in a narrow valley with the towering Matterhorn crowning it, viewable from all points.
The train station is located at the beginning of the Bahnhofstrasse, the main drive in Zermatt, where hotels, restaurants and shops stand elbow-to-elbow trying to catch your attention.
Cars are not allowed in Zermatt, and if you drive, you need to leave your car in Täsch – the first town down valley, and jump into the train to arrive to the main station. Then in town, all hotels and some apartments have these electric cars that pick you up from the station and shuttle you to your property – these cars are a mixture of golf carts with a proper chassis – produced in Zermatt and über expensive to buy first hand. When you walk, you have to watch your back for them. They are silent and they drive like the clappers! Second time around, I was a bit more used to these mad cars, so I was not so stressed about them.
Shopping
Go to Bahnhofstrasse to binge in jewellery and watch stores, sports clothing, boutiques, chocolate and delicatessen shops, and bars and restaurants where to hang out. That is the place to be.
Food glorious food
There are more than 58 restaurants to eat in the village, with choices to all tastes.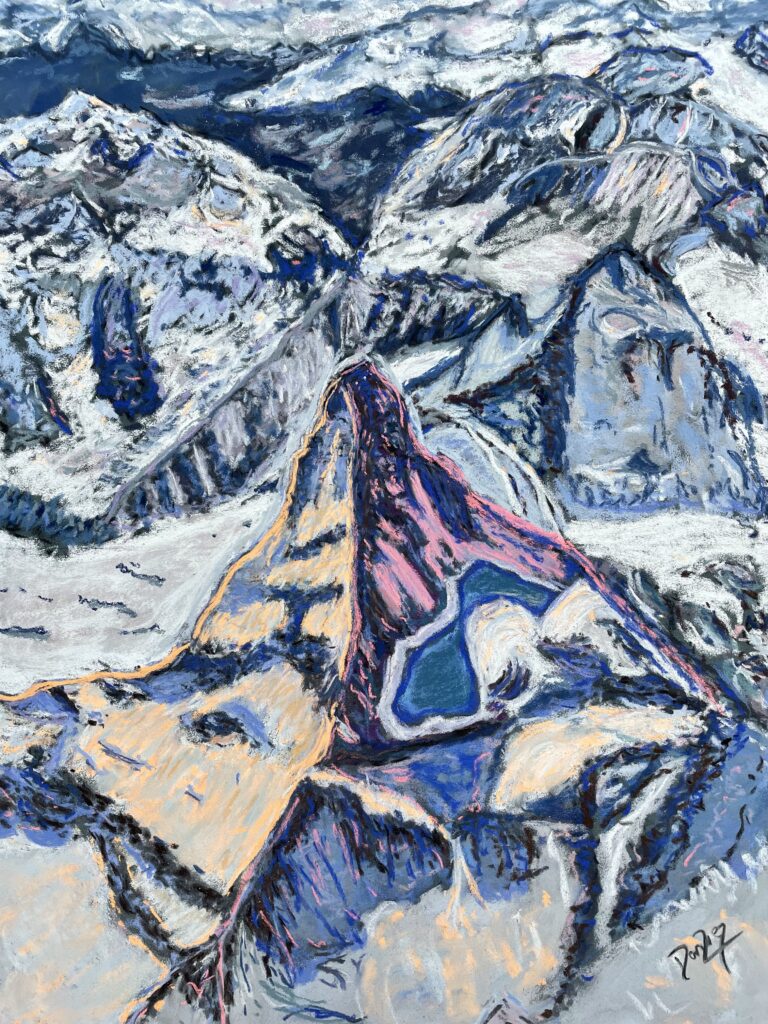 Some to take into consideration are:
– Restaurant Schäferstube, excellent for Swiss food (cheese) and amazing lamb.
https://www.julen.ch/en/schaeferstube/welcome/
–          Restaurant Chez Heiny also very well known for its lamb, and its entertainment. Mr Heiny is a well-known entertainer in Zermatt: https://www.chezheini.com/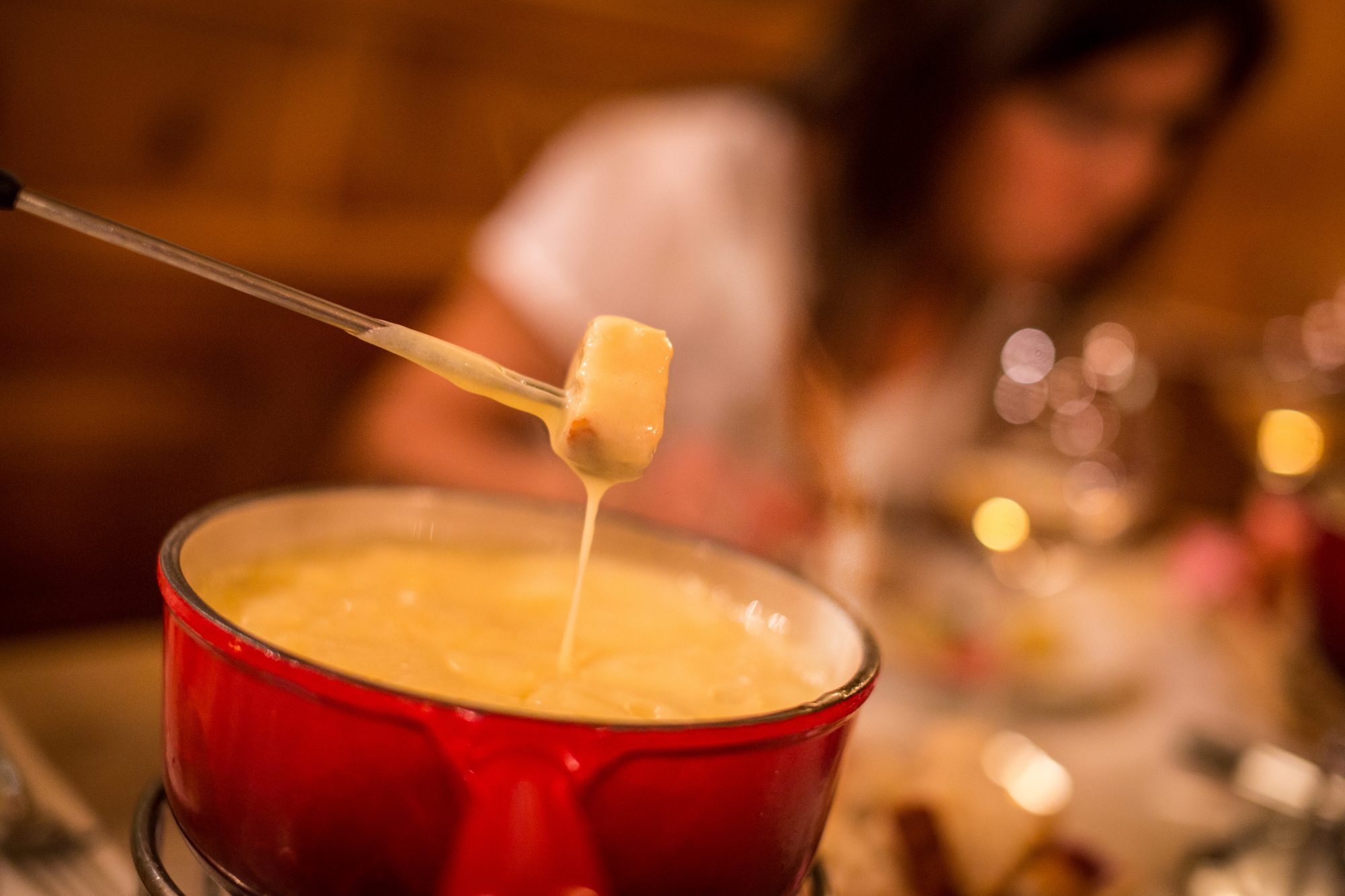 –          Restaurant Grampi's: Best restaurant for Italian food. Also great for spare ribs with a cool atmosphere: http://grampis.ch/
–          Restaurant Avena: Best Tatar in town http://www.avena-zermatt.ch/
–          Restaurant Le Gitan: Very well known for its Grill and potato gratin: https://www.legitan.ch/
–        1818 Eat & Drink, belongs to the Seiler hotels (owners of the Mont Cervin Palace and Hotel Monterosa). Tucked away on a side street, it boasts a lovely terrace for aperitivo and some light food. The restaurant is lovely decorated in a rustic chic style, over two floors. Go for a hot Josper charcoal grill with a carefully composed selection of wines and spirits and a unique atmosphere. http://www.1818zermatt.ch/en
Eating on the pistes
Fast food / Self Service:
–          Restaurant Sunnegga: http://www.matterhorn-group.ch/en/restaurants/rothorn/buffet-bar-sunnegga/
–          Restaurant Riffelberg: http://www.matterhorn-group.ch/en/restaurants/gornergrat/berghaus-gruensee/
–          Restaurant Trockener Steg: http://www.matterhorn-group.ch/en/restaurants/matterhorn-glacier-paradise/ice-buffet-bar-pizzeria/ice-buffet-bar/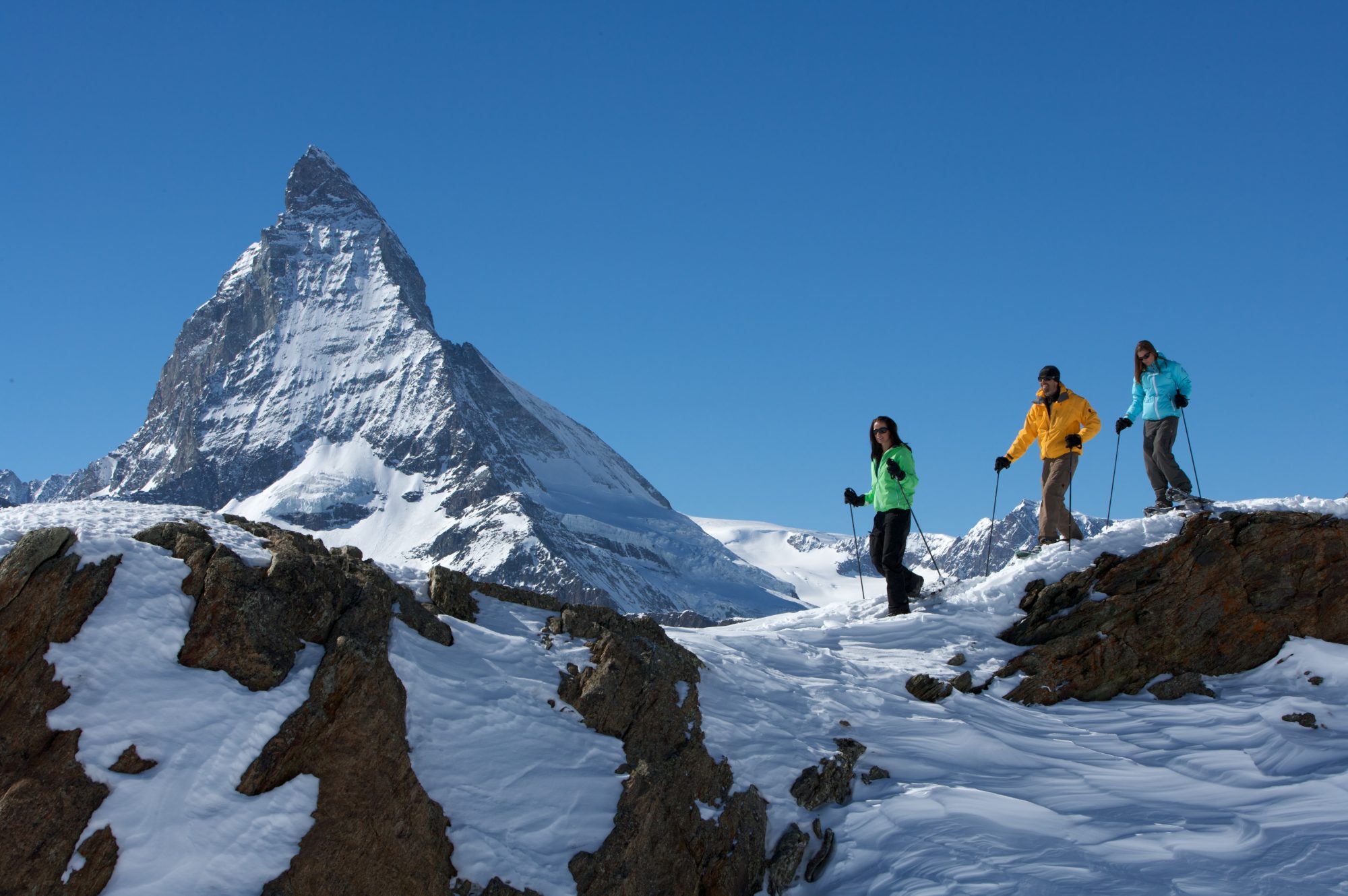 Good Pizza:
–          Restaurant Rothorn: http://www.matterhorn-group.ch/de/berghaeuser-restaurants/rothorn/restaurant-rothorn/
Great view and amazing food. You need reserve beforehand!
–          Restaurant Fluhalp, Fluhalp: https://www.fluhalp-zermatt.ch/
–          Restaurant Paradise, Findeln: https://www.paradies-zermatt.ch/
–          Restaurant Chez Vrony, Findeln: http://www.chezvrony.ch/de/restaurant/index.php
–          Restaurant Enzian, Findeln: https://www.zermatt.ch/en/Media/Restaurants-bars-clubs/mountain-restaurant-Zermatt-Enzian
–          Restaurant Findlerhof, Findeln: http://www.findlerhof.ch/
–          Restaurant Blatten, Blatten: https://blatten-zermatt.ch/welcome/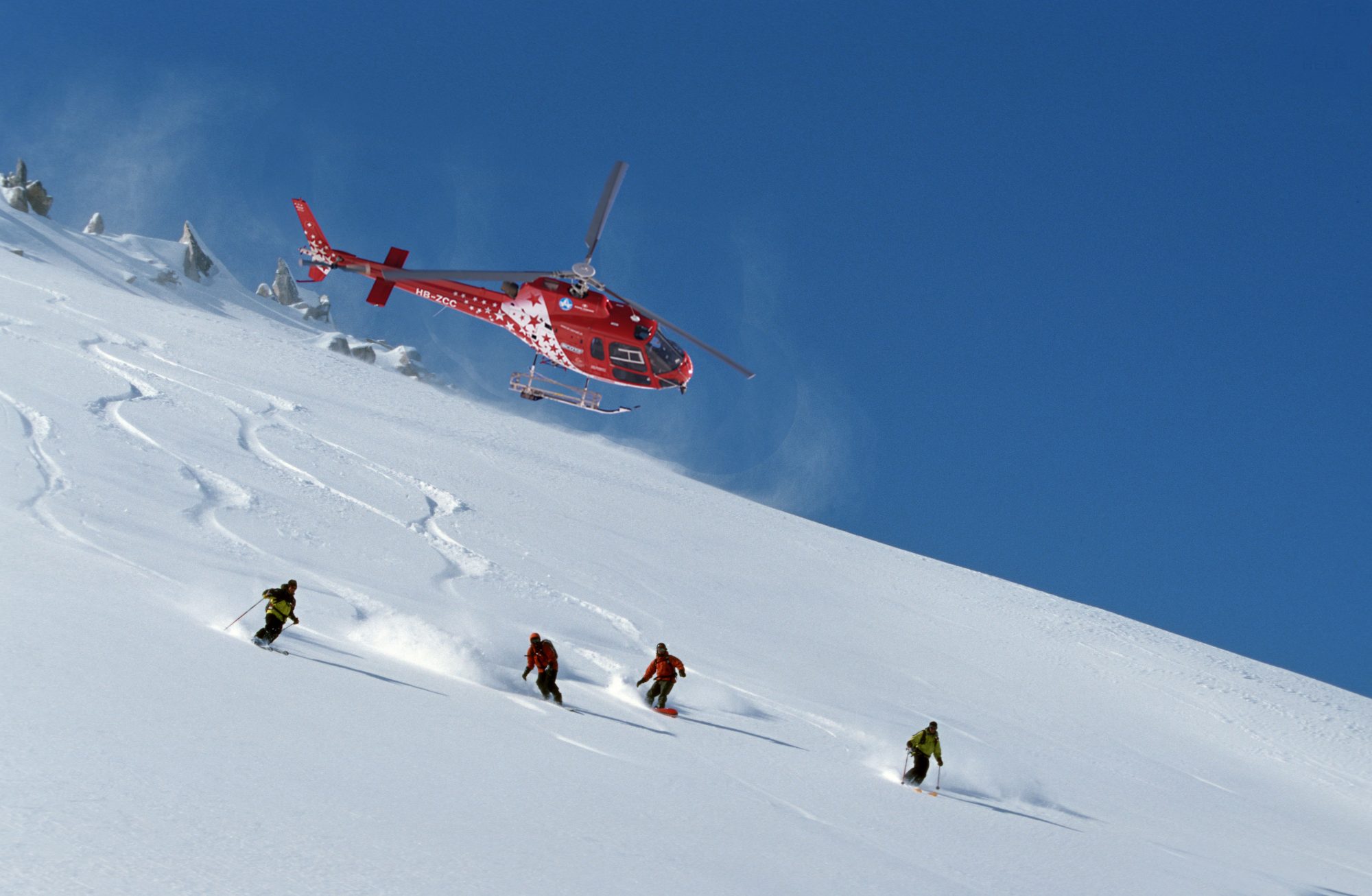 Après on the pistes
–          Igloo villlage: http://www.iglu-dorf.com/en/standorte/zermatt
–          Hennustall: https://www.hennustall.ch/
Après in town
–          Papperla Pub Bar: https://www.julen.ch/en/papperla-pub/welcome/
–          Cervo Terrace: https://www.cervo.ch/de/restaurants/
–          Harry's bar: https://www.matterhornlodge.ch/de/matterhorn-lodge/harry-s-skibar
–     Restaurant Bar Snowboat: http://zermattsnowboat.com/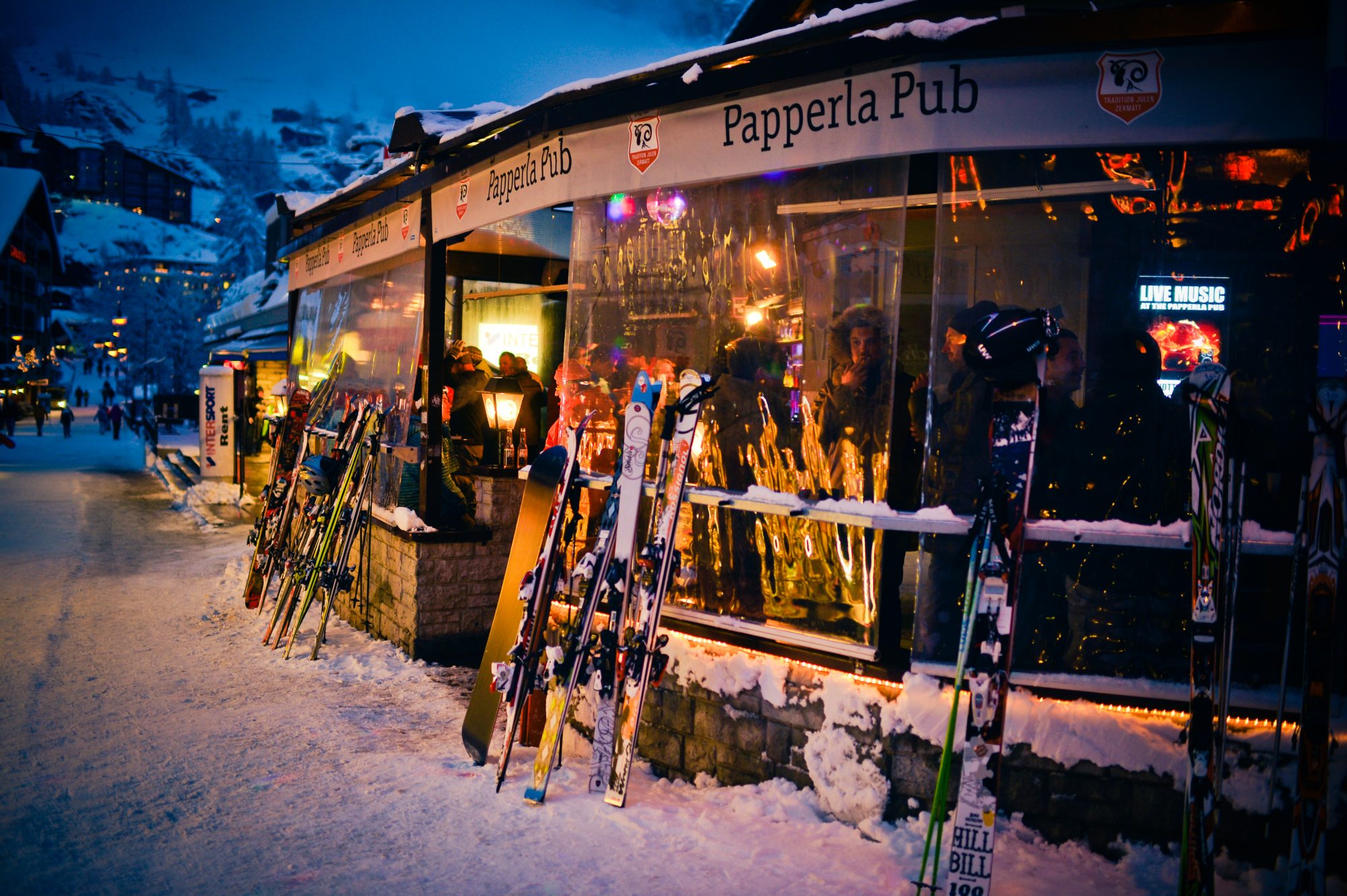 Discos:
Try Cuckoo Club, Vernissage (Bar), the Broken Bar Disco, the Loft Club clubbing 25+ or the Pink Live Music Bar.
If being surrounded in smoke is your thing, there are several cigar bars in Zermatt: the Alex Lounge and Cigar Bar, the Alpenroyal, Bar 55, Berghof, Cervo Bar Lounge, the Cuckoo Club, Davidoff Lounge, Joseph, Restaurant Alpenhof – Cigar Lounge and Stats Bar,
Other entertainment in town
For those that don't ski/won't ski there are other things to do in town: from snowshoeing, hiking, normal winter hiking, sledging, ice skating, curling and paragliding. https://www.zermatt.ch/en/active-in-winter
I had the chance to go up to Furi and had dinner there and following we were given old wooden sledges and headlamps and off we went sledging down into town, in a very long and winding road. This was such a laugh… it took me half of the run down to figure out how to turn the sledge, I seemed to do it the other way around. We were a bunch of people from all over the world and I really don't know how we did not have an accident, more as we all had a couple of drinks up in the mountain! Maybe be careful if you attempt it yourself!
Or if you prefer something more leisurely, there are great spas with swimming pools opened to external guests from hotels. More information here: https://www.zermatt.ch/en/wellness
The Ski Area
Slopes in Zermatt – 200 km slopes of all difficulties; 21 km slopes in the summer.
Slopes in Cervinia/Valtourneche: 160 km slopes of all difficulties.
Slopes in the Matterhorn ski paradise: 360 km slopes of all difficulty levels.
Longest slope: 25 km (Matterhorn glacier paradise – Zermatt)
Black/yellow slopes: 64.1 km/ 17.9%
Red slopes: 220 km/61.4%
Blue slopes: 74.2 km / 20.7%
Lifts Zermatt Bergbahnen AG: 32
Lifts Cervinia/Valtourneche: 20
Lifts Matterhorn ski paradise: 52
Freestyle Zermatt (Summer & Winter): 1 Superpipe & 1 Freestyle-park "Snowpark Zermatt:
Artificial snow: 75% of slopes are covered in artificial snow or situated on glaciers.
Highest point: 3,899 m (Gobba di Rollin)
Lowest point: 1,620 m (Valley stations)
Vertical drop: 2,279 m.
How to ski the mountain depending your level of skiing.
For Beginners
As a beginner, these are the best places in the mountain for beginners
–          Wolli park at Sunnegga
–          Beginner park at Riffelberg
–          Beginner park at Schwarzsees
For Intermediates
The best blue slopes are in the Sunnegga region as well as at the Gornergrat (Gifthitli lift). Please find the yellow marked area below.
For Advanced
The rest of the mountain is perfect for the advanced. Some great options for advanced skiers are the red slopes at Sunnegga / Rothorn: numbers 4,9 and 11.
For Experts – 
Freeskiing or free boarding areas
The best free skiing areas if there is enough snow, are the following:
All yellow marked areas plus the glacier at Monte Rose massive. Heli-skiing in Zermatt is AMAZING!!
https://www.air-zermatt.ch/wordpress/en/fly/tourist-flights-zermatt/heliskiing-zermatt/
Ski schools: 
There are several ski schools in Zermatt. Here you can get an overview here:https://www.zermatt.ch/en/ski-schools
The 3 official schools are the Swiss certified schools: Zermatters, Stoked and Brato Borni
You can also check the CheckYeti app or website and pre-reserve your ski/snowboard school lessons, just click Zermatt in the search area and you'll see all the different ski schools and what they are offering for group and private lessons and voilà! You will reserve your lesson in no time!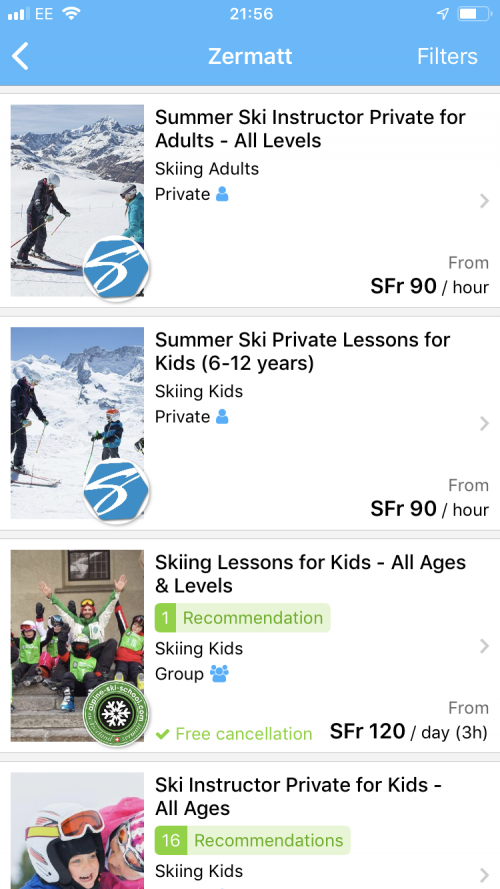 Mountain Guides contact
The mountain office is at the Alpine Center: https://www.zermatters.ch/winter/guides/ski
Lockers
Zermatt is a very long valley and the chance that you are ski in/out is very slim. So the best you can do is rent a locker by any of the three departures points and leave your equipment overnight there. The lockers are at rental shops: the Dorsaz at the Matterhorn Express, the Bayard at Sunnegga and Gornergrat.
A great solution is to use the overnight storage facilities located at the hire shops at all three of the ski departure points.
Rental shops:
If you don't bring your own skis, I would suggest using the same shops for your rentals, for me the important is that equipment is good and you can leave your equipment next to the lift!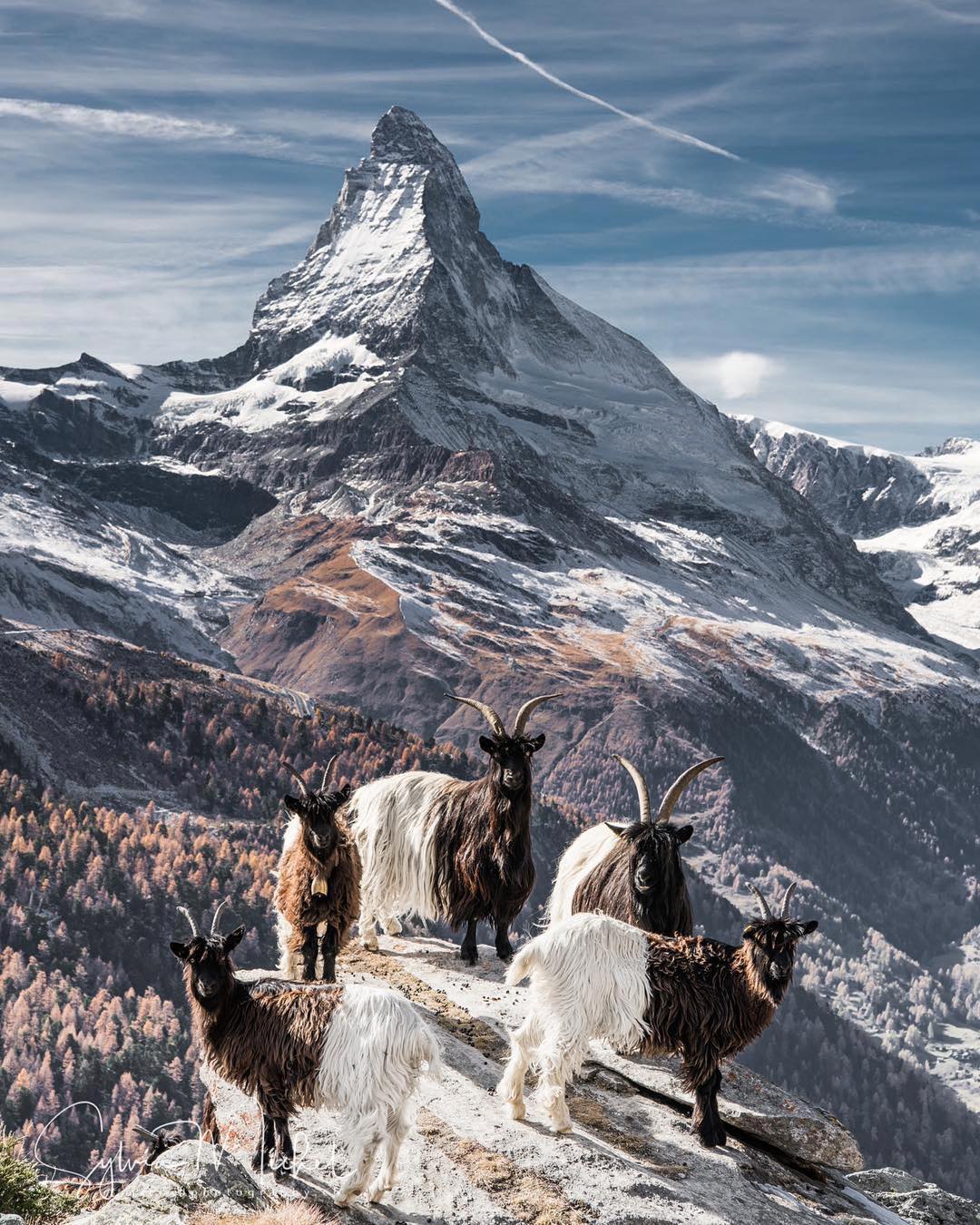 Zermatt in the summer:
Zermatt is amazing in the summer; it is a very big playground for hiking/trekking, mountain climb, mountain biking and even summer skiing on the glacier. There is also a 9-hole course in the upper Matter valley between Täsch and Randa, framed by Switzerland's highest mountains.
A visit up the Gornergrat is a must in any season. The highest open-air rack railway in the world takes you to the top of the Gornegrat with magnificent views of the Matterhorn and all the surrounding mountains.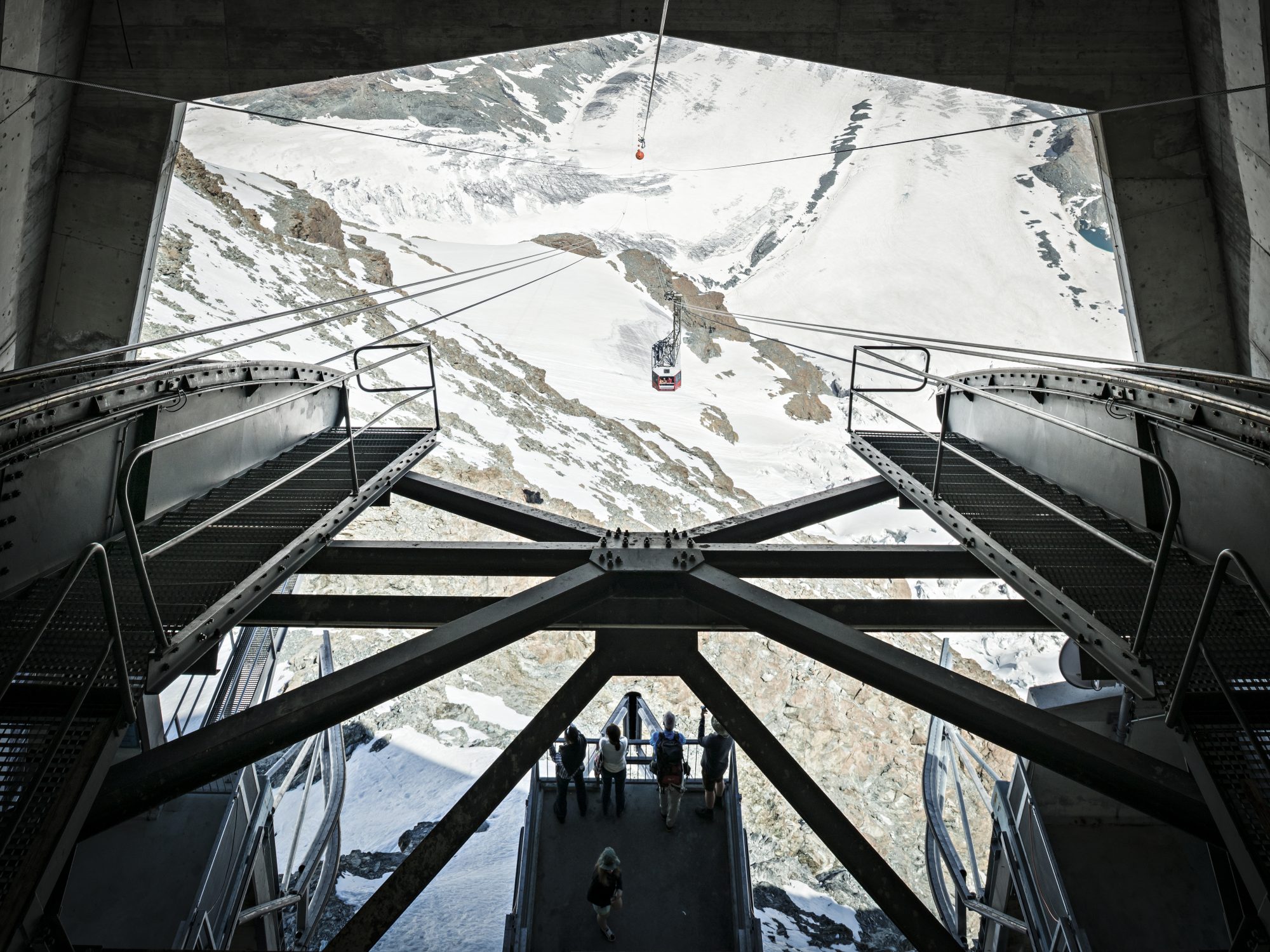 Where to sleep:
Mont Cervin Palace 5*: 
A quintessentially 5 stars deluxe hotel located in Bahnhofstrasse. Rooms are in the main building, Villa Margarita, another outbuilding called Le Petit Cervin and the family rooms are at Le Residence. All buildings are interconnected.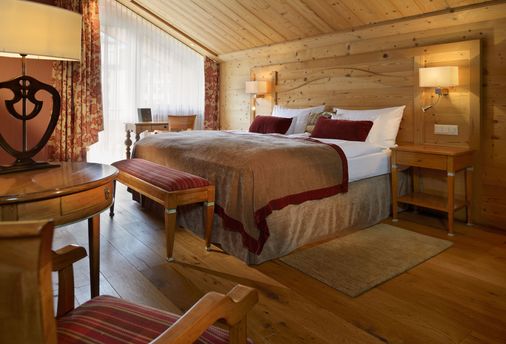 Dine at Le Restaurant; at the Grill Le Cervin offering special meat dishes with 14 Gault-Millau points; be a guest at the Kitchen Chef's table and see how it all works on the go; eat Japanese at Myoko,; enjoy the Italian flavours at the 17 Gault-Milliau points and Michelin star Ristorante Capri; or eat a fondue at the cellar of Le Petit Cervin at the Carnotzet.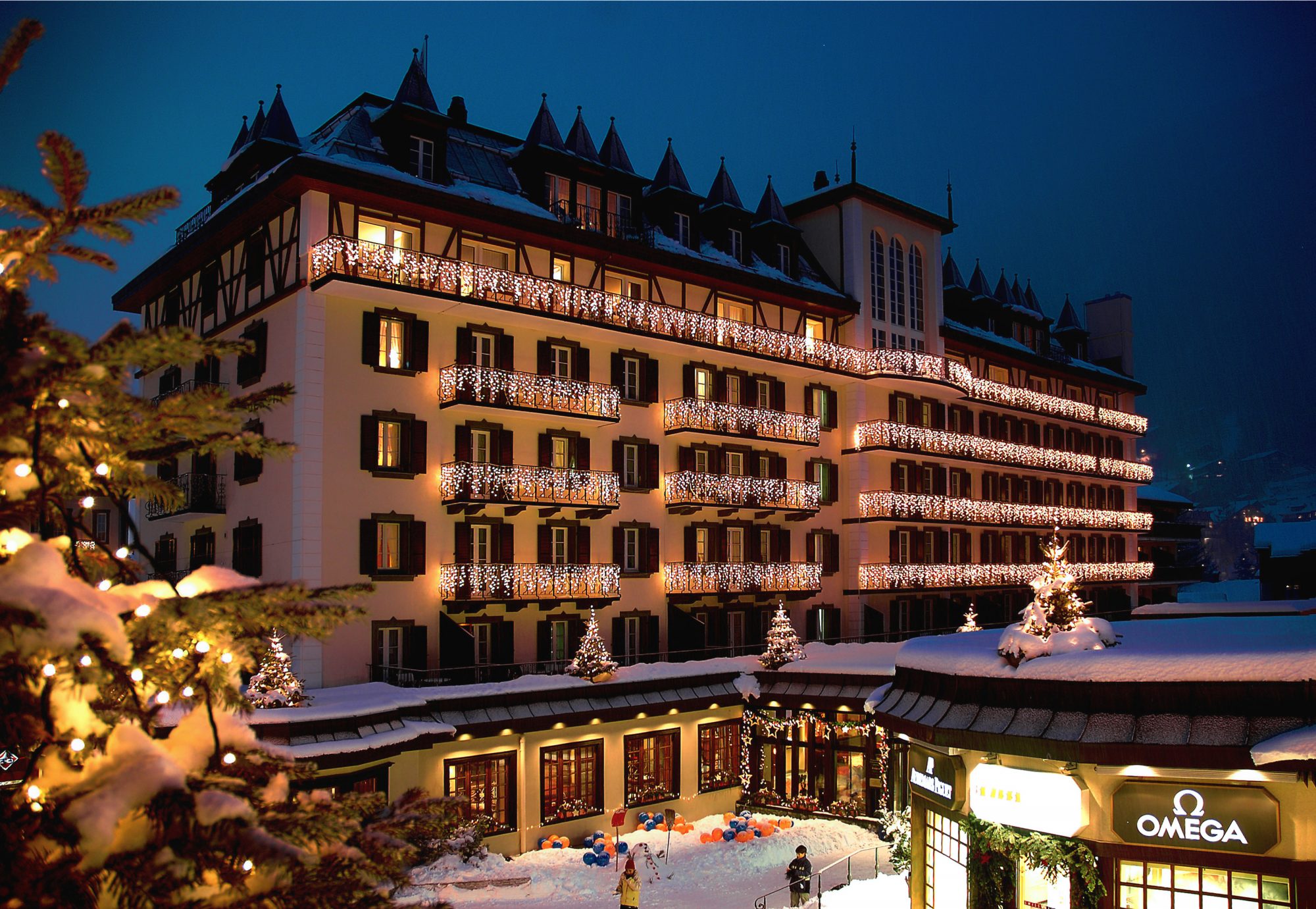 Check out more on the Mont Cervin Palace
Grand Hotel Zermatterhof 5*:
Very traditional 5* hotels centrally located in the Zermatt village. Arrive in style in a carriage drawn by horses (same as the Mont Cervin Palace), enjoy the luxurious rooms, spa and restaurants: from the Alpine Gourmet Prato Borni, showcasing the produce from the Valais region with a new and imaginative twist. This restaurant has been awarded 15 points from Gault-Millau. A more relaxed option is the Brasserie Lusi, uncomplicated French cuisine as well as classic international dishes.
If you are looking a classical Swiss fondue, just go to "saycheese!". Maybe you want to go before or after dinner to the Ruden Bar for an aperitif or digestif!
Riffelalp Resort 2222m 5*:
Reach this delightful hotel taking the train up the Gornegrat and get off at the second stop: Riffelalp at 2211 m., and from there either you can walk for 10' or wait for the red little tram to take you to the door of the resort. Settled at 2222m with unobstructed views of the Matterhorn and surrounded by sheep, this is a beautiful spot where to stay. From here you can have an early start and ski before the pistes get crowded, and later soak in the pool with views of the Matterhorn. What else could be better?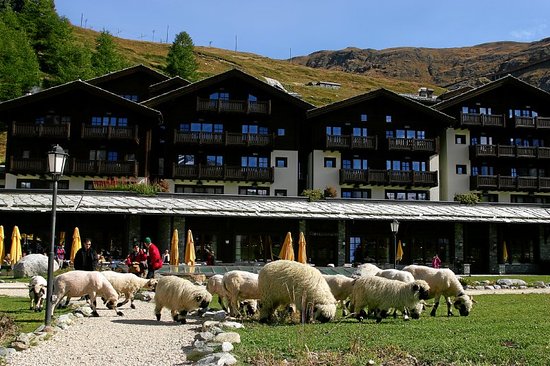 Beautifully decorated, it has some sheep sculptures in different colours all over the hotel. The hotel counts with 65 rooms, 5 suites plus 2 apartments, with a total of 140 beds. Chef Luigi Lafranco is in charge of the menu at the Ristorante Al Bosco and the bar 2,222m during the day time and at night time in both sites plus at the Restaurant Alexandre- a 5 star restaurant to chill out.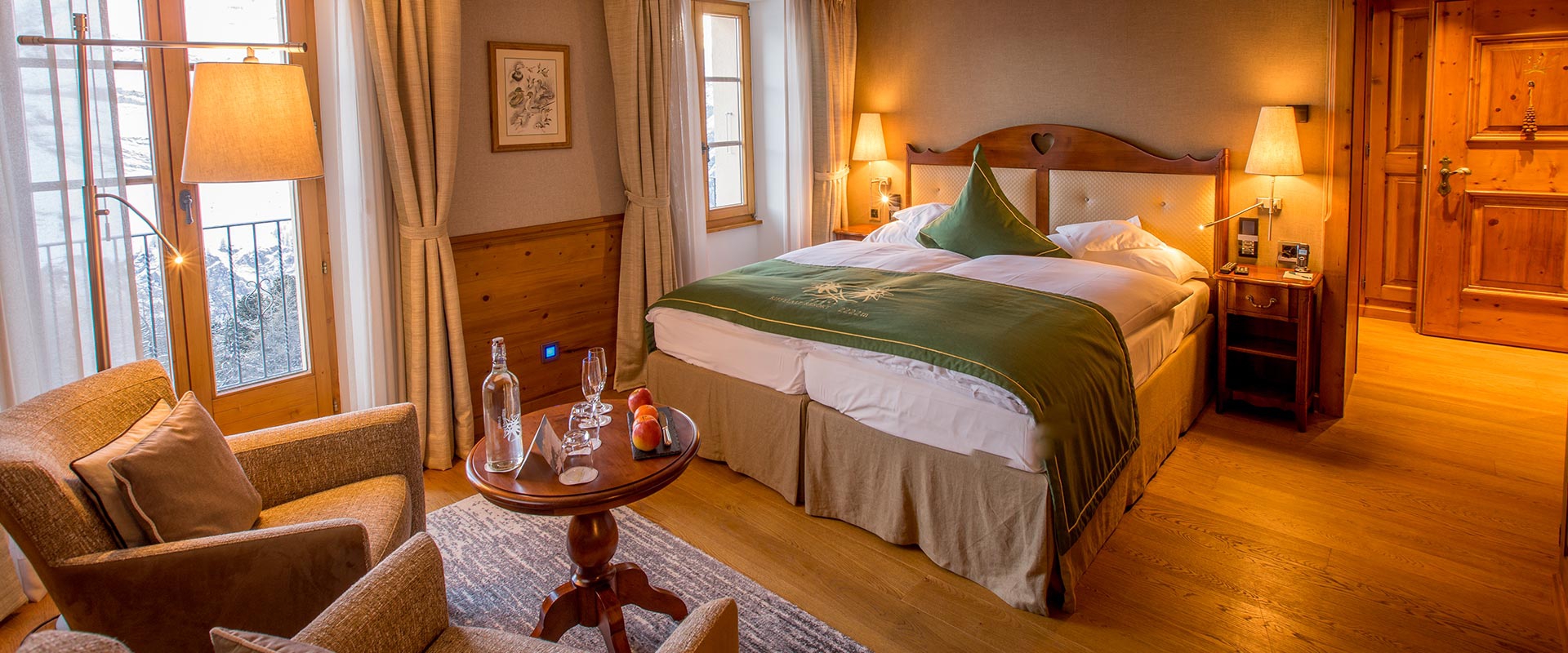 The Wellness area has an indoor and outdoor pool (Europe's highest with a superb view to the Matterhorn), massage area, sun deck, steam bath, Finnish sauna, Shönbiel Cave, Chriiter-Grotta with saline baths and waterfalls, a whirlpool, a relaxation room, an organic sauna and a mini fitness area with solarium.
Cervo Zermatt 5*:
Located in a ski in location, at the end of the Untere National and Ried red pistes, just across from the lift that takes you down into the village or to take the Sunnega funicular up to Sunnegga (2288 m), the Cervo has a main building with its amenities and 6 chalets with own spas, complimentary alcohol free minibars, some rooms offer balconies and pitched ceilings with views of the Matterhorn. The bar at the Cervo is very lively for the après ski or at any time, featuring an inviting terrace with amazing views of the Matterhorn. Decoration features wood and stone, and the hotel is a mixture of a skiing and a hunting lodge.
Cervo Puro restaurant mixes a cosmopolitan and alpine cosiness feel, with a new menu every week. It boasts 14 Gault-Millau points. Ferdinand serves Swiss and international dishes. It is a place to go for fondue, and you'll have amazing mountain views.
More on Cervo Mountain Boutique Resort
The Omnia 5*
Perched on a rock, very nearby the 1818 restaurant, turning right from the Hotel Monterosa towards the mountain, you have to access the Omnia through an elevator carved in the rock – it made me feel as if I was in a James Bond movie! You have the option to get up the long winding staircase outside, if you prefer that.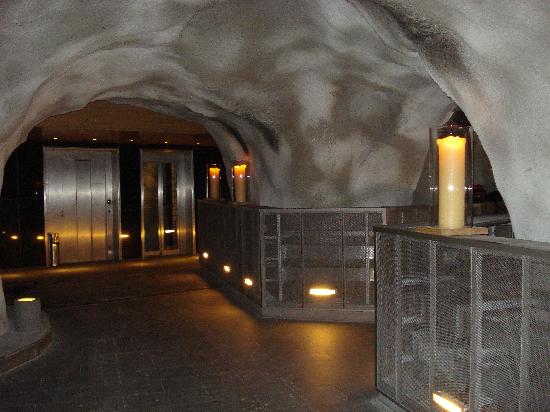 The hotel is pretty modern and net, with design furniture and amazing views of the Matterhorn. Designed by NY architect Ali Tayar (1959-2016), it offers 30 rooms including 12 suites, a library with a fireplace, restaurant with fireplace, a lounge bar, a Cavern-club, cinema and Wellness Center. It also boasts a very inviting terrace, where I enjoyed some aperitivos. I could imagine I could be sold anything at that terrace, just watching the views of the Matterhorn and the town beneath my feet!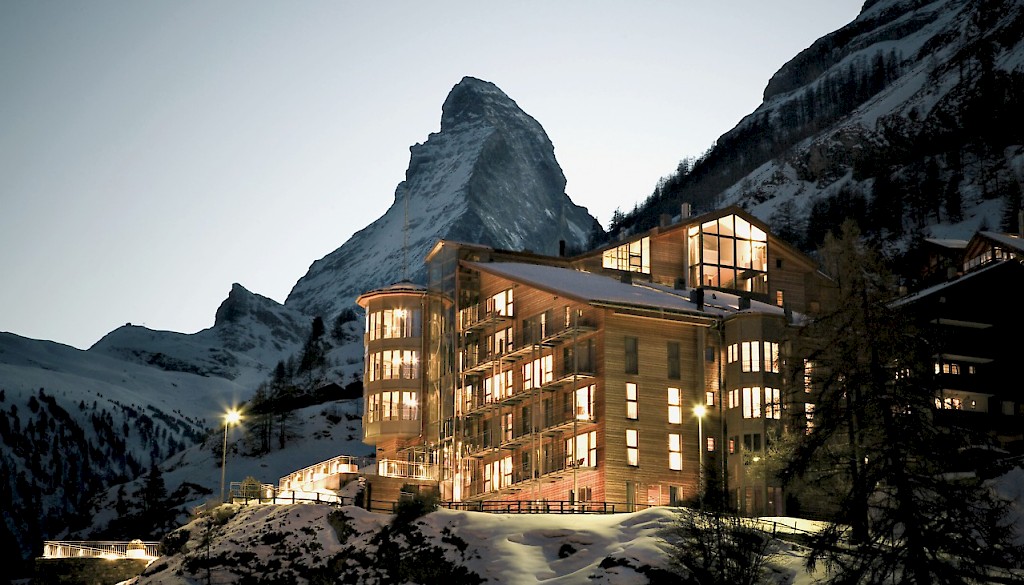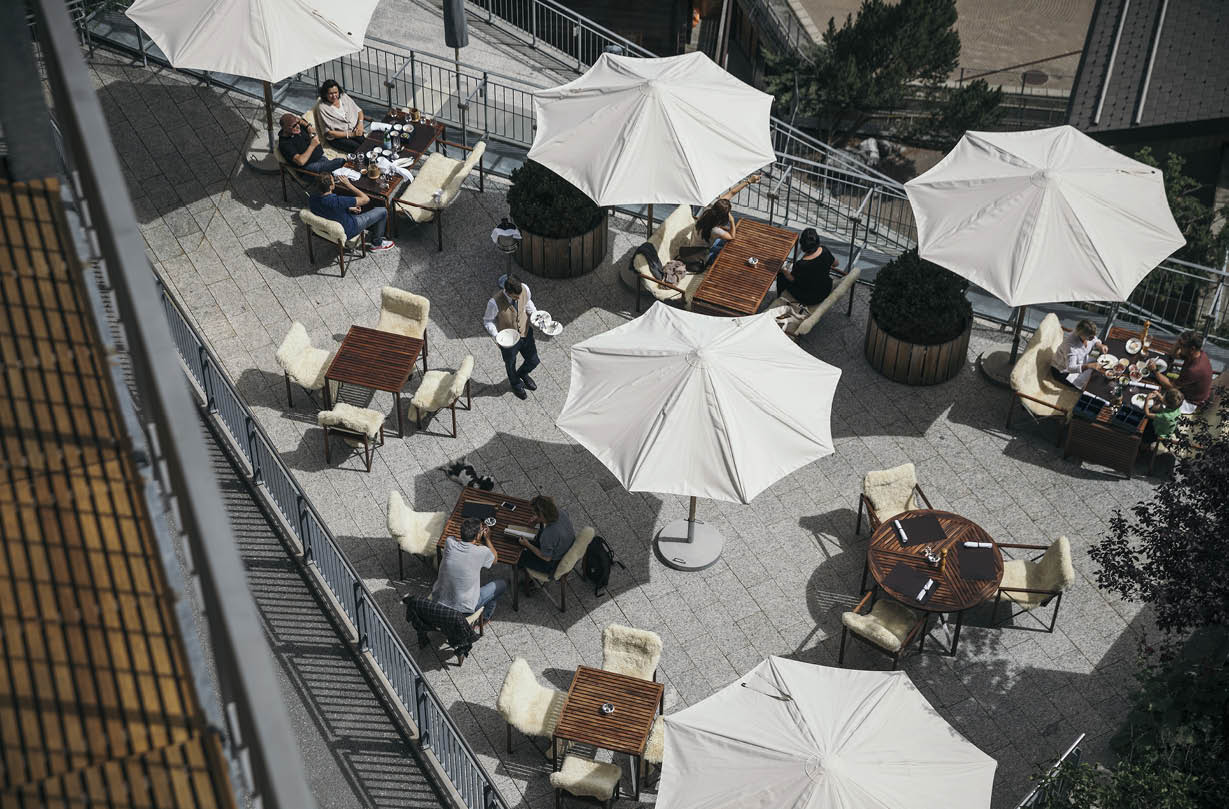 More on The Omnia Zermatt.
Hotel Monte Rosa 4*:
 The first hotel in Zermatt, founded in 1839 by Surgeon Lauber and first called Hotel Cervie. It had at first three rooms; then it was leased in 1853 and bought in 1854 by Alexander Seiler who named it "Hotel Monte Rosa" and expanded it to have 35 beds. It oozes history and invites you in with its original floor – which is pretty uneven and makes you watch your step, more if you had a tipple or two – and lovely details all over the hotel. The 41 rooms are spacious and generous; some have views of the Matterhorn or over town of Zermatt.
It was from the Hotel Monte Rosa that Edward Whymper set out to conquer the Matterhorn in July 1865. His conquer of the summit got overshadowed as in the descent, four of the men in his tour fall to their deaths from the north face of the mountain.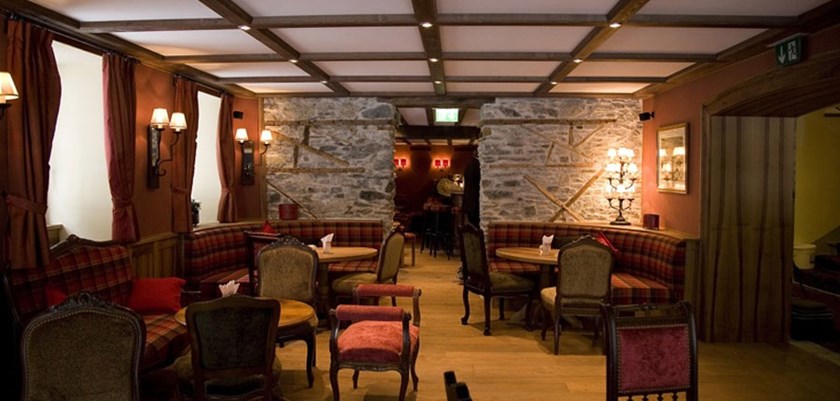 The Hotel Monterosa hosts the Restaurant Belle-Époque, the Edward's Bar Café, named after Edward Whimper with its lovely original stonewall, invites you to an aperitif, a coffee or a night drink.
More on the Monte Rosa Zermatt
Many of these five stars hotels have made an agreement to offer a Dine-Around to their guests – the following are included if you want to purchase this option when staying at any of them:
Mont Cervin Palace & Le Petit Cervin
Monte Rosa
Riffelap Resort 2222m
Myoko Teppan-Yaki & Sushi Restaurant
1818 Eat & Drink
Cervo Mountain Boutique Resort
Ferdinand by Cervo Mountain Boutique Resort
Restaurant Whimperstube
Restaurant Sonmatten.
Hotel Europe and Spa 4*:
Tucked away on the streets as you cross the river from the Zermatt cemetery, you find the Hotel Europe and Spa, a 4* alpine modern hotel with lovely decoration full of wood and stone with lots of pictures of the sheep of Zermatt. Run by the Julen family.
The hotel has been modernised and offer 28 rooms – 14 with Matterhorn view/south facing. It offers a very nice breakfast buffet, a restaurant a la carte and gourmet with a half board option and the small but complete spa area is in the lower ground floor.
Hotel Alex 4*:
Nice cosy hotel off the Bahnhofstrasse, with lovely bar, completely different to what you see elsewhere in Zermatt. To me the bar area seems more British than Swiss, and there are lots of different quaint rooms opening into another. The spa is very attractive; all rooms have views of the Alps. The personnel is very attentive and people come back year after year.
There is the lounge and cocktail bar, an outside Terrace and Bar, the Alex Grill with meat and fish specialties, and the Bodega Bachus.
More on Resort Hotel Alex Zermatt
Chesa Valese 4:
Tucked away in a tranquil place in Zermatt, crossing the river from the town cementery, you find the Chesa Valese. From the Julen family (another part of the family), this four stars had its rooms refurbished in 2015 and will refurbish its common areas for the starting of the 2018/19 ski season.
It has a small but fine wellness where to unwind, with a whirlpool, steam bath, sauna, emotional shower and solarium.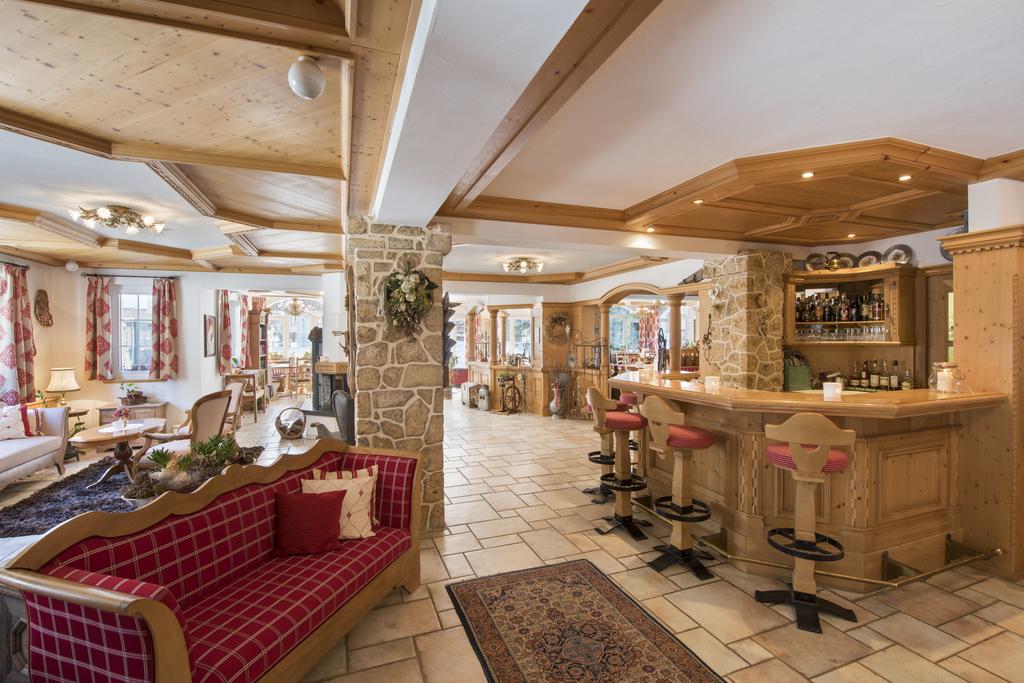 The hotel serves a very good breakfast, with hot and cold choices.
Chalet Zen: 
Chalet Zen is the new address in Zermatt. This luxurious, yet cosy and privately-owned chalet is located 100 meters from the piste and main lift up to the glacier, providing access to all of Zermatt and Cervinia ski areas. The chalet is located in an unrivalled position looking up to the majestic Matterhorn and is also a short stroll from the village.
The Chalet Zen offers sleeping accommodation for 8 + 2 in a bunk suite.
Classically furnished, chalet Zen retains the feel of an authentic Swiss chalet and yet caters for all the modern après ski necessities including massage and steam rooms, an outdoor hot tub, WI-FI, satellite and cable TV channels. The chalet can accommodate 8 + 2 guests in our bedrooms and a bunk-room that can be combined with a 5th bathroom to form a family suite. Three of the four bedrooms have south facing balconies with Matterhorn views and the five luxurious marble bathrooms (4 en-suite) have under-floor heading. There are two spacious living and dining areas with fireplaces along with a small study and well-stocked library of books, DVDs and games to suit all ages. Lift access to all floors.
With a charming, professional manager and concierge, dedicated housekeeping team with chef available on request, Chalet Zen combines supreme comfort and privacy with service of the very highest standard.
PENHTOUSE ZEN (sleeps 6)
Penthouse Zen is situated adjacent to Chalet Zen in the same discreet location just 100m from the piste and main lift up to the glacier. With uninterrupted views of the Matterhorn, Penthouse Zen provides access to all Zermatt and Cervinia ski areas yet is merely a short stroll into the village.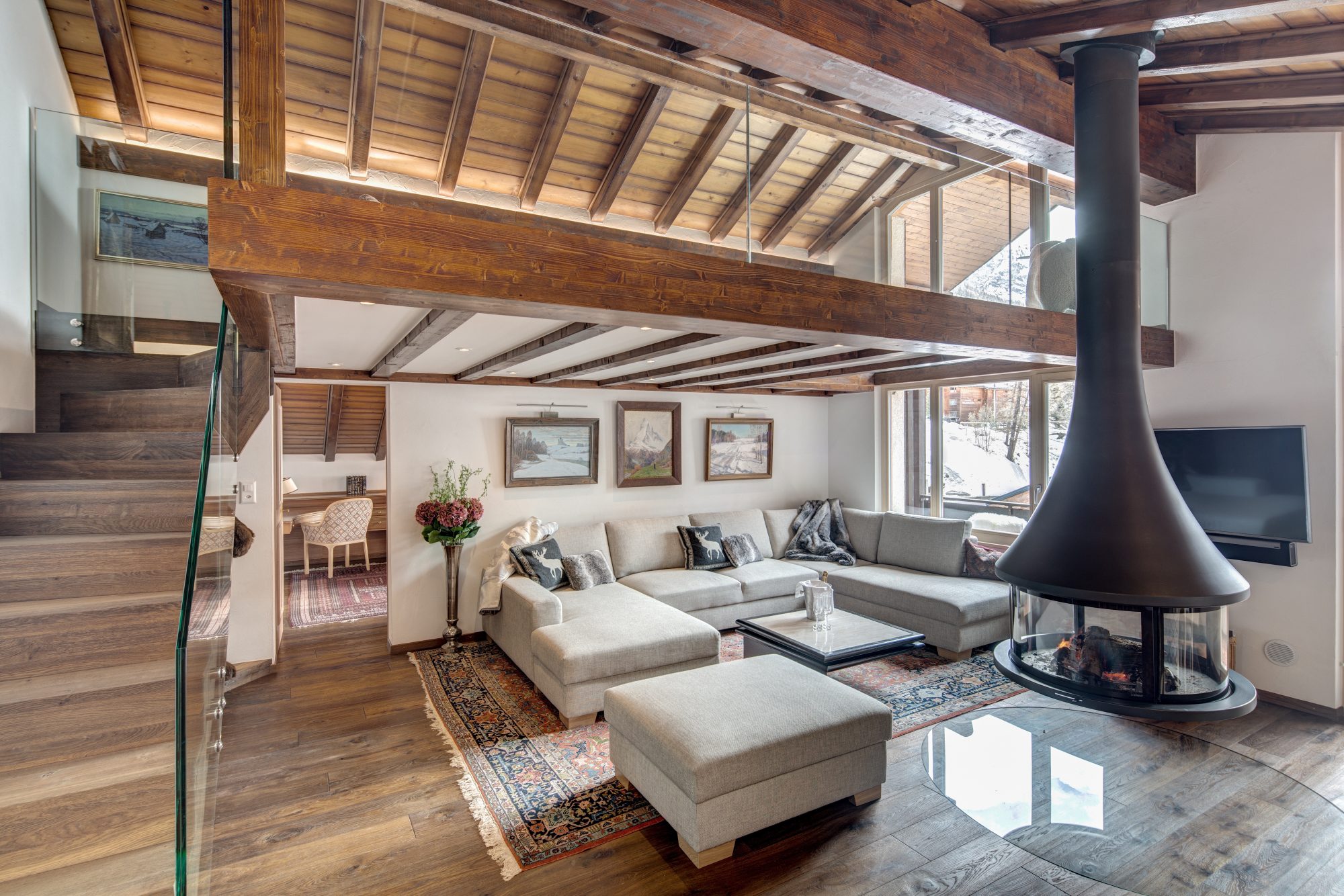 The penthouse can accommodate 6 guests in 3 bedrooms. The spacious master bedroom with study area opens onto the south facing balcony with stunning Matterhorn views. There is an en-suite bathroom with large Jacuzzi bath and shower. There are two further en-suite double bedrooms, with a Jack and Jill spa bathroom with jacuzzi bath and steam shower also accessible from the hall for all to enjoy. There is a very large family style living room with double height windows, stairs up to a gallery over the sitting area, central hanging steel fireplace, bar, open plan kitchen and dining area, also opening onto the balcony running the length of the penthouse.
Daily cleaning and a mid-week linen change is included, making Penthouse Zen the perfect choice for guests needing housekeeping but preferring to take advantage of Zermatt 's wonderfully varied restaurants, bars and night life. Or combine Chalet and Penthouse if your party is larger than 8-10 guests. 
Matterhorn Chalets:
The company counts with some chalets, run by a couple of Brits that moved to Zermatt many years ago.
Chalet Ulysse caters 8 to 12 people. Located 5 minutes from the Matterhorn Express gondola. Great to go in the morning, but if I was staying there, I would leave the skis in the base of the Matterhorn Express in some lockers, because coming back home the road is all the way up. The chalet is fully catered, and has a spa in the lower floor.
Chalet Banja and Chalet Binna are two semi-detached luxury chalets. They are located 5 minutes from the Mattehorn Express gondola, and when you come skiing back, you can ski 100 meters from the door for much of the winter.

The two chalets have fantastic views of the Matterhorn and the level of design and comfort is amazing. The chalets include a private 100 meters swimming pool, a sauna and a gym. These chalets are fully catered.
More on Chalet Banja
More on Chalet Binna.
Check our Must Read Guide to Crans Montana.
If you fancy staying in the Italian Alps, I have a ski apartment in the Valdigne, great to ski in Courmayeur, La Thuile and Pila: Il Cuore della Valdigne in Morgex, just outside Courmayeur
Being in the middle of Morgex, just 10' outside Courmayeur, 3 minutes from the Pré Saint Didier terme (natural hot springs) and 20' from La Thuile, and to the other side, 25' to Aosta and the gondola of Pila, the chalet is located in a great strategic location for going skiing, cross country skiing (in Arpy, Val Ferret or Cogne), mountain biking, snow shoeing, winter walking, white water rafting and relaxing in the hot springs.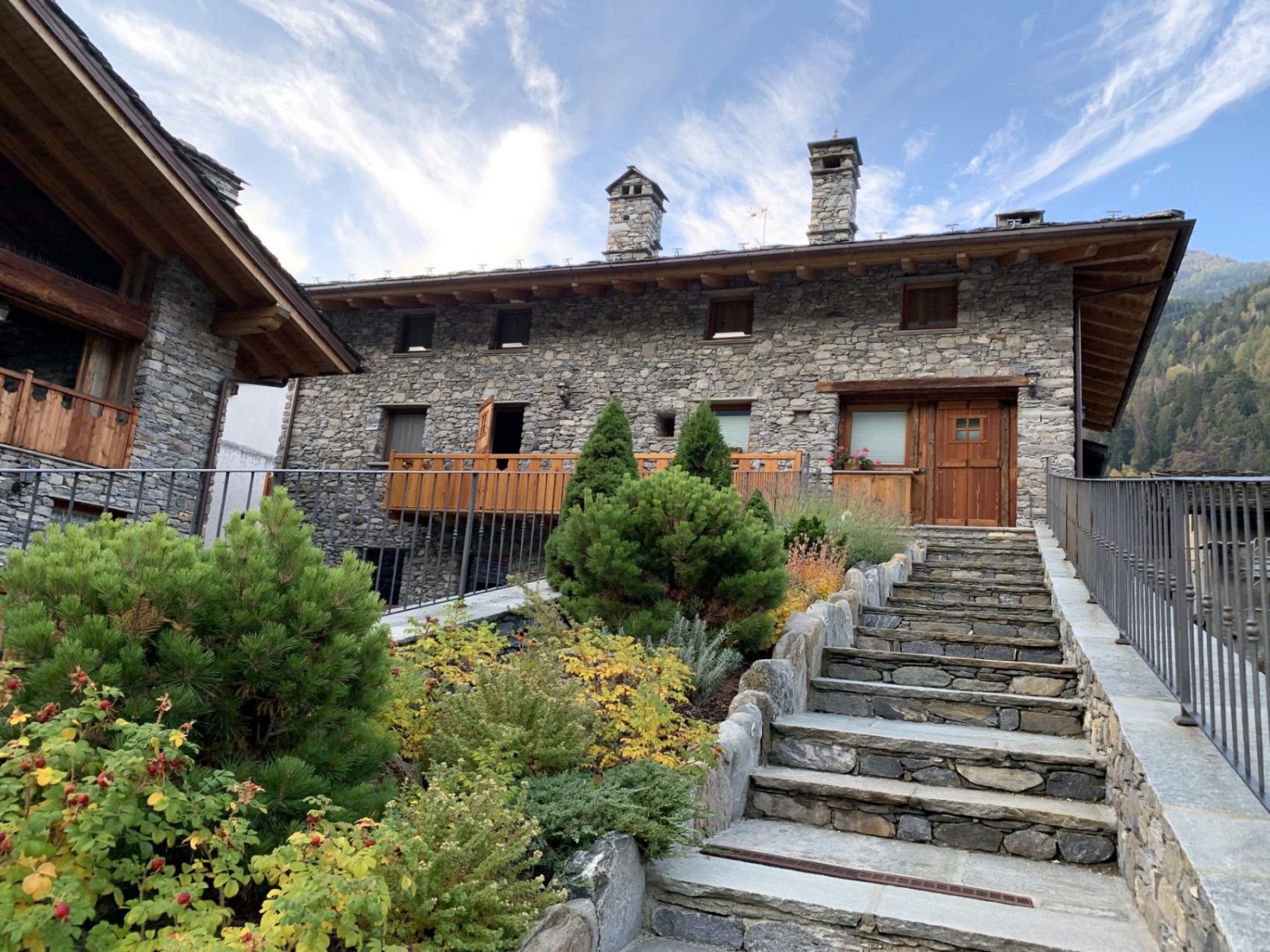 The apartment has two bedrooms and two bathrooms with showers in two floors, a living room with a double-sided chimney that also opens to the dining room. The wooden kitchen with the slate kitchen top is a delight, with all you need if you fancy doing a big meal. If you don't, no worries, you are a stone throw away from many bars and restaurants in Morgex: Mont Blanc Café, Café de l'Archet, La Locanda, Trattoria da Bepe, and if you fancy something much more deluxe, the renown Casa Quinson, all within two blocks from the apartment.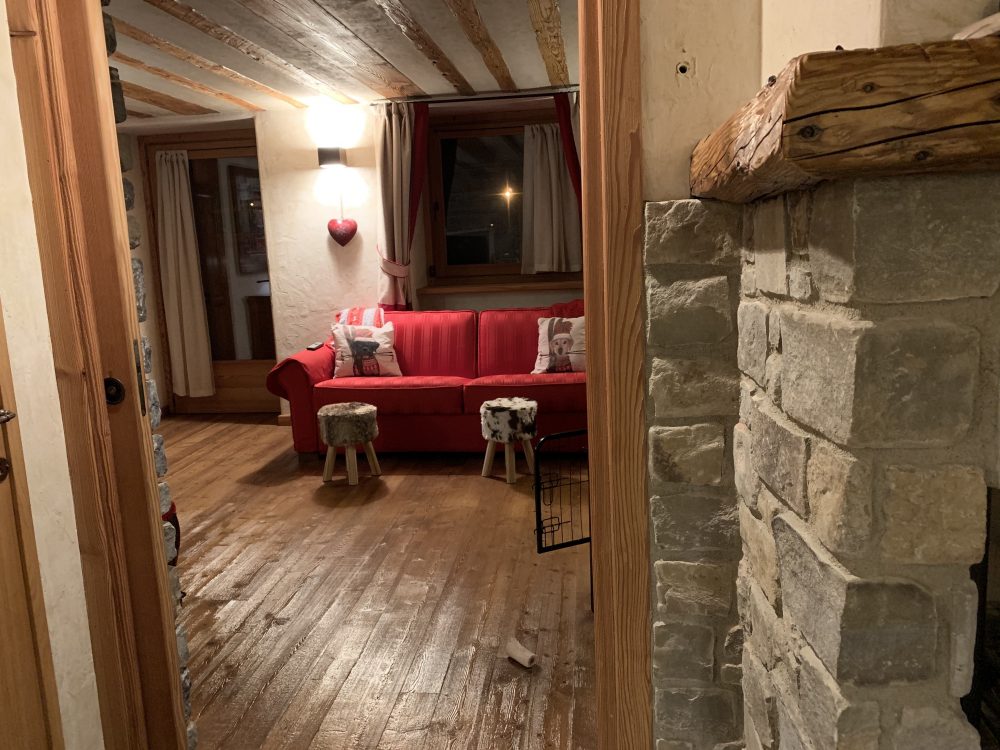 The apartment has a garage box for one car, it can be a high car with a roof box but is a bit tight. Our C4 Grand Picasso makes it in just!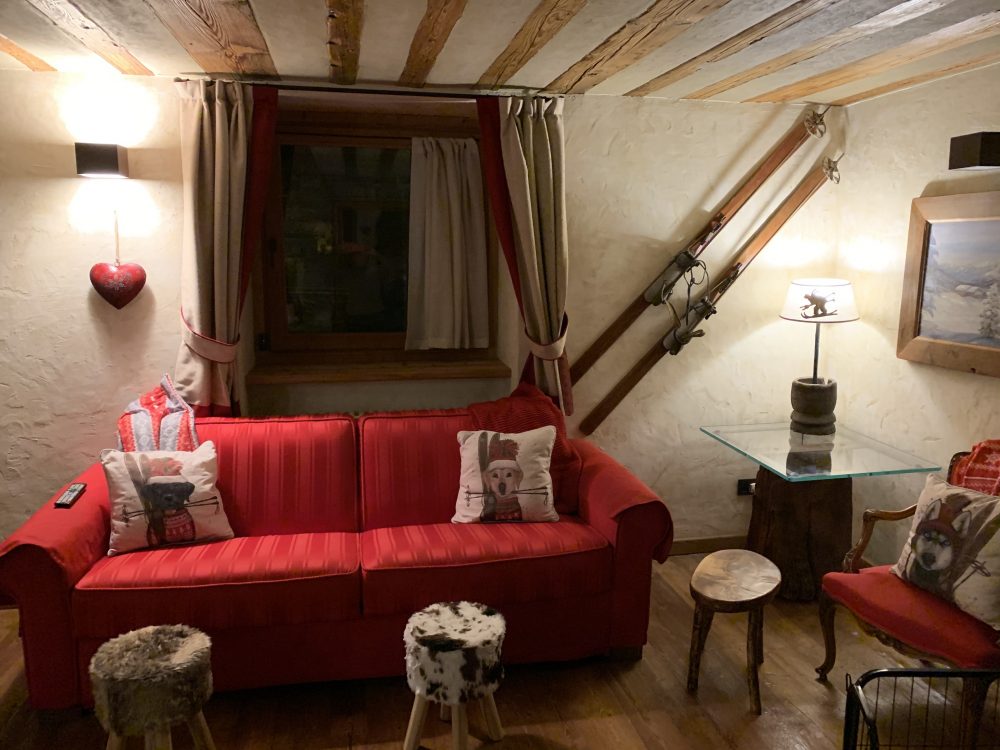 This apartment is for four, but can accommodate up to 6 passengers, with one extra bed on the double twin bedroom that can be pulled out, and a sofa bed in the living room.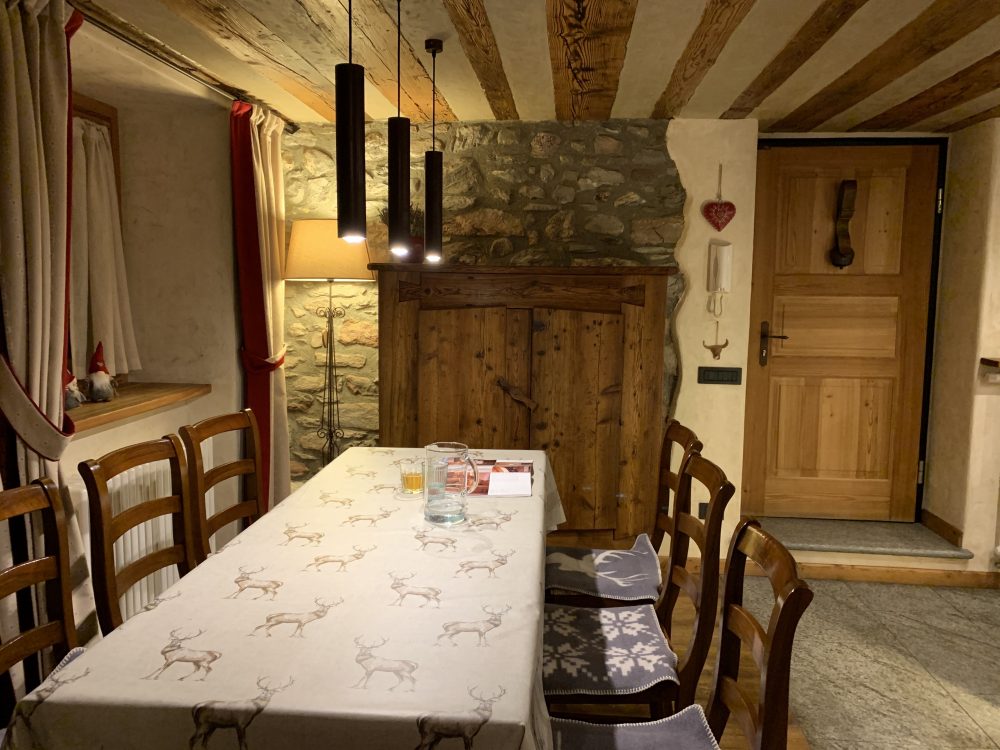 It has lovely details as lots of wood and stone, the roofs of the living room and kitchen and shower room in the first floor are made of pan-de-bois, and the ones of the second room have lovely beams.
It is located 200 m from the bus stop to Courmayeur, Pré Saint Didier and La Thuile and 100 m from the bus stop to Aosta/Pila.
If you want to holiday in this home, click here.
Start planning your next trip!
You can search for your own accommodation in the snow for your next ski holiday through our Accommodation Search tab. Or if looking to stay in the heart of the Mont Blanc Valley in the Aosta Valley, check Il Coure della Valdigne review here. This is our own family home in the mountains, that I am renting out when not using, you can always write me a private message if interested to info@the-ski-guru.com
You can book directly through Airbnb  through this link
Or check Booking.com on this link.
If you want to take your family skiing and you don't know where to start, read here. And search for your ski transfers from all airports to the Mountains here. And for those that are like me, that are lazy to cook, you can get your food, even gourmet mountain food delivered to your home with Huski.
If renting equipment (skis or snowboards)  check our agreement with Skiset– you can get up to 50% off ski or snowboard rental rates. I have been using them for years every year when I go to America  and Europe and they are great!
Already selling some alpine design items for your house. #bringthemountainshome with The-Ski-Guru HOME and put a smile in your face. These are hand-paintings done by me, applied to cushion covers, coasters and mugs.
To keep on reading Ski News at your Fingertips, keep on visiting The-Ski-Guru, subscribe to our newsletter and follow us on Social media through our hashtags #skinewsatyourfingertips and #theskiguru.
The-Ski-Guru Travel can help you organise your bespoke trip – just email us to info@the-ski-guru.com or send as a message here.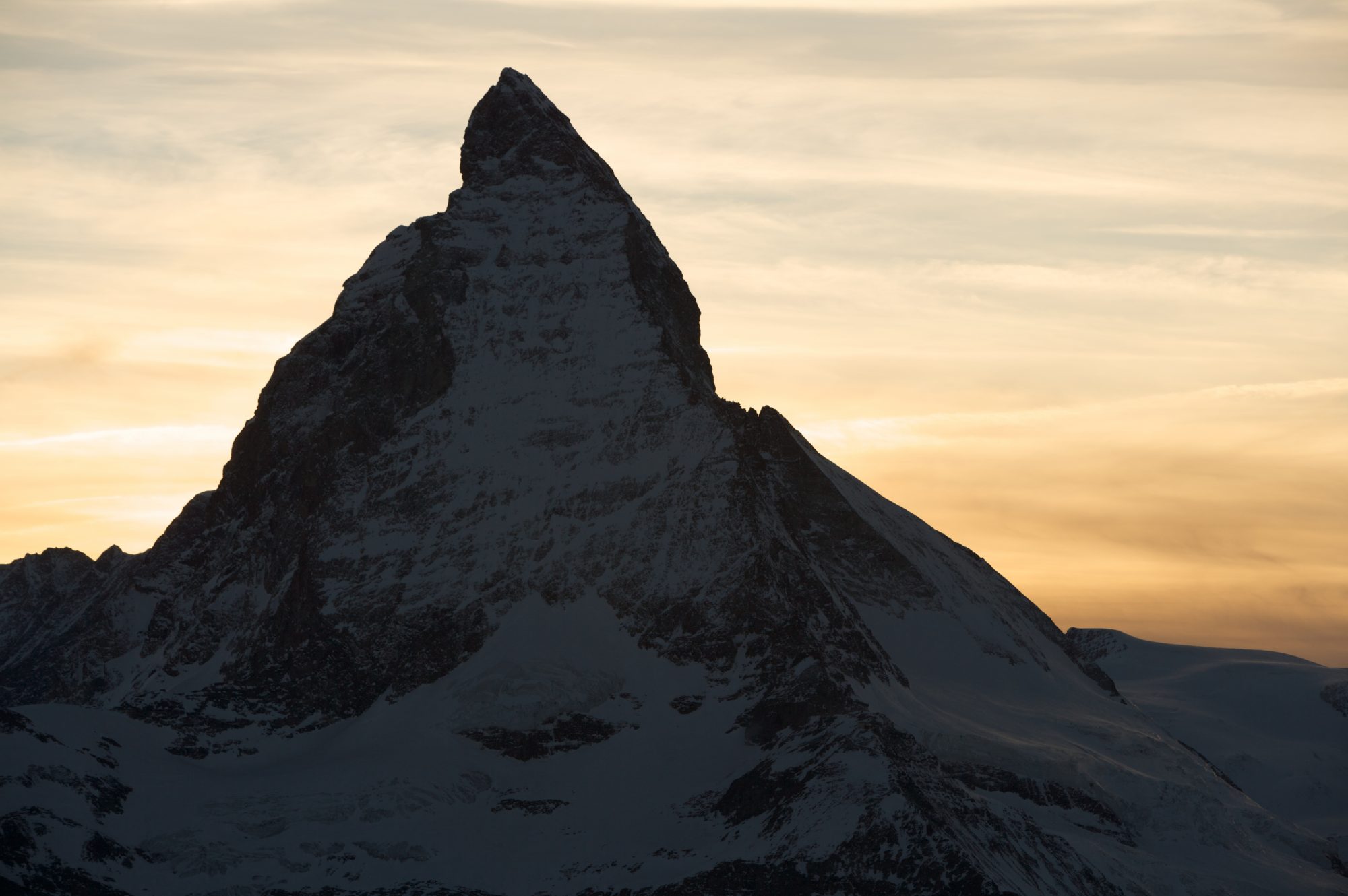 You can start thinking about your trip, by reading the articles on the Planning your Ski Trip tab.  Or you may choose to read the Ski Resort News, Ski Passes News, and the Must-Read Guides to Courmayeur, Val di Fiemme and Crans-Montana. Coming soon will be the guides to Lech and St Anton. Or see an amazing heli flight over the Mont Blanc Massif. Also see tips on how not to be scammed when booking a ski chalet.
You can also read what's new at Les Trois Vallées and the last article on what is new at the Tirol ski areas,  in 3 Zinnen Dolomites ,and in the Skicircus Saalbach Hinterglemm Leogang Fieberbrunn.
Or if interested in these high-prone avalanche resorts and how they deal with the avalanche danger, read this interview to Coco Torres, former Head of Operations of Las Leñas, Argentina.
Featured Image: Zermatt Village – Zermatt Must-READ Guide. Photo copyright: Leander Wenger – Zermatt Tourist Board. 
Please follow and like us: