What is new at La Plagne for this coming season? La Plagne is getting ready for the 2018 – 19 ski season. Here we have a summary of what you can look for when going to La Plagne next!
Bains & Spa La Plagne
Deep Nature is opening a new 1500 m2 spa for guests of all ages in the centre of Belle Plagne. With its superb view of the mountains, it offers three different areas with a space for kids to try their first- of many, spa experiences.
H036 Hostels
A new hotel concept has arrived in La Plagne! The h036 in Plagne Centre will revolutionise the whole concept of room and board with this new hostel in La PLagne, a 21st century combination of a hotel and a guest house. This will be an atypical location with stylish decoration and a relaxed atmosphere where everyone will get together on the large living room, the bar or the restaurant.
This is a great value for money option where you can get lots of interactions. There are some individual and shared rooms with a range of possibilities for all budgets and lifestyles.
More info: www.h036hostels.com
A new look for Plagne Centre
After fully renovating its shopping gallery, now is the turn to get a new look for the entrance to Plagne Centre in order to improved guests' reception and comfort. Place Albert Perrière is to become an animated 'village square' offering a dynamic and multi-service activity centre. There will be a covered bus station, the tourist office reception, a bar with panoramic views of the Mont Blanc, a 4-lane bowling alley, a natural skating rink in the winter and a Heritage and Mountain Mining exhibition room.
It took an investment of 8 Million Euros.
"Over the Moon" Snow Groomer
One of the resorts snow groomers has been transformed for this season into a luxury suite set on one of the mountain peaks at nearly 2400 metres altitude, a perfect space to see all the stars in the sky! This 'hotel room' offers a queen-sized bed, macaroons, flat-screen TV, love box and spa bath with views of the Mont Blanc. "What happens here at 2000 metres stays at 2000 metres".
If interested, go online to www.skipass-laplagne.com and reserve your night at this snow groomer.
At 9 PM the groomer takes you from Plagne Bellecôte up to the top of the Arpette. The driver goes back down by skidoo so the guests are left alone to enjoy their night. Radio connection is available in case of emergencies.
At 8 AM the driver comes back the next morning before the runs open to take the guests back down in the groomer.
EUR 320 for two people includes transport in the groomer, breakfast, access to a private bathroom in a nearby building, Wi-FI connection.
This was the winner of the tourism innovation award 2018 in the "Best Accommodation" category.
Olympic Bobsleigh Track
Unique in France!
The resort's star activity since 1992 Albertville Olympic, this icy 1.5 km descent has a total of 19 bends. Each winter, around 12,000 tourists live the thrilling experience of an après-ski descent in one of the three machines available for the general public. 80% of the clients try the Bob Raft, the least daunting experience. This is opened from December 19th till 5th April 2019.
More info: +33 (0) 479 08 82 23 www.bobsleigh.net
| | | | | |
| --- | --- | --- | --- | --- |
| | Capacity | Speed | Height/age | Price |
| Bobcraft | 4 people | 80 km/h | 1,30 m | 45 EUR |
| Speed luge | 1 person | 90 km/h | Min. age 16 | 109 EUR |
| Bob racing | 3 people + 1 pilot | 120 km/h | Min. age 16 | 125 EUR |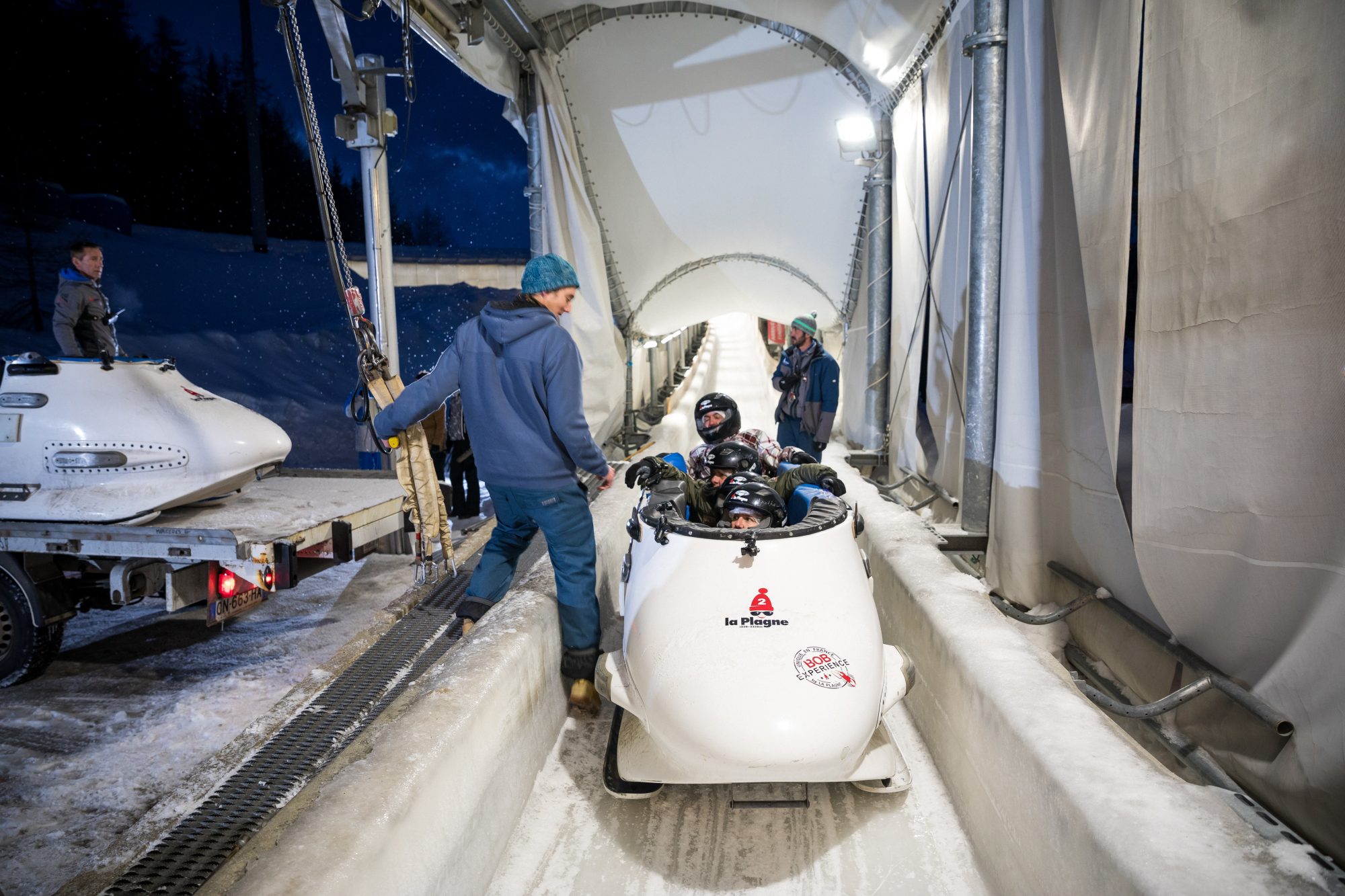 The Ice Tower 
This steel structured covered with wood and ice in Champagny en Vanoise is accessible to all levels from beginner to expert. The central pillar and the 2 lateral legs offer a variety of gradients to climb up to 22 meters height.
Twice a week there are two introductory beginner sessions of 2 hours – Minimum age required is 10 years old.
This is accessible by car. It opens mid-December till March.
Call + 33 (0) 479 55 06 55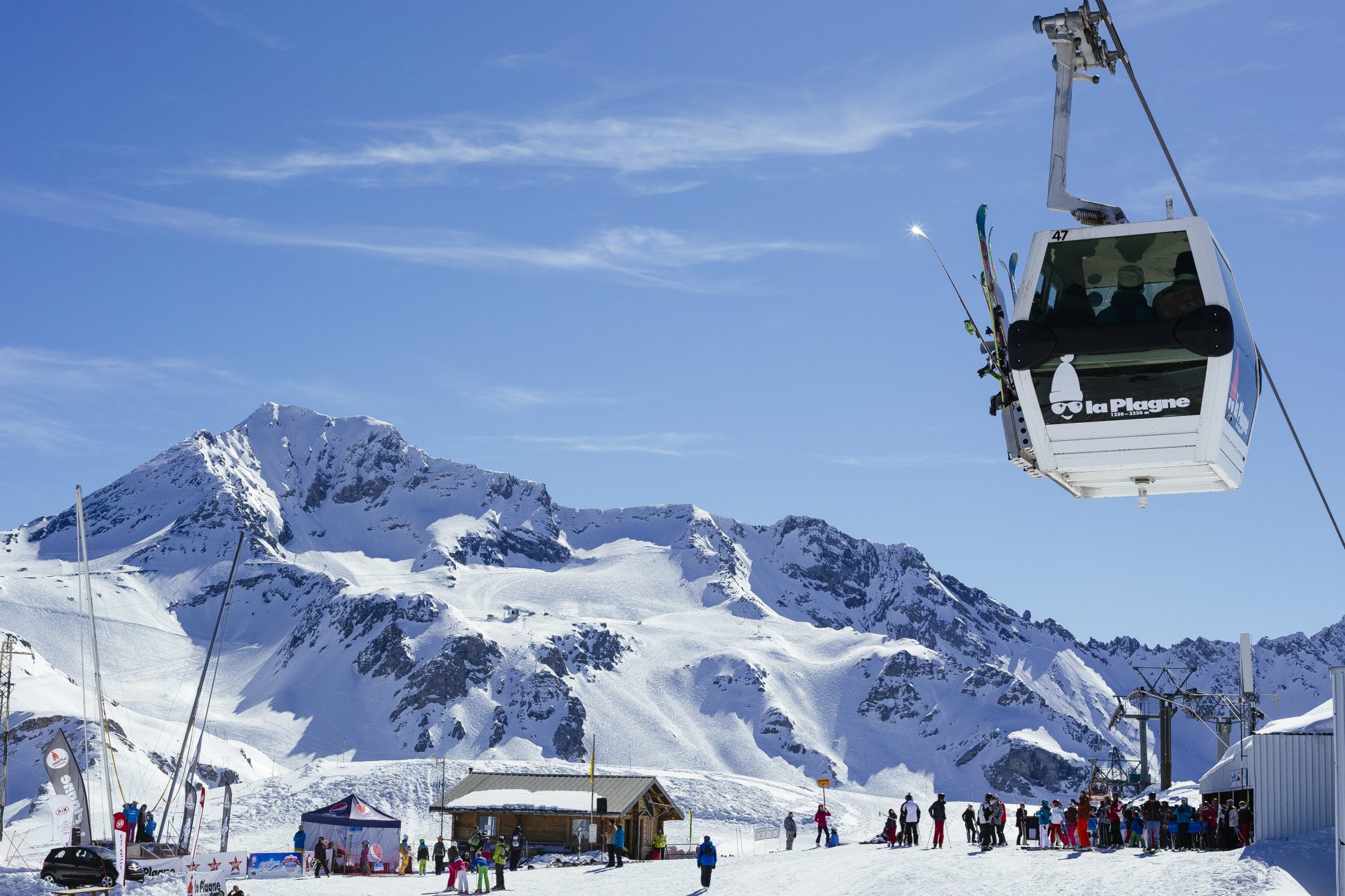 Jaguar Land Rover Experience for kids 11 – 17 years old!
In La Plagne, if you are brave enough to send your kids aged 11 and over, you can make them drive on snow with the resort's partners in a real Range Rover Evoque or a Jaquar E-Pace. Better that giving them your own car!!!
They go accompanied by a qualified driving instructor and a parent, and there are two pair of controls, so they can have fun quite safely. This session is free of charge, and the minimum height of the kids has to be of 1m42.
There needs to be a responsible parent and they need parental authorisation to drive. No ski boots allowed.
This activity is offered also to 18 to 22 years old. They need to take an ID with them.
Days and times depend on weather conditions. For more information call +33 (0) 617 69 91 02 or go to the info points.
La Plagne is a huge resort with 11 villages. They are all different, some of them existed already and others were created following the architectural trends of the time.
The top 6 non-ski activities in La Plagne are
Descents on the Olympic Bobsleigh track for the general public
Ice climbing in Champagny en Vanoise
Alternative snow activities in Plagne Montalbert
Zip wire from Plagne Aime 2000 to Plagne Centre
"Colorado Park" 1.5 km toboggan run
Skating rink
6 Facts of La Plagne
La Plagne is the world's most visited resort with 2.5 million ski days sold every season!
It is home of France's only bobsleigh run.
La Plagne has received the Travel d'Or awards 2018: trophy for the "Best French Tourism Destination" and tourism innovation trophy in the accommodation category.
First mountain resort to launch a cashless payment system throughout the resort using your ski pass.
It is the French resort that has sent the most athletes to the last winter Olympic Games.
The French resort with the largest marked ski touring area.
Key Figures of La Plagne
55,451 beds
3,3 M night stays recorded in winter 2017/18
65% French visitors
35% International Visitors
The ski area of Paradiski, of which La Plagne is part of will open its altitude villages (from 1800 m high) on Saturday 15th December till Saturday 27th April.
The other villages and Paradiski will open on Saturday 22nd December until Saturday 27th April.
Les Arcs + Peisey Vallandry + La Plagne make together Paradiski. With 425 km of ski runs, Paradiski is one of the world's largest linked ski areas, offering skiers and non-skiers a multitude of possibilities. The Vanoise Express cable car links the 2 massifs in a mere 4 minutes!
The Ski passes rates for the 2018-19 ski season are:
1 day
6 days
La Plagne
52EUR
269 EUR

860 EUR Family Pack

(2 adults/ 2 children)

Paradiski
60 EUR
305 EUR
Passes are free for under 5s.
For more information www.la-plagne.com
The-Ski-Guru TRAVEL can organise your bespoke ski trip to the Americas, Alps or Japan, including for those going from Britain to Europe, booking your Eurotunnel trip, and for all trips: lodging, lift tickets, rentals, ski school, and all you need for an excellent vacation. Go to https://www.the-ski-guru.com/travel and upload your information – this page will be updated soon with more travel ideas.
You can start thinking about your trip, by reading the articles on the Planning your Ski Trip tab.  Or how to pack for your family ski trip.  If taking your furry friend abroad to the continent, read about the new Pet Travel Scheme update from DEFRA. Check out our tips for driving to the mountains.  If flying and renting a car in Europe, beware of the extra charges they will pass to you if you want winter tyres, snow chains or ski racks. If driving, check the winter tyres news for Europe and North America.
Or you can read our last news on equipment as seen at the London Ski Show. Also, the new range of skis of Black Crows, one of our favourite brands. Lots of snow makes you wonder how the resorts deal with the avalanche danger. Here you can read the interview to Coco Torres, former Head of Operations of Las Leñas, in Argentina, as how they dealt with avalanches at the resort. 
Or perhaps you may choose to read the Ski Resort News, Ski Passes News, and the Must-Read Guides to Lech,  Zermatt,  Courmayeur, Val di Fiemme and Crans-Montana. Coming soon will be the guide to St Anton. Or  watch an amazing heli flight over the Mont Blanc Massif. Also see tips on how not to be scammed when booking a ski chalet.
You can also read what's new at Les Trois Vallées and the last article on what is new at the Tirol ski areas,  in 3 Zinnen Dolomites ,  in Adelboden, Lenk and Kandertal, in Gstaad, in Chamonix,  in Georgia's Gudauri Resort and in the Skicircus Saalbach Hinterglemm Leogang Fieberbrunn. And how the US Ski Team has chosen Alpe Cimbra to train for the following four ski seasons as their European home. And Saalbach is getting ready for the Ski World Cup. Here is the link to our post on the My Voucher Codes ranking of best European Ski Resorts. 
Or check how Cairngorm Mountain might not run its funicular this coming season and how that can affect the region. And the terrible storms and gails that provoked havoc to Trentino Alto-Adige and Belluno provinces in Northern Italy. 
Thankfully Val di Fassa is ready for opening December 6 as stated here. And the roof of the Rifugio Comici has been fixed in no time and is ready for the start of the ski season in Val Gardena on 6th December. Sudtirol ski areas are ready to start soon and their famous Christmas markets will kick off too. And Cortina D'Ampezzo is getting ready for this winter and the 2021 World Ski Championships. 
Also, you can read how Grandvalira will be staying together as one lift ticket company and how they are adding Ordino Arcalis to  this offer. And also read how someone tried to sabotage some lifts in Vallnord's Pal Arinsal.  Or read about the latest investments in Whistler Blackcomb. Or see how Taos is going against the industry trend, and instead of merging with the two biggest oligopolies in skiing at the moment, it goes and buys an airline to get more bums in resort. Or how Jackson Hole is appealing to families and beginners – it is not only a resort for expert skiers anymore. Another great area for families is Stubaital in the Tirol. Or read how a group of experienced industry insiders got together to purchase Tamarack Resort. And how Peak Resorts finalised the acquisition of the resorts of Snow Time.
Sierra Nevada has opened this past weekend with the best snow base ever in its history. The Sun Up and Sun Down Back Bowls from Vail have opened as well, being the third time in this decade that they could open so early. Same case was for Aspen Highlands, that opened the earliest ever because of the snow – Aspen Snowmass got 20 inches of snow during the last week. Grandvalira and Ordino Arcalis in Andorra have also opened. Also read how one employee of Aspen Ski Co got caught in an avalanche but got out unscathed while scouting terrain for the Aspen Mountain Powder Tours. Or how the a gondola of the new American Eagle lift from Copper Mountain crashed into the snow in a trial run. The resort confirmed that the chondola will be fixed before it's opening day. And there was a gas explosion at the Grand Hotel Zermatterhof that injured six, before its opening date.
You can keep up to date on how are the sales for the EPIC and IKON passes are doing here. Read how Emma, the first Digital Mountain Assistant, is launched in Keystone now and will be rolled to eight other resorts this season. And even read about the new incorporation to the IKON Pass: Valle Nevado. Here is also a post on the South American resorts.  
Or check out how now with the EPIC Pass you can ski in Europe, specifically in Les Trois Vallées and the resorts of Skirama Dolomiti in Trentino's Italy. Or see our review of L'Héliopic Hotel Sweet & Spa if thinking in staying in Chamonix this winter.
Featured Image: La Plagne – PH Royer. What is new at La Plagne for the 2018 – 19 ski-season. 
Please follow and like us: