What does Climate Change will mean to a Mountain Nation such as Switzerland by 2060. From Swissinfo.ch – Climate Change in forty years in Switzerland will mean over 40C in the cities, long droughts and not too much snow in winter, Switzerland will be looking as a Mediterranean country. This will have consequences in this land-lock country.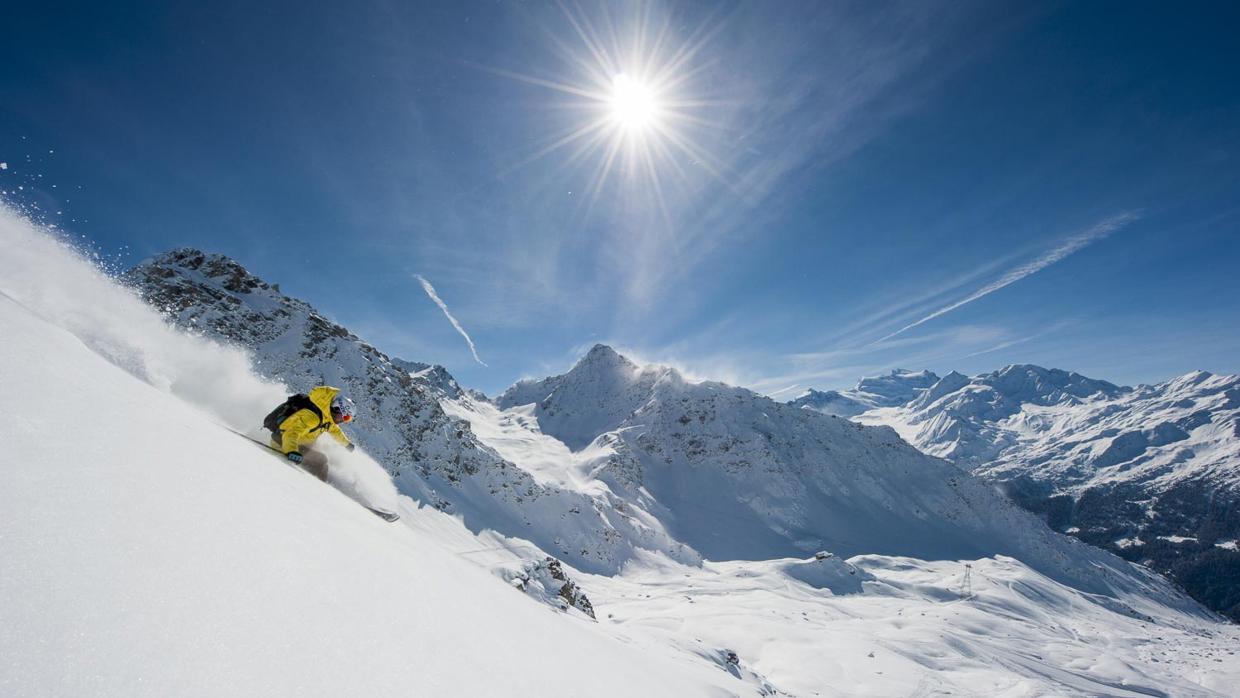 By 2060 the typical weather forecast on a summer day can describe 45C in the cities and twenty days of sustained heat. MeteoSwiss (the federal department of meteorology and climatology) has devised different climate scenarios for Switzerland, in conjunction with the Federal Institute of Technology in Zurich (ETHZ) and publish edit in a report in mid-November. Peter Binder, the head of MeteoSwiss summarised that "Switzerland will be a hotter and drier place".
Christoph Schär, a climatologist from the institution said that in the second half of the current century the climate in Switzerland will look as it was in 2018. "The 2018 heatwave was a warning for the future. The extremes we are seeing at the present time could become the norm by 2060".
Swissinfo.ch made a report of what will happen from Alpine glaciers to life in major cities – assuming that appeals for a drastic reduction of emissions continue fall on deaf ears.
I'll focus here in the things that might affect the mountain resorts.
Smaller glaciers disappearing
From 1850 onwards, the 1,500 Swiss glaciers have lost 60% of their volume. In this past hot summer of 2018, the amount loss was 2.5%. Due to increasing temperatures and less snow in springtime smaller glaciers are doomed, said Matthias Huss, a glaciologist at ETH.According to the federal environmental ministry, only the glaciers in the highest parts of the Bernese Oberland Alps and the Valais will survive, such as the Aletsch glacier.
The shrinking mass of the ice, as well as having an adverse effect on the landscape and on the stability of mountainsides, will also have repercussions on the water supply system. Based on current knowledge from climate scenarios of 2011, Olivier Overney, Head of the Hydrology division of the federal environment ministry, said that "climate change will mean important changes to water resources at the local level." The new climate scenarios need to be combined with the hydrological models to yield more precise data, he added.
The retreat of the glaciers will make a major difference to Europe's great rivers which rise in the Swiss Alps. According to predictions, the volume of the Rhone could be down 40% in the coming years.
Alpine Tourism
In future there will still be winters with heavy snow.They will just happen less frequently. People who want to ski at the high-altitude ski resorts like Zermatt or St Moritz will have to expect 30-60%less snow cover than today. Ski resorts at around 1,500 metres will lose about100 days of snow.
In Adelboden, at 1,350 metres, there will be less snow days than there are now in the capital city of Berne (542 metres), said forecasters from the Federal Institute for Forest, Snow and Landscape Research and the Federal Institute of Technology in Lausanne.
For some time now, tourist resorts have been offering summer and autumn aimed at reducing their dependence on winter tourism, says Bruno Galliker, a spokesman for the industry association of ski-lift operators. In Switzerland, however, he is at pains to point out, winter sports are not on the way out. "In the coming decades it will still be possible to ski in Switzerland, especially using man-made snow. Switzerland has a competitive advantage over neighbouring countries, because the skiing areas are at higher altitudes."
According to Galliker, climate change could even have a silver lining for Alpine tourism. "Fascinating new landscapes will appear.The rising heat down in the valleys will drive people to go up the mountains to cool off in more pleasant temperatures", he claims.
Oak to replace spruce.
Global warming will cause existing vegetation zones to shift upwards by 500-700 metres, researchers believe. In the Alps, deciduous trees like oaks and maples will take the place of conifers. The spruce, the most important tree for the Swiss forest industry, is likely to disappear from the Swiss Plateau due to exposure to harmful organisms like the bark beetle.
According to the experts, it will be crucial to foster diversity of trees, because a natural forest with a high degree of biodiversity is better able to resist hot summers and rainy winters. Here you can see how foresters are getting ready for the forest of the future.
Marco Conedera, a forest engineer with the Institute for Forest, Snow and Landscape Research warns that "rising temperatures, and less snow lower down, will add to the risk of forest fires". In particular, it could mean that fires started by lightning strikes could become more frequent and more dangerous. These are hard to get under control because they affect mountain conifers in out-of-the way areas."Another tendency we see happening already is high-risk fire season lasting into autumn and winter too", explains Conedera.
Energy challenge
Switzerland produces 60% of its electricity with hydropower. Shrinking glaciers will have little impact on hydro-electric production, according to a recent study by the Swiss National Science Foundation. But long periods of drought might have a major impact: this summer, the power station at Schaffhausen, near the Rhine Falls, experienced a 50% drop in production.
Climate change will have a limited negative effect on hydro-electric production, says Felix Nipkow, who heads the "electricity and renewable energies" department of the Swiss Energy Foundation. "It is still possible that new lakes that will form after glaciers shrink to provide new opportunities to exploit hydro power," he believes.
In 2060 winters will be milder, and heating needs will be less. This reduction will be more than made up for, however, by soaring power consumption during the summer for air-conditioners. The main challenge forSwitzerland is giving up nuclear power bit by bit; at the moment it provides some 30% of our electricity.
To make up for the loss of atomic power,Switzerland intends to promote renewable energy, bring down levels of consumption, and improve energy efficiency. "Switzerland will have to focus on solar power, which is now the cheapest technology for production of electricity. It has the potential to produce double the power produced by nuclear plants today", says Nipkow.
A different Switzerland is possible
This may all seem like a doomsday scenario. But whereas global emissions are still rising, it is still possible to reverse the trend and avoid the worst eventualities, say the UN's climate experts.
Reto Knutti, a climate researcher at ETHZ, emphasises that a concerted effort would pay off. "With a coherent plan to protect our climate, the effects of climate change in Switzerland could be halved by the middle of the present century," he believes.

Article extract from Swiss.ch
The-Ski-Guru TRAVEL can organise your bespoke ski trip to the Americas, Alps or Japan, including for those going from Britain to Europe, booking your Eurotunnel trip, and for all trips: lodging, lift tickets, rentals, ski school, and all you need for an excellent vacation. Go to https://www.the-ski-guru.com/travel and upload your information – this page will be updated soon with more travel ideas.
You can start thinking about your trip, by reading the articles on the Planning your Ski Trip tab. Or how to pack for your family ski trip. If taking your furry friend abroad to the continent, read about the new Pet Travel Scheme update from DEFRA. Check out our tips for driving to the mountains. If flying and renting a car in Europe, beware of the extra charges they will pass to you if you want winter tyres, snow chains or ski racks. If driving, check the winter tyres news for Europe and North America.
Or you can read our last news on equipment as seen at the London Ski Show. Also, the new range of skis of Black Crows, one of our favourite brands. Lots of snow makes you wonder how the resorts deal with the avalanche danger. Here you can read the interview to Coco Torres, former Head of Operations of Las Leñas, in Argentina, as how they dealt with avalanches at the resort. 
Or perhaps you may choose to read the Ski Resort News, Ski Passes News, and the Must-Read Guides to Lech, Zermatt, Courmayeur, Val di Fiemme and Crans-Montana. Coming soon will be the guide to St Anton. Or watch an amazing heli flight over the Mont Blanc Massif. Also see tips on how not to be scammed when booking a ski chalet.
You can also read what's new at Les Trois Vallées and the last article on what is new at the Tirol ski areas, in La Plagne, in 3 Zinnen Dolomites , in Adelboden, Lenk and Kandertal, in Gstaad, in Chamonix, in Georgia's Gudauri Resort and in the Skicircus Saalbach Hinterglemm Leogang Fieberbrunn. And how the US Ski Team has chosen Alpe Cimbra to train for the following four ski seasons as their European home. And Saalbach is getting ready for the Ski World Cup. Here is the link to our post on the My Voucher Codes ranking of best European Ski Resorts.
Or check how Cairngorm Mountain might not run its funicular this coming season and how that can affect the region. And the terrible storms and gails that provoked havoc to Trentino Alto-Adige and Belluno provinces in Northern Italy.
Thankfully Val di Fassa is ready for opening December 6 as stated here. And the roof of the Rifugio Comici has been fixed in no time and is ready for the start of the ski season in Val Gardena on 6th December. Sudtirol ski areas are ready to start soon and their famous Christmas markets will kick off too. And Cortina D'Ampezzo is getting ready for this winter and the 2021 World Ski Championships. 
Also, you can read how Grandvalira will be staying together as one lift ticket company and how they are adding Ordino Arcalis to this offer. And also read how someone tried to sabotage some lifts in Vallnord's Pal Arinsal. And as if it is starting to be a trend, there were two lifts sabotaged in Passo Rolle, in Val di Fiemme, Trentino. Or read about the latest investments in Whistler Blackcomb. Or see how Taos is going against the industry trend, and instead of merging with the two biggest oligopolies in skiing at the moment, it goes and buys an airline to get more bums in resort. Or how Jackson Hole is appealing to families and beginners – it is not only a resort for expert skiers anymore. Another great area for families is Stubaital in the Tirol. Or read how a group of experienced industry insiders got together to purchase Tamarack Resort. And how Peak Resorts finalised the acquisition of the resorts of Snow Time.
Sierra Nevada has opened a couple of weekends ago with the best snow base ever in its history. The Sun Up and Sun Down Back Bowls from Vail have opened as well, being the third time in this decade that they could open so early. Same case was for Aspen Highlands, that opened the earliest ever because of the snow – Aspen Snowmass got 20 inches of snow during the last week. Grandvalira and Ordino Arcalis in Andorra have also opened. And the best US Ski Resort for the sixth year in the row as per the World Ski Awards, Deer Valley, is opening this weekend. Also read how one employee of Aspen Ski Co got caught in an avalanche but got out unscathed while scouting terrain for the Aspen Mountain Powder Tours. Or how the a gondola of the new American Eagle lift from Copper Mountain crashed into the snow in a trial run. The resort confirmed that the chondola will be fixed before it's opening day. And there was a gas explosion at the Grand Hotel Zermatterhof that injured six, before its opening date.
You can keep up to date on how are the sales for the EPIC and IKON passes are doing here. Read how Emma, the first Digital Mountain Assistant, is launched in Keystone now and will be rolled to eight other resorts this season. And even read about the new incorporation to the IKON Pass: Valle Nevado. Here is also a post on the South American resorts.  
And here is a summary of a report by LISTEX on the State of the UK Snowsports Market.
Or check out how now with the EPIC Pass you can ski in Europe, specifically in Les Trois Vallées and the resorts of Skirama Dolomiti in Trentino's Italy. Or see our review of L'Héliopic Hotel Sweet & Spa if thinking in staying in Chamonix this winter.
Featured Image: ADELBODEN – Three friends taking their sledges up the slope. Copyright by Adelboden Tourismus By-line: swiss-image.ch/Anja Zurbruegg
Adelboden Lenk Kandersteg: What does Climate Change will mean to a Mountain Nation such as Switzerland by 2060.
Please follow and like us: