The Cresta Run is allowing women to race this iconic track in Switzerland.
News from the BBC. 
After an 89-year ban was overturned, women will be allowed to race down the iconic Cresta Run toboggan track in Switzerland this season.
Women had been allowed to race with men on equal terms until the 1920s when it was deemed medically dangerous, due to be able to provoke breast cancer amongst other things, for the pressure of riding face down.
However at a St Moritz Tobogganing Club meeting members voted by a two-thirds majority to allow women to ride the Cresta Run again and become members.
"It's a good step forward," GB skeleton racer Jerry Rice told BBC Sport.
"They are moving forward and I agree that it's time for the women to be able to slide like the men. I look forward to seeing women on the run."
The St Moritz Tobogganing Club was founded by British Military officers in 1887.
Rice worked at the world's oldest natural ice run for two seasons and reckons he has hurled himself down the 1,325-yard track up to 200 times.
"I got into Cresta through my dad, who was a member and had been for a number of years," he said.
"I worked two full seasons and I've probably done between 150-200 runs.
"That's how I got into skeleton – someone said to me 'you're pretty good at this, perhaps you should give skeleton a go', so I did."
Rice, who is racing on the World Cup circuit this year, finished 10th at the 2018 Winter Olympics in Pyeongchang, where team-mate Dom Parsons won bronze. Lizzy Yarnold defended her Olympic title in the women's race, with fellow Briton Laura Deas finishing third.
"There are some big differences between the sports [tobboganing and skeleton] but both are similar in terms of how it feels," added Rice.
"You're at the top of a track and about to hurtle down at about 80mph with no breaks and not much protection.
"It's a nerve-wracking experience, just as skeleton is. After a while, you get used to both of them, though."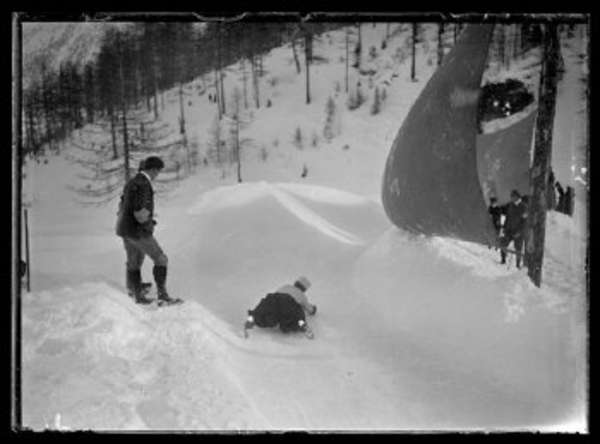 Women's skeleton and bobsleigh have been part of the Winter Olympics since 2002, with Britain's women winning three golds, one silver and two bronze medals and the men collecting three bronzes.
About the SMTC & The Cresta Run
The St Moritz Tobogganing Club, with its world-wide membership, has always enjoyed a strong partnership with the town and people of St Moritz since the first Run was built in the winter of 1884/1885.
The Run and the traditions surrounding it remain constant, although the toboggans and equipment have evolved. It remains one of the last truly amateur sports. The SMTC is a private Club, founded in 1887, three years after the creation of the Cresta Run; its principal activities take place during the winter season in St Moritz.
What is the Cresta Run?
It is a natural ice run, built from scratch every year with snow which is then iced, as from the inception of the Run in the winter of 1884/85. It starts in St Moritz and winds its way down a narrow valley to what was the village of Cresta, but which now forms part of Celerina. It is approximately 3/4 mile (1,212m) in length with a drop of 514 feet (157m). The gradient varies from 1 in 2.8 to 1 in 8.7. The map of our Run gives you additional details.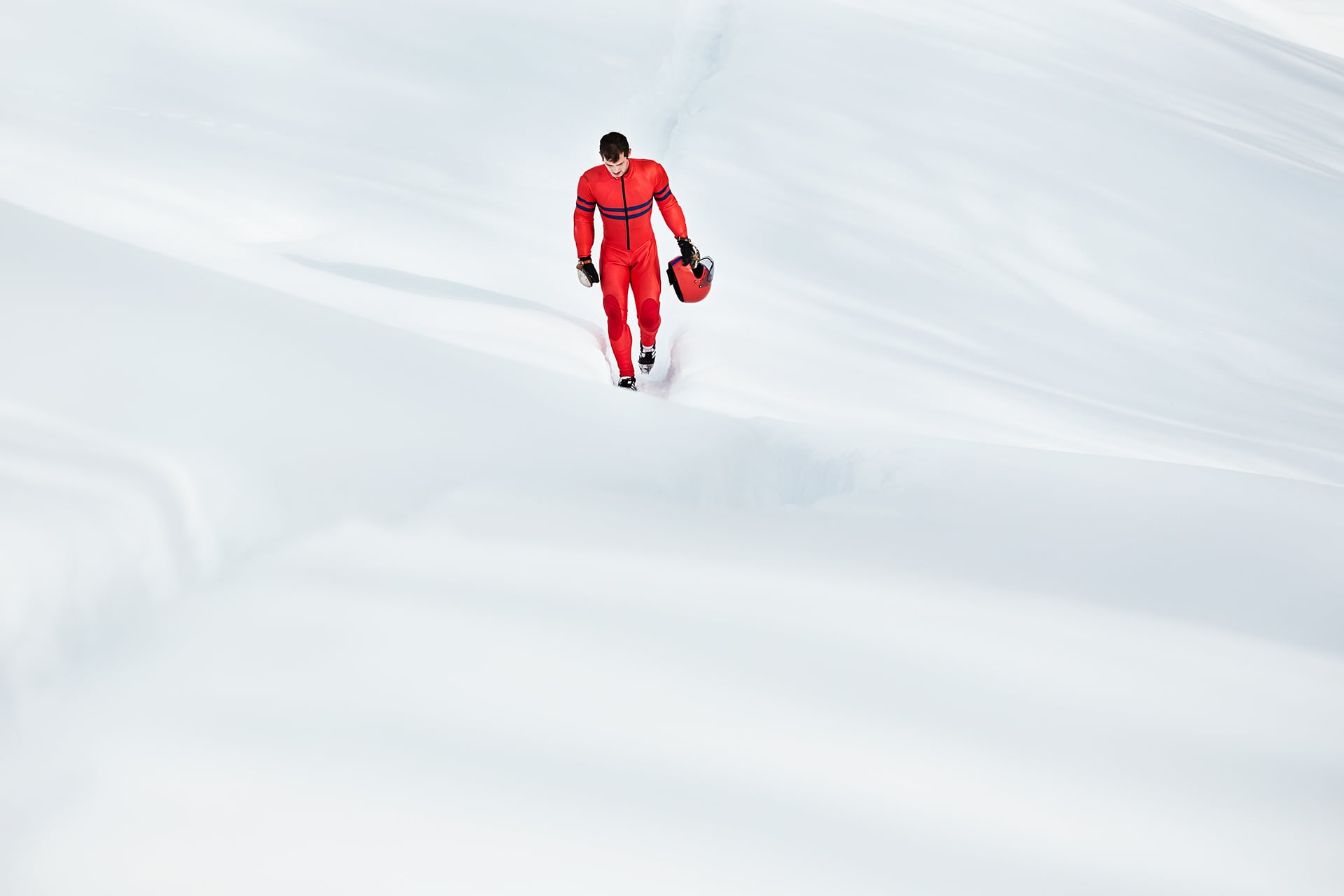 Starting Points
There are two starting points, Top and Junction. Riders from Junction begin opposite the Clubhouse, about one-third down the Run from Top. Only experienced riders can qualify to ride from Top. The Run has 10 corners, all of which are named. The most infamous is Shuttlecock. If a rider is out of control, he risks going out at Shuttlecock, the most famous corner of the Run. Fallers at Shuttlecock automatically become members of the Shuttlecock Club and are entitled to wear a Shuttlecock tie.
Opening dates
The Cresta usually opens just before Christmas and continues for nine weeks until the end of February/early March and is operated by the St Moritz Tobogganing Club. There are over thirty highly competitive races and riding takes place every day of the season, except Christmas Day.
Membership
Members are elected from applicants who have ridden on the Supplementary List, although it is also possible for non-Members to ride the Cresta. Non-Members put their names down on the Supplementary List and become temporary Members for one season as 'SL Riders' or 'SLs'.
Here there was a post of the past St Moritz Gourmet Festival – we'll update on the new one soon.
St Moritz has a plan to revamp its airport.
The-Ski-Guru TRAVEL can organise your bespoke ski trip to the Americas, Alps or Japan, including for those going from Britain to Europe, booking your Eurotunnel trip, and for all trips: lodging, lift tickets, rentals, ski school, and all you need for an excellent vacation. Go to https://www.the-ski-guru.com/travel and upload your information – this page will be updated soon with more travel ideas. Check our Easter offer to Obergurgl-Hochgurgl and Sölden to ski with your family.
You can start thinking about your trip, by reading the articles on the Planning your Ski Trip tab.  Or how to pack for your family ski trip.  If taking your furry friend abroad to the continent, read about the new Pet Travel Scheme update from DEFRA. Check out our tips for driving to the mountains.  If flying and renting a car in Europe, beware of the extra charges they will pass to you if you want winter tyres, snow chains or ski racks. If driving, check the winter tyres news for Europe and North America.
Or you can read our last news on equipment as seen at the London Ski Show. Also, the new range of skis of Black Crows, one of our favourite brands. Lots of snow makes you wonder how the resorts deal with the avalanche danger. Here you can read the interview to Coco Torres, former Head of Operations of Las Leñas, in Argentina, as how they dealt with avalanches at the resort. 
Or perhaps you may choose to read the Ski Resort News, Ski Passes News, and the Must-Read Guides to Lech,  Zermatt,  Courmayeur, Val di Fiemme and Crans-Montana. Coming soon will be the guide to St Anton. Or  watch an amazing heli flight over the Mont Blanc Massif. Also see tips on how not to be scammed when booking a ski chalet.
You can also read what's new at Les Trois Vallées and the last article on what is new at the Tirol ski areas,  in Cervinia, in La Plagne, in 3 Zinnen Dolomites ,  in Adelboden, Lenk and Kandertal, in Gstaad, in Chamonix,  in Georgia's Gudauri Resort and in the Skicircus Saalbach Hinterglemm Leogang Fieberbrunn. And how the US Ski Team has chosen Alpe Cimbra to train for the following four ski seasons as their European home. And Saalbach is getting ready for the Ski World Cup. Here is the link to our post on the My Voucher Codes ranking of best European Ski Resorts. 
Or check how Cairngorm Mountain might not run its funicular this coming season and how that can affect the region. And the terrible storms and gails that provoked havoc to Trentino Alto-Adige and Belluno provinces in Northern Italy.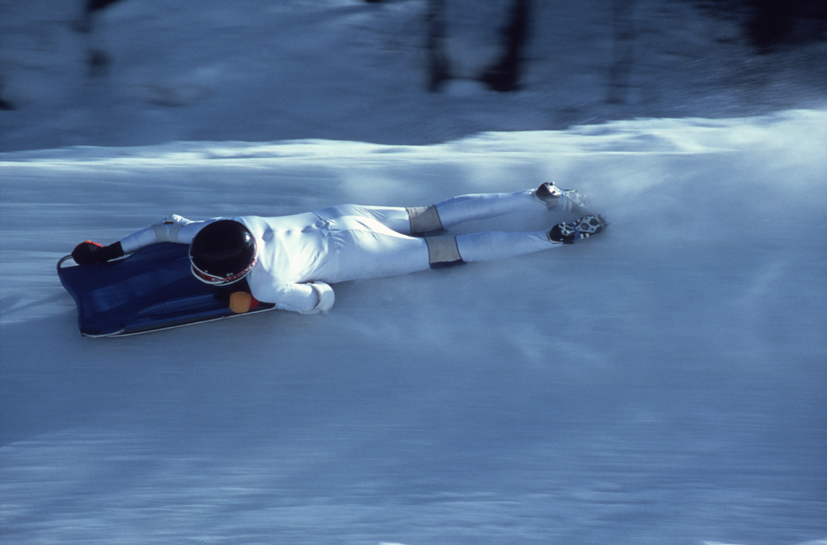 Thankfully Val di Fassa is ready for opening December 6 as stated here. And the roof of the Rifugio Comici has been fixed in no time and is ready for the start of the ski season in Val Gardena on 6th December. Sudtirol ski areas are ready to start soon and their famous Christmas markets will kick off too. And Cortina D'Ampezzo is getting ready for this winter and the 2021 World Ski Championships. 
Also, you can read how Grandvalira will be staying together as one lift ticket company and how they are adding Ordino Arcalis to  this offer. And also read how someone tried to sabotage some lifts in Vallnord's Pal Arinsal. And as if it is starting to be a trend, there were two lifts sabotaged in Passo Rolle, in Val di Fiemme, Trentino.  Also, Mt Hood Meadows was forced to evacuate one lift with 150 skiers and boarders due to a power failure.  Or read about the latest investments in Whistler Blackcomb. Or see how Taos is going against the industry trend, and instead of merging with the two biggest oligopolies in skiing at the moment, it goes and buys an airline to get more bums in resort. Or how Jackson Hole is appealing to families and beginners – it is not only a resort for expert skiers anymore. Another great area for families is Stubaital in the Tirol. Courmayeur is opening this season two new trails, one that is 70% steep – not for the faint-hearted! Or read how a group of experienced industry insiders got together to purchase Tamarack Resort. And how Peak Resorts finalised the acquisition of the resorts of Snow Time. You can also check how Vermont's ski passes are the most expensive in New England.
Sierra Nevada has opened a couple of weekends ago with the best snow base ever in its history. The Sun Up and Sun Down Back Bowls from Vail have opened as well, being the third time in this decade that they could open so early. Same case was with Aspen Snowmass that has already the 120% of its median snowpack.. Grandvalira and Ordino Arcalis in Andorra have also opened. And the best US Ski Resort for the sixth year in the row as per the World Ski Awards, Deer Valley, is opening this weekend.  Also read how one employee of Aspen Ski Co got caught in an avalanche but got out unscathed while scouting terrain for the Aspen Mountain Powder Tours. Or how the a gondola of the new American Eagle lift from Copper Mountain crashed into the snow in a trial run. The resort confirmed that the chondola will be fixed before it's opening day. Plus this week, some gondolas got tangled in Hochzillertal. And there was a gas explosion at the Grand Hotel Zermatterhof that injured six, before its opening date.
You can keep up to date on how are the sales for the EPIC and IKON passes are doing here. Read how Emma, the first Digital Mountain Assistant, is launched in Keystone now and will be rolled to eight other resorts this season. And even read about the new incorporation to the IKON Pass: Valle Nevado. Here is also a post on the South American resorts.  
And here is a summary of a report by LISTEX on the State of the UK Snowsports Market.
And what Switzerland could look by 2060 due to climate change.
Or check out how now with the EPIC Pass you can ski in Europe, specifically in Les Trois Vallées and the resorts of Skirama Dolomiti in Trentino's Italy. Or see our review of L'Héliopic Hotel Sweet & Spa if thinking in staying in Chamonix this winter.
Featured Image: Cresta Run: Women allowed to race iconic track in St Moritz, Switzerland
Please follow and like us: