A Foodie Guide to on-Mountain Dining in Courmayeur.
Courmayeur Mont Blanc is a well renown ski resort for its vistas and also for its food! Stopping while skiing or boarding for coffee, hot chocolate or an aperitivo, plus having lunch, is part of what makes Courmayeur so special. However, with so much offer, you have to think where you want to go, and if not lining up for a sandwich, then you need to make a reservation early on if you want to eat in a specific restaurant! This is more so if you are visiting when it is high season. You can attempt to ski into the restaurant early morning and reserve a table there or do so over the phone. I've seen that also some restaurants are accepting reservations online.  In very high season, it would not be a bad idea to book your table even a day or more in advance.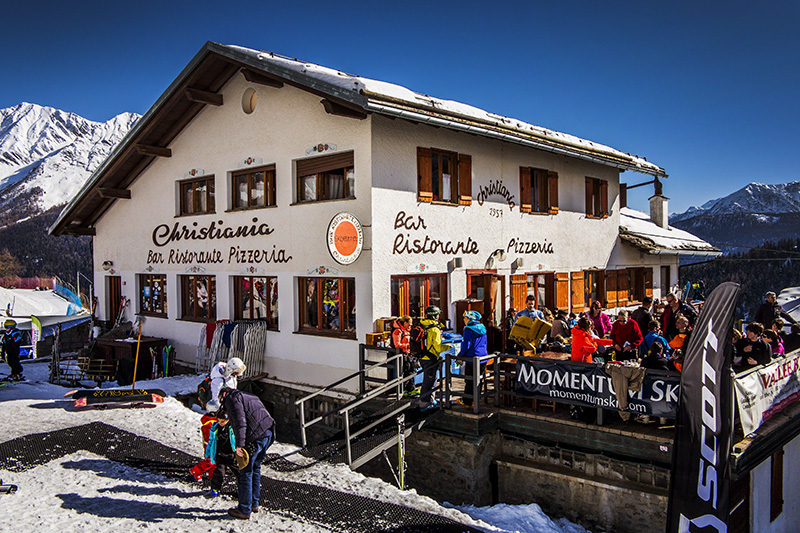 As you know, the mountain of Courmayeur is divided in two sides: The Plan Chécrouit side – accessed from the centre of Courmayeur with the Armani funicular or from Dolonne with the cable car, and the Val Veny side, reached by the Courmayeur funicular from the parking lot of Val Veny, located just before the start of the Mont Blanc Tunnel, and across from the Skyway rotating gondola parking lot. I am only focusing on the restaurants in the mountain in this post, not on Skyway (maybe on another post in the future I'll do that!)
Plan Chécrouit Side:
Bar du Soleil – As soon as you get up the funicular or gondola, you go towards the ski schools in Plan Chécrouit and you'll find it on the left-hand side, across from the ski schools. Mario and Luisa are your hosts. It is a place of good value for money, a typical quick place for a coffee before dropping your kids at ski school and to grab a good pizza and pasta for decent prices. It has a big terrace to eat outside. Dogs are allowed.
Super G – This is the place you will notice for sure when arriving in Plan Chécrouit. Big terraces, loud music, also has some rooms for those wanting to wake up in the mountain. A tad pricier than other options, but they are selling the 'party' scene in Courmayeur.
Lovely views from a very well put deck. If you don't like loud music, maybe go to another place. Now run by chef Andrea Barton, it offers a renewed menu. It stays open until 11.30 PM for dinner under the stars.
Lodge du Massif
La Lodge du Massif is the on-mountain of the hotel Le Massif in downtown Courmayeur. The building is very stylish and has a beautiful terrace. The restaurant is very good for fish and lovely deserts.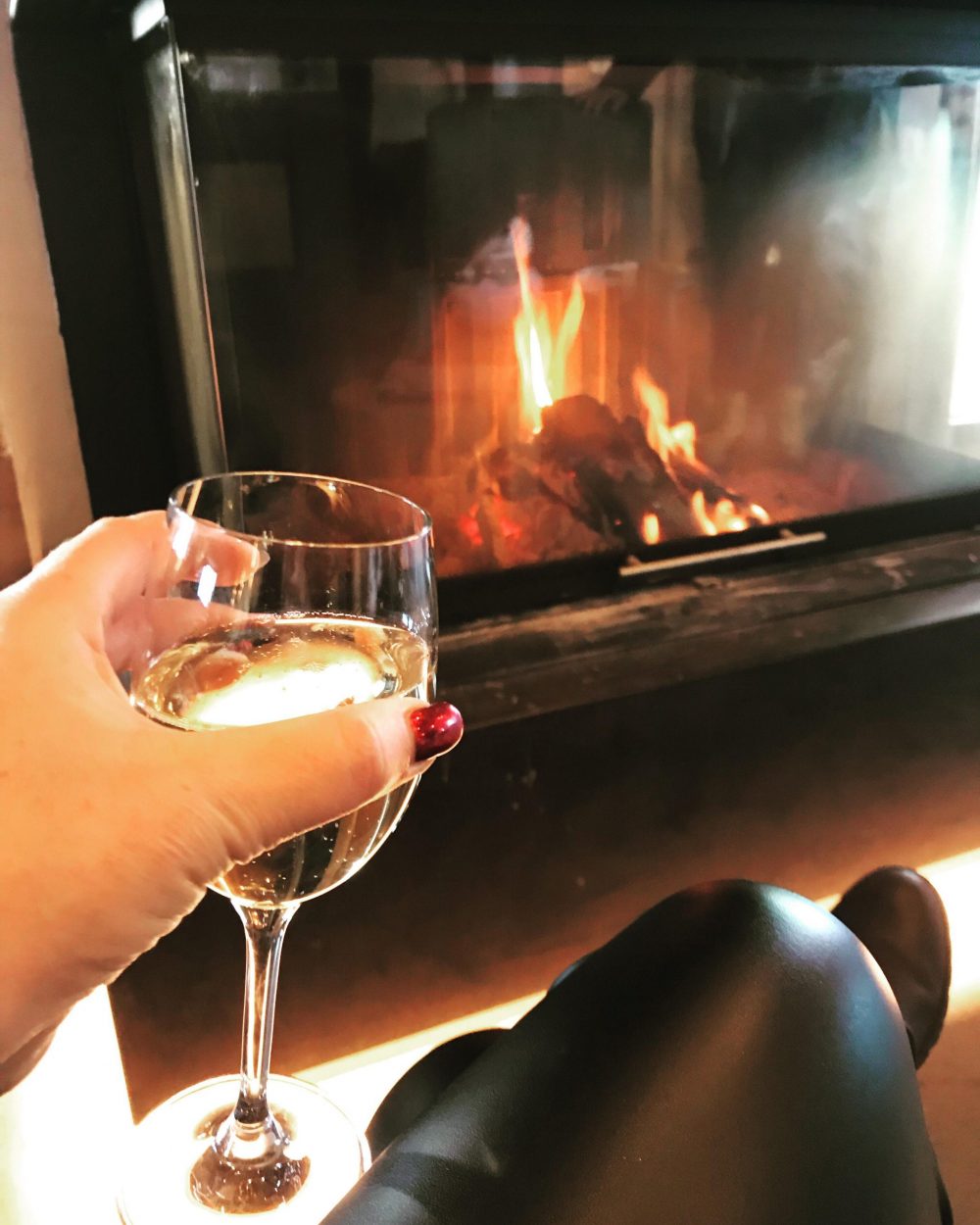 As Jaye Johnson, a fan of the place told me:
"La Lodge du Massif: I love this place! As a non-skier, this is where I wait for ski school to finish. I sit by the fire, reading my book, drinking a large glass of free poured Champagne. What I like is that it's busy but not as manic as Super G (which I love but it's hard to read in there!). They have an amazing kids' menu, which is worth the trip alone. We have a 17-year-old who's a very fussy eater, and they even did double kids' portions for him, of chicken and chips! It's a sophisticated menu here – no pizza, which I like –which you'd expect from a 5-star establishment. Lunch had a good choice, my grandson 8, had the kids spag bol which he wolfed down (good portion size) and I had the Boar Ragu, which was without doubt, the best pasta dish I have had so far in Courmayeur (and we visit lots, have an apartment there). The décor is wonderful, stylish and chic, but still warm and inviting, with the most amazing views from outside on the terrace, where you can sit with heaters on, and have snuggly blankets and sheepskins to keep you warm. Fantastic staff (some of whom I recognised from when they were working at Super G last year), really lovely service – big smiles, over the top welcome backs, all things I love! So, I really rate this place, the kids loved it – it was exciting to catch the gondola up at night-time. First time we had all eaten in the mountains together as a family. It's grown up glamour, very kid friendly, but not overly biased for kids, which I really liked, and a chance to dress up out of T shirt and jeans in the evening, for me. Like I said, I love this place!"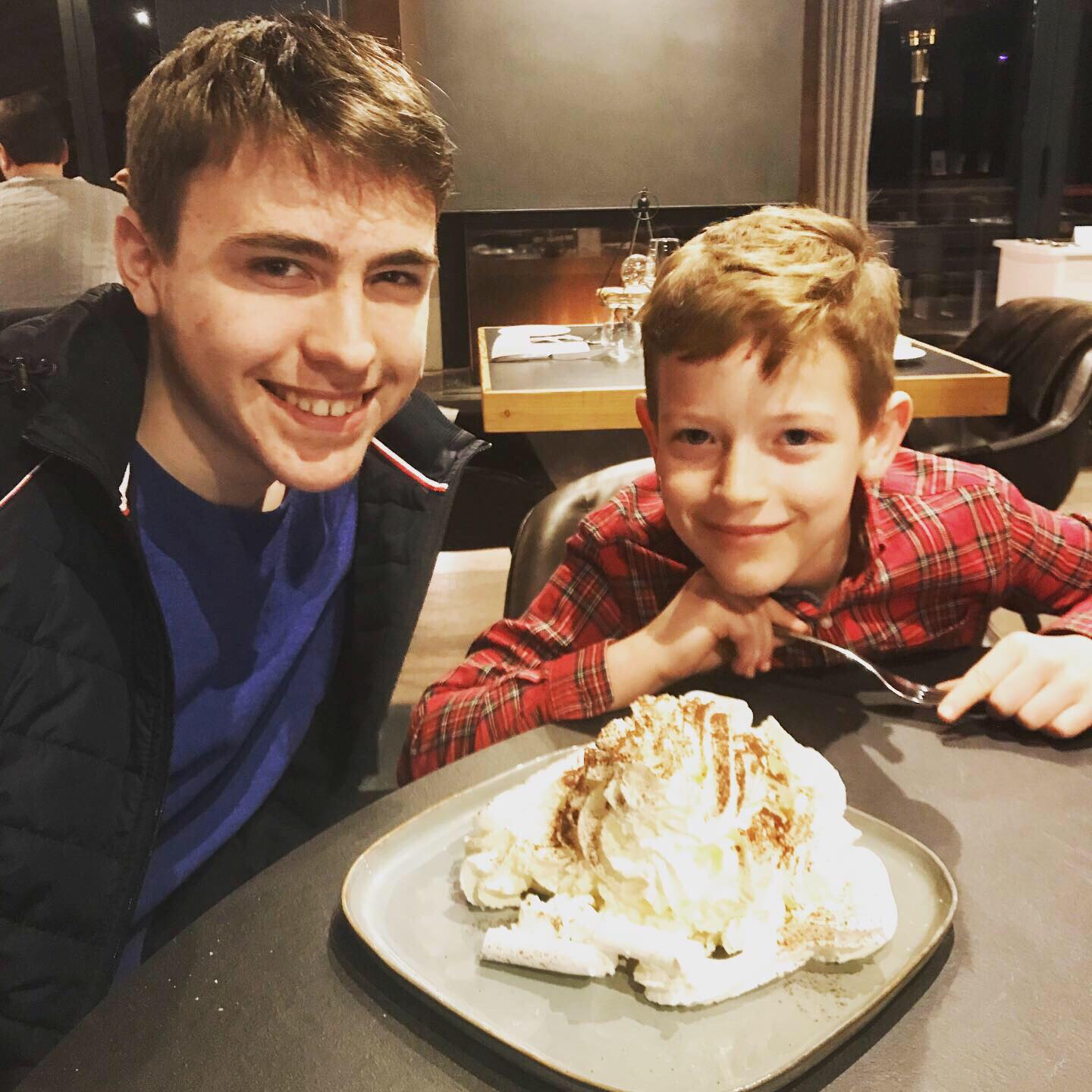 Could have not described it better than Jaye!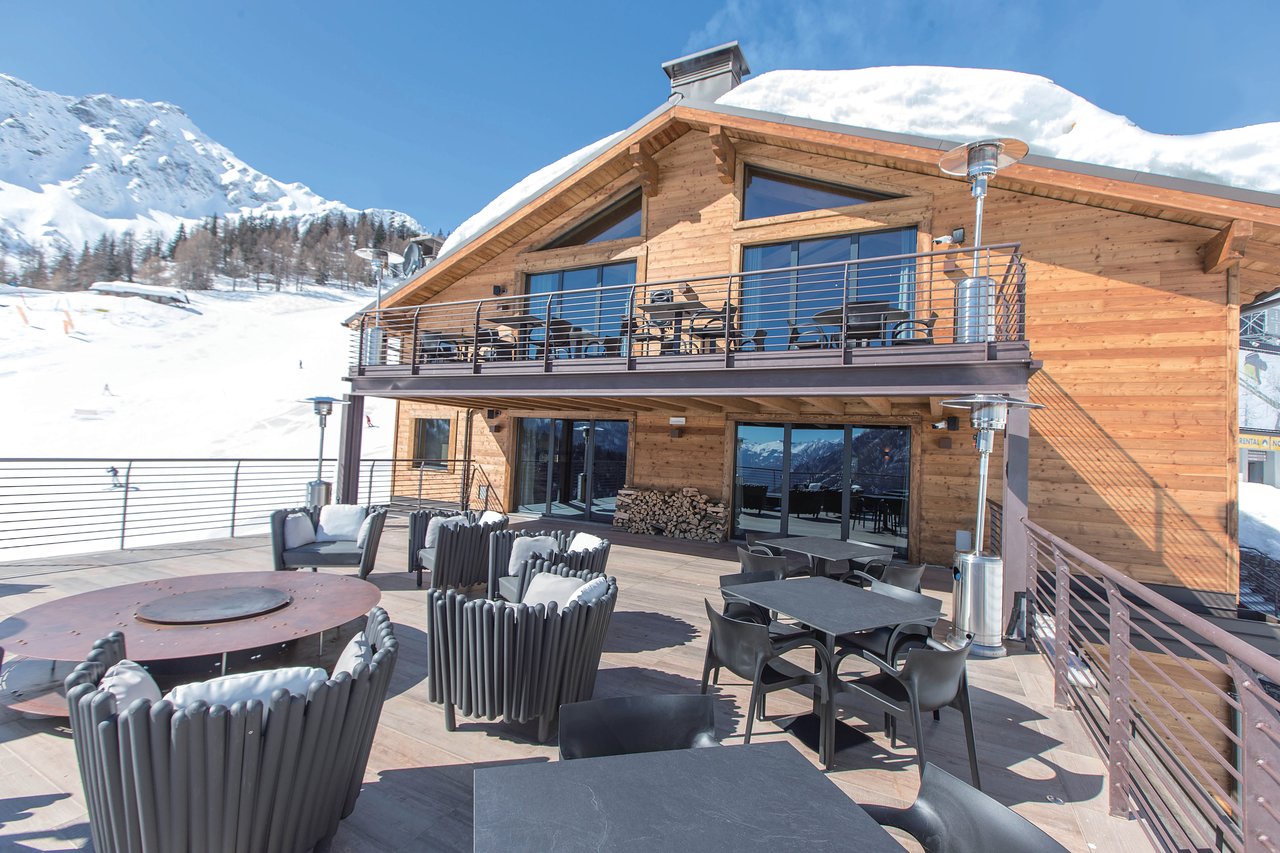 https://www.lemassifcourmayeur.com/en/la-loge-du-massif/ 
La Chaumiere- Located by the Pra Neyron lift, it is kind of behind the Courmayeur Ski and Snowboard Ski School. This lovely restaurant offers a bistrot and a gourmet option.  With the bistrot option, you can eat faster and get back to the slopes. The gourmet option is to savour a grand meal in a lovely setting in the mountains. Opened also at night-time. Amazing homemade pasta, the Valpellinentze soup, the gnocchi, the Aostan meats from the Valdigne, the deserts… an experience not to miss.
https://www.lachaumiere.it/en/restaurants-on-ski-slopes/
+39 392 95 85 987 – booking@lachaumiere.it
Refugio Christiana – simple food for a quick lunch, try to avoid rush hour. Located on Plan Chécrouit, so expect it to get busy. It has mixed reviews of its service, but what I would say is to take into account that lots of pietons (pedestrians) go to this restaurant as it is very easy access from the gondola, so it will always be busy! I have not personally eaten there, but I had lots of bombardinos (after skiing, you would be glad to know, we needed only to go down the funicular afterwards, so we were safe to us and others!) The reviews of the pizzas and food is good though, good quality price/product. +39 334 347 8439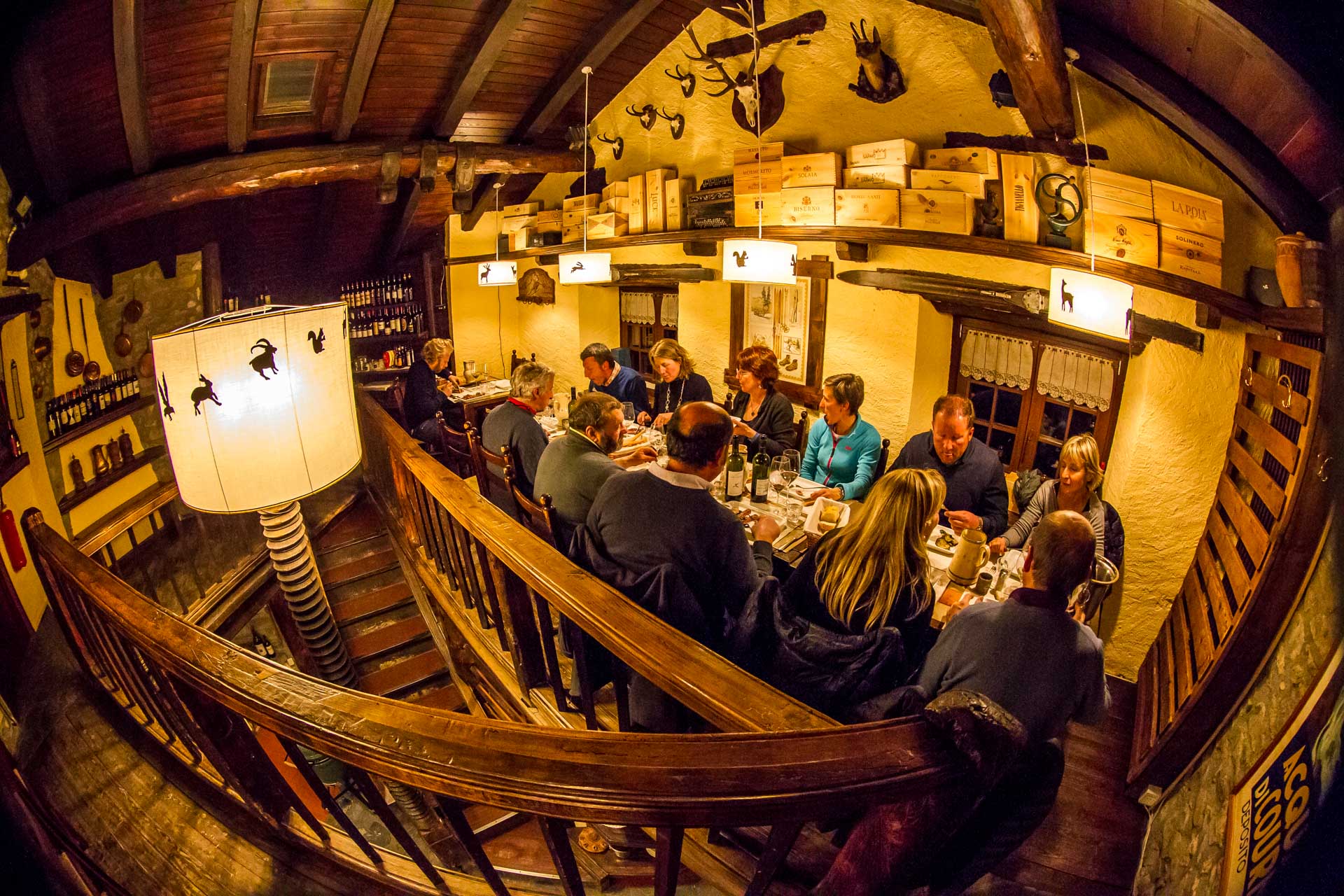 Ristorante Chateau Branlant
You can reach it skiing down by the Chiecco surface lift, just before the Alpine Swimming Pool, or get a snowmobile ride from Plan Checrouit. It is pretty walkable from Plan Checrouit if you want, you'll find it on the left-hand side if you look up the mountain (skiers' right if coming down!)
The homemade pasta and the lamb are amazing. The decoration is rustic and elegant, and the staff is very amenable. Views are great, and it is a great restaurant you might not pay attention to, as people tend to go down skiing towards the side of the Chécrouit Gondola and not see it. It opens also for night-time.
+39 0165 846584
http://www.chateaubranlant.com/
Chiecco
On the Plan Chécrouit side, by the Poma surface lift of the same name. Chiecco is a family restaurant in an intimate set with spectacular Italian dishes such as rustic ricotta stuffed ravioli or traditionally ragú with wild boar and polenta. This is not a place for a fast pit stop, but for appreciating a slow lunch and enjoying a glass of good Italian wine. Maybe is not the place with lots of choice for young kids.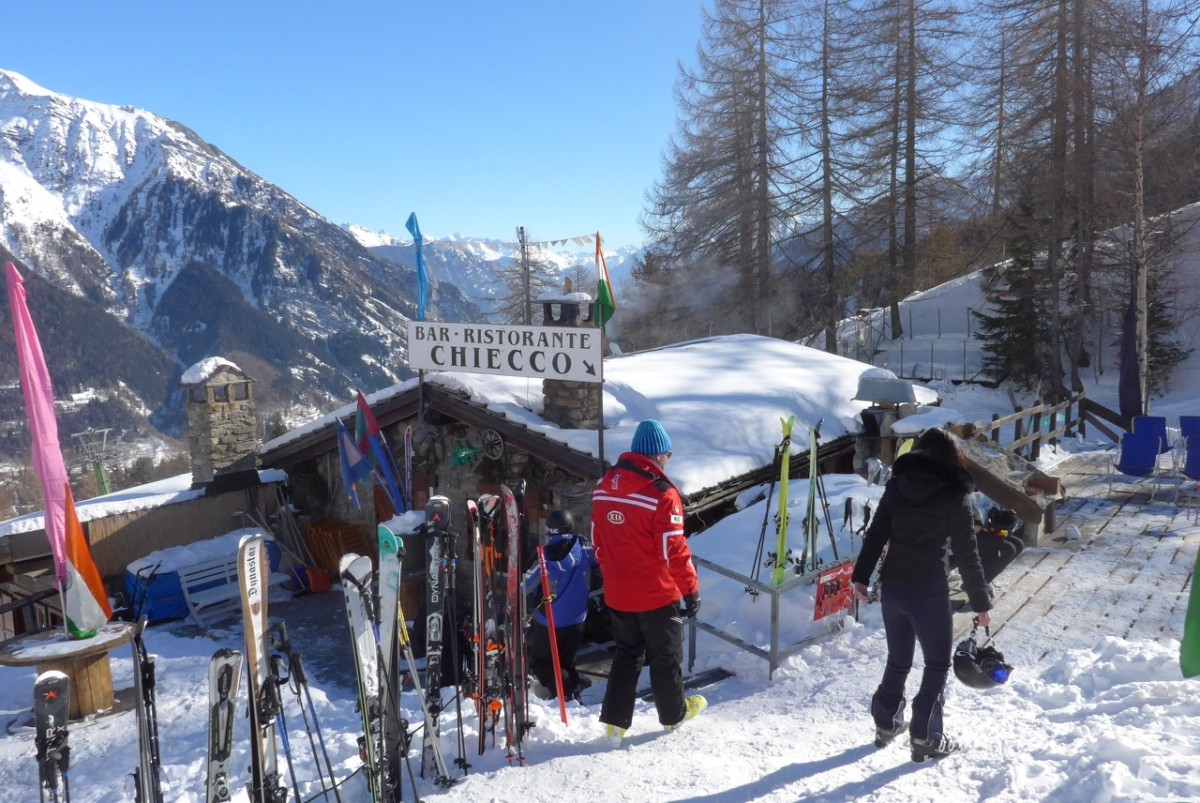 At least if you drink more than you should, you can walk back to Plan Chécrouit. Just watch for the traffic of skiers and boarders rushing down to Plan Chécrouit when crossing the piste.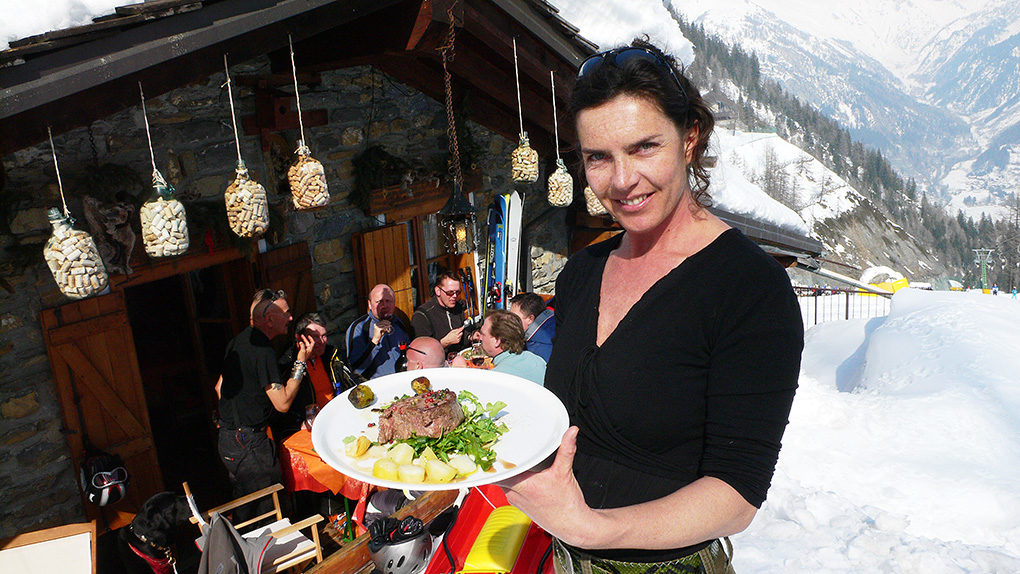 +39 0165 182 7210
Alpetta Mountain Restaurant – also by the Chiecco surface lift, next to the Chiecco restaurant. Owned by a Torinese rocker that grew up in America, it offers the best lasagne in Coumayeur (debatable if better than the one of Maison Vielle, as per my kids!) Soups, pizza, pasta and burgers, and my favourite (or my idea of mountain food growing up in Bariloche- goulash!)
To reserve a table, call +39 349 3991363 and you can email (but that would work for 24 hours in advance at least) alpettacourmayeur@gmail.com – Website: http://alpettacourmayeur.com/
Maison Vielle Located at 1956 meters on a sunny plateau in the ski area.
To arrive, go to Plan Chécrouit and take the slow double chair Maison Vielle, then it is just in front from the arrival of the chairlift.
Pietons (pedestrians) can go there too via the chairlift and come down to Plan Chécrouit after lunch also using the chairlift, maybe a nice choice to be away from the crowded Plan Chécrouit?
Located by the Tzaly surface lift (what I call a Poma lift), which is ideal if you want your young kids to keep on doing laps on the poma after eating while you have a quiet time with your significant other or adult friends. They are safe there as it is only one piste with no connection from higher pistes. Or they can be by the side building a snowman. As the terrain naturally goes up for those skiers or boarders coming at speed from Aretu, you know your kids are safe out there.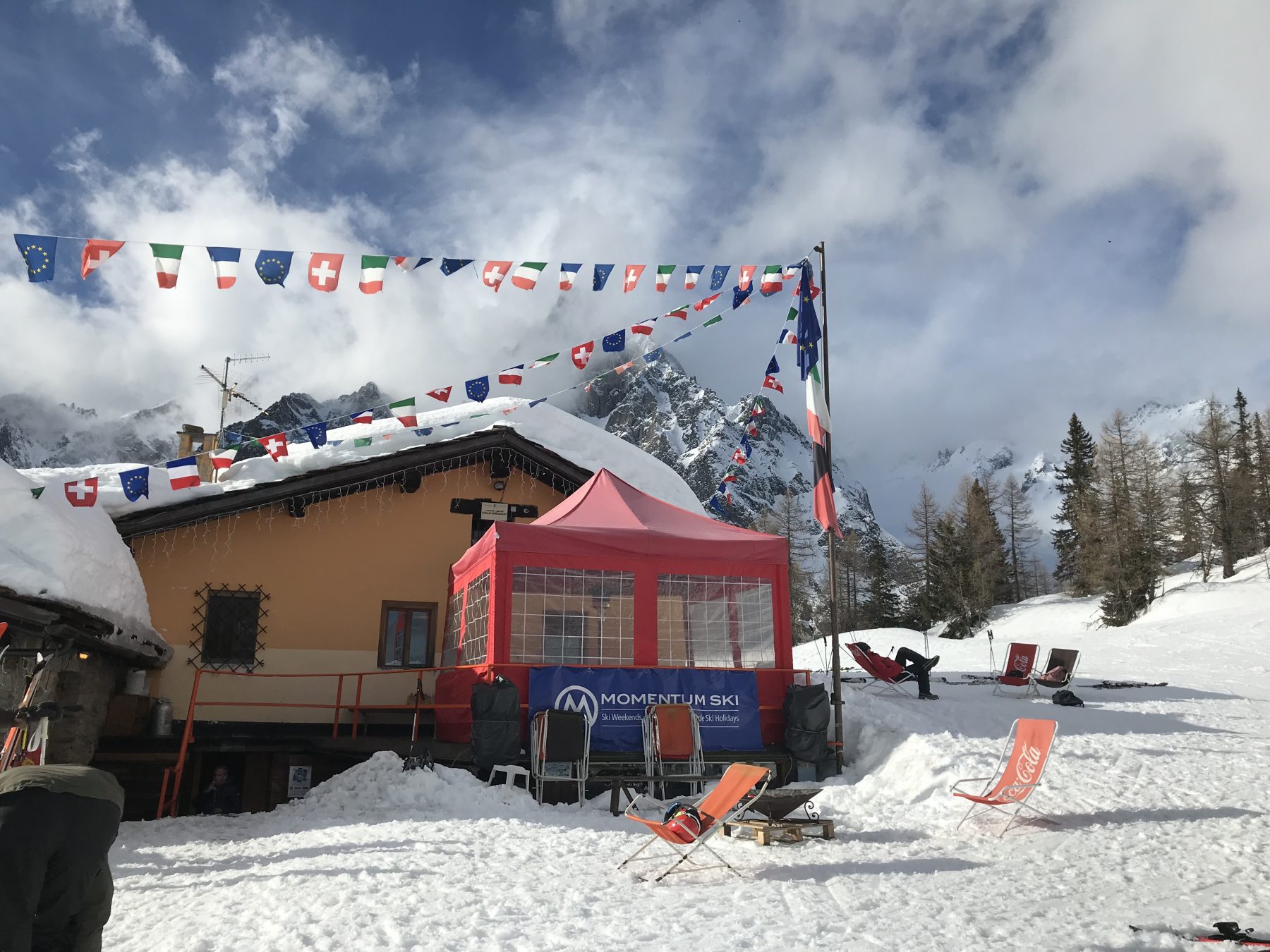 With the Monte Bianco on its doorstep and also magnificent vistas towards the valley, this is one of the greatest restaurants where to have your lunch outside.
My kids love the lasagne and I loved all the pasta dishes I had there.
+39 337 230 979
Chez Ollier/Rifugio Le Randoneur- Located by the Pra Neyron lift, coming down the blue Pra Neyron piste just at the altitude before getting to the Dzeulena chairlift, but on the right-hand side of the Pra Neyron piste on skiers' right.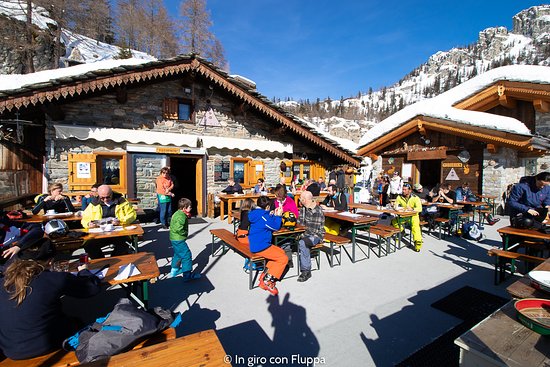 Views are beautiful, we did go without a reservation and it took us ages to get sit down, finally I've proposed to sit inside as there was place. The food was good, our pizzas and pasta were good and rates reasonable for being in the mountain. I've read reviews that even with reservations the service was slow, but others were very happy. I guess is luck? We did have a wait to get to sit down and maybe to get asked what we wanted, but then food came quickly. Views of the valley are amazing though and the terrace looks very inviting. The restaurant was very full when we went, no doubts about that! Next to the restaurant, the Ollier family owns the Rifugio Le Randoneur.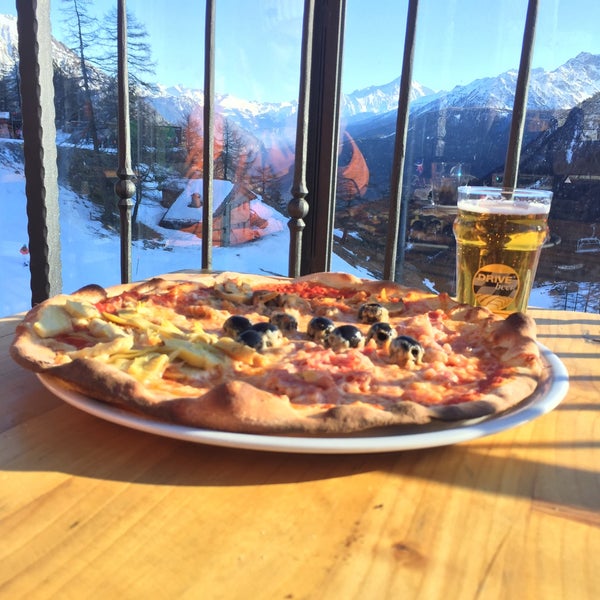 Phone: +39 32 04 30 35 40
Mobile:+39 34 95 36 88 98
Le Vieux Grenier by the bottom of Dzeulena, when skiing the Pra Neyron piste, just when crossing under the chairlift, you see the Chez Ollier on the right and across Le Vieux Grenier. Lovely spot to stop with amazing terrace views and also very cosy inside. We've stopped there for coffee, lemon merengue pie and also cheeky hot chocolates. Prices are very accessible, and staff is lovely. I have heard good reviews also for lunch, but it is better to reserve a table as it gets full. +39 351 811 3475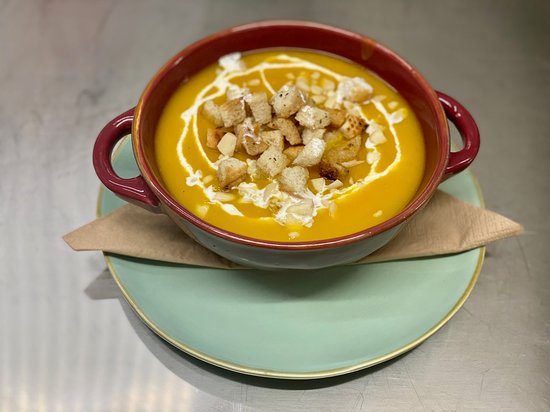 Courba Dzeulena – top of Dzeulena and Zerotta chairlifts. A great sun-drenched terrace with beautiful views wherever you see. Small menu, but good sandwiches and burgers. They do their own flavoured Grappas. Good place for a coffee or bombardino – (for me I need to drink bombardinos only after skiing…) +39 393 914 2894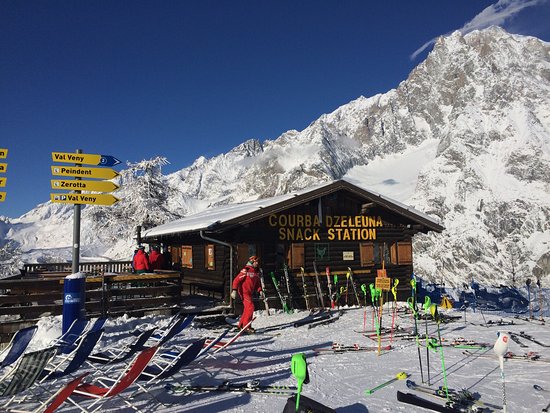 Col Chécrouit
Ski Pol da Geremia: Highest restaurant in Courmayeur, located in Col Chécrouit (in the building where the Col Chécrouit gondola arrives and the Youla cabin departs. It has a captive audience of those queuing for the Youla cabinovia – maybe you have your mate waiting in line and you get a quick sandwich to take with you? Or a quick coffee? The restaurant is self-service and is inside the cement building (not the nicest building to be in), but for those die-hard skiers that cannot stop for a good lunch, or have not reserved anywhere before, this is a good option to get your belly filled up and then continue. The restaurant has a terrace with views of the Mont Blanc. For those liking Tripe, here is well cooked with tomatoes and cheese. But all my fellow British friends' shudder at the idea of tripe… still lots of paninis and hamburgers to be had!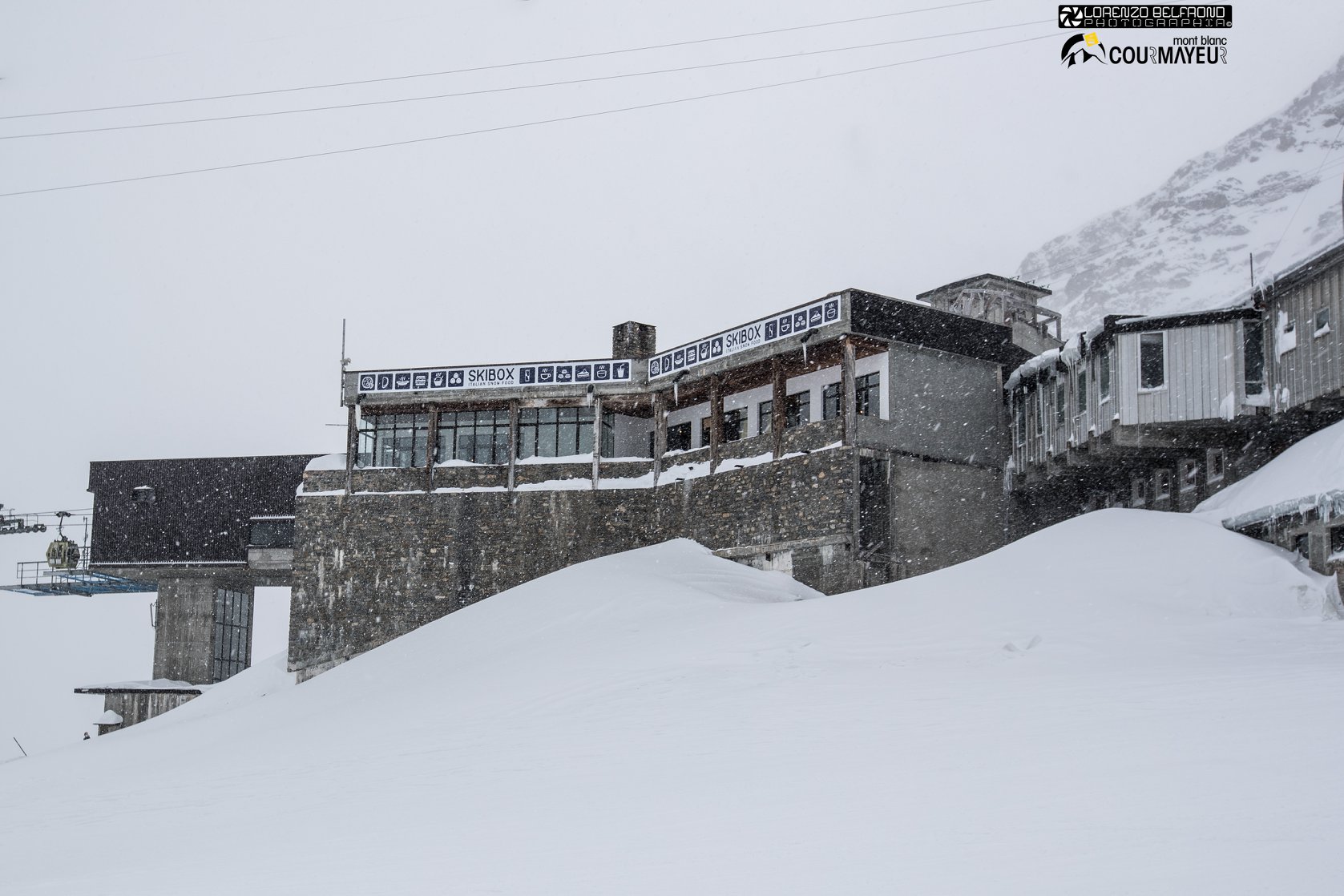 (+39) 339 6705919 – 348 3352219
The owners have also a wine bar and restaurant just outside the town of Morgex, by the tennis courts (10' down the road from Courmayeur towards Aosta).
Chalet Chez Croux- Just when you come out of the Chécrout gondola and you go to your right of the building, you will see the cabin bar paninoteca of Chez Croux. Owned by Enrico Croux, offers a big sun terrace with the views of the Monte Bianco and all the chain of mountains. I have only stopped there for a quick sweet pick me up cake or pastry with a coffee. This restaurant does not accept reservations, so it is first come/first served. It has 100 seats inside also for those bad weather days. I've seen lots of families there as there are simple focaccias, pizzas and sandwiches for all tastes.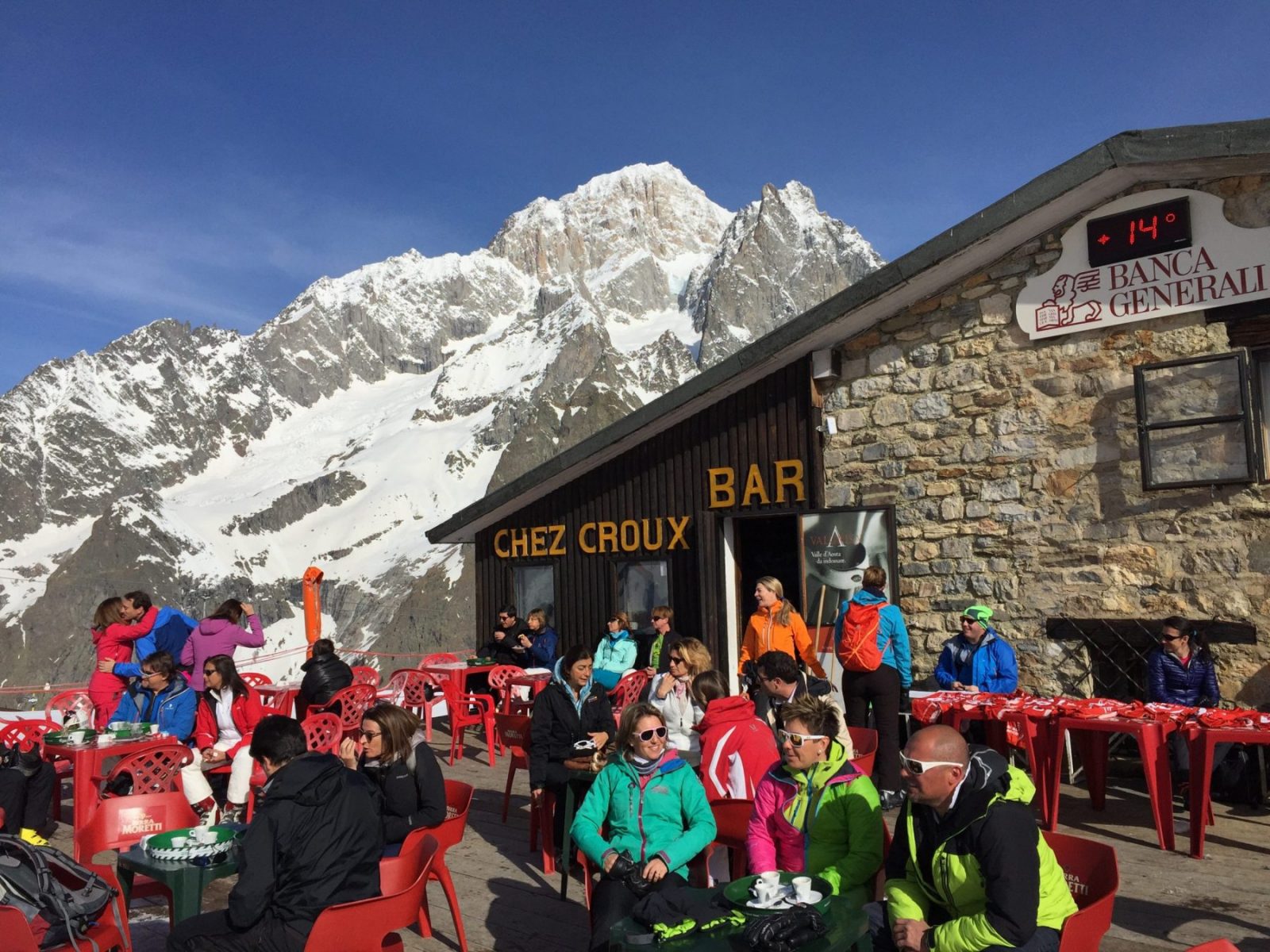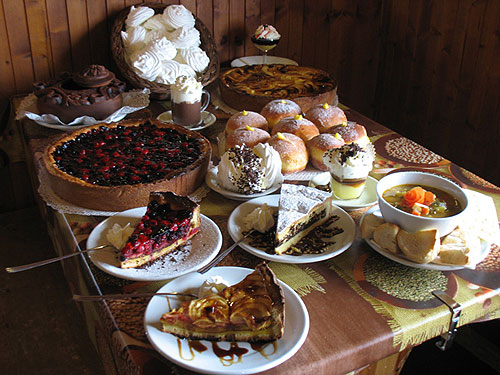 www.chezcroux.com – +39 340 5425115, + 39 345 262 3367 – info@chezcroux.com
Val Veny side
Capitan des Alpes – bottom of Zerotta chairlift.
Good pizza, wood barbeque meats, great chestnut gnocchi. Just remember to book a table. Amazing views of the Mont Blanc.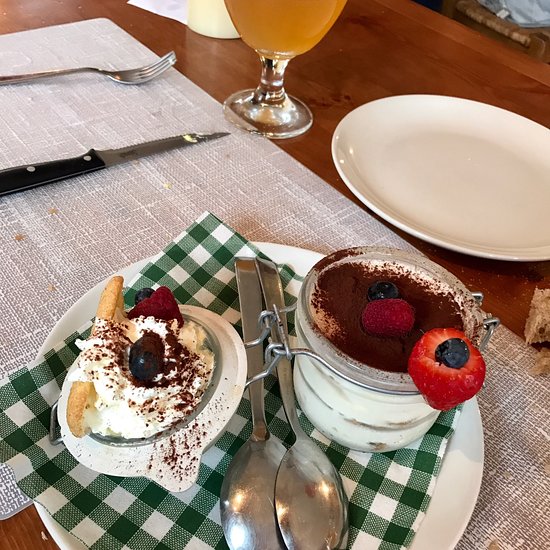 www.capitandesalpes.it – +39 347 855 6206. info@capitandesalpes.it – meo74@email.it
Bar Ristorante La Fodze- by the bottom of Peindent chairlift.
Great for gnocchi with fondue, Polenta Valdostana, polenta with stew and lovely deserts. It accepts credit cards.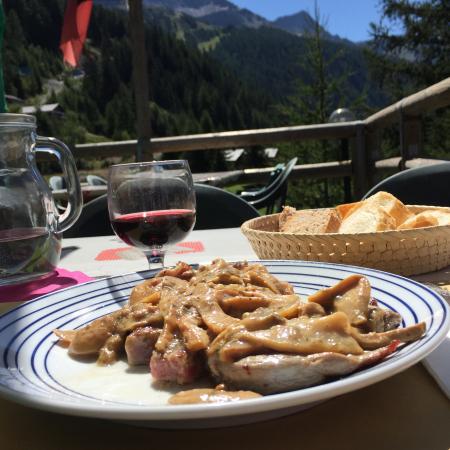 https://www.facebook.com/La-Fodze-132178203504639/
+39 392 071 1699.
Bar Ristorante La Grolla- on the side of the blue run going to Peindent chairlift. Great views of the Brenva glacier and the Mont Blanc massif. Lovely pasta and steaks, but the views are what make people come back for more. Remember to book your table as it has a great sunny terrace viewed by many others than you!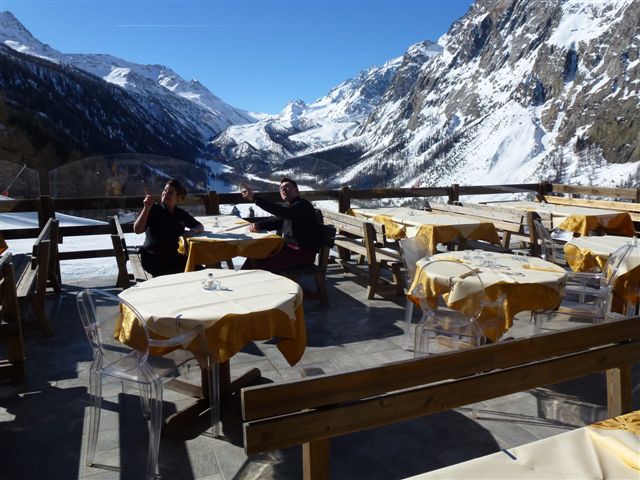 It offers dinner with a snowmobile ride to reach the restaurant. You need to book and say which menu you will be having beforehand,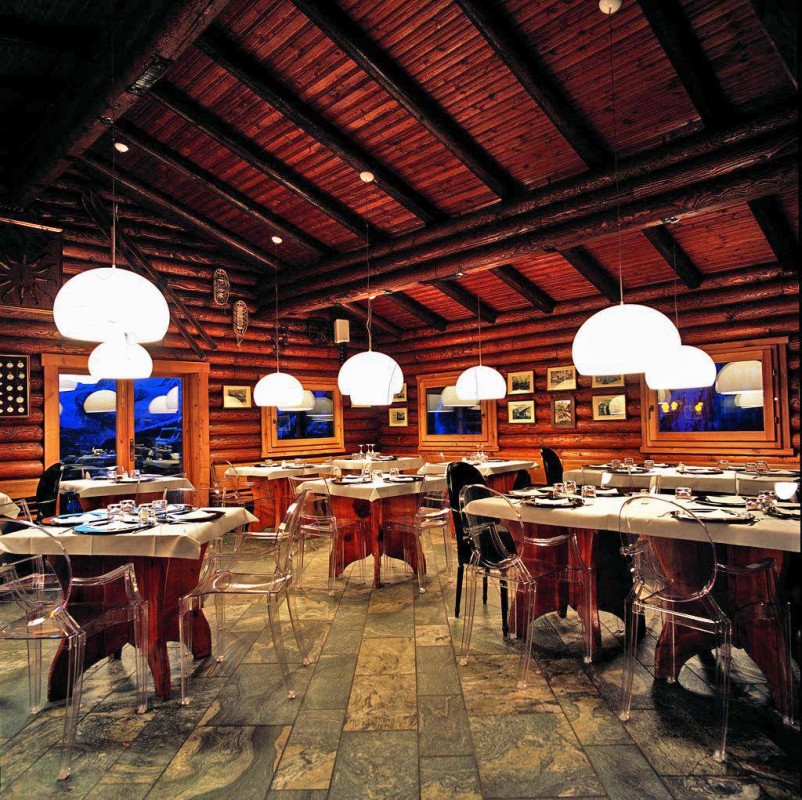 Ristorante Pré de Pascal, by the arrival of the Val Veny cablecar.
The offer consists of panini, pizza, focaccia and crêpes. Also, soups, and the specialty if in season of 'porcini fritti'. Or if hungry try the wild board stew. Great selection of deserts.
It offers some lodging and an apartment for those wanting to stay up in the mountain. Prices are very competitive. The service is cafeteria style, where you choose from the counter what you want to eat. The décor inside I would say is a bit old, but service is lovely. Great outdoor terrace! Good place to go if you have not booked a table and to get away from the crowds on the Chécrouit side. There is a bar downstairs if you want a quick coffee and follow up the skiing on the TV.
http://www.predepascal.com/courmayeur/pg8.html
+39 0165 869090
You can read our Must-Read Guide to Courmayeur here. And read about Courmayeur's pistes here.
So here you have it, the complete list of restaurants for on-mountain dining in Courmayeur Mont Blanc. I hope I have not forgotten any. But you can see, you don't have to go hungry in beautiful Courmayeur, and the vistas are so amazing, with the Mont Blanc massif surrounding you pretty much, that it would be a sin not to stop to enjoy and absorb those vistas while having a lovely meal. At least for me, the stops are the parts I like the most of my skiing… I do love skiing, don't get me wrong, but I love my pit-stops! You can go all day on skiing a couple of runs, stopping for a coffee, then another couple more, stopping for a hot chocolate, then for lunch, then for aperitivo, and so on!
You can search for your own accommodation in the snow for your next ski holiday through our Accommodation Search tab.
Start planning your next trip!
You can search for your own accommodation in the snow for your next ski holiday through our Accommodation Search tab. Or if looking to stay in the heart of the Mont Blanc Valley in the Aosta Valley, check Il Coure della Valdigne review here. This is our own family home in the mountains, that I am renting out when not using, you can always write me a private message if interested to info@the-ski-guru.com
You can book directly through Airbnb  through this link
Or check Booking.com on this link.
If you want to take your family skiing and you don't know where to start, read here. And search for your ski transfers from all airports to the Mountains here. And for those that are like me, that are lazy to cook, you can get your food, even gourmet mountain food delivered to your home with Huski.
If renting equipment (skis or snowboards)  check our agreement with Skiset– you can get up to 50% off ski or snowboard rental rates. I have been using them for years every year when I go to America  and Europe and they are great!
Already selling some alpine design items for your house. #bringthemountainshome with The-Ski-Guru HOME and put a smile in your face. These are hand-paintings done by me, applied to cushion covers, coasters and mugs.
If you have some questions, contact us at info@the-ski-guru.com for more information.
If you want to take your family skiing and you don't know where to start, read here. And search for your ski transfers from all airports to the Mountains here. And for those that are like me, that are lazy to cook, you can get your food, even gourmet mountain food delivered to your home with Huski.
If renting equipment (skis or snowboards)  check our agreement with Skiset– you can get up to 50% off ski or snowboard rental rates. I have been using them for years every year when I go to America  and Europe and they are great!
You can start thinking about your trip, by reading the articles on the Planning your Ski Trip tab.  Or how to pack for your family ski trip.  If taking your furry friend abroad to the continent, read about the new Pet Travel Scheme update from DEFRA. Self-drive skiers also need to plan for Brexit. Check out our tips for driving to the mountains.  If flying and renting a car in Europe, beware of the extra charges they will pass to you if you want winter tyres, snow chains or ski racks. If driving, check the winter tyres news for Europe and North America. You can see how our last family ski holiday was not as expected, even though one plans it to be a success, but how we could do the most of it. If you want to get better before getting to your next ski holiday, here is a quick guide to indoor skiing and dry slopes in the UK. You can also read our week in the mountains during our summer holidays in Courmayeur.
Featured Image: Maison Vielle with the Mont Blanc in the backdrop – the place to eat in the mountain- Photo credit: The-Ski-Guru. A Foodie Guide to on-Mountain Dining in Courmayeur. 
Please follow and like us: