Where to Stay in Courmayeur.
This article may contain affiliate/compensated links. For full information, please see our disclaimer here.
Courmayeur is a compact Roman town between majestic peaks in the border of Aosta Valley, Italy and France.
2780 beds
11 ** hotels
31 *** hotels
7 **** hotels
3 *****hotels
3 luxury-catered chalets
3 B&Bs
10 holiday apartments
8 residences
Content of the Must-Read Guide to Courmayeur.
Le Massif Courmayeur 5* et La Loge du Massif
The new address in town, just a throw from lift that takes you up to Plan Chécrouit. The hotel opens for the 2018-19 ski season with a hotel and a Chalet in the slopes (read below). Member of the Leading Hotels of the World.
Decorated with Italian wood and alpine stone, it has a charm and chic atmosphere.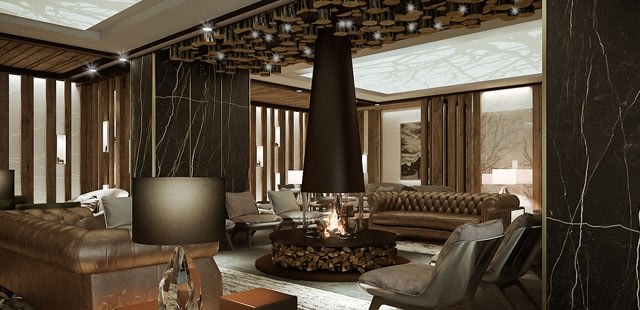 It has connecting rooms and all inclusive packages for kids up to 12 years. A ski butler will help you get your rental skis and will take it up to the La Loge du Massif, that is the slopeside Chalet to store them there, so you can just go up the mountain and pick up your skis slopeside.
You can collect your ski pass at reception and also arrange your ski lessons with the Courmayeur Ski School. They give the service of taking your kids to their ski lessons on the piste and back to the hotel so you can enjoy your holiday time.
Le Massif restaurant serves breakfast and a la carte dinner, while Le Massif Steakhouse is an invitation to devour grilled meats and delicious wines. This restaurant also serves lunches, dinners and weekend brunches.
Spa with Forest Bathing, Bioaquam, a private spa for relaxing alone or with a couple or friend, and a fitness area.
La Loge du Massif is your chalet on the slopes. In Plan Chécrouit, where the tram and the cable car comes from both the town of Courmayeur and Dolonne, you find a deluxe chalet for those that want to stay in the mountain. It counts with a gourmet restaurant and a kids' club to entertain the little ones. A great deck invites you to relax with an aperitivo in one hand.
Grand Hotel Courmayeur 5*:
Category: 5*- built on 2014 – net, modern, rustic chic
72 rooms
Five minutes walk from downtown Courmayeur. Located a bit higher from town with magnificent views from its big windows of the Mont Blanc and the Brenva Glacier.
Ski rental shop at the hotel. The hotel offers transfers to the lifts.
Restaurant: The Fourchette.
Bar Equinox: with panoramic terrace and entertainment.
Great Spa: 500 sq meters: Centro Benessere Elysium –indoor swimming pool with circular waterfall and hydro massage jets, great solarium, beauty treatments, massages, sauna, Turkish bath, relax room, herbal tearoom, chromo-therapy showers, and equipped gym.
Private garage
Good for: families – and couples or friends – they have a big quantity of connecting rooms.
New for this season: they are opening a small kids play area in the lobby (in the room that used to be the cigar bar)
The hotel has a private magic carpet and small ski run for beginners in their garden.
Big lobby area for lounging around
Breakfast: continental, planning a new breakfast – included in rate
They offer half board too.
The restaurant is opened for lunch.
Bar and Restaurant are together in an open plan setting – with floor to ceiling windows and great views.
Rooms and Suites:
All have wooden flooring, wardrobe, hair dryer, and bathroom robe, courtesy toiletry set, slippers, minibar, and towels, linen. Also in all rooms there is a safe for laptop, telephone, TV with cable channels.
Grand Hotel Courmayeur Mont Blanc
Grand Hotel Royal e Golf:  5*
Oldest 5 stars hotel in Courmayeur (built in 1854) – It is bang in the middle of Courmayeur, excellently located for getting the Armani funicular – And is home to the IN bar for aperitivo for après-ski, plus the Michelin star restaurant (Le Petit Royale) in Courmayeur.
Some people consider it like a 4* hotel as its rooms are a bit classic in décor, but they are very big, so it works great for families.
All rooms have been refurbished but the ones on the 6th floor.
It is located 300 meters from the Armani funicular, in the pedestrianized zone of town, bang on Via Roma.
They offer shuttle to the Dolonne cable car, but they are greatly located for the Armani funicular.
Restaurants:
Main restaurant with 120-150 seatings.
Petit Royal – 40-60 seatings – They have a new chef- Paulo Grifa
The hotel has a big area to sit down, also a reserved area.
There is a piano bar on Fridays and Saturdays from 6 to 11 PM, plus a meetings room downstairs that is also used when the bar is full for the aperitivo time.
Breakfast is a buffet with a hot option, all kinds of eggs and cheeses.
Half Board is available, as well as Full board (with Lunch) – the main restaurant is opened for all meals.
Spa: normally included in rate – Royal Private Spa dedicated to treatments for couples with a Jacuzzi, sauna and Turkish bath, massage beds for couples and a refreshment area with herbal teas, fresh fruit and delicious pastries; a beauty area with five individual rooms for massages and face and body treatments and a beauty service; a small relaxation area; a wet area with sauna, Turkish bath, cold reaction bath; a small gym with panoramic view run by a personal trainer. Outside, with entry from the Fitness area, a heated pool with views over Mont Blanc and a wood-fired sauna.
Rooms: 86 total rooms – amongst Deluxe, Junior Suites and Family Suites
All rooms have bathrooms with bathtub or shower, hairdryer, bathrobe, slippers and exclusive toiletries. Guests can use the flat screen TV with satellite channels and Sky and Premium package, free Wi-Fi internet connection, telephone, safety deposit box, telephone wake-up call and mini bar. The rates include use of the sauna, Turkish bath, gym, outdoor heated swimming pool and private car park.
Note: the Basic Rooms on the 6th floor have not been updated and they have low ceilings.
Grand Hotel Royal e Golf Courmayeur
Hotel Gran Baita: 4* – in a residential area of Courmayeur, 10 minutes walk from downtown and 5' shuttle to Dolonne cable car – (1.5 km to lifts)
54 rooms – 130 beds
Wellness Center with outside and inside pool heated 33°, steam bath, panoramic sauna, emotional waterfall and relax area.
Shuttle Bus to the lift and central pedestrian street (only 500 mts of flat road)
Playroom for kids
Conference centre
Valdostan style (from Valle d'Aosta) with lots of wood and mountain feel.
Big lobby with sub areas- bar area, 24-hour reception, free WI-FI Internet access, laundry service and car park – A garage is offered for an additional fee.
It is a kid's friendly hotel – they have a small room with ping-pong, football table and games for the little kids, but no supervision.
Restaurant – one Valdostan brasserie and another one that has a buffet and is Mediterranean/International meals. Plus a big terrace with views of the Mont Blanc that opens with good weather –
The restaurant is pretty popular and opens to outside guests of the hotel – The rates come with bed and breakfast (continental plus a hot option every day), but there are options to buy your stay with half board or full board as well.
Spa: organic spa, open to external guests – very complete, lovely pool inside-out – this is being refurbished now, to make its walls and ceiling covered with wood to make it cosier. They offer products of Dr Nicola (organic) – Gran Baita wellness area boasts an indoor/outdoor swimming pool (unforgettable the hot bath under the snowfall), a panoramic sauna, steam bath, emotional shower a beauty farm with aesthetic and relax treatments and a relax area.
The use of the Spa is free of charge for all guests of Gran Baita who reserve their stay directly with the hotel's website or via email. It has a small fee for passengers that book through Booking.com
54 rooms- 10 individual rooms with one queen bed. Then there are Comfort rooms with no views, Superior Rooms with views of the Mont Blanc, Junior Suite and 2 mini families suites.
Some rooms have bathtubs – if you want one for soaking your muscles after your skiing, you need to request it when reserving your room!
Many of the rooms accept an extra bed to make them triples.
All rooms have TV with Sky Gold package and free Wi-Fi.
This hotel is a 4* but is the preferred one of whoever you ask in Courmayeur – the attention to detail by its owner Alessandra Garin, is what makes the difference.
Located in Entrèves, a small hamlet outside Courmayeur, closer to the Val Vény new cablecar and the Skyway Gondola. They have the dog sledding grounds on their garden.
Spa: Maison d'Eau – pool with waters at 35C and hot tub, sauna and steam bath.
Opened daily from 3.30 PM till 8PM. Kids 16 and under are not allowed in. Note: It is necessary to use your bathing suit for the spa.
Restaurant – L'Aubergine – it is considered one of the top restaurants in Courmayeur and the best in Entrèves. It has a space inside with great vistas and wood panelled rooms, and an outside terrace with great views of the Mont Blanc.
Rooms: 33 rooms –
Classic, Superior, Junior Suites, Room with Mezzanine, Superior Les Dames Anglaises, Petit Mont Blanc Suite, Mont Blanc Suite, Suite Rocher and the Grand Rocher Suite.
All have parquet floor, bathroom with shower or bath with hairdryer. Each room has a mini-bar, SkyTV, safety box and WIFI complimentary. Some have tea set and some tea and coffee set.
The most expensive rooms could have a bath with hidro-massage, and the Rocher and Grand Rocher Suites have a big panoramic hydro-massage bathtub.
Au Coeur des Neiges 4* Lovely chalets with a common house area with restaurant and bar, and another building that houses the spa. Each chalet/cabin has its own closed parking that is connected to the chalet.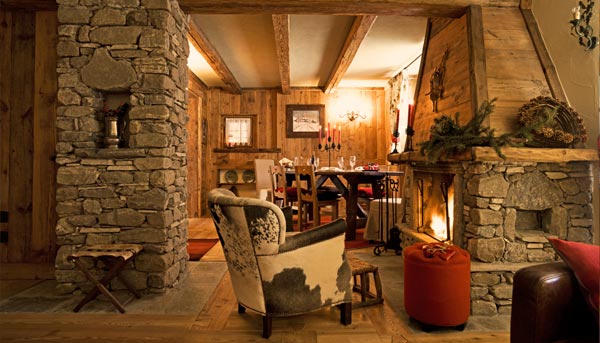 17 cabins and apartments for different quantity of passengers. Located 3 minutes from the main Armani funicular.
It is great for friends and families. For those that want to stay eating in, they can cook in their cabins, or ask for delivery of food from the main restaurant. They are also very near downtown Courmayeur with lots of restaurants, bars and discos.
The Spa opens from 3 till 9 PM- with an indoor pool and a hydro-massage zone with big windows and external views, sauna, steam bath, emotional shower and ample area to relax – They provide for an extra fee all types of massages.
The Bar of the Club House is opened when you come back from the ski slopes with a selection of teas, cakes and lovely biscuits prepared by their chef, before dinner, or for the aperitivo time.
The Bistrot prepares simple dishes and delivers to the different chalets.
Lots of different types of cabins – from 1 room with den, with a small bathroom and a room with a King bed and two bunk beds, to massive cabin with 5 rooms over three floors, with King or Double beds and each room with their en-suite bathroom. This one has also a gym Jacuzzi and steam bath.
 Hotel QC Terme Monte Bianco– 1st Perfume Hotel in Italy 4*
Location – Pre-de St-Didier –4 km outside of Courmayeur – near the Pre de St Didier terme – (hot springs complex.)
Restaurant – Excellent with Mediterranean cuisine, all with local produce.
Spa Monte Bianco – with outside pool and sauna, hay room and music corner.
The hotel has an agreement with the thermal Pre-de-St Didier Terme – which is owned by the same hotel. They give you transfers to the Terme.
Rooms could be Classic, Comfort, Romantic and Mini-suite.
Each room and common area has a specific scent. All rooms have a minibar with a stunning beauty spa selection, bathrooms with shower or tub, views to the garden or to the Mont Blanc. They all have a Nespresso station, Wi-Fi, Kit spa and solarium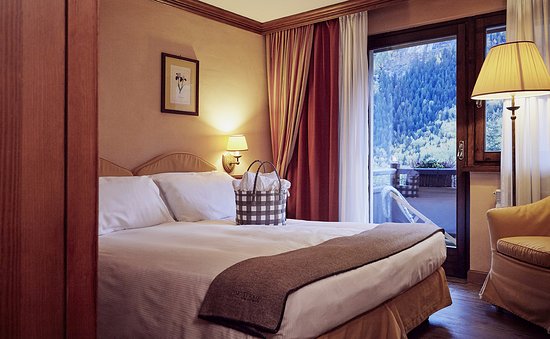 QC Terme Monte Bianco Pre de St Didier Hotel
 Pre Saint Didier Thermal Spa:
Set in a 19th century building with imposing views of the Mont Blanc. There are two buildings, the 19th century building that has the most traditional treatments, and the building of the Ancient Casino, which has the more innovative treatments, devoted totally to mud baths – the two areas are connected by an underground corridor.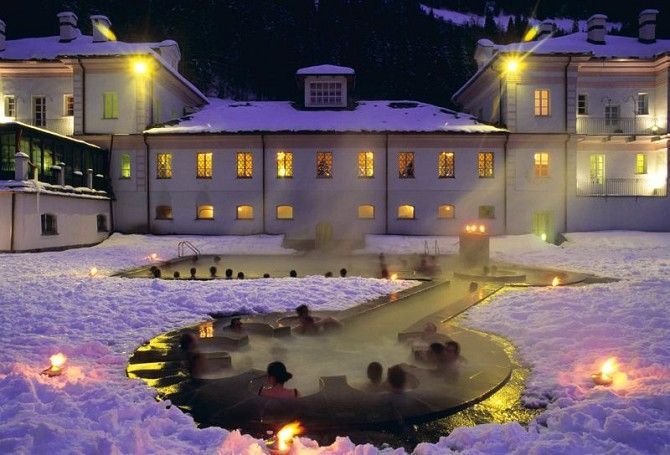 There are relaxation pools with still, thermal waters, invigorating waterfalls, plantar reflexology and theme saunas, aromatised Turkish baths and chromo therapy rooms. Also there is a salt room. Outside there are enchanting gardens which one can access through a water passage. Here you find three swimming pools. You can appreciate the view of the beautiful Mont Blanc landscape from the warm pool waters. The bigger outdoor pool is very carefully designed, it has been renovated and the body spray jets are now more powerful. There are different huts housing saunas with big panoramic windows overlooking the Mont Blanc chain.
There is also a beautiful relaxation room with views to the pools and the Mont Blanc chain, and a restaurant with light refreshments included in the rate.
Lo Scoiattolo 4*- Lo Scoiattolo used to be a 3*, but the owners added a small spa, and a wine bar last year plus remodelled their rooms, so their category went one star up. This hotel is bang in the middle of town, one block to the beginning of Via Roma, which is the pedestrianized road where most of the restaurants and bars are. (Bear in mind that you still have to walk around 5 blocks or a bit longer to reach the Armani funicular – which is OK if you store your ski/snowboard kit on top of the mountain on Plan Checrouit)
Restaurant Al Torchio – wine bar Al Torchio (in the basement, pretty popular for Aperitivo) and wellness Acqua Cadens, with a small sauna, some hanging chairs for relaxation and an emotional shower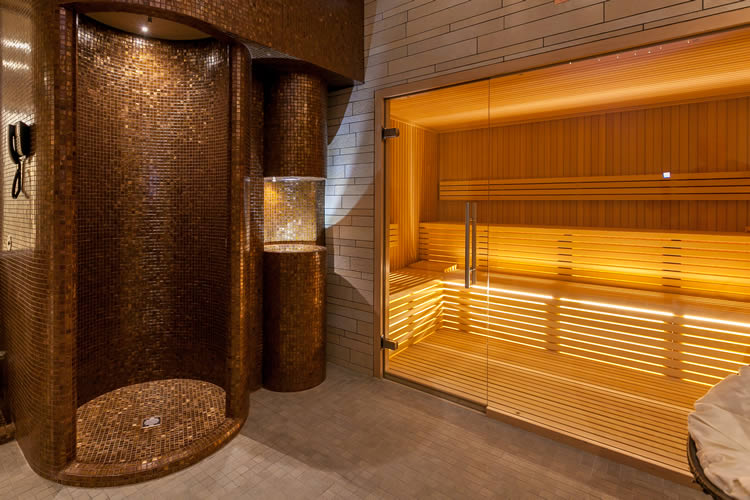 Rooms: 22 rooms with wood panelling, very cozy, the majority with balcony and majestic views to the mountains.
There are Standard Single, Standard (with views to a courtyard), Comfort Rooms, Junior Suite Standard and Junior Suite Comfort. All rooms but the Standard have great views to the Mont Chétif or the Mont Blanc, some in the corner have views to both sides with great balconies. Rooms have LCD satellite TV, a telephone, free Wi-Fi-, safe, desk, luxury minibar with some snacks, hairdryer and a personal care products kit.
Agriturismo Le Rêve – The only Agriturismo Farm in Courmayeur. It has opened since 1999. Owned and run by Alessio and Fiorella and their children, this small lodge of 8 double rooms is some minutes away from Courmayeur, with magnificent vistas of the Mont Blanc and surrounding forests, and seems that you are away from it all.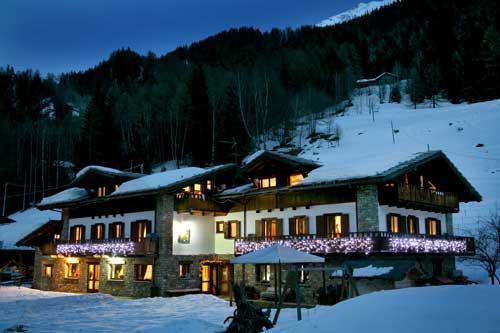 This is a working goat farm with all the produce from them – great cheeses, yoghurts, cakes, lard, you name it! For opening an Agriturismo in Valle d'Aosta, you need a really high percentage of organic and local produce. Everything tastes lovely, and the family owner makes you feel at home.
Rooms are pretty big and clean, again with lovely views to the Mont Blanc and the surrounding forests. There is a shop on site where you can buy their local produce. They are in the process to build a new bigger shop at the farm.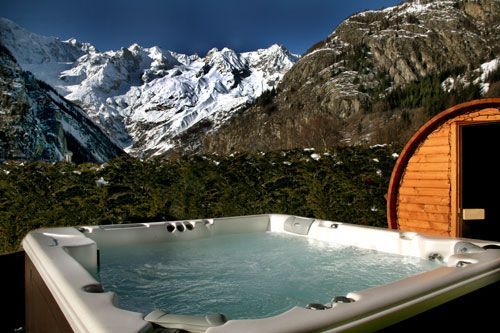 The main house has an outside hot tub and sauna, which is very much enjoyed by guests.
Super G, Italian Mountain Club– directly on the slopes of Plan Chécrouit. 3*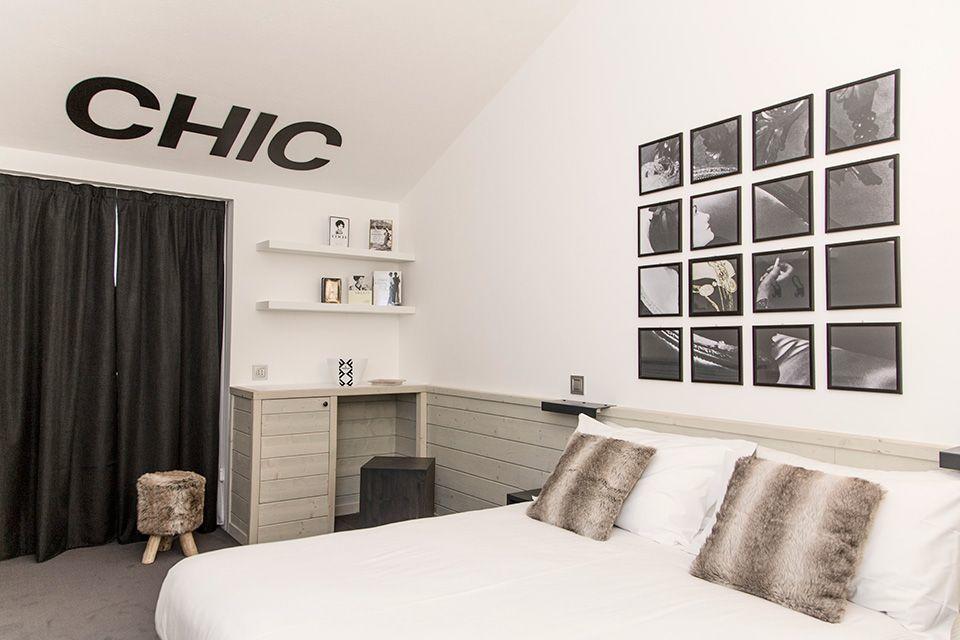 Super G, Italian Mountain Club, is a unique location to enjoy at its best the beautiful slopes of Courmayeur in the incomparable setting of Mont Blanc. The Chalet, the only on the slopes in Plan Checrouit until last season (now note La Loge du Massif is opening for Christmas 2018),  can comfortably host up to 25 people in 8 giant rooms becoming the ideal destination for small groups or families that want to enjoy an holiday "pieds dans la neige" without giving up comfort and amenity; Super G ranges from hotellerie to food for lunch and dinner served in the main restaurant, in several bar points, sunny terraces, to entertainment thanks to the best après-ski with DJ sets of Courmayeur, moments of relax in the SPA, with a dedicated lounge for kids. Super G stay is tailor made and customised, an Italian style pleasure (leisure plus) experience.
Hotel B&B La Grange – 3 * – Old granary from the 1300's which was converted into a lodge in 1980's, owned by the Berthod's family and located in Entrèves, a hamlet of Courmayeur, very close to the Skyway lift and the Val Vény lift.
Rooms are simple with lovely details, very cosy. It has a nice place for breakfasts and guests can have dinner at their sister hotel – Locanda Brenva, some steps up outside. There is a big sauna and a small gym in the hotel.
Locanda La Brenva – 3* boutique – hotel du charme – This is an old structure dating back to 1897, and included amongst its guests there was the royal House of Savoy, of whom the most fond was Vittorio Emanuelle III. This hotel was refurbished while maintaining the intimacy and warmth of the old buildings in the mountains.

It has only 10 rooms that are all different, but the common areas are comparatively for a bigger hotel as it has a lovely living room for having an aperitivo, a breakfast area and a restaurant that is opened for the public and is pretty popular in the hamlet of Entrèves.
It also has a small sauna. Very well located to walk to the Skyway cablecar and the Val Vény funicular.
Hotel Edelweiss is a small family hotel located downtown Courmayeur, 10 to 15′ walking to the Armani funicular. The hotel is located in an off-shoot from Via Roma, so location is incredible. Small and simple, it is a jewel and I would think of it more as a 3*.
The family that manages it is lovely, rooms are clean and you have breakfast included, that is simple but great before going to the slopes. In the winter the restaurant does not open during daytime hours.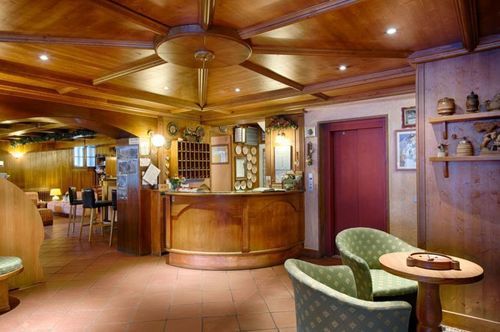 It also has a ski room for your equipment. I would however recommend to leave your skis in Plan Chécrouit, so you do not have to take them with you each day up the slopes.
An outside parking area is available, for not too many cars.
Il Cuore della Valdigne in Morgex, just outside Courmayeur
Being in the middle of Morgex, just 10' outside Courmayeur, 3 minutes from the Pré Saint Didier terme (natural hot springs) and 20' from La Thuile, and to the other side, 25' to Aosta and the gondola of Pila, the chalet is located in a great strategic location for going skiing, cross country skiing (in Arpy, Val Ferret or Cogne), mountain biking, snow shoeing, winter walking, white water rafting and relaxing in the hot springs.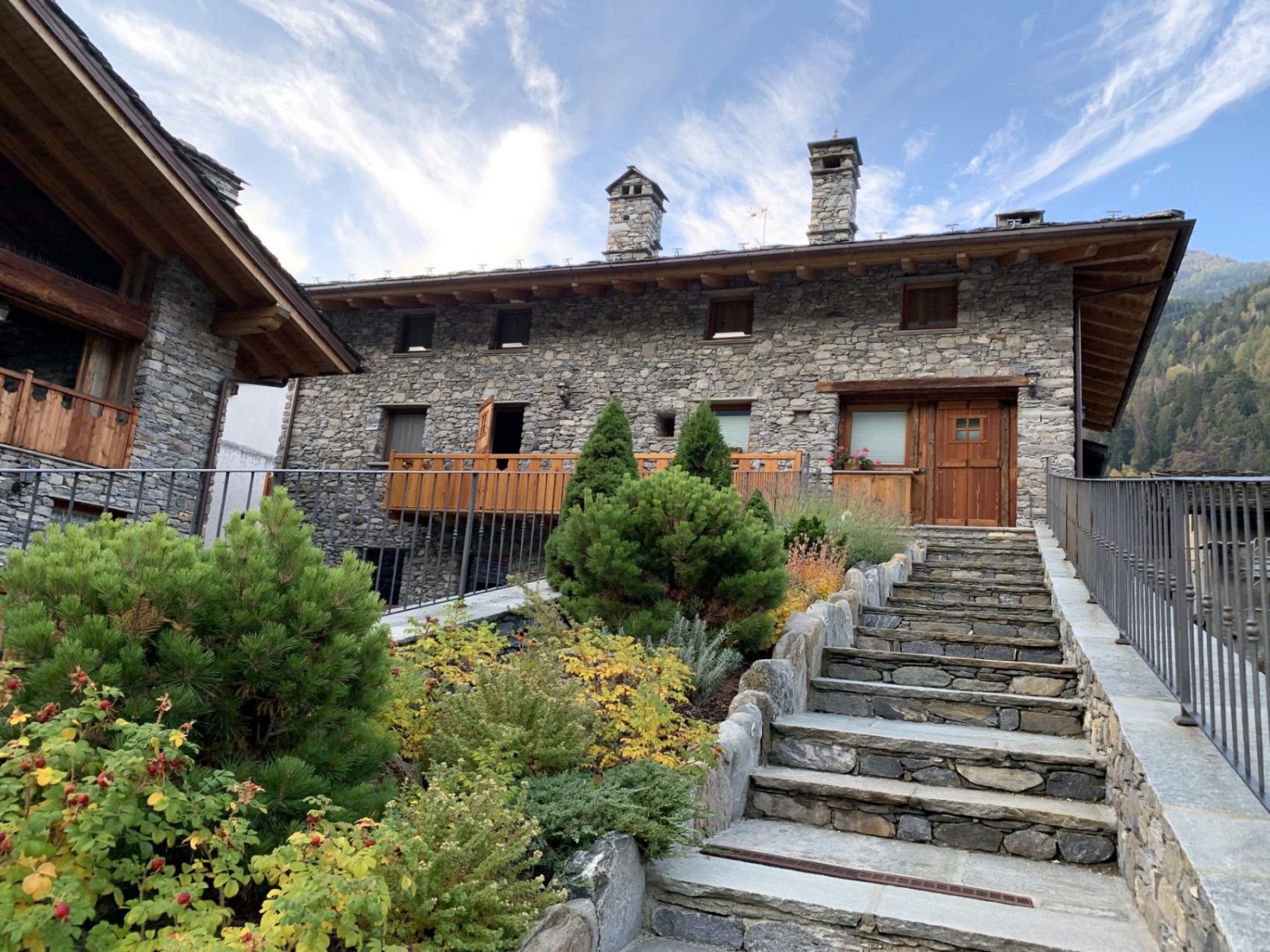 The apartment has two bedrooms and two bathrooms with showers in two floors, a living room with a double-sided chimney that also opens to the dining room. The wooden kitchen with the slate kitchen top is a delight, with all you need if you fancy doing a big meal. If you don't, no worries, you are a stone throw away from many bars and restaurants in Morgex: Mont Blanc Café, Café de l'Archet, La Locanda, Trattoria da Bepe, and if you fancy something much more deluxe, the renown Casa Quinson, all within two blocks from the apartment.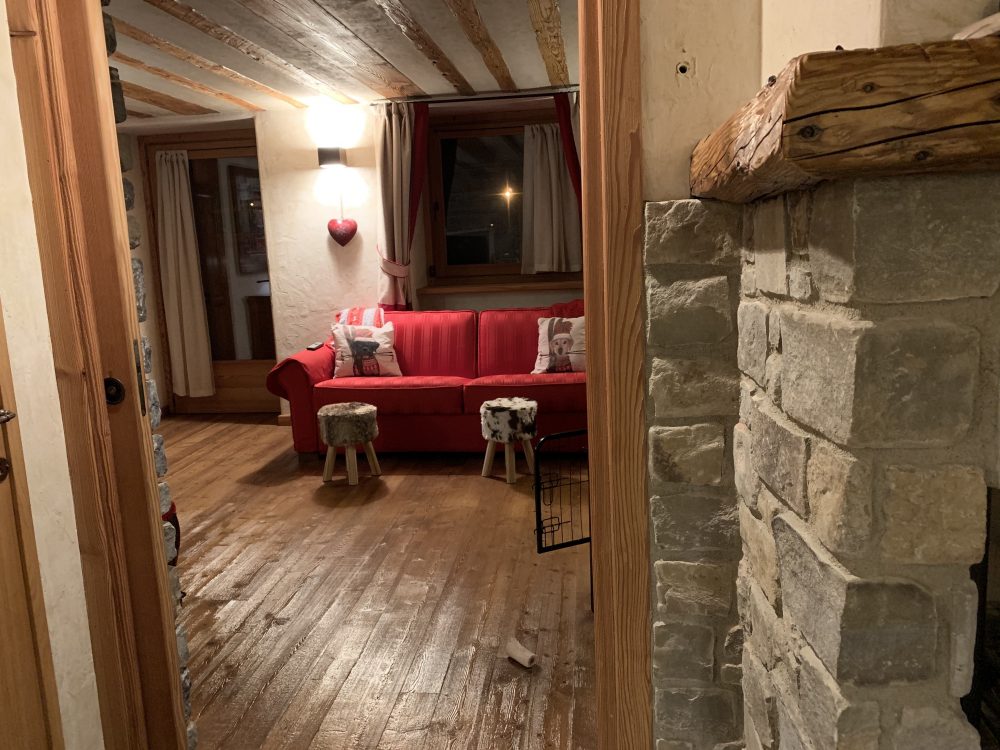 The apartment has a garage box for one car, it can be a high car with a roof box but is a bit tight. Our C4 Grand Picasso makes it in just!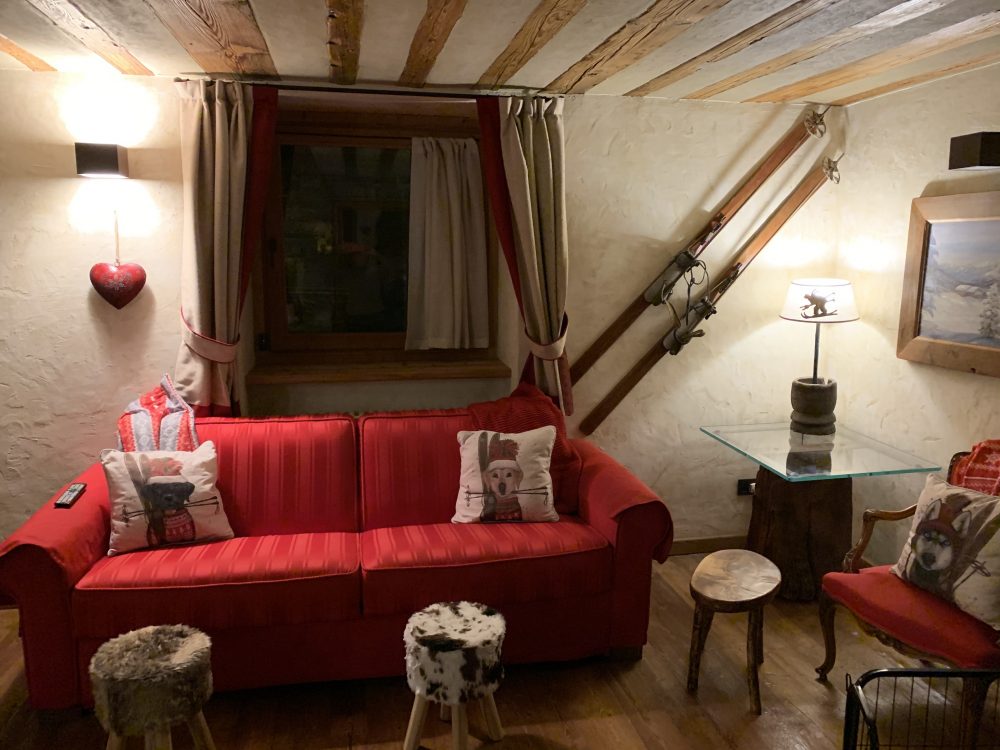 This apartment is for four, but can accommodate up to 6 passengers, with one extra bed on the double twin bedroom that can be pulled out, and a sofa bed in the living room.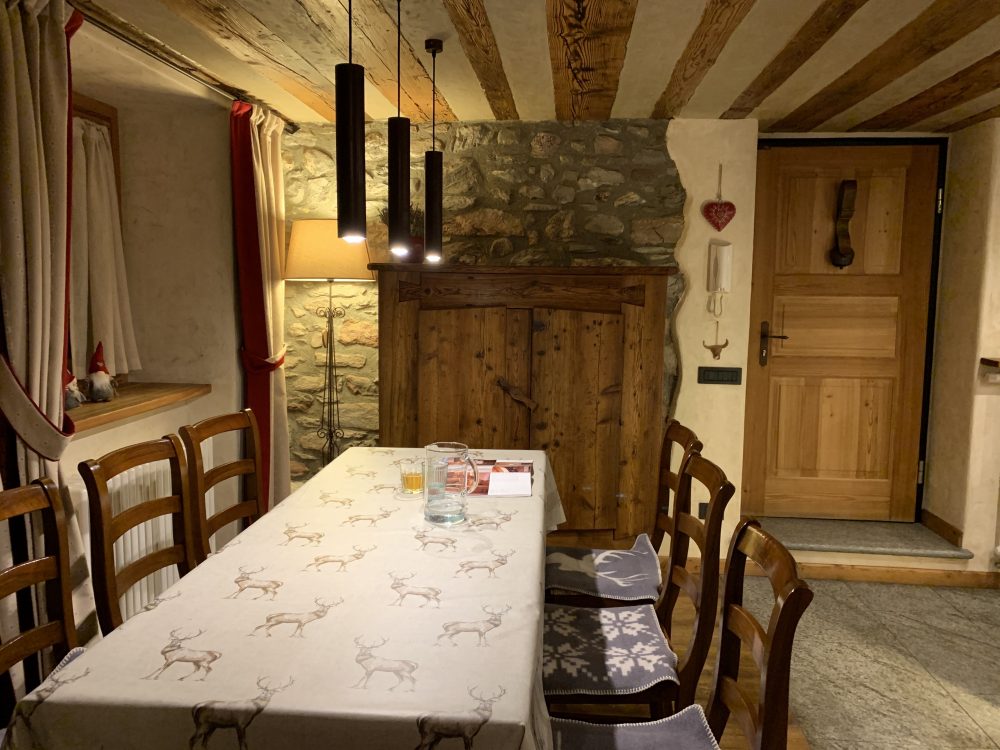 It has lovely details as lots of wood and stone, the roofs of the living room and kitchen and shower room in the first floor are made of pan-de-bois, and the ones of the second room have lovely beams.
It is located 200 m from the bus stop to Courmayeur, Pré Saint Didier and La Thuile and 100 m from the bus stop to Aosta/Pila.
If you want to holiday in this home, click here.
View on Airbnb  Il Cuore della Valdigne in Lo Ponton
Next: Other Services
The-Ski-Guru TRAVEL can take you to Courmayeur as well as any other ski destination in the mountains. Contact us at info@the-ski-guru.com or send us your request in the form at https://www.the-ski-guru.com/travel 
You can check the post of our family trip to Courmayeur last season.  Or check the views of a heli-flight on top of the high peaks of the Alps – near Mont Blanc and around the Dent de Geant. 

View detailed snow forecast for Courmayeur at:
snow-forecast.com