A Foodie Guide to on-Mountain Dining in Courmayeur.
Courmayeur Mont Blanc is a well renown ski resort for its vistas and also for its food! Stopping while skiing or boarding for coffee, hot chocolate or an aperitivo, plus having lunch, is part of what makes Courmayeur so special. However, with so much offer, you have to think where you want to go, and if not lining up for a sandwich, then you need to make a reservation early on if you want to eat in a specific restaurant! This is more so if you are visiting when it is high season. You can attempt to ski into the restaurant early morning and reserve a table there or do so over the phone. I've seen that also some restaurants are accepting reservations online.  In very high season, it would not be a bad idea to book your table even a day or more in advance.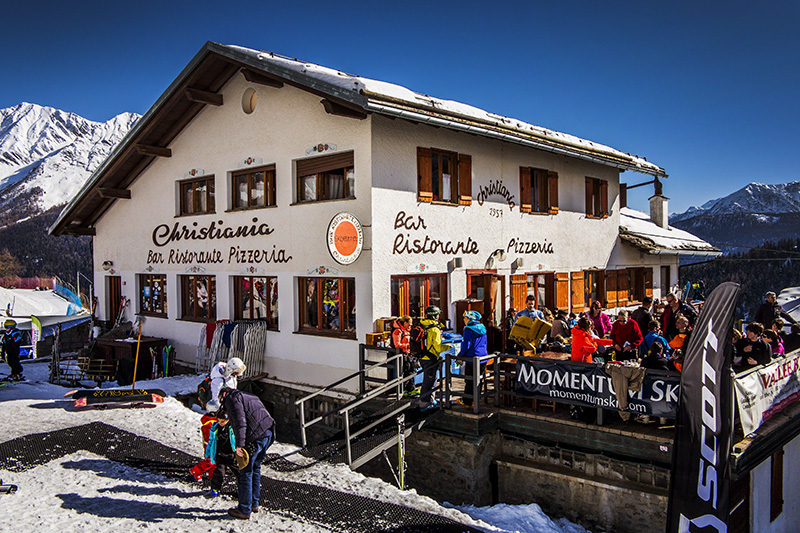 As you know, the mountain of Courmayeur is divided in two sides: The Plan Chécrouit side – accessed from the centre of Courmayeur with the Armani funicular or from Dolonne with the cable car, and the Val Veny side, reached by the Courmayeur funicular from the parking lot of Val Veny, located just before the start of the Mont Blanc Tunnel, and across from the Skyway rotating gondola parking lot. I am only focusing on the restaurants in the mountain in this post, not on Skyway (maybe on another post in the future I'll do that!)
Plan Chécrouit Side:
Bar du Soleil – As soon as you get up the funicular or gondola, you go towards the ski schools in Plan Chécrouit and you'll find it on the left-hand side, across from the ski schools. Mario and Luisa are your hosts. It is a place of good value for money, a typical quick place for a coffee before dropping your kids at ski school and to grab a good pizza and pasta for decent prices. It has a big terrace to eat outside. Dogs are allowed.
Continue reading "A Foodie Guide to on-Mountain Dining in Courmayeur."