Val di Fiemme has a large carousel with 5 ski areas, which combined have 110 km of downhill slopes, 150 km of cross-country skiing prepared tracks, several snow parks, 4 ski kindergartens and ski schools in each mountain, and 1 mile of parabolic downhill.
This is a family friendly resort with lots of initiatives to entertain the small people in the families.
At the Latemar Ski Center, the main area of the carousel, with 49 km of pistes that connects the areas of Pampeago, Predazzo and Obereggen, the culinary tradition meets the design for a delightful gourmet break at Rifuguio Passo Feudo, with a panoramic room where now there is a top quality table service with a delicious menu with typical dishes of the area.
The Rifugio Oberholz is accessible with the new Lanem telemix (a chondola –, which combines chairs and cabins on the same rope). The Rifugio Oberholz' s design has three modern ski verandas that overlook down the ski slpopes towards South Tyrol, with local typical dishes of the area.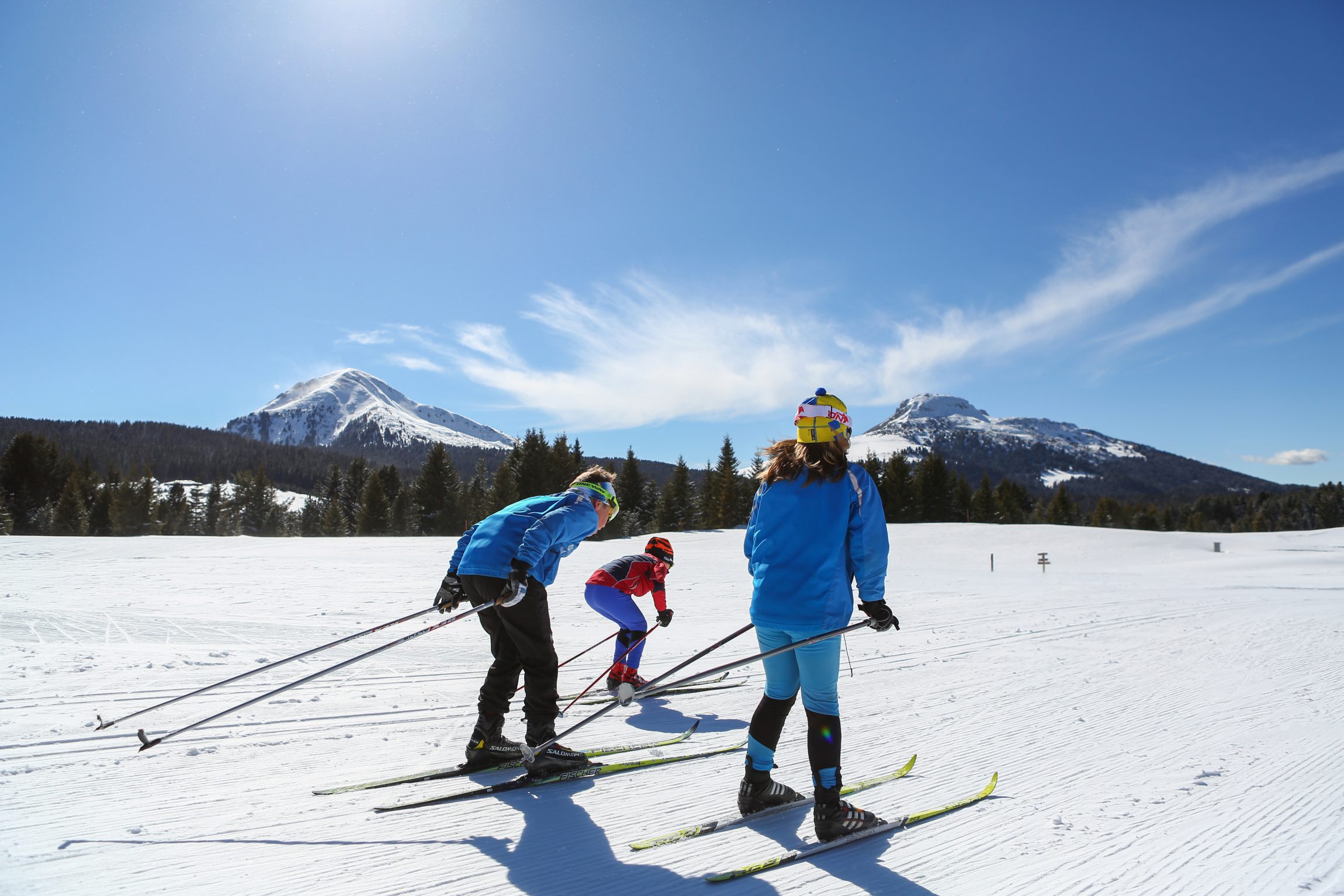 In the Latemar ski Center the art gets in touch with nature, at the RespirArt park, where every season there are new entries of art sculptures. The most popular is one big frame sculpture where people stop for a 'selfie' with the striking Latemar Mountain group in the background.
At the Bellamonte-Alpe Lusia ski area, the slopes touch the boundaries of the Paneveggio-Pale San Martino Natural Park and it is quick to get to 1,967 m altitude thanks to the modern and silent 3.0 cable car. With a capacity of 10 seats per cabin, it can also carry sledges. Its second stop is at the entrance of the Fraina track, of 2 km of length.
Every descent in the Passo Rolle area offers a wonderful view of the Dolomites, which reminds you why Val di Fiemme is home of UNESCO World Heritage sites.
In Alpe Cermis you can ski at night, every Wednesday and Fridays from 7.30 to 10.30 PM, along the Olimpia III run.
http://www.visitfiemme.it/en/active-relax/snow/night-skiing
And at the arrival station of the Alpe Cermis cable car, the new Restaurant Baita Granda and the lounge bar La Baita Tonda have an Alpine design with large windows and great views of the surroundings.
Passo Lavazè-Oclini is a mecca for cross country, with lots of kilometres of technical and challenging trails, as well as some easier for beginners. http://www.visitfiemme.it/en/active-relax/snow/cross-country-skiing
The Fiemme-E-Motion Winter card is a passport offered to all those staying in a participating hotel in Val di Fiemme, giving you discounts, free ski bus to take you to the different ski areas within the carousel, free entrance to museums and castles, also walks, guided tours, and recreational activities and tastings.
Families might choose to stay in one mountain of the carousel, as their kids might be in ski school. But families with older kids not taking ski lessons, or just group of friends or couples, might want to purchase a combined ski pass Val di Fiemme/Obereggen + Dolomiti Superski (ex. 5+1 see the prices on the website http://www.visitfiemme.it/en/active-relax/snow/skipasses) and then ski one day in Sella Ronda area using the service of Ski Chauffeur http://www.visitfiemme.it/en/more-info/useful-info/mobility, otherwise if you prefer to be accompanied by a ski guide it can be organised on request paying an extra rate.
Other useful information: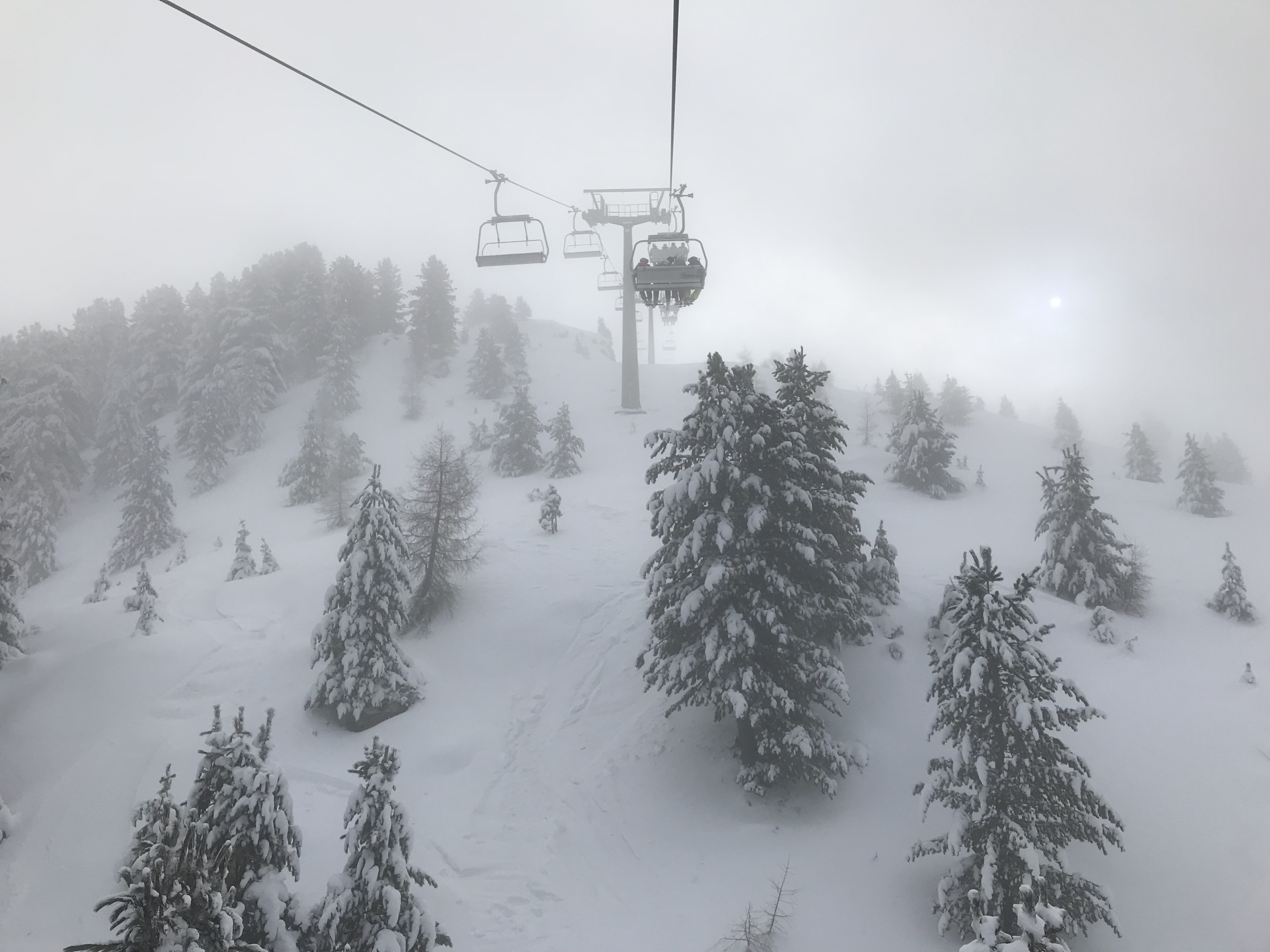 Each mountain has lockers where you can leave your skis and boots so you do not have to carry them around.
Lifts open every day at 8.30 am and close at 4.30 pm 
For those wanting to see the sun coming out, there is an early breakfast deal on top of the mountain, where you can get up before the sun goes up, have a hot breakfast on top of the mountain, and then enjoy the first tracks with empty slopes: http://www.visitfiemme.it/en/italian-style-and-events/events/events/Trentino%20Ski%20Sunrise_de97478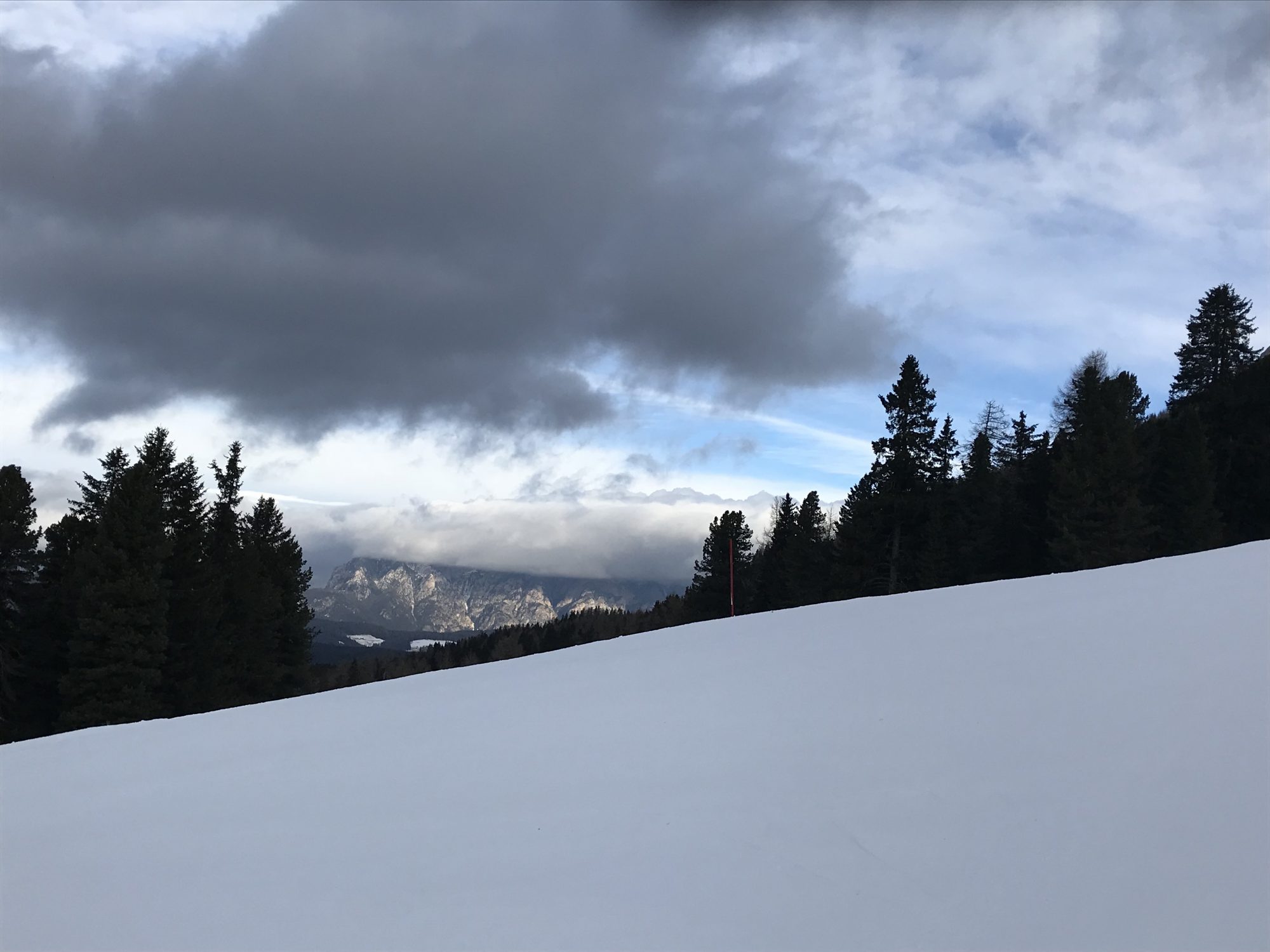 There is a free bus/skibus with your Fiemme Card – more info here: http://www.visitfiemme.it/en/active-relax/snow/skibus-map
For those wanting to go to the slopes but have a private service, you can get a private bus to the resort/ ski chauffer for € 5,00 per person per way, thus to reach Pampeago for example it would be € 20,00 for a family of four: http://www.visitfiemme.it/en/active-relax/snow/ski-chauffeur
Your skipass gives you a free entry to the community pools in Cavalese and Predazzo (except on Tuesdays and Saturdays)
http://www.visitfiemme.it/en/family-paradise/sport/swimming-pools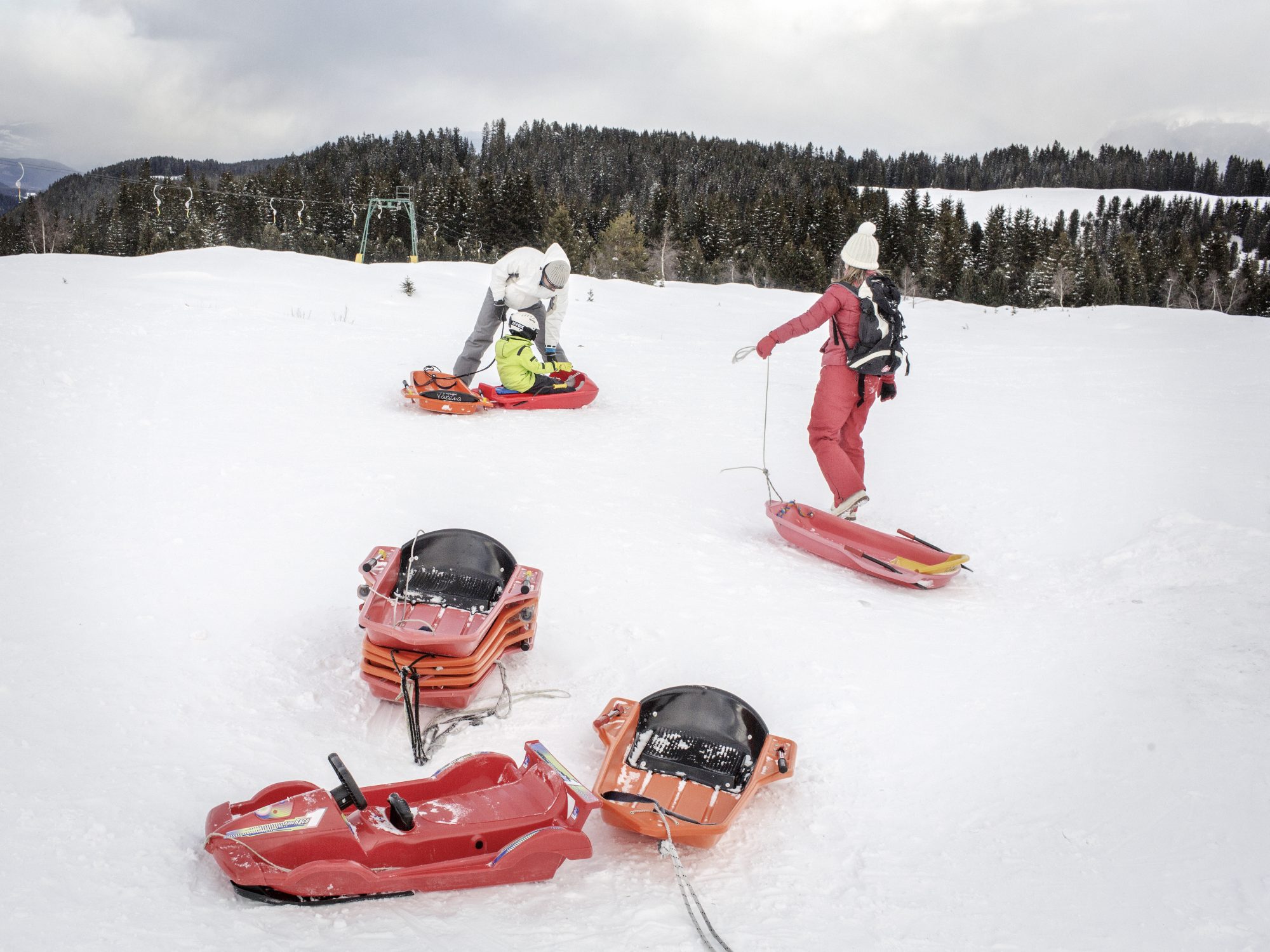 Off-snow activities:
Program of organised and guided activities
http://www.visitfiemme.it/en/active-relax/snow/fiemmemotion-winter-card/weekly-program
http://www.visitfiemme.it/en/active-relax/other-sports/ice-skating
Snow shoeing: http://www.visitfiemme.it/en/active-relax/snow/snowshoes
Tubby/sledge –For those that won't ski or those who want to do something different, the new Absam sled track offers 750 me of fun, and the bobsleigh on rails at the Alpine Coaster Gardonè offers one kilometre of parabolic, jumps and breath-taking curves in the forests.
http://www.visitfiemme.it/en/family-paradise/fun/sledge-and-tubby-slopes
For those wanting to venture off-piste, there are 2 companies of alpine guides:
In each resort there is a kindergarten that offers babysitting services:
http://www.visitfiemme.it/en/family-paradise/fun/ski-kindergarten
Another option is to ask your hotel for a babysitter service.
Calendar of Events
Romantic Mercatino Magnifico di Natale: in Cavalese in December on the weekends. Small Christmas market very nice with local produce and Christmas decorations, a great thing to do after a day in the slopes.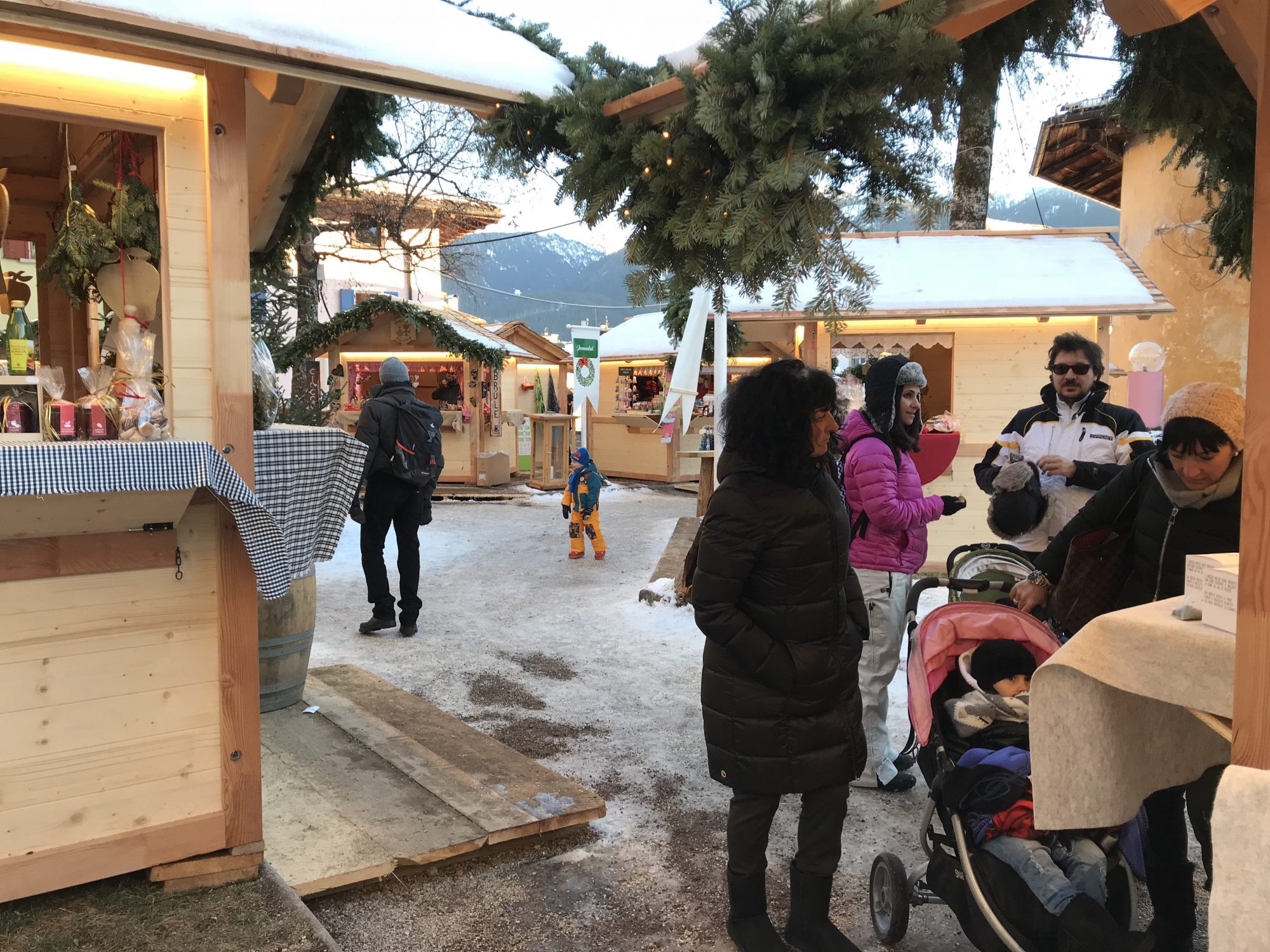 Next – Where to Stay
You can read also the Must-Read Guide to Courmayeur here.
 Featured Image: Photo © Alice Russolo / Val di Fiemme.