The Telegraph Ski and Snowboard Show always indicates the start of the Northern Hemisphere ski season – or at least that it is coming closer! I love going to the show, now in its third year at the Battersea Park site. I choose to go on the Thursday, when it is more the trade day, and you can have a chat with all exhibitors, and also then I return on the Friday with my boys and husband, as an annual outing. The Ski Show is always a great place to see what is new in equipment – in this post will highlight some 'pearls' found at Finches Ski Emporium and the Rossignol stand.
What caught my eye at Finches Emporium
Boots:
Rossignol Pure Pro 100 Women's Ski Boots – The 2019 Rossignol Pure Pro 100 women's alpine ski boot is specifically designed for women's physiology. It has a slim fit to provide foot support for performance skiing. It comes with a liner that can be customised – heated and moulded during the ski boot fitting process. The liners are fully lined in merino wool, which is very soft and warm.
A flex of 100 makes these boots great for all mountain skiing and for experienced and strong skiers. The flex of 100 is on the stiffer end of the scale for women's boots to support fast skiing in all types of terrain.

The 2019 Head Vector Ski boots is part of Head's performance series. It is a boot that merges technology from Head's race boots with features that make them more comfortable and accessible for non-competition skiers.
It has a flex of 110 and a last of 98mm. This is a boot that will support strong movement and also as it is a fit boot, all the power of turning will be transferred from the boot to the ski to the snow.
This is suggested for strong female skiers that need firmer flex when skiing. The Vector boot has a lining designed to adapt to the feet for maximum comfort and power transfer. You can heat the liners for five minutes and shape seamlessly to the feet. It also has a LiquidFit technology, which is a liquid material that can be injected into strategic pouches in the fitting process to fill the gaps and increase heel retention. Also new are the buckles these premium boots have. They are Spineflex buckles that can flex around the shell, and as such create a closure without any painful pressure points. These buckles also have an extra lever, which allows one to use less force to close the bucket.
Handi SOS – this is a small device – a button, that attaches to your ski wear and could help you send a distress SOS message with a GPS location. It is thought for many things, but in the case of skiing and snowboarding, you could send a message if you are lost or maybe caught by an avalanche. Handi SOS sends message alerts and your GPS location to the chosen contacts you pre-select. It retails for £54.99 for one and for 3 as a family pack for £149.99 at www.handisos.co.uk and in a while, you'll also find them at Finches Emporium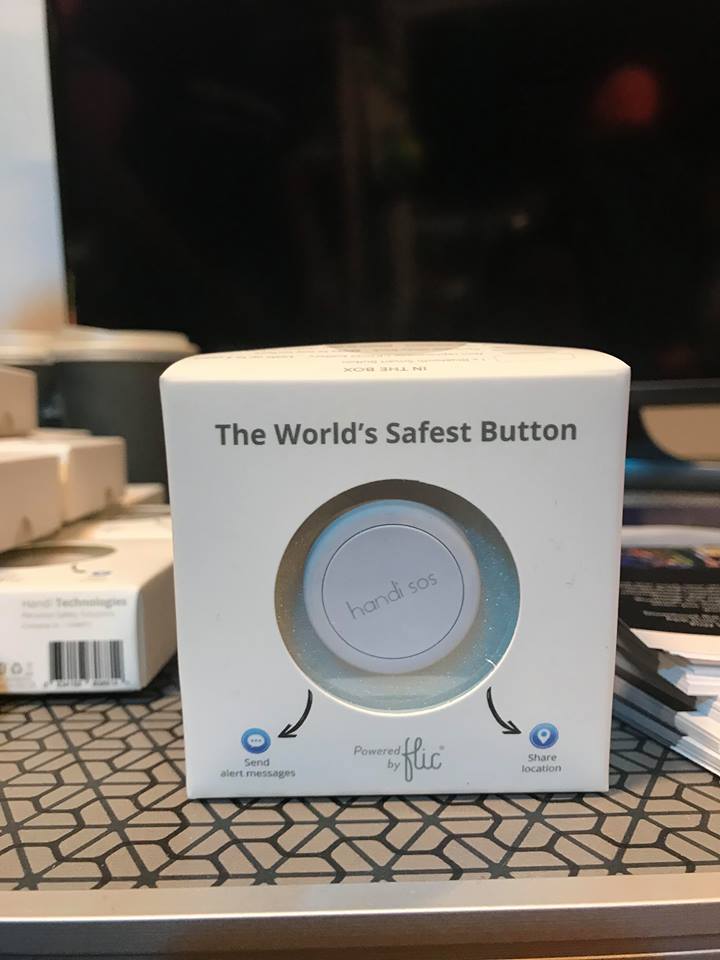 Next to Finches there was a stand for Rossignol Skis and they were showcasing all their range of skis.
The Rossignol Experience X Series have a completely new design, much lighter on the tip of the ski, and allows a much smoother ride. The big change from last year to this year is the LCT System- they have basically split the ski through the middle and put a layer within it to make it stiffer and more stable than the old skis.
The freeride ski is also a bit stiffer, as Rossignol execs heard what customers were looking for, that provides more flotation in the powder.
I went down the aisle and found the Kymira Sports stand that sells infrared compression socks and tops. For those suffering the cold when going to the mountain, this could be an option. The Kymira technology enhances warer's waste energy and latent energy in the surroundings and converts it into infrared. I've bought for myself a pair or skiing/trekking socks and will be testing it for myself soon. The technology of these socks work on the graduated compression and the stabilisation of the calf muscle that increases the oxygenation of the muscles and venous return.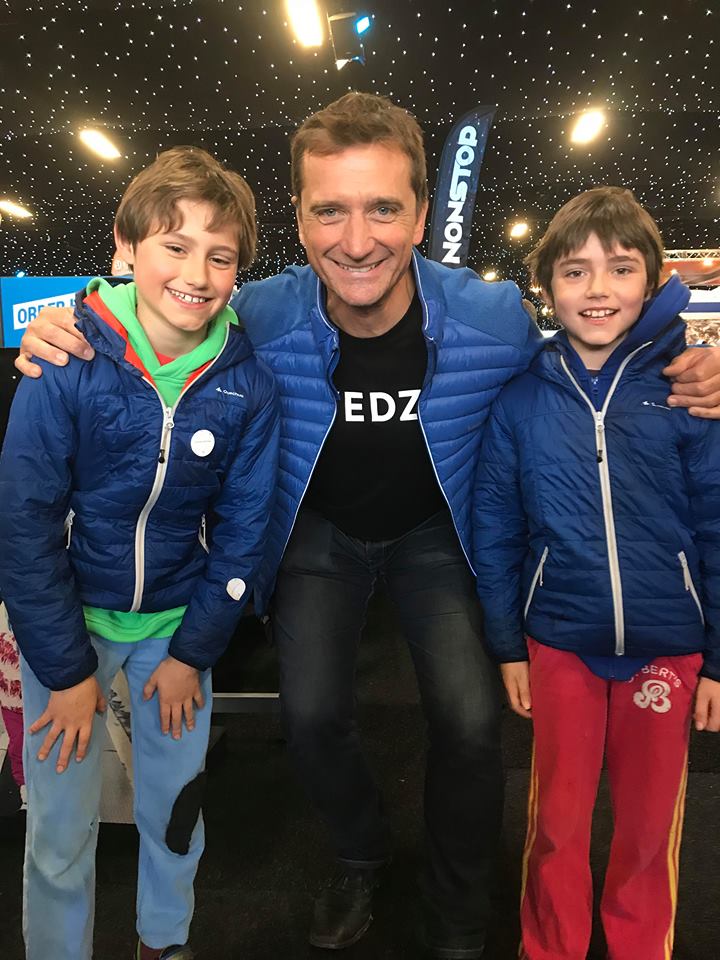 This year the event was as good as always, with many of the Swiss, French, Italian (from Val d'Aosta) and Austrian (from the Tirol), a couple of American ski resorts and Canadian, Norway, Japan and new this year South Korea.
For going with kids is great, many stands have something to lure the kids – so ours were running around from stand to stand, from throwing snow balls to the Swiss stand, creating a gondola at the Mègéve stand, taking a funny picture at the Tirol and the Italia stands, ice-skating at the Crystal ice-rink and playing on the vintage ski simulator of the Snow+Rock stand and at the modern one with virtual reality at the Korea stand. My kids were over the moon when seeing Graham Bell of Ski Sunday and also when they've met Dan Egan, one of the first extreme skiers from the early Warren Miller and Greg Stump movies. All in all, it was a great day out with the family.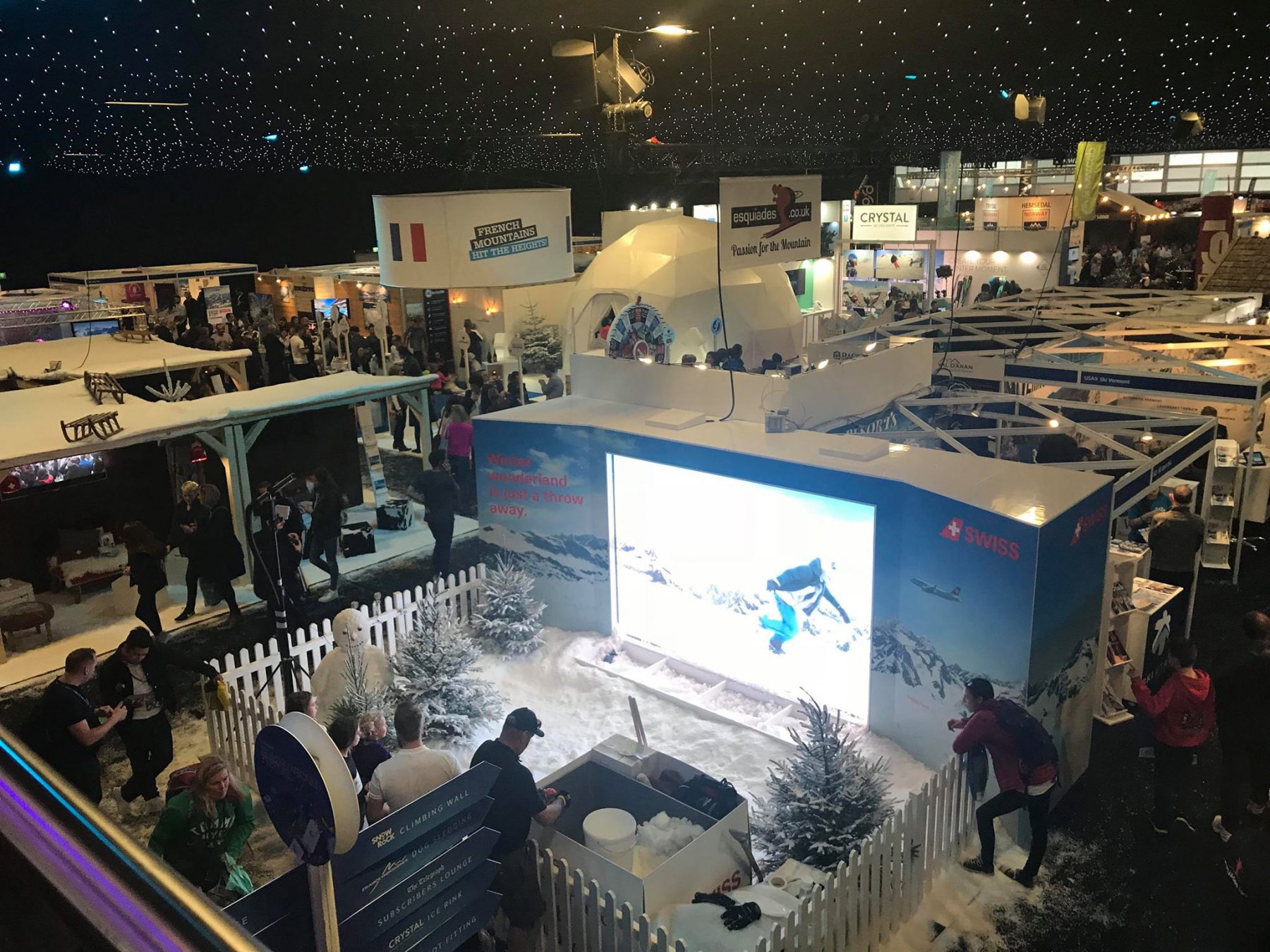 You can read the review we did on the Roces IDEA ski boots for kids and on last year's Black Crows. Or how to buy a pair of skis for your kids .
To keep on reading Ski News at your Fingertips, keep on visiting The-Ski-Guru, subscribe to our newsletter and follow us on Social media through our hashtags #skinewsatyourfingertips and #theskiguru.
The-Ski-Guru Travel can help you organise your bespoke trip – just email us to info@the-ski-guru.com or send as a message here.
You can start thinking about your trip, by reading the articles on the Planning your Ski Trip tab.  Or how to pack for your family ski trip. Or you may choose to read the Ski Resort News, Ski Passes News, and the Must-Read Guides to Zermatt,  Courmayeur, Val di Fiemme and Crans-Montana. Coming soon will be the guides to Lech and St Anton. Or see an amazing heli flight over the Mont Blanc Massif. Also see tips on how not to be scammed when booking a ski chalet.
You can also read what's new at Les Trois Vallées and the last article on what is new at the Tirol ski areas,  in 3 Zinnen Dolomites ,and in the Skicircus Saalbach Hinterglemm Leogang Fieberbrunn.
Also, you can read how Grandvalira will be staying together as one lift ticket company and how they are adding Ordino Arcalis to this offer.
Featured Image: Head Vector Ski Boot 2019- sold at Finches Emporium. Telegraph Ski and Snowboard Show. Photo: The-Ski-Guru.
Please follow and like us: