Other Services in Courmayeur: Heli-skiing, Mountain Guides, Lift Tickets, Ski School, Baby Sitters, Transfers and days away.
Content of The Must-Read Guide to Courmayeur Mont Blanc. 
1) GMH Helicopters:
GMH is the only company that operates heli-skiing and sightseeing flights in the Mont Blanc area – Heli-skiing is banned in France, therefore they have lots of people coming from Chamonix and the surrounding resorts to go heli-skiing for the day. GMH has an operation not only in Courmayeur, but in Cervinia, Monterossa, La Thuile and Valgrisenche (Gran Paradiso area).
They offer also panoramic flights – around the Dent du Géant for EUR 475, and around the Monte Bianco and the Dent du Géant for EUR 630.
The heli-skiing costs around EUR 150/170 every 1,000 vertical drop.
A classic route to Mont Fortin – for 5 passengers + guide costs per flight EUR 690, if 2 people go EUR 345 each, if three go EUR 230 each and if 4 go EUR 172.50 each.
Prices are per flight, with a maximum of 5 passengers on board.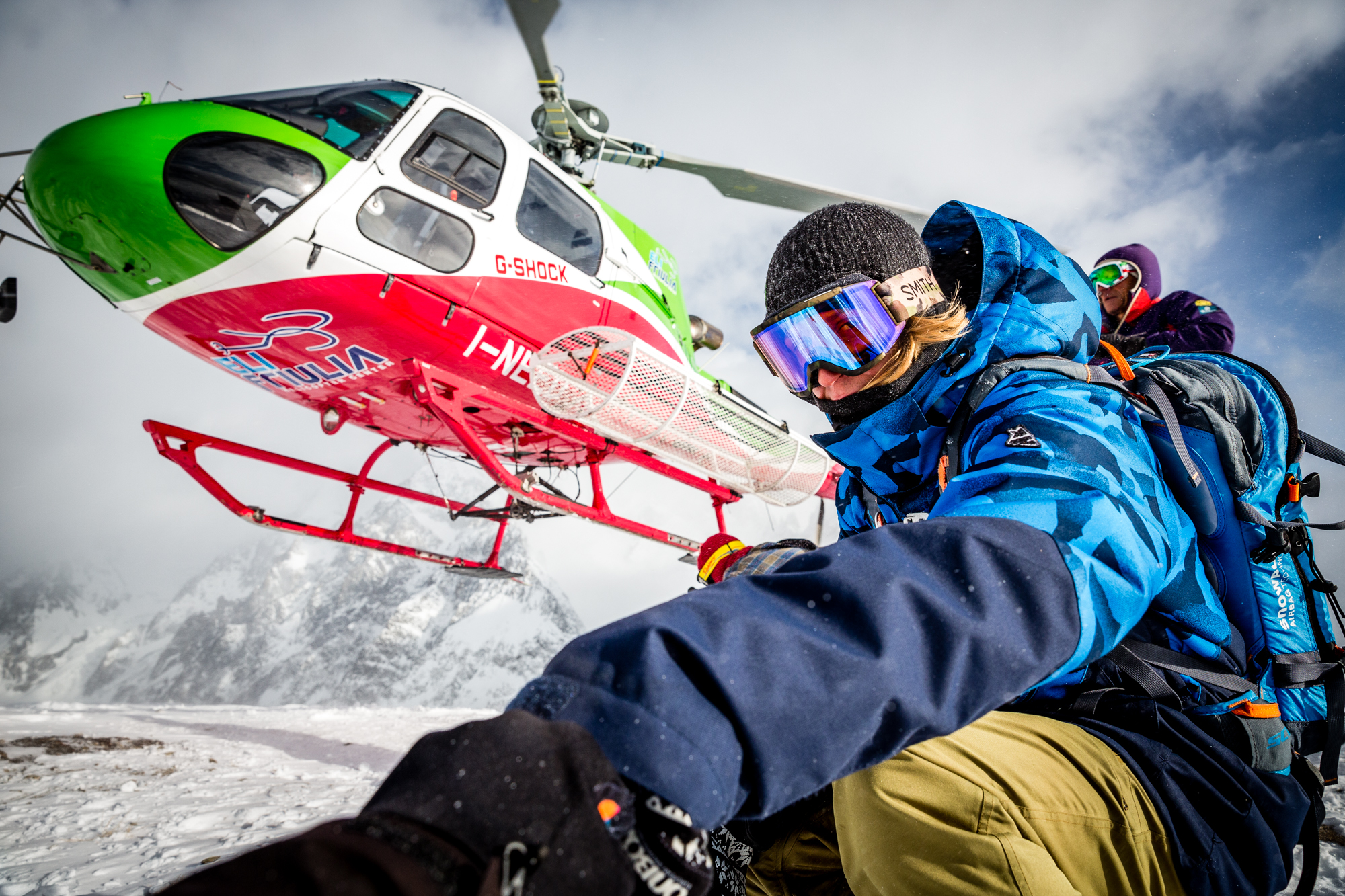 The price per 1000 vertical meter in a group of 4 participants is of EUR 190.00.
https://www.heli-guides.com/en/
Note: each passenger has to pay EUR 10,00 national tax in addition to each flight.
2) Courmayeur Lift tickets:
You can purchase either the Courmayeur Ski area + Skyway Monte Bianco or Aosta Valley for 1- 2 or 3 days.
The 6 days Courmayeur lift ticket comes with two days to ski either in other resort of the Aosta Valley (Pila, La Thuile, Cervinia, Monterossa) or the Skyway Montebianco – that takes you to Punta Helbronner.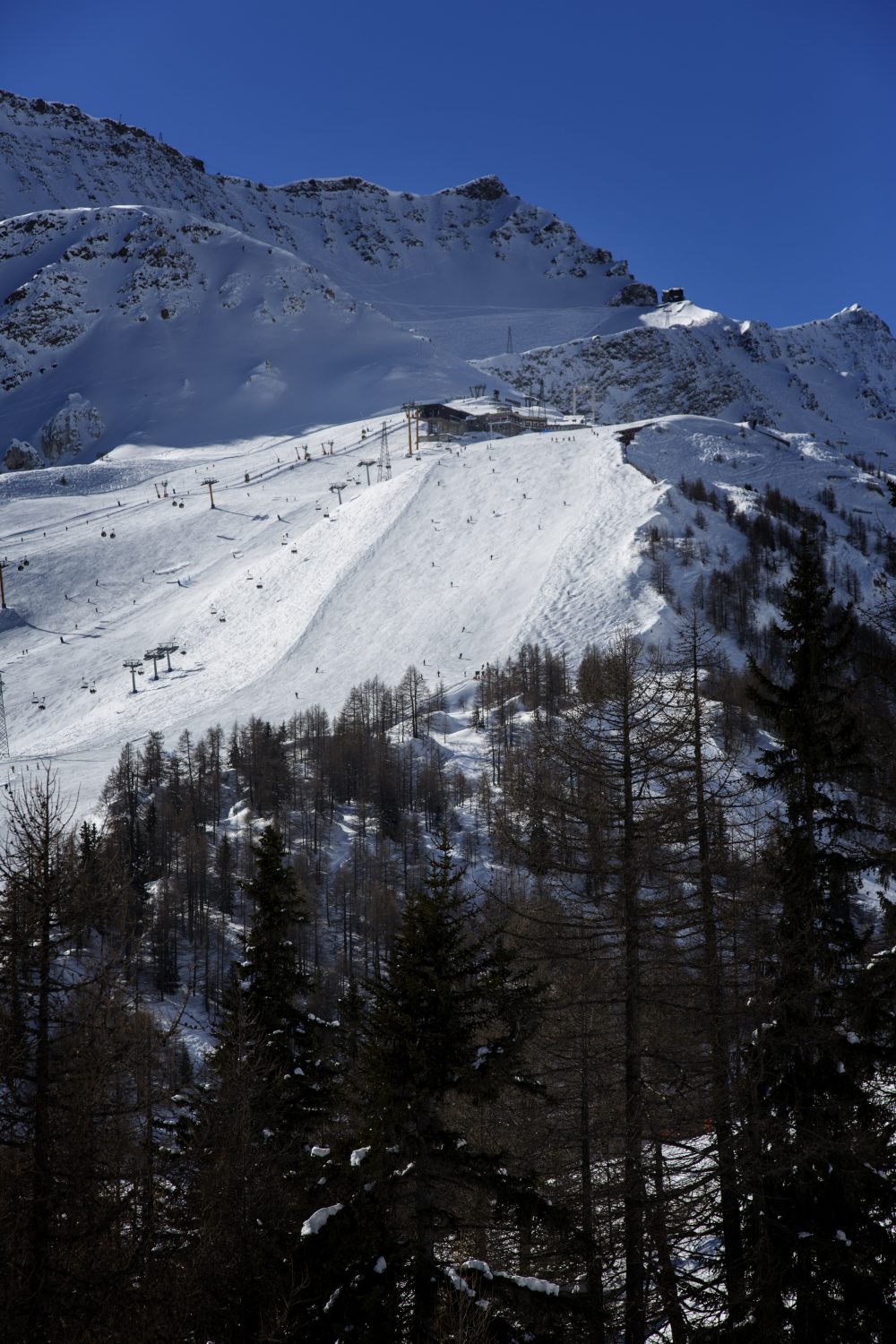 NOTE: the Skyway is not included in the Courmayeur Lift Tickets as it belongs to another lift company.
There is another international ticket called Mont Blanc Unlimited –
which includes skiing in Courmayeur, Evasion Mont Blanc resorts, Chamonix (France) and Verbier (Switzerland).
The ticket offices for Courmayeur are in base of the cablecar in Dolonne , base of the Funicular at Courmayeur (the Armani funicular) and the base of the Funicular at Val Vény.
The ticket offices open up to 5 PM to pick up lift tickets.
3) Courmayeur Alpine Guide: Società Guide Alpine Courmayeur
Founded in 1850 is the oldest guide association in Italy. You can hire a guide to go heli-skiing or to go on to the freeride areas in Courmayeur or towards the Vallée Blanche into Chamonix from the top of Skyway.
Note that going down the Vallée Blanche is easier from Punta Helbronner (up from Courmayeur), than from the Aiguille du Midi, (up from Chamonix), because entering from Aiguille du Midi to this off piste route is way steeper in the beginning. This off piste can be done by solid intermediates, who can ski off-piste always with a guide, as the route has crevasses.
The Courmayeur Alpine Guide Society has a museum in town, called the "Duke of Abruzzi" Alpine Museum. It shows the story over 160 years of alpine guides, from documents, pictures, old climbing gear, relics and also precious Guides' books filled in by the customers at the end of each excursion, recounting the eventful and amazing history of climbing.
Each guide can take a group of between 6 and 8 people with them.
When going towards the Vallée Blanche, the Guides du Chamonix are the ones that decide how many clients each guide can take with them, depending on the conditions of the Vallée Blanche of that date.
The society has 50 mountain guides of which 30 work full time.
In winter they do trips connected to freeride and ski-touring to Courmayeur, and the Valle Blanche of Chamonix – they offer also ski on glaciers in Courmayeur and in other mountains in Aosta Valley
Note: They tend to offer skiing on the Vallée Blanche from mid-January, but to be sure, they prefer to start using this route by the end of January.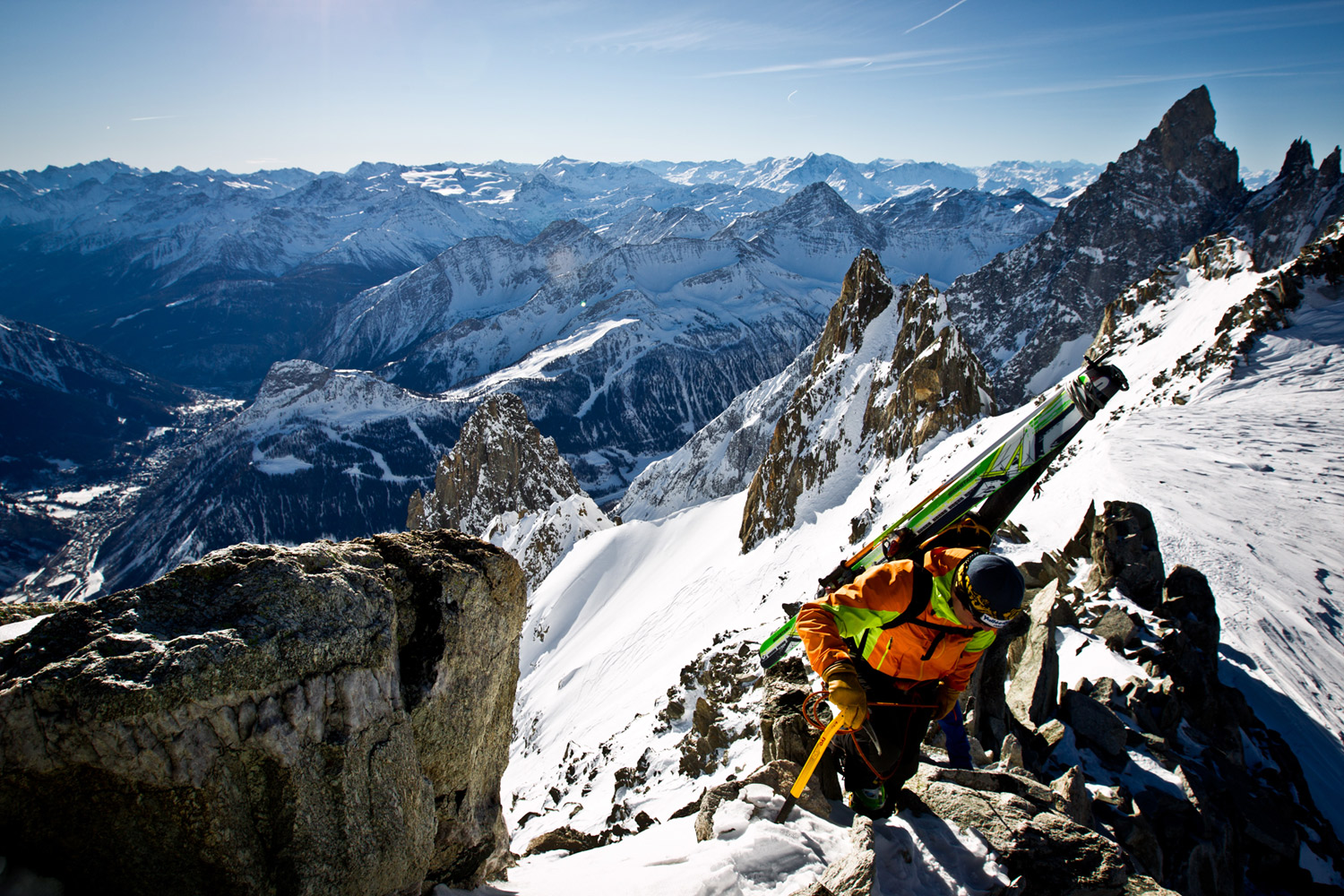 For intermediates they have outings on snowshoe on the glacier or out of Glacier Helbronner – there is a very nice walk of up to 4 hours around the Dent du Geant.
Another thing they offer for intermediates is the Refugio Bonatti – Val Ferret when the weather is bad and is opened in the winter season.
They have offers of walks from hut to hut – and a walk to Rifugio Bertoni.
When taking clients freeriding, the guides teach technique on-piste and the use of equipment for avalanche rescue. The equipment is included on their rate.
4) Scuola di Sci Montebianco Courmayeur – This is the traditional ski school that has been operating since the resort started. They have more than 200 ski instructors of who over 85% talk English, and also other languages.
They have a big chalet in Plan Checrouit (where the big Armani cable car arrives from downtown Courmayeur and the other cable car arrives from Dolonne) – and a small chalet at Val Vény – where the cable car of same name goes up the mountain.
For beginners they have a private tapiz roulant (magic carpet).
The ski school offers small group lessons for kids of 3 to 4 years old, max 3 kids.
Fifteen to twenty ski instructors are also mountain guides.
5) Courmayeur Ski & Snowboard School – This is the newer ski and boarding school in Courmayeur.
This school also offers Valle d'Aosta and Chamonix unlimited ski with ski safari, wine ski tours and gourmet ski tours.
Many of the instructors speak English and other languages. They operate in combination with the Heliski company (GMH Helicopters)
6) Baby Sitters company – Lo Tatá
It is a nursery and they offer babysitting service to hotels. The nursery is in the multi-sports complex near the bottom station of the Dolonne lift.
Ludoteca Lo Tatà: – +39 342 62 60 157 (nursery)
Le Tate del Tatà – babysitter service – 39 329 83 54 244
Email: ludo@lotatadicourma.com
7) Transfer company
Autonoleggio Patrick – di Parleaz Patrick Oreste – Cell +39 347 607 8250
Website: www.transfer.vda.it
They pick up from Milano Malpensa, Torino Caselle or Geneva Airport
8) Days away from Courmayeur – option for bad weather days:
Aosta is just 30 km away from Courmayeur and is a great day out. One can combine going to Aosta to visit the Roman ruins, with a visit to the Cave du Mont Blanc, located in Morgex, 8 km outside of Courmayeur.
Aosta was called the Rome of the Alps, and is the second city for quantity of Roman ruins – You can see there the Arc of Augustus, the Praetoria door, the Roman Theatre, the Forum Cryptoporticus, the Paleochristian St Laurence Church and the Mar-Regional Archaelological Museum.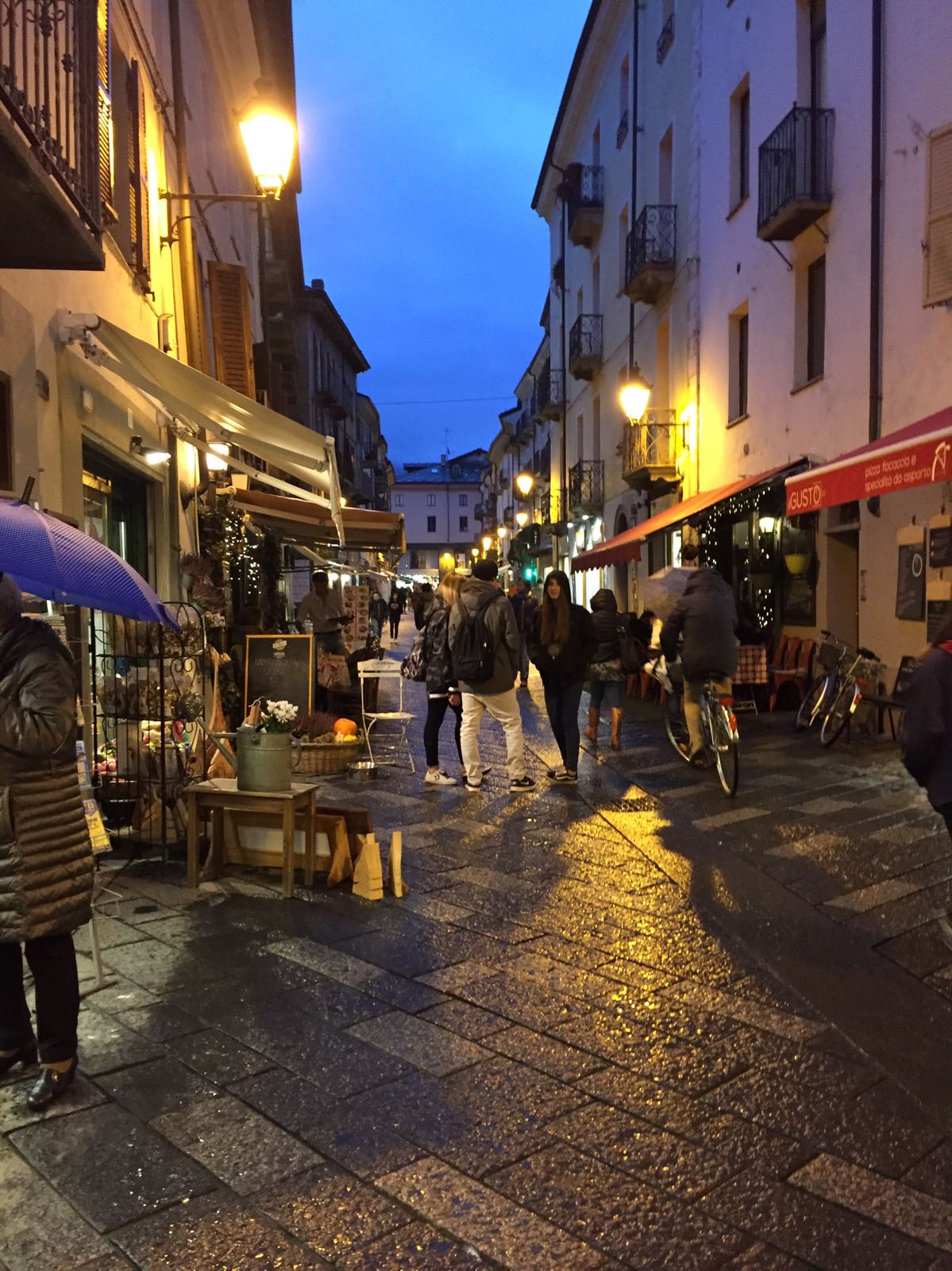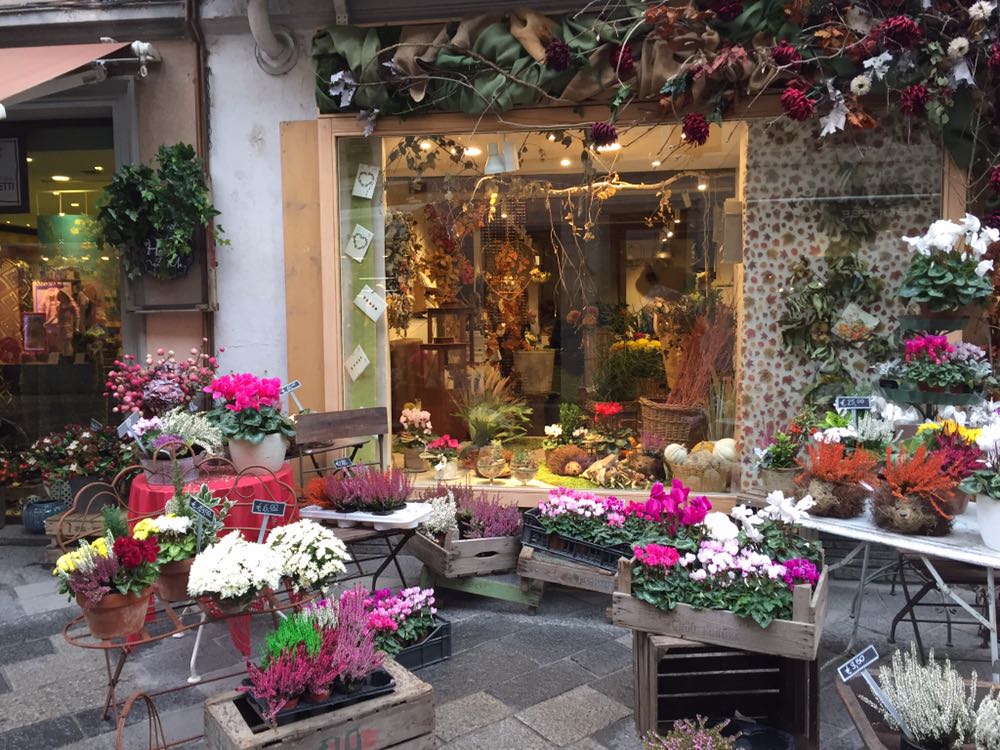 One can start visiting in the morning the Cave du Mont Blanc, which is a cooperative winery that produces sparkling wine – with the same Champenoise methode, that in Italy is called Metodo Classico –one can tell the good quality of their sparkling wines for their very small bubbles, these are vineyards at altitude.
One can organise a trip for seeing the winery and vineyards and then also go up to Skyway, the rotating gondola that takes you up to Punta Helbronner – and have the wine tasting up there at 3800 + meters over sea level with incredible views of the Mont Blanc and the Dent de Géant.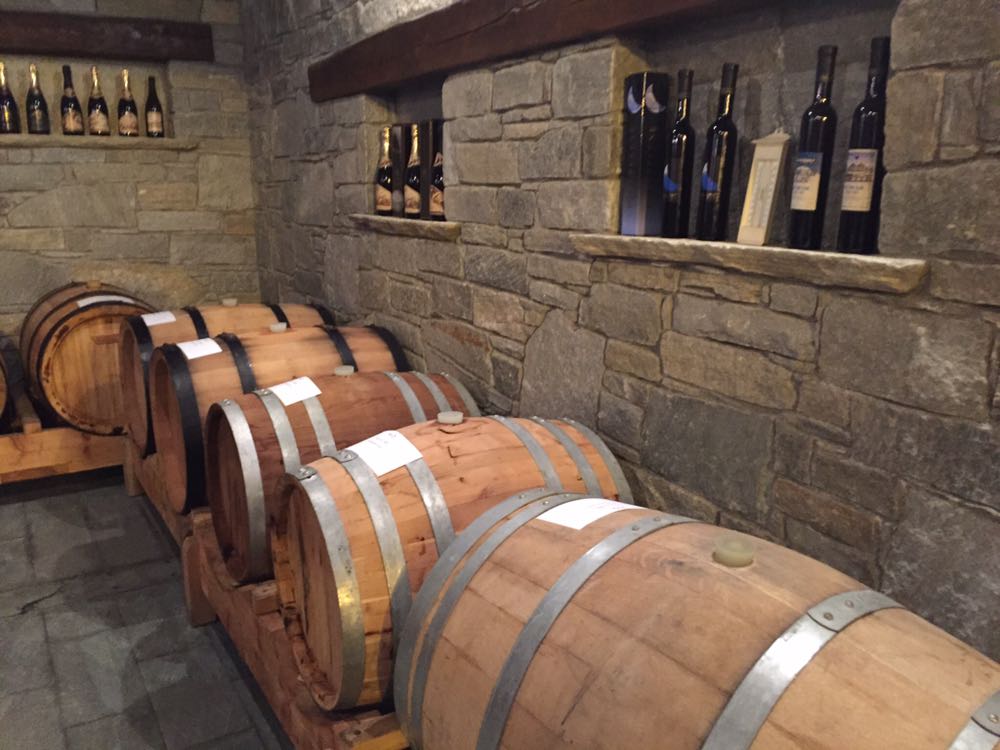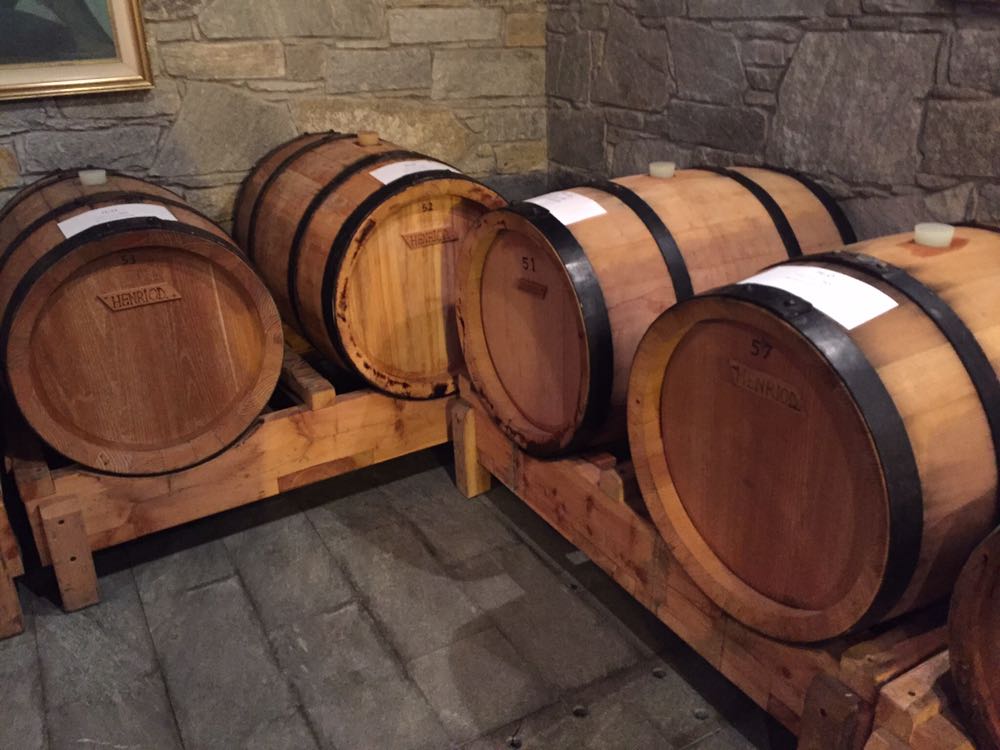 From there you can continue your visit to Aosta, where you can have lunch at the Duca d'Aosta hotel's restaurant in Aosta, and continue to visit the city. You also can arrange and combine one of the numerous castles in the area. This was all organised by Elisabetta Converso, a guide that works with the Courmayeur Tourism Office and speaks fluent English – she explained very well all the history and what to imagine when you go through all the different ruins in Aosta –– guideservice.vda@teletu.it
She can suggest what to do and how to do it, and organise all for you, depending your group and your requirements, and would charge accordingly.
Next Page: Courmayeur's Calendar of Events.
You can check our family ski trip to Courmayeur here.
 If looking to stay in the heart of the Mont Blanc Valley in the Aosta Valley, check Il Coure della Valdigne review here. This is our own family home in the mountains, that I am renting out when not using, you can always write me a private message if interested to info@the-ski-guru.com
The Ski-Guru TRAVEL can organise your trip to Courmayeur or to any ski resort in the world. Please contact us at info@the-ski-guru.com or fill up the form here with what you would like to do with your details.

View detailed snow forecast for Courmayeur at:
snow-forecast.com