The Half Term Family Ski Holiday that did not result as planned
Our Family Half Term ski holiday is always decided one year in advance. Pretty much we always go to the Aosta Valley, as my youngest boy does not want to change location. I see it with my family, and I've seen it with many people over the years (even with myself when I've started skiing while much younger!)
You go to one resort, you get familiarised with it, and you don't want to change! All is easy, and just changing to another resort, makes it too challenging. I see it as using an old pair of jeans, that you don't want to change for something else!
So, we were set to leave the Friday before the half term- as my husband is the sole driver (for me it was too difficult changing sides of the road when I've moved from Argentina to the UK, that I daren't do it again!)
Our car has been acting funny since September, when the Turbo went off. Then it started revving between 2nd and 3rd gears and we've took it twice to the mechanics. The first time we were said it was solved, but it was not, and I've took the car back in the garage two weeks before leaving. I did not have the car until the Wednesday of the week we were leaving – we were leaving at 4 AM on the Friday of that week and I was already very nervous about it and seeing if we could rent a car in the UK to cross to the continent.
Apparently, you can do so with Hertz and Avis, but obviously these cars do not bring roof rack, nor winter tyres or chains. So, I was budgeting all that just in case. My husband was saying that if we did not have our car back, we were staying and cancelling the trip, and my kids and me were completely distraught at the thought of it.
The car came out off the garage so then we were going to be ready to go. The night after taking our dog to some friends to look after him, my husband told me that the revving was still there, but that I should not worry. He was sure that this was not going to be anything.
Off we went with our skis, helmets, ski boots, all the paraphernalia you take when you go skiing. We set out in good time and at the Eurotunnel we were given a crossing one hour earlier, so we had time only to go to the bathroom and pick up some coffee and croissants to eat in the car.
We had a very good driving. Last year there was snow from home all the way to Folkestone and from Calais all the way to Italy. This time all the roads were clean, and the weather was beautiful, pretty warm too. This was not the best snow year for the Alps – (Austria and Eastern Switzerland got lots of snow, as well as other Eastern European countries like Romania), but for France, Italy and Western Switzerland the snow was ok, but just.
We made it to Chaumont to our usual hotel (the Ibis Styles Chaumont Centre Gare) in good time – now we pay directly there as we know the owners, and we had a nap before venturing off to dinner. We always eat in the same place, a tiny restaurant of around five tables, attended by its chef. Food is delicious and very unpretentious. The boys always manage to have a massive bowl of pasta Bolognaise. We take the special menu, which is always yummy and well-priced.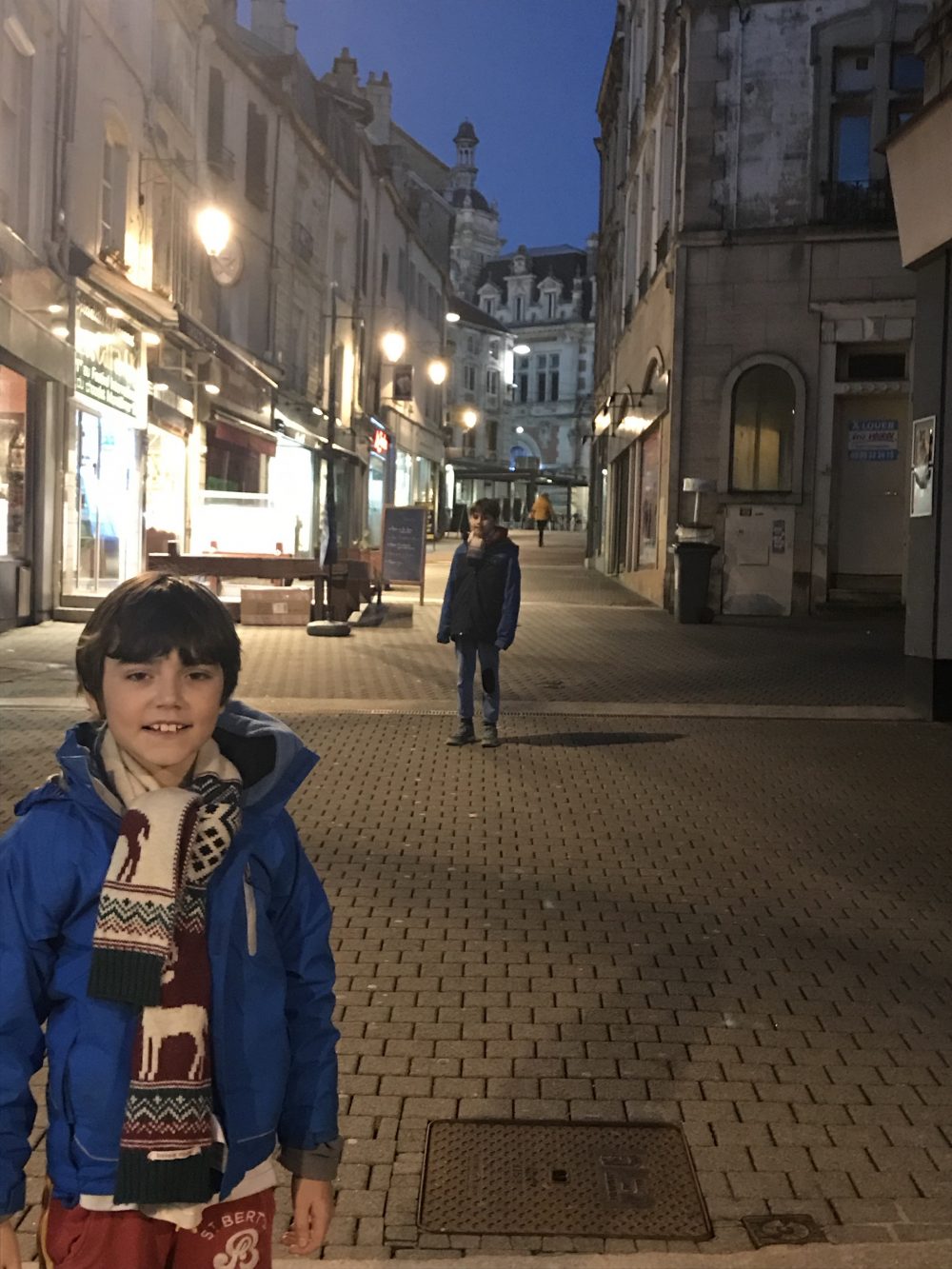 We went to sleep early, and we were up at 6.30, ready to go after breakfast at 7.30. We thought we planned it well, as the breakfast was not busy (we usually have breakfast later and is full of British families all trying to serve themselves from the buffet) – and we were out of the hotel ready to make it to Aosta in the early hours of the afternoon.
After filling up a full tank of diesel in the outskirts of Chaumont, we continue going on the Route National up to the A31 to then go south towards Dijon, About 50' on the road, we heard a 'BANG' and my husband suddenly was white, not answering to what was happening – but suddenly he said we've lost power – so thankfully he was on the 2nd lane and could get to the right lane and roll a bit more until there was an entry on the shoulder. There we stopped, thankfully we were safe, but it seems that we have no more car and we have not even reached Dijon.
I've told my husband to call the insurance company. He was a bit distressed and saying to give him time to think… but two minutes later the help van from the Autoroute was next to us and told us we needed to get off the car for security. Thankfully we had the yellow vests that are obligatory to have in the car.
Off we went, the boys were distraught, more my little one that was thinking that we were not going to have dinner at Millenium, a family pizza restaurant in the outskirts of Aosta where we go with our friends every year.
This guy called for the lorry that could carry our car to a mechanics place. I was trying to make people laugh a bit saying that we were the 'gillets jaunes' – I think nobody was in the mood! Only the lorry driver was telling my husband that we have 'no more car' and laughing about it – I guess he was not making him feel any better.
We've arrived in a Renault showroom that had a service/mechanic by the side. They said that there was no way we were going to be seen on Saturday, as they close at midday, and it will not be until Monday that they can ask for the part and maybe Wednesday they could do something.
My husband was saying that we were staying with the car- the boys crying why we weren't renting another one – all the people that saw us they've told us they were sure it was a write off. Thankfully we had the AA, which was amazing – in no time they said they will take care of it – see on Monday what happens but got a taxi to pick us up to get to Dijon – we did it in the nick of time and got a very posh Renault Espace automatic. Obviously, it had no winter tyres, chains nor roof rack – But weather was on our side and the week was predicted to be sunny and not extremely 389cold, so we were going to chance it. If it was a very cold winter or we were going to have bad weather, we would have had to invest on at least chains.
And as they've got us a family car, and the side back seat could be bring forward and make it flat, so we could put all our skis there. My eldest son was squashed in the middle, but we could get to our pizza place by 8.30 – we could not have done it better!
Obviously, as we've arrived late, it was a bit slow the next morning to get all our kit together and go skiing. The boys were having a ski lesson with their preferred ski instructor -the one that gave them their first ski lesson when we first went to Pila seven years ago. We sent them to their ski lesson, and then I was ready to go skiing with my husband for our free time. I've managed to have a couple of runs on my own that morning, as I needed to go and pay for ski school and the boys wanted to keep on skiing with my husband. As the process of paying was very fast, and I had no idea where my husband and kids were, I just went to do a couple of the red runs on the side of the mountain off the Chamolé lift – number 2 and 3 – and then my husband called me saying that they were having lunch. I went off to meet them, and when we left the boys on their ski lesson, we've finished going with our friends the Cornwell's to have a little ski.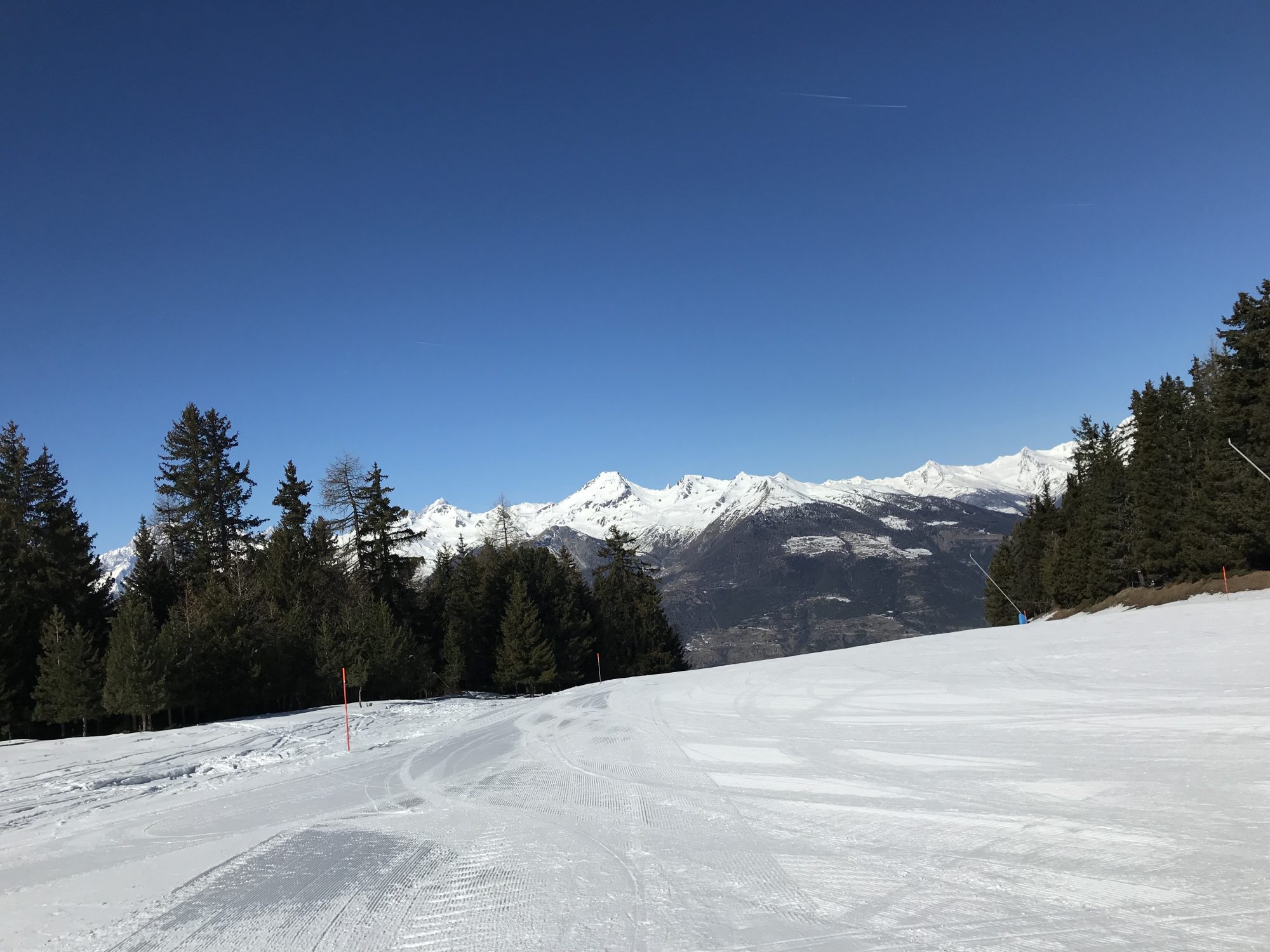 We were taking it easy on a blue run, when we were almost next to the lift and a snowboarder came from my behind and catch the interior bottom side of my left ski and just never stopped. I've heard a POP on my knee which did not sound good. I've already hurt my ligaments while skiing when I was younger, so I recognised it immediately. What really annoyed me, was that this snowboarder did not even stopped to see if I was alright! Basically, on the Sundays of high season I should know better and try to avoid the blue runs that get way too busy.
Anyways, I've skied down on my wobbly ski, and I was not sure about it at all – so I just went and sit outside the ski patrol office while they were out for lunch. Then one patrol came, and I've asked him if I could see a doctor – he asked to see my ski pass and thankfully, each year I pay the surplus to have the Snowcare insurance they offer. Then my ambulance to the 'Centro Traumatologico' was covered.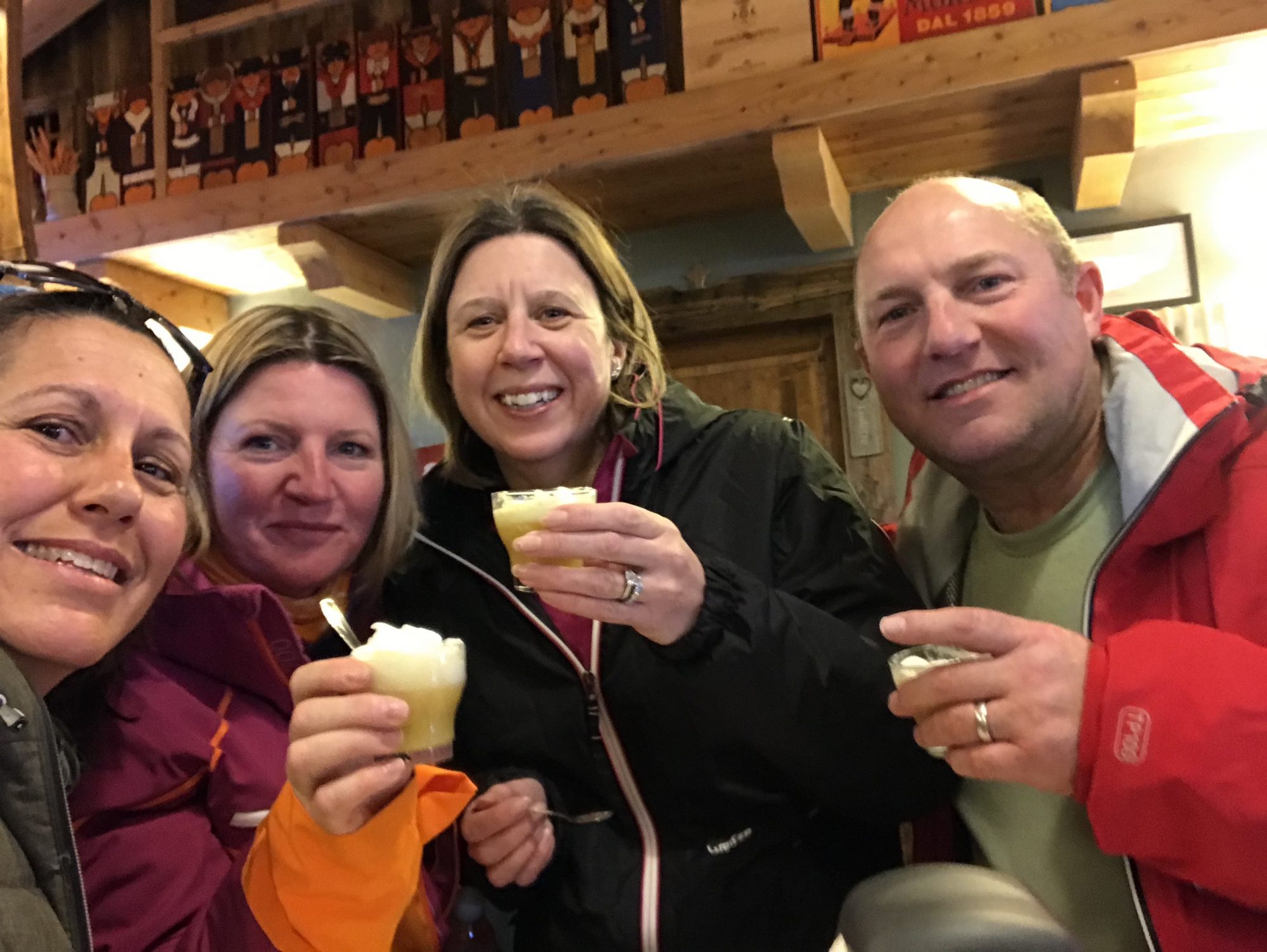 I went into the Traumatological Centre and it was VERY BUSY. Lots of racing kids and also adults with broken shoulders, legs, a couple with their neck immobilised, to be honest I've thought I was really lucky. It was definitely a very busy day on the slopes, and the snow was hardpacked and with not too much grip, so that favoured lots of accidents. I was lucky I did not need to wait for too long, as the kids that were attended, were ready to go- just after I went in, there came three very bad cases in, so timing was on my side.
The doctor asked me what happened, moved my limb everywhere and took me a couple of x Rays- basically it was my MCL – Middle inner ligament that has been distended, not broken. I've asked if I could go back to skiing – he told me not the following day, but I could try after- he said I could do snowshoeing but to take into account that skiing was a hard sport for the knees.
I've got another ambulance lift back to the base area where I've met my husband (that I've told him to go and pick up the boys from their ski lesson, while I was at the Traumatological Centre) – all our friends were there feeling sorry for me. I was feeling sorry for myself really! We went down to our house and I took a shower – and it was very difficult lifting my leg into the bathtub- there it dawned me that I might not be able to ski this week at all. It hit me a lot, as I have been looking forward to this trip with my husband and kids for the whole year. I am lucky that as I work in the ski business, I get more skiing than they do – but this is a very important trip for us all together. I would like to go to other resorts with them, but my little one loves Pila and really wants to keep on going there. I really enjoy our hot chocolates at La Baraka (on top of Chamolé), skiing with my husband and some friends, and having long lunches (I am the type of skier that likes to stop a lot- more a 'dolce vita' type of skier!).
We went to have dinner that night again to Millenium, all together with the other two families we go year on year, and I've thought I needed to do the best of my week.
Then Monday started, my husband went with the boys early to get them up and to their group lessons. I've went up the gondola a bit later – popped into the tourism office and asked them about the snow shoeing itineraries and climbed the tunnel that connects the parking lot next to where the gondola from Aosta arrives, to the higher base area where we were going to meet for lunch. I was happy to have brought my Nordic Walking poles, as these made my knee more stable – conjointly with the knee brace I've bought in the pharmacy.
Lunch at la Trattoria dei Maestri was as good as usual, sometimes it is a bit slow, but the food is lovely, and I was glad that my boys, who were very happy to be back at Pila, had a nice lunch. Then I went up with all in the tram, to another cafeteria on the top – they all went skiing, and I had a nice coffee on the terrace, seeing them passing by every so often. I came back after as I needed to walk back to the gondola base in time, so we all met there and went down.
Tuesday, I took on snowshoeing – it was really nice – my knee was pretty swollen but walking on snow was good for it. This allowed me to see Pila in other light. I've been walking through all the off streets and off roads through lovely snow paths – really did my day. I went up to have lunch with my husband and kids, but my youngest was annoyed because of having  to meet with me, they could not have lunch on top of the mountains with their friends… Anyways, it was a bit of a hizzy here and there, but then I've left them and went up all the way to Grimondet, one of my favourite lifts that was closed due to lack of snow. The runs out of this lift do not have snowmaking. The views were marvellous, and it was great to have a stop to admire them.
I've met all again down and we went into town. That night we had dinner at a lovely restaurant by the edge of Aosta. The boys were playing outside, it is lovely to see them running around in a place that is safe to do so!
Wednesday came and my husband and kids went up to the mountain. I've stayed to go into Aosta. I needed to buy a gift and wanted to go around town with lots of time to kill. I enjoyed it, I was still a bit bummed that day as I would have preferred to go skiing, but my leg was not up to it. The afternoon came and I've realised that it was a bit late to go up the mountain, I would have to come down so quickly. So, I've met all down at our Aperitivo place in Charvensod – the outskirts of Aosta. It is great as they serve you a massive display of food and afterwards you don't feel like eating at all.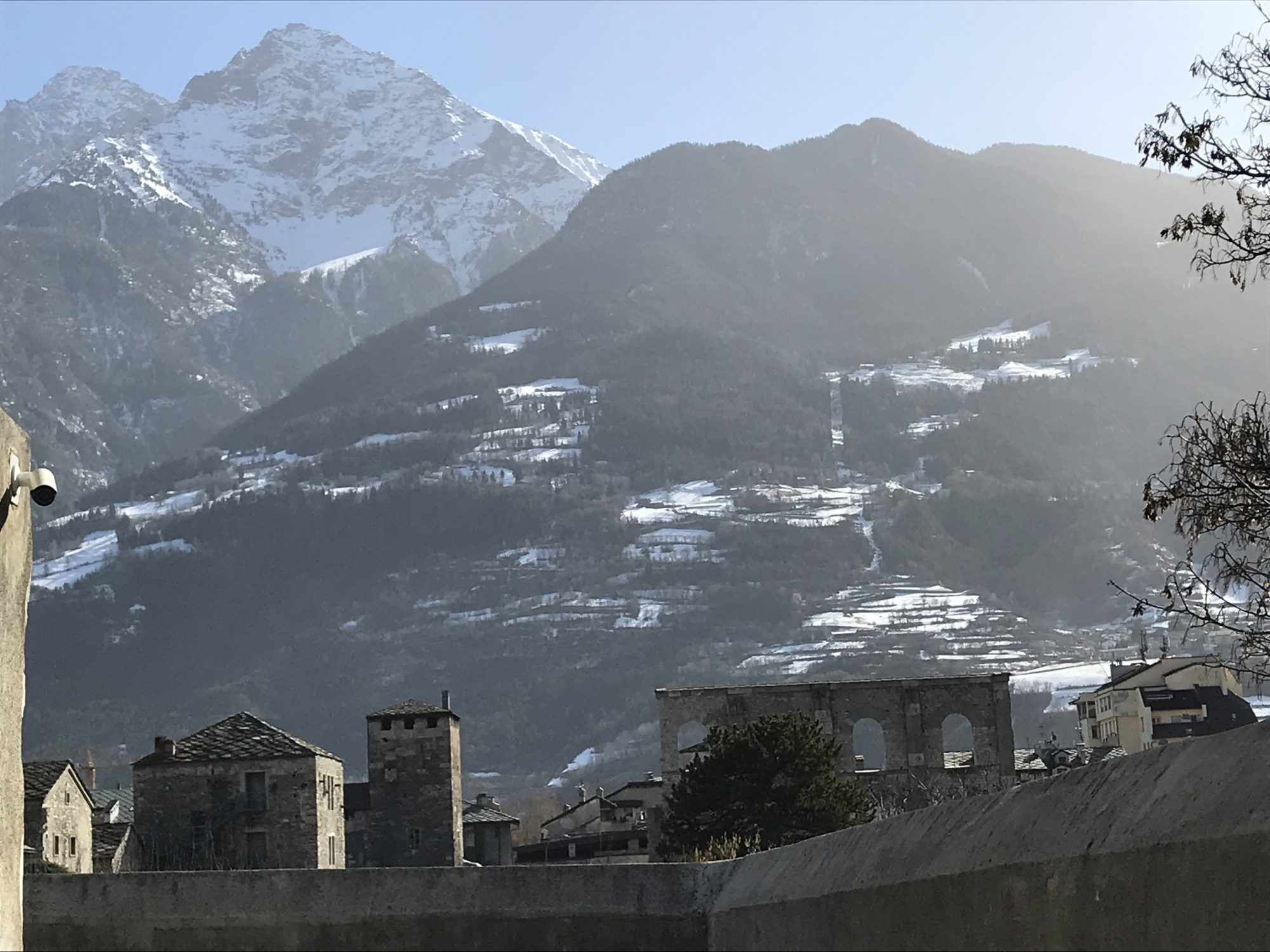 Thursday, I woke up and my husband was not up to take the boys skiing. It was their race day so finally I've decided I was taking them – I was not 100% sure if my knee was going to allow me to really ski. Thankfully, when at the locker room, we met the Hinchys, and Patrick, the dad, took the boys, while I went up another chairlift with Kate, his wife, and we went to have coffee before the ski school started.  I've tried my leg in a couple of easy blues taking the magic carpet – I was so happy to be back in my skis – even though I was not doing anything very challenging (which in reality I did not mind!) –
I needed to go up to go and see the boys in their races – l've tried the tram but the queues were impossible, went down and up thinking they would have reduced and I was wrong again, then took the triple chairlift in the base area which had a massive queue again, and then the quad that takes you to where the races are held, and these ones were clogged up as well. At least I could see my little one racing but I've missed my eldest. My husband appeared by then and we managed to do a couple of runs, before stopping for lunch.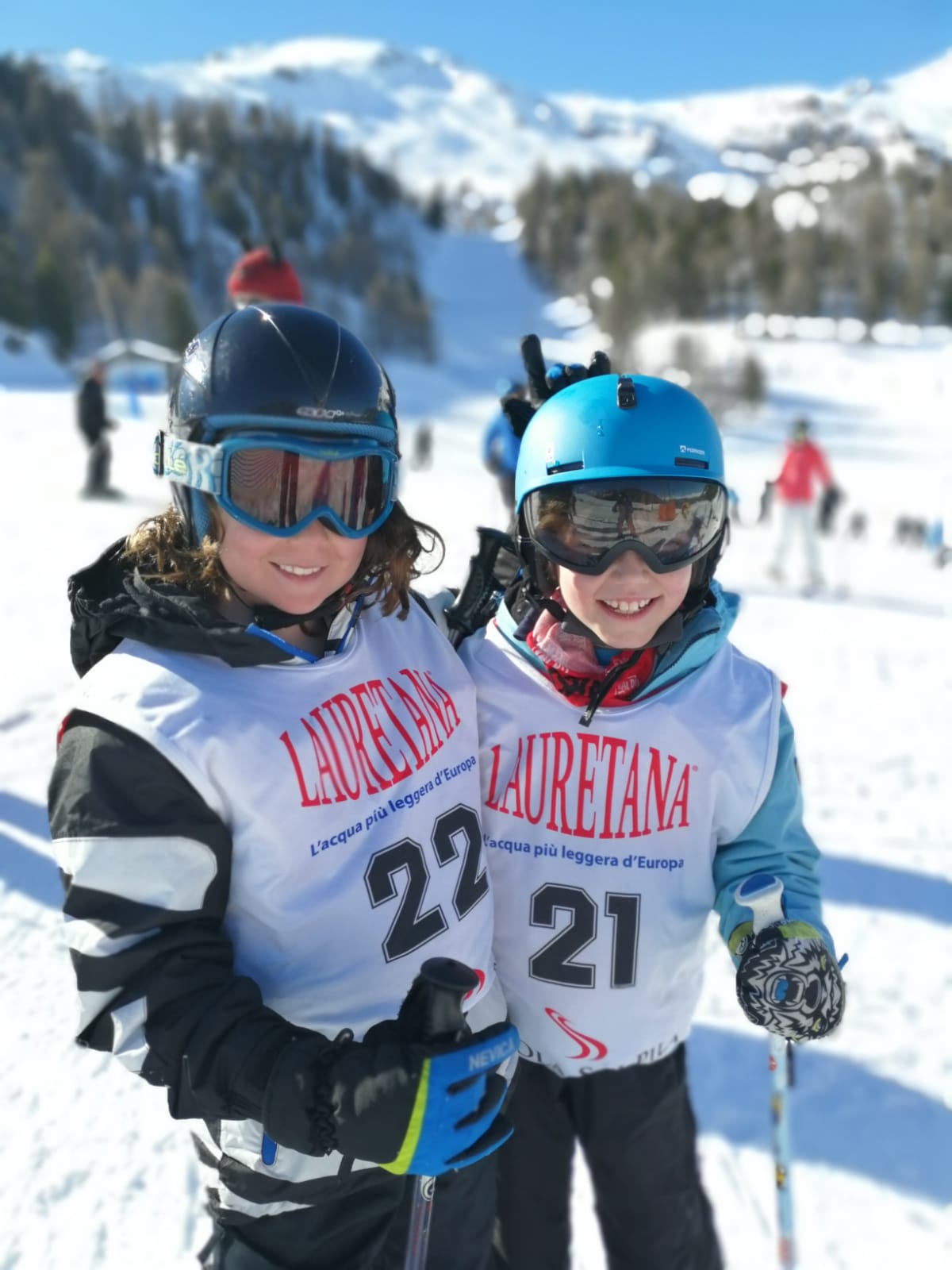 We had lunch with another family friends from England and the Hinchys, in a lovely terrace. We had a nice time. From there the boys went skiing some more and I just took it easy to the base area to have some bombardinos with Kate while we wait for the others to come. At least this was our last day in Pila, but I finished it in a high.
That night we went to Courmayeur for the last part of the trip. I love Courmayeur, the little old cobbled streets in the town that is at the feet of Mont Blanc, on its sunny side. We arrived and went to the same hotel we went last year – a lovely family hotel called Hotel Edelweiss just off pedestrianised Via Roma. The hotel is only two stars, but it does have all that we need, and you can tell that its clients come back year on year. We have a lovely room at the top of the hotel with nice views from the room and the bathroom. Breakfast is included, you have a reception with a small bar and a ski locker. For us that is plenty. Moreover, the location is in the best part of Via Roma.
That night we had dinner with the Cornwell's and the Hinchy's. The Cornwell's came early that morning and have already skied on the mountain. They are staying by the Armani funicular. They had a great day today. We had a big table at Mont Frety restaurant and then we called it an early night to be ready for tomorrow.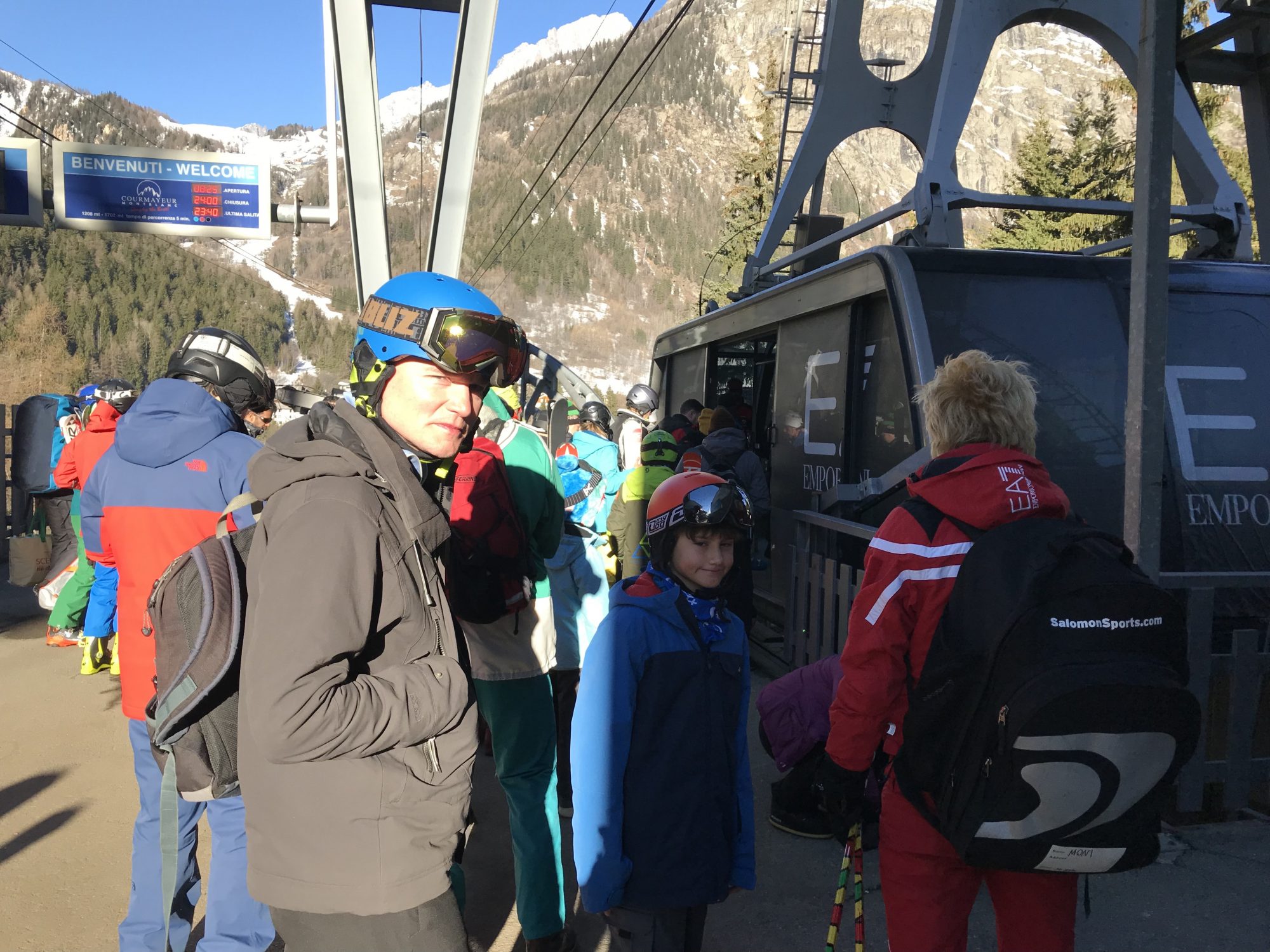 The next day it was better than last year. Each of us had our skis in some slings so we can have them on our backs, and we took the ski boots to change at Plan Chécrouit. We have 10' walk to the Armani funicular, but I think this year it felt easier than last. Maybe we knew what we were doing,
We had to be ready for a ski lesson at 11 AM. The boys had a lesson with Teseo, the Director of the Courmayeur Ski and Snowboard School. He told me that next year I should put them in different levels, so each one gets the focused attention they deserve. They have been skiing a lot – I went off with my husband and we've skied a bit on the Val Veny side, that we did not have time to see last year, and then down back to the front. The weather was hot – proper spring skiing in February, so the snow was slushy on the lower sides. My knee was not too happy to churn in that snow.
After picking up the boys from their ski lesson, we went to have lunch at Maison Vielle. I love this restaurant as it has the great outdoor area where to sit down. It is kind of withdrawn from the pistes so it is a bit quieter. And it has the Mont Blanc as the backdrop – food is great, prices are ok, so what else to ask?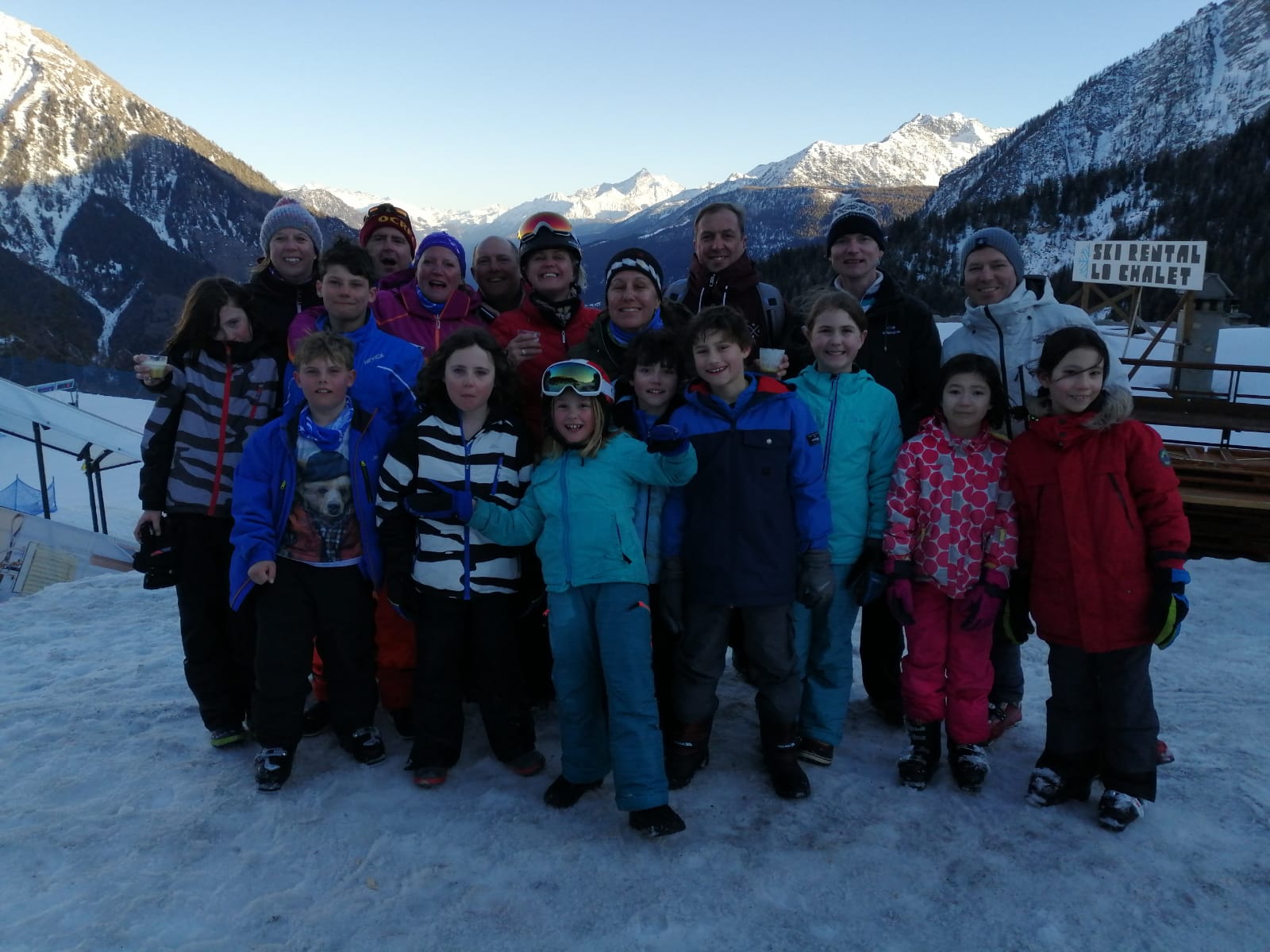 The kids can play on the side and they are safe, building snowmen or doing a ball fight- it also has a baby poma on the side, so they can take some laps there while we finish eating. We had a leisurely lunch – first with the Cornwells, then they continue skiing and we went a bit later – and I just went down after lunch with the boys and my husband and stayed doing après-ski with Bombardinos on Plan Chécrouit.
The husbands and kids went all for a couple more runs. I was just happy to have been in the mountain and wanted to leave it on a high!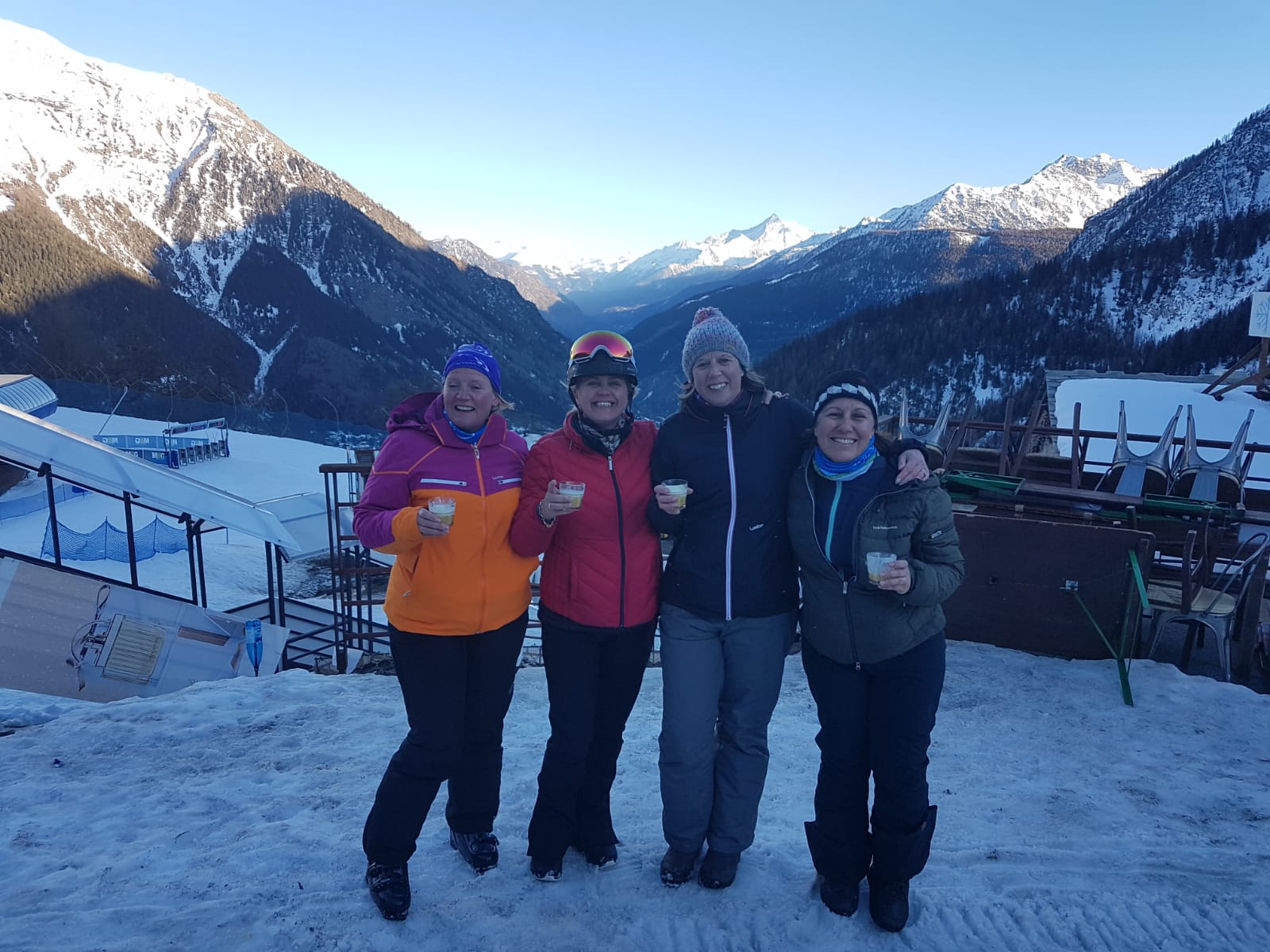 That night we went all out – a total of five families with two kids each, in town in Via Roma. We had a great dinner time, it was Jo Cornwell's birthday, so we were all there- the Cornwell's, the Hinchy's, the Watson's and the Doyle's– thankfully we went off kind of early, as the kids were having an earlier ski lesson, to take advantage of the snow in the morning, before it was getting slush again. The other families over indulged in it and stayed up until 3 AM – so I've heard and were not in a good place to go skiing – two left, but one was up and running early as well! We left the boys again with Teseo, and we went up the little gondola up to Col Chécrouit.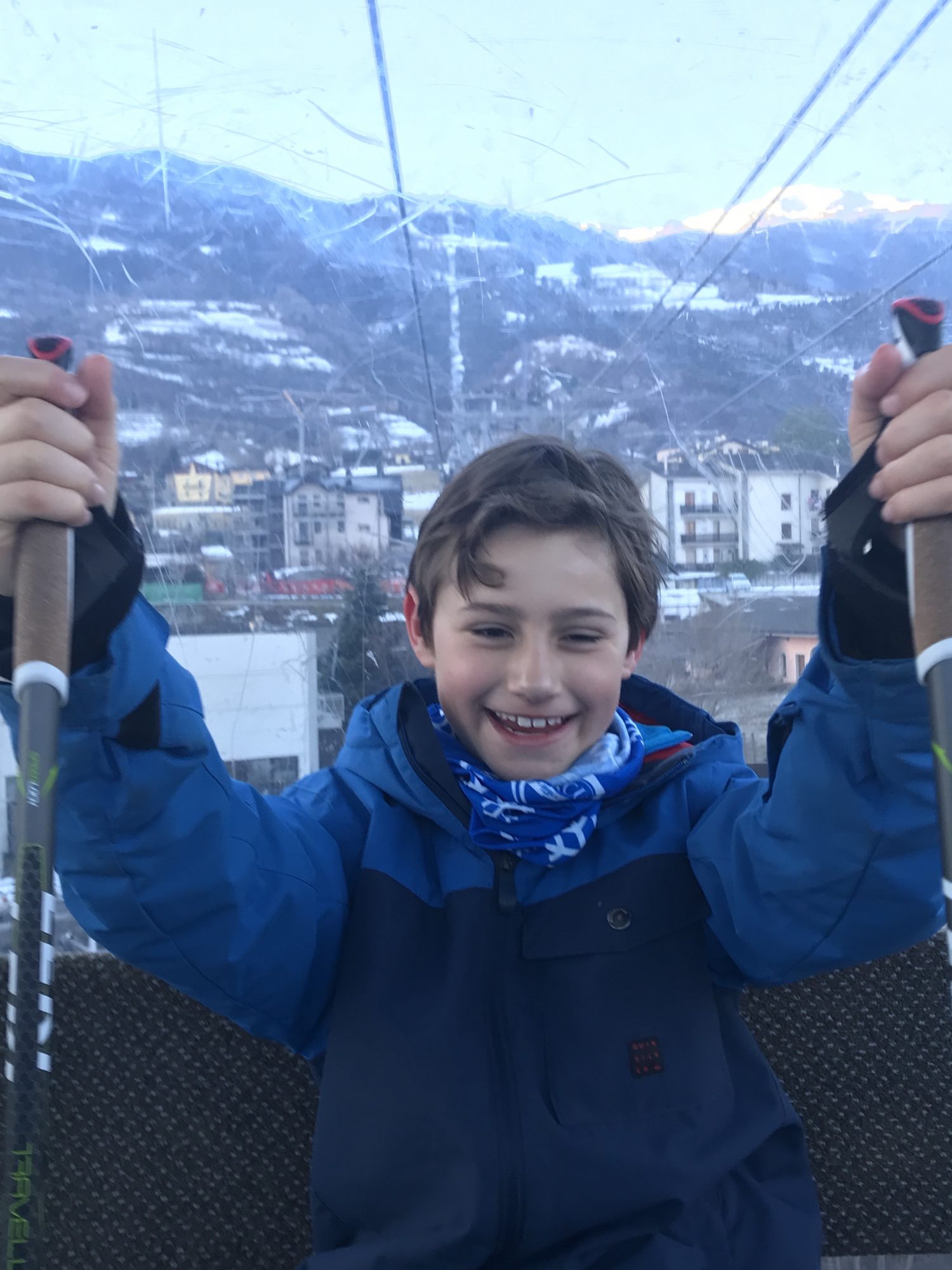 There we endured the long line for taking the Youla lift – it is a small old lift that looks like a can of sardines – pretty cute I would say, where only 20 people can access the top pistes. You can take a second lift higher up to Arp, but I've thought it was enough for my leg to try this first run. I loved the idea of a slow lift, as you cannot get so many people on top of the mountain. That means that not so many people go down the mountain. I was raised skiing in South America and then worked some seasons in the States and the overcrowding of the resorts in Europe daunts me.
Here in Youla I had what I really like in skiing – big mountain skiing, amazing scenery, and NO PEOPLE! I think I must be a hermit! But you can take some speed and know you are not going to have to break hard to avoid someone. So basically, if the piste is busy, I just go slower!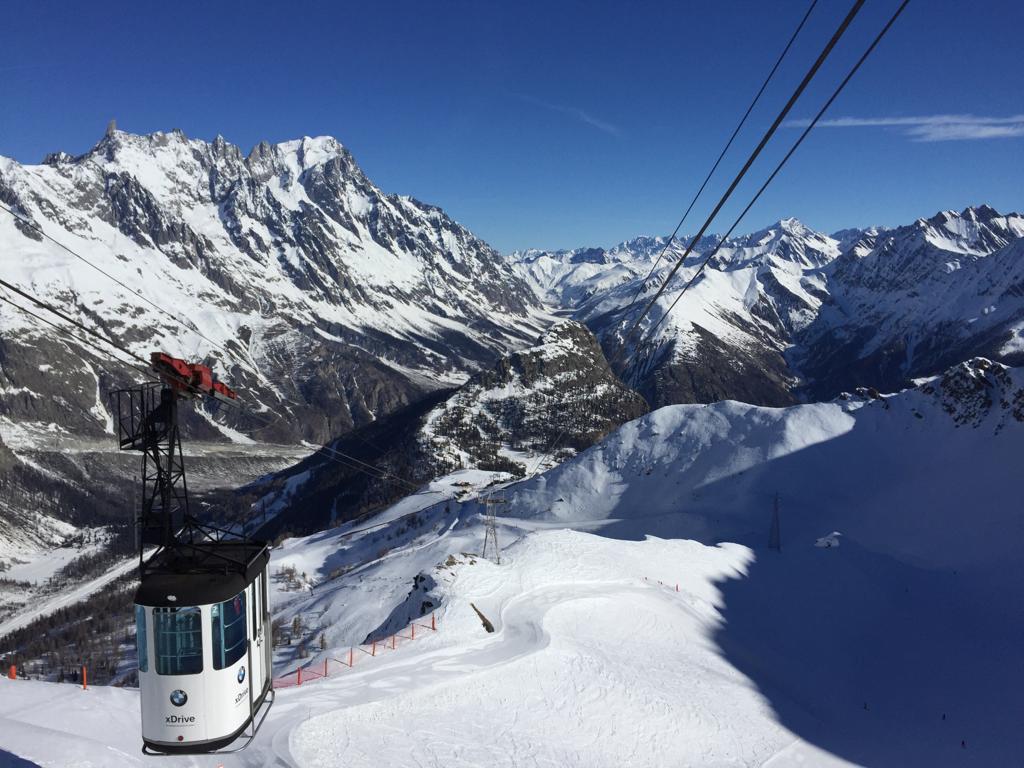 The views from the top are amazing – I would have done it a couple times more, but I knew we were having only two hours and we needed to do the most of it! So, we had lots of laps over the top. We've watched were it was less busy and stick to that side.  Snow up the mountain was good!
We tried to have lunch at Maison Vielle but with no reservations was mission impossible. So, we had a couple beers there, sitting on the side of a snowcat just sunbathing a bit. Afterwards we've skied to another restaurant by the pistes that was very busy but managed to give us a table.
That day I've finished after lunch and the kids have some more runs. We had a lovely dinner in town again and the following day we've started going back home. Thankfully all the roads were clear of snow, and we did it in great time to Reims. We've overnighted there – finished in a sushi restaurant (I think that we were maxed out of pizza and pasta!) – and continue the trip the next morning, after a nice buffet breakfast to London. It was weird for my husband to drive a French car into the UK, but he managed well.
This was definitely not the holiday I've had in my mind, but at least we managed to make the most of it. Now we have booked everything for 2019! Can't wait!
If you want to take your family skiing but you don't know where to start, read here.
The-Ski-Guru TRAVEL is a paid-concierge service that can organise your bespoke ski trip to the Americas, Alps or Japan, including for those going from Britain to Europe, booking your Eurotunnel trip, and for all trips: lodging, lift tickets, rentals, ski school, and all you need for an excellent vacation. Go to https://www.the-ski-guru.com/travel and upload your information – this page will be updated soon with more travel ideas. Check our February offer for Zermatt staying at the Chalet Zen or Penthouse Zen, our amazing Ski Safari in the Dolomites , stay at the San Lorenzo Lodge White Deer in the Val Pusteria of Sudtirol, in the Hotel Petrus in Riscone, for skiing Kronplatz, or check our Easter offer to Obergurgl-Hochgurgl and Sölden to ski with your family. You can ski to have lunch in the Rifugio Sofie in Seceda, Val Gardena, in the Dolomites.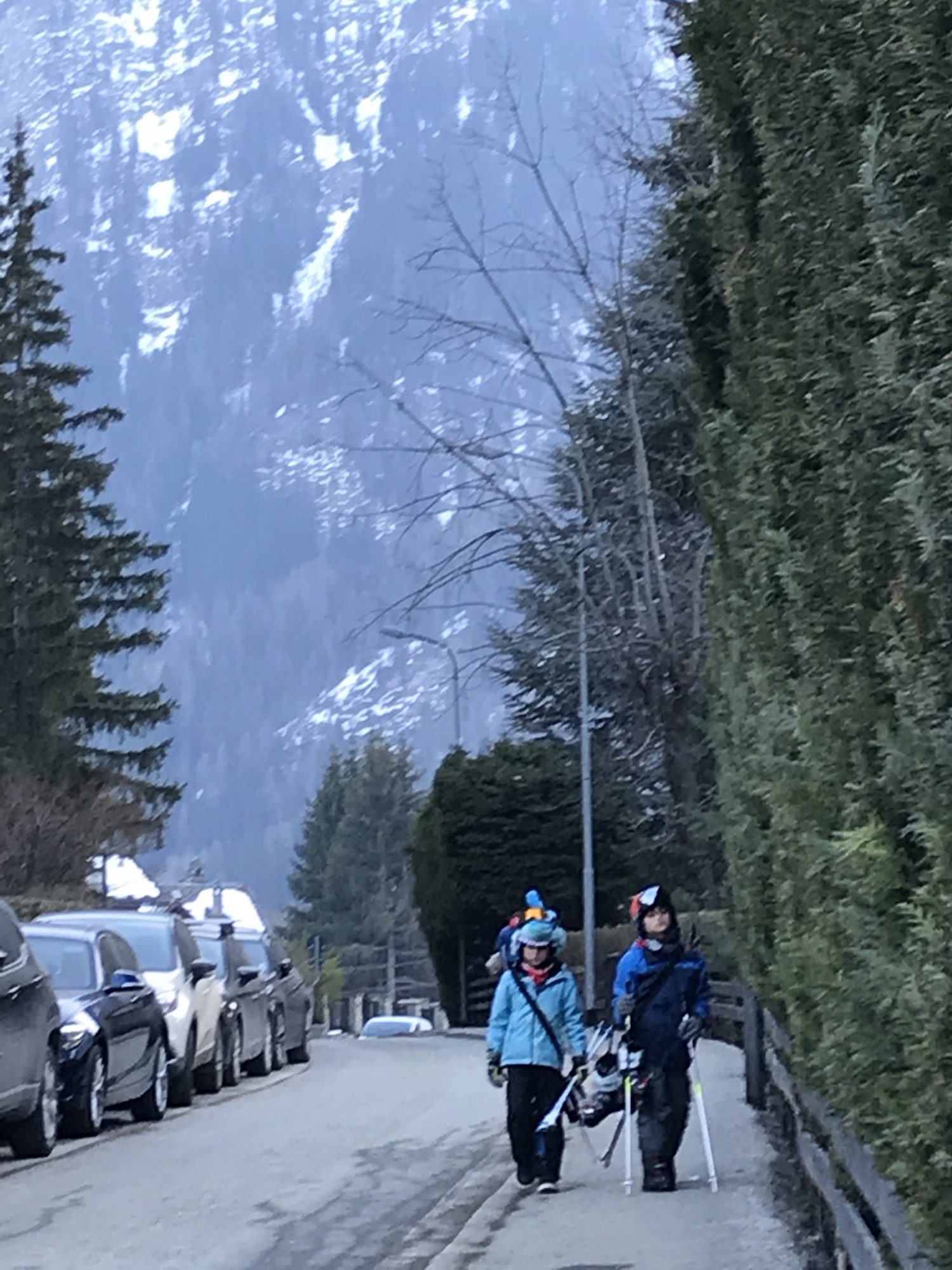 You can search for your own accommodation in the snow for your next ski holiday through our Accommodation Search tab. Or if looking to stay in the heart of the Mont Blanc Valley in the Aosta Valley, check Il Coure della Valdigne review here. This is our own family home in the mountains, that I am renting out when not using, you can always write me a private message if interested to info@the-ski-guru.com
You can book directly through Airbnb  through this link
If you want to take your family skiing and you don't know where to start, read here. And search for your ski transfers from all airports to the Mountains here. And for those that are like me, that are lazy to cook, you can get your food, even gourmet mountain food delivered to your home with Huski.
If renting equipment (skis or snowboards)  check our agreement with Skiset– you can get up to 50% off ski or snowboard rental rates. I have been using them for years every year when I go to America  and Europe and they are great!
You can start thinking about your trip, by reading the articles on the Planning your Ski Trip tab.  Or how to pack for your family ski trip.  If taking your furry friend abroad to the continent, read about the new Pet Travel Scheme update from DEFRA. Self-drive skiers also need to plan for Brexit. Check out our tips for driving to the mountains.  If flying and renting a car in Europe, beware of the extra charges they will pass to you if you want winter tyres, snow chains or ski racks. If driving, check the winter tyres news for Europe and North America. You can see how our last family ski holiday was not as expected, even though one plans it to be a success, but how we could do the most of it. If you want to get better before getting to your next ski holiday, here is a quick guide to indoor skiing and dry slopes in the UK. You can also read our week in the mountains during our summer holidays in Courmayeur.
Featured Image: My youngest son at Maison Vielle- with the majestic Mont Blanc behind. Photo: The-Ski-Guru. The Half Term Family Ski Holiday that did not result as planned. 
Please follow and like us: