Trentino has over 8,000 km of biking trials and eight bike parks for downhill biking. If you are thinking where to have your new biking adventure, don't look somewhere else; Trentino is the place to be. Keep on reading to see why I state this.
There are thousands of mapped and marked kilometres of tracks for bikers of all levels, including families, experts and even 8 adrenaline active bike parks. From cross-country, endure and downhill, the new craze in Trentino is to explore the mountains on two wheels.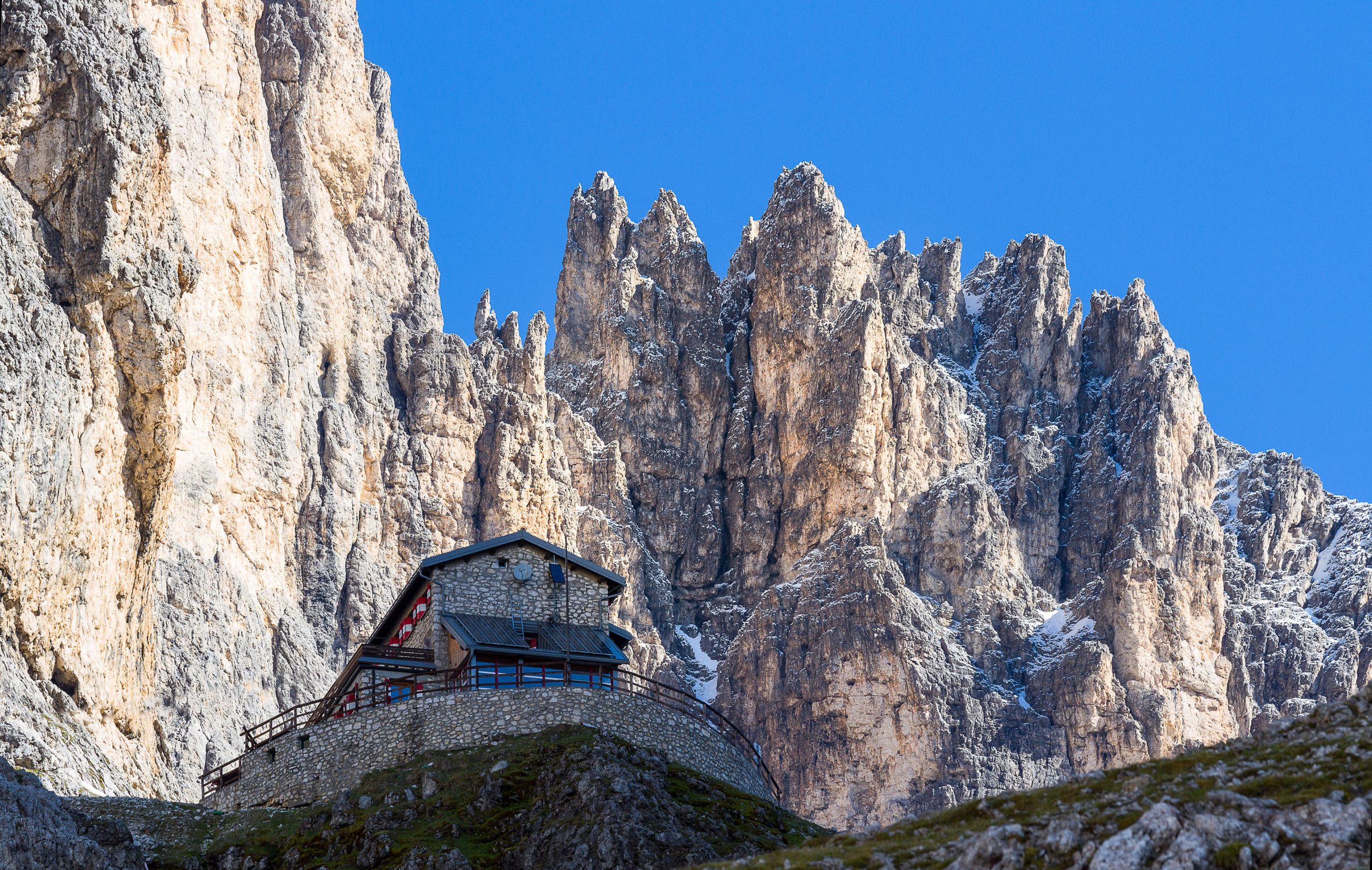 All the area is ready to receive the bike aficionados, with rentals and service centers, to e-bikes, recharging stations, downhill routes served by lifts, special dedicated bike accommodations, MTB guides and shuttle buses for transfers or to return to base with an amazing food and wine experience to provide the best bike holiday. The most demanding bikers in the world choose Trentino for its spectacular scenery, bike tracks and the top-notch services.


There are defined different areas in Trentino where to choose for a cycling holiday.
ALPE CIMBRA BIKE
Alpe Cimbra is located on the Trentino plateaus, between 800 and 1900 m above sea levels and comprises of meadows, spruce forests, valleys and panoramic viewpoints with spectacular peaks. Here you can practice all disciplines of mountain bike – all-mountain, cross country and endure – in addition to the Bike Park in Lavarone and routes for families with areas for children with pump trucks.
The Alpe Cimbra Bike district also offers services specially tailored for bikers: 26 bike hotels and residences, 11 bike chalets, mtb instructors, rentals and events, the "bike friendly" Lake Lavarone, and several lift facilities open in summer to ride at high altitude.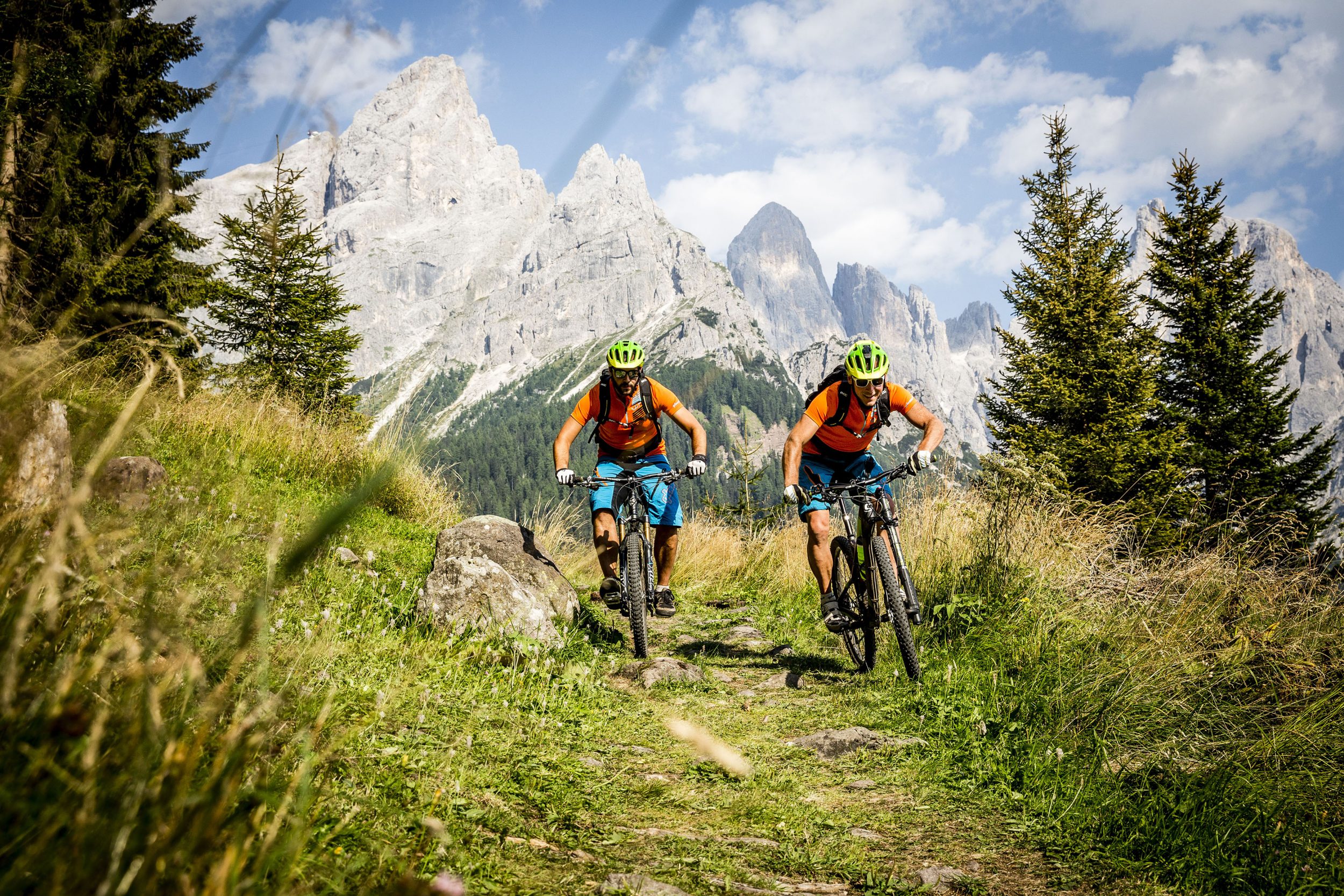 EPIC TOUR
The 100 km dei Forti is the epic tour par excellence. It is a varied and very challenging route: with lots of kilometers of emotions, between climbs and sudden descents, passing through the most important WWI sites, and wide panoramas that change continuously between rocks, woods and dairy huts. Three loop circuits that can be tackled individually or in a single solution: 52.5 km around Folgaria, 23.95 km around Lavarone and 26.48 km around Luserna.

TOP TOUR
Alpe Cimbra Tour – 63.8 km
A long and demanding loop trail that from Luserna, through the woods of Lavarone, reaches Carbonare and runs down the Centa valley to Caldonazzo, to climb again on the Alpe along the historic "Menador" road .
Toraro Ring – 19.2 km
Alternate horizons and spaces, views and glimpses between Trentino and Veneto, around Mount Toraro, where chamois and roe deer can become unexpected traveling companions.
Oltresommo Bike Tour – 34.3 km
From Carbonare to Monte Rust, then a spectacular descent to Lake Lavarone passing though the WWI trenches at Nosellari. From there a climb to Forte Cherle, before the beautiful and fun descent to the starting point.
Info: www.alpecimbra.it
DOLOMITI PAGANELLA BIKE AREA
400 kilometres of easy routes for families and XC on dirt roads and though woods for intermediate and experts, single track trails across the entire area, with a particular focus on trail, all-mountain and enduro. It also offers three Bike Park areas, and three Pump Track and Skill Areas located in Molveno, Andalo and Fai della Paganella. Bikers have access to maps, GPS tracks, BiciBus shuttle service, rentals, lift facilities, guides, courses, bike hotels and bike chalets.
EPIC TOUR
The Bear Trails is an itinerary made up of 5 different trails through the best single trails of Paganella: 59 km, with over 4,000 meters of difference in height, using six lift facilities, passing through all the towns in the area – Molveno, Andalo, Fai della Paganella, Cavedago and Spormaggiore – and reaching the summit of Paganella, at 2125 meters of altitude. The route, suitable for experienced riders, includes descents on very different and heterogeneous single trails, such as the one from Cima Paganella to Santel: more than 1,000 meters of difference in altitude and a length of approximately 10 km.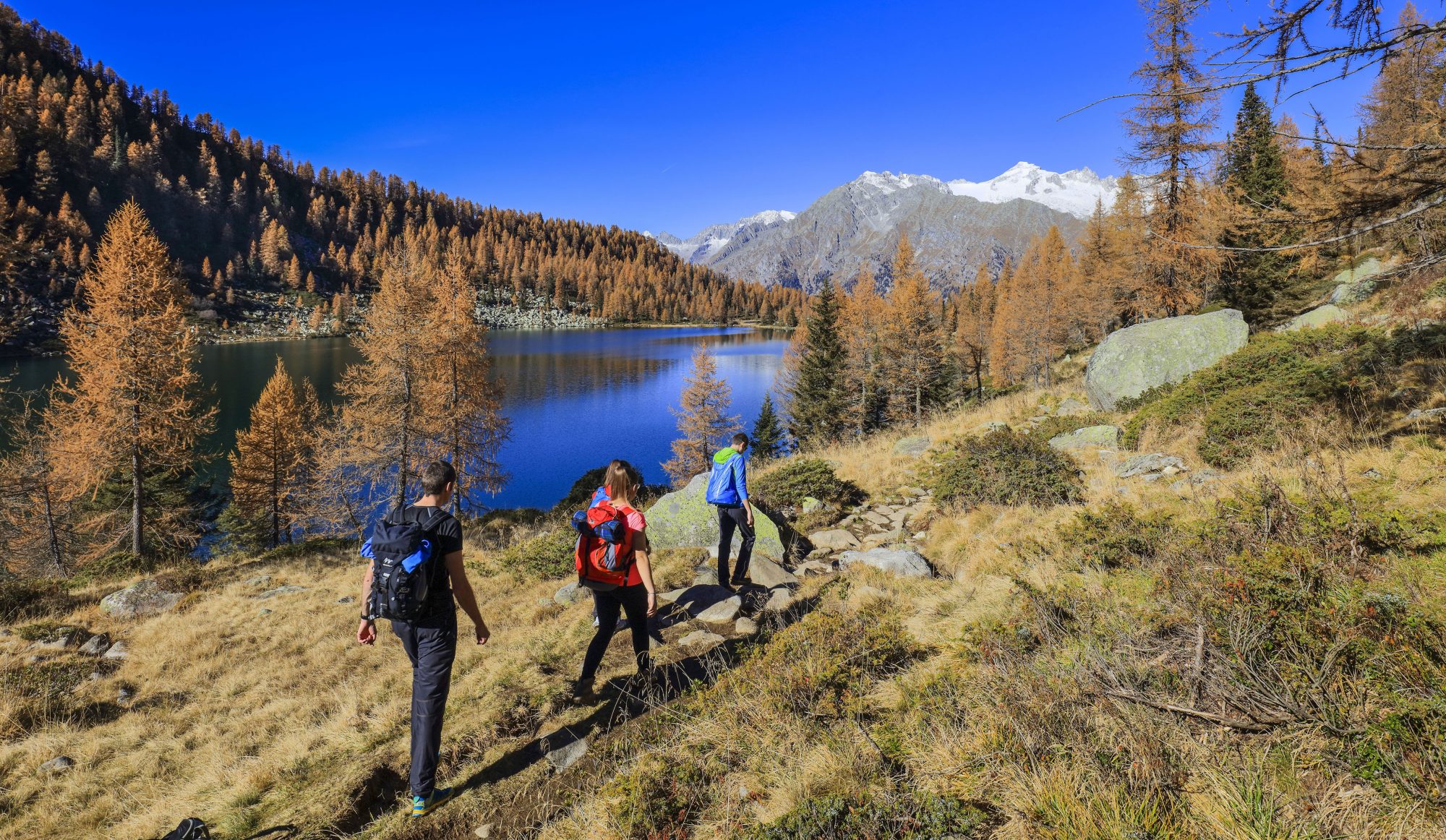 TOP FLOW TRAILS
Big Hero – Molveno – 2 km
It is easily reachable with the Molveno – Pradél gondola lift and the Pradél – La Montanara chair lift, and the easiest trail of the entire bike area. It starts from La Montanara mountain hut to get to the Pradél Plateau, with beautiful views of Lake Molveno. It is accessible to everyone, including beginners and children aged 8 and older.
Willy Wonka – Andalo – 4 km
It is easily reachable by the Andalo – Doss Pelà gondola lift, stopping half way at the Dosson station; this trail is full of bumps and rhythmic bends and also suitable for beginners.
Information: www.visitdolomitipaganella.it
BIKE AREA VAL DI FASSA
Val di Fassa offers many possibilities for active holidays, and is particularly rich in proposals for those who love to enjoy local sites by bike, in tune with the increasingly popular "slow tourism" trend. A mountain bike, a good physical shape and a lot of determination is what you need for riding the "Sellaronda Mountainbike", the best "off-road" tour of the Dolomites. It is a one-day tour and can be covered, with or without a guide, only by those who purchase a Bikepass Sellaronda, to access the lift facilities which "climb" to the Gardena, Campolongo, Pordoi and Sella passes. The descents are rather technical and take place mostly on "single trails". For "gravity" enthusiasts, however, there are the trails of the "Fassa Bike Resort" on the Belvedere of Canazei, and of Sellaronda Mtb Gravity with 20 km of descents and a 2700 m of vertical drop. 29 "Bike Hotels" are also ready to open the doors to you in the valley.
EPIC TOUR
The Val di Fassa Classic is the original route of "Rampilonga", the first Italian MTB race. The 50.15 km trail starts in Moena, reaches the wonderful panoramic balcony of Alpe di Lusia, and descends to the bottom of the valley, finally returning to Moena after passing through Soraga, Pozza and Vigo di Fassa.
TOP TRAIL
Infinity – 7 km
New Pordoi – Canazei return route, medium level line with flow-style portions, partly on the ski slope.
Information: www.fassa.com
VALDISOLEBIKELAND
Val di Sole confirms itself as an international point of reference for all bike enthusiasts. A wide and certified network of routes and quality services make the bikers' and bicycle tourists' experience in ValdiSoleBikeLand unique. There are 20 itineraries of different difficulty for more than 400 kilometers of tracks available. And for those who seek strong emotions, 10 evocative single tracks where you can have fun in safety, and two bike parks to let your adrenaline run: the Ponte di Legno – Tonale Bike Park, the first Family Bike Park in Trentino, with downhill and freeride tracks of all levels. A second Bike Park is located in Commezzadura, with trails of varying difficulty, among which the famous "Black Snake" trail, which was included in the World Cup, and a Four Cross track where you can have fun among humps, parabolic dishes and rock gardens. And for families, there are Kids Bike Parks (in Pellizzano and Folgarida), Skill Parks and Pump Tracks to get the little ones familiar with the 2 wheels.
EPIC TOUR
The Great War Tour is a spectacular and challenging 59.4 kilometre tour, which climbs up to 2,613 m and is recommended only for the most experienced and trained bikers. The route is partly included in the Stelvio National Park and allows you enjoying the most varied and spectacular natural landscapes: from exceptional views of glaciers, to dense and wild woods, grasslands dotted with typical alpine constructions or with WWI ruins and historical findings.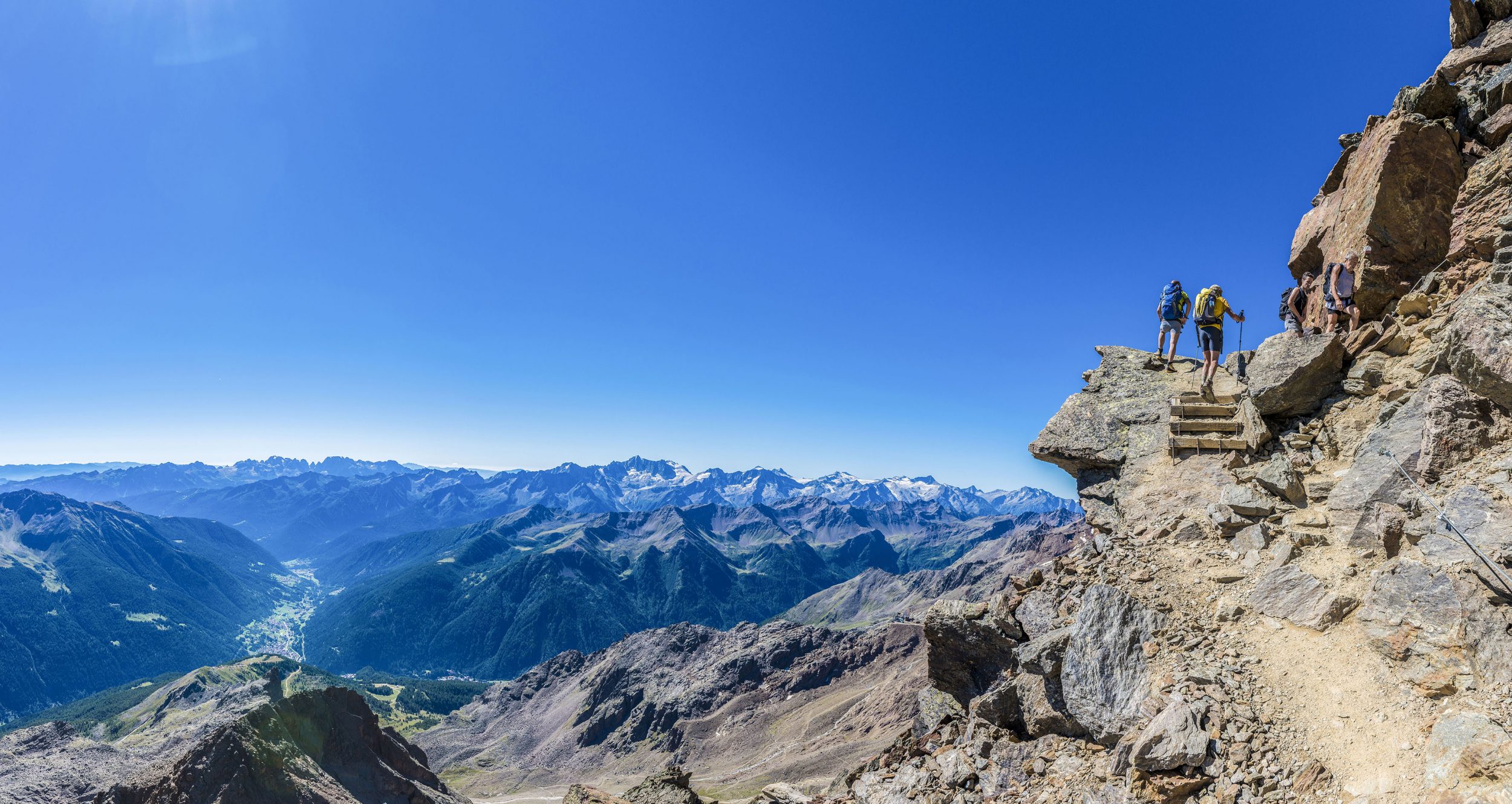 TOP TRAIL
Lago dei Caprioli Trail – 19.2 km
Beautiful loop itinerary which, from the summit of Monte Vigo, leads back to the valley on dirt roads, fun trails and technical sections, with evocative passages on very exciting natural foreshortenings. It starts from Commezzadura, with the Daolasa – Val Mastellina gondola lift, up to Rifugio Solander. Once you reach Rifugio Orso Bruno, before starting your descent, you must take a break to admire the view towards Val di Sole, the Brenta Dolomites and the Cevedale Group.

La Preda Trail – 12 km
Along this very fun single track you can test your technical downhill skills on different types of terrain: smooth stretches, roots, pebbles, slopes, supports, humps along 1,261 meters of downhill difference in height.
Trail dei Forti – 15.7 km
This very charming itinerary unwinds at high altitude, with splendid views of the peaks of the Adamello Presanella mountain group and brief passages through the remains of WWI Austrian Forts. The route runs from Passo del Tonale to Ossana.
Information: www.valdisole.net
GARDA TRENTINO BIKE
A very extensive Bike area, with 44 recognized routes stretching over 1,390 kilometres of itineraries that unwind in a unique environment and climate, and, for this reason, are accessible for most of the year. From the quiet off-road rides also suitable for families, to excursions with significant gradients and challenging technical steps, up to the top in terms of difficulty with the legendary downhill and freeride tracks of the Garda Trentino Bike Park. Unique in its kind, reachable without lifts, but with excellent shuttle services, it can offer strong emotions thanks to trails that have entered the collective imagination of bikers. The flagship of the area is called "Val del Diaol", a 4 and a half-kilometre downhill stretch with a drop of more than 700 meters and gradients that in some cases exceed 30 percent, on the northwest slope of Monte Baldo. But here, enthusiasts can count on the "Outdoor Friendly" network of specialized hotels, campsites, farmhouse inns, B&B and apartments: 21 facilities with services designed for bikers – www.gardatrentino.it/outdoorfriendly.
EPIC TOUR
The Ponale – Rifugio Nino Pernici is one of the most popular tours of Garda Trentino (the Trentino area around Lake Garda), which combines the classic Vecchia Ponale track with the climb to Rifugio Pernici. This is a challenging, though varied and fun 40-kilometer route. From Riva del Garda, you climb up the historic Ponale track, from where you can admire unique views of Lake Garda. After passing Lake Ledro, you reach the green Val di Concei. The road now begins to climb again through the woods towards the dairy hut, the Bocca di Trat and Rifugio Nino Pernici, with a spectacular view of the Garda ​​Trentino area. You return to Riva del Garda taking a descent through the woods with steep slopes down to Malga Grassi and the village of Campi.
TOP TRAIL
Garda-Sarca Ring – 61 km
A circular itinerary immersed in a Mediterranean atmosphere, suitable for everyone because it does not feature excessive gradients; it crosses through the whole Garda Trentino area and the Valle del Sarca, with a succession of spectacular natural environments: olive groves, pine forests, cliffs overlooking Lake Garda and the immense Brento walls. It is also ideal for e-MTB rides.
DH Garda Trentino Bike Park – Val del Diaol – 4.5 km
The Val del Diaol has become the stuff of legend, a challenge, first of all, to oneself. The entrance to the trail, located above Nago, is located a few hundred meters after Malga Casina. A breath-taking descent to be faced with protections, gloves and full-face helmets, on a ground sometimes beaten and fast, sometimes made of rocks, slabs and stones, which put a strain on the biker's balance.
Information: www.gardatrentino.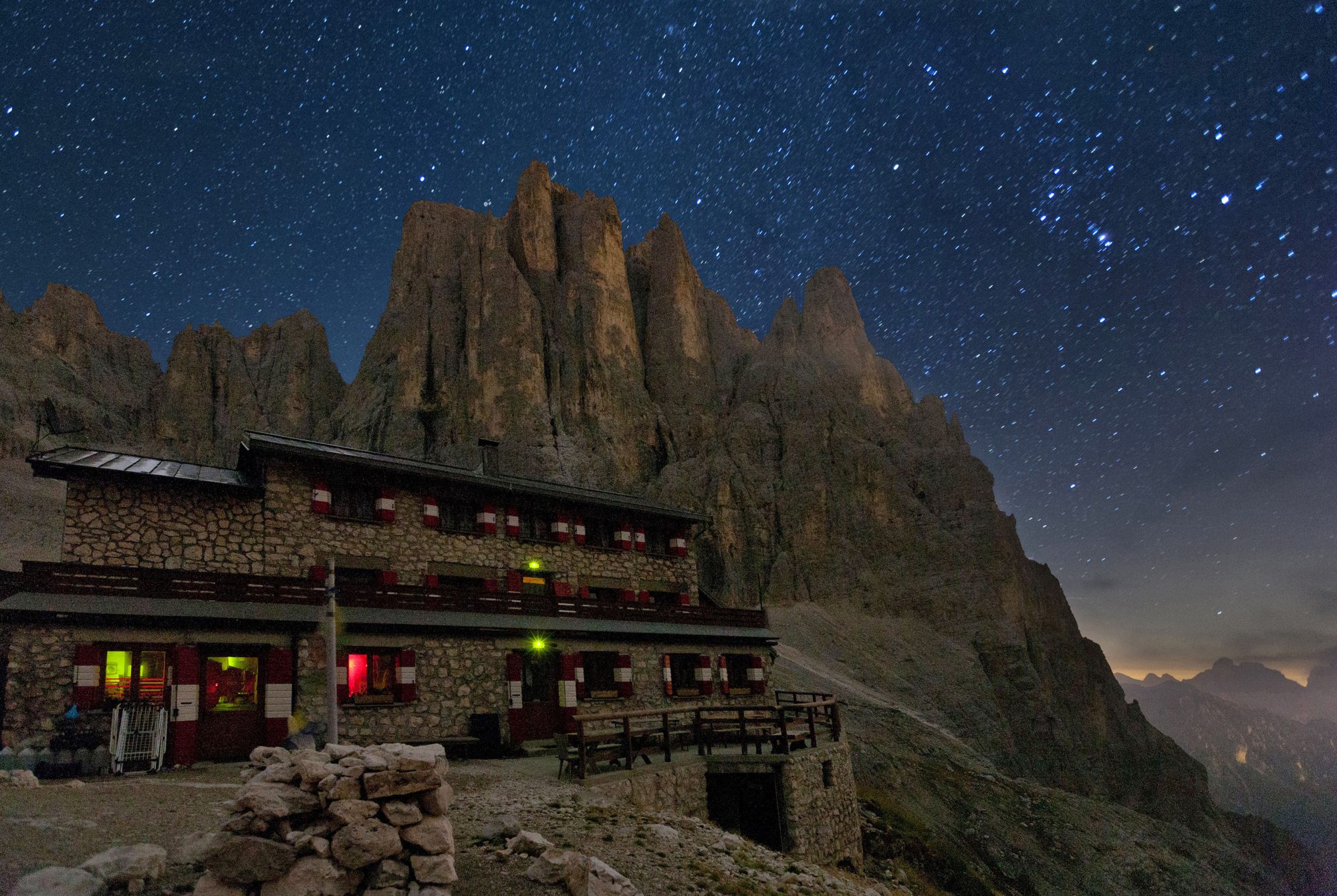 MTB WORLD CUP (DHI/XCO) & 4X WORLD CHAMPIONSHIPS
Commezzadura, Val di Sole, 6-8 July
The best bikers in the world get together to challenge each other and to give us a show of adrenaline and showmanship.
The great international Mountain Bike scene returns to Val di Sole. From 6 to 8 July 2018, the MTB World Cup will be held at the well-known Daolasa, Commezzadura. A long weekend of competitions between Downhill, Cross Country and Four Cross, with the best specialists challenging each other on specially designed tracks. It starts with the Four Cross World Championships, followed by the leg of the World Cup in the Downhill speciality, and ends with the World Cup leg in the Cross Country speciality.
All around, the world of biking in its most colourful and cheerful version: a great non-stop party, with live music, shows and side events, for thousands of athletes and spectators, who will be able to relax and celebrate this great event together, in the spectacular setting of Val di Sole.
It starts on Friday 6th with the Four Cross World Championships, followed by the leg of the World Cup for the Downhill speciality planned for Saturday, and ends on Sunday with the leg of the World Cup for the Cross Country speciality.
Daolasa, Commezzadura, the location of the event, boasts a new Bike Park, inaugurated in 2017.
www.valdisolebikeland.com.
We have already covered these areas in the winter, like the start of last ski season in Val di Fassa, as well as an early start in Madonna di Campiglio, a must-read guide to Val di Fiemme and how Alpe Cimbra is a hidden gem yet to be discovered!
To keep on reading Ski News at your Fingertips, keep on visiting The-Ski-Guru, subscribe to our newsletter and follow us on Social media through our hashtags #skinewsatyourfingertips and #theskiguru.
Featured Image: San Martino di Castrozza – Passo Rolle – Tognola – San Martino Bike Arena.
Fototeca Trentino Sviluppo S.p.A. – FOTO DI Roberto Bragotto. Trentino offers 8,000 kilometres of biking trails and eight downhill bike parks.  
Please follow and like us: