World First 0% Emissions Snow Groomer Was Launched by PistenBully.
Is it possible that slopes will soon be groomed 100% emission-free? At INTERALPIN 2019 in Innsbruck, the international leading trade fair for Alpine technologies, PistenBully is celebrating its 50th birthday – and in doing so, gives the industry an answer. With the study of the first electrically driven snow groomer, the PistenBully 100 E, this answer is a clear "Yes!".
Environmental technology – Made in Germany
The first step was already taken in 2012 with the market launch of the PistenBully 600 E+ with diesel-electric drive. After all, the focus at Kässbohrer has been on sustainability for a long time now. So it should come as no surprise that, with the PistenBully 100 E study, Kässbohrer engineers have now made the impossible possible. Already well-known for their inquisitiveness and passion, paired with their claim as being drivers of innovation and possessing environmental awareness, it was only a matter of time until a study such as this was conducted. What this means is that we now have the prospect of completely clean slope grooming.
Zero percent emissions – 100 percent PistenBully
For the first PistenBully 100 E, the energy capacity of the battery is 126 kWh with a rated voltage of 400V. The charging time is of particular interest. At 5 hours, the SoC (State of Charge) is at 75%. After 6.5 hours, the battery is completely charged. In purely mathematical terms, this provides an average driving time of 2.5 to 3 hours. In the process of the PistenBully 100 E program, the number that says it all is 100: 100 % emission-free – and nevertheless, a 100 % genuine PistenBully.
As a genuine PistenBully, the 100 E has already been successful in the snow – and passed its first test drives in a very convincing way. An extensive number of tests have been carried out during the study, because only well-engineered technology meets the high-quality demands of Kässbohrer Geländefahrzeug AG. Highly promising prospects!
The study of the PistenBully 100 E was developed together with Mattro Production GmbH, a pioneer in electric mobility from Schwaz, Austria. A highly motivated team from both companies worked closely together on this project. Depending on customer feedback, the vehicle is to be developed for series production.
Absolutely no more emissions in the mountains: The first electric PistenBully is in operation as a "study". However, it is already a success in carving a path in the snow.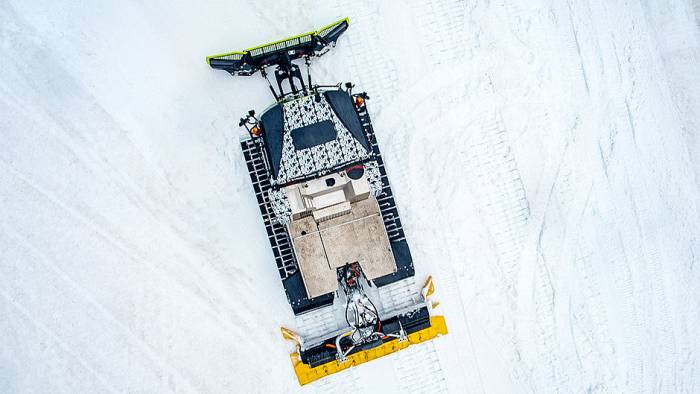 More info: PistenBully
The-Ski-Guru TRAVEL is a CONCIERGE service that can help you organise your bespoke ski trip to the Americas, Alps or Japan, including for those going from Britain to Europe, helping you book your Eurotunnel trip, and for all trips: lodging, lift tickets, rentals, ski school, and all you need for an excellent vacation. Go to https://www.the-ski-guru.com/travel and upload your information – this page will be updated soon with more travel ideas. Check our amazing Ski Safari in the Dolomites , stay at the San Lorenzo Lodge White Deer in the Val Pusteria of Sudtirol, in the Hotel Petrus in Riscone, for skiing Kronplatz, or check our offer to Obergurgl-Hochgurgl and Sölden to ski with your family. Maybe you want to come on my group to ski with other like-minded skiers in Courmayeur in January 2020, staying at the Gran Baita hotel?
You can start thinking about your trip, by reading the articles on the Planning your Ski Trip tab.  Or how to pack for your family ski trip.  If taking your furry friend abroad to the continent, read about the new Pet Travel Scheme update from DEFRA. Self-drive skiers also need to plan for Brexit. Check out our tips for driving to the mountains.  If flying and renting a car in Europe, beware of the extra charges they will pass to you if you want winter tyres, snow chains or ski racks. If driving, check the winter tyres news for Europe and North America. You can see how our last family ski holiday was not as expected, even though one plans it to be a success, but how we could do the most of it.
You can also look for your own accommodation in the snow through our Accommodation Search tab.
Also for those interested in how resorts deal with the risk of avalanches, you can check the interview to Coco Torres, former Head of Operations at Valle de Las Leñas in Argentina, a highly avalanche risk resort.
Featured Image: PistenBully Electric Snow Groomer. World First 0% Emissions Snow Groomer Was Launched by PistenBully. Photo: PistenBully.
Please follow and like us: