The-Ski-Guru Travel takes you to a long Ski Safari in the Dolomites. If you are one of those that likes variety, and want to know lots of places in one go, and perhaps, gets bored to ski in one area all week long, then you should come and do a ski safari with us. The place, the mighty Dolomites, with their sun drenched pink mountaintops – caused by the Enrosadira effect. This Ski-Safari takes you from hut-to-hut in the Dolomites, using the lift-serviced pistes and having your small luggage delivered for you every day so you can concentrate in your skiing.
HIGHLIGHTS
Experience the Dolomiti Superski – a "carousel" of 12 inter-connected resorts with 1,200 kilometers (746 miles) of prepared pistes!
Ski "hut-to-hut" staying in family-run mountain rifugios and charming hotels – the perfect combination of mountain accommodations
Savour the delicious, hearty cuisine the Dolomites are known for as you taste your way from valley to valley…
Enjoy superb skiing with our world-class, certified ski mountain guides, who will show you the best of the Dolomites on skis!
If you love to ski, and the more runs you can get in on different slopes each day the better, then you should check out our Ski Safari Experience! We've crafted this trip to maximize your time on the slopes, exploring a wide range of terrain at different resorts, in some of the most beautiful mountains on earth – the Dolomites.
Each day you'll ski from resort-to-resort across the Dolomites, enjoying the advantage of lift-service pistes. And one of the beauties of skiing here is that you can ski from rifugio-to-rifugio, staying at a different mountain inn high above the slopes each night!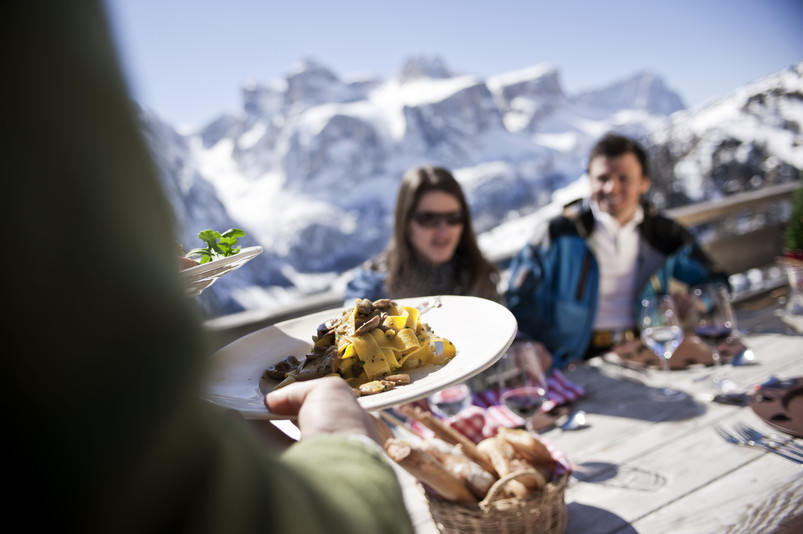 Each evening you'll experience the welcoming atmosphere of a rifugio – an alpine mountain inn set high atop the mountains with excellent views – and savor the excellent culture and cuisine unique to the region.
Throughout your trip, you'll ski with our outstanding UIAGM/IFMGA Professional Mountain Guides, who know their way in and out of the Dolomite Mountains – the best runs, the best slope-side dining, and what wine to order!  Plus, while maximizing your turns is the focus, they're always willing to give you pointers to help you improve.  Whether you're a seasoned skier or still honing your skills, if you love full days of skiing on different terrain each run, this is the trip for you!
ITINERARY
Itinerary may vary based on weather conditions, fitness levels, age, and skiing abilities of participants, and/or the recommendations of your guides.
Day 1 ~ Arrive in Alta Badia, Dolomites
Arrive in Alta Badia on your own (private transfer on request). Alta Badia is located between 1,400 and 2,700 meters (4,593-8,858′) above sea level – an altitude that ensures optimal ski conditions throughout the winter and offers breath-taking views of the most beautiful peaks of the Dolomites. Fast and comfortable ski lift connections, miles of wide, well-groomed slopes (130km / 81 miles), and the spaciousness of the ski area allow you to enjoy pleasant and safe skiing days. Charming mountain huts and first-class mountain restaurants round out the appeal of Alta Badia, making it a ski area for connoisseurs.
D…4-Star Hotel in Alta Badia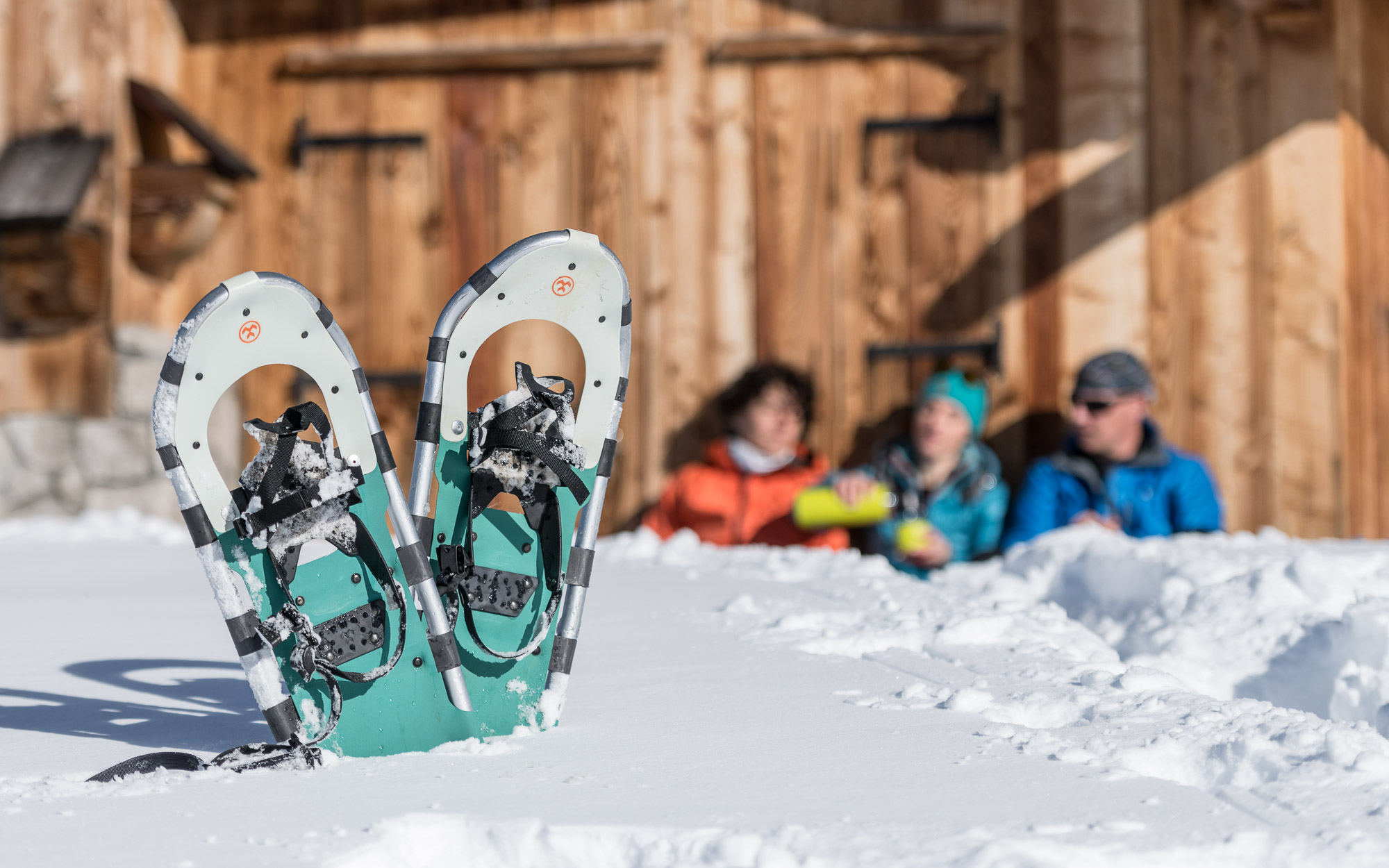 Day 2 ~ Warm up day in Alta Badia
After breakfast, you'll meet your local English speaking UIAGM/IFMGA ski guide for a trip briefing and rent any equipment if needed (not included). He will deliver you a duffel bag and your Dolomiti Superskipass. The main luggage will be transferred to your hotel in Cortina and the duffel bag with your belongings for the nights at the rifugios will be brought from hut to hut.
The Alta Badia ski resort is just one of the 12 in the Dolomiti Superski. Here you will find 130 kilometers (81 miles) of prepared pistes, serviced by more than 50 modern ski lifts. Its centrally located position in the Dolomiti Superski also provides access to the runs around the Sella Massif, and makes it the perfect starting point for some of the most beautiful ski tours in the Alps: the Sellaronda, the Great War Tour, and the route to the Marmolada Glacier.
B,D…4-Star Hotel in Alta Badia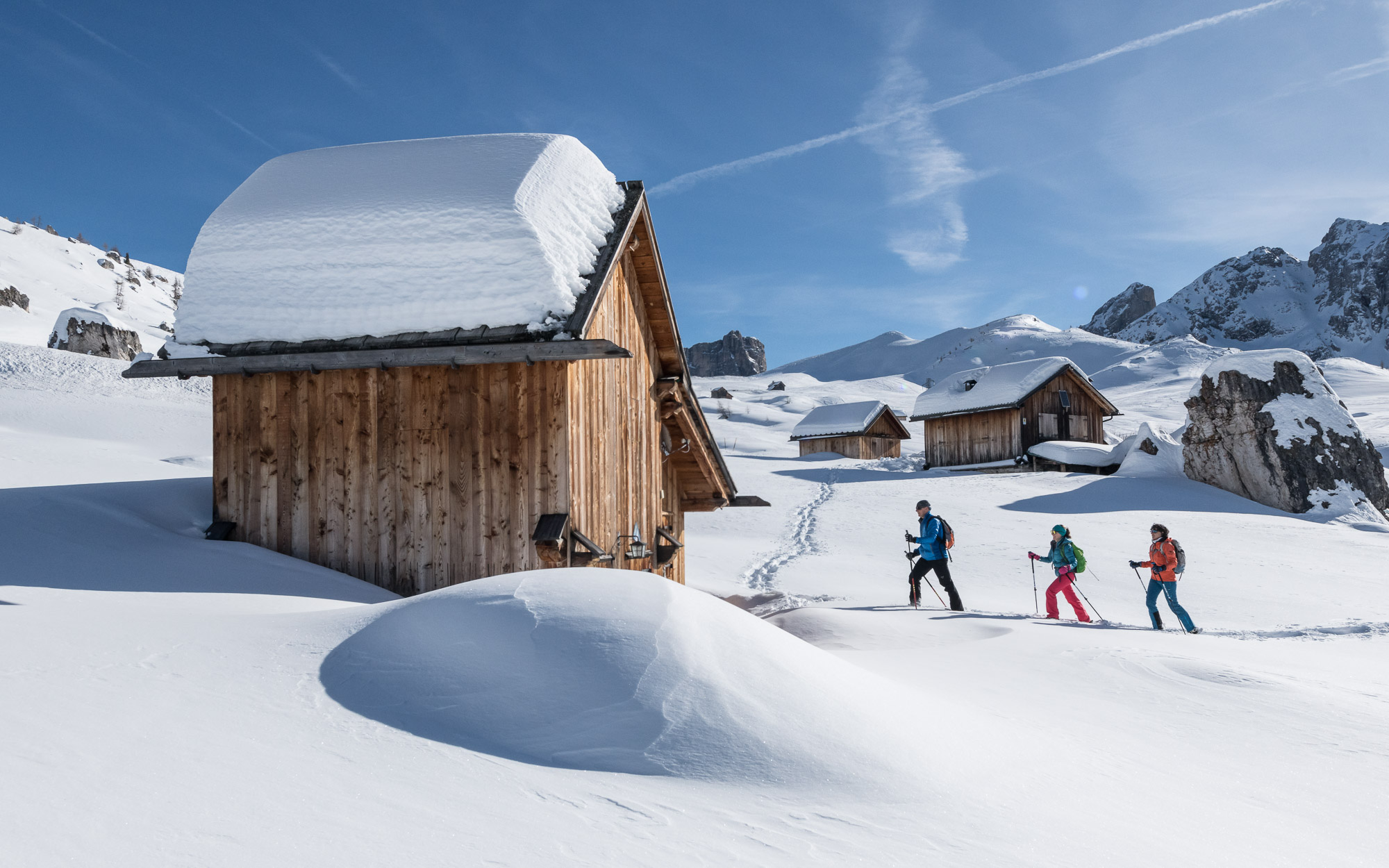 Day 3 ~ From Alta Badia to Val Gardena
After breakfast ski towards Passo Gardena and reach the village of Selva di Gardena. You will ski the first part of the famous Sellaronda. The Sellaronda Ski Tour is one of the most fantastic spectacular ski tours in the world, circumnavigating the Sella Massif. Considered somewhat of a "merry-go-round" for intermediate level skiers, this unique circular connection of lifts and runs was once the only way the ancient inhabitants of the Ladin villages could maintain a connection with each other. Nowadays it's a modern-day carousel that connects four Dolomite passes and four Ladin valleys (Val Gardena, Alta Badia, Val di Fassa, and Arabba). From December to April each year, the marvelous region of Val Gardena invites all winter sports enthusiasts to explore its innumerable pistes and descents. Efficient modern lift systems ensure a comfortable ski holiday in Val Gardena, world-renowned for its champions.
B,D… Rifugio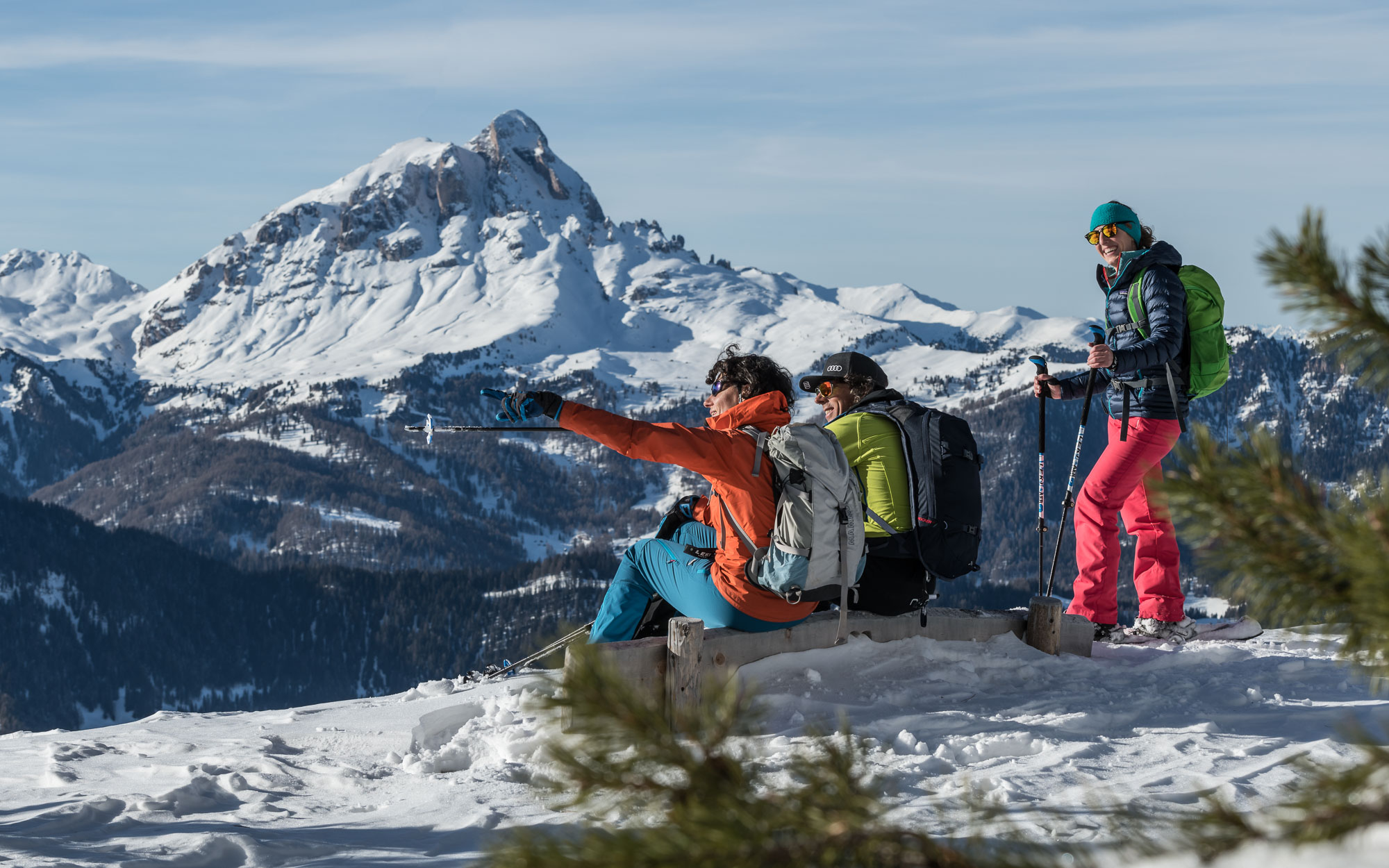 Day 4 ~ Continue the loop around the Sella Massif
Continue the loop around the Sella Massif passing the Passo Sella. Now ski down to Canazei. Over time the Ladins of Val di Fassa have guarded this valley of incomparable beauty, stretching over about 20km / 12 miles and surrounded by some of the Dolomites' most famous peaks: Roda di Vael, Catinaccio, Sassolungo, Sella group, Pordoi, Monzoni, over which Marmolada stands undisputed. In winter, Val di Fassa drives ski and snowboard fans just crazy. Besides the Sellaronda, 3 skitours, 5 snowparks, 230km / 142,9 miles of ski slopes always in perfect conditions thanks to the advanced snowmaking system, served by 87 up-to-date lifts which guarantee a fast and effective transportation to the highest altitudes. Val di Fassa is one of the most complete and famous ski districts in the Dolomites with 9 different ski areas, linked to each other by means of slopes or skibus services.
B,D… Rifugio
Day 5 ~ Marmolada
Ski to the town of Arabba, take the Porta Vescovo cable car and continue through slopes and lifts to Malga Ciapela, where you'll find the first of the three cable cars taking you up to the Marmolada Glacier. Known as the "Queen of the Dolomites," Marmolada (3,350m / 10,990′) is the highest peak and the only glacier in these mountains. You will get our full share of stunning views all around you, including the Catinaccio, Sassolungo, Sella, and Gran Vernel. Then reach the locality Malga Ciapela and from there continue by ski bus to Alleghe. Ski at the Civetta ski resort and finally take a ski bus to Passo Giau.
B,D… Rifugio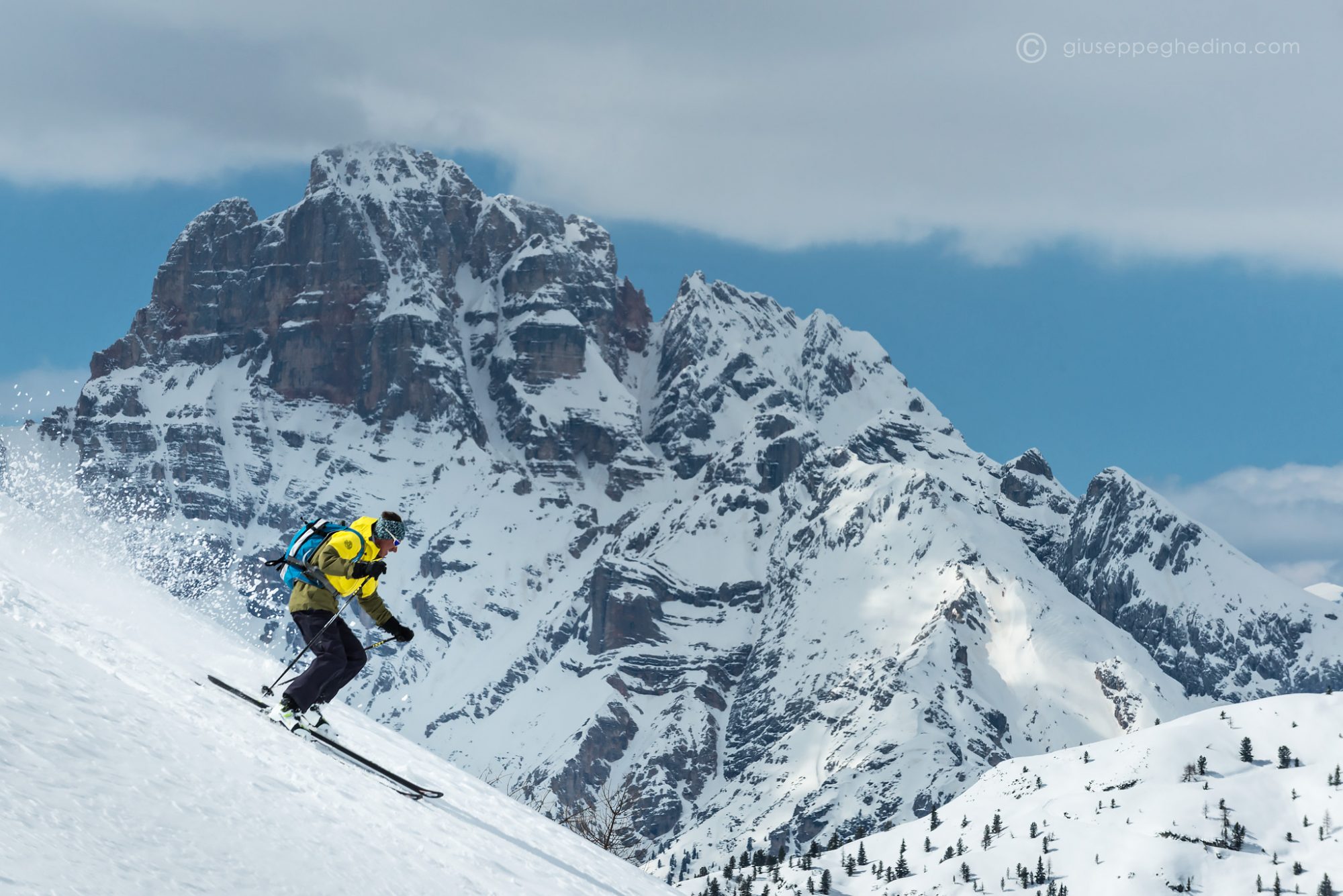 Day 6 ~ Cinque Torri and Lagazuoi
Thanks to their infinite variety of shapes and sizes, the marvellous Cinque Torri ideally represent the entire Dolomites. Although the towers can be admired from the center of Cortina, don't be deceived by their unmistakable silhouette: the characteristic profile isn't comprised of just 5 towers, but by a mass of secondary boulders, fractured towers and peaks sprinkled liberally across the entire area. These peaks are located to the west of Cortina on a grassy hillock just above the tree line at circa 2,200m / 7,218′. In Winter the ski slopes of the Lagazuoi 5 Torri Giau area are always perfect, thanks to the favourable exposure and to the use of artificial snow programmes when necessary. The slopes are easy or moderate, and all are immensely satisfying. Facing the Lagazuoi Massif, the Gallina Ridge is a paradise for children, with slopes that are also suitable for beginners. The area is part of the Superski Dolomiti territory, and is linked to slopes of the neighbouring areas and valleys by the handy skibus and coach services.
B,D… 4-Star Hotel in Cortina d'Ampezzo
Day 7 ~ Ski in Cortina d'Ampezzo
Snuggled within the Dolomite landscape, facing Monte Cristallo and the peaks of the Tofane and Sorapis, the cosmopolitan and incredibly picturesque town of Cortina is one of the most famous skiing locations in the world, including the World Cup competitions for women's skiing, nordic ski, snowboard, snowkite, curling and snow polo. Discover the Cortina resort and its 140km / 87 miles of slopes and 42 lifts, well-known all over the world also as host to the 1956 Winter Olympics. This area offers some of the most exhilarating and beautiful alpine ski runs in the world. Today you will get to know all of its slopes, from the famous Olympia (where the men's Olympic downhill events were held, and for many years the stage of the Women's World Cup); to the superb Canalone (or Canyon in English, where the women's downhill Olympic events took place); and to beautiful, but more tranquil, slopes.
Option to spend the day in the ski resort of Sesto. Transfers to/from Sesto not included (about one hour one way).
B,D… 4-Star Hotel in Cortina d'Ampezzo
Day 8 ~ Departure
Breakfast and departure on your own (private transfer on request).
B…

ACTIVITY LEVEL: For skiers of all levels who are in good and active physical health.
Difficulty Level: Easy to Challenging, depending on the skiing abilities of the participants.  All skiing will be lift-service, with opportunities for off-piste descents. The Dolomite Mountains boast the number one ski resort in the world with lift-service access to over 5,000 vertical feet of skiable terrain for both on- and off-piste adventures, and countless miles of backcountry trails to boot! Whether you're a novice or expert skier, there are plenty of options to choose from for your winter holiday in the Dolomites.  In the Dolomites, pistes (ski runs) are classified by a color-coded system – blue (easy), red (intermediate), and black (expert).  Easier skiing trips will stay on-piste on easier runs.  As trips increase in activity level, you will encounter more difficult pistes, off-piste skiing, and ski safaris (where your move from valley to valley skiing and using lifts).

Outdoor Safety, Awareness, & Training:
Adventurous outdoor activities, particularly in the mountains, have inherent risks.  While these risks can never be removed entirely, they can be minimized.  At Dolomite Mountains, our aim is to provide you with a thrilling holiday, directed with maximum attention to your safety and the safety of others.  We don't want you to just blindly follow our experienced leaders; we take pride in providing you the opportunity to learn mountain skills, and to understand potential hazards, how to minimize risk, and how to cope with an incident should it occur. 

Guides:
Our guides are experienced, mountain professionals who work year round in the outdoor industry, love sharing their passion for the mountains, and are dedicated to providing our guests an exceptional experience. We offer a range of guides, from professional hiking and biking guides, to UIAGM/IFMGA Guides – professionals in their field who are certified for climbing, mountaineering, and skiing activities.In order to ensure the safety and enjoyment of your trip, your guide may decide to alter the scheduled itinerary or activity, based on weather conditions and/or fitness levels and abilities of participants. At his or her discretion, your guide may also exclude one or more participants if they do not comply with the requirements indicated above.

UIAGM/IFMGA Guides:
UIAGM/IFMGA certification is the highest mountain guide qualification in the world. In order to become a certified IFMGA mountain guide, a vast amount of training and demonstration of skills during rigorous performance exams is required in four different disciplines: rock climbing, ice climbing, mountaineering, and ski mountaineering.
Programme Price
2 participants: 5,600€ per person
4 participants: 4.120 € per person
6 participants: 3.620€ per person
High season: 5% increase on costs. High season dates: 02 February – 09 March 2019
Black out Dates: Christmas / New Years weeks: 26 December 2018 – 6 January 2019
Upgrade in 5-Star hotels on request – Off-piste days on request.
Note: Rates are charged in GBP at the exchange of the date of payment.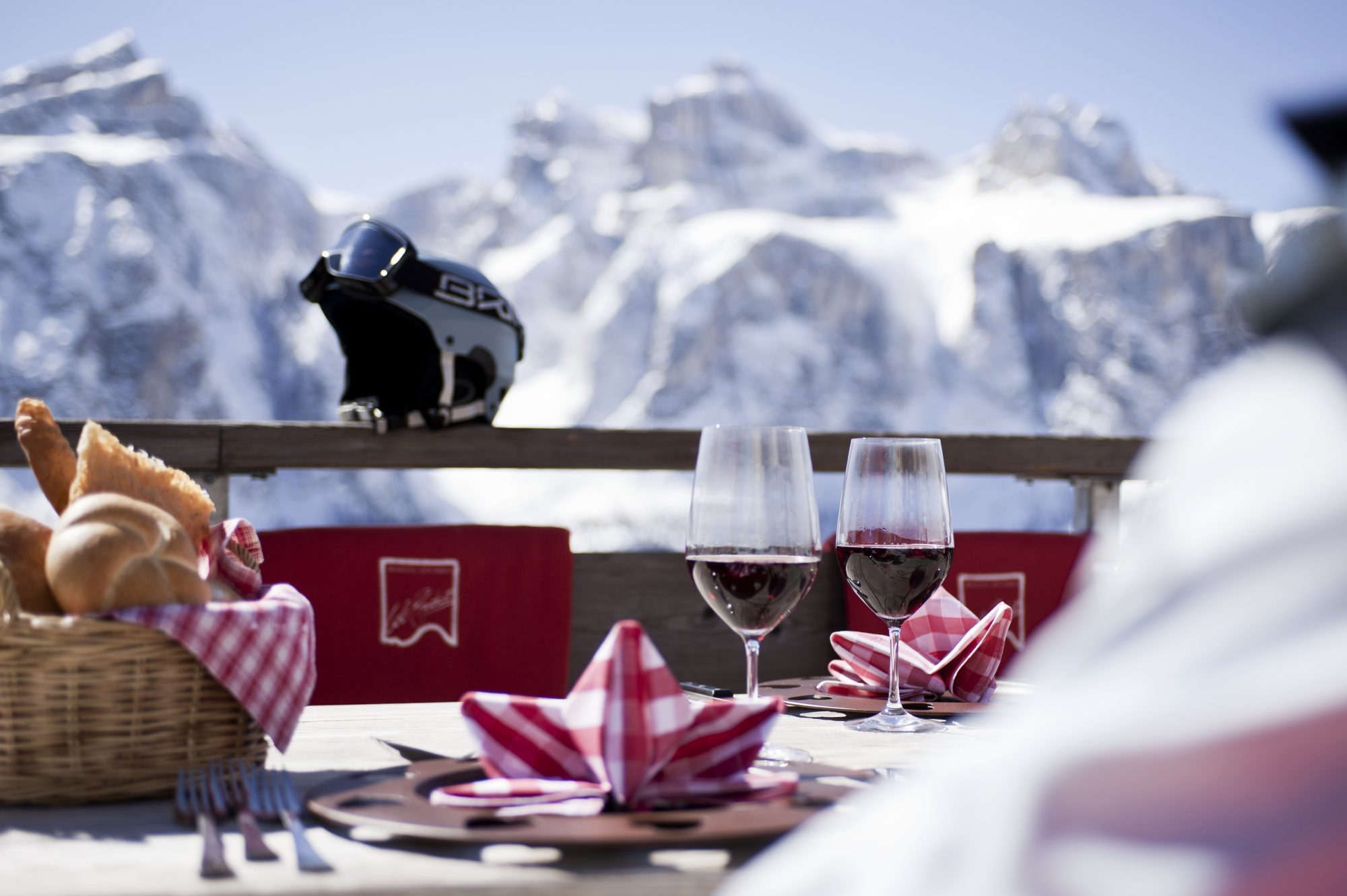 Cost includes:
Trip briefing
Logistics and ski maps of the area
2 night accommodation in 4-Star Hotel in Alta Badia
2 night accommodation in 4-Star Hotel in Cortina d'Ampezzo
3 night accommodation in charming mountain inns/rifugios
All breakfasts and dinners
1 Local English speaking professional UIAGM/IFMGA ski guide for 6 days
Dolomiti Superskipass for 6 days
Transportation in the area when needed
Luggage transfer from Alta Badia to Cortina
Duffel bag transfers
Transfer to return the equipment if clients will rent it in Alta Badia
Tourist tax
22% Italian VAT tax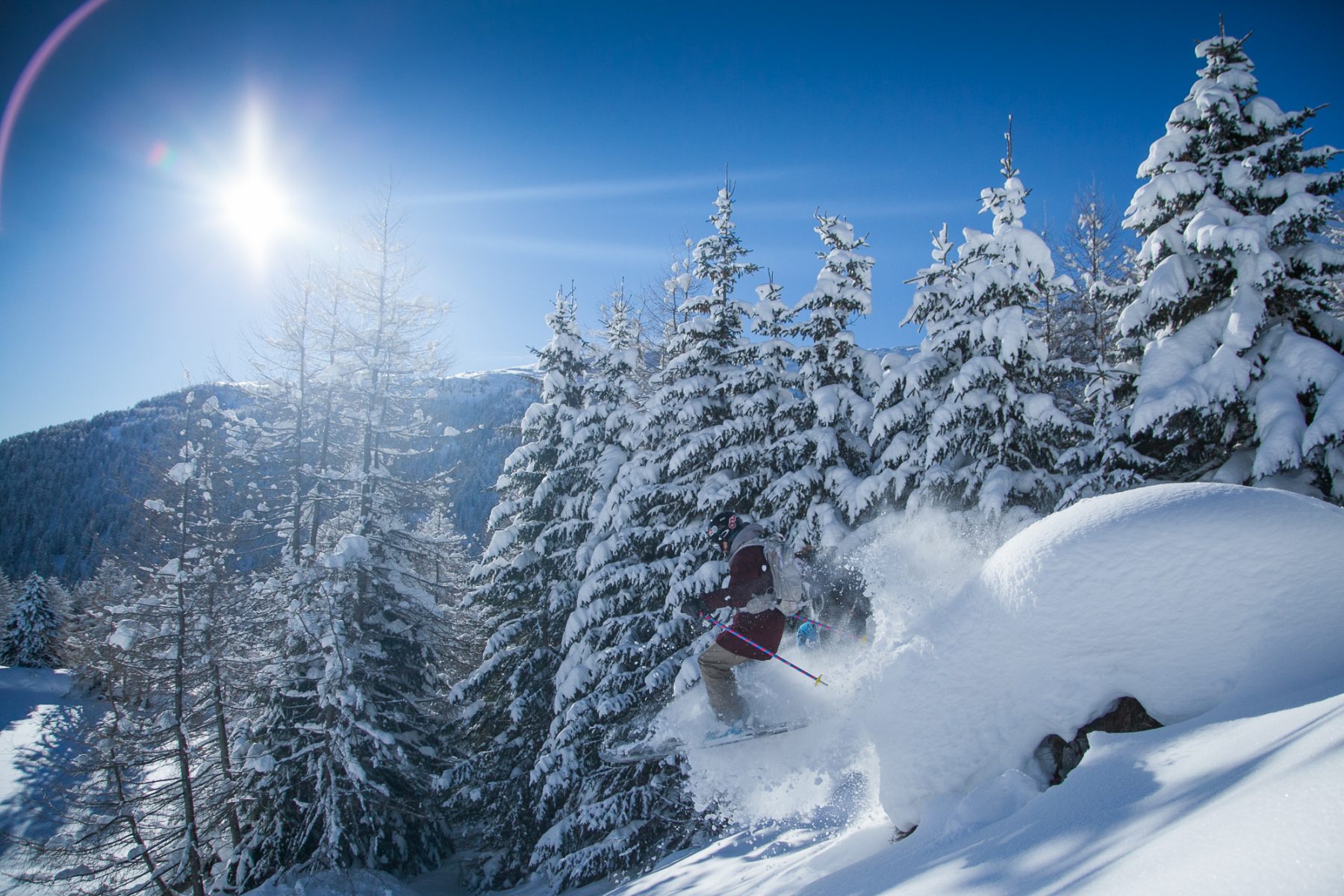 Cost does not include:
In/out airport transfers
Airfare
Lunches
Items not on set dinner menu
Beverages except what is served at breakfast
Bottled water
Ski equipment
Transfers to/from Sesto
Extra transfers or excursions on trains, lifts, buses, taxis
Extra charges due to changes in itinerary
Insurance (medical, evacuation, or trip cancellation coverage)
Items of personal nature (phone calls, laundry, excess baggage charge, etc.)
Tips and gratuities
Anything not mentioned in cost includes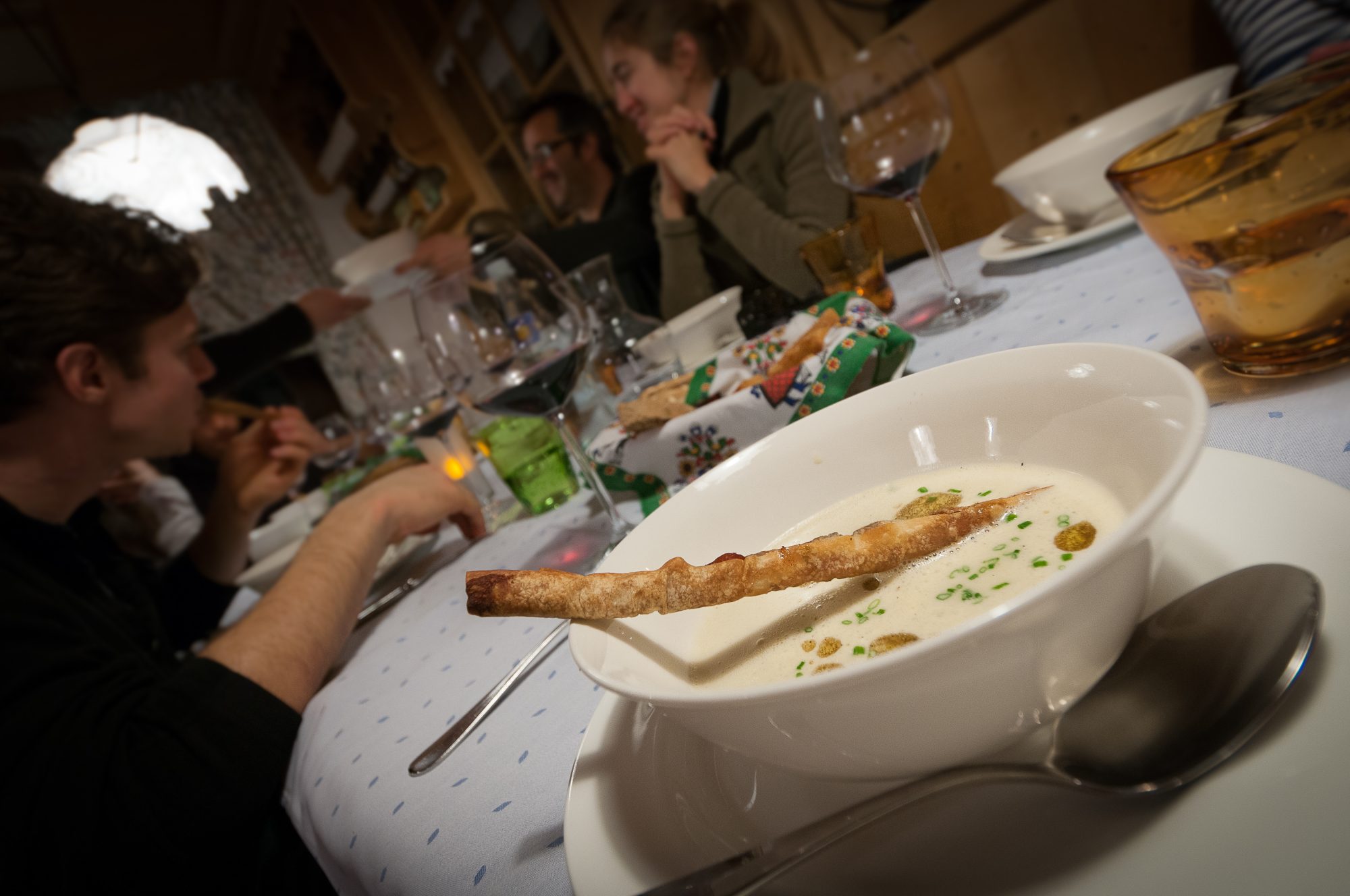 Private airport transfers (Venice)
On Request.
We can tailor-make this package to your time and depending what you want to do – it could be on-piste, off-piste, touring, all depending your level of skier/boarder and what you are looking for. If interested, contact us at info@the-ski-guru.com, fill up the form on our Travel with us Tab,  or call + 44 (0) 750 838 2781.
If your thing is staying in one place, see our options for staying in a cozy deluxe chalet in Zermatt or going with your family to Obergurgl-Hochgurgl or Sölden .
Featured Image: The-Ski-Guru Travel takes you to a Long Ski Safari in the Dolomites. Photo: Giuseppe Ghedina. 
Please follow and like us: