A Mums' Long Weekend in Morzine
This article may contain affiliate/compensated links. For full information, please see our disclaimer here.
We tend to ski with some families over the February Half Term, and I always see that the mums are not as confidents as dads are. This can be the case when parents start skiing when they are adult, as a way to introduce their little ones to the snow. Everything is easier to learn when you are a child, and mums tend to think more of the consequences of getting hurt than dads tend to do.
As everyone is getting better, usually mums are the slowcoaches and get all kind of unhelpful comments from their kids and husbands, which is not very cool, if you ask me!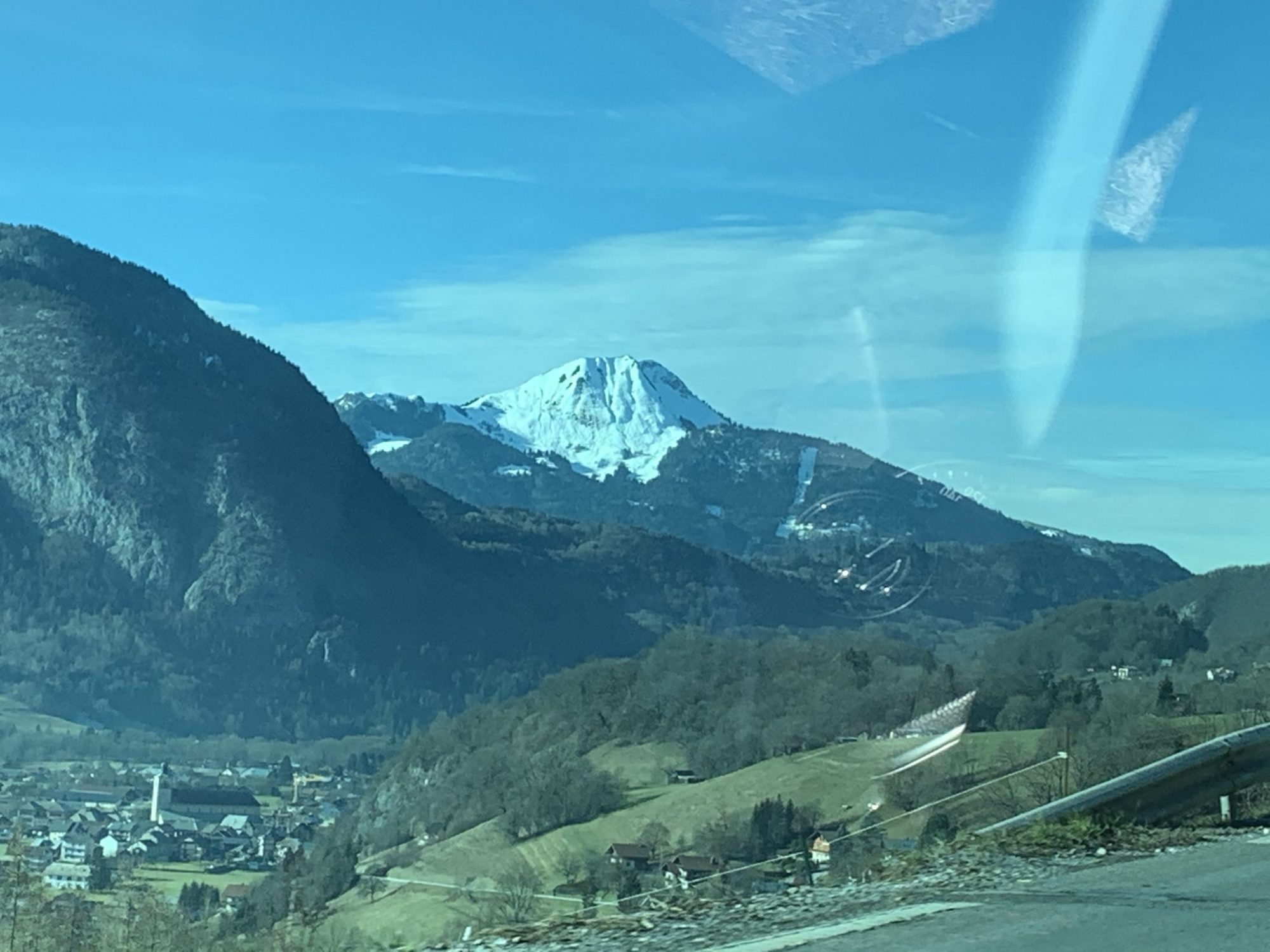 Fortunately, I started skiing way earlier than my husband, and he can't tell me anything! I could tell him, but I don't think that helps anyone getting better. I do understand what is to be cautious and afraid, as I was very afraid when I've started at 14 years old. I am very patient when skiing with others and can recognise what they are nervous about it.  I am still the one that can ski best in the family (not for long with the boys!), and thankfully I don't have to deal with listening to my significant other telling me to hurry up!
As last year I got on my first day of the half turn run over by a snowboarder that catch the interior of the back of my ski, resulting in an MCL distension, I was a bit afraid to go back skiing with lots of people. This is how the idea of going for a long weekend with these mums came about. In this way, we all could enjoy skiing at our own pace. Then another friend came along, one that had only skied very little, ages ago.
The idea was to ski in January, after the Christmas and New Year's break, in order to have the mountains for ourselves. It was going to be my reintroduction to skiing after hurting my knee, even though that I've skied some days with my knee pretty swollen, and a couple of runs when I went to work for the Mountain Travel Symposium in Whistler. But my knee was by no means in good shape to even step into a binding, so I just had a couple of runs and called it quits! I did ski over the holidays, which was not planned at the moment of booking this long weekend in Morzine, so my reintroduction was to a crowded mountain, but we managed to stay on the edges of it where it was not that busy.
But coming back to our trip. We set off early one morning to Geneva airport to get a transfer out to Morzine. The road from Geneva is pretty easy, you get up to exit 15 of A40, then you take the D907 all the way to Taninges where you get the D902. It is a beautiful winding road up the mountain, single lane, which make me thing that going to our place I Italy, just out of the Mont Blanc Tunnel is really easy compared to accessing other resorts. Still, this is very pretty road and short transfer from Geneva airport (if you don't have traffic!)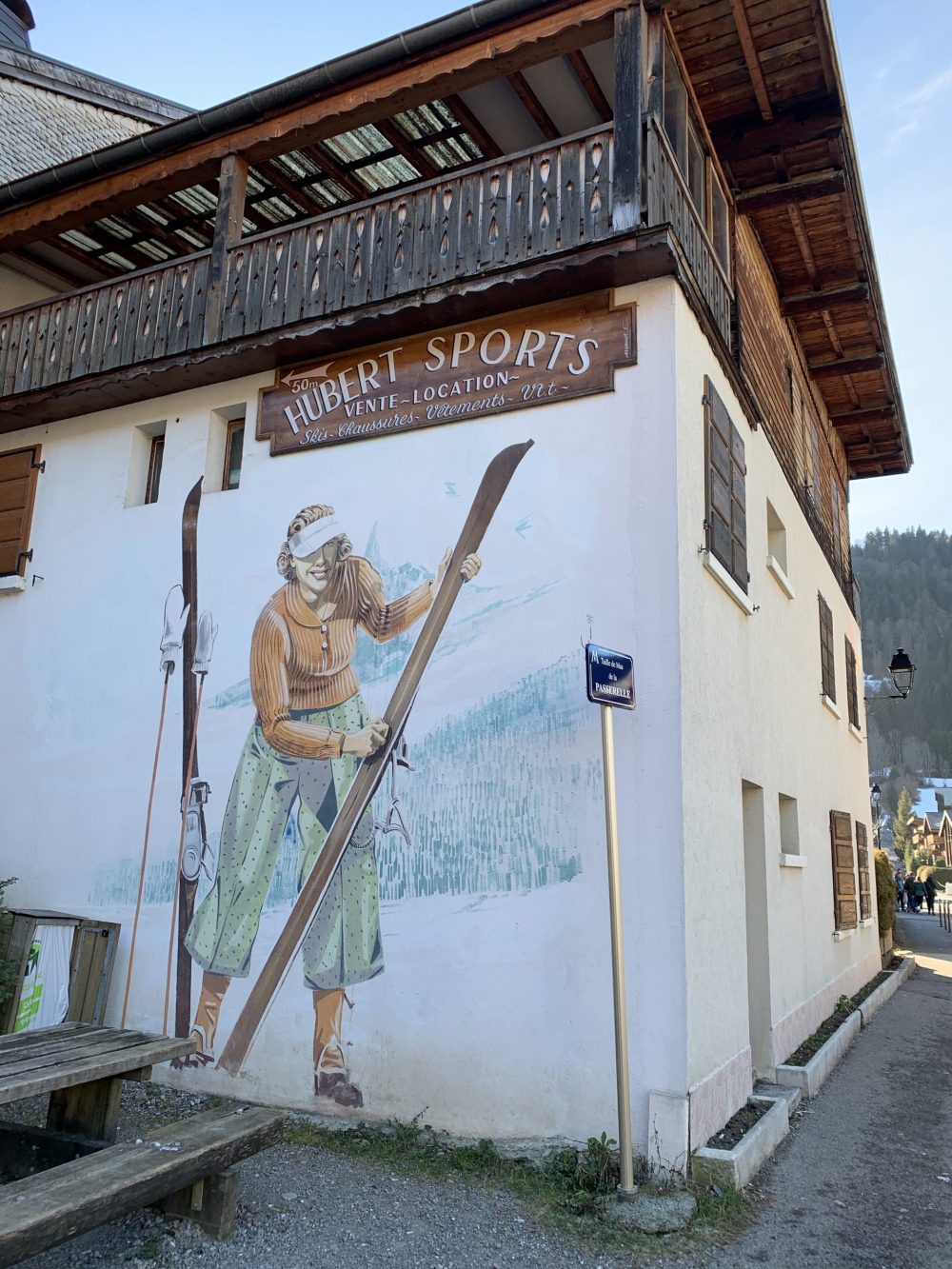 We went on a cheap holiday- rule of thumb, if it is cheap, it is for something! Will not speak much more about it, but I am the person that prefers to do less and better quality!
When we arrived, we walk the 20' to the downtown centre and realised that you could ski towards the Pleney lift which unites Morzine and Les Gets (the town we've passed through when coming up to Morzine). Or you could ski towards Avoriaz and get into Switzerland. Seems that most of the people prefer going to Switzerland, but as I was with this group of friends, and they were taking lessons on the Pleney side, I've thought I've sticked with them.
We managed to get our rentals just across the Pleney lift, in a store called Berger. They store your skis there, but if they didn't, there are lockers you can rent at the bottom of the Pleney lift, across from the lift ticket windows!
We took the free offer of storing our skis (and my boots for free!) at Berger. The guys working there were very nice, so I recommend this place!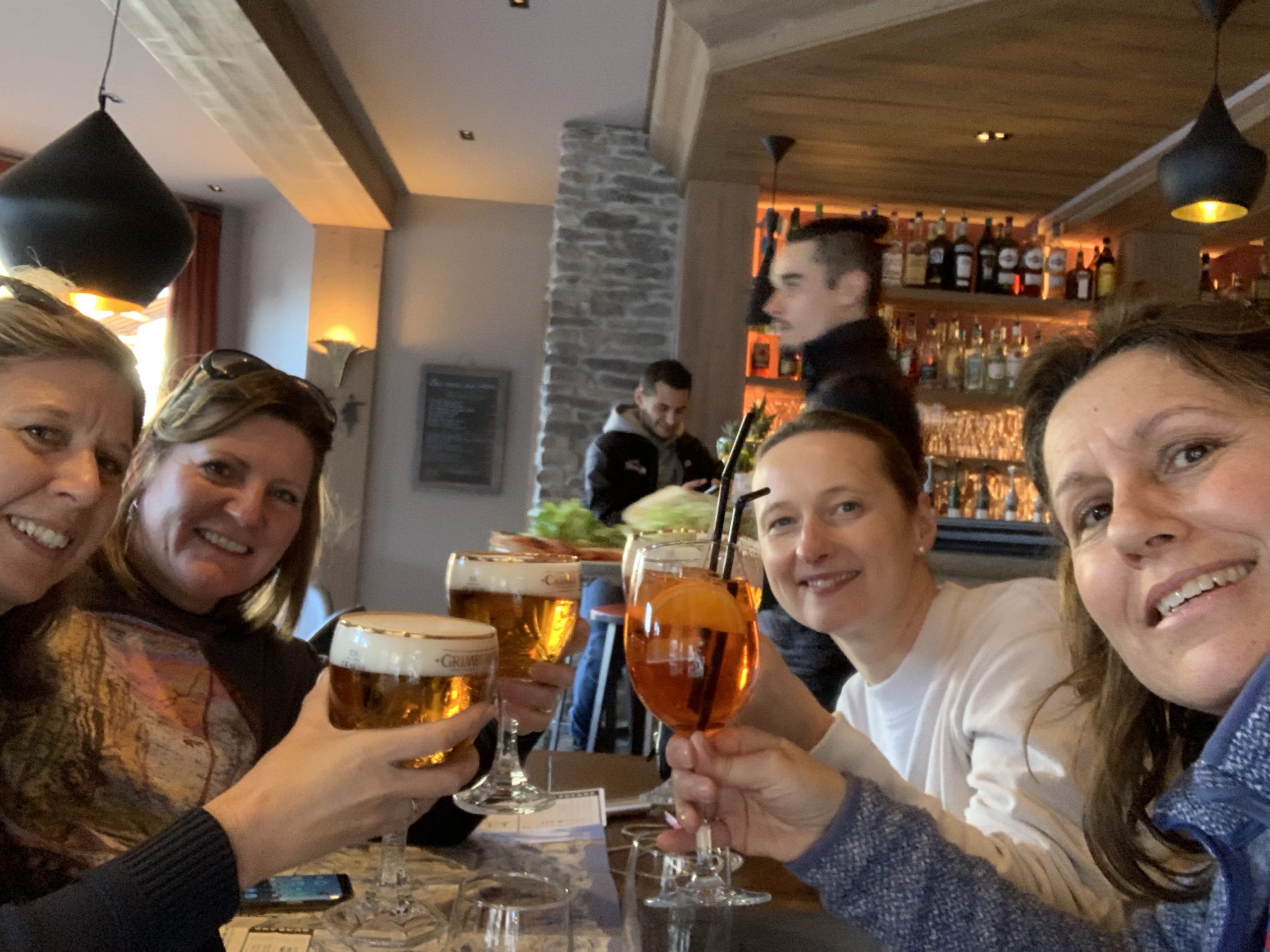 We stop for something to eat before the rentals and I had an Aperol Spritz which was very nice, and we've stopped again at the Sherpa bar for a cheeky drink before coming back to the chalet. The bar has the most amazing Star Wars toilet- just go to understand what I mean!
That night we had dinner in the chalet and an early night as we were like zombies by that time, to get ready for the next morning.
When morning broke, Kate and Emma woke up first (we could hear them as the walls of the chalet we were staying were paper thin!)- to get their lessons early on. Jo was having an 11 AM lesson so we were a bit slower moving in the morning. We needed to get Jo's skis adjusted to her boots and then up the short gondola to Pleney. There we did a warm-up run just down to pick up the Belvedere fast lift and then down towards Fys. The snow was a bit hardpack but skiable, and there are signs of snowmaking taking place, so you can adjust your skiing to get ready for man-made snow.
I've thought that Morzine was pretty busy for being January but keeping on the pistes that are a bit to the sides of the mountain, is always good to avoid the crowds. We came back and we've stopped at Le Nabor Restaurant's terrace for a well-deserved café au lait. It was still early so the terrace was empty and the views magnificent! Jo went to meet her instructor and I was seeing if Kate and Emma would join me in the table I had reserved, but they were at the Snack Le Pleney by the cable-car arrival station. So, I went to join them there for a while. We climbed back to Le Nabor for lunch and then it was time to take Emma to the covered magic carpet to try what she was learning at ski school today. From the arrival of the Pleney lift, you need to climb a bit to get to the magic carpet. I do like that area, as it is fenced from other skiers and boarders coming at speed. Moreover, the piste that is just by it, is still so flat, and to get there you need to go up the hill, so nobody is really coming too fast down that hill.
You still have to watch for the beginners that are coming without control – you can see that more with beginners going to ski without an instructor after having their morning lesson. We were having a girl that almost run over Emma, Kate and Jo in one go. I went and told her to be careful as she can be liable, and she can really hurt others (and herself!).
Emma was doing great, just doing some nice turns on the bunny slope! I love seeing people getting into the sport. We need new skiers coming in, so every little help!
Jo and Kate went on to do another lap while I was concentrating on Emma. Then, Emma and Kate went down the gondola into town, while we've ventured down the Piste B. Snow was a bit thin, think you are going from around 1400m to 1000m and when we went in January, there has not been any snow since December, and it has been raining up to around 1500…so you cannot expect much. The piste was maintained with man-made snow, which makes it pretty fast, and it is like a funnel coming down the mountain, with everyone coming fast down. I was stopping every so often, checking that Jo was making it, but I was trying to get behind something that will protect me from these fast skiers and boarders coming like the clappers. It makes you wonder; it is very easy to go fast, but not everyone is skiing really well, they don't turn, and you don't know if they know how to stop! For me after being hit from the back while standing by a lift and being four months going to the physio to get my knee back, I see a fast skier or boarder coming at me and cry! It is like a Spanish saying that translated it would say something like: if you burn yourself with hot milk, you see a cow and cry!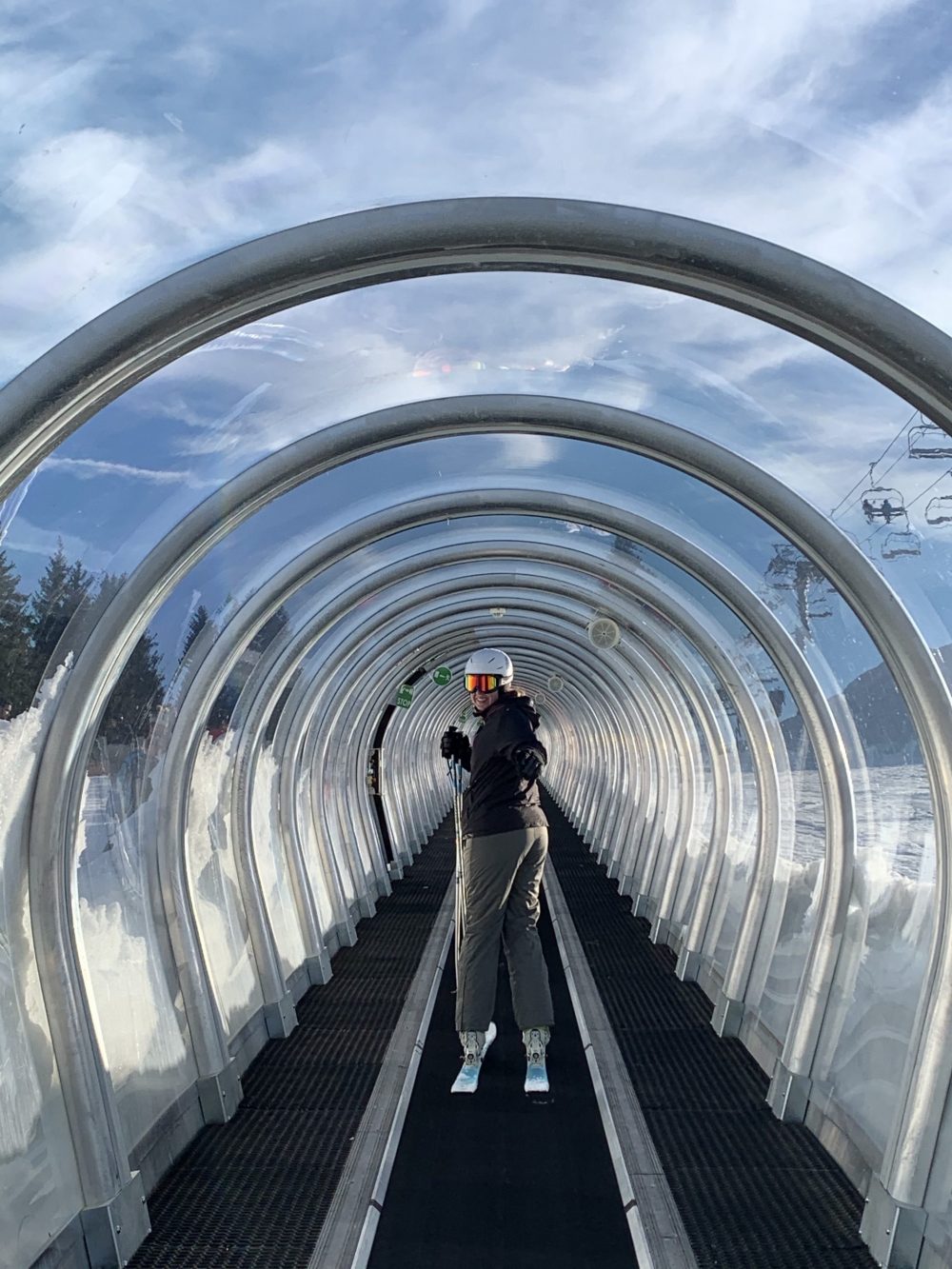 This piste B brings you to the bottom of Pleney by the bottom station of the lift, and by a lively bar with loud music. When we finished down, already Kate and Emma were waiting us with a drink at the bottom in a quieter bar, just next to Berger ski shop.
We've had our drinks, discussed the highlights of the day and then walked into town and went slowly back to the chalet for dinner.
For me it was the first time staying at a serviced chalet. This is pretty much an institution for Brits. They love their catered chalets, so they don't have to spend anything outside the holiday (unless you want to go to bars and then you pay for your lunch on-mountain).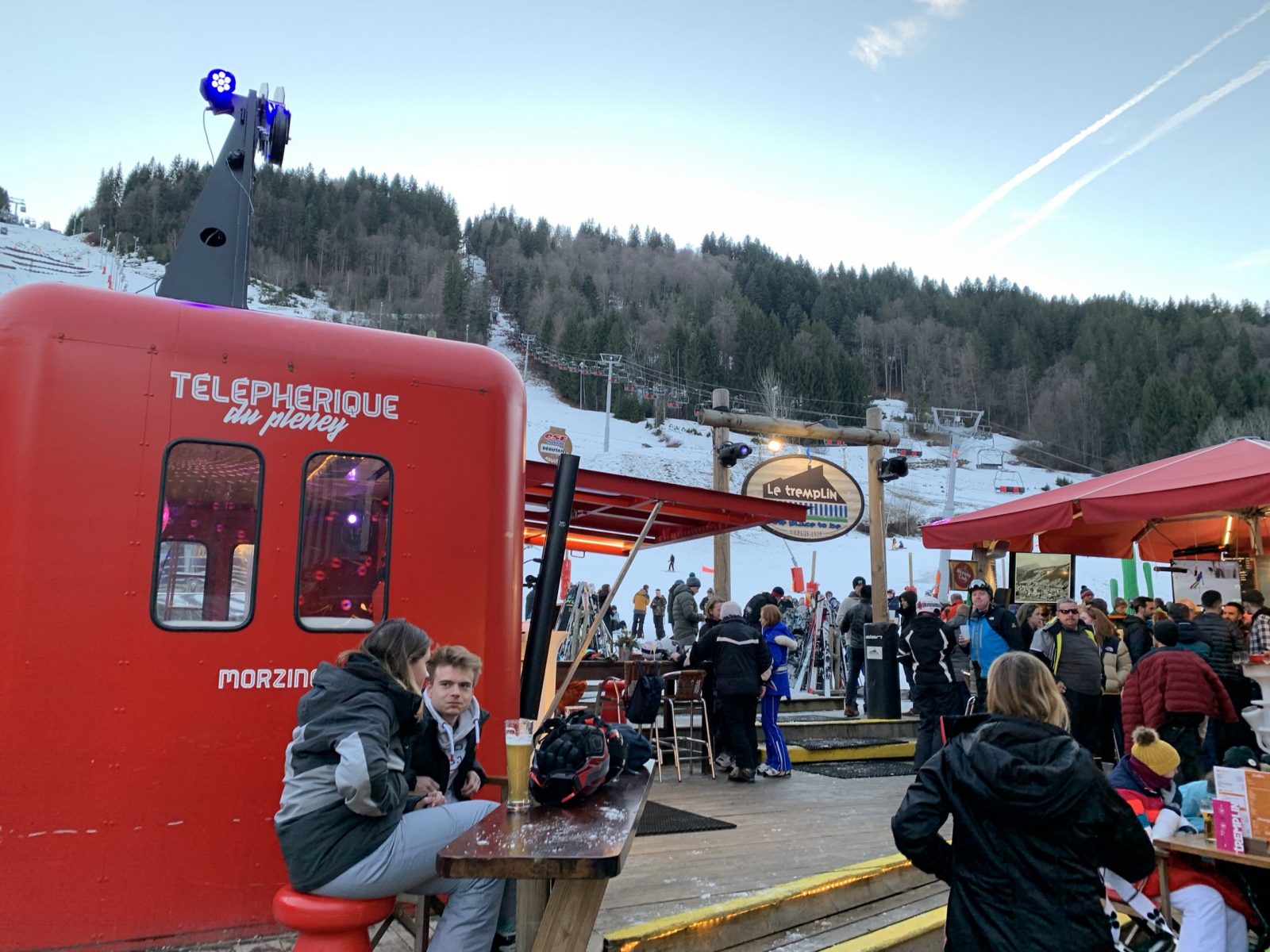 I don't know anywhere in the world who package ski holidays in chalets. I have mixed feelings about it. It is true that you meet people that have nothing to do with you and makes you mingle and chat and be sociable. But you need to be in a sociable mood for that! I have not too much trouble with that, but I still prefer to do my things 'solo'. We did meet nice people, and all people there have a passion for skiing, so you can have a decent chat and see how others do their skiing holidays all the time! But when I go to another country, I prefer to chat with the country locals, if not is the same idea of an all-inclusive resort, that you fly to the other side of the world and you have no idea about the country you are visiting, its people and its history and culture!
Chalets offer breakfast, afternoon tea (if you make it; it seems that with us stopping for après, we were never making it), and also dinner with wine included until the desert. I've noticed that all were topping up their glasses/jugs to keep on drinking later (very British!). I just can't drink without food, still cannot understand it. I don't like to feel bad the following morning, so I naturally stop. I guess Brits all have faster metabolisms than mine, or they are masochists!
Anyways, the next day we had our alarm with Kate and Emma waking up for their early lesson, and we went for breakfast with Jo. Jo decided that she was not going to take a lesson and we were going to ski together. So, we went up Pleney, then take the Belvedere lift up and went towards Les Gets. But we went only to the Les Foliets du Golf chairlift and up again. From there we went down and to the skiers' left down the blue  piste Granges (which was a bit horrible at the beginning because you could tell it has been raining on top, it is a small catwalk that gets thin, with lots of people stopping at it, and you trying to negotiate past them and snow was not grippy at all!)- but after passing that, the piste is easier and you get to an area with three lifts coming up. I kind of liked it there, but obviously, we needed to stop for a quick café o lait! We've found a cosy terrace at Les 2 Criquets with lovely personnel to stop and appreciate the view. This is at the bottom of the Charniaz Express, le Têtes fixed grip quad and the Troncs Express.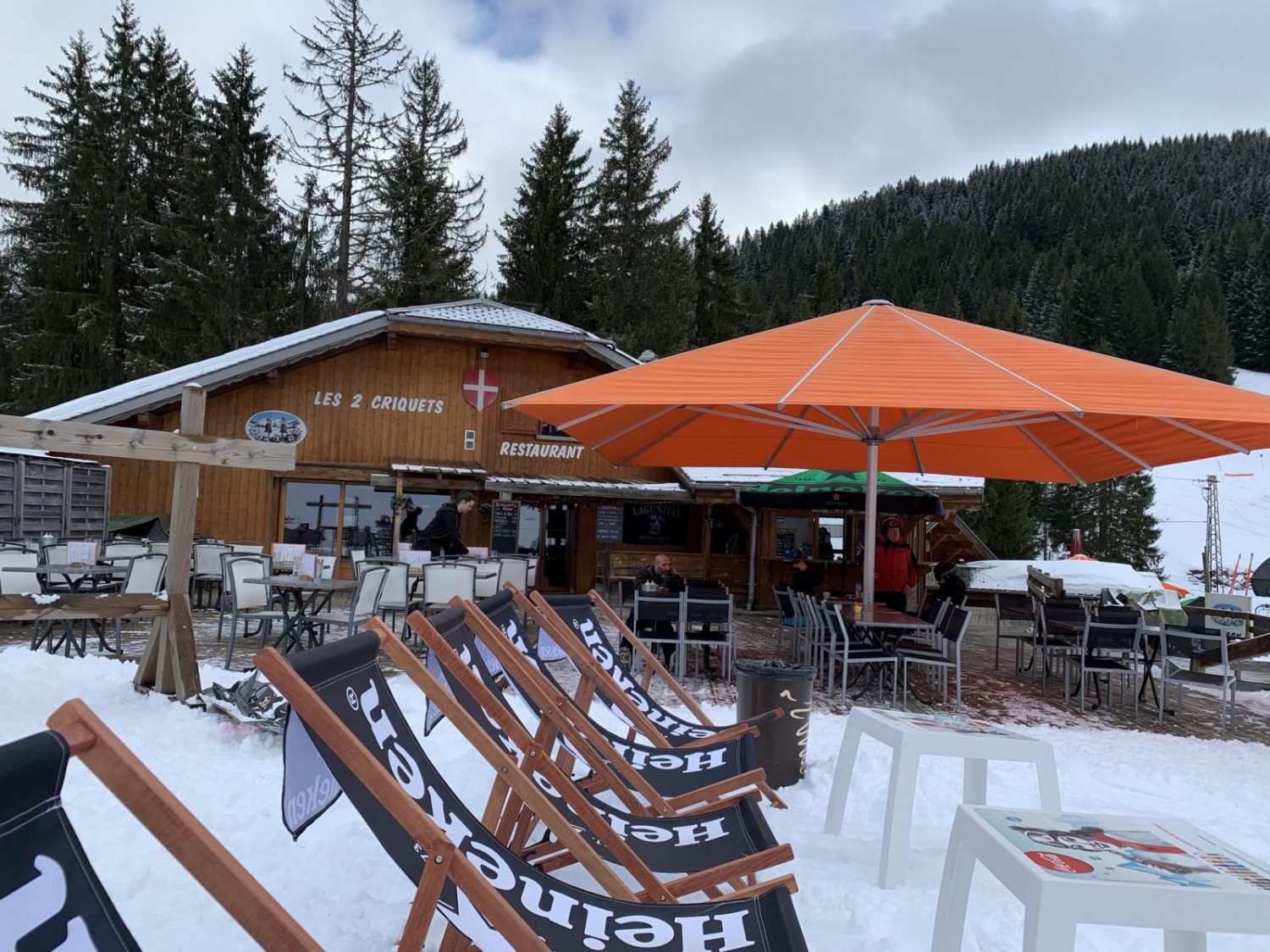 That day it was snowing a bit, raining a bit, depending how high you were. We've decided to take le Têtes slow lift, as usually people tend to go to the fast lifts, and I like to be on empty pistes, as I like to be anti-social sometimes! We went up and from there you can go down a red piste to the Chammossière Express or a blue down back where we were.
But we've went down to an open area, the base of La Pointe de Nyon lifts and we had a couple of nice laps on the surface poma with some deep snow – nothing much, but it was nice and empty! From there we went down Liebre piste and you can go back to where we were but decided to continue going down to the bottom of Pré Favre, then under the tunnel to go to the bottom of Fys. Up Fys and we went down to meet Emma and Kate, who were having lunch at the big restaurant by the Pléney cablecar. It was a good choice, as it has lovely windows towards the town of Morzine, and you can see the skiers negotiating the pistes under us! Plus, it is a self-service cafeteria, with more choices than the cheese Savoyard specialties we had the day before…I love cheese, but there is so much cheese I can eat! We've chosen some big salad bowls and then, after some rest, we've did a couple of pistes with Emma, first on the magic carpet and then on the Belvedere lift. I was glad that Emma did them, because she was a bit afraid of getting of the chairlift without her instructor. I am glad I did not ruin it for her!
Emma went back then to the café to wait for us, and we went on doing a couple of laps by the Penguin kids park, that Kate and Jo seemed to like a lot, and then have a coffee at the base of the Nabor lift. We finally went up to get back to the cable car. I prefer not to go back down skiing that funnel, so I did it the civilised way.
One thing I've noticed that Morzine is full of Brits, many of them pretty loud. I was looking forward to hearing some more French and try to babble my little French around, but it was not that much possible. Another thing I've noticed, is that the kind of Brits that come to Morzine, drink a lot on the mountain since early hours. So, then they come skiing down fast and that would not be accepted if they were driving. You do need to be a bit careful while skiing down those pistes. And this was January…could not imagine this during the half term! I guess that the place attracts lots of stag weeks and the whole premise is to drink and to get hammered a lot… pity that, because I do think Morzine/Les Gets, which is at least what I've visited, is a very nice laid down mountain, with great pistes for those starting skiing and to progress when they get more confident. I like also there are little places to eat all dotted around the mountain. The layout of pistes is great, and intermediate skiers can go pretty much to all the mountain, as almost every lift has a blue run down.
And I do love travelling and having a more exotic experience, trying local food, talking to locals and seeing the resort through their eyes. And when I travel, I prefer not to hear the same language as home everywhere…more if going abroad! When I was younger, I loved going to places abroad where you would see the same people from your country, as you might see that boy you fancied, but this was so long ago… I am definitely converting into a hermit!
That afternoon we went for après ski to La Coup de Cour, by the downtown skating rink and the Tourism Office. It is pretty lively, and cocktails were fine. We stayed for a long time and then we've thought we did not want to have what was announced as dinner in the chalet, and maybe we could go and try to eat in town. But as we were lazy to go and get changed and back, we decided to go to a pizzeria Le Grillon, one block away from the bar. I was very conscious that my ski pants are bright blue, and it was like: "you've been skiing and, in the bar, and came straight to dinner". The girls' pants were darker so better to simulate they were having normal clothing. The girls ate pizza while I had steak tartare, which was very fresh. Nice to have food that did not seem to be offered in a dorm!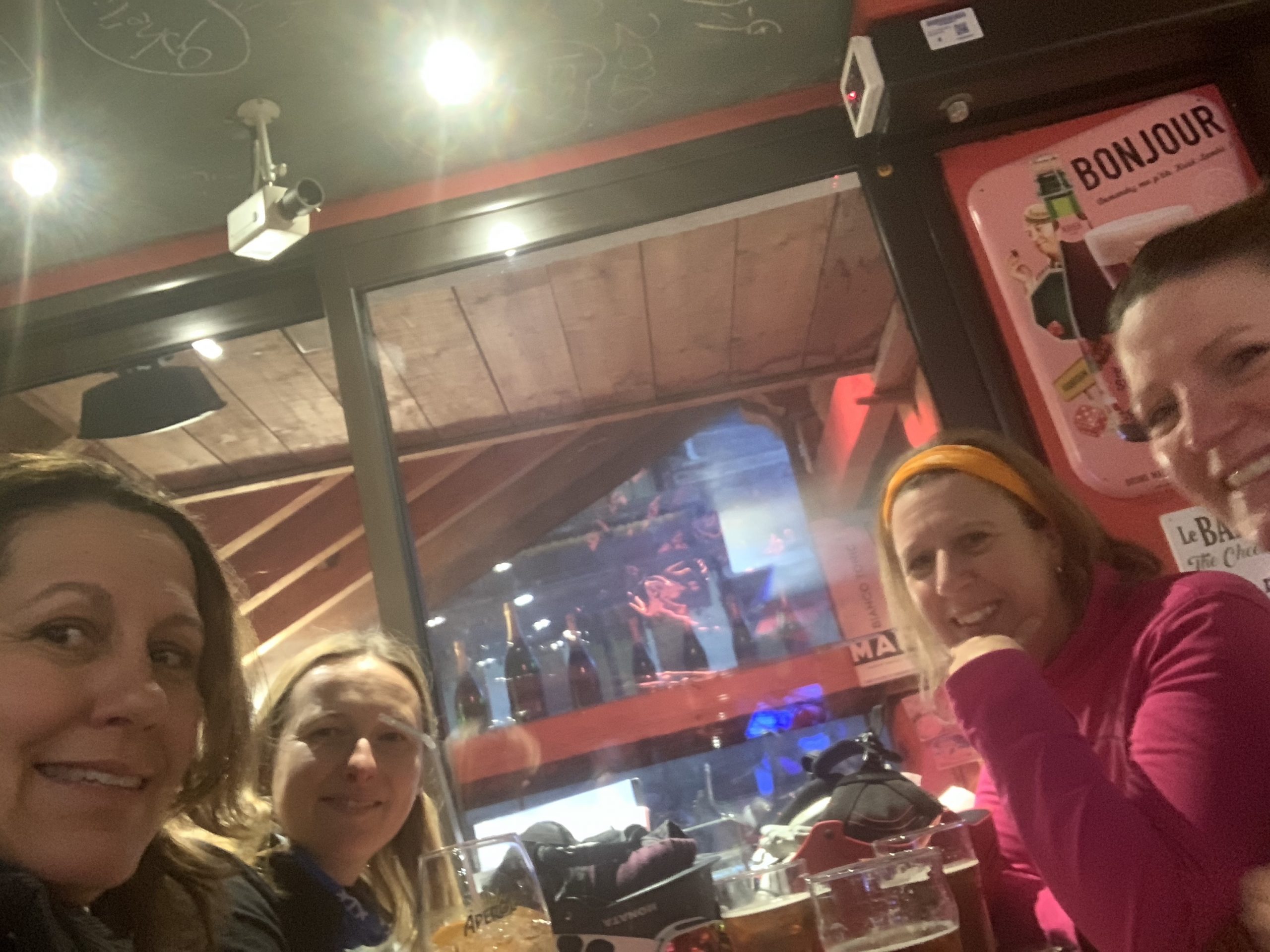 The next day was the best skiing day, with lovely clear skies. We've went with Joe determined to see all the mountain. We started going up Pleney and then Belvedere, to down to Bruyere and Bentiane down to the Chavannes Express in Les Gets, then up to Rainfolly. We've stopped for the marvellous view of the Mont Blanc Massif from the French side and came down to the Chavannes section, up La Pointe de la Turche and down, and then the Chavances gondola to come to the other side. From the top we went to Choucas, had lunch at Les 2 Criquets at the bottom of Troncs Express. This was the best lunch I had by far in Morzine. A lovely salad with goats' cheese, which was very nice. From there we went up Tetes again, down to Ravenrettes and then Lievre to go down to the bottom of Fys, then up and back down to Pleney. We did stop all over the place, those cafes further of the busy pistes, like the one at the bottom of Fys, have the cheaper rates…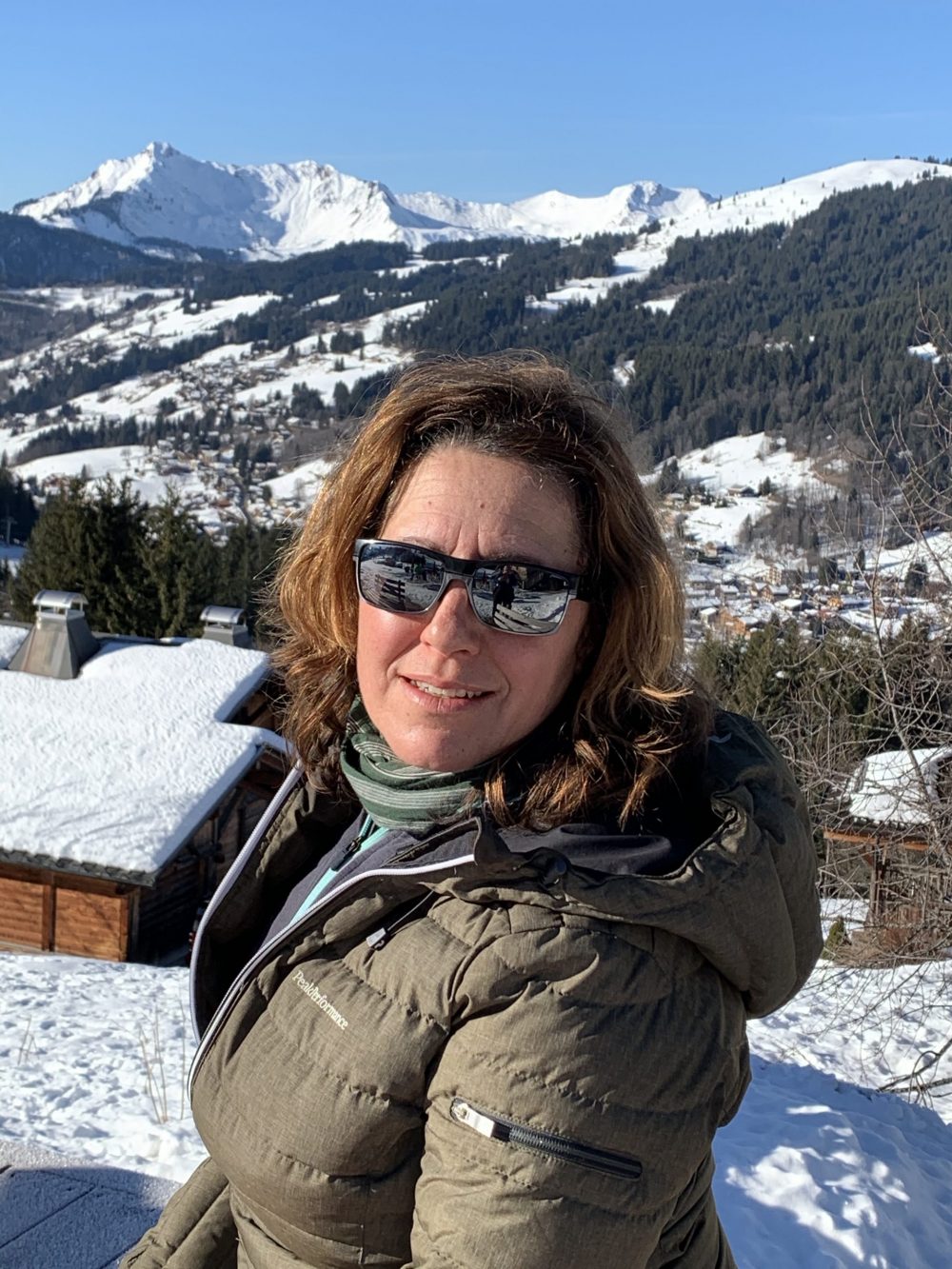 This day was the highlight of the trip, as we had a lot of skiing. It was a bit difficult to navigate the map, as you are talking of 120 km of pistes with 48 lifts! And this is only a fraction of the whole Portes du Soleil which has 600 km!
That night we had the chalet food, which was ok, just. But we had a nice chat with most of the other people sharing the chalet. Many were leaving at 5 AM so we were not going to see them again. Unfortunately, we were woken many times during the night with all the traffic of people leaving early morning (as the walls were way too thin as I've written before), so when we woke up the following day, we were a bit tired, to say the least.
We were the last ones for breakfast and there was no-one, and no breakfast. Looks like the 5 AM crowd took all the breakfast with them… The chalet chef and one of the girls were very nice to make us some eggs and bring some of their own ham to share with us.
We went up to the mountain and we had the morning to ski and start coming back to the chalet at around 2.30 pm for a 4 PM pickup. We decided to go and ski down Atray in the morning, then lay down at the café facing the sun, then did Fys again, back to Nyon that way, down to the bottom of the Troncs Express and back down to Fys via the tunnel. Then we had lunch by the top of the Belvedere lift. The restaurant looked nice, but we've placed ourselves in the self-service side. The queue was long and the only you have to buy there were toasts with tartiflette and Savoyarde ham and raclette cheese… a bit overpriced for a toast with just some regular ham and cheese… the music was very loud, not my kind of place… I think we should have done better staying at that lower place, either by Fys or Atray, that would have cherished more the few clients they have! Obviously, I am used to have lunch in Italian on-mountain restaurants and even the mediocre is amazing, and much cheaper… so if you like going to eat tartiflette all the time, maybe is your ideal of heaven! (basically, take my comment with a pinch of salt!)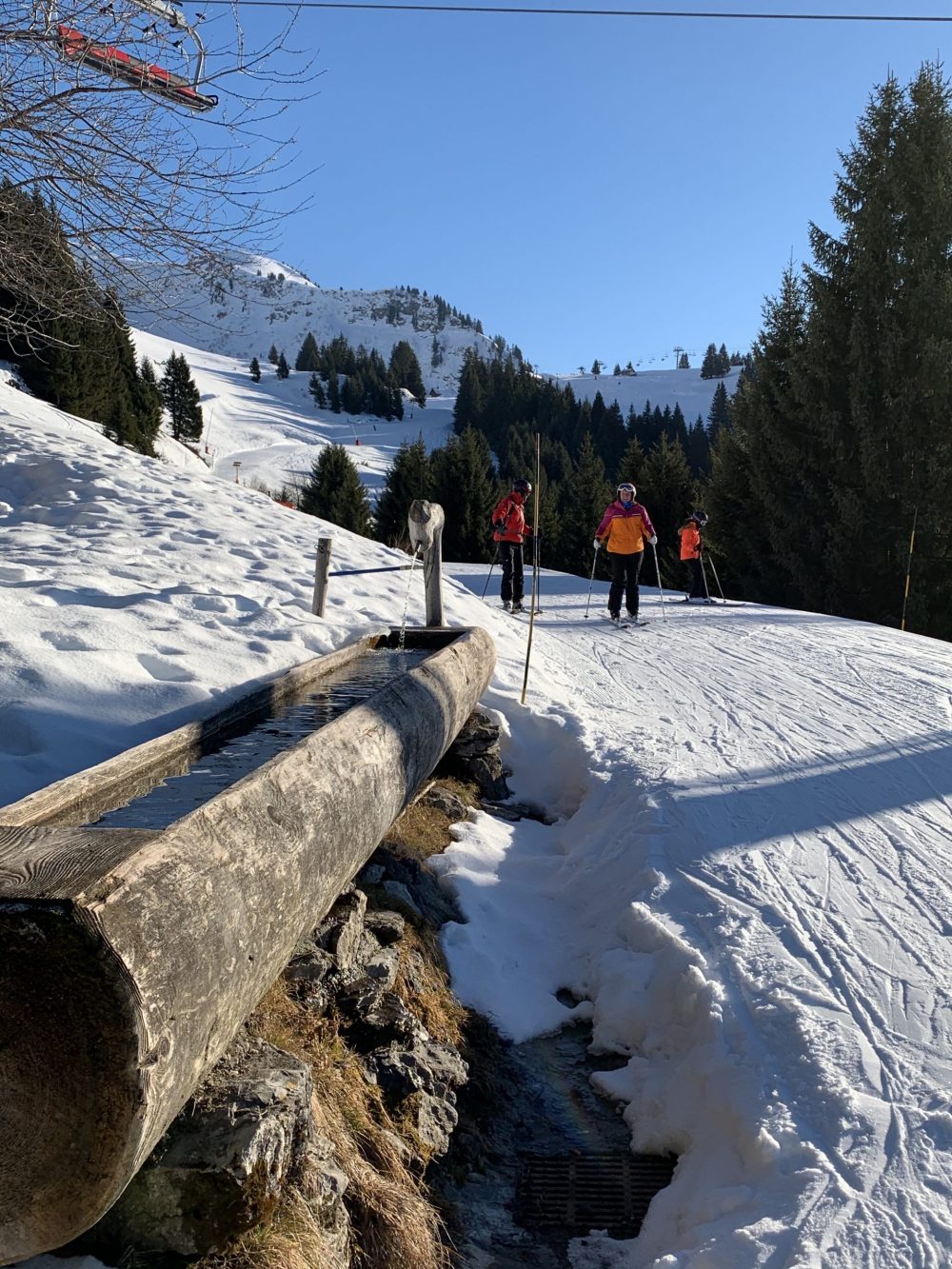 We went down into town, just strolled back to the chalet and had our way down the mountain…almost did not make the flight from Geneva airport as the traffic was impressive coming down Morzine, but that is another story.
What do I think of Morzine? Pistes, great, mountain town, pretty nice, it is lovely to see old wooden houses and the new ones built in a similar way, so pretty attractive.
Food? I am sure I did not go to the best places, and if you go to good places you would have another experience. Vistas, very nice, more from the mountain on top! Tourists? Too many for January (which is good for the resort so they can survive) but relying too much on the British clients. I would like to see more variety.
Going out with your friends for a cheeky ski holiday after end of the Christmas holidays? Priceless!
You can search for your own accommodation in the snow for your next ski holiday through our Accommodation Search tab. Or if looking to stay in the heart of the Mont Blanc Valley in the Aosta Valley, check Il Coure della Valdigne review here. This is our own family home in the mountains, that I am renting out when not using, you can always write me a private message if interested to info@the-ski-guru.com
You can book directly through Airbnb  through this link
If you want to take your family skiing and you don't know where to start, read here. And search for your ski transfers from all airports to the Mountains here. And for those that are like me, that are lazy to cook, you can get your food, even gourmet mountain food delivered to your home with Huski.
If renting equipment (skis or snowboards)  check our agreement with Skiset– you can get up to 50% off ski or snowboard rental rates. I have been using them for years every year when I go to America  and Europe and they are great!
You can start thinking about your trip, by reading the articles on the Planning your Ski Trip tab.  Or how to pack for your family ski trip.  If taking your furry friend abroad to the continent, read about the new Pet Travel Scheme update from DEFRA. Self-drive skiers also need to plan for Brexit. Check out our tips for driving to the mountains.  If flying and renting a car in Europe, beware of the extra charges they will pass to you if you want winter tyres, snow chains or ski racks. If driving, check the winter tyres news for Europe and North America. You can see how our last family ski holiday was not as expected, even though one plans it to be a success, but how we could do the most of it. If you want to get better before getting to your next ski holiday, here is a quick guide to indoor skiing and dry slopes in the UK. You can also read our week in the mountains during our summer holidays in Courmayeur.
Please follow and like us: