$60 Million Expansion for Arizona Snowbowl to upgrade facilities and ease congestion.
From Arizona Republic
The Flagstaff resort development plans include new lifts, runs and amenities such as mountain biking and a mountain coaster.
Arizona Snowbowl has recently announced that it will invest $60 Million in upgrades including new lifts, night skiing and boarding, and new facilities.
Other activities they are envisioning to include which they are not currently offering are mountain biking, a mountain coaster, alpine slide, zip line tours, a climbing wall and outdoor concerts, broadening their offer for a four-seasons resort.
General Manager J.R. Murray said: "Obviously there is a growing demand for outdoor recreation, and that is why ski areas are adding year-round activities to utilize the infrastructure on a year-round basis and respond to the demand. And also, the year-round activities diversify the business, so we are not so heavily reliant on winter."
The improvements will be built over a period of time. If the plans get approval from the U.S. Forest Service, then the work will begin no sooner than 2021 and it will take 10 to 15 years to be completed, Murray said.
The main part of the expansion is to ease congestion and make more room at the resort for more daily visitors. On weekends, crowds usually have to wait for hour-long lines for rentals, for the cafeteria and get ready to go skiing or riding.
In 2012 the resort added snowmaking to ensure its opening day could be consistent year on year, helping its finances. Three lifts were added to help the flow of skiers and boarders in the resort. Now they will focus on other facilities.
Murray said "Our guest-service experience is not what it should be. Restaurants, dining room, restrooms, the equipment rental shop, all of those were built in the 80s and now we need to address our guest-service level and make sure that people have an enjoyable experience."
Murray said that they are not planning in turning down the mountain lodges, but to expand them or creating new buildings within the resort boundary.
Mountain Capital partners, the management group that runs Snowbowl, has commissioned a study on the resort that they could comfortably fit 3,870 guests. The idea is to expand this capacity to 4,500 on the hill including new parking.
There is a proposal for night skiing on the lower western slope of the resort.  They will work with the Flagstaff Dark Skies Coalition to incorporate acceptable lights for night skiing. A snow tubing has also been proposed.
The resort does not allow sledding nor tubing at the moment, but people from Flagstaff might drive up to play in the snow when the snow play areas outside the city are dried or overcrowded.
Murray said that by offering night skiing on 1 percent of the mountain acreage, they will be able to provide additional outdoor recreation for local youth and groups and this will also help disperse crowds and traffic, as skiers will stay up to later in the mountain.
Snowbowl is planning for more lifts.
Snowbowl has six chairlifts and two magic carpets serving 55 runs on the San Fransciso Peaks.
They are planning to include two aerial lifts for beginners and intermediate skiers and boarders within the existing area, and five new runs.
James Coleman, managing partner of Mountain Capital said: "I'm confident the proposed improvements will enhance the experience for expert and beginner skiers alike,"
Coleman announced plans in 2014 to purchase a stake in Snowbowl and invest heavily in the operation.
Murray said that although the plans were not set in stone, the lifts are likely to be one on the north and one of to the south of the existing lifts.
The Forest Service must approve the plan
As Snowbowl leases its land from the U.S. Forest Service, the resort needs to submit a new master plan to guide development on the mountain.
The plan of 2005 included a controversial snowmaking that was reclaiming wastewater now used on the mountain and needs to be updated, said resort officials.
The new plan will be submitted this summer, and the public will be able to comment on the proposals. It will need a Federal National Environmental Policy Act Review
Arizona Snowbowl is part of the Power Pass.
More information: Arizona Republic
Read how the Forest Service granted Eldora their request of expansion of the ski resort's terrain. Another resort investing in new lifts is the Georgian resort of Gudauri. Crested Butte's Teocalli lift has been approved by the US Forest Service. Fortress Mountain Ski resort is eyeing a 2020 opening.
You can search for your own accommodation in the snow for your next ski holiday through our Accommodation Search tab.
The-Ski-Guru TRAVEL is a CONCIERGE service that can help you organise your bespoke ski trip to the Americas, Alps or Japan, including for those going from Britain to Europe, helping you book your Eurotunnel trip, and for all trips: lodging, lift tickets, rentals, ski school, and all you need for an excellent vacation. Go to https://www.the-ski-guru.com/travel and upload your information – this page will be updated soon with more travel ideas. Check our amazing Ski Safari in the Dolomites , stay at the San Lorenzo Lodge White Deer in the Val Pusteria of Sudtirol, in the Hotel Petrus in Riscone, for skiing Kronplatz, or check our offer to Obergurgl-Hochgurgl and Sölden to ski with your family. Maybe you want to come on my group to ski with other like-minded skiers in Courmayeur in January 2020, staying at the Gran Baita hotel?
You can start thinking about your trip, by reading the articles on the Planning your Ski Trip tab.  Or how to pack for your family ski trip.  If taking your furry friend abroad to the continent, read about the new Pet Travel Scheme update from DEFRA. Self-drive skiers also need to plan for Brexit. Check out our tips for driving to the mountains.  If flying and renting a car in Europe, beware of the extra charges they will pass to you if you want winter tyres, snow chains or ski racks. If driving, check the winter tyres news for Europe and North America. You can see how our last family ski holiday was not as expected, even though one plans it to be a success, but how we could do the most of it. If you want to get better before getting to your next ski holiday, here is a quick guide to indoor skiing and dry slopes in the UK.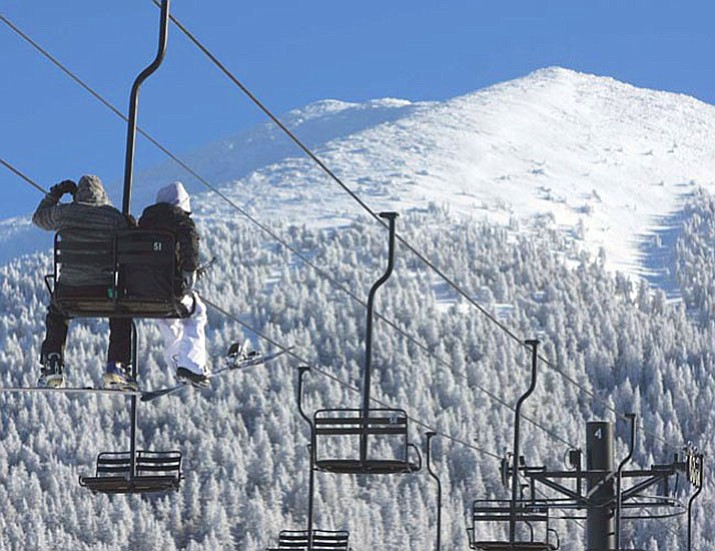 Featured Image: Arizona Snowbowl- Pinterest picture. Micayla Pins. $60 Million Expansion for Arizona Snowbowl to upgrade facilities and ease congestion. 
Please follow and like us: