A Quick Guide to Indoor Skiing & Dry Slopes In The UK
The winter season here in the Northern Hemisphere is over, but that is no need to fret, this opens up the chance to brush up on your skills, dust off the cobwebs of the spring and basically spend the Summer building up to the Winter enjoying time at one of the many Indoor Skiing & Dry Slopes In The UK. The UK is home to many indoor and outdoor slopes, trust us, there is one near you.
Of course, the Summer is lovely, for the 1.5 days that it lasts here in the UK. We are under no illusions that we are akin to the likes of the Olympians who need to train for the Winter 7 days a week BUT wouldn't it be great to build some muscle, get in some cardio and enjoy spending time with your family on the slopes.
Okay, let us set the scene, it's the first day of your ski holiday, you haven't booked lessons, thinking you will "get your ski legs back first". You take the ski lift to the top of this expensive resort, you barely make it off the chair lift, as you seem to have forgotten how to disembark. Then as you place your goggles over your eyes and crouch into position as if you are about to take off then low and behold your legs go to jelly. Then you spend all of apres ski nursing your mulled wine while your leg muscles scream!
Instead, what if we told you – you could simply glide into your skis and show that red run who's boss!
All you need to do is visit your local ski slope. From North to South, the UK has a ski slope near you that offers a fantastic experience, quality time with the family, excellent instructors and a chance to prepare. Maximising your time now, to make the most of your time on the slopes.
So, let's discover all the ski slopes in the UK, narrowing it down by location and what makes each and every spot unique. Shall we dive in? Or rather clip in?
Scotland
Bearsden Ski & Board Club, Glasgow (Outdoor)
Bearsden Ski slope is a Snowflex slope, Snowflex is a high-performance synthetic system which means you get a hyper-realistic "snow experience" perfect for practice. Plus Bearsden Ski slope is home to a quarter pipe, a kicker and a nursy slope, excellent for the kids!
Glasgow Ski & Snowboard Center, Bellahouston, Glasgow (Outdoor)
Glasgow Ski & Snowboard Center has everything you could want, from tubing, race training, freestyle, grind rails and a high-quality slope.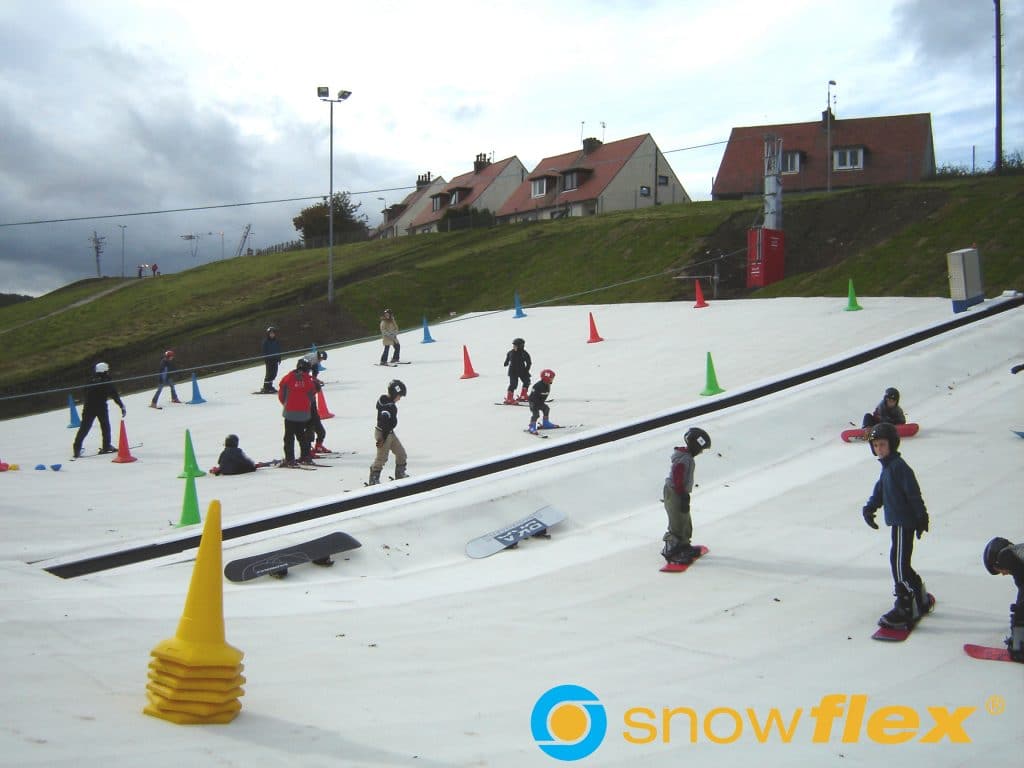 Aberdeen Snowsports Centre (Outdoor)
Aberdeen Snowsports Centre is another Snowflex slope and it's an ideal spot for beginner freestylers, first timers, or if you want to nurture your inner skier!
Snow Factor, Glasgow (Indoor)
Snow Factor Glasgow is the whole experience. There is an amazingly maintained slope which will have you feeling you are in the mountains plus an ice climbing wall and much more. You can really hone all your skills in one spot.
Midlothian Snowsports Centre Hillend (Outdoor)
Enjoy this dry slope with your family, also good for dry racing, the technique of carving and racing on dendex is not that easy and create great skiers and boarders. The gondola is not working now, but the surface lifts are. It has also a good cafe called Cafe 360 to have a nice hot chocolate after your runs!
Yorkshire & The North
Silksworth Ski Slope. Silksworth (Outdoor)
Floodlight skiing in Sunderland. The slope is ideal for beginner intermediates to learn or you can head there after work and ski by night!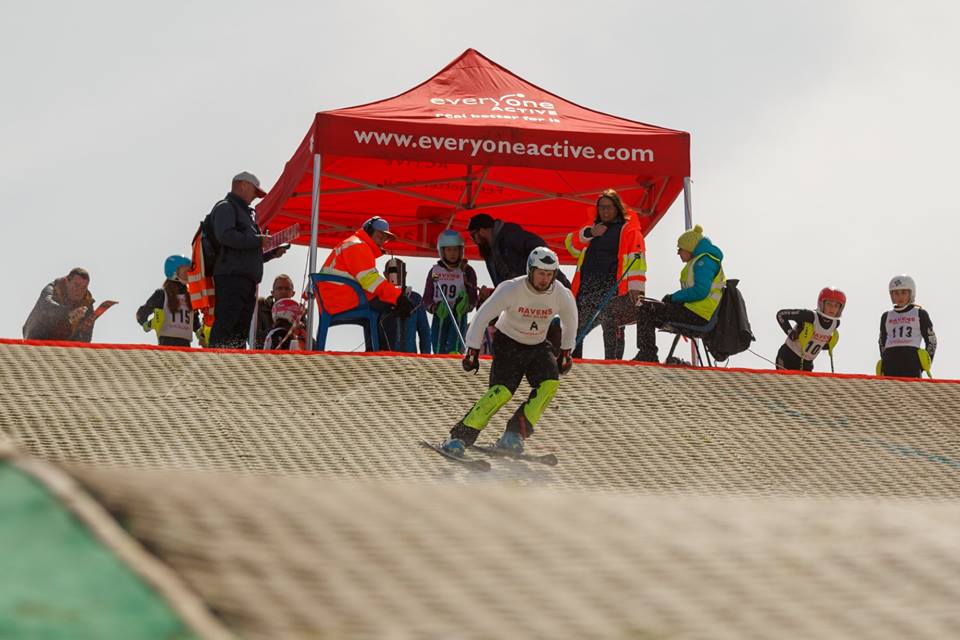 Kendal Ski Club, Cumbria (Outdoor)
Kendal is super fun and varied slope, the shape mimicking the real mountain, allowing you to prepare the legs for all the nuances of the natural mountain.
Ride Halifax Snowsports Center, West Yorkshire (Outdoor)
Another Snowflex slope, including the local's favourite big air kicker, moguls, quarter pipe, fun box and counter slope. It also has a famous nursery slope, the best spot for the whole family.
Snozone Yorkshire Castleford (Indoor)
The slope quality is second to none, the slope is perfectly maintained, and the staff are amazing. They have a famous freestyle night twice a week for the kids, and the adults can enjoy the slope of varying difficulty.
Rossendale Ski Slope (Outdoor)
The spot for beginners. The slope is reliable, which means it's a great place to build confidence. A great place to spend a Saturday morning with the family. Even some reader told me that there is a big racing scene on Saturday mornings so maybe is better to go a bit later or on another time. They have just created a new clubhouse and restaurant.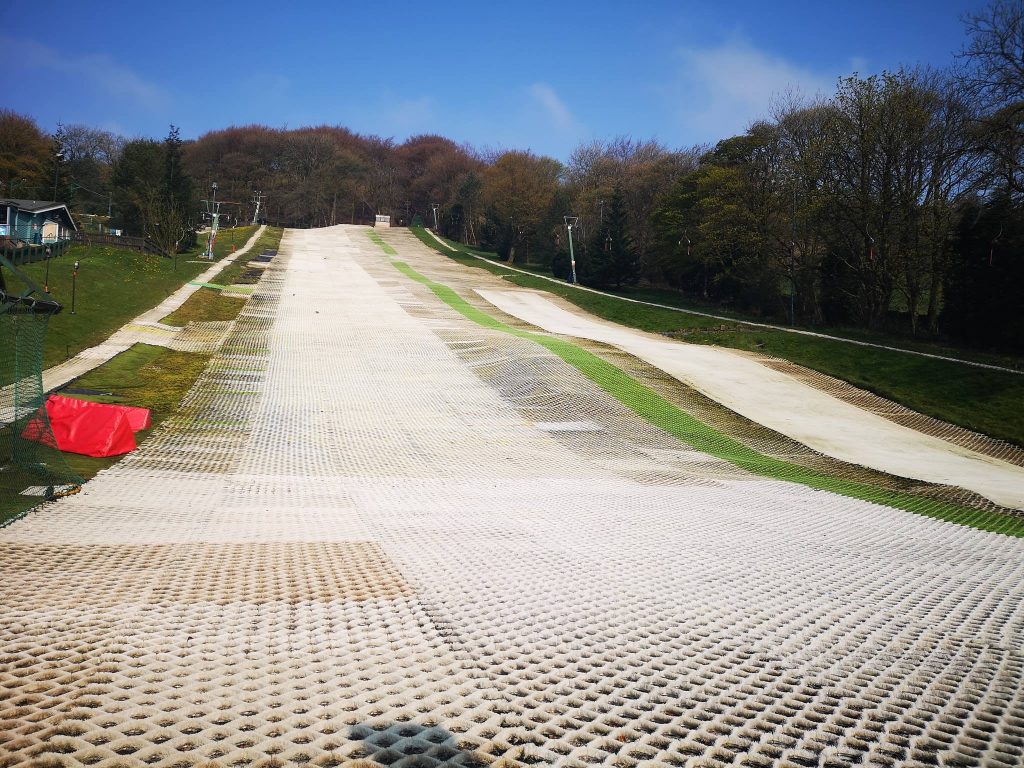 Lancashire
Chill Factore Manchester (Indoor)
Chill Factore is home to a locally renowned park night which brings in kids of all ages to enjoy the atmosphere and the freestyle features. The rest of the time, the snow quality is top notch, and the staff are brilliant.
Pendle Ski Club (Outdoor)
Pendle Ski Club is member-owned and run, making the place a friendly and homely place to brush up on your skills. Excellent standard of tuition is available.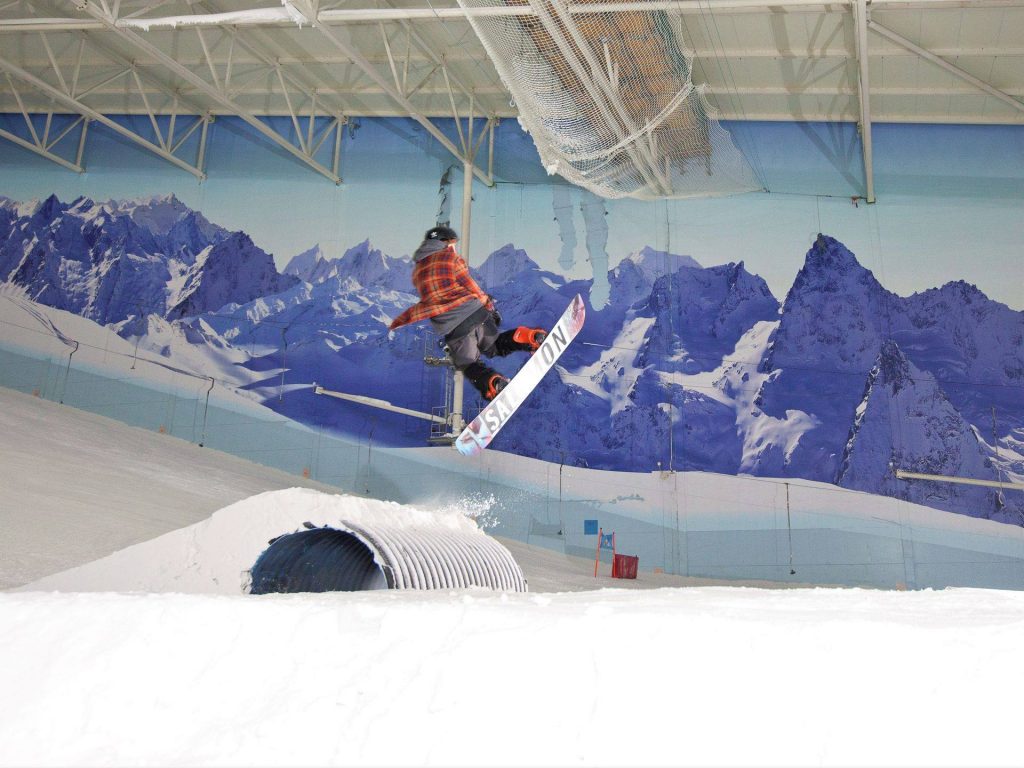 The Midlands
SnowDome, Tamworth (Indoor)
The original and ultimate snow, ice and leisure experience and the leading choice for skiers, snowboarders and fun seekers alike.
Snozone, Milton Keynes (Indoor)
They believe snow sports should be available for everyone, so for those with additional needs. They also offer adaptive lessons on a private one-to-one basis delivered by Snozone Disability Snowsports.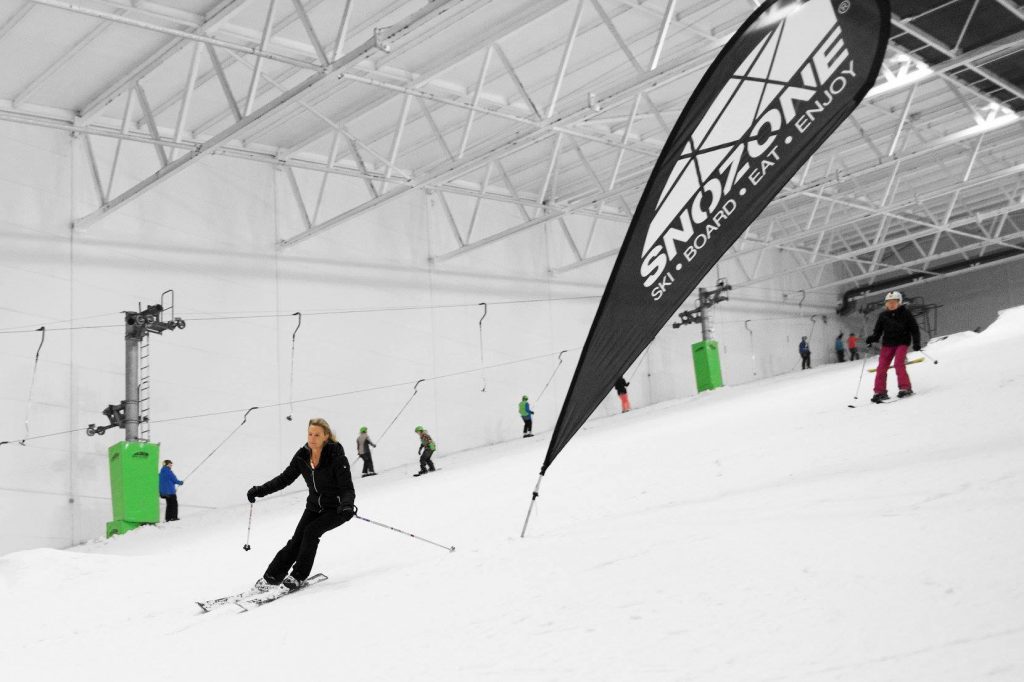 Ackers Adventure Birmingham (Outdoor)
100m of fun on the dry slope is available in Birmingham. They have floodlit synthetic bristle matting slopes available for use throughout the year.
Stoke Ski Centre
Stoke Ski Centre is hosting the British Championships in August this year. Home of 4 slopes, three lifts and the mother of all start ramps, not to mention the kicker you need ice in your veins to ride….
It is in the Central England Snow sports Association, the regional representative of Snowsport England.
Swadlincote Snowsports Centre (Outdoor)
The main slope is 170 metres long and 22 metres wide. They also have a nursery slope for beginners.
Bracknell ski slope and Ice Rink (Outdoor)
A carpet type of slope, part of the John Nike Leisuresport group. It also has a very good ice rink. Might get a revamp soon.
The Snow Centre, Hemel Hamstead (Indoor)
The closest you are going to get to the Alps without travelling!  Super realistic snow and general conditions make practice here just like the real thing!
Kidsgrove Ski Centre (Outdoor)
Revolutionary material, just like the Alps plus the views are truly second to none which certainly helps.
London
The Guildford Ski Slope (Outdoor)
They are normally quieter and cheaper than the indoor snow slopes (and are probably closer too).
Chel-ski Indoor Ski & Snowboard Ski Slope (Indoor)
Gain increased confidence, an intense workout and a lot of fun is promised by Chel-ski Indoor Ski & Snowboard Ski Slope.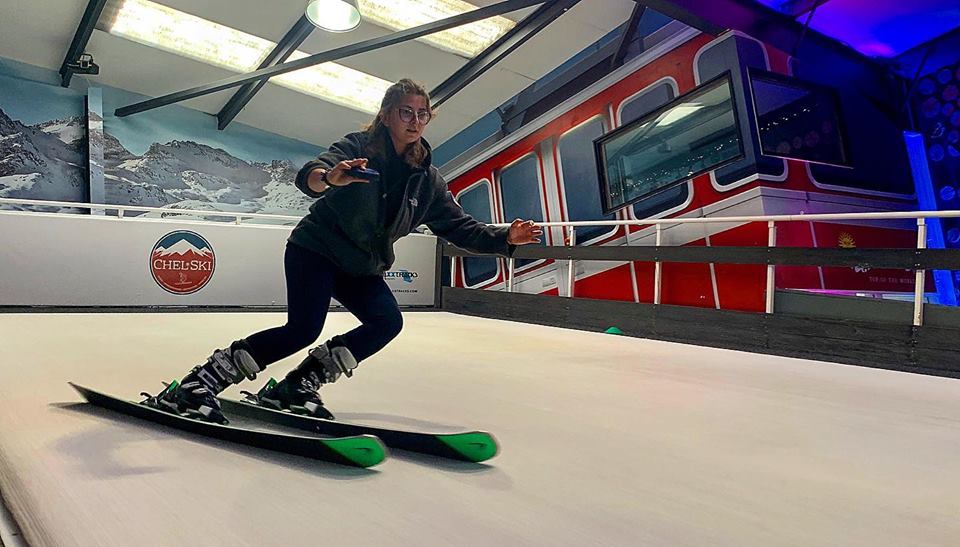 Ski Easy Indoor Ski Slopes at Dukes Meadows (Indoor)
This is a new generation of indoor skiing experience using a continuously rotating ski track meaning your ski lesson is fully customisable. As you gain confidence, the slope reflects that.
Sandown Ski Slope (Outdoor)
Four dry slopes catering for all abilities. The instructors are on hand to help you through whichever stage you are in. Prepping you for the slopes.
Wales
Llandudno Ski Slope (Outdoor)
200m of Alpine style slope ready to be experienced which sensational views over the Welsh valleys, not too dissimilar to the mountains!
Cardiff Ski Slope (Outdoor)
Cardiff Ski Slope has it all, competitions, freestyle nights, excellent instructors, junior courses and much more.
Ski Pembrey (Outdoor)
Another Dendex ski and snowboard slope, also good for tubing. It offers a café on the area.
Ski Centre at Gwersyll yr Urdd Llangrannog (Outdoor)
A ski centre for skiing, snowboarding  or toboganning offering private or group lessons and equipment hire. The ski slope has 100 m long with a misting system to lubricate the Dendex surface. With a café and gift shop on site.
Gosling Ski Center in Welwyn Garden City. (Outdoor)
This is part of a Better centres. It has a 160 m bristle slope and a 70 m nursery slope. It is home of the Welwyn Raace Team, which trains on Friday's evenings.
South
Alpine Snowsports Centre in Southampton (Outdoor)
Hosts the SASA (Southampton Area Ski Association). Great savings if skiing during June or July mid-week. There are 3 slopes and 2 lifts. It's located in Southampton Sports Centre where events are held such as a Rainbow Warrior Challenge where they turn the slope into a water slide. Southampton hosts a variety of camps for both racers and novices.
Snowtrax Dorset (Outdoor)
The best place for experienced skiers, intermediate and advanced riders. The slope is very varied, allowing you to progress and putting your skills to the test!
Brentwood Park Ski & Snowboard Centre, Essex (Outdoor)
Overlooking more than 54 acres of beautiful scenic woodland, the perfect setting to hone in on your skills. Also the local slopes of the Southern Special Olympic Ski Team.
John Nike Leisuresport – Chatham Snowsports Centre, (Outdoor)
The main bristle slope is 200 metres long, and they also have the longest toboggan run in the UK. It's an excellent spot to really stretch those muscles. It has recently been refurbished and turned back to Bristle. The cafeteria has been seen a makeshift as well.
Warmwell Snowsports Center, Dorchester, Dorset (Outdoor)
Try out your skills on the Fun Park and Jump Zone, it's a hive of activity for younger riders and adults who want to push themselves.
Suffolk Ski Centre (Outdoor)
The main slope is 180 metres long incorporating a contoured 'red' run, a softer 'blue' run to help gain confidence and vary your practice.
Plymouth Ski Slope and Snowboard Centre (Outdoor)
The Centre features 4 slopes and 2 lifts, offering unrivalled skiing in the West Country. The tobogganing and tubing facilities are fantastic too! Super fun.
Gloucester Ski and Snowboard Centre (Outdoor)
A newly refurbished centre with all the mod cons you would expect from a top quality ski and snowboard slope. PLUS they invested in an airbag which is hours of unrivalled fun.
Norfolk Snowsports Club (Outdoor)
Norfolk snowsports club focussed son progression whatever the level. With top quality instructors on hand to help you through every stage.
Torquay Alpine Ski Club (Outdoor)
Located on the English riviera- an outdoors Dendex surface ski slopes. Great for families, race training, school's day out. They offer ski and snowboard lessons and Ringos hire.
Exeter Ski Centre (Outdoor)
Home of the Exeter Ski Club and also the Exeter Adaptive Ski Club. It is a Dendex surface open slope. It has been threatened to be sold but luckily it will still be there for a while. Try to support going if you are nearby.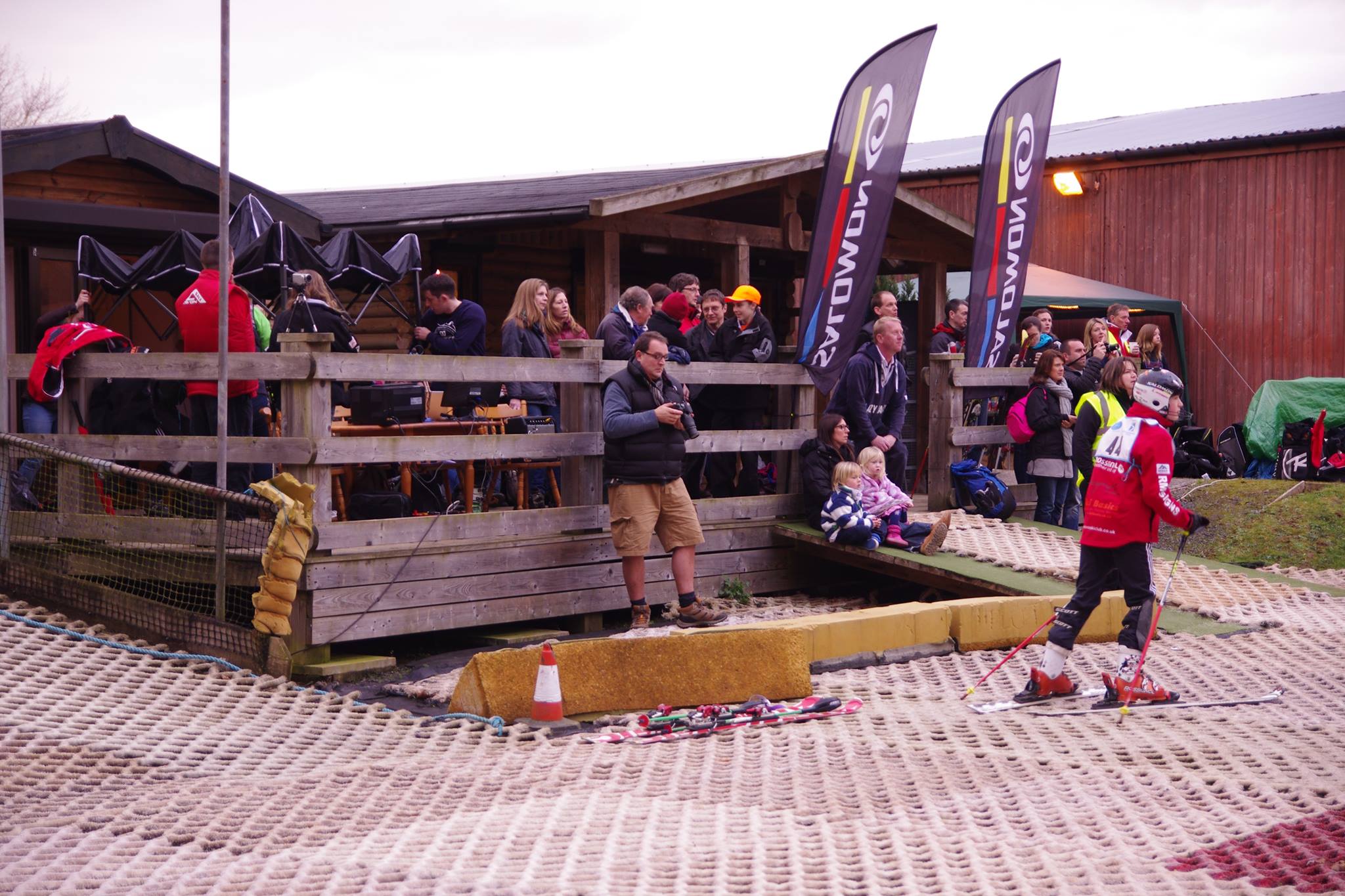 Bowles Centre in Turnbridge Wells. (Outdoor)
Another Dendex slope – with other activities aside of skiing and boarding. Ski lessons and free practice.
Folkestone Sport Centre. (Outdoor)
Home of a 60 metre Dendex ski slope with ASSI (Artificial Slope Ski Instructor) qualifications. It houses the Folkestone Ski Club.
Midlothian Snowsports Centre (Outdoor)- Coming Soon
Introducing Midlothian Snowsports Centre. The latest name in ski centres in the UK. Think the Uk's longest Alpine Coaster, Zipline, activity dome, slope extension and much much more. We cannot wait to see what events they have in their calendar given the incredible winter sports talent coming from Scotland.
Big thanks to our friends over at Ridestore who put together the "Ultimate Guide To Indoor Skiing & Dry Slopes In The UK ", which is what inspired us to compose this brief summary. If you want more details on each centre, then head to their website.
Also thanks to all the Facebook Ski Club and Elite Skiing Groups for pointing out which resorts where missing!
We hope that you find this article useful and we wish you a wonderful Summer of getting ready for the Winter!
For those wanting to go south to the winter – why don't you think of Portillo – a gem of a resort for only 500 guests. Or go to the Stelvio Glacier, now that the Stelvio pass has opened. And do you think that the snow in the Northern Hemisphere correlates with the one in the Southern Hemisphere?
You can search for your own accommodation in the snow for your next ski holiday through our Accommodation Search tab.
The-Ski-Guru TRAVEL is a CONCIERGE service that can help you organise your bespoke ski trip to the Americas, Alps or Japan, including for those going from Britain to Europe, helping you book your Eurotunnel trip, and for all trips: lodging, lift tickets, rentals, ski school, and all you need for an excellent vacation. Go to https://www.the-ski-guru.com/travel and upload your information – this page will be updated soon with more travel ideas. Check our amazing Ski Safari in the Dolomites , stay at the San Lorenzo Lodge White Deer in the Val Pusteria of Sudtirol, in the Hotel Petrus in Riscone, for skiing Kronplatz, or check our offer to Obergurgl-Hochgurgl and Sölden to ski with your family. Maybe you want to come on my group to ski with other like-minded skiers in Courmayeur in January 2020, staying at the Gran Baita hotel?
You can start thinking about your trip, by reading the articles on the Planning your Ski Trip tab.  Or how to pack for your family ski trip.  If taking your furry friend abroad to the continent, read about the new Pet Travel Scheme update from DEFRA. Self-drive skiers also need to plan for Brexit. Check out our tips for driving to the mountains.  If flying and renting a car in Europe, beware of the extra charges they will pass to you if you want winter tyres, snow chains or ski racks. If driving, check the winter tyres news for Europe and North America. You can see how our last family ski holiday was not as expected, even though one plans it to be a success, but how we could do the most of it.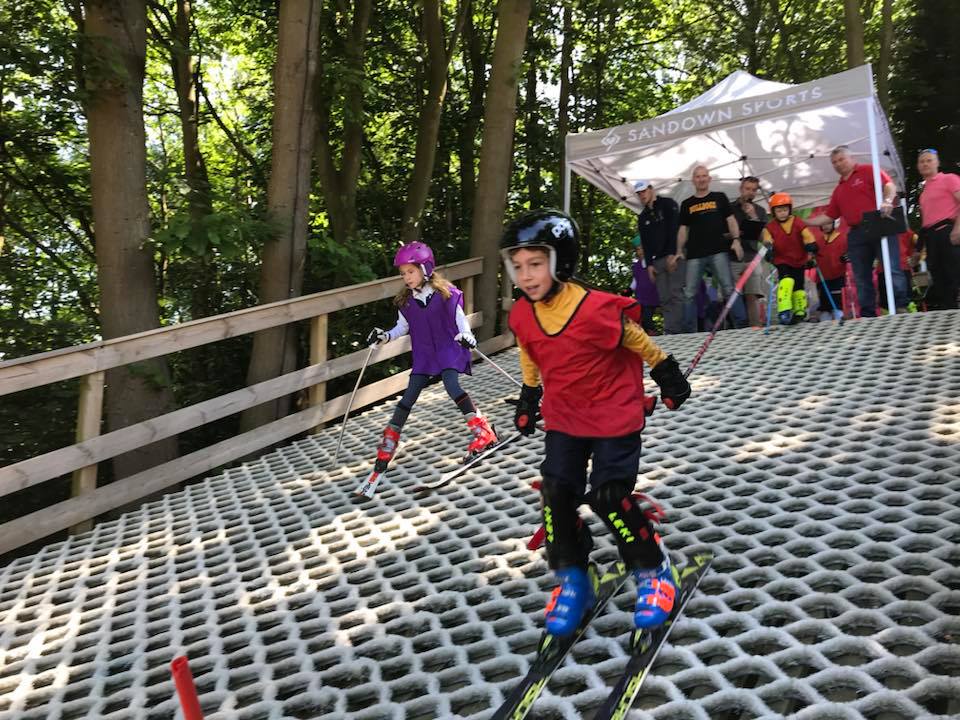 Featured Image: A Quick Guide to Indoor Skiing & Dry Slopes In The UK. Photo courtesy of Ridestore Magazine. 
Please follow and like us: