How Val Thorens is ready for the 2020-21 ski season.
Here is how Val Thorens is getting ready now for the 2020-21 ski season. Val Thorens is the highest ski resort in Europe, starting at 2300 m and with pistes up to 3200 m. The resort is part of Les 3 Vallées, the biggest ski carousel in the world. Within the whole 3 Vallées, the lower slopes are around 600 m (at Brides les Bains).
This article may contain affiliate/compensated links. For full information, please see our disclaimer here.
90% of the resort is above tree-line. It is what here Britons call "snow-sure" resorts. I never understood that claim being Argentine born. Las Leñas has a base of 2230 and the top at 3400+ and I remember some seasons with no snow at all! But well,
obviously
there is more chance to have better snow the higher you go!
But coming back to Val Thorens, the resort has the longest ski season in Europe. It starts on December 1st and goes all the way to May 9th. A whole 170 days of ski season. It was going to open on November 21st, but with the new decree in France locking the country for one month, it changed. Let's hope that resorts can open in December!
If you go to Val Thorens, all the lodging is slope-side- you don't need to move to go to the lifts. The trails run between the buildings. The resort is not the prettiest, but they have been renovating façades using wood and now is looking much better. Now it looks more village-like.
But then what makes Val Thorens be a super – awarded resort?
* 7 times best resort of France
*Best resort in the Alps by World Ski Awards.
On 20th November we'll see if they win again.
Brussels have named it the Best Tourism destination.
Forbes and Conde Nast also chose Val Thorens as a winner.
I would say is the terrain! On their own, they have 150 km of ski runs and counting Les 3 Vallées, the terrain is of 600 km. There is no time to get bored.
What is new for the 2020-21 ski season in Val Thorens. How Val Thorens is ready for the 2020-21 ski season.
This hotel, named after local ski champion Marielle Goitschel. You can find it by the ESF (French Ski School). In fact, the meeting point is opposite on the piste!
The hotel structure was there before. Marielle opened it in the 70's to cater families with children.
Now rooms have 18 to 42 sqm and prices start from EUR 180/night. The hotel has two sun-drenched decks. There is a chic bistro atmosphere in the restaurant. People can take snack meals if they don't want to waste time.
A Nuxe wellness centre features a sauna, steam rooms and massages.
A cocktail bar has an intimate style with a chilled-out atmosphere. For dinner there is an offer of daily different buffets.
A space dedicated with games, table soccer and arcade games will entertain the kids in the family.
First 100% electric ice circuit.
How Val Thorens is ready for the 2020-21 ski season.
The Alain Prost ice driving circuit is converting into an electric cars circuit. There will be four Andros Trophy electric cars wit h2WD to drive on the ice. You can get a one-to-one lessons or book it as a company for some competition bonding.
The ice driving circuit will be open from 7 December till 5 April, 2021.
Driving school for ice karting.
How Val Thorens is ready for the 2020-21 ski season.
For the youngsters, and not so young, there is available the rental of karting on ice. A new driving school will dedicate to this activity.
Kids can attend from 7 years old and the course lasts 2 1/2 hours. Kids will drive 260 cc karts equipped with studded tires. There will be driving. But also debriefing on controlled sliding, effective breaking and balancing on the corners.
First ice-rink for Val Thorens: Le Patinoire.
How Val Thorens is ready for the 2020-21 ski season.
Val Thorens will open a new ice-skating rink of 400 m2 in November. It is in Place Péclet, and called Le Patinoire. The ice rink will
be built
of natural ice. There is also a small chalet that will sell hot chocolate and pancakes for family and friends.
It will open for the whole season from 3 PM to 9 PM, subject to weather conditions.
Two instructors will be there for those wanting to have lessons.
Finnish chalets or "Kota" outside the terrace of "Le Caribou."
How Val Thorens is ready for the 2020-21 ski season.
Le Caribou is a renown restaurant located at the intersection of the 'Génépi' and 'Asters' pistes. It has a great terrace with views over the mountains. At 2800m, where the restaurant is, it can be windy. Mountain weather changes very fast. To try to do an intimate experience, the daughter of the owners, installed to 'Finnish Chalets'.
Finns called these chalets Kota. They are the depiction of cosiness. These Kotas accept between 6 and 8 guests for a meal. They can enjoy a Savoyard meal. If the weather is nice, guests can rest outside on long chairs. There they can admire the views, before skiing downhill.
A drone used to
monitor
the area.
How Val Thorens is ready for the 2020-21 ski season.
The ski patrol got a drone last season. They have been seeing on all the forms it can help them in their daily work. The drone has two cameras: an ultra high zoom one and a thermal one. The drone has a built-in loudspeaker to give precise instructions to the public.
Last year, while checking an avalanche, a patroller saw someone digging someone else. With the drone, he could guide the person on where to dig. Thanks to the thermal camera, he could help the finding of the person under the snow very fast.
This year the drone will serve the lifts, also other areas in the valley. For example, in May they could help in a mud slide in a further valley.
Covid measures.
How Val Thorens is ready for the 2020-21 ski season.
Val Thorens will follow the Covid measures by France Montagnes in this infographic.
Basically
, people will have to wear face masks in all areas where agglomerations of people are. Skiers and boarders will not need to use the masks while coming down the mountain.
However
, they will need to do so as soon as they arrive to the lift.
People will be able to take masks when eating while seating down. If they go to the bathroom and for entering and leaving the restaurant, they have to be back on. A meter has to be between each table.
Les Trois Vallées Medical Buff. 
How Val Thorens is ready for the 2020-21 ski season.
This new 2in1 Mask designed by Les 3 Vallées will be available in their website starting 20th November. It will cost EUR 15 with shipping to mainland France.
It has a breathable filter fabric and will keep you warm. It is adjustable for the head size and fits across the nose. It is a souvenir and a very comfortable item to use.
The 2in1 Mask is a category 2 product. Good for 50 washes with filter guaranteed.
More information:
Where else to stay at Val Thorens.
How Val Thorens is ready for the 2020-21 ski season.
This five stars is ski in-out and a grand hotel where to aspire to lodge. The hotel offers an indoor swimming pool and well-being centre. There is a sauna and a hammam in the spa. A terrace goes into the slopes. All rooms come with balcony and mountain views.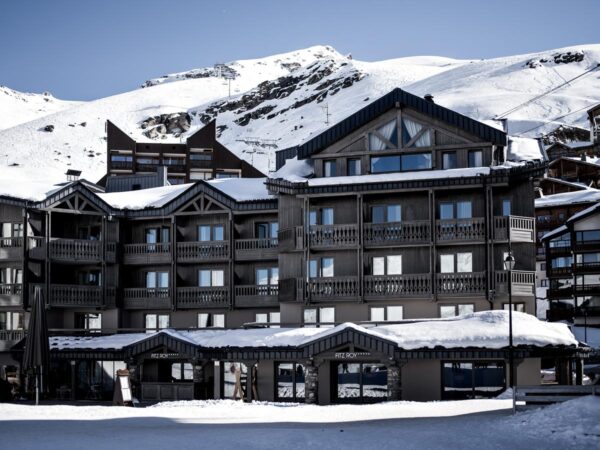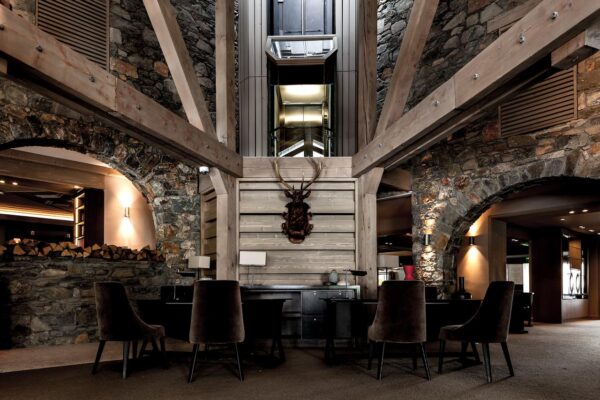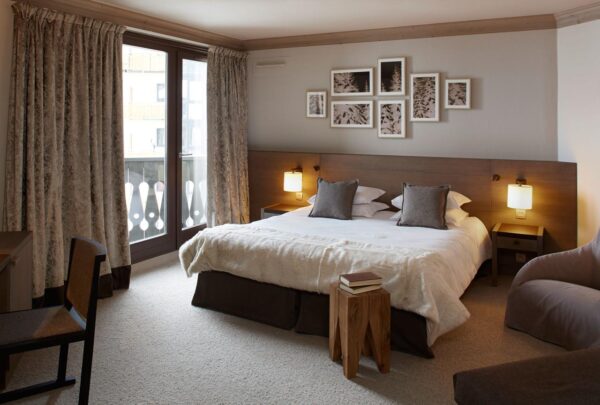 Also ski in-ski out, this hotel has a spa of 500 square meters. Rooms and apartments are very spacious and offer private balconies with mountain views.
The hotel offer two on-site restaurants. Awarded chefs Romuald Fassenet an Josselin Jeanblanc command their kitchens.
The wellness area has an indoor pool with mountain views. Also a sauna, an indoor and an outdoor hot tub are available. The area offers as well Turkish and Nordic baths, a sensual shower, a fitness centre and a solarium.
You can even book a night on an igloo by the hotel with views of the mountains!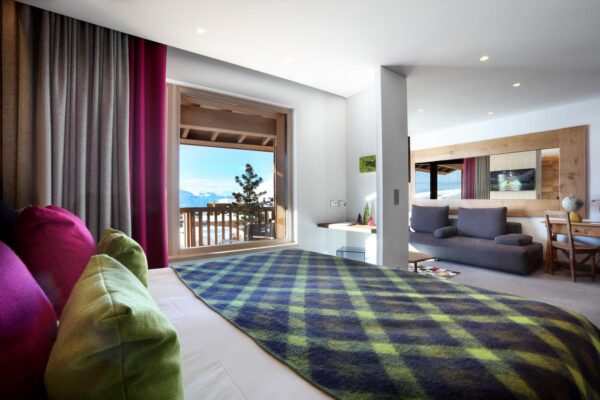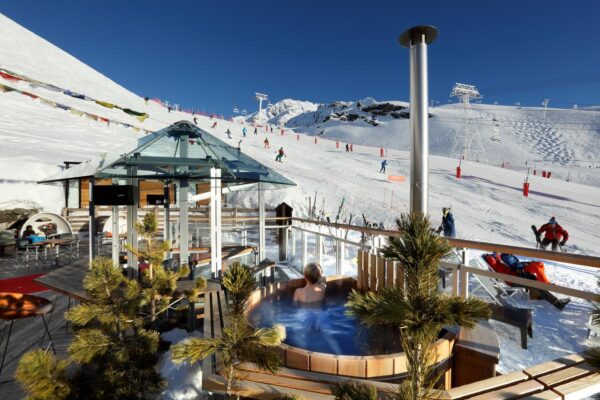 Start planning your next trip!
You can search for your own accommodation in the snow for your next ski holiday through our Accommodation Search tab. Or if looking to stay in the heart of the Mont Blanc Valley in the Aosta Valley, check Il Coure della Valdigne review here. This is our own family home in the mountains, that I am renting out when not using, you can always write me a private message if interested to info@the-ski-guru.com
You can book directly through Airbnb  through this link
If you want to take your family skiing and you don't know where to start, read here. And search for your ski transfers from all airports to the Mountains here. And for those that are like me, that are lazy to cook, you can get your food, even gourmet mountain food delivered to your home with Huski.
If renting equipment (skis or snowboards)  check our agreement with Skiset– you can get up to 50% off ski or snowboard rental rates. I have been using them for years every year when I go to America  and Europe and they are great!
Already selling some alpine design items for your house. #bringthemountainshome with The-Ski-Guru HOME and put a smile in your face. These are hand-paintings done by me, applied to cushion covers, coasters and mugs.
Something more to read in this blog
Please follow and like us: