Finally the day for our annual family ski trip started, and we've left home at 4 AM in the morning to take a 7 AM Eurotunnel. It was freezing cold and the motorway seemed a bit icy. We made it in great time to the Eurotunnel in Folkestone and we were allowed to board in early – Just a quick coffee and porridge for me, a bacon butty for my husband and some croissants for the boys with some good coffee before boarding on the train.
We were before 8 AM in Calais -first thing to do is to remember to drive on the right! I dare not drive on the other side of the road, I needed to learn how to drive on the left side in the UK and it confused me a lot. Luckily, my husband is better for doing so.
I've never seen so much snow in the road, less in the Calais area onwards, since we've began driving to the Alps 6 years ago.
It is great starting our trip and have all day Friday to drive;  we do get a permission for being absent from school on the Friday prior to the half term, and that for us, makes a difference. As my husband drives, I am the copilot reading at the maps!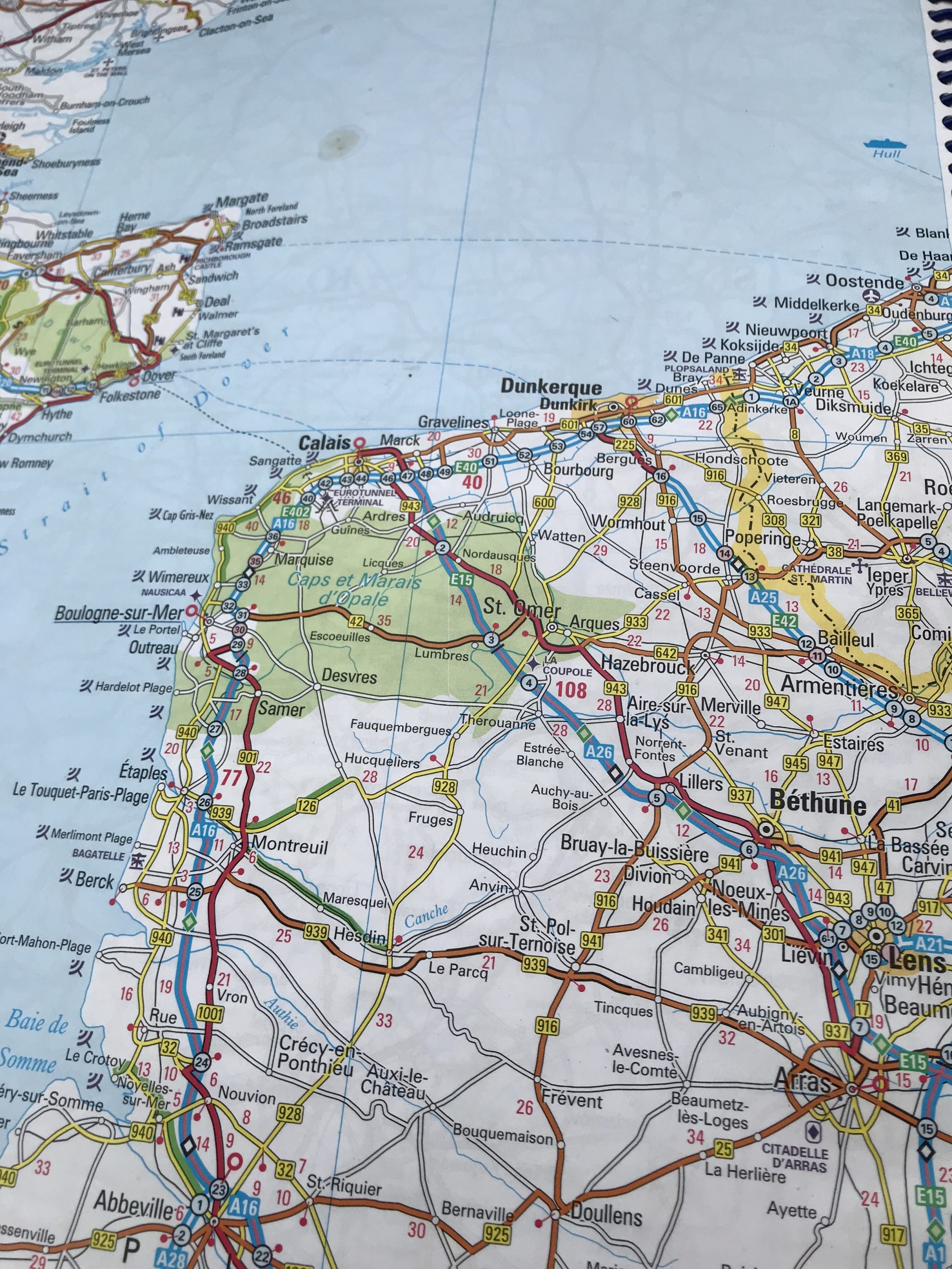 We've stopped some times, my eldest likes going to the bathroom or maybe he gets bored in the car and asks to go to the bathroom more than he needs to – but it is a good excuse to stretch our legs and try to talk in our Tarzanesque  French to purchase a cafe au lait and some croissants. 
The motorway was pretty wet – I do like the French motorways as they are pretty empty, compared to the UK ones, but they do not drain very good  so there was lots of surface water with very low temperatures.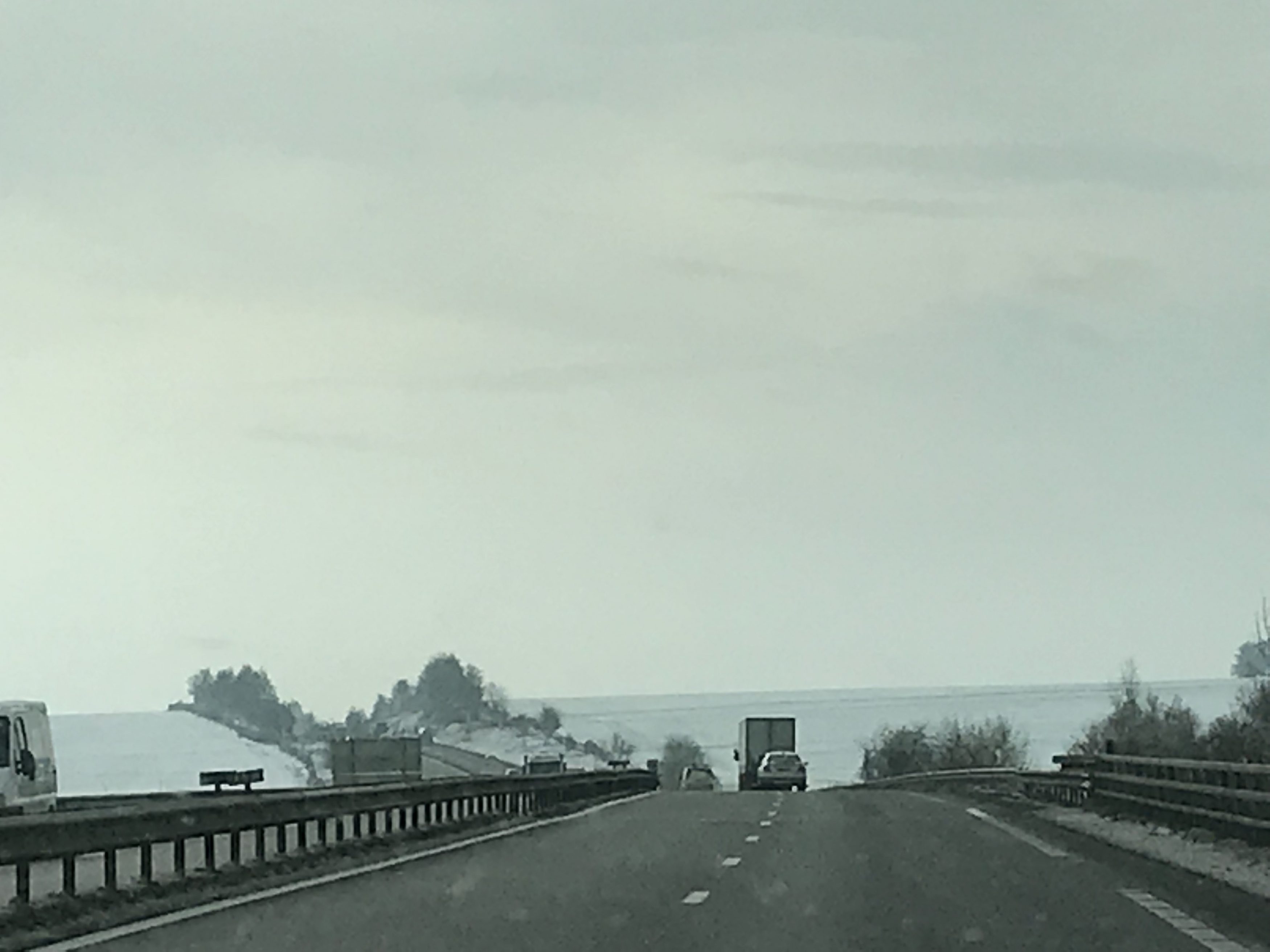 Still we did it in great time to Chaumont, our chosen stop for day one – we were there by 1.30 PM – and, as we were a bit tired, we had a nap – actually, my hubby had a nap, but my two boys were so wired running around the room, that I did not sleep much- The evening went and we went out for a quick walk around town – I do like Chaumont – all these towns in France are very nice – sometimes they are very empty, but Chaumont has a bit of movement and lovely views -it is located in the Haute-Marne, and it was built in the 10th century in a rocky spur overlooking the Marne and Suize Valleys.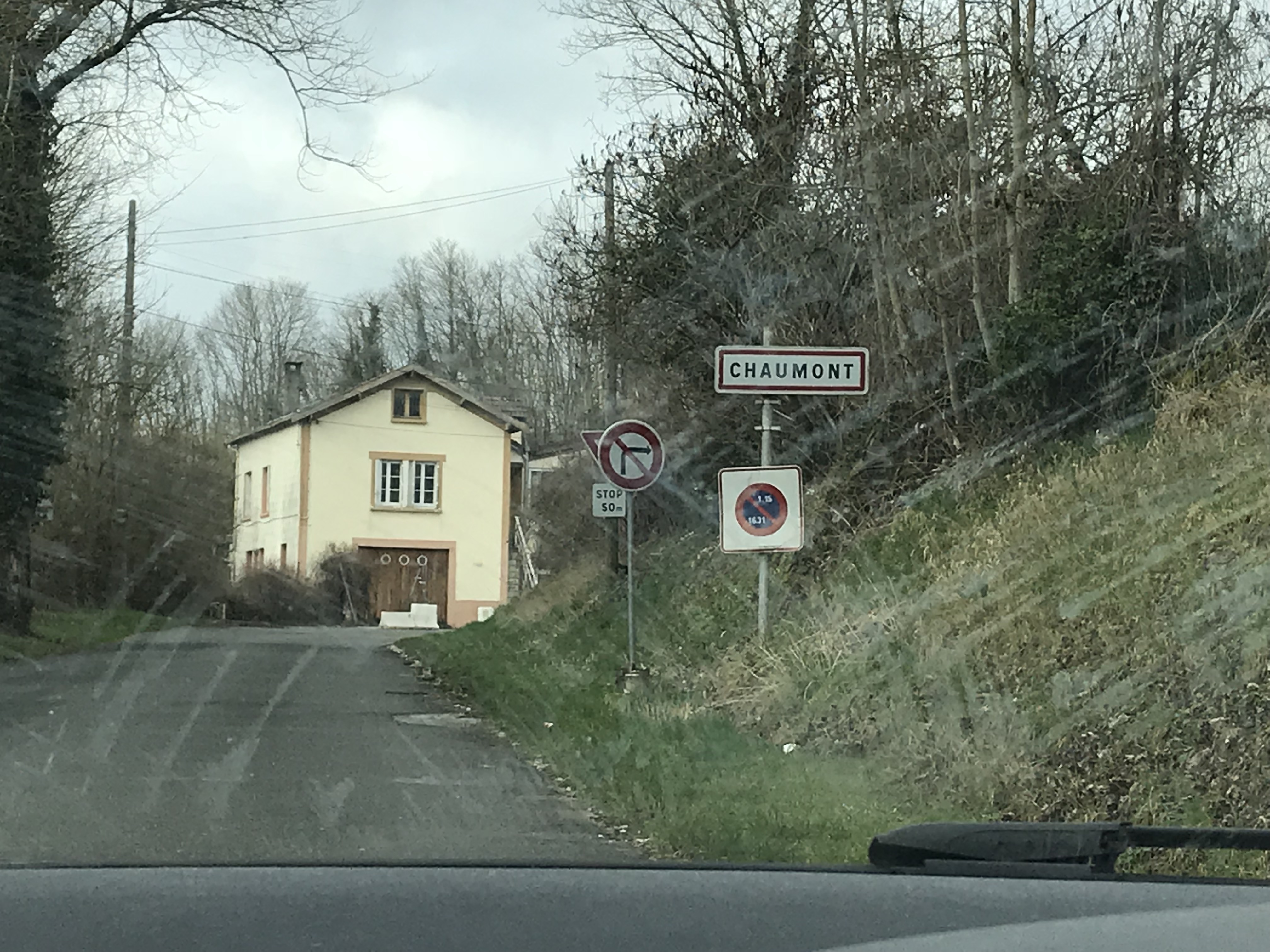 As per the description from France Voyage: "Chaumont have lots of old buildings to showcase its heritage: a Gothic and Renaissance – style basilica, a keep from the 11th and 12th centuries, the 13th centruy Arse Tower, turreted houses with corbels, 15th and 16th private mansions, amongst other things."
"A relic of the castle of the Counts of Champagne, the feudal keep, a square tower standing 19 metres tall, offers a beautiful panoramic view over the Suize Valley from its terrace. The Museum of Art and History, based in the lower rooms of the old castle, displays collections of archaeology (including a bronze breastplate from the 8th century B.C.) and Fine Arts (paintings from the French, Italian, Flemish and Dutch schools; works by the Bouchardon family…).Another of the town's flagship monuments, the basilica of St. John the Baptist, dates back to the 13th-16th centuries and is remarkable for its elegant south door, splendid Entombment in polychrome stone dating from 1471, and its sculptures by the Chaumont artist Bouchardon!To enjoy a beautiful view of the basilica's towers and the old town's façades, head to Square Philippe Lebon, in the middle of which stands a stone statue of Philippe Lebon, the inventor of lighting gas.
Also worth seeing is the Crèche Museum, on Rue des Frères Mistarlet, which has collections of old crèches including superb Neapolitan crèches from the 18th century.The House of Books and Posters, a cultural centre based in the silos of an old agricultural cooperative, contains an exceptional collection of old and contemporary posters, and hosts temporary exhibitions, conferences and workshops throughout the year. Every year in May-June, the graphic arts are honoured at the international festival of posters and graphic design, which is held at various locations in the town.
To the west of Chaumont, be sure to go and admire the magnificent railway viaduct, inaugurated in 1857, which overlooks the Suize Valley. With its fifty arches spread over three storeys, this remarkable hewn stone structure is 654 metres long and 52 metres tall, and has a specially created footpath on the first storey."
We went for dinner to our preferred little restaurant – Le Jardin, located in the middle of town, that has lovely food and is waited by its chef, a very small spot, but we always keep on returning – you always finish talking to the locals, that are pretty nice and like to talk to foreigners – and the boys love to eat the pasta Bolognese that the restaurant serves. We always go for the Formule  and eat whatever is served – always good.
We always stay at the same Ibis Suites Centre Gare – which is very well located, it is family friendly and serves breakfast included in its fee – there are lots of families that do the same as us. It includes a covered garage, that allows our high car with its roof box in, to keep your belongings safe at night.
When we were almost already in bed – my husband was already in, a fire alarm started ringing, and we've finished in our pijamas walking around town – it was nothing, only some burnt toast, but my husband was telling me that he was staying sleeping and I've told him we needed to get out – then I've showed the boys, that as our room was facing a small patio that was having the exit to the back garage, we can always get out through the window – as my youngest was a bit afraid of what we would do if the alarm went on again.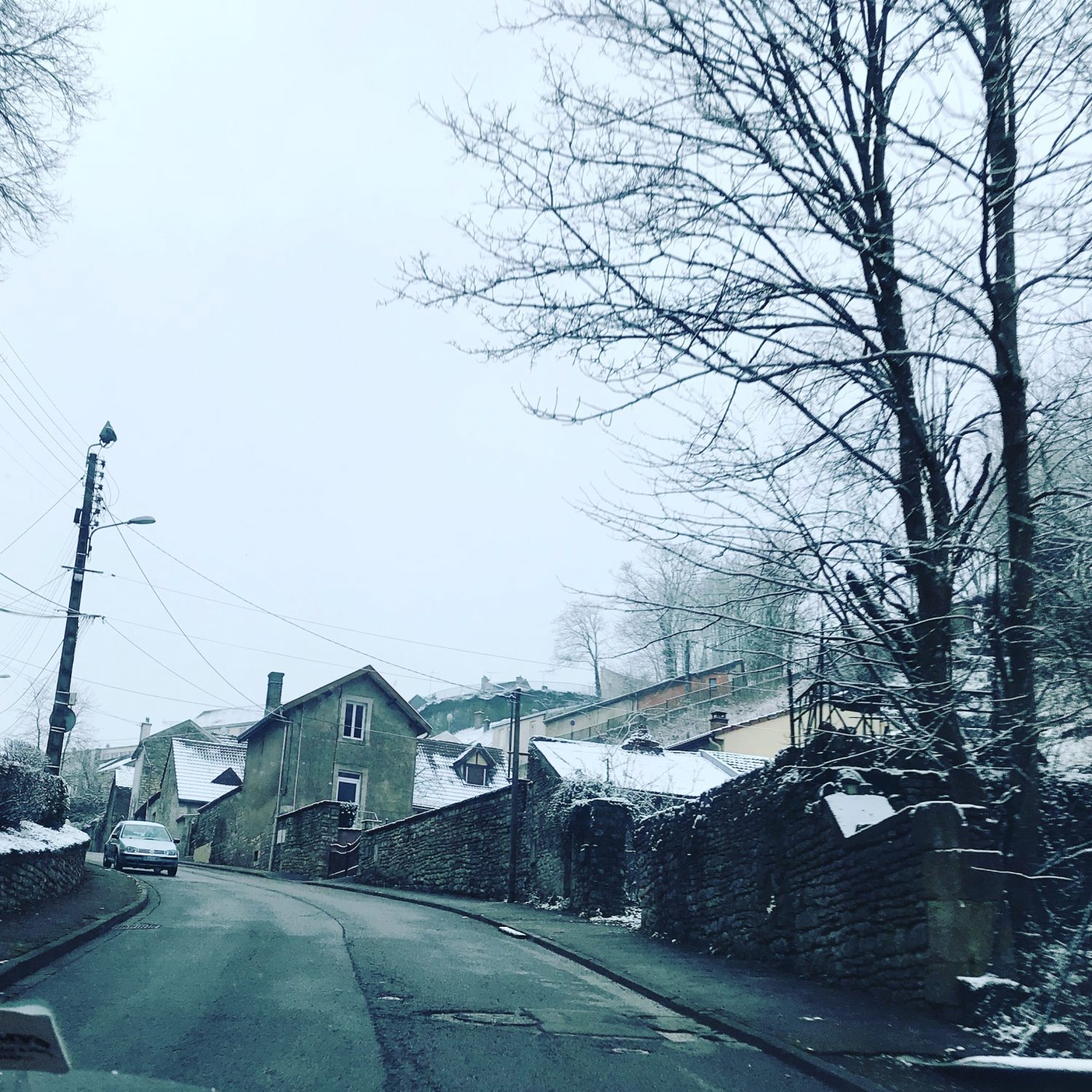 Day two started early with a good breakfast and driving through the route nationale – were we needed to get more diesel for the car, which is always cheaper than in the motorway;- eventually we took the A31 and stayed on the motorway for a while. We met some friends of ours that took the 2 AM Eurotunnel and were doing it all directly – for a quick coffee – they were in a speedy mode – and we had some other friends that left late in the afternoon the day before and were a bit behind us. So we were updating each other through Whatsapp of the road conditions and where we all were.
As we were seeing that there was some traffic after  Bourg-en-Bresse – which is a normal spot as there is a queue for the  toll station – we've ventured to the small D roads – all thanks that  I had my phone to guide us – there is no way I can read the map with so much detail – and we finished going through the D979 up the Col de la Roche – there has been snowing a lot – and my husband was very happy to have our winter tyres – I've kept on telling him not to trust them too much, as I used to live in Colorado for many years, and even studded tyres sometimes slid the road!
The good thing of getting off the motorway is that you discover lovely little towns that you would not if you do not do so! And you see the magnificent landscape- for my husband is more interesting driving – little towns like Hautecourt-Romanèche, Serrières-sur-Aine, and even Nantua, which is very interesting.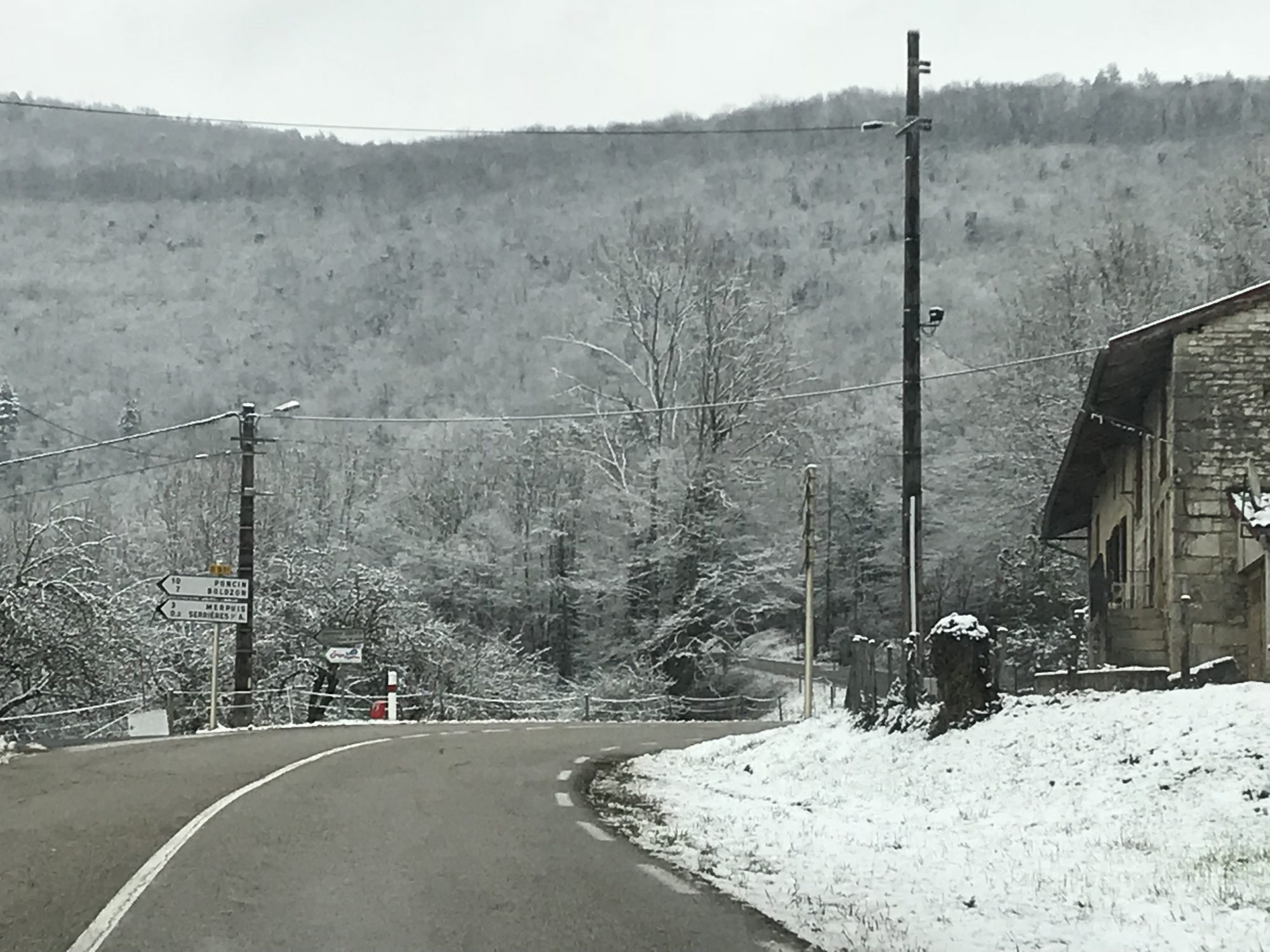 We've finished going on the motorway as we've passed all the bouchon, and here starts the most interesting part of the road – lots of viaducts, tunnels, and the road start winding up with beautiful vistas.
What I love of going in the car is that you can pack how you want (I take the toiletries in a plastic bag), and we carry four pair of skis, boots and helmets, so flying is not an option in our budgeted ski trip!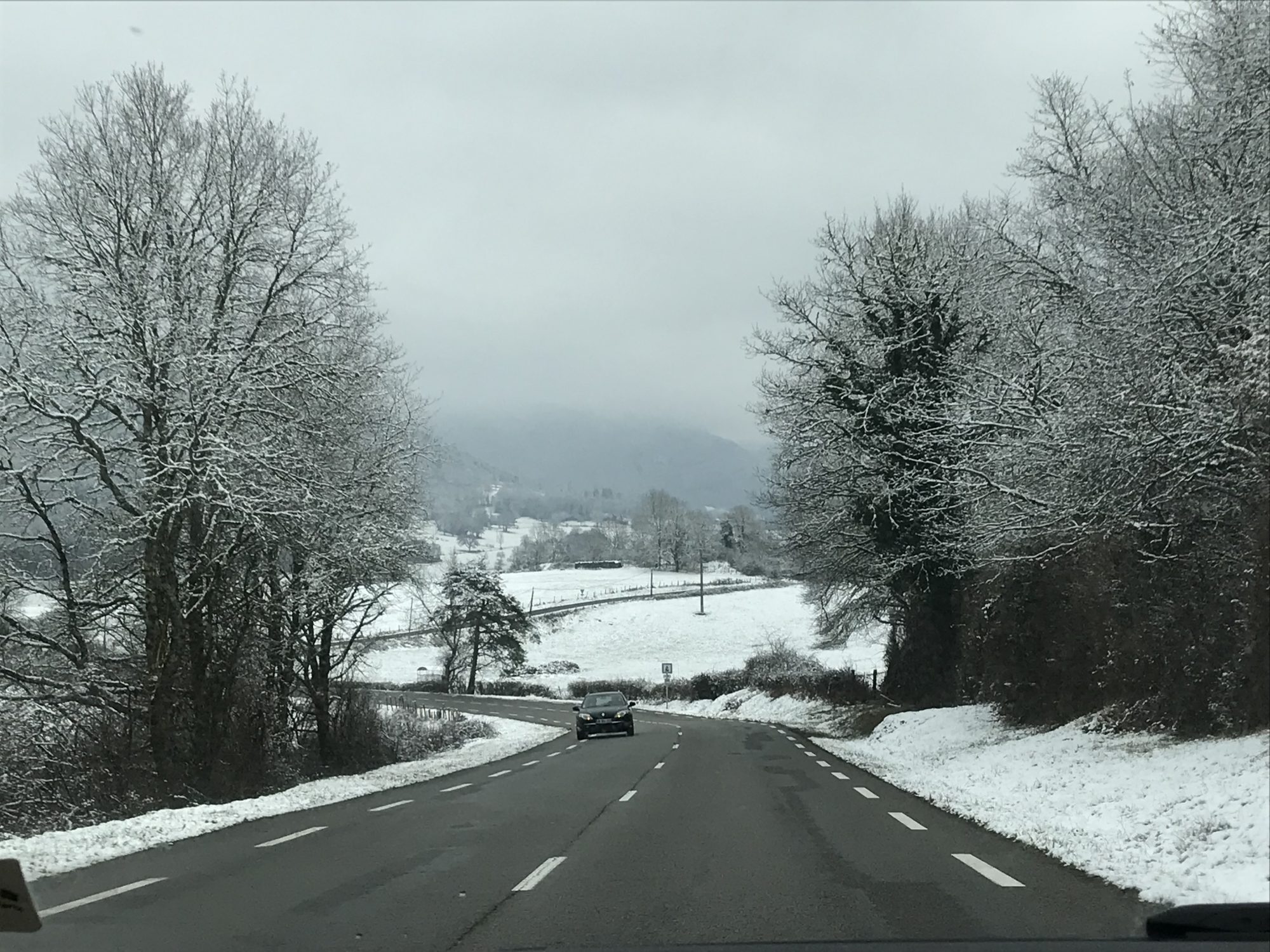 The road continued through the A40 all the way to Geneva, Bonneville, Cluses, Passy, Les Houches – and now we are very near to Chamonix, but we are turning to get through the Mont Blanc Tunnel to Italy.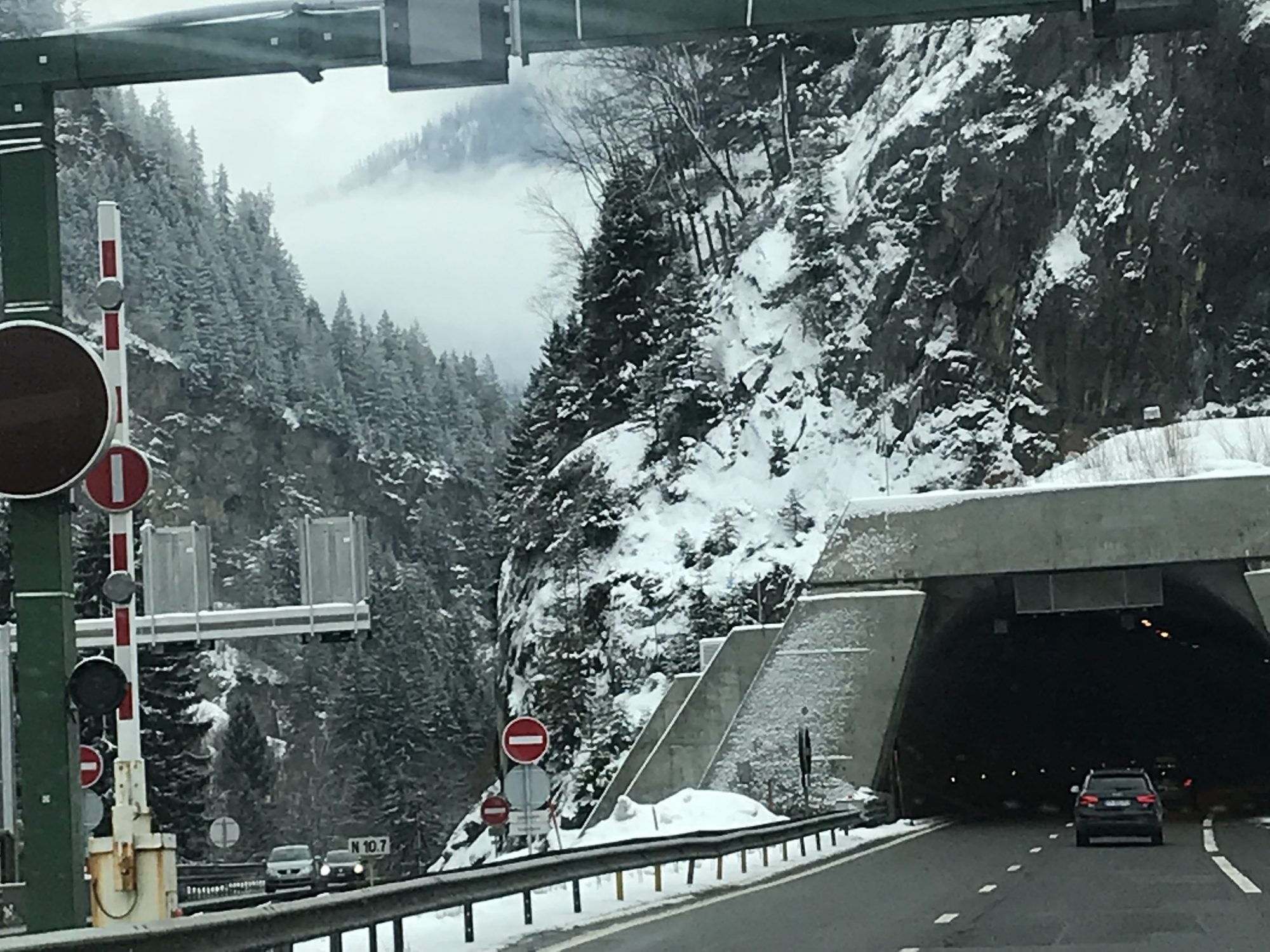 My kids love Italy as much as I do, so they were very excited getting near to the border and to the tunnel. What is great is that in winter we never had queues to pass the Mont Blanc Tunnel – we bought a return ticket for EUR 53 (we have a standard high car with a roof box) – It was cloudy and gloomy in France, but as soon as we've passed to Italy, the sun was shinning and the views were incredible!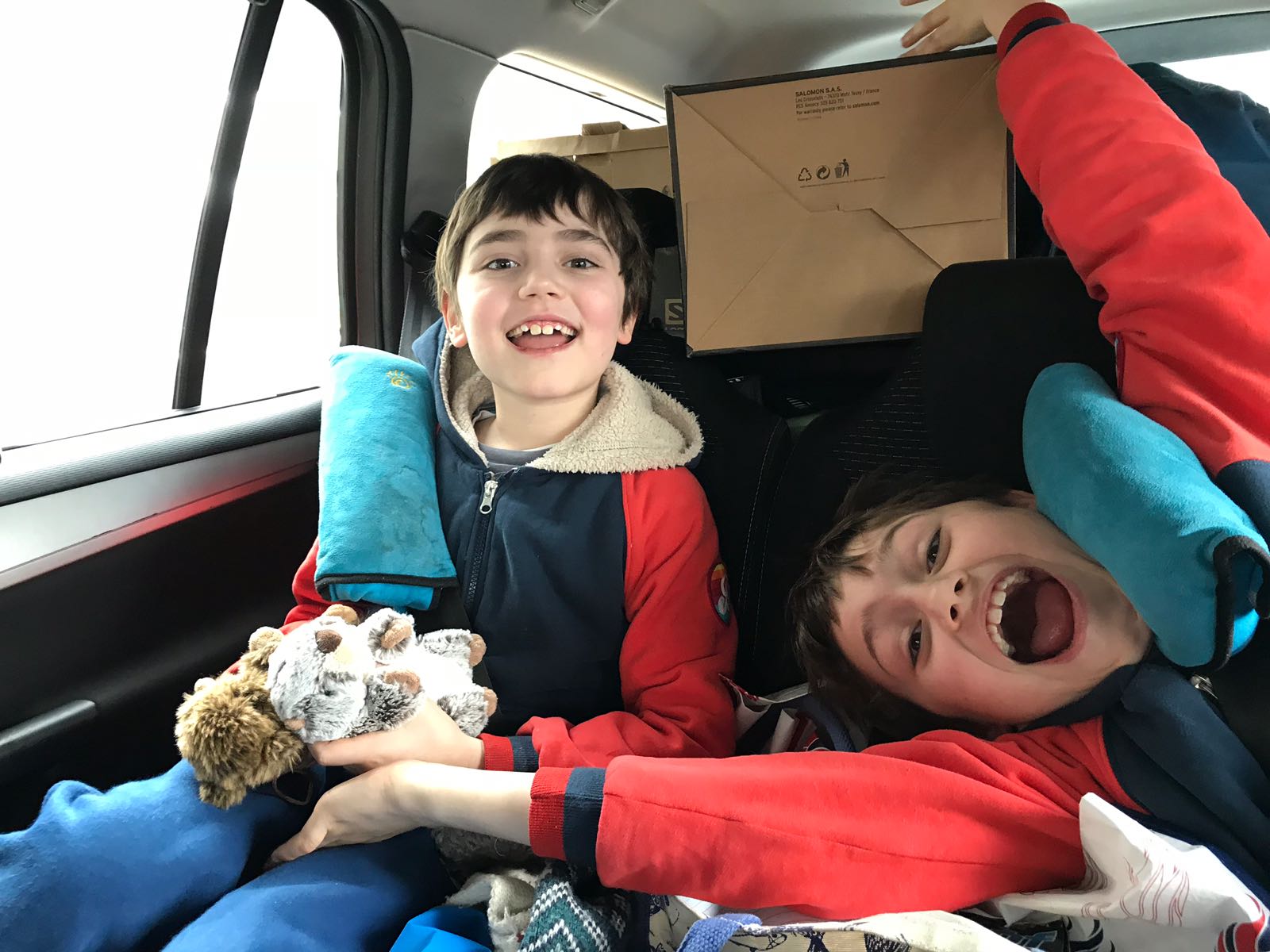 We've passed through Courmayeur – were we were going to go later in the week and we used the National Route to go to Aosta (SS26dir) – this is very scenic route, compared to the main motorway E25, that is full of tunnels and for me is a bit claustrophobic!
In no time we arrived to the house we always rent in the outskirts of Aosta, in a small town called Charvensod. Obviously we were all excited! We went to the supermarket and that night we were going to meet our family friends that have all arrived and go for dinner in a cheap and cheerful – family friendly pizzeria called Millenium in Pont Suaz – where there is a whole lower ground floor with a play area for the kids. So the kids come in and disappear and only come back to eat, and disappear again!
We had a great and smooth trip to Aosta – I'll be writing more of the trip in another entry.
If you want to read the tips on how to Drive to the Mountains, click here.
And here is a list of how to pack for your family ski holiday.
If you do like us, that we went for buying the first pair of skis to our sons, you can read this article.
We were lucky that even though there was snow in the road, nothing was like those crazy snowstorms of December and January that left tourists stranded in traffic getting to and from the Alps. 
To keep on reading Ski News at your Fingertips, keep on visiting The-Ski-Guru, or follow us on social media via our #theskiguru and #skinewsatyourfingertips
Featured Image: France was all covered in snow during our trip to the Alps – Photo: The-Ski-Guru
Please follow and like us: