Cortina Dolomiti Ultra Trekking
If you like trekking in the mountains, you would love to do this ultra-trekking. The Cortina Dolomiti Ultra Trekking. What does it entail?
All in all, 132 km and more than 6,700 vertical drop. The Cortina Dolomiti Ultra Trekking is a trek of 7 days/6 nights. You stay in mountain lodges and traditional malga mountain huts. This is a great way to see the Dolomites and taste their amazing local produce.
This article may contain affiliate/compensated links. For full information, please see our disclaimer here.
The idea of this trek is to find some hidden locations around Cortina. You will experience the Dolomites, going from hut to hut, amongst forests, rivers and lakes. You will be able to see malga mountain huts, and traditional Ladin villages. And the peaks! Peaks here are amazing! The Enrosadira is an effect that make you see the mountains with pink hues in the alpenglow. This is due to the large quantities of calcium and magnesium carbonates in the Dolomites.
Stage 1 – From Cortina d'Ampezzo to Rifugio Son Forca
Starting point: Piazza Angelo Dibona, at the foot of the Cortina bell tower. Follow Via del Castello (which starts at the end of the pedestrian road). Go on till you reach the intersection with the road leading to the hamlet Cadin on the left of the state road. After crossing the state road, go uphill towards Cadin. Pass the Village's church and reach the end of the village of Cadin di Sopra. There take the CAI track number 410, which leads to Lago Ghedina.
You need to have refreshments/water with you, as there will be nowhere to get anything for about 3 or 4 hours.
Take track number 409 till you reach Posporcora Pass. Then go downhill on track number 408. Keep on until you reach the intersection with track number 417 to Pian da Ra Spines. You have to go on until San't Uberto car park. From there you take the path leading to the cycle path that brings you to Rifugio Ospitale. This was a welcoming venue that once hosted the pilgrims on the way to Santiago di Compostela.
Then continue for about 7 km, with a total ascent of 700 m, on track n° 203, along the Padeon valley. Spend the night at the mountain lodge Rifugio Son Forca, on mount Cristallo.
Stage 2 – From Rifugio Son Forca to Rifugio Città di Carpi
The second day starts at the mountain lodge Rifugio Son Forca: follow track  203 to the Tre Croci Pass. Cross the state road on the pass and follow track 215. Keep on going until you reach the beautiful Lake Sorapis and the Rifugio Vandelli. Here there is an exposed road on places, so be careful. Once there you can either spend the night at Rifugio Vandelli or carry on. You can go towards Federavecchia on track 217, through the enchanting Somadida forest. Once in Federavechia, cross the road and take track 120. This will bring you to the Rifugio Città di Capri, where you can stay overnight.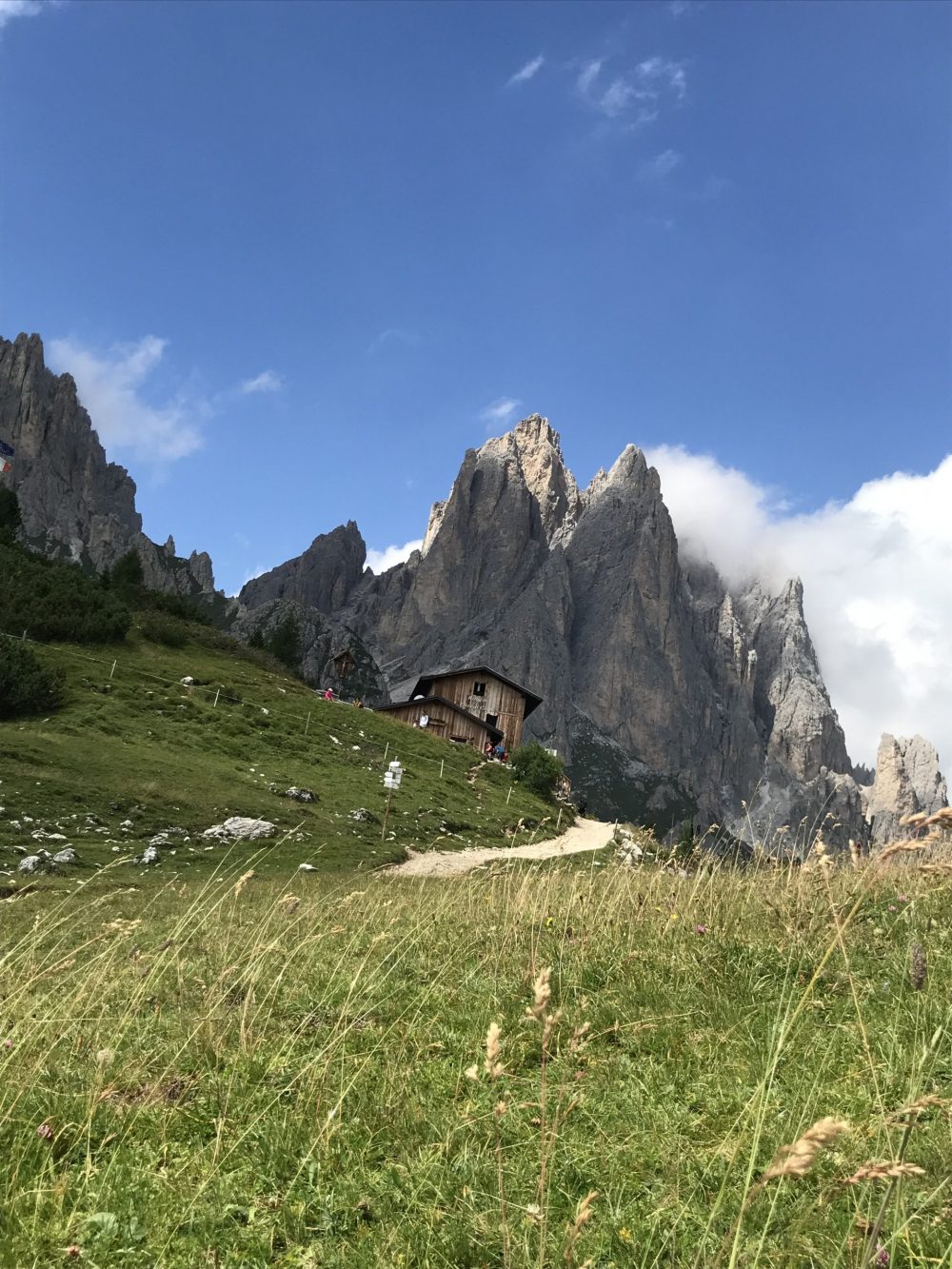 Stage 3 – From Rifugio Città di Carpi to Rifugio Lavaredo
Start your third day following track number 120 downhill until Lago Misurina. Follow the shores of this beautiful lake towards Tre cime di Lavaredo. Continue the road, you'll find the intersection with the track of the Club Alpino Italiano.. This track leads to Tre Cime. You will pass the Rifugios Auronzo, Lavaredo and Locatelli or Hotel Tre Cime. This will requiere another 3 hours' walk.
Stage 4 – From Rifugio Lavaredo to Malga Ra Stua
After staying the night at Rifugio Lavaredo, take track 102. It will bring you to Lake Landro in about three hours. Continue along the cycle path towards Cortina. After crossing the Cimabanche Pass, you reach Lake Bianco. Cross the road and walk for about two hours on track number 8 till Malga Ra Stua. Here you can stay for the night. By now, you have covered about 80 km of the total distance.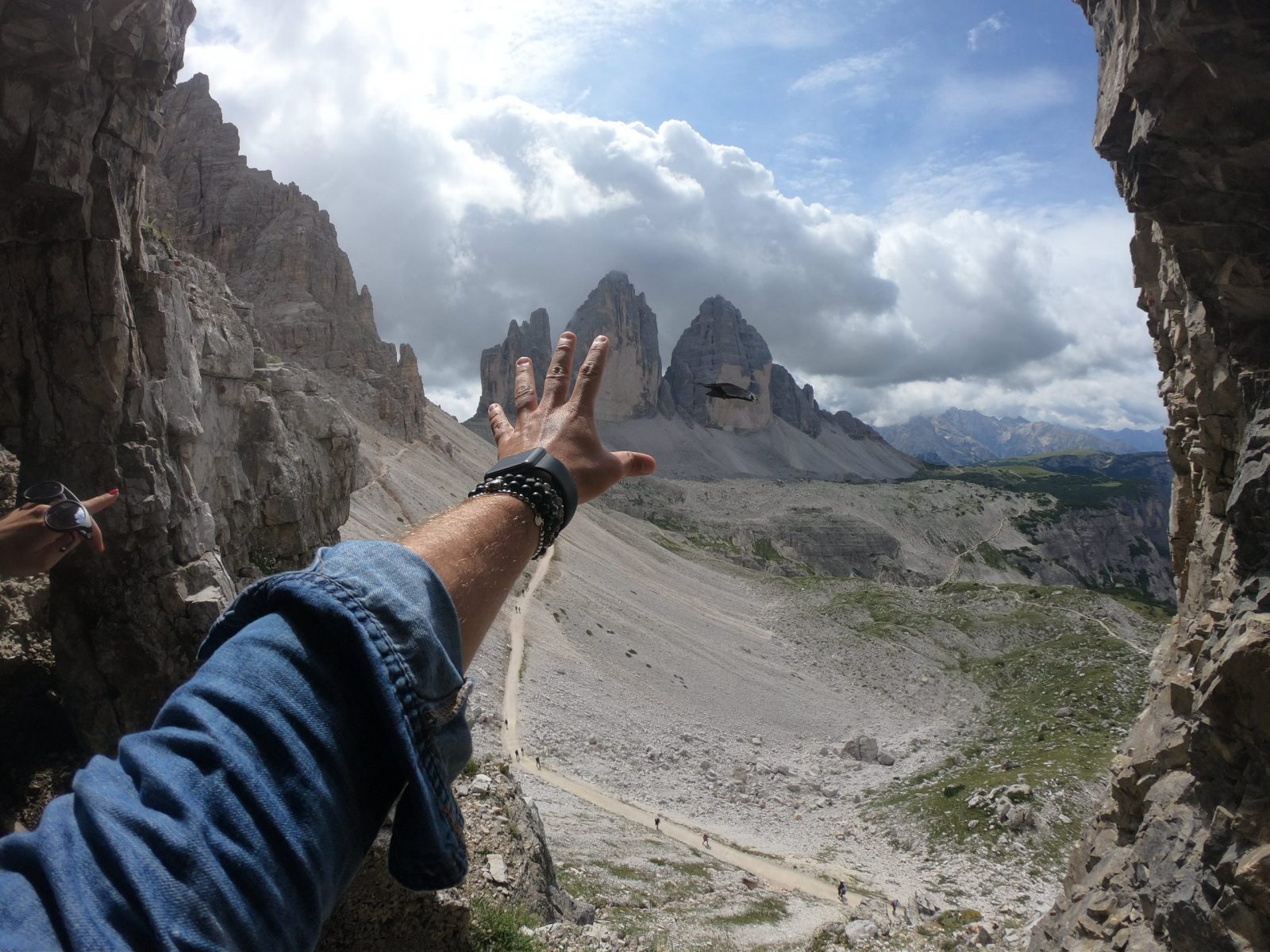 Stage 5 – From Malga Ra Stua to Rifugio Col Gallina
This day will take you to Rifugio Col Gallina. You can get a second variant that shortens the route a little bit, leading to the Rifugio Dibona.
On the fifth day, starting from Malga Ra Stua, take track 6 until you reach the Sant'Uberto car park. Take track 10 and then 401, which crosses the rugged Travenanzes valley. When you arrive the gully Forcella Col dei Bos, go downhill on track 402. This will take you towards Falzarego Pass. Go on until you reach Rifugio Col Gallina, where you'll sleep for the night.
Stage 6 – From Rifugio Col Gallina to Rifugio Croda da Lago
Start from Rifugio Col Gallina taking track 419 towards Rifugio Averau. Walk along the alpine Lago Limedes. One you reached the rifugio, take track 452 to Passo Giau. At the pass, cross the road and take track 436 till the gully Forcella Ambrizzola. From here, take track 434 till you reach the Rifugio Croda da Lago and spend the night there. Or continue on track 432 till Malga Federa mountain hut and sleep there. By now, you have walked for a total of 110 km.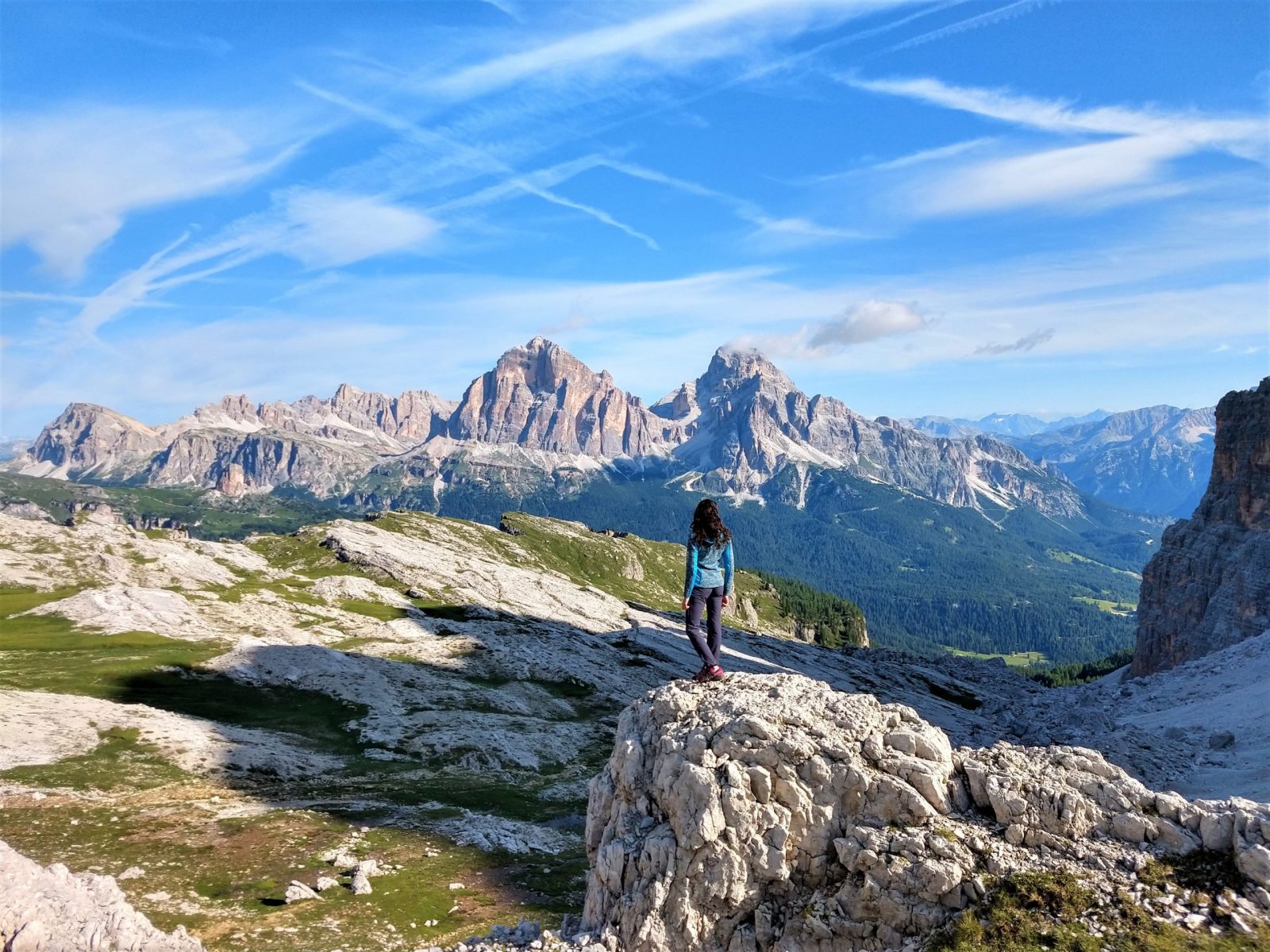 Stage 7 – From Rifugio Croda da Lago to the centre of Cortina
This last day will start at the Rifugio Croda da Lago. Walk downhill on track 432 towards Malga Federa. Once there, take the new Gores de Federa. This spectacular track takes you through gullies, canyons and past waterfalls. Then rejoin track 432. Continue in this track until you reach track 406 on your left. Continue until you reach track 431, and then go right towards Lago d'Ajal.
From the Rifugio Lago d'Ajal, go downhill on track 430 until you reach Lago Pianozes. From there keep on walking to the traditional Ladin village of Campo di Sopra. The rough 'ex-polveriera' track, takes you to the Revis car park, where you can view the Cortina's bell tower. Once back at the centre of Cortina, you would have finished a circular route of 6,700 m of total ascent. Plus you have walked amongst beautiful mountains, valleys, rivers, lakes and Ladin villages. A true feast for your eyes!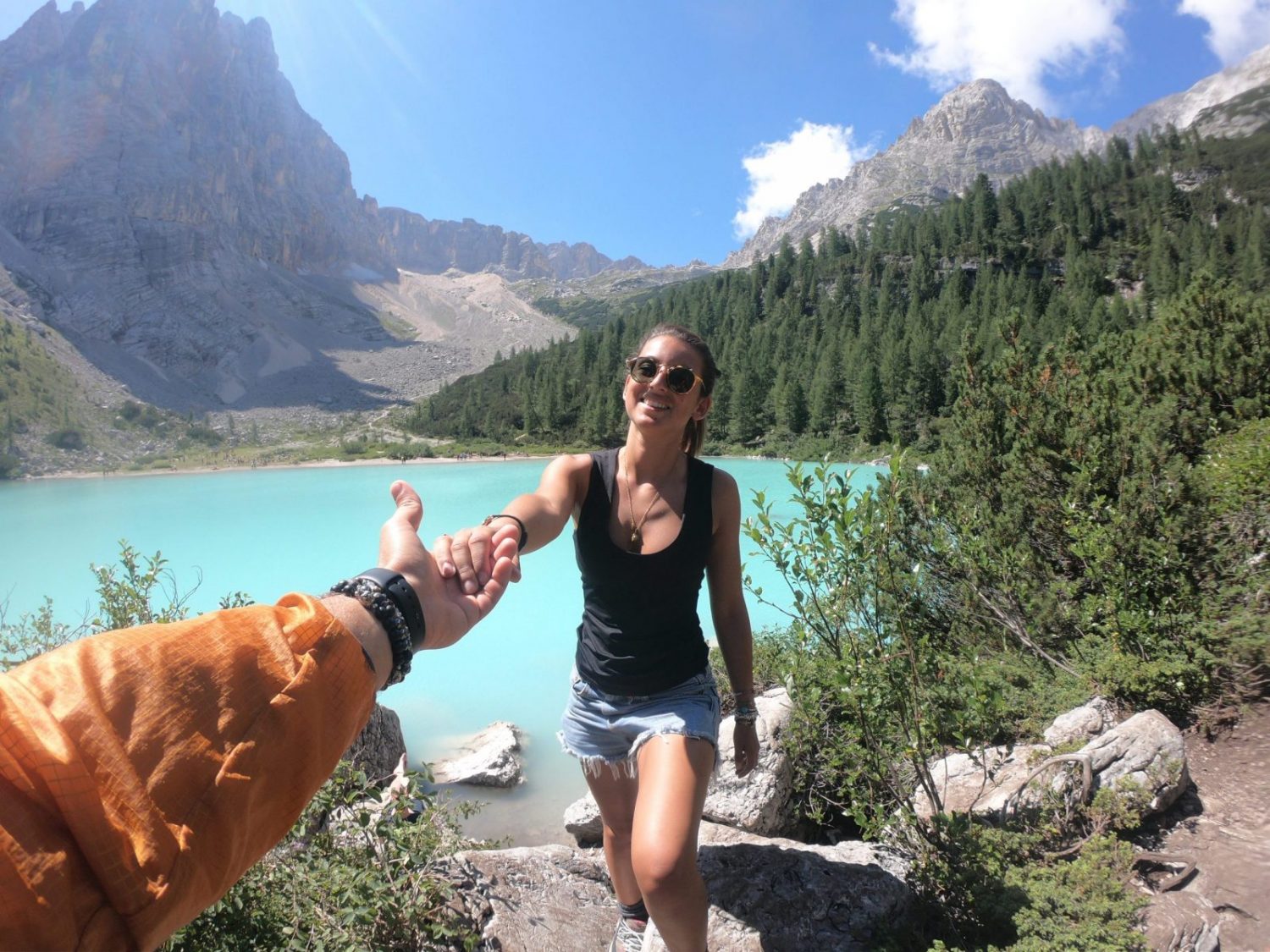 Where to Stay if looking for more Comfort. 
If you want to take some time off the rifugios, here are some nice hotels and hostelries to check on the area.
Set on the shores of Lago Misurina, this Albergo offers a restaurant, bar and furnished garden. This is a ski in property in winter from the cross-country ski area, located 550 yards from the chalet. The à-la-carte restaurant serves local cuisine.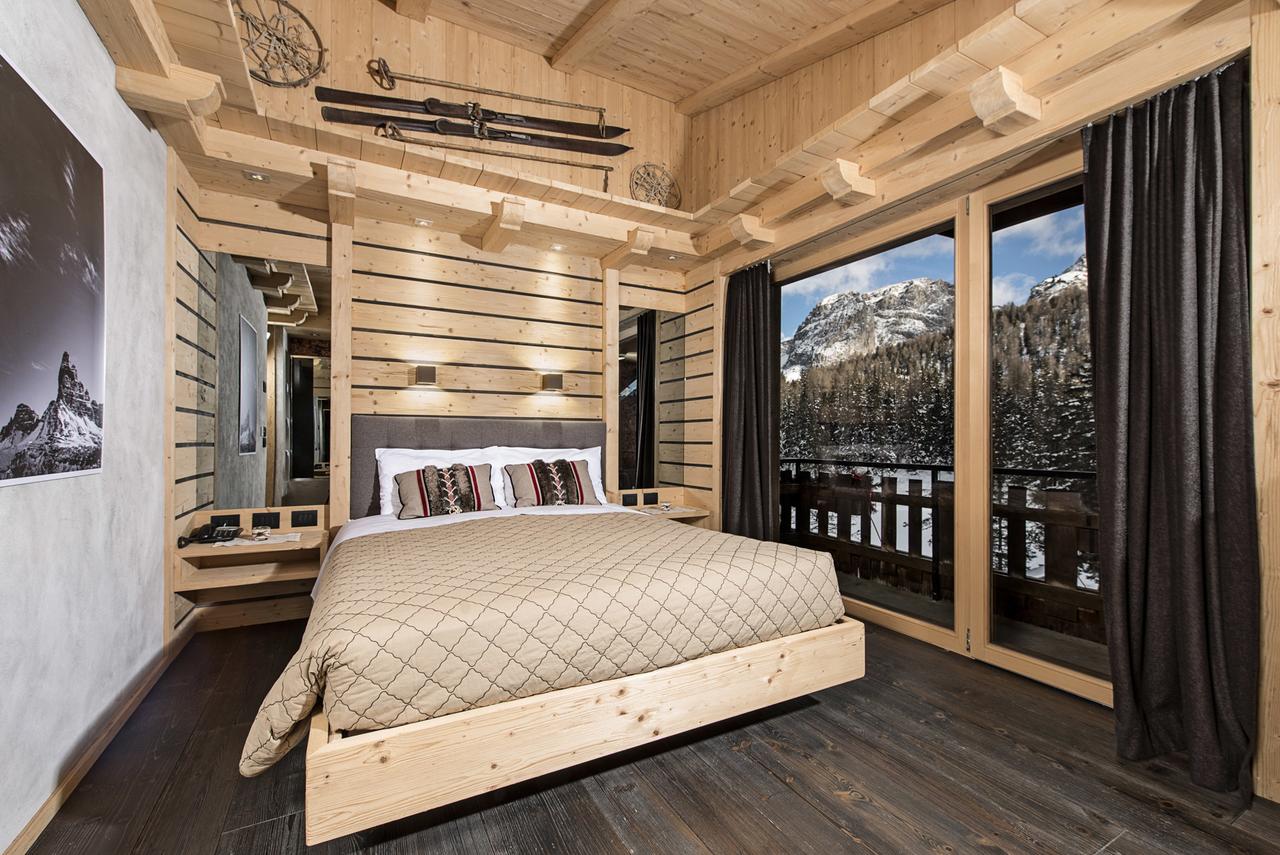 Located in Alvera, it features a garden and a terrace. All units at the guest house are super cozy. 1.3 miles from Cortina d'Ampezzo. This property has no restaurant , but there are restaurants very near this ciasa.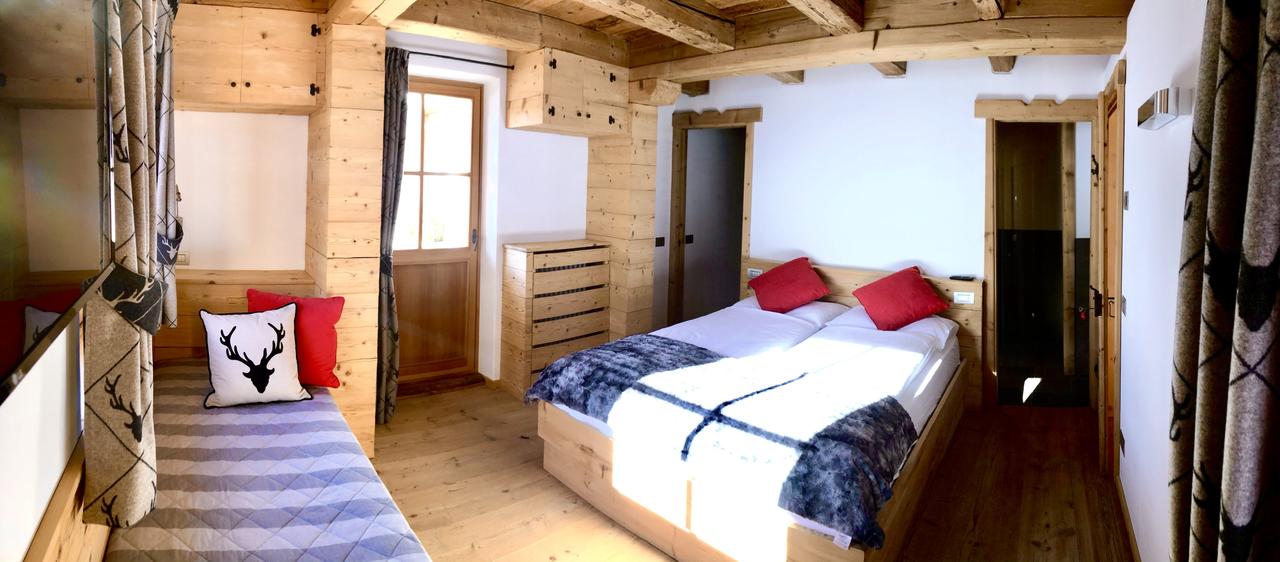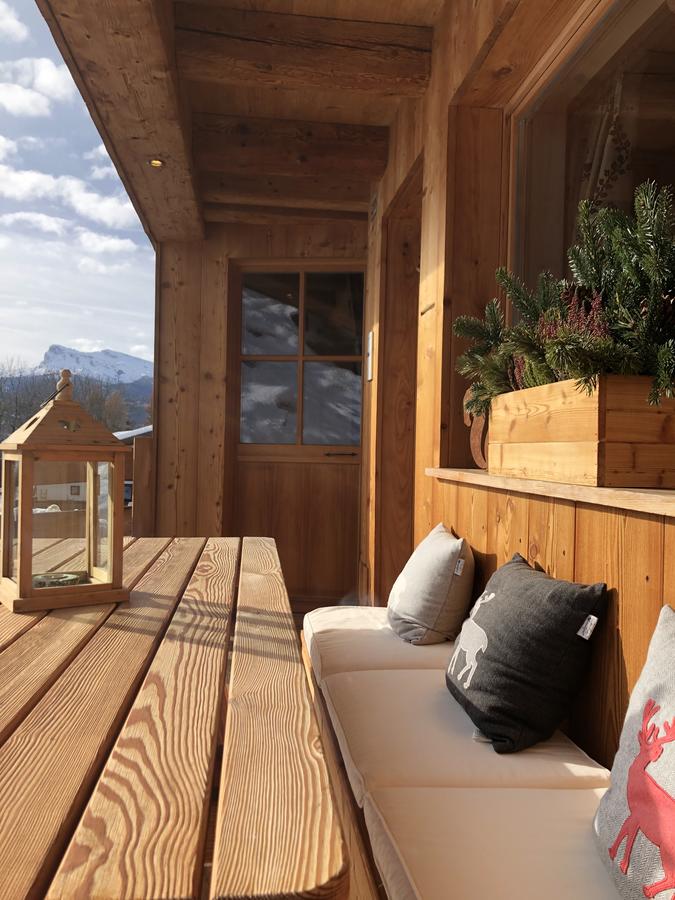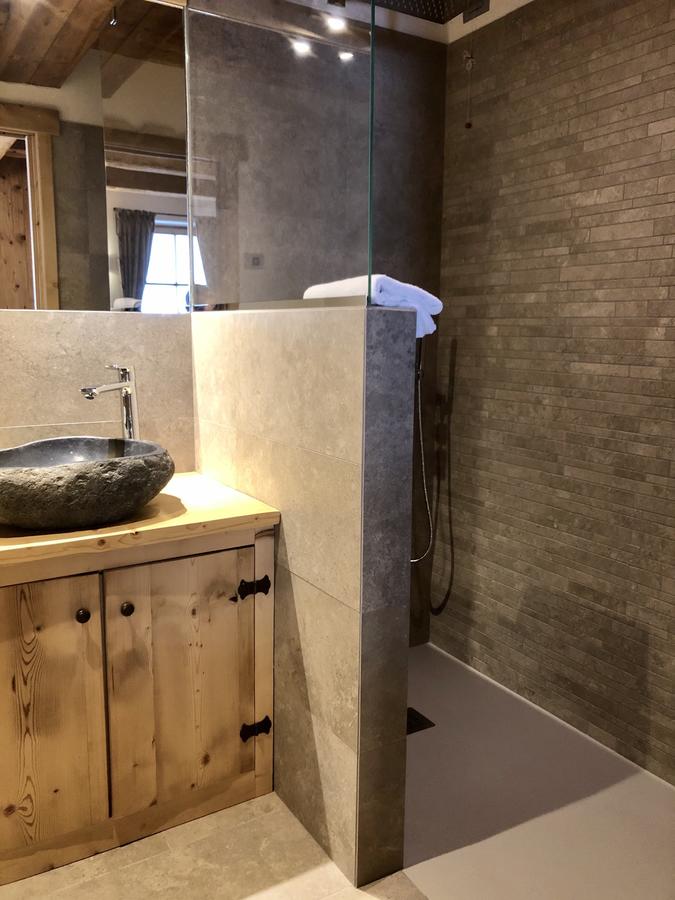 If you want to indulge yourself before your trek or after, look no further. You will love the spa at the Rosapetra Spa Resort to relax your ached muscles. Right in the middle of Cortina, this 5-stars hotel has all to pamper you. There is a free shuttle to the Faloria ski slopes in winter. The spa has an indoor pool, Turkish bath and saunas. Massage treatments and a fitness room are available.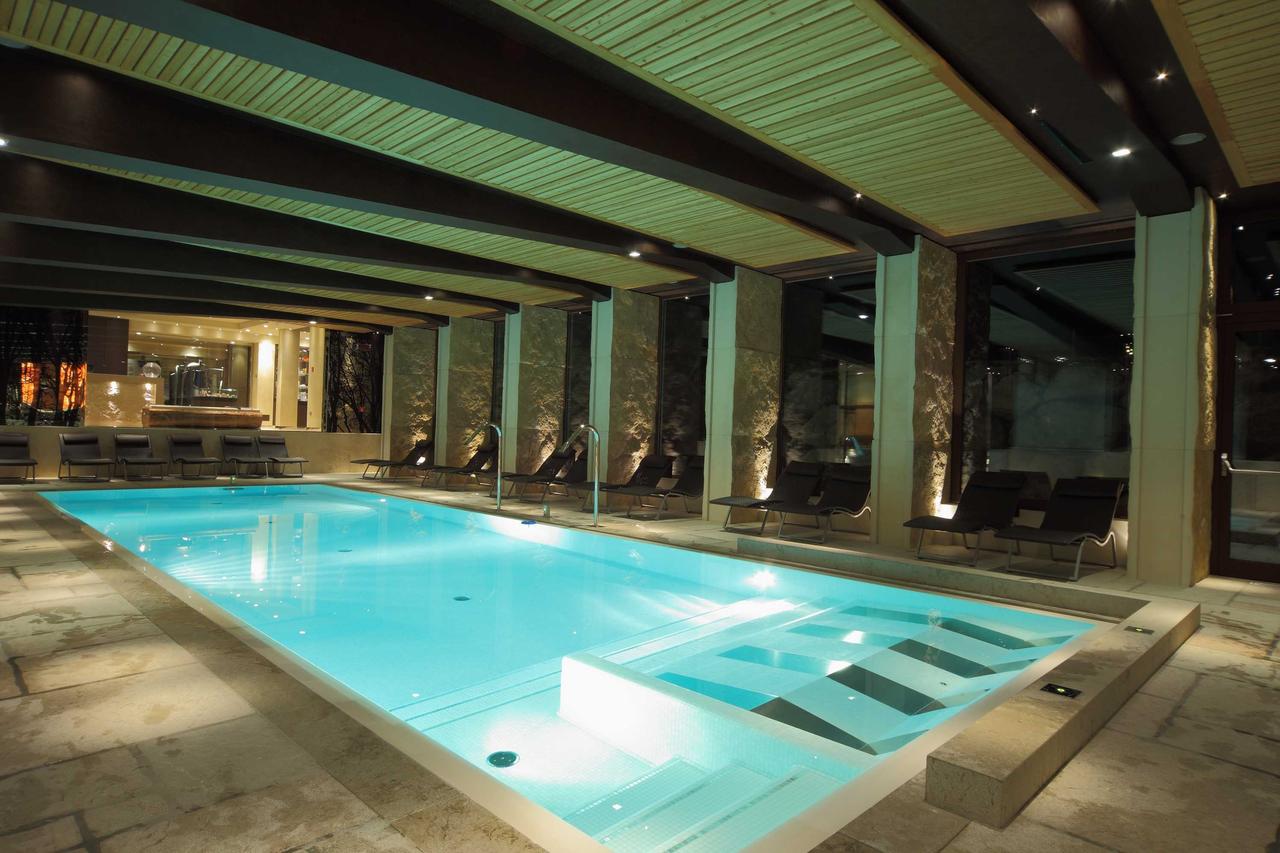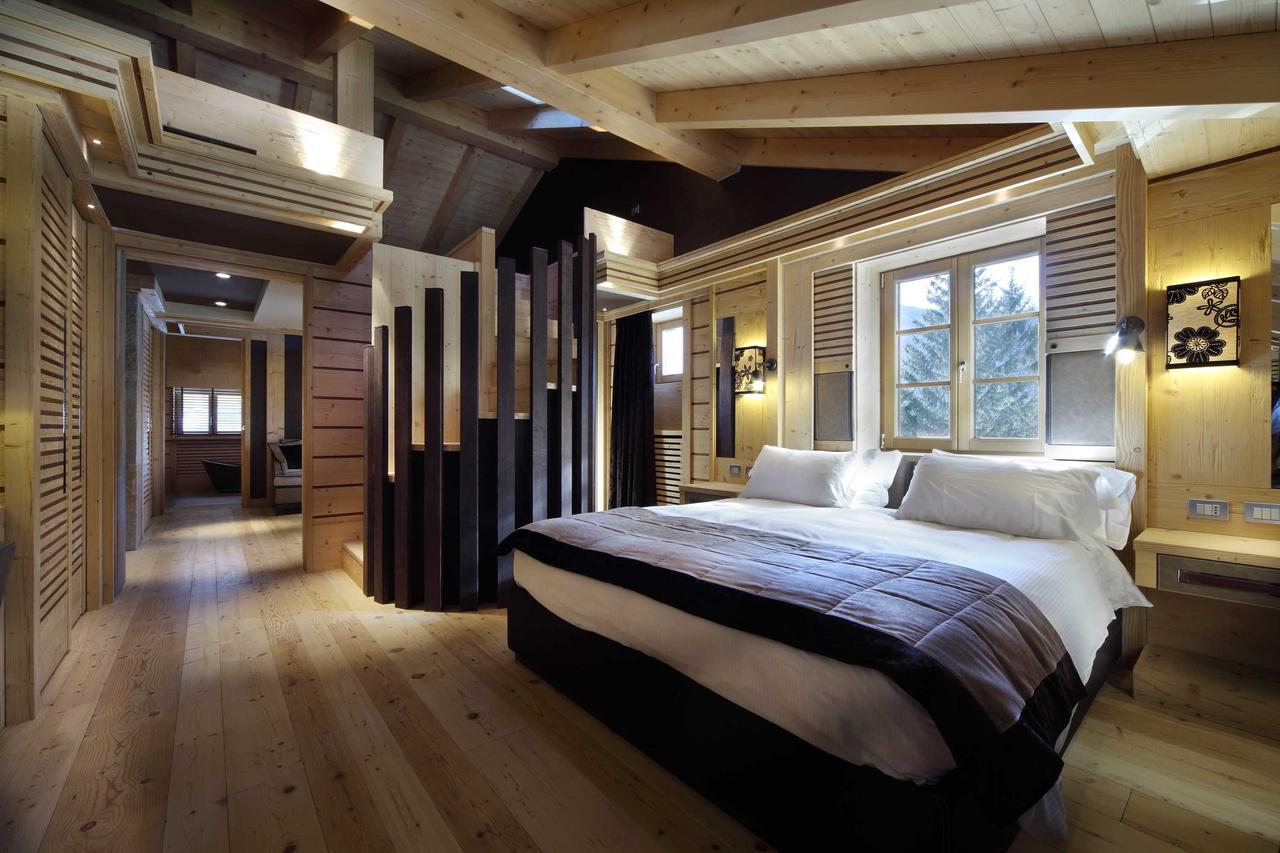 Its restaurant, La Corte del Lampone, serves traditional food. There is a buffet breakfast in the mornings. Your pooch is welcome here too!
You can search for your own accommodation in the snow for your next ski holiday through our Accommodation Search tab. Or if looking to stay in the heart of the Mont Blanc Valley in the Aosta Valley, check Il Coure della Valdigne review here. This is our own family home in the mountains, that I am renting out when not using, you can always write me a private message if interested to info@the-ski-guru.com
You can book directly through Airbnb  through this link
If you want to take your family skiing and you don't know where to start, read here. And search for your ski transfers from all airports to the Mountains here. And for those that are like me, that are lazy to cook, you can get your food, even gourmet mountain food delivered to your home with Huski.
If renting equipment (skis or snowboards)  check our agreement with Skiset– you can get up to 50% off ski or snowboard rental rates. I have been using them for years every year when I go to America  and Europe and they are great!
You can start thinking about your trip, by reading the articles on the Planning your Ski Trip tab.  Or how to pack for your family ski trip.  If taking your furry friend abroad to the continent, read about the new Pet Travel Scheme update from DEFRA. Self-drive skiers also need to plan for Brexit. Check out our tips for driving to the mountains.  If flying and renting a car in Europe, beware of the extra charges they will pass to you if you want winter tyres, snow chains or ski racks. If driving, check the winter tyres news for Europe and North America. You can see how our last family ski holiday was not as expected, even though one plans it to be a success, but how we could do the most of it. If you want to get better before getting to your next ski holiday, here is a quick guide to indoor skiing and dry slopes in the UK. You can also read our week in the mountains during our summer holidays in Courmayeur.
Featured Image: Passeggiata ex- convento. Credits Cortina Marketing. Cortina Dolomiti Ultra Trekking.
Please follow and like us: