Aspen Snowmass is opening for the Summer Season.
Great news as Aspen and Snowmass are opening for the Summer Season. Aspen Mountain will open on June 12, while Snowmass will do so on June 21. Camp Snowmass will open on June 15.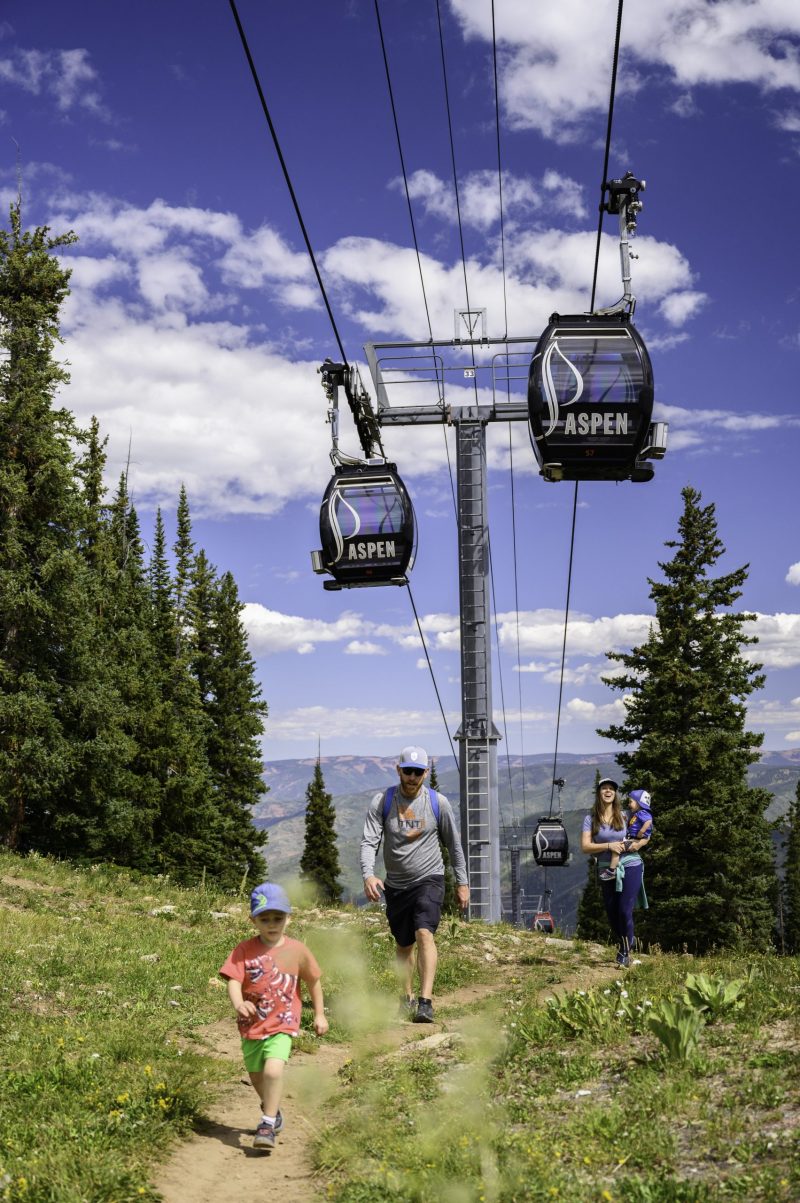 Aspen is in my heart as I was lucky enough to live there for a while. Beautiful town, lovely people and amazing views. There is lots going on to keep you busy! This summer new policies and operating guidelines will be in place to protect guests. And also protect employees.
This article may contain affiliate/compensated links. For full information, please see our disclaimer here.
What will open in Aspen Snowmass for the summer
There will be opportunities of sightseeing, riding gondolas, hiking and mountain biking. Or you can ride the mountain coaster. You can choose to be as active or lazy as you want. By seating and staring at the mountains, you can forget about daily chores!
On June 12, the Silver Queen gondola will start running from 10 a.m. to 4 p.m. to go up Aspen Mountain. There you will have a chance to do some sightseeing, play disc golf or hike. You can take a nature program offered by the Aspen Center for Environmental Studies. Or ride up the cablecar to take your kids to play at the children's play area. Going up and down the gondola is a great day out, at least for my kids!
Some food and beverage services will be available, all with strict social distancing. The operations on Aspen Mountain will run daily till September 7 and then on weekends till October 4.
Snowmass will open on June 21. Both Elk Camp Gondola and Elk Camp chairlift will be in operation. Also the adventures in the Lost Forest for the whole family. They include:
the Breathtaker Alpine Coaster,

the Treeline Trial Challenge Course and

the Rugged Ascent Climbing Wall.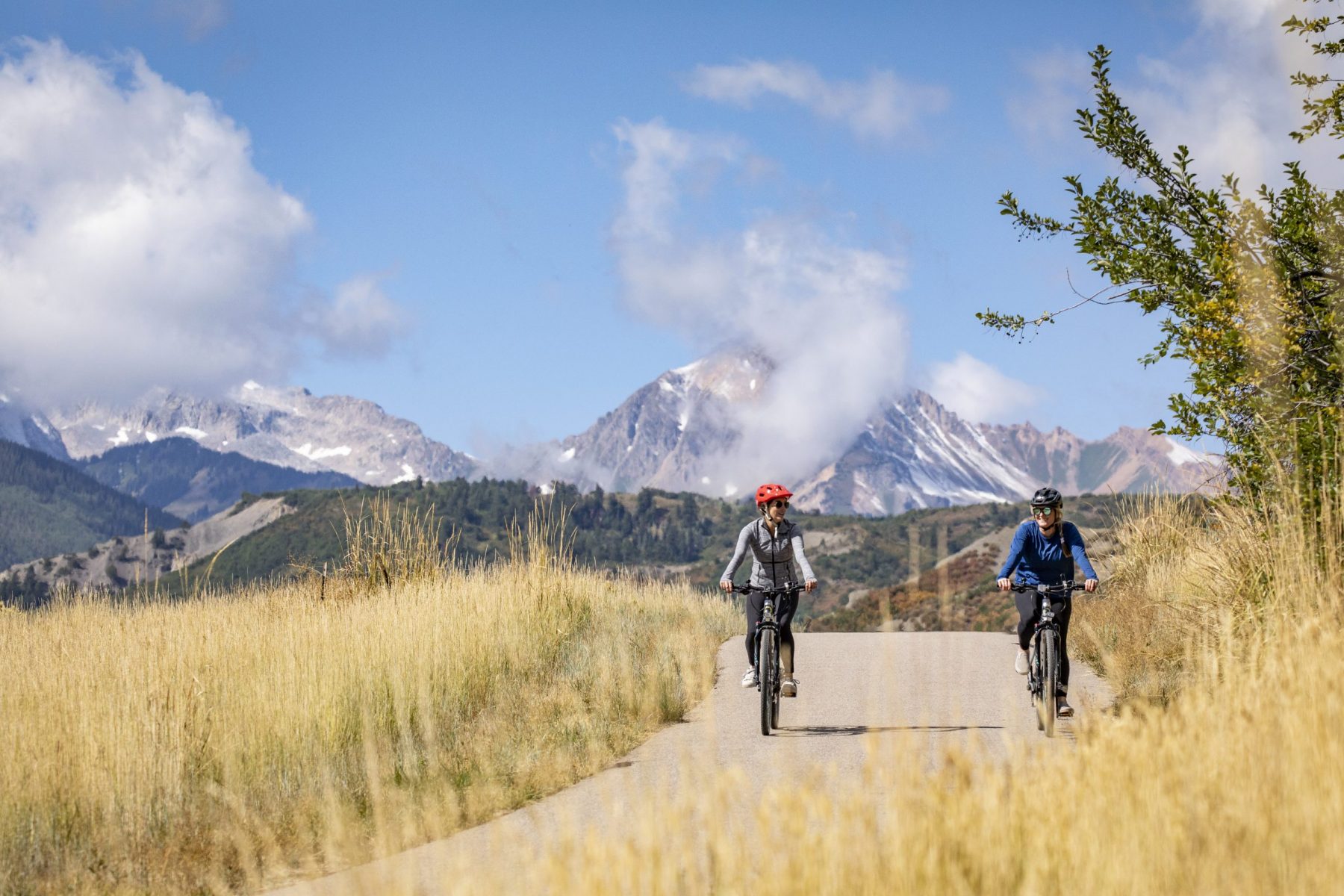 If conditions permit, the trails in the Snowmass Bike Park will open. This as well as the hiking trails. There will be also some food and beverage open.
The gondola will work from 10 a.m. till 5 p.m. and the Elk Camp Chairlift from 10.30 a.m. till 4 p.m.
Snowmass will operate until September 7 and weekends till October 4.
The resort asks you to buy all summer activities online 72 hours in advance. You will receive your tickets at your hotel. Summer activities will be online starting June 10.
Passholder Week will spread to the entire summer. Those eligible 2019-20 Aspen Snowmass passholders will receive the following:
1 free Lost Forest Base access

50% off one Lost Forest Treeline ticket

50% of one full-day downhill bike rental

50% of one Intro to Downhill Clinic

50% off one Downhill Skills Clinic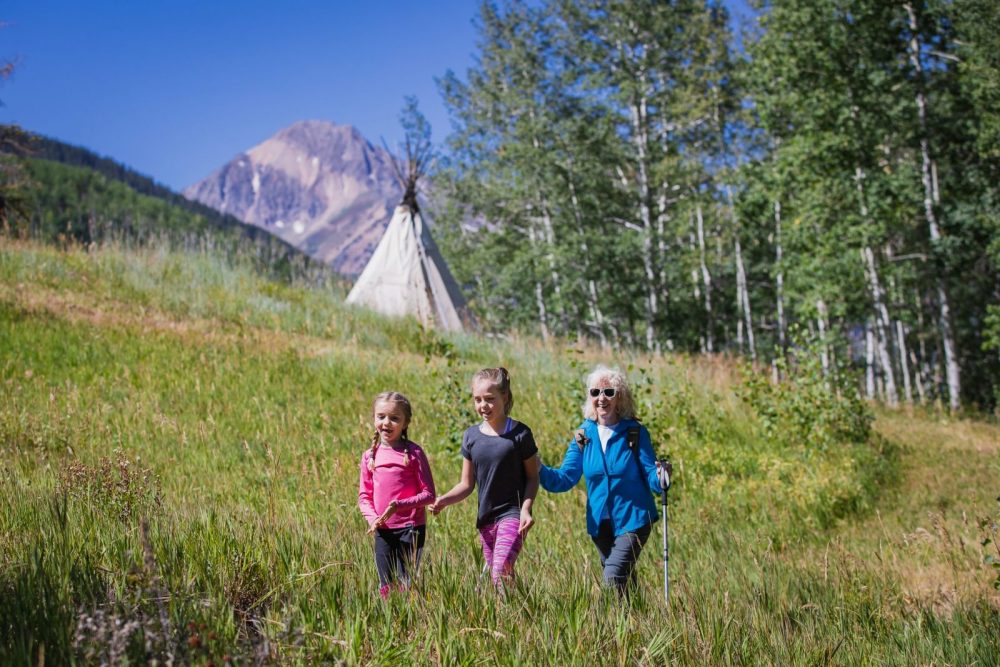 Where to Stay in Aspen Snowmass
Stay at this amazing house with pond if you have a big family travelling with you or group of friends.
If you want to splash your pay-check, this is the pad to rent. With five double beds, amazing décor and views to the river, mountains and pond, this is a spectacular spot!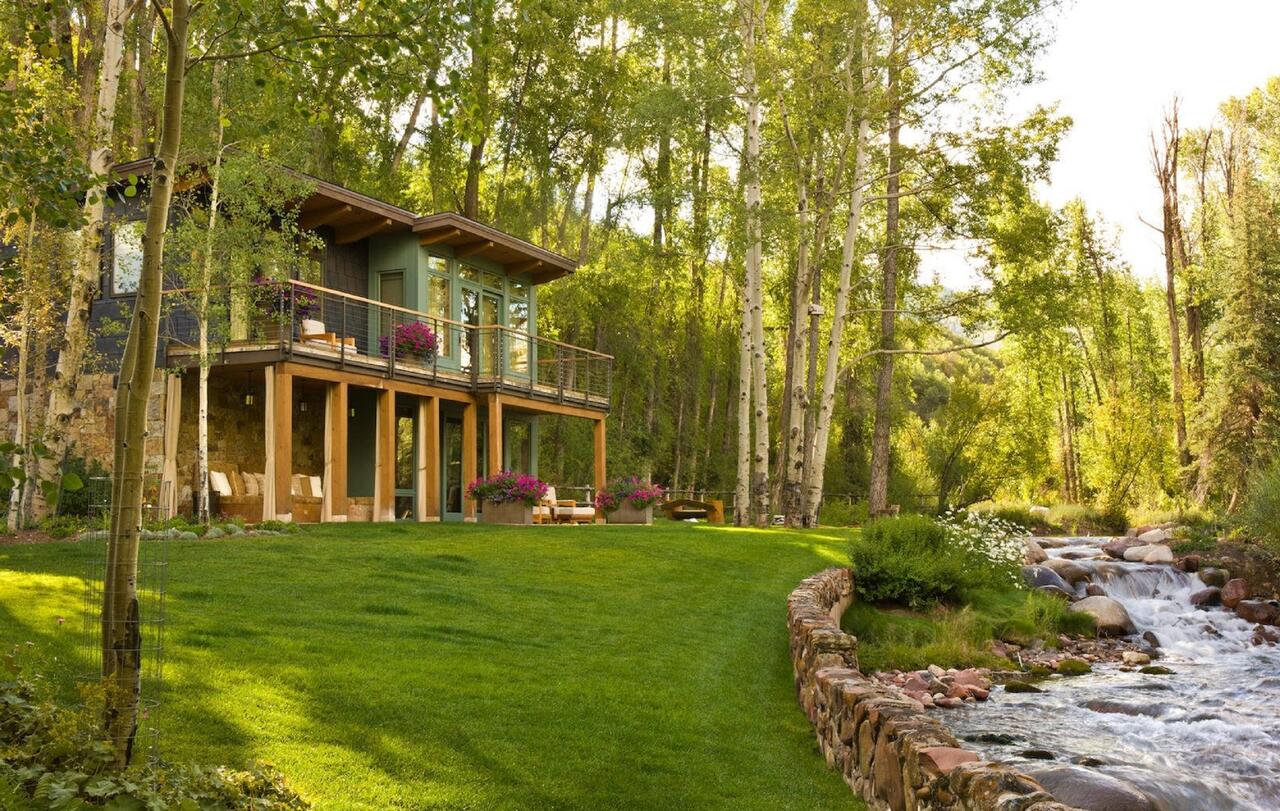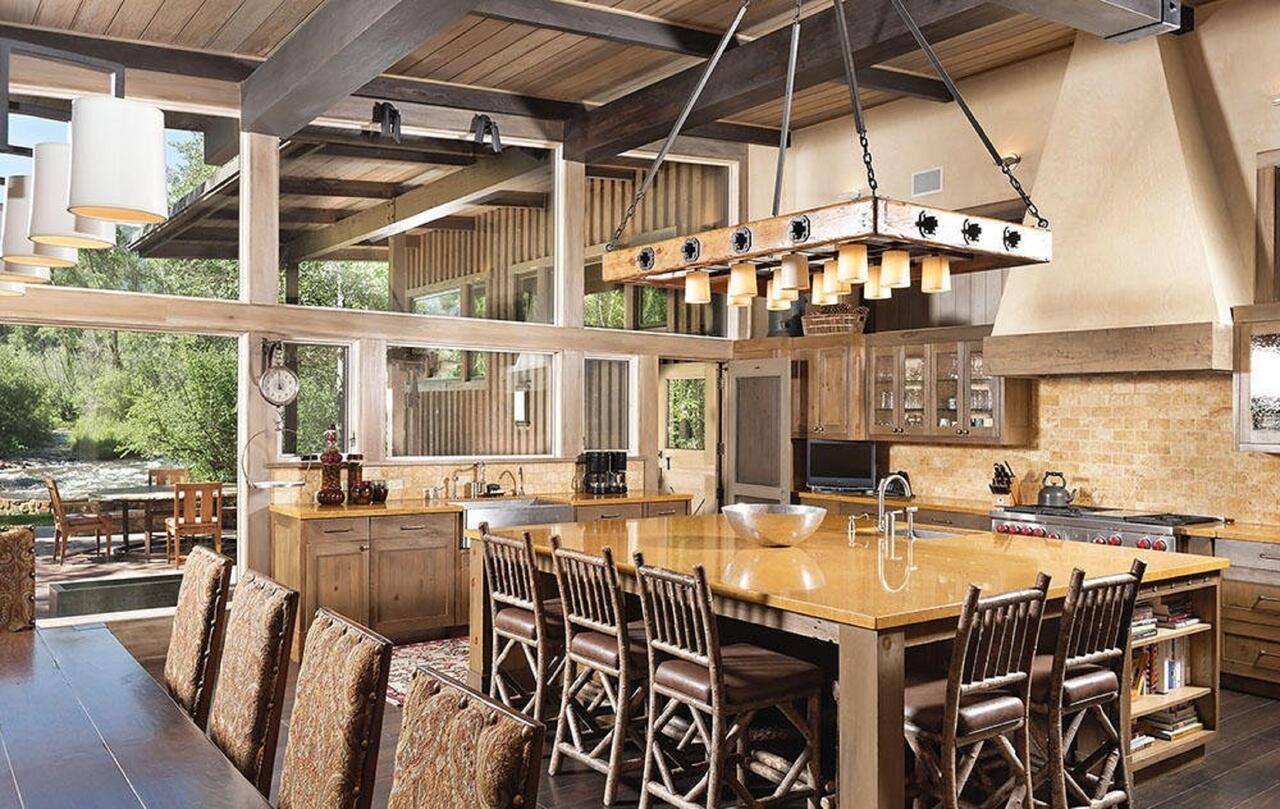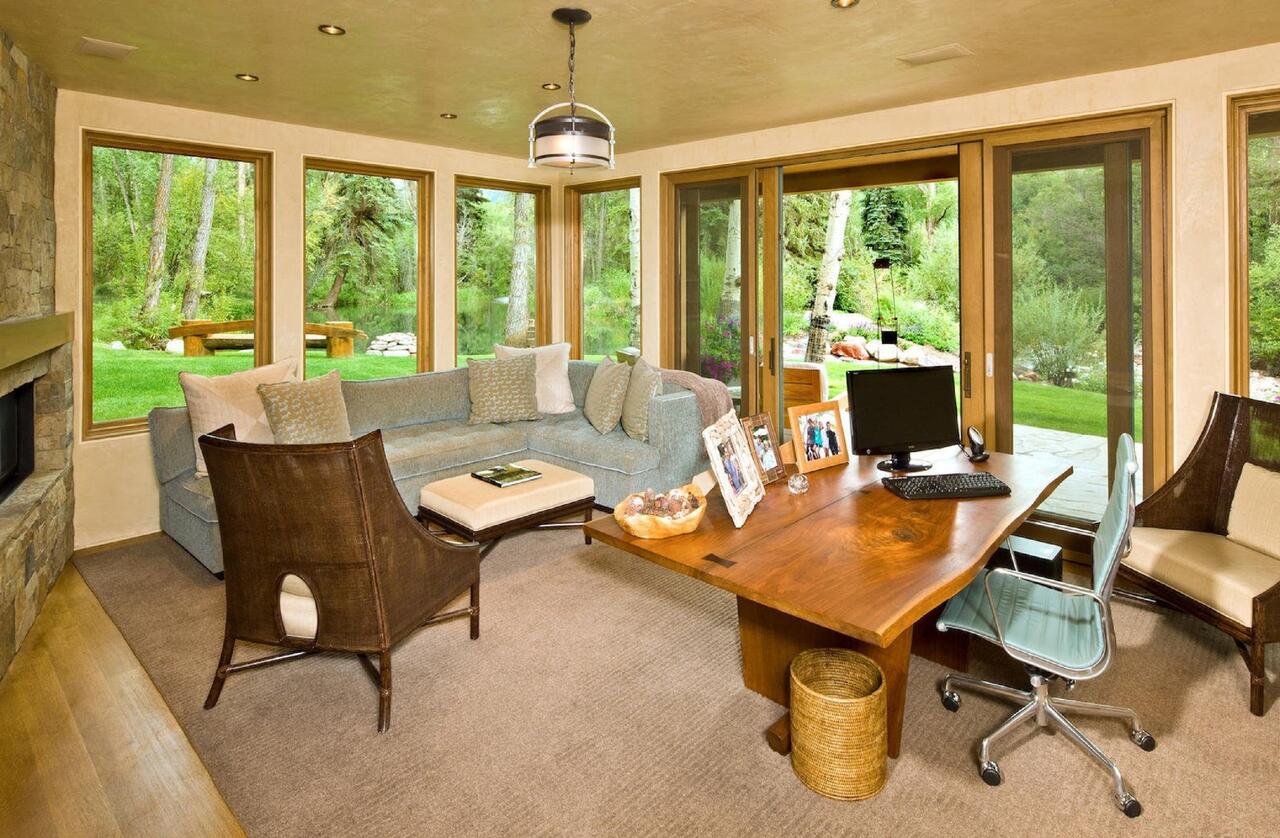 For a more normal stay in a hotel, I would definitely recommend the St Regis. Right in the middle of town, at the base of Aspen Mountain. The St Regis is a beautiful hotel with all services you can expect of the St Regis chain.
It has different restaurants and bars- in the summer the pool bar opens. I had the luck to stay there when I was pretty young , thanks to my boss inviting to stay with her. I was chaperoning a group of Brazilian kids studying English and skiing in Aspen. You can imagine how much studying there was! When she offered me to stay in her room as she had two beds, I jumped at the idea! The next day I received a fax telling me off for leaving the teenagers alone in their lodge… Yikes!
At the time I was working at Skico, I remember its furnishings were all done by Ralph Lauren and costed a bomb! But they were very tasteful, I have to say.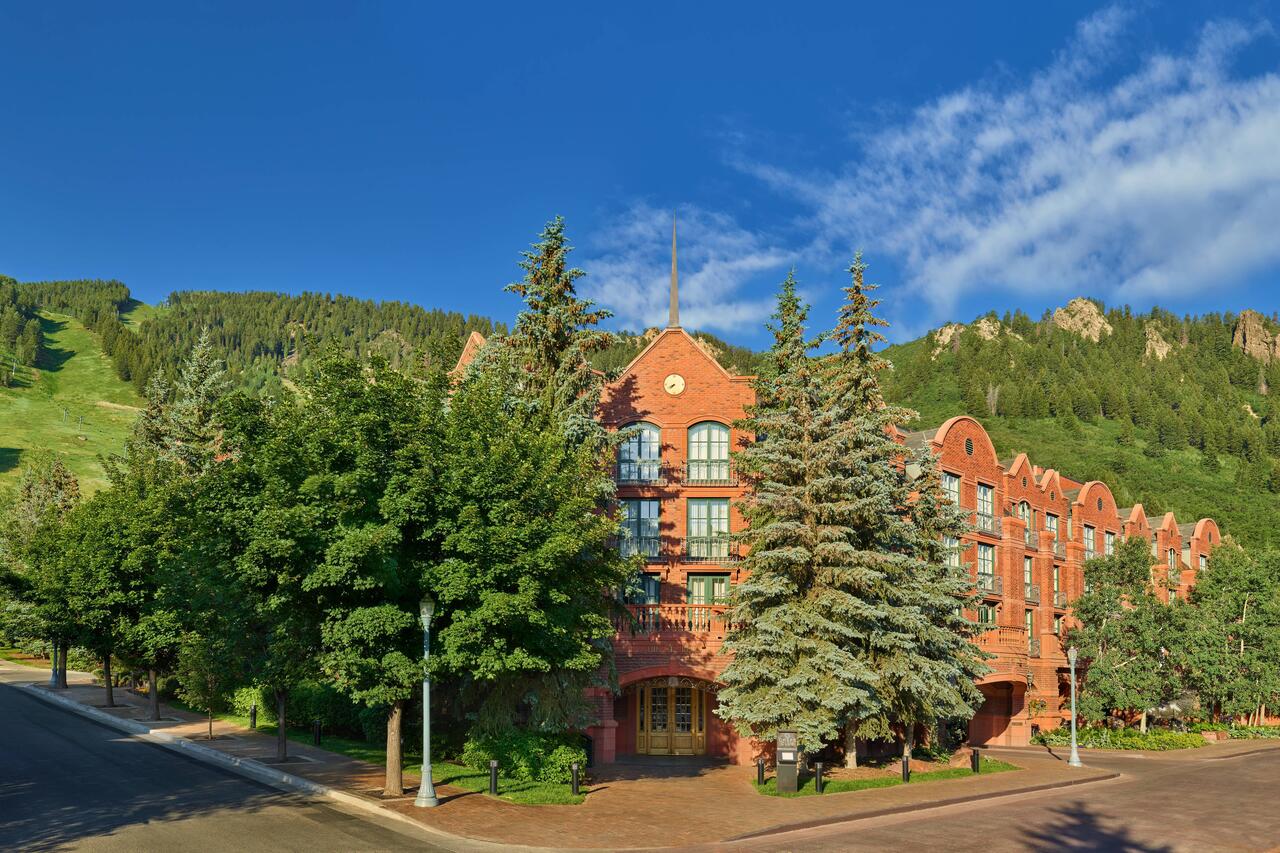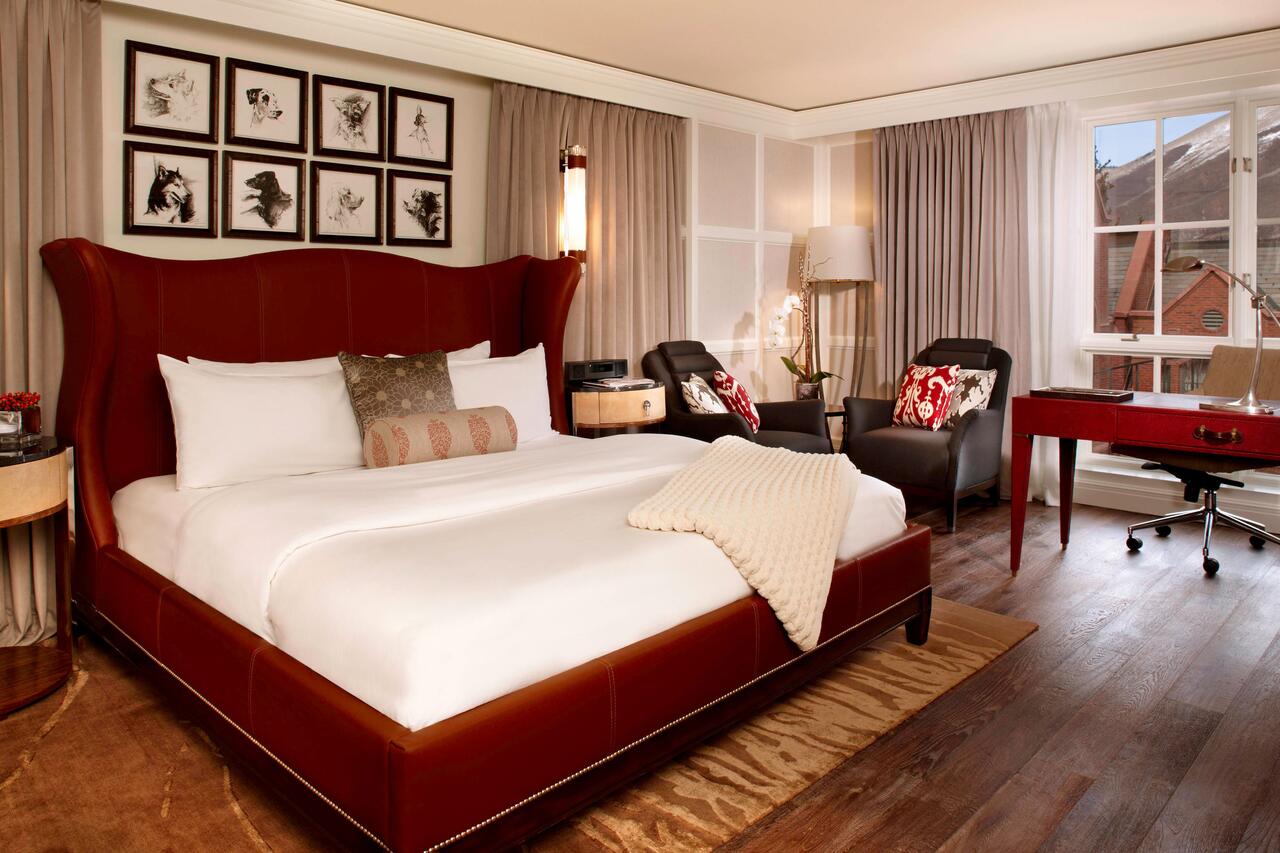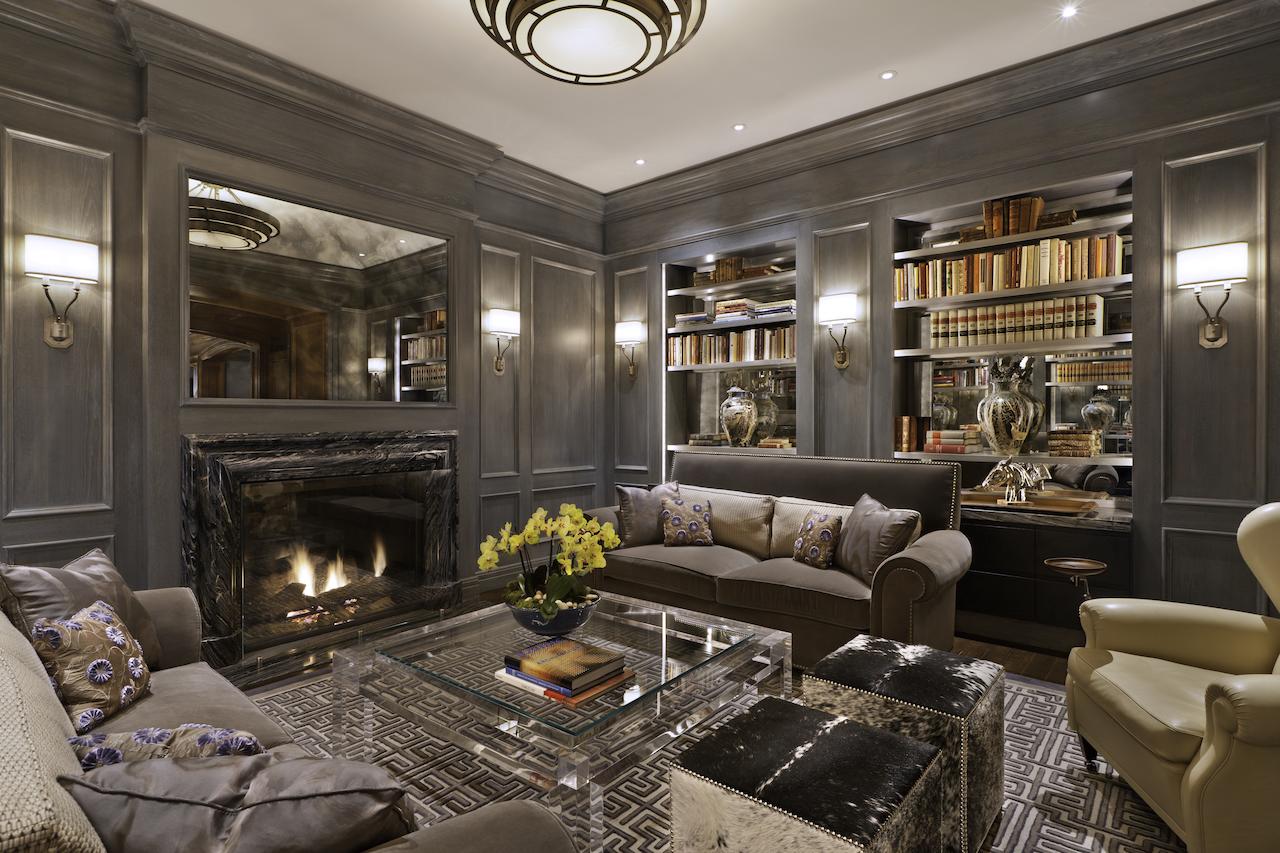 A favourite for a long time, people that come, keep on coming. Great condominiums well placed near the base of Aspen Mountain. What I like of these condominiums is that they are 5′ walk from the lifts.
The condominiums have proper kitchens and fireplaces.. There are outside pools, tennis courts, and a fitness center.
Also a bar serves breakfast and lunch and some cocktails.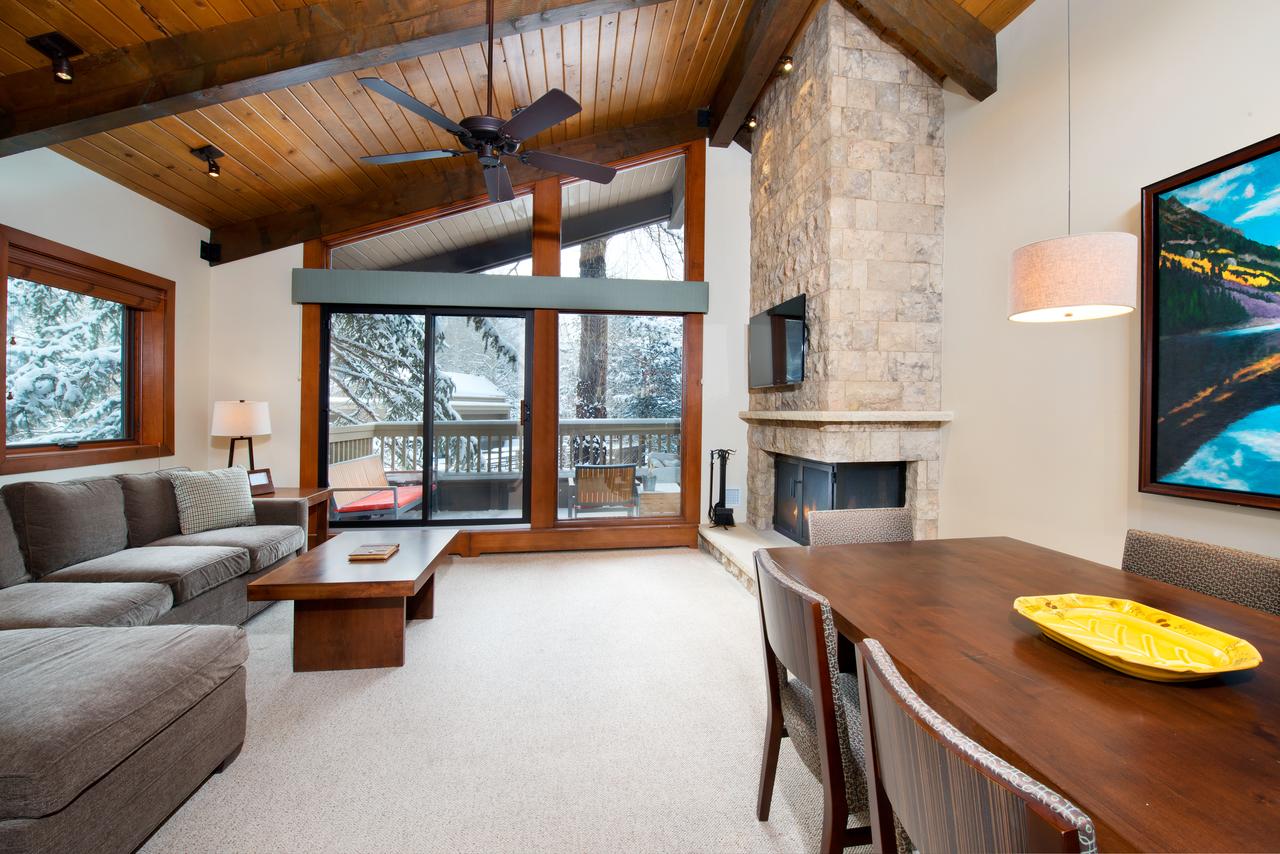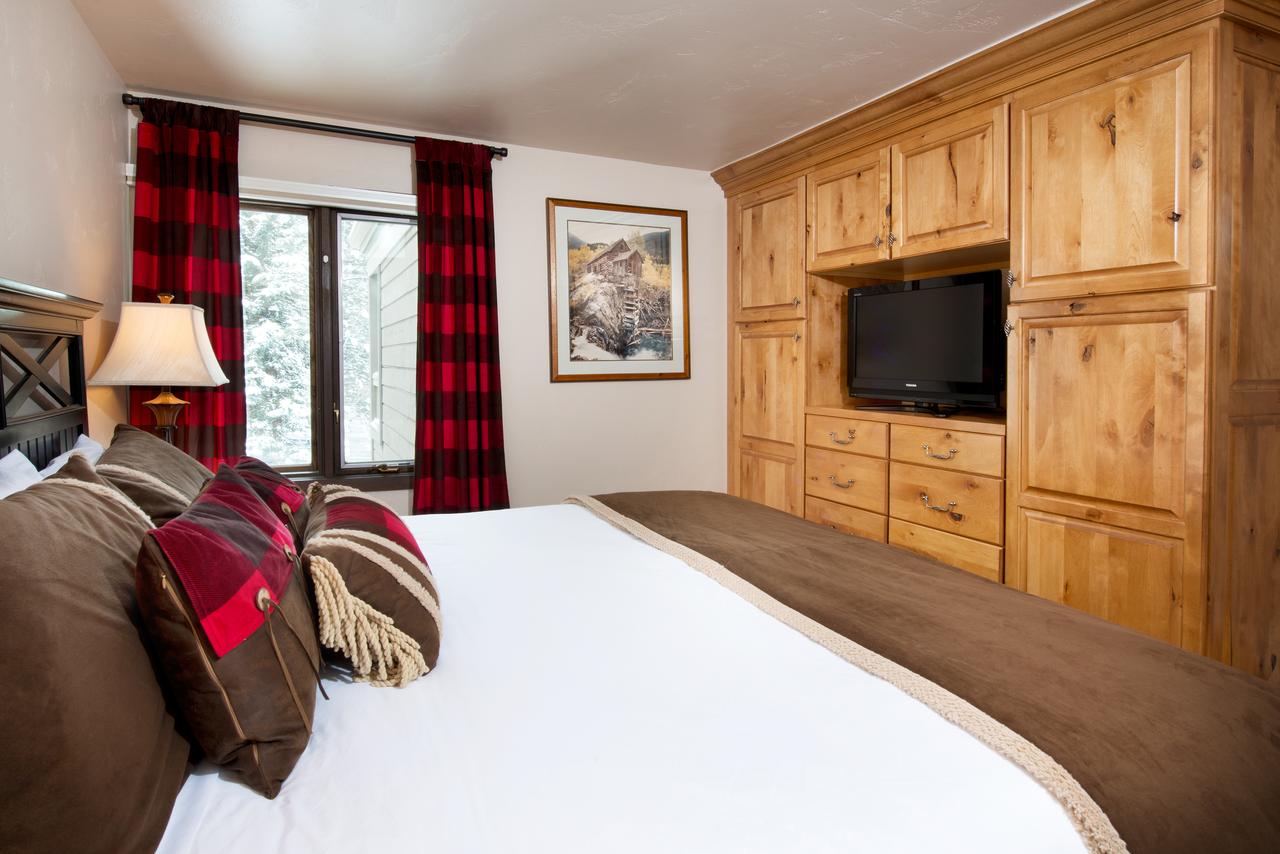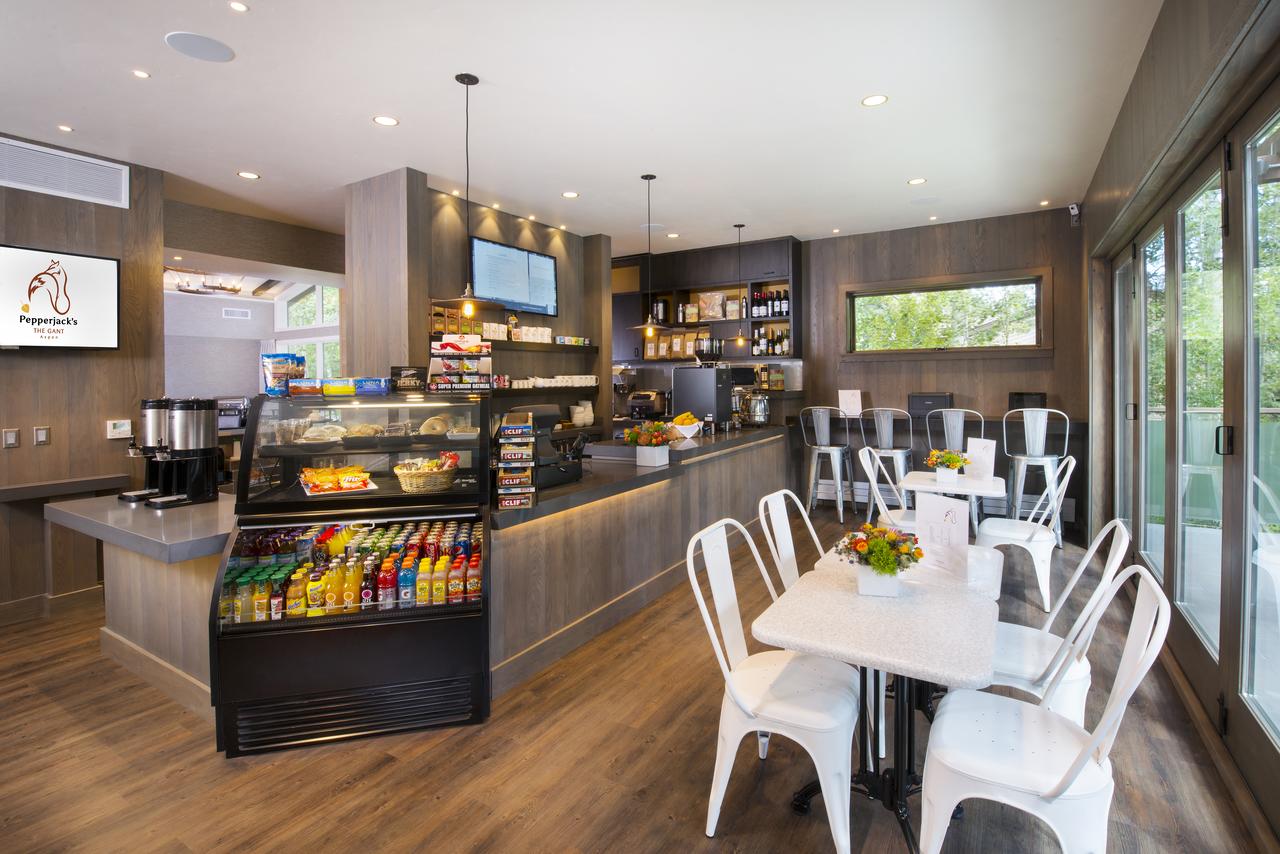 These are a series of condominiums in the top of Snowmass Village, surrounded by forests. When I used to work for Skico, many moons ago, these were my favourite. All condominiums have different décor, depending their owners. But I've thought they were all lovely decorated.
The property has an outside heated pool, two hot tubs and a fitness centre. Properties have fireplaces, fully-equipped kitchens and balconies.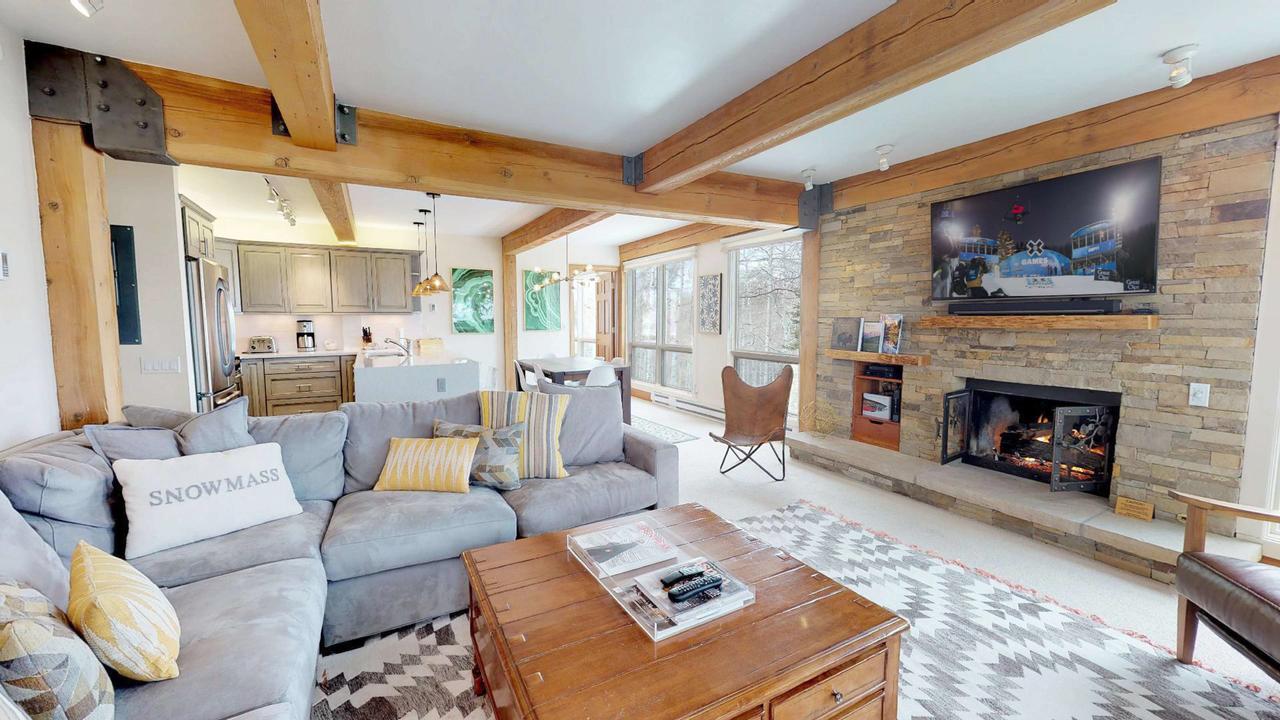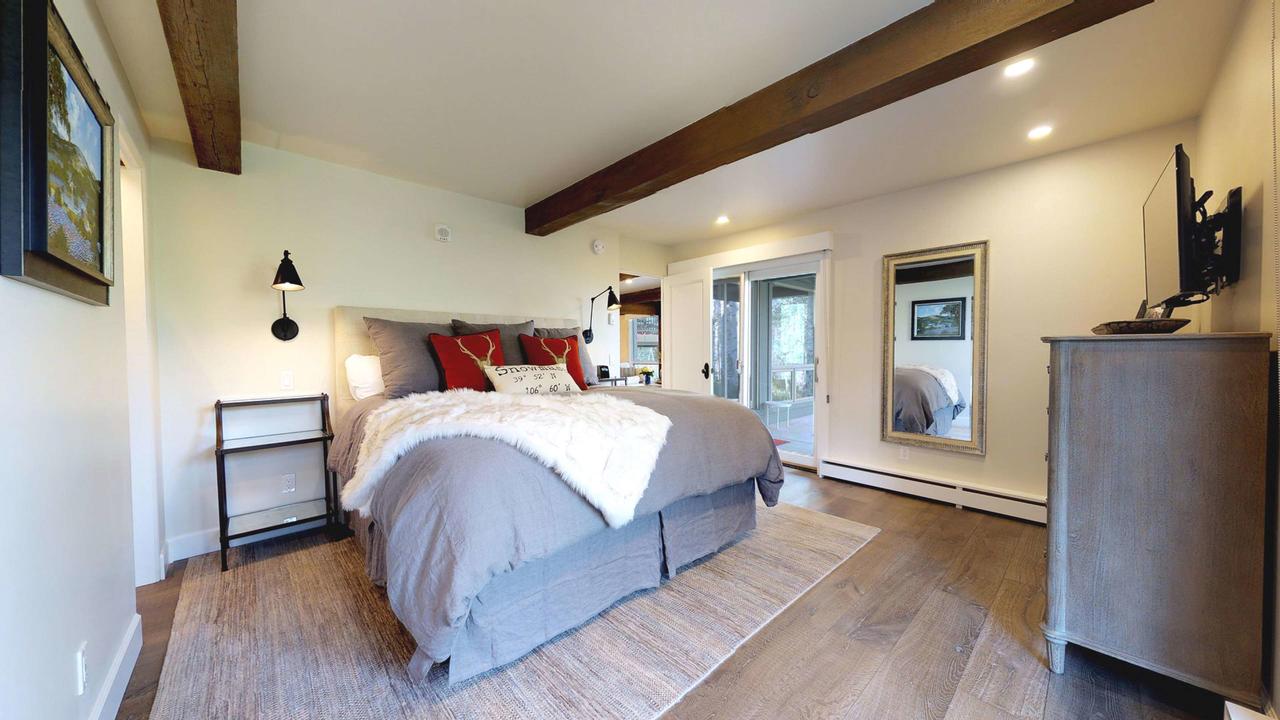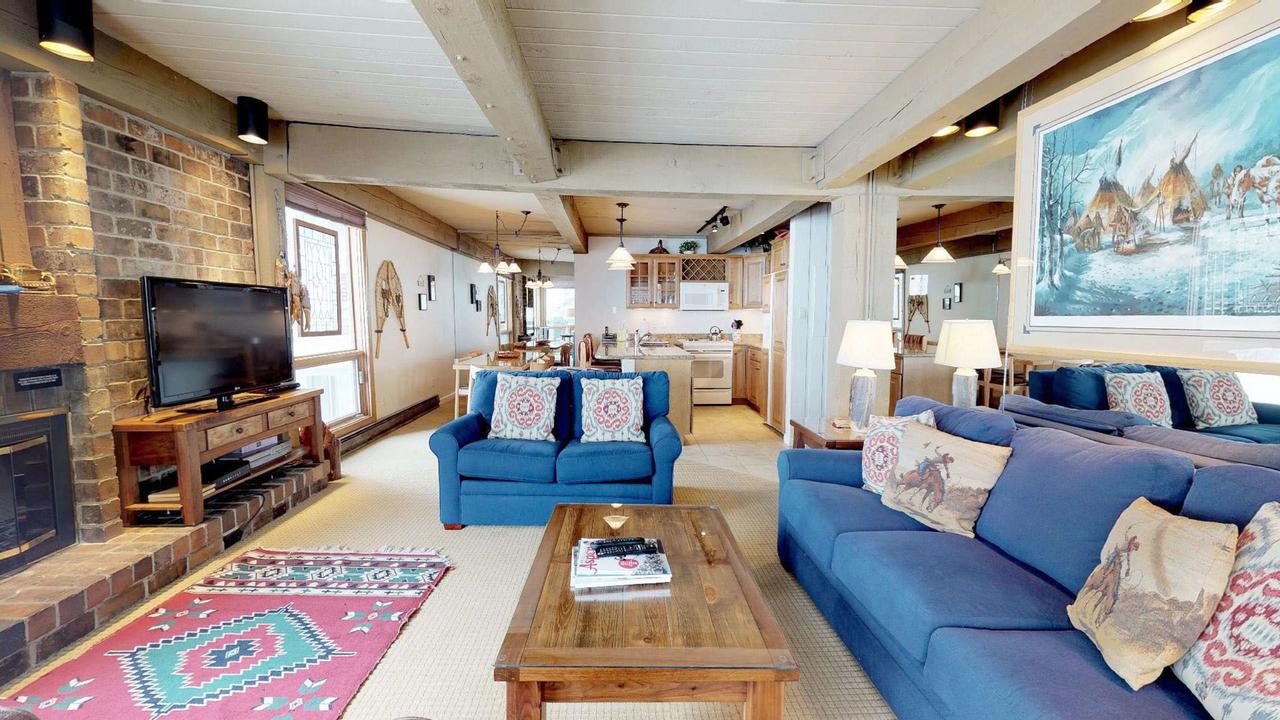 You can search for your own accommodation in the snow for your next ski holiday through our Accommodation Search tab. Or if looking to stay in the heart of the Mont Blanc Valley in the Aosta Valley, check Il Coure della Valdigne review here. This is our own family home in the mountains, that I am renting out when not using, you can always write me a private message if interested to info@the-ski-guru.com
You can book directly through Airbnb  through this link
If you want to take your family skiing and you don't know where to start, read here. And search for your ski transfers from all airports to the Mountains here. And for those that are like me, that are lazy to cook, you can get your food, even gourmet mountain food delivered to your home with Huski.
If renting equipment (skis or snowboards)  check our agreement with Skiset– you can get up to 50% off ski or snowboard rental rates. I have been using them for years every year when I go to America  and Europe and they are great!
You can start thinking about your trip, by reading the articles on the Planning your Ski Trip tab.  Or how to pack for your family ski trip.  If taking your furry friend abroad to the continent, read about the new Pet Travel Scheme update from DEFRA. Self-drive skiers also need to plan for Brexit. Check out our tips for driving to the mountains.  If flying and renting a car in Europe, beware of the extra charges they will pass to you if you want winter tyres, snow chains or ski racks. If driving, check the winter tyres news for Europe and North America. You can see how our last family ski holiday was not as expected, even though one plans it to be a success, but how we could do the most of it. If you want to get better before getting to your next ski holiday, here is a quick guide to indoor skiing and dry slopes in the UK. You can also read our week in the mountains during our summer holidays in Courmayeur.
Featured Image: A family enjoying the outdoors in Aspen Mountain. Copyright: Aspen Skiing Company. Aspen Snowmass is opening for the Summer Season. 
Please follow and like us: