Roces Kids Ski Boots is the greatest idea for growing kids feet, that can help parents decide investing in a good pair of boots for them.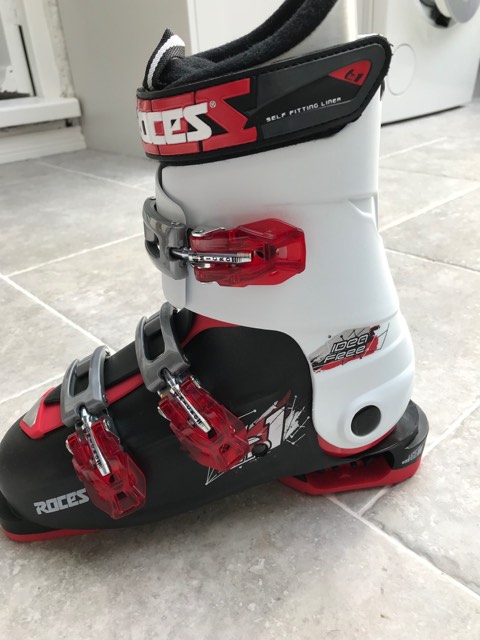 When I've read about this product I've thought it was so great, that I NEEDED to buy them for my two boys. I bought the Idea UP and Idea FREE models.
The Idea UP has 2 buckles and the Idea FREE has three buckles and a strap. The great thing is that both have six foot sizes in one boot! It is very easy to make the boot smaller, as the shell contracts, making a longer heel (which is the part that fits into the binding).
So buying these boots, you can afford to buy also skis and put the bindings in one position, knowing that for some seasons you will not have to mount bindings again!
Here are the specifications from the manufacturer:
"The new line is coming with three different models. The IDEA UP covers sizes from 16.0 to 18.5 MP and sizes from 19.0 to 22.0 MP while the new charming IDEA FREE covers sizes from 22.5 to 25.5 MP.
These three items correspond to three new lines differentiated under the closure system standpoint.
The IDEA UP 16.0-18.5 is a single buckled traditional construction shelled boot, while the IDEA UP 19.0-22.0 is a new two buckled boot provided with a special water shell sealing layer. IDEA FREE 22.5-25.5 is the new three buckled and cuff Velcro strapped boot, provided with a special water shell-sealing layer
Inspirational Design:
The new three lines are differentiated also under the inspiration standpoint and the design guidelines were inspired by freeride, freestyle and backcountry.
New Design in Long Tested Lasts
The lasts have been tested for years and proved to be comfortable and very well accepted by all foot anatomies.
Improved Flex Index
Lot of research efforts were put on bettering the flex index and the achievement is now confirmed from a fruitful cooperation with ski instructors, ski schools and ski clubs.
Save the Natural Foot Heat
The new warmer and anatomically padded liner has been aesthetically improved. On one side it saves the natural heat produced by the foot while skiing while, on the other, the liner is able to keep the foot warm also during breaks.
Self-settling shell wrap
Designed and studied to improve the ankle-foot wrapping and the progressive flexure, placed in between the frontal shell overlapping it enhances the comfort and snow-stopping guarantee of the special layer.
Total Protection
All the new line is provided with a special water shell-sealing layer that proves to be an effective barrier against water and snow. If the first generation of IDEA proved to be 100% water protective, the new one is still 100% protective with the additional guarantee of the special layer."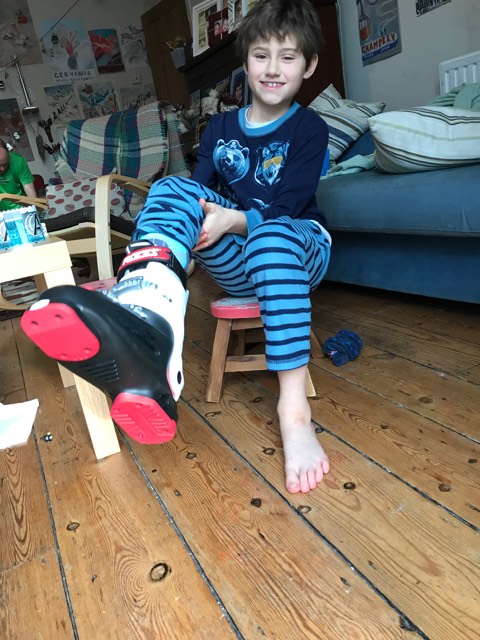 These boots were designed by an outsider of the ski industry, ROCES, that is a big name in in-line skating, and already deals with growing kids feet in those skates, and they are still the only company developing boots for kids and solving parents dilemmas of not purchasing ski boots for the youngsters as their feet will be growing from season to season.
Can't wait to try them this season with my boys!
For more information on ROCES go and check the Amazon website.
Roces Idea Free 22.5 – 25.5 Children's Ski Boots Children's Adjustable, Children's, IDEA FREE 22.5-25.5, white-Red-Black, UK 4-8
Roces Idea, Ski Boots Unisex Children, Idea, Black/White/Red
for the smaller numbers.
If in the USA check below:
Roces IDEA Free Adjustable Ski Boot Black-Lime Green 22.5-25.5
Roces 16.0-18.5 IDEA Up Adjustable Ski Boots – White Red Black
for the smallest boot.
You can search for your own accommodation in the snow for your next ski holiday through our Accommodation Search tab.
The-Ski-Guru TRAVEL is a CONCIERGE service that can help you organise your bespoke ski trip to the Americas, Alps or Japan, including for those going from Britain to Europe, helping you book your Eurotunnel trip, and for all trips: lodging, lift tickets, rentals, ski school, and all you need for an excellent vacation. Go to https://www.the-ski-guru.com/travel and upload your information – this page will be updated soon with more travel ideas. Check our amazing Ski Safari in the Dolomites , stay at the San Lorenzo Lodge White Deer in the Val Pusteria of Sudtirol, in the Hotel Petrus in Riscone, for skiing Kronplatz, or check our offer to Obergurgl-Hochgurgl and Sölden to ski with your family. Maybe you want to come on my group to ski with other like-minded skiers in Courmayeur in January 2020, staying at the Gran Baita hotel?
You can start thinking about your trip, by reading the articles on the Planning your Ski Trip tab.  Or how to pack for your family ski trip.  If taking your furry friend abroad to the continent, read about the new Pet Travel Scheme update from DEFRA. Self-drive skiers also need to plan for Brexit. Check out our tips for driving to the mountains.  If flying and renting a car in Europe, beware of the extra charges they will pass to you if you want winter tyres, snow chains or ski racks. If driving, check the winter tyres news for Europe and North America. You can see how our last family ski holiday was not as expected, even though one plans it to be a success, but how we could do the most of it. If you want to get better before getting to your next ski holiday, here is a quick guide to indoor skiing and dry slopes in the UK. You can also read our week in the mountains during our summer holidays in Courmayeur.
Please follow and like us: