Mountain Travel Symposium 2019 in Whistler – a recap.
Just came a couple of weeks ago from the Mountain Travel Symposium, an event I have been working for the past six years and which I enjoy every moment of it. I noticed however, that as I am getting old, it is taking me longer to feel back human again.
The Mountain Travel Symposium (MTS for short) is not a sprint, definitely is a marathon – An event that lasts one week and for me makes me be twelve days away from home from my husband and kids. MTS is the largest mountain and ski gathering of suppliers from all over the world – ski resorts, hoteliers and service providers, with tour operators that sell skiing, also from all over the world, and ski clubs and ski councils from the USA and Canada, that travel internationally.
I am in charge of the international market and on widening the international attendees year on year. This is a part-time, but yearlong job for me. Now I have a couple of weeks to get ready and close all things from this past event before we open the early bird registration for MTS 2020. MTS 2020 will be in Squaw Valley, at the Resort of Squaw Creek, in North Lake Tahoe, CA, USA from March 29 – April 4, 2020. In May we'll be opening registration, with the best rates available for one month only. Then rates go up four times during the year, so whoever can register early, get rates that are USD 800 cheaper than the last published rates!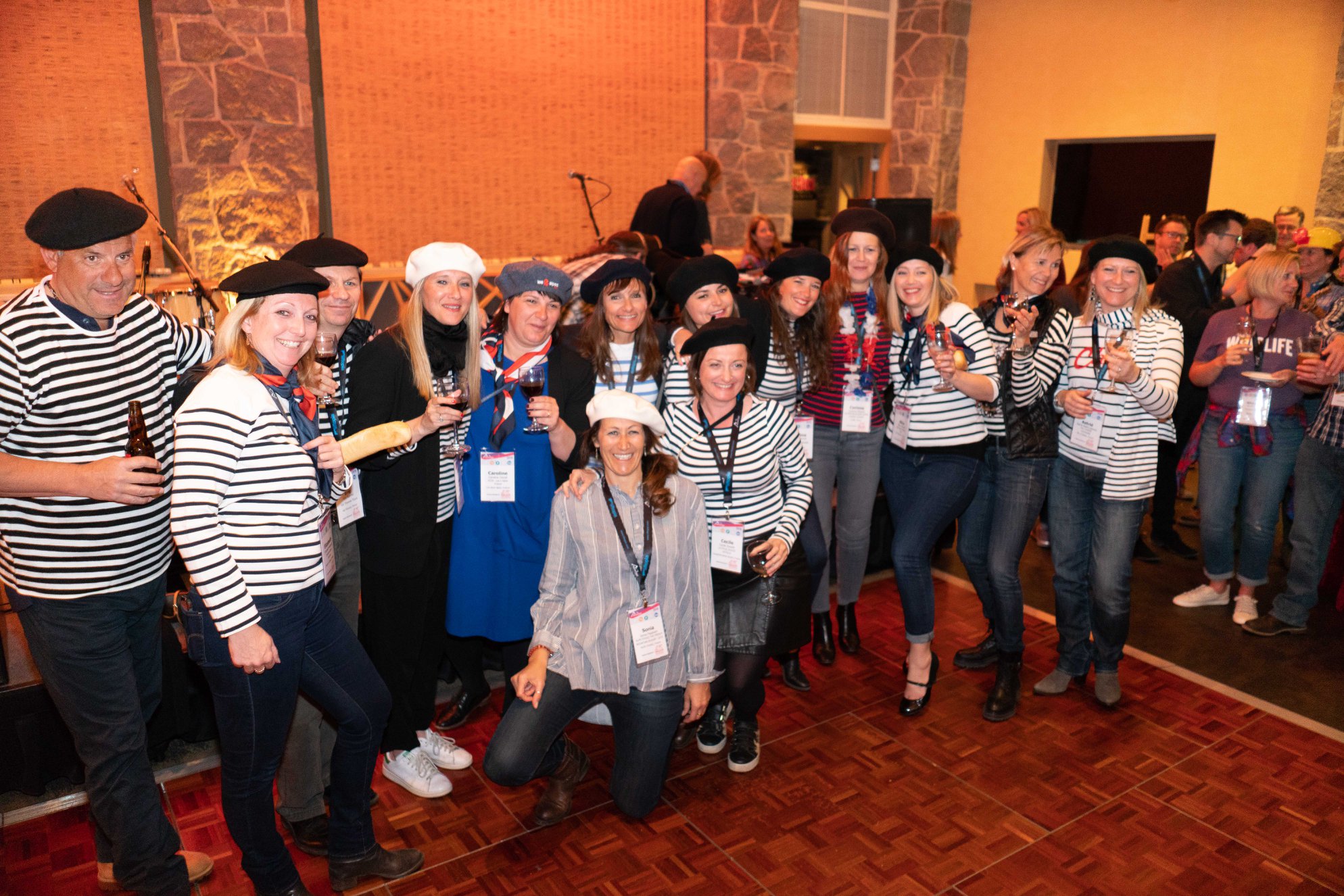 But, getting back to MTS 2019, the event was in Whistler, BC. Canada. We have been In Whistler also in 2015, but the event took the Fairmont in Blackcomb. This year the event was at the Whistler Village Conference Center. I was an attendee at MTS being at the same place in 2002, when I was having my own incoming tour operator Ski Patagonia, where I was selling trips to Argentina and Chile.
Whistler is a great destination, a fun village and two great mountains, connected with a Peak2Peak gondola- with the longest unsupported cable between the peaks of Whistler and Blackcomb mountains. The destination has (or used to have, not sure if someone in North America has gained the title lately), the longest vertical drop in a ski mountain. Plus Blackcomb has a glacier on top and snow there usually is superb! The village is a bit like Disney – one of those villages built by Intrawest, but it serves it purpose and is pretty compact, so everything is nearby. There are lots of great restaurants, bars and shops nearby. And the mountains are very beautiful – I believe that they look as nice as in Europe.
Whistler had lots of snow in the beginning of the season but not more afterwards- still with good grooming the mountain was in good shape – obviously better on the top – The mountains in the West Coast of British Columbia start from the ocean pretty much, so the elevation is not that high.
I always go to the destination of MTS's nearest town a couple of nights before I go up to the resort. This is to try to mitigate with the jetlag – being almost 50, it is starting to affect me more with age! I also meet some of the delegates beforehand and we go and see around together and have dinner in new and exciting places. I've went to the Fairmont Pacific Rim, a lovely modern hotel by the water. My room had lovely views and it was divine – I did not want to go out of the hotel almost! The spa was very nice, had the chance to have a massage there, and hang out in the outdoor hot tub. My knee is still not good after my MCL got hurt – now it looks the MCL is good but my muscles around the knee are very tense.
I met with Ester of Grandvalira (the largest resort in Andorra) and we had sushi at the Fairmont's bar, something light as we were both exhausted after travelling from Europe. The next mid-morning we met for a walk around the Stanley Park. It is an 8 km walk about the peninsula, with lovely views of the city and the ocean.
That night we met with the girls of Val di Sole and Val di Fassa, and a couple of their friends for dinner at Cardero's by the water. It has a lovely ambiance and this fish restaurant has great food too.
On Friday I took the Whistler Connection van up to Whistler, we were whisked up the resort in no time. I was staying with many of the buyers at the Hilton, in the base of Whistler Village. That night I went out with Sharon of ISSTA, tour operator from Israel to have dinner in Araxi. As it was very full, we had an early dinner at 5.30. The octopus was amazing! Araxi is one of the top restaurants in Whistler, so it was worth the early dinner.
Saturday started and I just went to say hello at the Conference Center to the team, and it was my free day to go skiing before work begins – I took my time to get my lift ticket, get my rentals and get up the Whistler gondola to the top of Whistler Village. The day was amazing, blue bird ski, but as soon as I arrived at the top, the light was a bit flat. Adding this  to that it took me 10 minutes to step into my rental skis binding (as I had no strength in my knee to step into it), I went skiing being very mindful of the skiers and boarders traffic. It was Sunday and it was pretty busy, end of Spring Break. Obviously, it does not compare to half term in the Alps (nothing compares to that!), but it was very busy for a nervous skier getting back in the slopes. When I've stopped to have a coffee and go to the bathroom, I've decided I better be careful with my knee and just went down. I've heard the snow was pretty slush going down, so I think that I made a wise decision by taking the gondola and quit early.
That night I reserved a restaurant – Il Caminetto, in Whistler Village for a big group of buyers and suppliers, in order to introduce some newcomers to MTS before the event started. I was asked to put my credit card to reserve it and I've started to be a bit afraid that some of the delegates would not come – as some thought the price to b e a bit on the expensive side. The fact is that Whistler is not cheap – the exchange is good for us in Europe, but the numbers are still expensive. Whistler rates have gone up the last years, as per some locals I've ride the gondola down with. This is since Vail Resorts bought the resort.  Another thing that made me nervous was that many of the people coming to have dinner, were arriving that day, so they might have been very tired! We had a big table in a separated room, and I was happy that everyone that confirmed came, and my Amex was not charged a massive bill!
It was lovely, we were all tired, but I think this helps breaking the ice before the event starts. We have more than 1000 attendees at MTS and that makes it a bit daunting to some attendees.
Sunday morning, I needed to be early and be all day at the registration area to say hello to old and new attendees. It is lovely to see the same people year on year, and also, I love getting new people to come! The day passed very quickly, with an induction for new attendees at 3.30 PM followed up by a cocktail for new attendees and another cocktail for International attendees. These smaller settings are great to introduce people around. Many of the delegates, however, are skiing on the mountain, and having a great day, more this time that the weather was awesome, so did not appear until late.
There is a big reception for all MTS attendees in the evening and all is set to start a very long and fun week.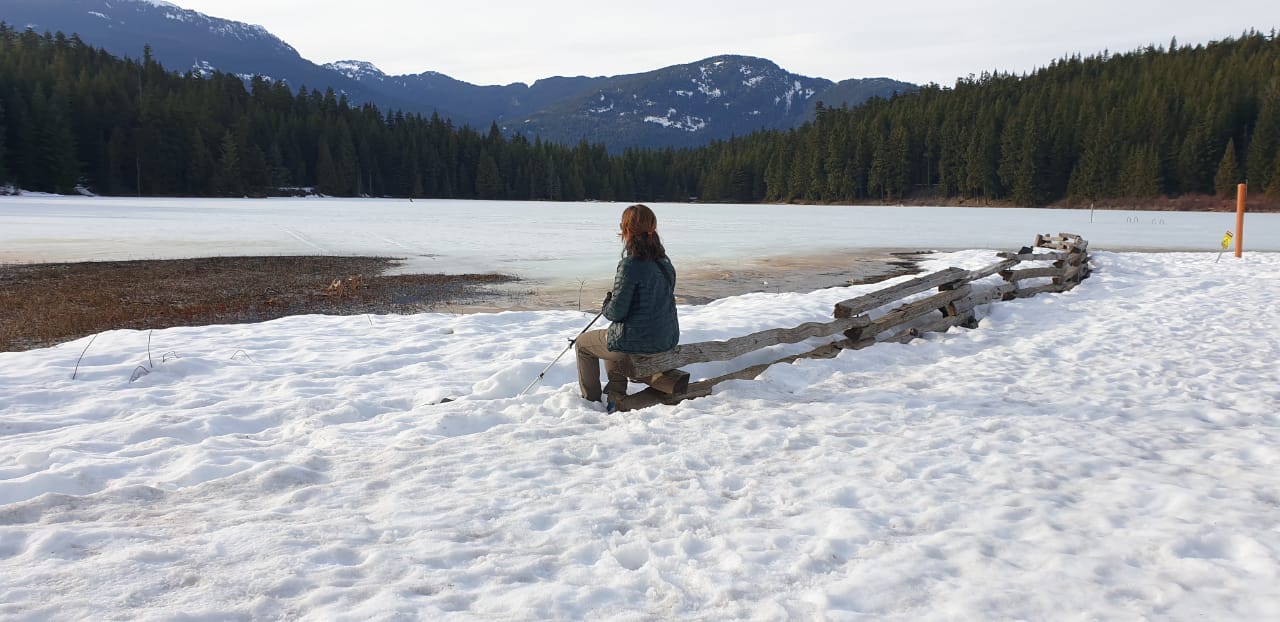 Monday the event starts early after a breakfast served at the Conference Center. I love to see the different tables, many of the attendees sit down by country. I like to alternate where I sit each time. This year I have been a bit lazy and had cereal and coffee in the hotel room before going to the Conference Center, but had time still to go and have another coffee or an orange juice – you need your vitamin C at this event!
Sometimes delegates are a bit perplexed as on how MTS works- most of these kinds of fairs have the suppliers sitting down and the buyers going around. At MTS buyers sit down and suppliers run from meeting to meeting. Meetings go on for 12 minutes with 3 minutes to change tables. It is pretty manic. Delegates can have up to 48 meetings in two days of the Trade Exchange. This first Exchange is for tour operators sitting down and the suppliers going around. After the second day there is a closing party. All MTS parties are a bit occasion – they always have a theme and are pretty hilarious. I do believe that food tends to be better when the event is in Canada and the party's entertainment is better in the USA. At least that is what I believe and some other of the participants that come year after year. This year the party theme was 'Homecoming' so you were supposed to go dressed from your homeland – we had some Lederhose and Dirndl, plus the typical French beret and Breton t-shirts with the unmissable There were also lots of Silver Queens from Aspen. I and another Argentine buyer both went as 'gauchos'.
Wednesday is the day for the Forum, there are lots of exciting keynote speakers and workshops going on. It is the day also for those that want to go skiing. Weather was bad, it was raining a lot. After my fiasco trying to ski on the Saturday, I've decided to be a bit waterproof and go to Lost Lake. I went with my Nordic walking poles and decided to go on a long walk. Before going I've asked some local people at the information booth on the street if there were bears awake already. They did not think so, they say that they have not read anything on the news yet, and usually they are spotted at first on the golf courses. That did not leave me very confident, but off I went. I've passed through the beach and then went off walking. I' ve thought that going around the lake was a bit too short, so I've started doing some of the other paths. I finished being on the golf links and I've realised that I went around and round a bit.  I've seen something that looked like a bear paw, and thought I'd better make some noise with my poles! When I finished finally on the main path around the lake, I started to be more confident! After three hours I appeared by the Blackcomb parking lot and went back into Whistler Village. I was really wet by then. I've managed to take a shower and go to the Forum for the MTS Talks. These are five short talks by charismatic speakers that follow the format of the TED Talks.
That night there was a welcome of the Groups – ski clubs and ski councils from the USA and Canada at the Westin hotel. After being wined and dined, I've opted for an early night – the week still goes on and you need to reserve your energy.
The next day there was more going on at the Forum and Destinations@MTS started. This was a Forum within the Forum for Tourism Offices and CVBs. New this year there was also Vacation Rentals@MTS, as these are becoming a big player.  I took the day off and went to the spa of the Fairmont at Blackcomb. Four years ago, we stayed at the hotel, which is lovely – much nicer than the Hilton in my humble opinion. When you take a massage at the Fairmont, you can take advantage of the spa. I remember I used to wake up at 5 AM in the morning to go to the spa that year prior to going to the Conference Center, as the spa was so nice. The weather changed from being horrible to sunny and I could lay out on my swimsuit by the pool. Also, they have added some barrel saunas by the pools, so I've tried that while seeing outside the spring coming to the mountain. I've met the girls from Andorra later for a drink and we had dinner. We've tried Sushi Village for the fourth time to no avail, so we've finished at Il Caminetto again with some other delegates. We had a lovely time.
Friday was a full day with the Groups at the Group Exchange. Again, the ski clubs and councils are the buyers and they sit down, while the suppliers move from table to table. I think this system works better as the buyers are the 'sitting ducks' – so a smart supplier can be at the Exchange floor all the time and go around their prey, and when they see they have some time off, sit down and introduce themselves quickly – at least they can exchange cards and follow up later.
The US and Canadian ski clubs tend to be older in age than the European counterparts. But they are groups that travel, and the majority go internationally at least once a year. The international resorts can make lots of business here. To say a farewell there is a big cocktail at the end of the day, and we are all happy that this week is coming to an end.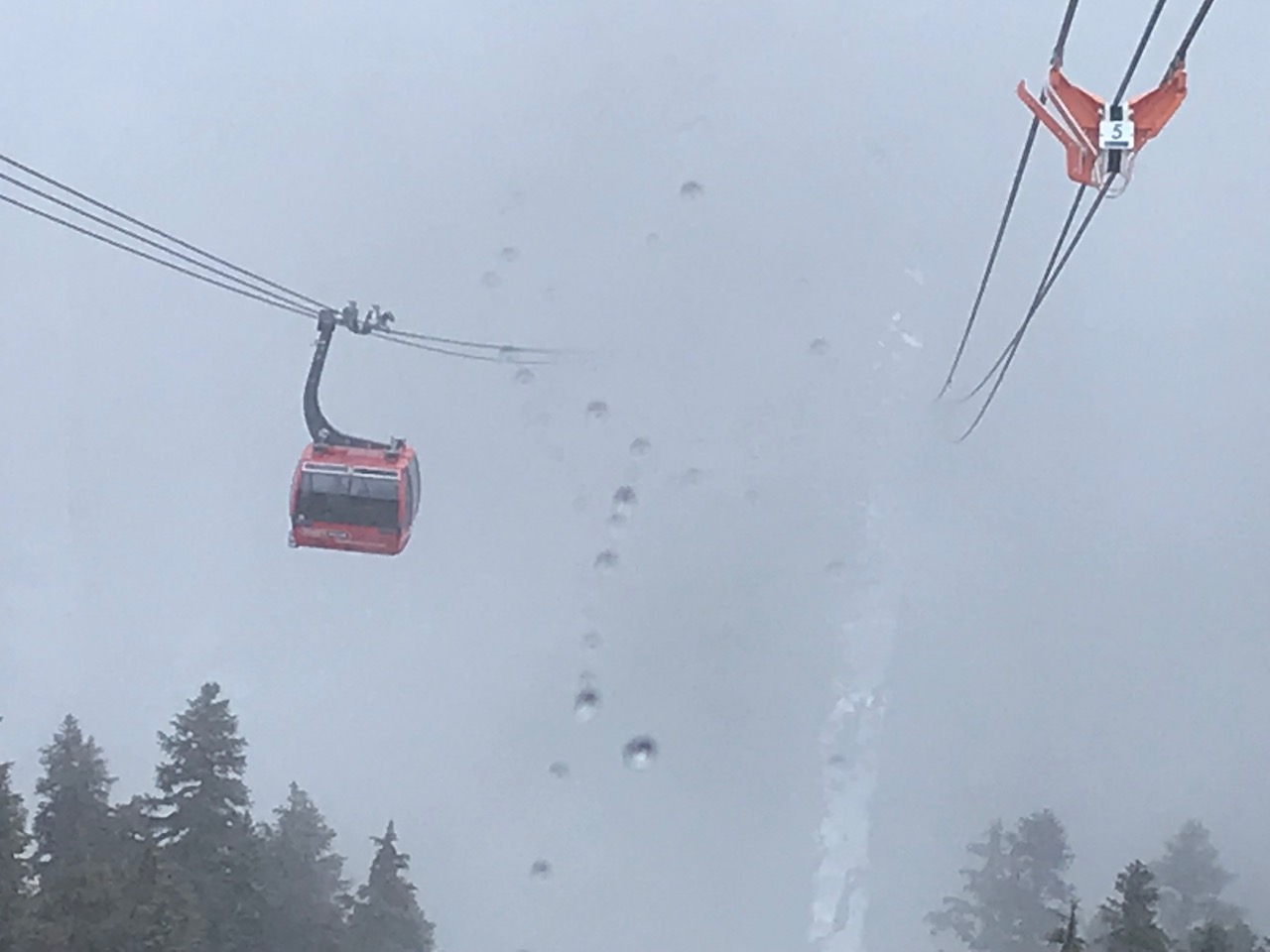 Come Saturday and some people stay to ski – there is also a picnic on top of the mountain, but I went to have some Sunday brunch at the Fairmont – it was as good as I've remembered it. Then I got ready to go back to Vancouver, as I was having a very early flight to London. I've stayed at the Fairmont at Vancouver Airport – very convenient, with views of the runway and you come down straight to the departures lounge.
The next morning I've left early to come back to London. It has been a trip of 12 nights away from home, I was really looking to go back. Then I needed two weeks to get rid of my jetlag again! Now I am ready to start all over again!
For those interested in coming to MTS please email me at mrouth@mtntrvl.com
More info: www.mtntrvl.com
Whistler has made some enhancements to create a better guest experience for this past season. One can still afford Whistler on a budget. You can read of last year's MTS (its 43rd in the row) here.
The-Ski-Guru TRAVEL can organise your bespoke ski trip to the Americas, Alps or Japan, including for those going from Britain to Europe, booking your Eurotunnel trip, and for all trips: lodging, lift tickets, rentals, ski school, and all you need for an excellent vacation. Go to https://www.the-ski-guru.com/travel and upload your information – this page will be updated soon with more travel ideas. Check our amazing Ski Safari in the Dolomites , stay at the San Lorenzo Lodge White Deer in the Val Pusteria of Sudtirol, in the Hotel Petrus in Riscone, for skiing Kronplatz, or check our offer to Obergurgl-Hochgurgl and Sölden to ski with your family. You can ski to have lunch in the Rifugio Sofie in Seceda, Val Gardena, in the Dolomites.
You can start thinking about your trip, by reading the articles on the Planning your Ski Trip tab.  Or how to pack for your family ski trip.  If taking your furry friend abroad to the continent, read about the new Pet Travel Scheme update from DEFRA. Self-drive skiers also need to plan for Brexit. Check out our tips for driving to the mountains.  If flying and renting a car in Europe, beware of the extra charges they will pass to you if you want winter tyres, snow chains or ski racks. If driving, check the winter tyres news for Europe and North America. You can see how our last family ski holiday was not as expected, even though one plans it to be a success, but how we could do the most of it.
Featured Image: Whistler was the site of MTS 2019. Mountain Travel Symposium 2019 in Whistler – a recap. Photo courtesy of MTS.
Please follow and like us: