For fanatics of Architecture, plan your multi-stop visit to Austria post Covid19
This article may contain affiliate/compensated links. For full information, please see our disclaimer here.
Now is the time to start dreaming of what we'll be doing once the gates of the world re-open. So you can start dreaming, why not?
Once the lockdown lifts and travel returns, these five architectural hotspots will be waiting for you in Vienna, Salzburg, Graz, Innsbruck and Vorarlberg. Where will you visit first: an 11th century fortress with golden halls, an art gallery inside a 'friendly alien', or a ski jump designed by one of the industry's most influential figures?
Kunsthaus Graz
Built: 2003
Location: Graz, Styria
Architects: Colin Fournier and Peter Cook
Fun fact: The Kunsthaus, also known as the 'Friendly Alien', played an undeniable role in helping Graz to secure its UNESCO 'City of Design' status in 2011. (featured photo)
The river Mur meanders through the Austrian city of Graz in Styria, winding past traditional gabled houses with red-tiled roofs and green copper turrets. On the river's right bank, one building stands in stark contrast to its neighbours. The Kunsthaus Graz demands one's attention with its biomorphic form, made from 1,066 pieces of acrylic glass, waxing and waning under rounded nozzles on its roof.
One aim of the Kunsthaus construction and its expressive, futuristic architecture was to reinvigorate the city's less prosperous district opposite the historic centre. It's now home to three major exhibition galleries, a viewing platform, a restaurant, media lounge, shop and a magazine house, welcoming a vast number of visitors from across the globe each year.
Kunsthas Graz Opening times: Tuesday to Sunday, 10am – 5pm.
Price: €9.50 for adults, €3.50 for students, €19 for a family pass. Free admission for children under the age of six. Guided tours and multimedia guides are available.
Where to stay in Graz: Palais Hotel Erzerzog Johann right in the centre of town with lovely old décor and friendly staff. Great breakfast!
Book the Palais Hotel Erzerzog Johann here. 
A place where to have a quick bite- for tapas and sandwiches go to the Delikatessen Frankowitsch.
For views and high dining go to the Restaurant Schlossberg. 
Vorarlberg Baukultur
Built: 1960s onwards
Location: Vorarlberg, western Austria
Architects: Peter Zumthor, Helena Weber, Matthias Hein, Dieter Klammer and Bernardo Bader are five contemporary figures of note.
Fun fact: In Krumbach, a small village in Vorarlberg's Bregenzerwald, all of the bus stops were designed by seven leading architects from Chile, Spain, Belgium, China, Norway, Russia and Japan.
In the 1960s, a group of young architects returned to their home villages in Vorarlberg after graduating from Vienna's Academy of Fine Arts, laying the cornerstone of what is now the province's distinctive style of building. Vorarlberg architecture is designed with a collective, communal and resource-conscious mindset, using local timber to create clean, modern and affordable structures. Houses, museums, hotels, churches and schools are functioning examples of this area's commitment to future-facing architecture that honours the craftmanship of past generations.
A great way to experience Vorarlberg's Baukultur is by following 10 self-guided architecture trails, which have themes including Art & Culture, Crafts & Innovation and Nature & Landscape. Guests can stay in accommodation built in the Vorarlberg style and participate in excursions and lectures at a large range of institutions. The region's Werkraum is one must-see for architecture enthusiasts.
Bregenzerwald Werkraum Opening times: Tuesday – Saturday, 10am – 6pm.
Price: €7.50 for adults. Free admission for students and children under the age of 16.
A beautiful place where to stay nearby is the Gasthof Hirschen Schwarzenberg. Built in 1757 in traditional wooden style, the hotel in the Bregenz Forest has an award-winning restaurant, a sauna and free Wi-Fi throughout the building. The restaurant had been awarded a Gault Millau 1 toque and serves regional specialties and Austrian cuisine in traditional stübes (parlours).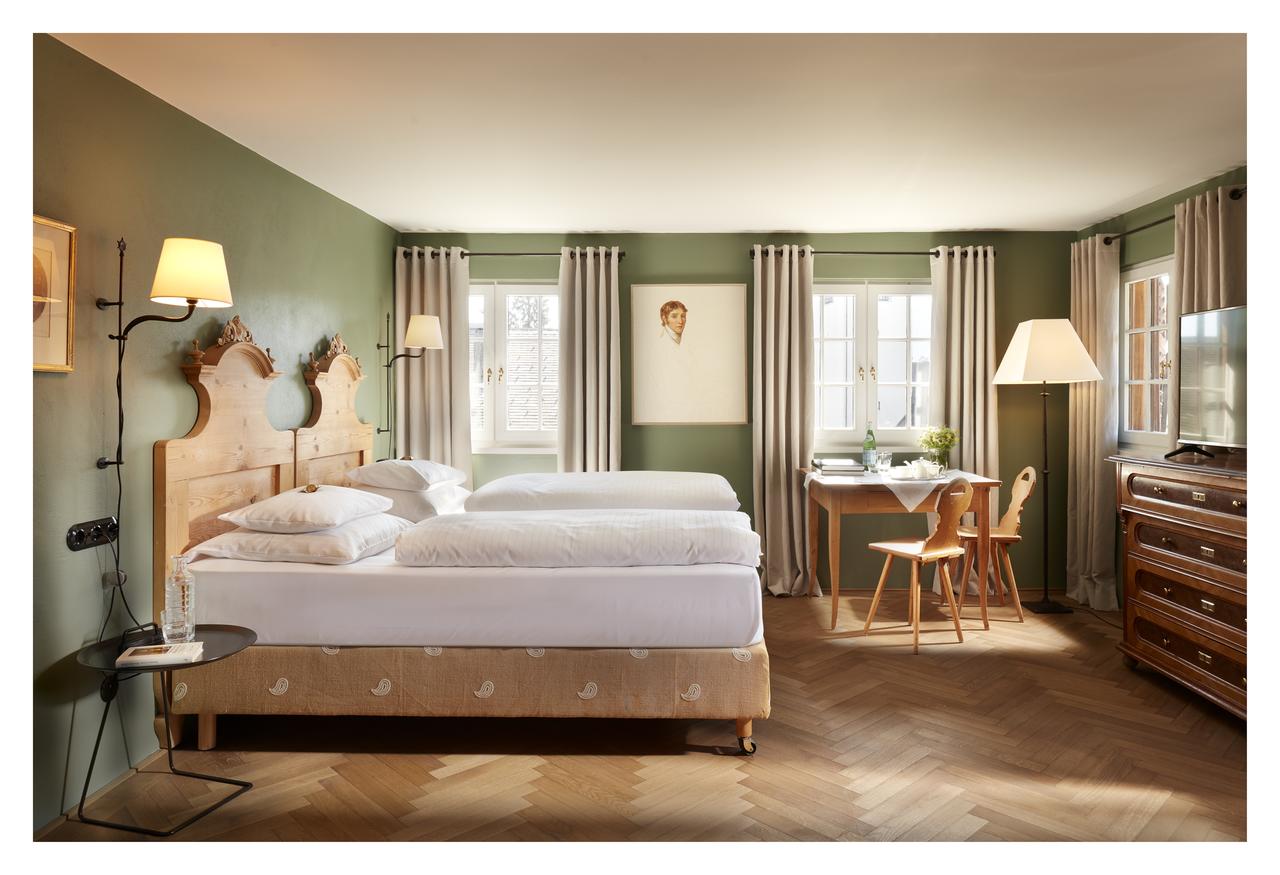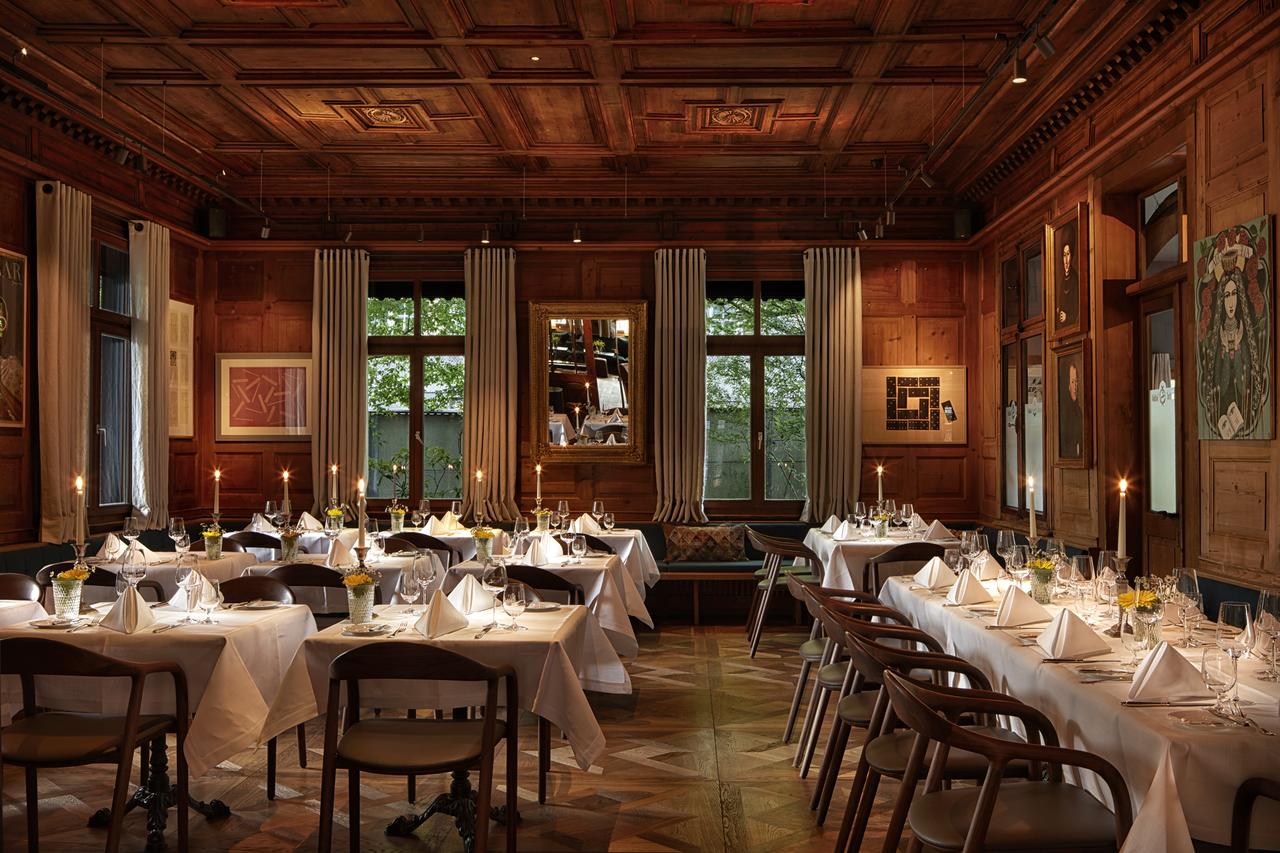 Book the Gasthof Hirchen Schwarzenberg here.
Bergisel Ski Jump
Built: 2001
Location: Innsbruck, Tirol
Architect: Zaha Hadid
Fun fact: A ski jump has existed here since 1925, long before the implementation of star architect Hadid's design. It hosted Olympic Ski Jumping competitions in 1964 and 1976.
Situated on a hill to the south of the city, the Bergisel Ski Jump towers over Innsbruck. At 47m in height, its sleek, sweeping silhouette mirrors the ski slopes of the surrounding mountains, extending their topography into the urban scene below. In contrast with its Baroque and Gothic streets, the Golden Roof presiding over medieval houses, the Bergisel is a distinctly modern symbol of the city.
Visitors are invited to ascend with the gondola, walk the observation deck and dine in the panoramic restaurant with views out to the Patscherkofel, Nordkette, Hohe Munde and Serles peaks. Those looking to test their nerves can even peek down from the ski jump platform's vantage spot.
Bergisel Ski Jump Opening times: June – October: Monday to Sunday, 9am – 6pm. November – May: Wednesday to Monday, 10am – 5pm.
Price: €10.00 for adults, €5.00 for children, €19 for a family pass. Free admission for children under the age of six. Tours are included in the entrance fee.
Innsbruck is a beautiful city to stay many days, there are tons of things to do within the city and nearby areas, and is well connected by trains, so you don't need your car if you fancy. The views are amazing and is just lovely getting lost through its streets. There are lots of choices where to stay. I've stayed in a hotel that I cannot find now, by the Golden Roof, but this hotel I am suggesting is also very nice. I've also stayed at the Hotel Europa, which is a five-stars property, but I had an internal room (view to a rubbish bin), and the hotel was fine, but I did not think too much about it. It is located just across the train station, which is not the nicest of places where to stay in such a beautiful city as is Innsbruck!
My suggestion here is the Grauer Bär Hotel. This hotel is located in the city centre of Innsbruck, just two minutes-walk from the historic Old Town. It has a spa area with a panoramic swimming pool on its fifth floor. It features two restaurants and a hotel bar.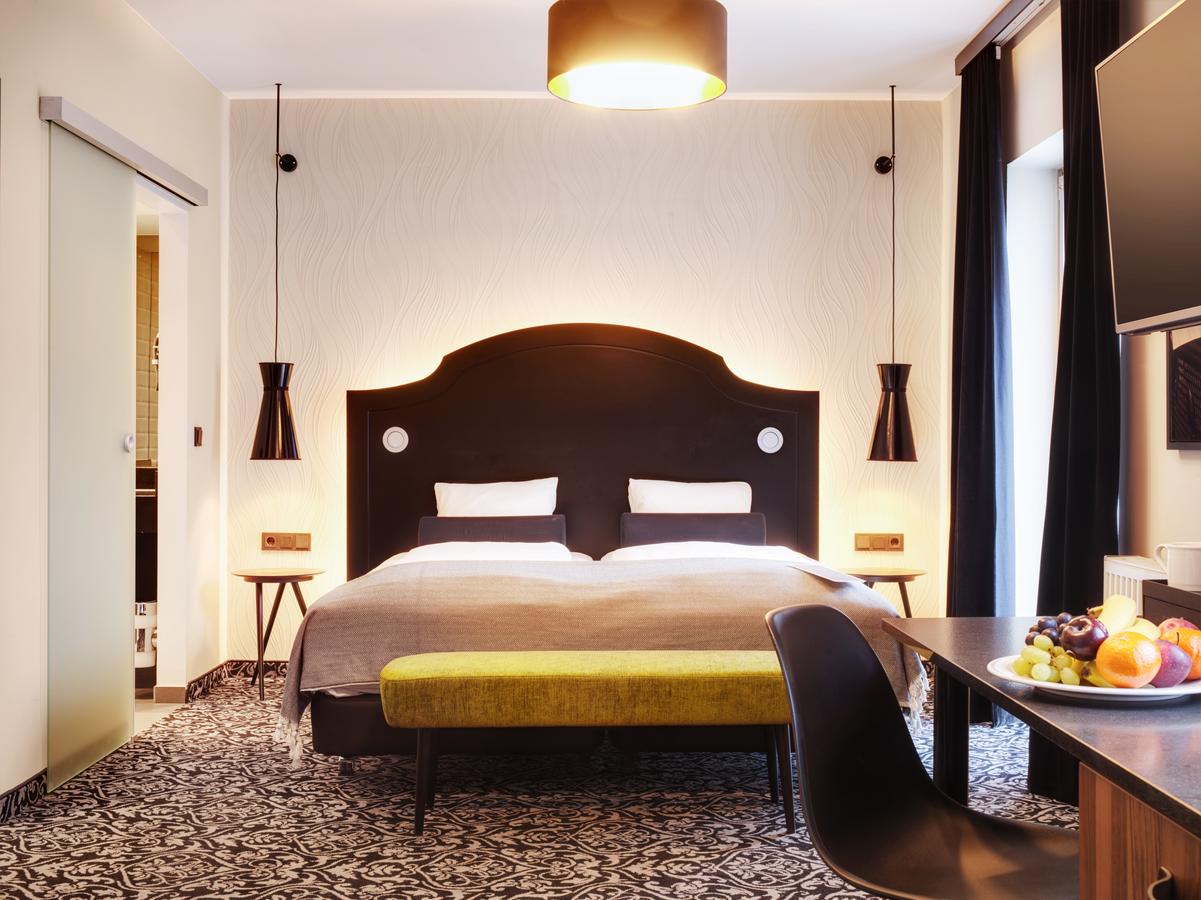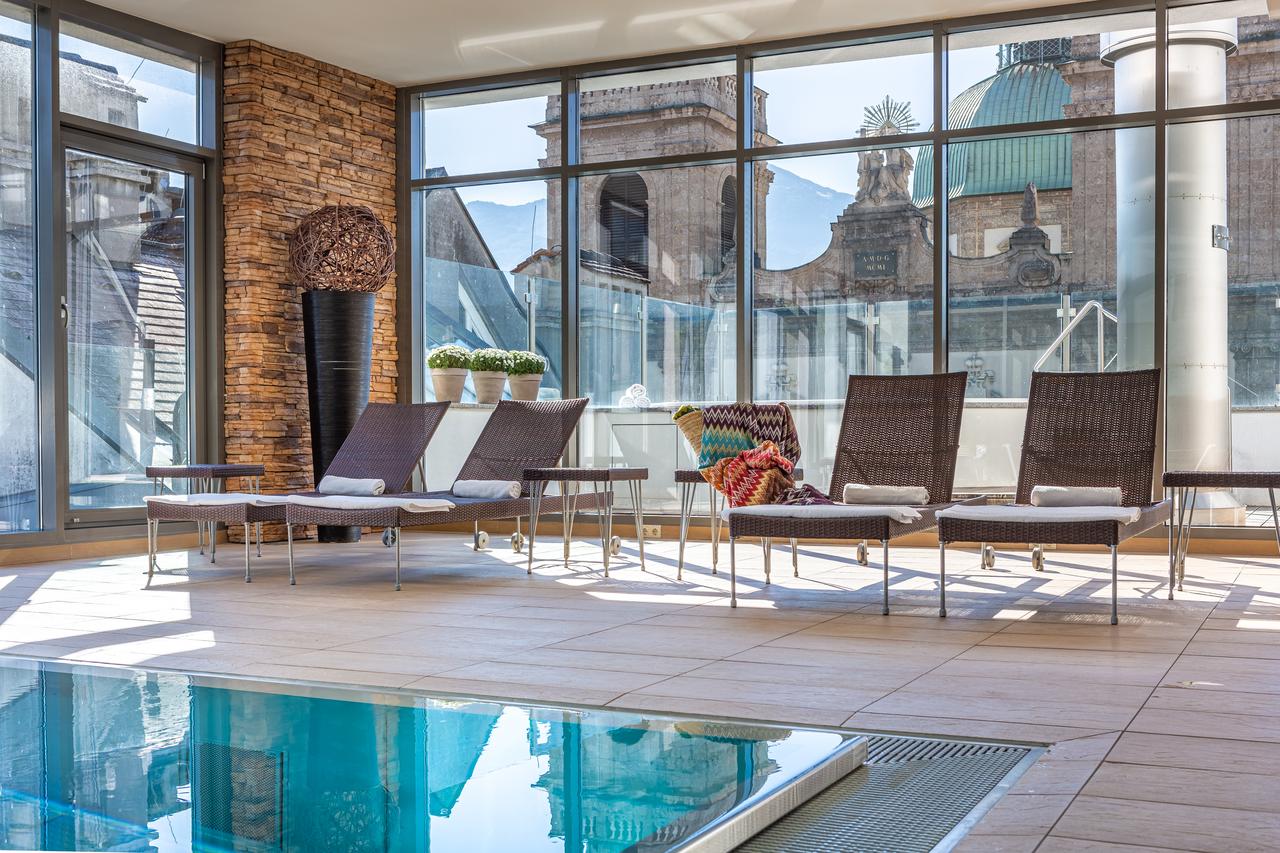 Book the Hotel Grauer Bär here.
Hundertwasser House
Built: 1983
Location: Vienna
Architect: Friedensreich Hundertwasser
Fun fact: All Hundertwasser House residents have 'window rights': the right to decorate the façade around their windows as they wish.
Throughout all of Austrian artist and architect Hundertwasser's work, a deep respect and love for the natural world is evident. At the Hundertwasser House, this is seen in the more than 200 trees and shrubs covering the outdoor surfaces, forming a green oasis in Vienna's third district. The bright, colourful building itself is formed of floors that roll like waves, walls covered in mosaics, pergolas and loggias. Hundertwasser believed that this resistance to flat lines, flat colours and grid systems allowed the urban resident to live in closer harmony with nature – and proved with the Hundertwasser House that such constructions could be accomplished within the normal time schedule, budget and building laws.
While the Hundertwasser House can only be viewed from the outside, holidaymakers can also head to the Kunst Haus Wien just a few minutes away on foot. Here, one can walk the halls of a building designed by the artist while taking in his other artworks thanks to a permanent Hundertwasser exhibition.
Kunst Haus Wien Opening Times: Daily, 10am – 6pm.
Price: €11 for adults, €5 for children, €22 for a family pass. Free admission for children under the age of 10.
Vienna has so much to offer, weather you love its imperial past, its architecture and its artistic achievements, you are in for a treat! This is the birthplace of Schubert and the inspiration to Mozart and Strauss. You should go and visit the State Opera that features seasonal performances with ball season kicking off in January.
There are lots of choices in Vienna to look at, my suggestion is the Steigenberger Hotel Herrenhof in the middle of town, on the first district, just some steps from the Hofburg Imperial Palace. Built in 1913, it offers spacious and well-appointed rooms decorated by the Viennese studio Einwaller in different styles, from Baroque to Art Déco. You can pamper yourself in the 250 m2 spa over two floors.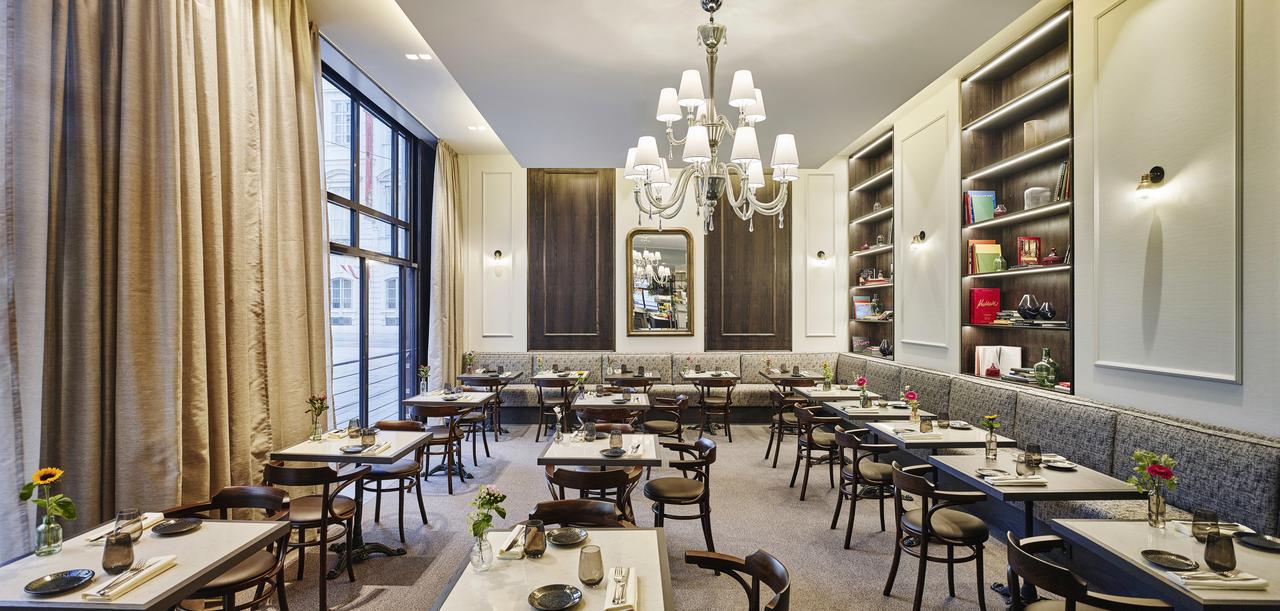 Book the Steigenberger Hotel Herrenhof here.
Hohensalzburg Fortress
Built: 1077
Location: Salzburg, SalzburgerLand
Architects: Gebhard of Salzburg with further development by successors, most notably Leonhard von Keutschach in the 1500s.
Fun fact: The Hohensalzburg Fortress is the largest fully preserved castle in Central Europe, with 50 buildings covering a total of 33,000m².
The beautiful baroque city of Salzburg sits under the careful watch of the Hohensalzburg Fortress. Built to demonstrate the prince bishop's power and protect the principality, it successfully deterred enemy attacks for hundreds of years.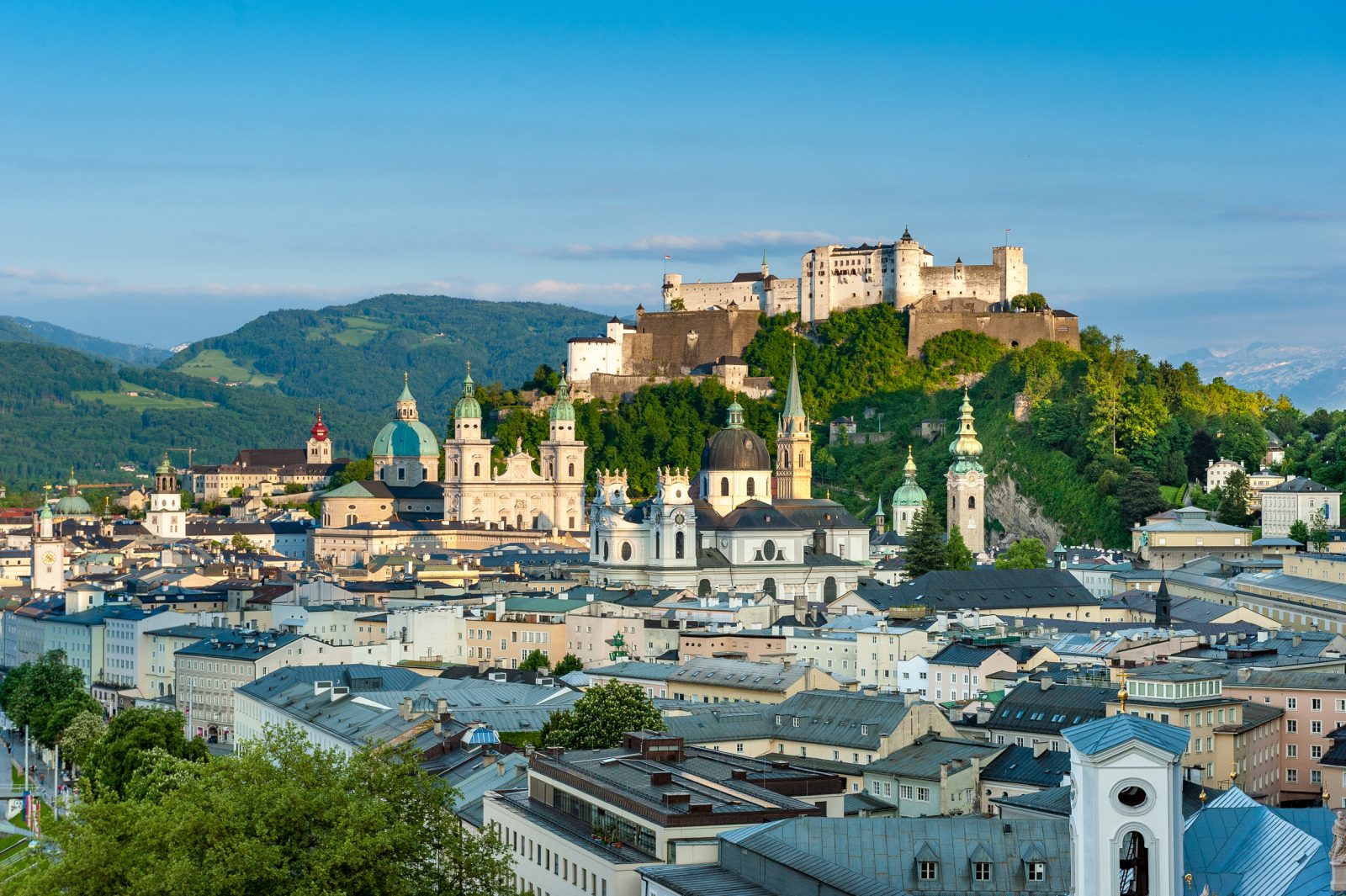 Today, the Hohensalzburg Fortress invites guests arriving by funicular or on foot to take a trip into the past in its myriad of courtyards and three museums. Visit the perfectly preserved Princes' Chambers with original furnishings from 1501, walk the bastions and take in the vast views from the tower, learning more about life through the ages in this impressive Austrian stronghold.
Hohensalzburg Fortress Opening Times: May to September: 8.30am – 8pm. October to December: 9.30am – 6pm. Closed March to April.
Price: €12.40 for adults, €7.10 for children, €27.50 for a family pass.
Salzburg is also another place you should go to visit if coming to Austria. Apart of being the birthplace of Mozart and having the Von Trapp family coming from here, the city is quaint, with lots of culture wherever you see and very romantic.  And its landscapes are superb!
My recommendation for Salzburg is the Imlauer Hotel Pitter Salzburg. First opened in 1864, this family 4 stars superior run hotel is close to everything. The terrace's views are amazing. The restaurant at the terrace is called Imlauer Sky-Bar & Restaurant.
Stay at the Imlauer Hotel Pitter Salzburg. 
You can search for your own accommodation in the snow for your next ski holiday through our Accommodation Search tab. Or if looking to stay in the heart of the Mont Blanc Valley in the Aosta Valley, check Il Coure della Valdigne review here. This is our own family home in the mountains, that I am renting out when not using, you can always write me a private message if interested to info@the-ski-guru.com
You can book directly through Airbnb  through this link
If you want to take your family skiing and you don't know where to start, read here. And search for your ski transfers from all airports to the Mountains here. And for those that are like me, that are lazy to cook, you can get your food, even gourmet mountain food delivered to your home with Huski.
If renting equipment (skis or snowboards)  check our agreement with Skiset– you can get up to 50% off ski or snowboard rental rates. I have been using them for years every year when I go to America  and Europe and they are great!
You can start thinking about your trip, by reading the articles on the Planning your Ski Trip tab.  Or how to pack for your family ski trip.  If taking your furry friend abroad to the continent, read about the new Pet Travel Scheme update from DEFRA. Self-drive skiers also need to plan for Brexit. Check out our tips for driving to the mountains.  If flying and renting a car in Europe, beware of the extra charges they will pass to you if you want winter tyres, snow chains or ski racks. If driving, check the winter tyres news for Europe and North America. You can see how our last family ski holiday was not as expected, even though one plans it to be a success, but how we could do the most of it. If you want to get better before getting to your next ski holiday, here is a quick guide to indoor skiing and dry slopes in the UK. You can also read our week in the mountains during our summer holidays in Courmayeur.
Featured Image: Kunsthaus Graz – Copyright: Graz Tourismus. For fanatics of Architecture, plan your multi-stop visit to Austria post Covid19.
Please follow and like us: