7 things that can help you when taking kids skiing
This article may contain affiliate/compensated links. For full information, please see our disclaimer here.
I have been sorting our ski gear today, measuring my kids pants and seeing if their ski boots where still ok for their feet, and doing some adjustments on them. This is the third season on the same boots and I just have to change the settings on the boots of my youngest to the third position, whereas my eldest still is in the same setting. I am thinking that he has been skiing with big boots for some seasons now! They seem to be ok, and he still have four settings to change in his Roces boots…. Here is a post of the Roces boots if you want to read more on them.
But while looking at my boxes where I put away all our ski gear and clothing, I've found some things that I really used over the years.
Here is a list of them and how they can be of use for you on this coming season.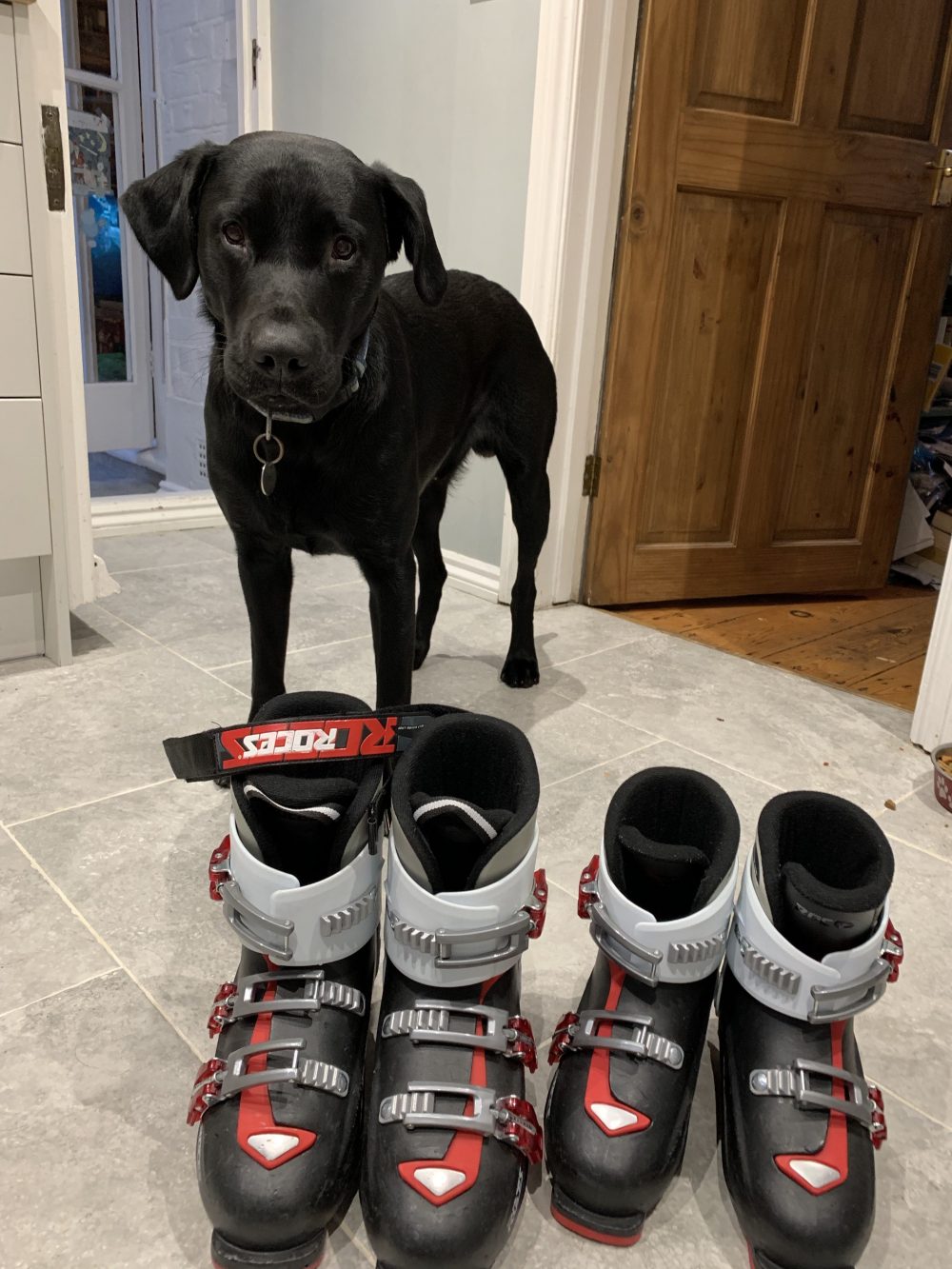 Walkie Talkies- A good pair of walkie talkies stuffed inside a sock and guarded into an interior pocket of your jacket is great for communicating with kids. You need to keep the walkie talkies warm, because the battery can die quickly when it is cold. They are great to communicate with your kids, or from kid to kid when they are having some time off, maybe not the best if skiing down at speed I would say- same restrictions should apply as those for driving and using a mobile phone- basically, don't use them while skiing!
Motorola T41 Walkie Talkie Consumer Radio – Blue (Pack of 2)
Edgie-Wedgies for young kids when starting to ski and they don't have the strength to open their legs in a wedge. The Edgie Wedgies are a piece of cord that clamps to the tip of little skiers. It makes them ski with their skis together, but not overlapping one ski on top of the other one. It is great for starting skiing, and you should stop using them when the kids have the strength of doing the snowplough or wedge on its own.
Ski Clip – Edgie Wedgie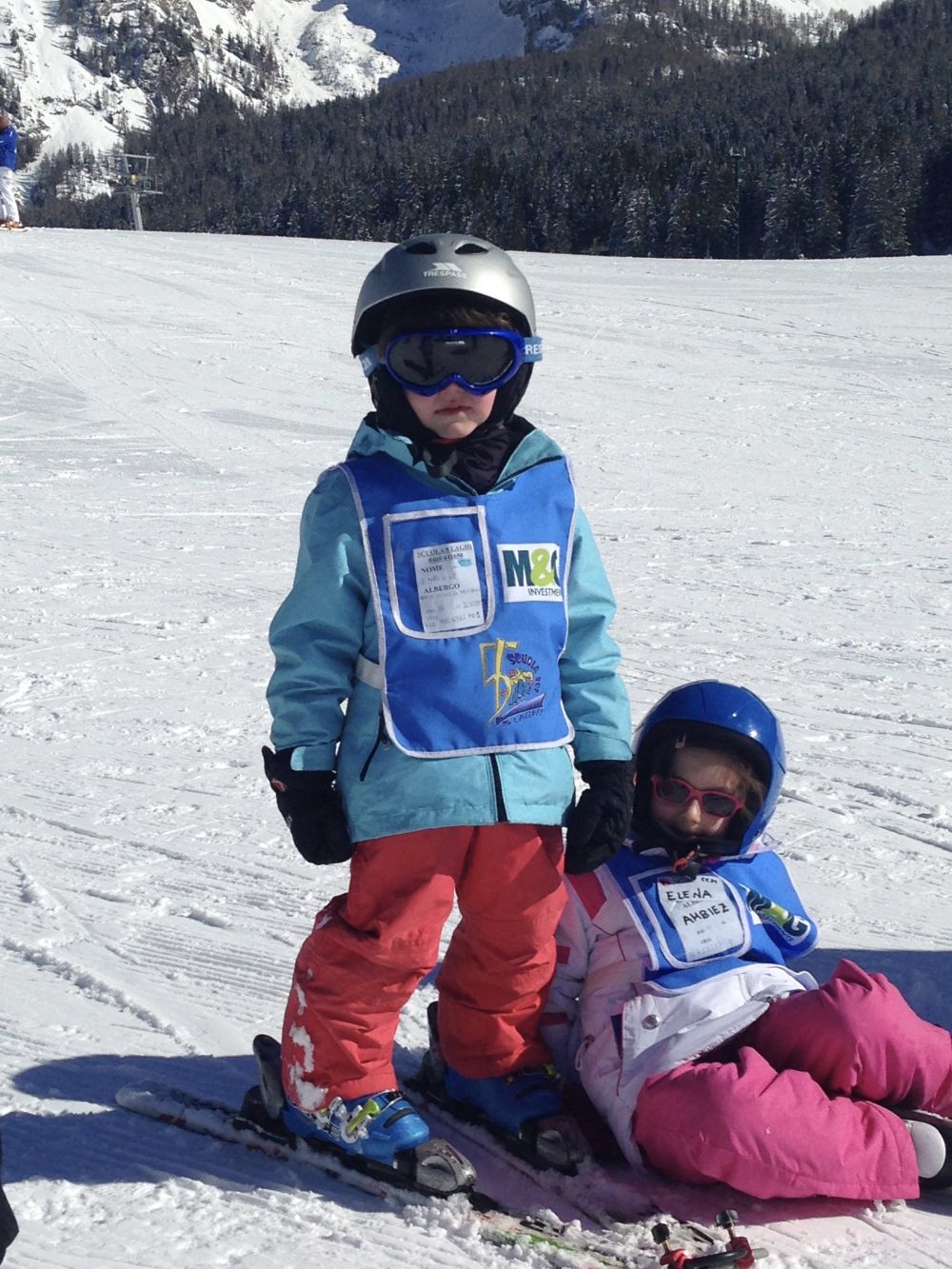 Toddler harness with reins – when you have a small kid that starts skiing, I think these are great. I used more the harness alone than the reins. A teacher told me that the reins might make the kid start going backwards and not putting his torso towards the mountain, so it might delay his learning process. We started using it, but as with lessons kids learn in one or two days how to stop with the snowplough, they did not need any more the reins to go down. I loved the harness though, because I loved to be able to get them from a handle when getting into a lift, to make sure they did not slide down under the safety bar of the chairlift. Also it is useful when you need to get your kid up when he has fallen in the snow. I had two models, one with a front and back handle and one with one handle (that could be used front or back). I used the one with one handle with my elder boy, and the one with two handles for my youngest. I used the handle in the back, because I've preferred to be able to catch up with him from his back if he was skiing off fast, and to grab him from the back when riding the chairlift.
NipperGrip – Kids Ski Harness with handles on the Front AND Back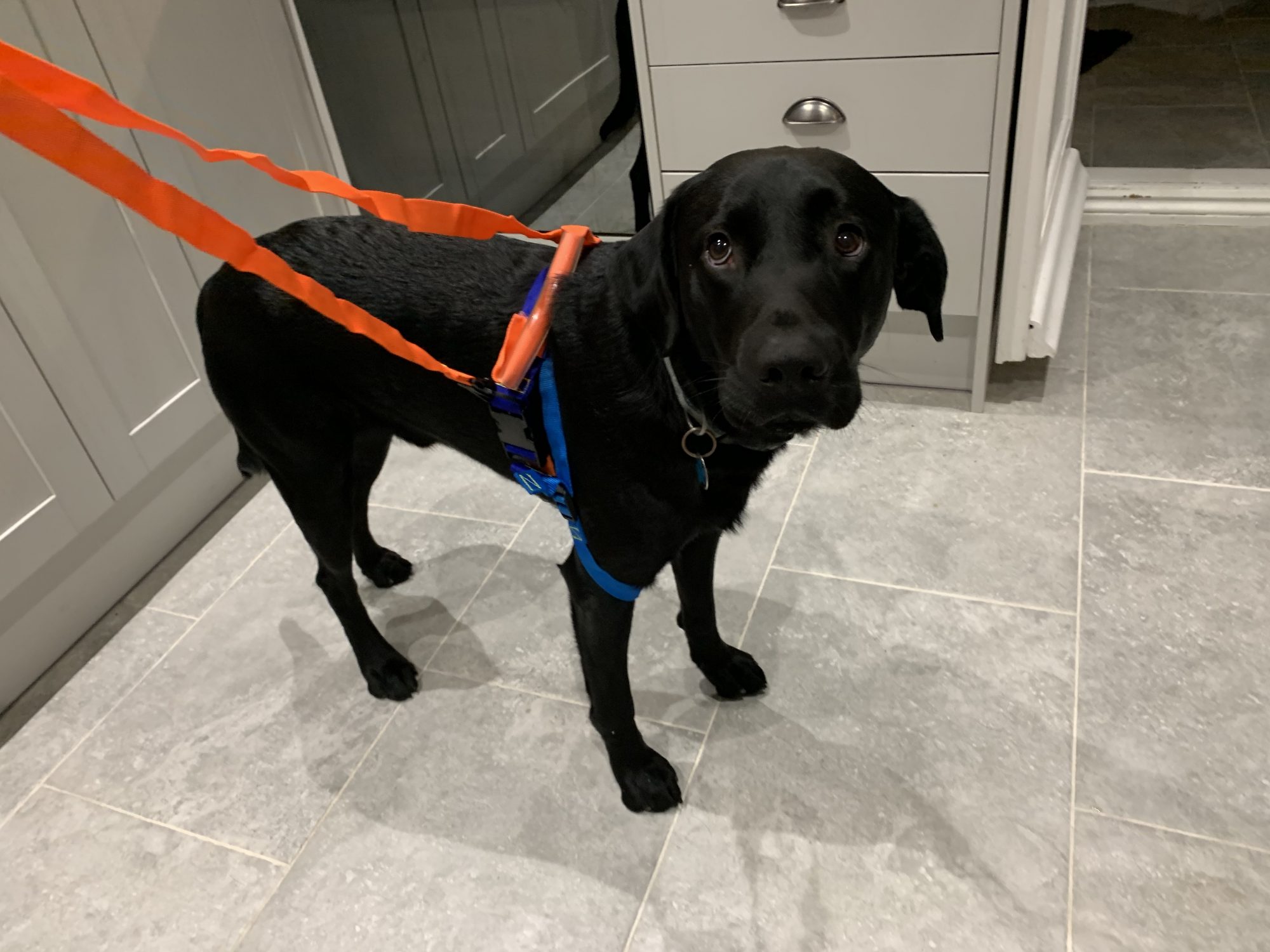 Ski Straps. They are basically a piece of fabric with Velcro, that allows you to keep your ski tips together when carrying them. You can use them while carrying the skis and then put them in your pocket. Small, light and practical. Keep on using them a lot.
Ski Straps – One Pair Thick & Strong
Ski carrier straps. These are an amazing invention. If you do need to walk with your skis to get to the lifts, and you don't want to carry your skis and your kids' skis, then I suggest you get them. They are not too expensive and there are different models. I use for myself one that has a double strap and I use it as a backpack. My kids have a model that is only one strap and they put it across their bag. Some models also carry skis and poles.
Skiweb Hands Free Ski & Pole Carrier – Ski Sling Multi Colour
Handwarmers – you never know what kind of winter it would be out there. Last year it was really mild when we went in February, but the year before we had everyday temperatures of – 17 C. This could cause the make or break of a ski holiday. If you have a cold kid that does not want to venture outside as he is suffering in the chairlift, you should be ready to have them dressed in layers and also always carry Handwarmers. I bought a big box of them on Amazon, and still have many stuffed in my ski box, so I can use them when necessary. I have also used them on the top of my ski boot (only if you have space for that, is not the best, but when you are really cold, it would help!) If you want, you will find them for sure in the shops by the lifts, but usually are pretty expensive per pair, comparatively to buying a box with many pairs before leaving home.
Little Hotties Hand Pocket Glove Warmers Winter Season Bulk Pack-40 Pairs, Black, Medium
The ultimate perfect snowball maker- this is completely for a laugh. We got two as a gift from my youngest boy's best friend. The boys love them. The balls that area done are a bit hard though, so use with care! If not, just a good snowball fight is always possible with some good gloves. Take a second pair of gloves that can stay dry for the next day's adventures on the slopes.
CoURTerzsl Snowball Maker Toy, Winter 5 Snowballs Maker Outdoor Sport Sand Clay Mold Scoop Clip Children Toy Random Color
You can search for your own accommodation in the snow for your next ski holiday through our Accommodation Search tab. Or if looking to stay in the heart of the Mont Blanc Valley in the Aosta Valley, check Il Coure della Valdigne review here. This is our own family home in the mountains, that I am renting out when not using, you can always write me a private message if interested to info@the-ski-guru.com
If you want to take your family skiing and you don't know where to start, read here. And search for your ski transfers from all airports to the Mountains here. And for those that are like me, that are lazy to cook, you can get your food, even gourmet mountain food delivered to your home with Huski.
If renting equipment (skis or snowboards)  check our agreement with Skiset– you can get up to 50% off ski or snowboard rental rates. I have been using them for years every year when I go to America  and Europe and they are great!
The-Ski-Guru TRAVEL is a CONCIERGE service that can help you organise your bespoke ski trip to the Americas, Alps or Japan, including for those going from Britain to Europe, helping you book your Eurotunnel trip, and for all trips: lodging, lift tickets, rentals, ski school, and all you need for an excellent vacation. Go to https://www.the-ski-guru.com/travel and upload your information – this page will be updated soon with more travel ideas. Check our amazing Ski Safari in the Dolomites , stay at the San Lorenzo Lodge White Deer in the Val Pusteria of Sudtirol, in the Hotel Petrus in Riscone, for skiing Kronplatz, or check our offer to Obergurgl-Hochgurgl and Sölden to ski with your family. Maybe you want to come on my group to ski with other like-minded skiers in Courmayeur at the Gran Baita hotel?
You can start thinking about your trip, by reading the articles on the Planning your Ski Trip tab.  Or how to pack for your family ski trip.  If taking your furry friend abroad to the continent, read about the new Pet Travel Scheme update from DEFRA. Self-drive skiers also need to plan for Brexit. Check out our tips for driving to the mountains.  If flying and renting a car in Europe, beware of the extra charges they will pass to you if you want winter tyres, snow chains or ski racks. If driving, check the winter tyres news for Europe and North America. You can see how our last family ski holiday was not as expected, even though one plans it to be a success, but how we could do the most of it. If you want to get better before getting to your next ski holiday, here is a quick guide to indoor skiing and dry slopes in the UK. You can also read our week in the mountains during our summer holidays in Courmayeur.
Featured Image: My youngest wearing his ski harness before going skiing in Madonna di Campiglio. 7 things that can help you when taking kids skiing.
Please follow and like us: