Pinzolo/Madonna di Campiglio has opened its first 5 stars luxury hotel- Lefay Resort & Spa Dolomiti
This article may contain affiliate/compensated links. For full information, please see our disclaimer here.
Pinzolo, the area connected to Madonna di Campiglio and all the Skirama Dolomiti (the massive carousel of resorts to the West of the Brennero Road that goes from Verona to Innsbruck in the Trentino Province), has opened its first five stars luxury hotel, the Lefay Resort & Spa Dolomiti.
This 'jewel of luxury' is the second of the Lefay Resorts, after the Lefay Resort & Spa at Lake Garda in Gargagno opened in 2008. The resort is centered on the theme of wellness and sustainability in a luxury setting.  Even though the largest region of Madonna di Campiglio, Pinzolo and Val Rendena, with the Adamello Presanella group and the Brenta Dolomites has already four of the six 5-star hotels in the Trentino province, this hotel is the first one to earn the five-star luxury classification.
The star of this hotel is the Lefay Spa Dolomiti, with over 5,000 sq meters over four floors, making of it one of the largest spas in the Alps with a wellness area for families – with indoor and outdoor heated pools, a 'family sauna', the Mondo Acqua e Fuoco (world of water and fire) for adults with an indoor lap pool, a big hydromassage and nine saunas; a  24- hour fitness center that overlooks the gardens, and an entire floor dedicated to massages and beauty treatments.
The hotel has 88 suites and 22 residences that allow the landscape into the hotel with wide-open spaces, natural fabrics and local stone, wood and locally sourced materials.
There are four type of suites – the Prestige & Deluxe Junior Suites of 57 sq meters, the Family Suites of 92 sq meters, the Exclusive Spa Suites of 100 square meters and the Royal Pool & Spa Suites of up to 430 square meters.
The Hotel has two restaurants, the Dolomia and Grual, inspired by the surrounding territory, with local flavors and the best of what the Mediterranean diet has to offer.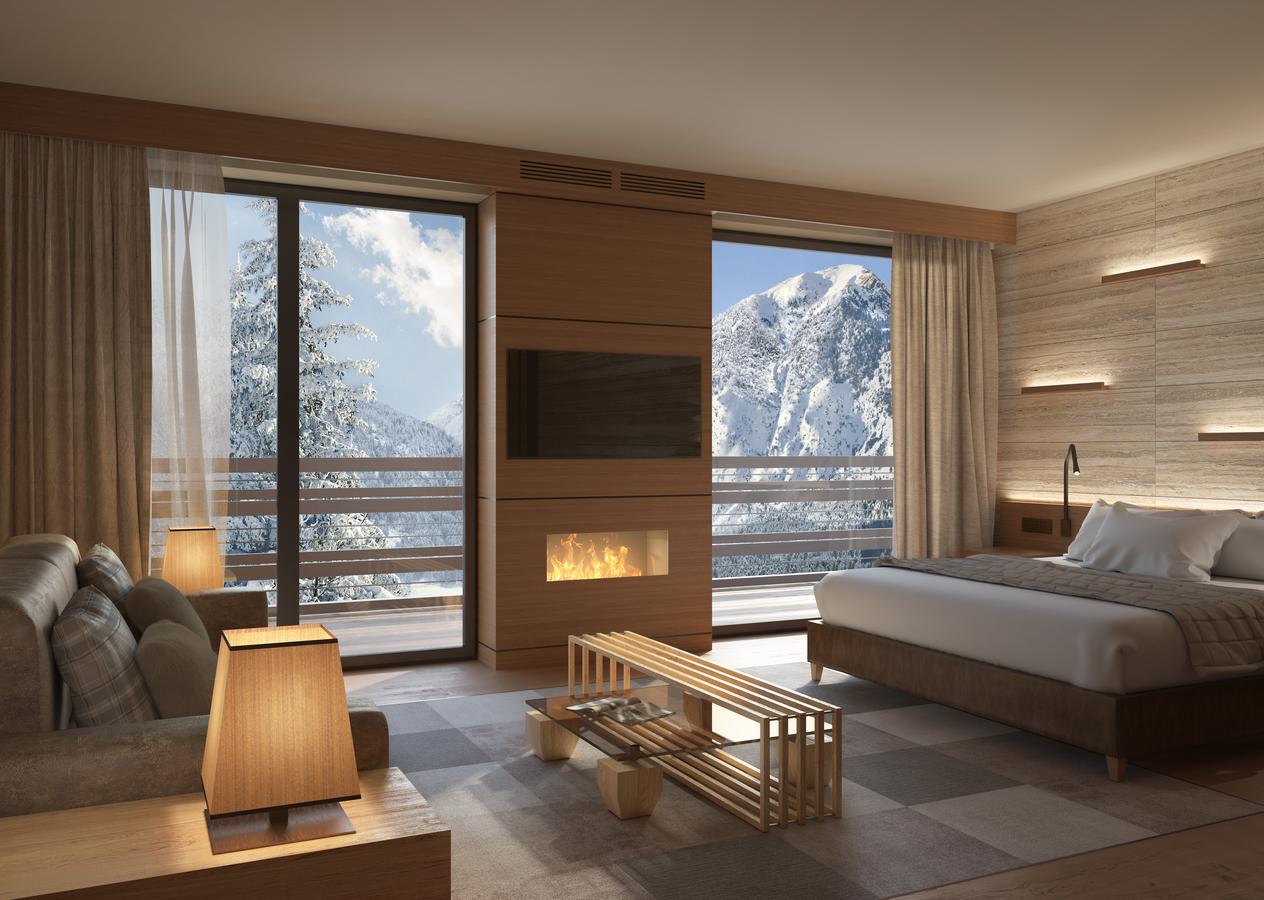 Dolomia is opened for breakfast, lunch and à la carte dinner and offers local fare depending the season.
Grual, named after the mountain that is behind the resort, focuses on ethical cuisine and the selection of quality ingredients. Grual will open in December for dinner service only.
The resort also has a welcoming lounge bar, an outdoor Sky Lounge, a cigar lounge, 24-hour room service and a reading room.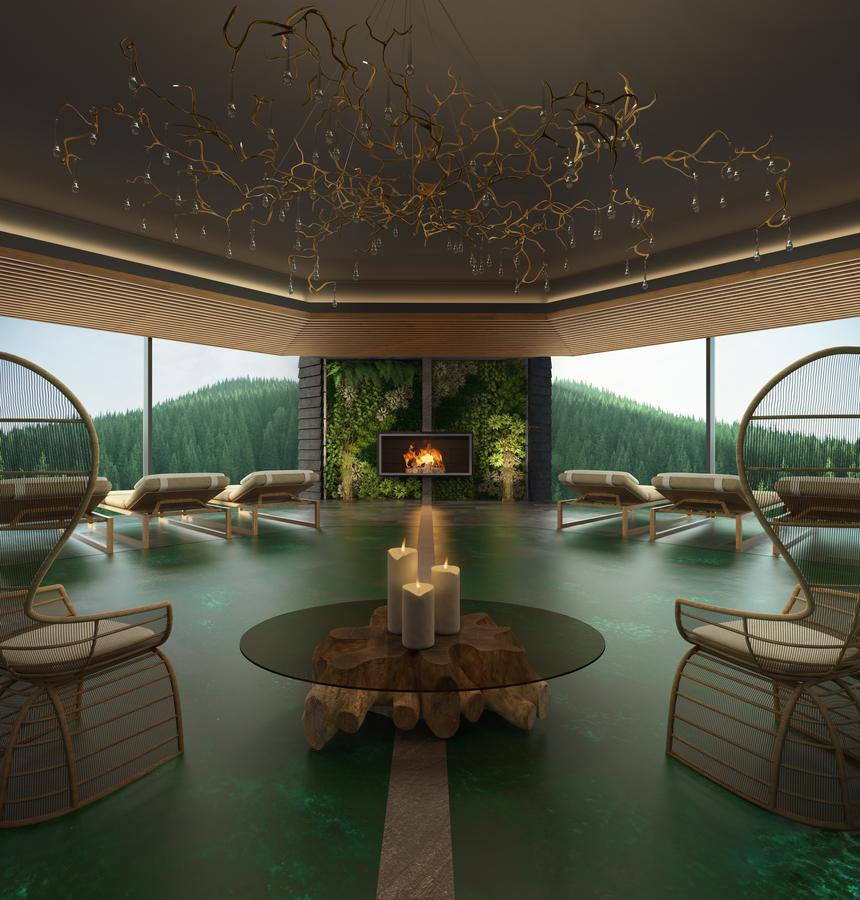 This hotel uses wood, stone and simplicity in details. It is a certified ClimaHotel, designed to reduce energy needs through high levels of insulation and the use of renewable energy by way of high-performance systems such as the biomass heating system and a co-generation system. This resort is following the steps of its sister resort, the Lefay Resort & Spa Lake Garda, which has been offsetting 100% of its CO2 emissions for five years in a row.
This resort is owned by the Leali family, who were in the steel industry until 1989, then founded the Air Dolomiti airline, which they sold to Lufthansa after fourteen years, and then they decided to develop the Lefay Resorts- focusing on luxury locations, low environmental impact and a cutting-edge wellness offering.
Book the Lefay Resort & Spa Dolomiti here
Or if looking to stay in the heart of the Mont Blanc Valley in the Aosta Valley, check Il Coure della Valdigne review here.
You can search for your own accommodation in the snow for your next ski holiday through our Accommodation Search tab. If you want to take your family skiing and you don't know where to start, read here. And search for your ski transfers from all airports to the Mountains here. And for those that are like me, that are lazy to cook, you can get your food, even gourmet mountain food delivered to your home with Huski.
If renting equipment (skis or snowboards)  check our agreement with Skiset– you can get up to 50% off ski or snowboad rental rates. I have been using them for years every year when I go to America  and Europe and they are great!
The-Ski-Guru TRAVEL is a CONCIERGE service that can help you organise your bespoke ski trip to the Americas, Alps or Japan, including for those going from Britain to Europe, helping you book your Eurotunnel trip, and for all trips: lodging, lift tickets, rentals, ski school, and all you need for an excellent vacation. Go to https://www.the-ski-guru.com/travel and upload your information – this page will be updated soon with more travel ideas. Check our amazing Ski Safari in the Dolomites , stay at the San Lorenzo Lodge White Deer in the Val Pusteria of Sudtirol, in the Hotel Petrus in Riscone, for skiing Kronplatz, or check our offer to Obergurgl-Hochgurgl and Sölden to ski with your family. Maybe you want to come on my group to ski with other like-minded skiers in Courmayeur at the Gran Baita hotel?
You can start thinking about your trip, by reading the articles on the Planning your Ski Trip tab.  Or how to pack for your family ski trip.  If taking your furry friend abroad to the continent, read about the new Pet Travel Scheme update from DEFRA. Self-drive skiers also need to plan for Brexit. Check out our tips for driving to the mountains.  If flying and renting a car in Europe, beware of the extra charges they will pass to you if you want winter tyres, snow chains or ski racks. If driving, check the winter tyres news for Europe and North America. You can see how our last family ski holiday was not as expected, even though one plans it to be a success, but how we could do the most of it. If you want to get better before getting to your next ski holiday, here is a quick guide to indoor skiing and dry slopes in the UK. You can also read our week in the mountains during our summer holidays in Courmayeur.
Featured Image: Pinzolo/Madonna di Campiglio has opened its first 5 stars luxury hotel- Lefay Resort & Spa Dolomiti
Please follow and like us: