Our summer in the mountains – one week in Courmayeur.
Since I first went to Courmayeur, having stopped there for breakfast, on our way home from our annual ski week in Pila, driving through the scenic SS26, I fall in love with the place. When we were coming up, just after coming out the Mont Blanc tunnel, you see the gondolas and the tram on top of the route, plus the town with all its buildings very prettily aligned around the route and I knew I wanted to check it out! Being working in the ski biz for almost all my life, before moving to the UK (in the US/Canada and Argentina/Chile), I knew about Courmayeur as a name, but I have not visited many ski areas outside America.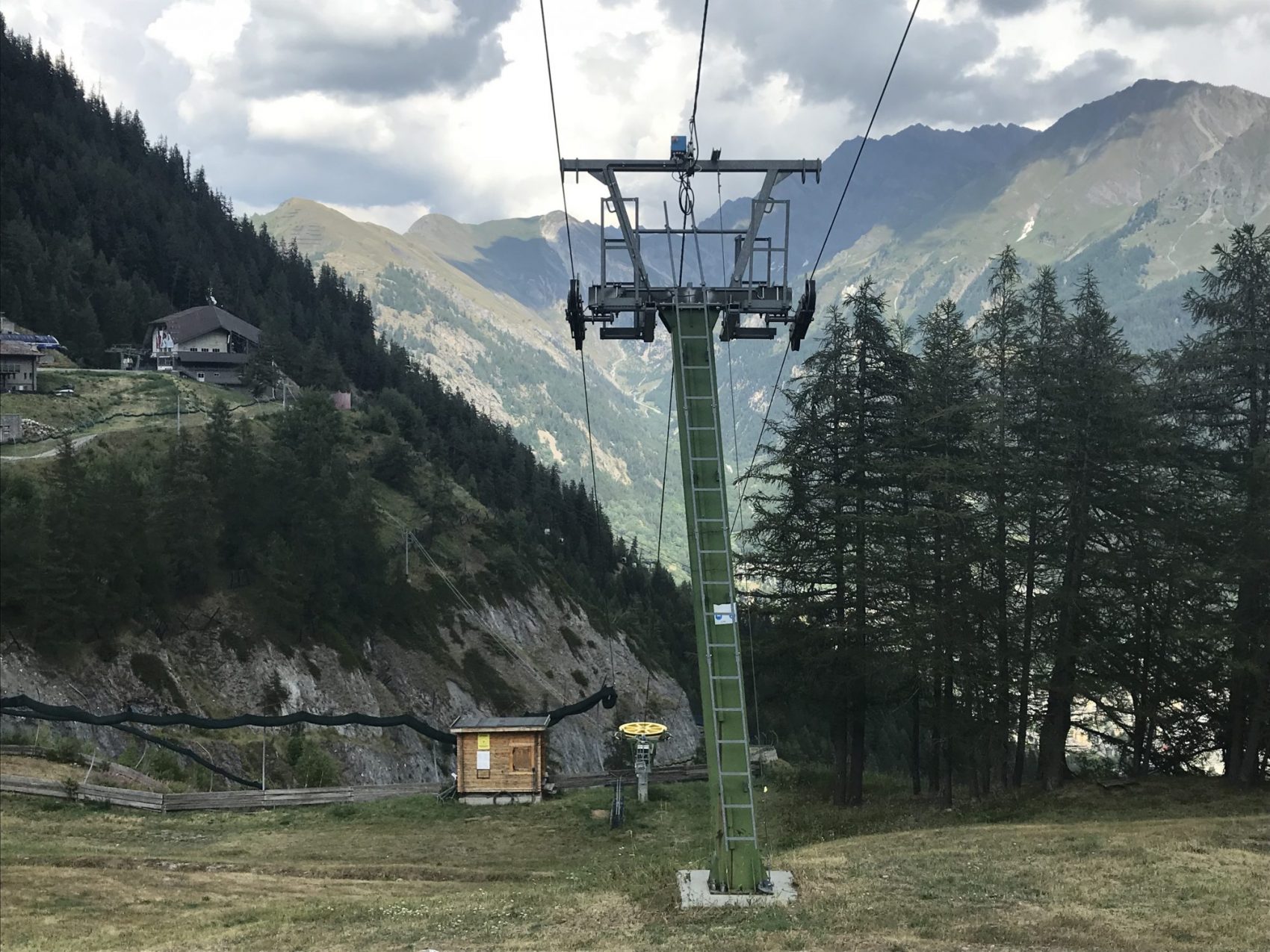 Of all places in our first family ski holiday in Europe, we've finished in Ollomont – a small ski 'field' – I would say, in the end of the road where mountaineers go to ice climb – but I will write more of this in another post.
But back now to Courmayeur. Since our first breakfast there, we had a second one on the following trip with my friend Claudine from the Tourist Office of Courmayeur and her baby – and then again we've been up the Skyway coming back from Lago di Como, and finally we've stayed  for some nights in winter for two years now – and managed to ski the mountain! First time only one day and the last time, for two (even though my knee was not up for skiing!).
But last summer, I've convinced my husband to go at least one week during our summer holidays. I would love to uproot my family there, (to the answers of my husband of what will I do, I don't speak the language – and me telling him to just learn it!) I wanted to stay in the summer, to see how it is life in Courma in the summer. I've been in the fall, seeing at all the hotels – for my Must-Read Guide to Courmayeur. Even many hotels were closed, they've opened them to me, and I could see them while many of the maintenance and upgrades were taking place.
So off we went from London on the Eurotunnel as we normally do – leaving home around 4 AM, having breakfast at the Eurotunnel Folkestone station, and then crossing around 6.30 AM to the continent. First stop was Chaumont – our beloved IBIS Styles Chaumont Centre Gare. We know the manager there who is lovely and always receives us warmly, and the town is pretty nice with some life compared to other French towns that seem to be ghost towns.
Next day we went to Chamonix- we did have a stop over there for two nights – you can read more of it in this post.  After some time to relax in Cham at L'héliopic Hotel Sweet & Spa, we decided to go to Courmayeur – a trip that should be straight forward, but because it was a 'sabato nero' (Black Saturday), when all drivers are on the road for the week's exchange of tourists, we've decided to do the adventurous Route des Grandes Alpes, going around lovely passes to get to Courmayeur – a tad longer than taking the Mont Blanc Tunnel. You can read more on this trip here.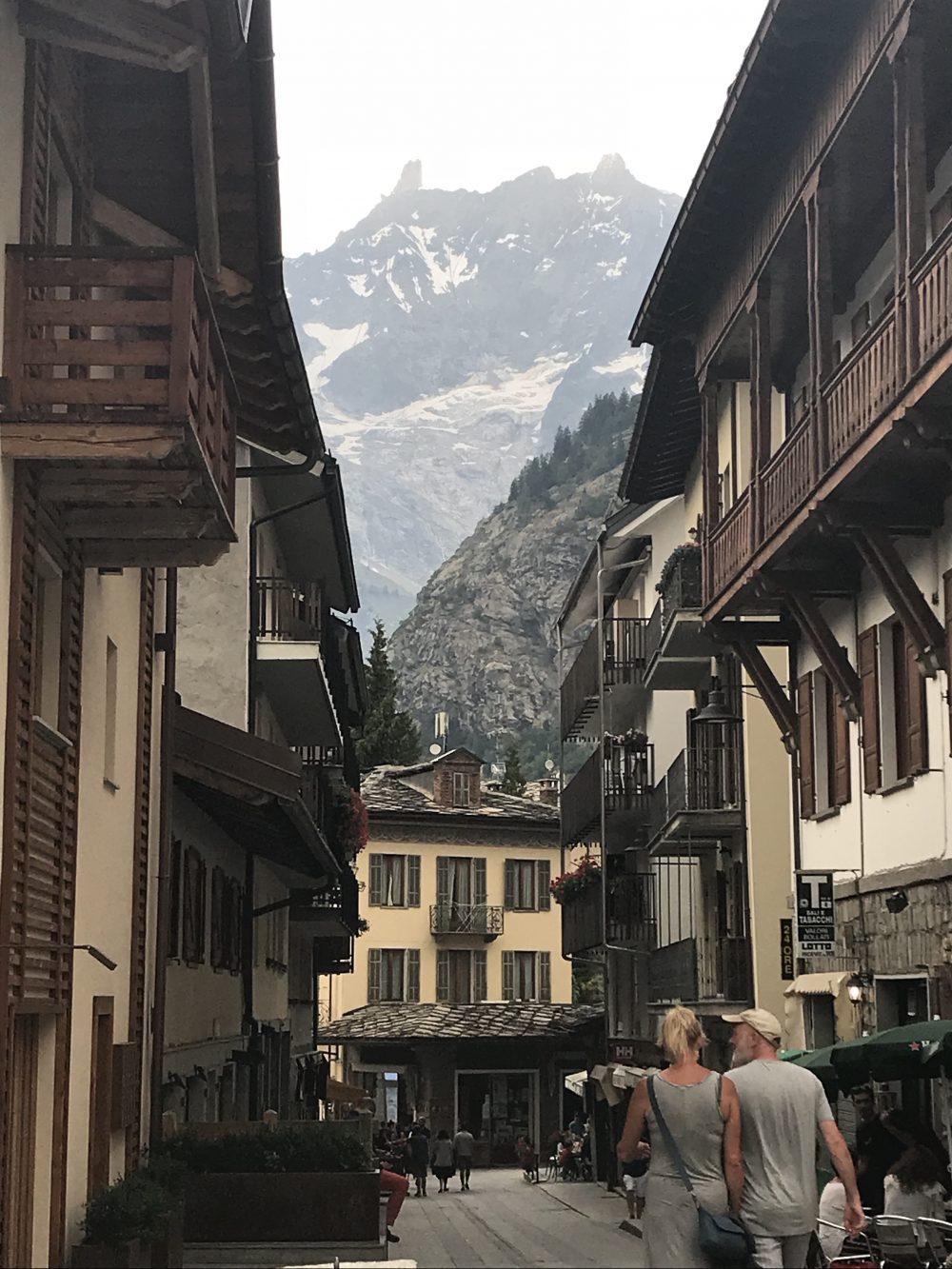 Finally, we made it to Courmayeur, and we had reserved an AirBnB, nicely located in town, next to Villa Novecento. We were not on the thick of town on Via Roma (as we always stay in winter), but for summer, we were 10' walking from Via Roma, yet in a quiet location, with lovely views of Plan Checrouit and the Dent de Géant.
As we arrived in the evening, we decided to go to Via Roma for the passegiatta and do as the people in Courmayeur do, and sit down for an aperitivo. I had my Aperol Spritz – that I started to like only after trying it at an event. To be honest, I kept on seeing them every time I've been in Italy and loved the colour and the idea of the drink, but I've thought there was no way I was going to like it. Now, I am a convert! I like how the Italians drink- never on an empty stomach – something that we as Argentines share – so you are served lots of 'ingredienti' (little snack plates- not sure if in Italian you call it like that – I am translating from Spanish to Italian here!) that kind of fill your belly up! Basically, when you have dinner, you are not hungry anymore. The idea of the Aperitivo is to open your appetite.
Next day it started beautifully, you could see the Dent de Géant a bit covered by small clouds, but we needed to get some food, so off we went to Morgex to the supermarket. After that we came back home for a quick lunch, and my youngest was dying to go up the Dolonne gondola. I am sure my youngest will finish working for a lift company – designing lifts, as he is obsessed with them. When he was three he told me that there was a rope guiding the gondola cabin when it was going around the wheel on the base of the lift, and then the cabin was getting to a second rope to go up the lift and that is why then we were going faster – just by observing up the lift!
We've been up the Skyway before on another stop-over in Courmayeur. We've been up the Armani funicular when we went skiing, but we needn't take the Dolonne gondola up, as we were staying in Via Roma. Plus, now in the summer in Courmayeur, this is the only way to to up the mountain (Skyway goes up Punta Helbronner and is owned by another lift company, plus it does not connect to the ski resort of Courmayeur – even though you can ski down to Courmayeur by off-piste routes and to Chamonix through the Vallée Blanche. It is always better to hire a guide to do this).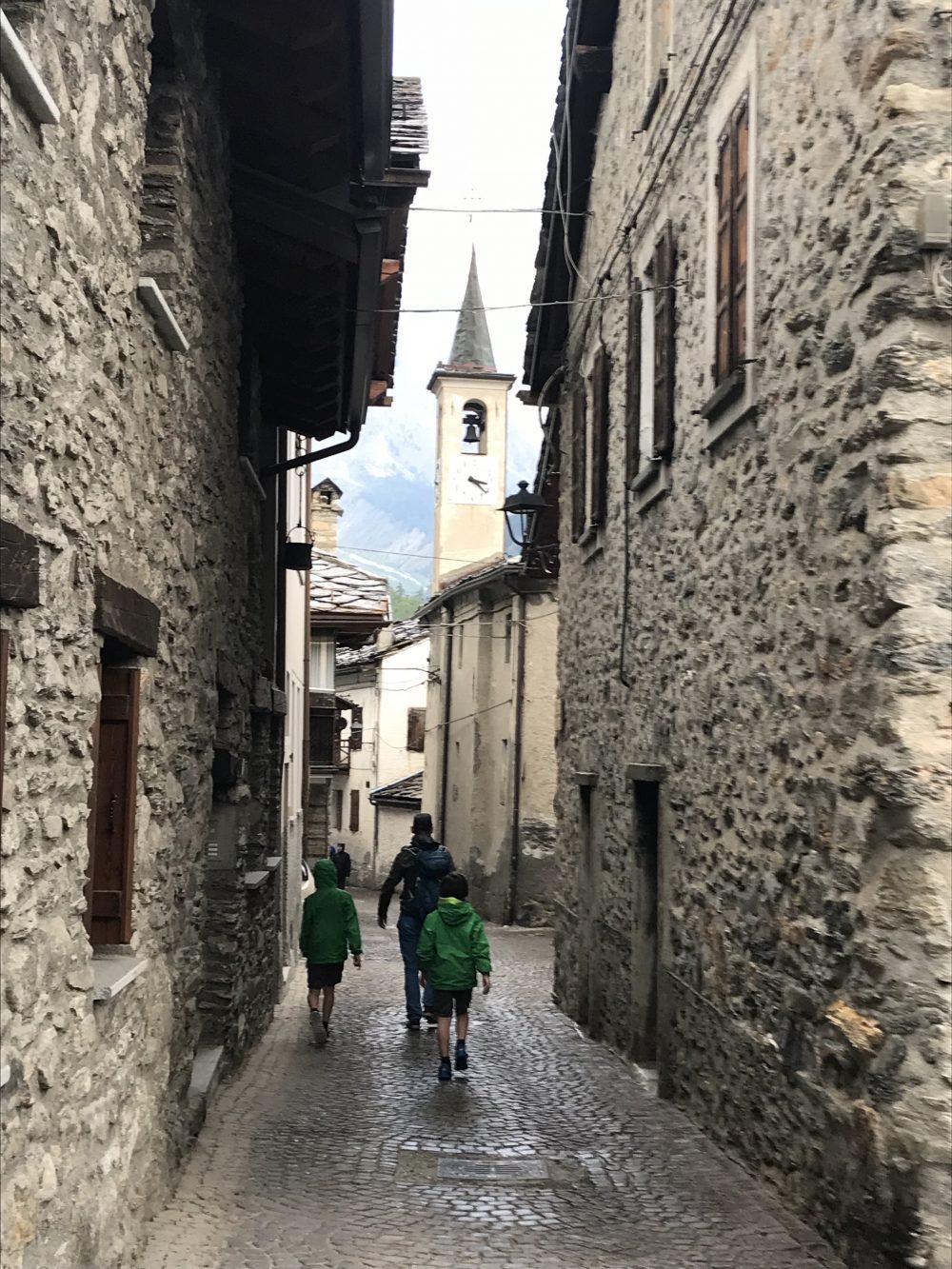 We made it up to Dolonne by car, we did not see the parking lot under the gondola and parked on another site near the start of where you could walk-through town to the gondola. It was the parking of another hotel, as we soon would realise about. By the time we've stopped it was raining, my husband was saying that it would be better to go up with a nice weather day, so we could enjoy it, my youngest was crying out and we still walked to the gondola where the lady at the ticket office told us it was not worth to go with this weather up, that the weather was going to be bad!
We've finished coming back to our car and found out that it was blocked by another  car. We did not know what to do. Basically, then I've seen the sign of the parking lot saying it belonged to one hotel, so I've told my husband to go to talk to the hotel and see if he can get this car moving – and be apologetic! I've preferred not to go, as I've thought my husband could appear as the dumb English that does not speak anything else and just get away with it. If I go and start speaking my bits of Italian, that is pretty similar to our Argentine Spanish, maybe I could get in more trouble. He still did not get it easy, and a very muscular guy came out after keeping us waiting for a long while, still giving grief to my husband in Italian (which he could not get but could see the guy was not friendly just by observing him gesticulating), but finally we got it out! Phew!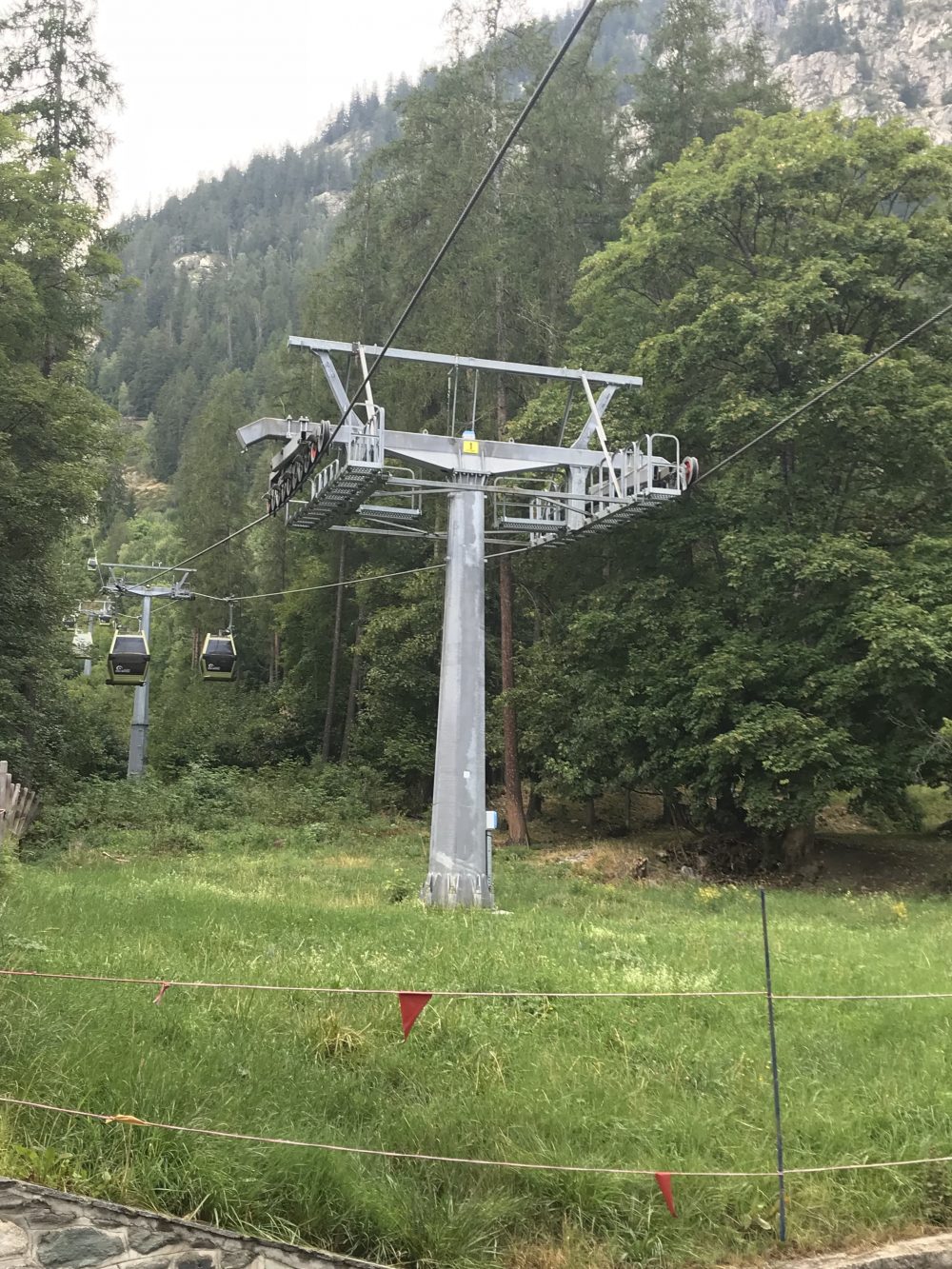 When we came down, the rain stopped so we went just to the Parco Bollino where the boys played football with some Italian kids, and then off for an ice-cream on Via Roma and back home.
We've realised that the weather in the week was going to be stormy, so we needed to pay good attention and then take advantage of the hours of good weather, plus try to find a place for shelter when the rain started each day.
Next day was my birthday – I love that I am always on holidays on my birthday – when I grew up in Argentina, I was always skiing – be it in Las Leñas, Chapelco, Bariloche, Portillo or Valle Nevado, even in Cerro Castor, Ushuaia- and I was always away from home. As I work with lots of people, being the 'entertainer' – I value a lot being alone with my family. I have not really organised a birthday party for years! To be honest, on my party, I want to sit down with a close group of friends on a table, and not having to be going around from group to group being sure everyone is having a good time.
The day started really beautiful – but there was some risk of rain in the afternoon. So, we decided this time, that better we walk to Dolonne from where we were. It was a 21 minutes' walk from home, so that was fine. We have to go a bit on the main road, but soon after just got up to the other side of town, towards the cable car. Finally, we went to the cablecar and decided to go only for the ride up Plan Chécrouit and then to the pool. We've thought that we had not enough hours of good weather as to try to go up to Maison Vielle up the chairlift from Plan Chécrouit.
So up on the little gondola we were- it is lovely to see the views- the mountains in Courmayeur are majestic – you are kind of enclosed by these enormous mountains – towered by the grandest of them all – at least on this part of the world – the Mont Blanc with its 4,810 meters.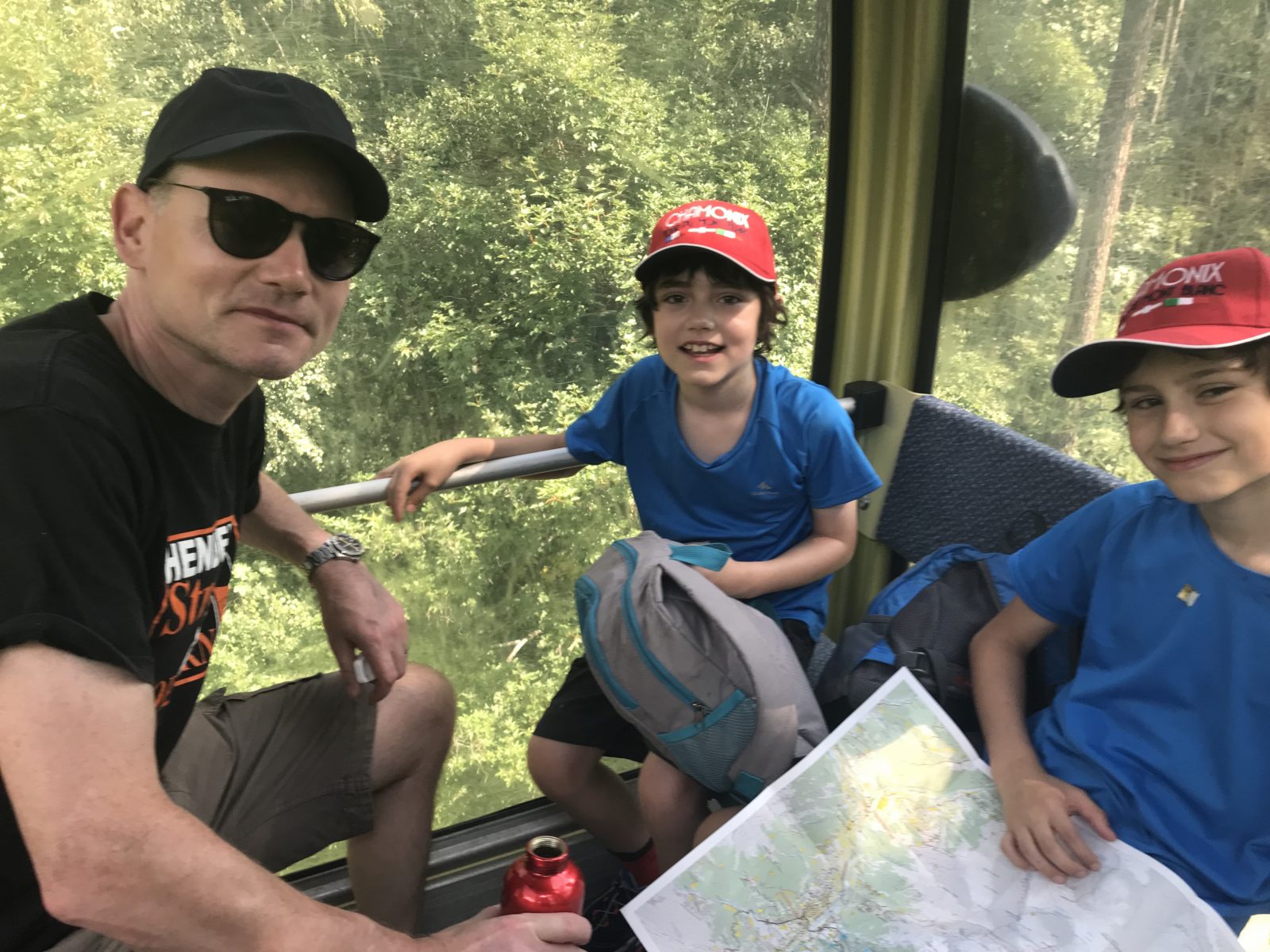 From Plan Chécrouit we needed to walk a bit to the pool. It was up to the left of the mountain- in a plateau – I've thought it was pretty well organised. The guys running it are ski instructors that work in the winter at the Ski and Snowboard school Courmayeur. The pool had some huts as changing rooms, some as individual toilets and showers, and there was also one hut that was a sauna! The views from the pool are lovely – they were selling sandwiches, pizzas, drinks, ice-creams- everything to keep all happy. It is good now that the kids know how to swim, you have to keep an eye on them, but I don't have to be shadowing them swimming each time they decide to go to the pool – that is all the time! You finish with wrinkle toes and sometimes bloody toes of being so much in the pool!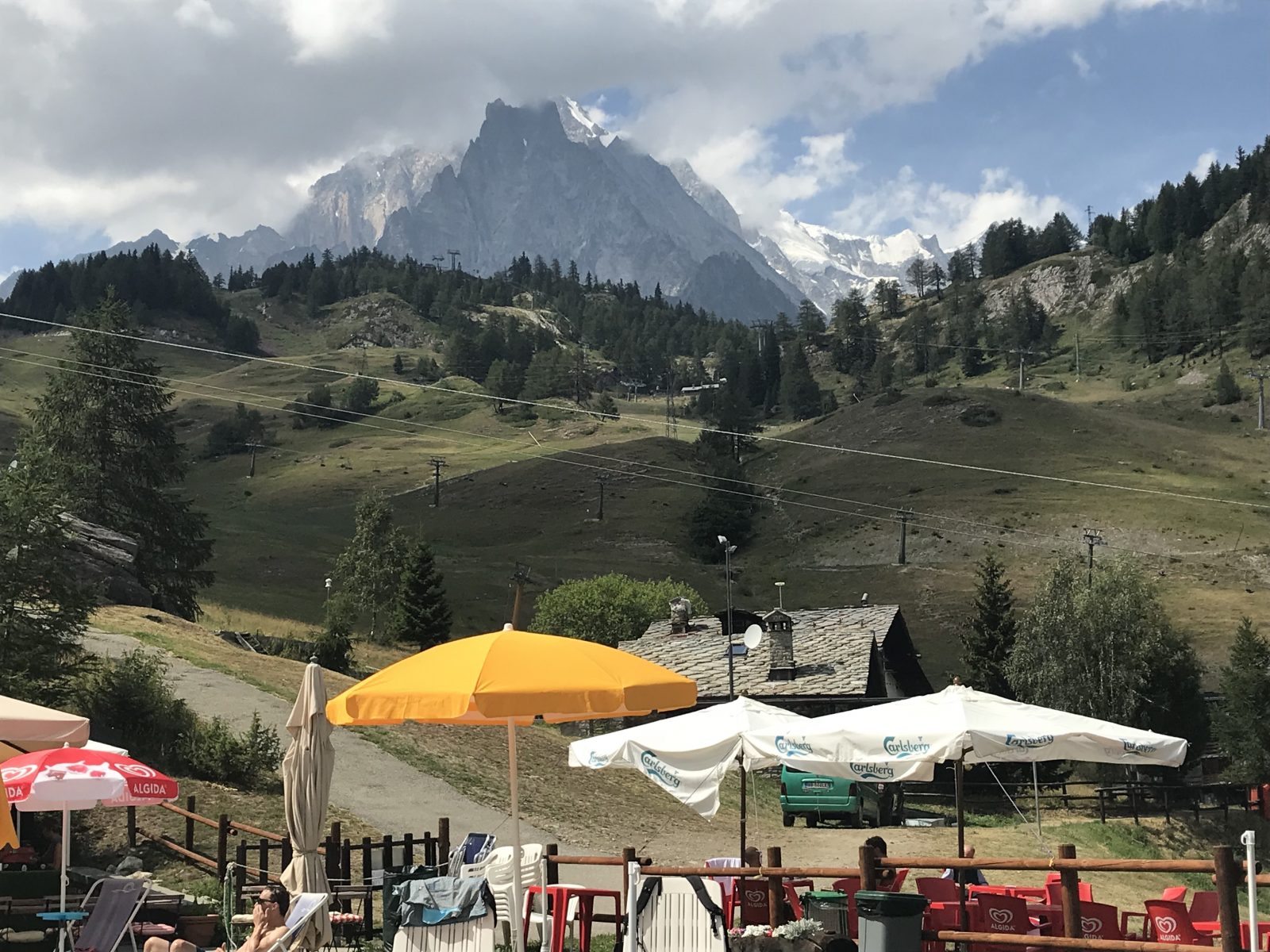 Then we decided to come down as I knew our time-frame for good weather was starting to end. We did it well, we were down and still dry, so we started to walk back to our apartment. On the way I've wanted to show my husband and the kids the Mountain Sports Centre in Courmayeur- a fantastic sports centre just down from the Dolonne lift. It houses an ice-rink, climbing walls, lots of other courts plus big spaces if you want to put an event. The Hungarian (or Romanian, cannot recall now) ice skaters were training there- it was really interesting seeing them for a bit. Little we realised that when we were indoors there was a massive rain storm outside. I've received a text from my friend Claudine asking if we were back down from the mountain as it was raining heavily and told her we were dry inside at the Mountain Sports Centre. When we finally left, it was raining very thinly, but we made it home safe and sound. Little we knew (we heard it a couple of days later in Aosta city) – that so much water came down at the same time, that it created a mud slide on the Val Ferret site where 2 were killed and 320 people needed to be evacuated from the site (this just down the road from where we were). I did hear some helicopter activity, but never suspected on something like that going on! You do need to be watchful in the mountains, as conditions change very quickly!
That night we went to one of my favourite restaurants in Courmayeur – Ancien Casino. It is the first restaurant we went on our first ski trip to Courmayeur, we arrived late and just walked down from the Edelweiss hotel, and they could house us (even though Courmayeur is so busy, that you need to make reservations in advance for dining out!) – We had a lovely time there, food is always great and wine too, I don't need more!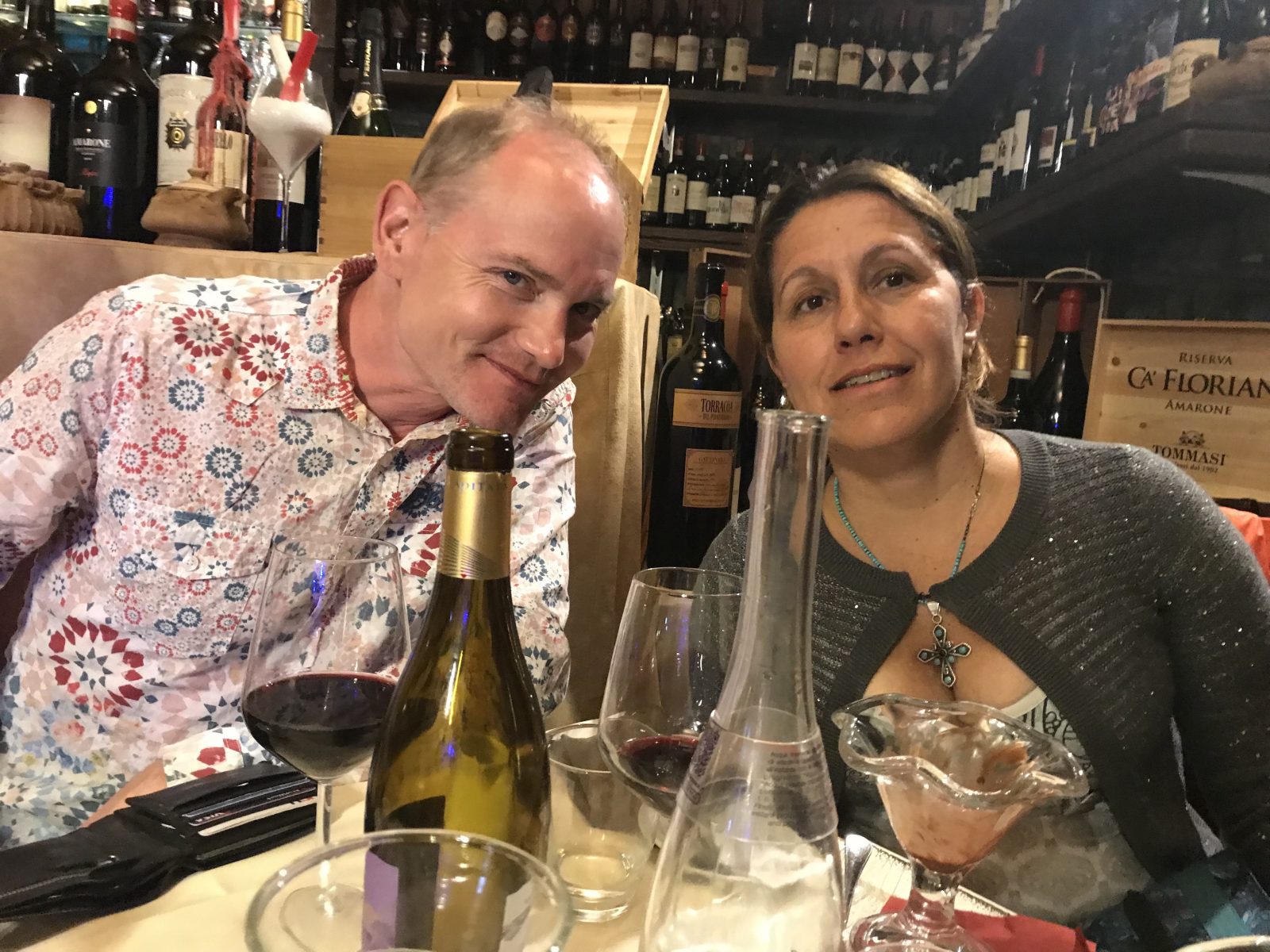 On Tuesday, we went driving to Aosta. My kids were dying to see Pila in the summer, so off we left early, after breakfast, as we knew again that our window of opportunity was going to be small. More rain was on the way. You can check what we did here. It was lovely to see Pila in the summer – I don't think that the base area of Pila is particularly nice, but the views of the mountains are – it is a great balcony from where to see the Mont Blanc/Monte Bianco, Monte Cervino/Matterhorn and Monterosa. But in summer they did a lovely job at landscaping, and it actually looks pretty! Then we went to Aosta for dinner and back to Courmayeur after a great day!
Wednesday we decided to go to one of the famous treks in Courmayeur – both Val Veny and Val Ferret offer great hikes – but for obvious reasons, we've decided to stick with Val Veny. You drive up the mountain a lot, you can see the Val Veny's base of Courmayeur pretty high – with lots of restaurants, and lots of campsites on the way. We've parked – it was very busy; you can tell this is a favourite place for everyone to come. The views of the mountains with the Dora Baltea river are amazing!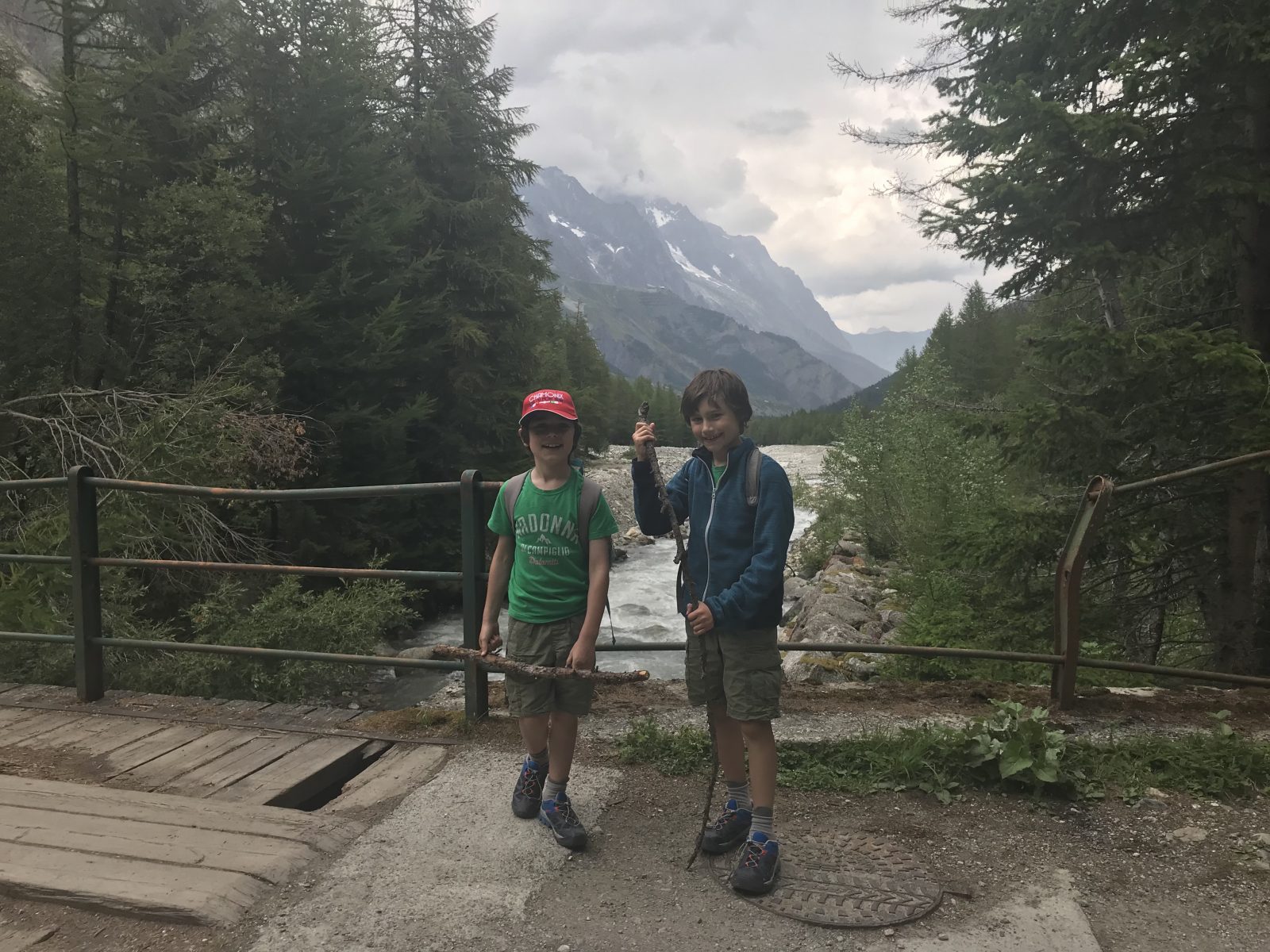 We've managed to do some bits and bops away from the main walking path – it was fun! The rain was coming, and I was a bit nervous of being next to a pretty full-on river at this time. We finally did not do a very long hike, as the rain started pouring down – we've managed to get into a little hut and have some coffees and hot chocolates – as it was a bit cool, but then we've thought we needed to get back to the car – we've put our rain-jackets and just started going down under the rain! We did it well back into the car, and down the winding road to Courmayeur.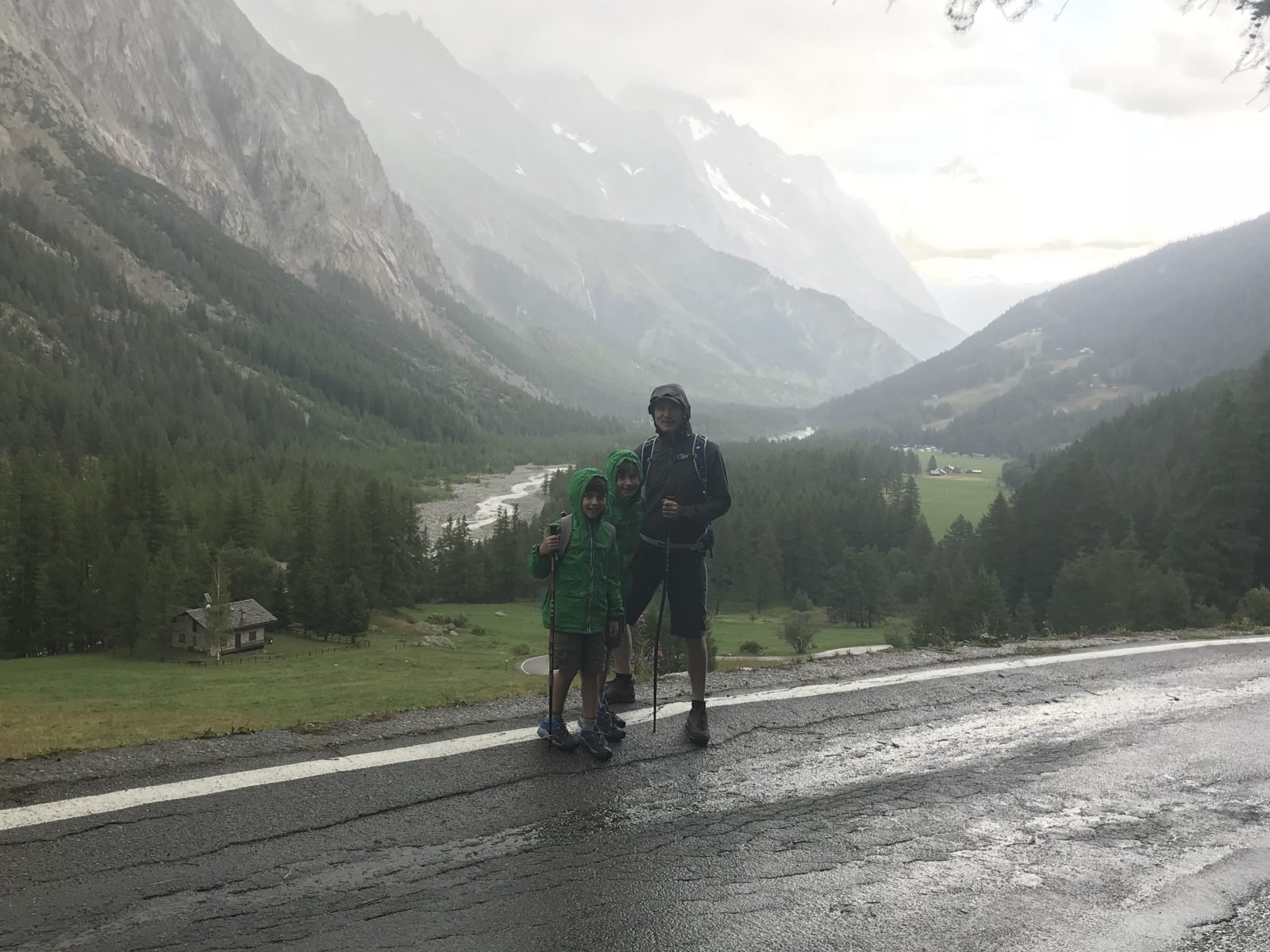 Once in Courmayeur, the weather opened again! We went to do our obligatory passegiata to Via Roma for some aperitivo and then went back home for dinner and a game of Risk!
Next morning, we've already arranged with Enrico of the Cervinia Tourism Office that we were going to say hello and go for a hike. We left early, drove to Aosta, past Aosta and then up to Cervinia. When we arrived, Enrico told us that the weather was going to turn bad, so we should do as much as we can and try to return to town after lunch. He arranged lunch for us – I've written more in detail of this day here.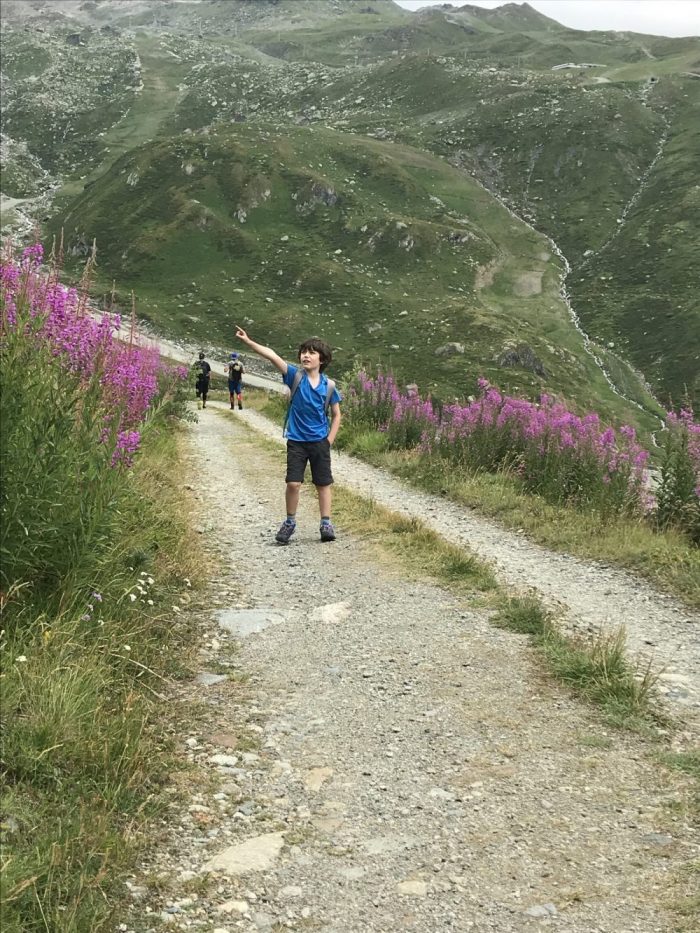 I would definitely go back in winter to ski there – this past winter, as I've done my MCL on the first day, I did not go, but we are still planning to go for a day next year! You always need to have a holiday plan in mind!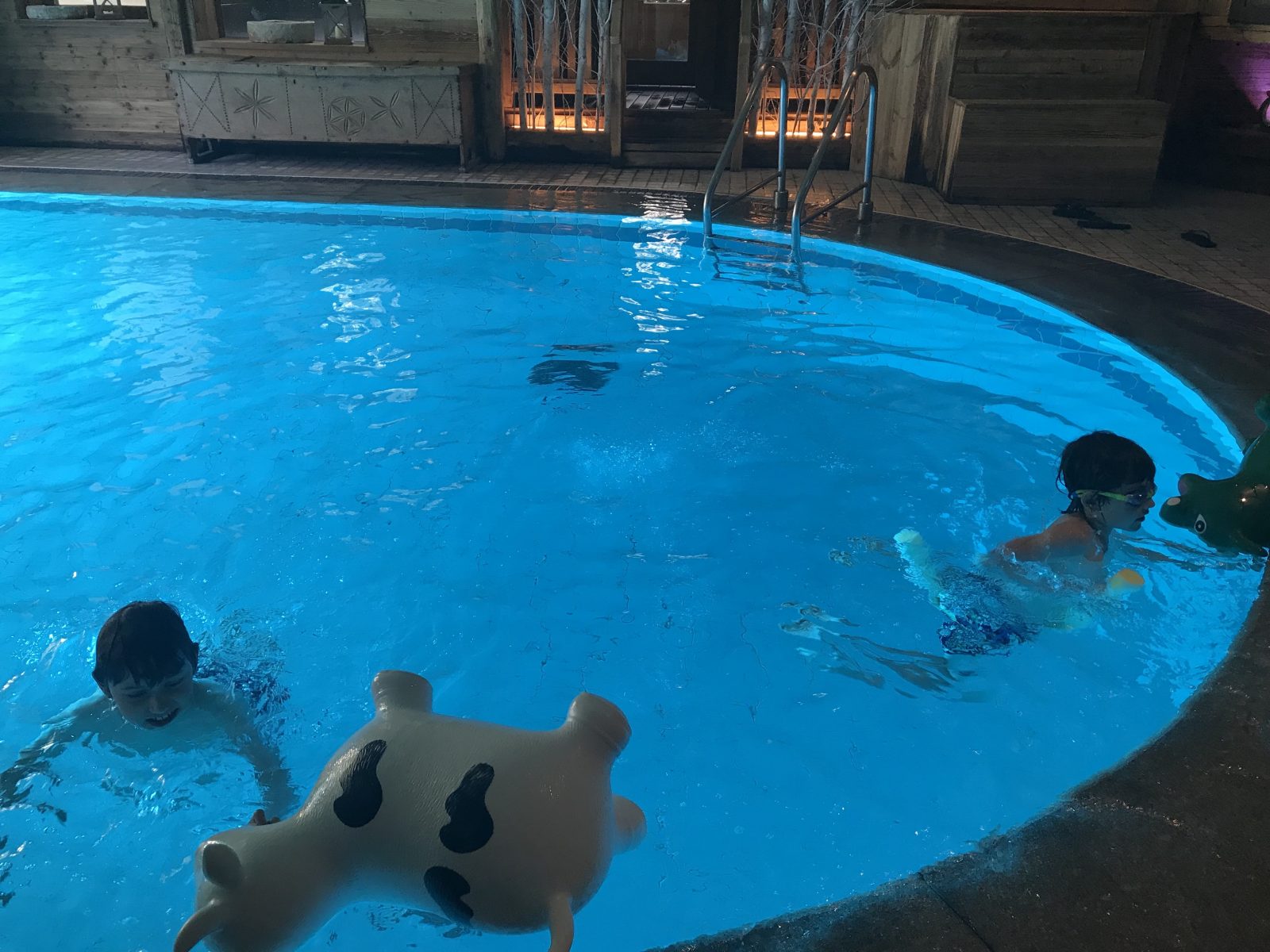 Came Friday of the week and we were a bit knackered of so much going up the mountain, so we took it easy. That day it decided to be beautiful with no rain! I've called the Gran Baita hotel, that was near were our AirBnB was, to see if we could go to use their spa. Fortunately, just paying a fee, we could! It was a great day. The spa has been refurbished since I've seen it last when doing the Must-Read Guide to Courmayeur. It has wooden-panelled walls and roof and it does look more cosy. The pool is in-out, with a sauna overviewing the mountains and an ice shower. My kids loved going to the shower and then jumping into the pool. You can also read a review of the Gran Baita here. Lovely hotel to go and stay for a week!
That night we went to one of the events at the Maseratti Mountain Lounge and met Alessandra from the Tourism Office, then went for some shopping in Via Roma and to the Petit Bistro Creperie (or Bistrot da Toni), that is in the intersection of Via Guglielmo Marconi and Via Roma. You just sit outside (so it needs to be in good weather) – and they produce very good crepes and pasta. Cheap and cheerful and really yummy! My kids can't get enough of it. What I do love about Italy, is that food is great and cheap, and kids love it! I never get a complaint from their side! Plus, Italians love kids and everywhere it is family-friendly.
The next morning, it was time to leave for the rest of our adventure. I really loved Courmayeur and seeing part of all what it has to offer. Off we went to the beach for one week and then back to London, but with a couple of overnights in the way, one in Courchevel and one in the Lac de l'Alliette.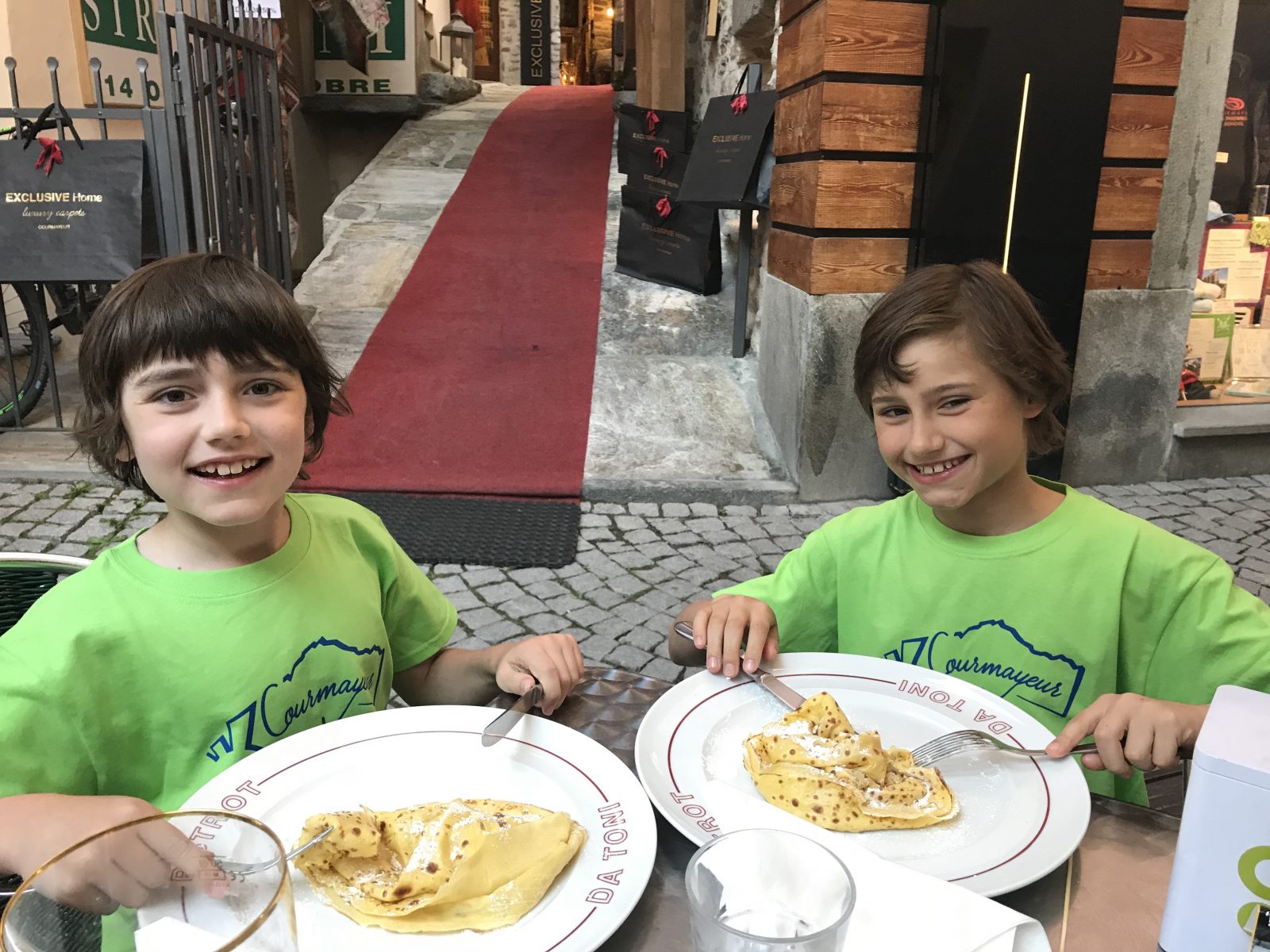 I'll write about our hike day in Courchevel and a review of where we've stayed on other posts. I really recommend Courmayeur as a four-seasons place where to go – obviously you can see I want to move there so I am totally biased!
You can search for your own accommodation in the snow for your next ski holiday through our Accommodation Search tab.
The-Ski-Guru TRAVEL is a CONCIERGE service that can help you organise your bespoke ski trip to the Americas, Alps or Japan, including for those going from Britain to Europe, helping you book your Eurotunnel trip, and for all trips: lodging, lift tickets, rentals, ski school, and all you need for an excellent vacation. Go to https://www.the-ski-guru.com/travel and upload your information – this page will be updated soon with more travel ideas. Check our amazing Ski Safari in the Dolomites , stay at the San Lorenzo Lodge White Deer in the Val Pusteria of Sudtirol, in the Hotel Petrus in Riscone, for skiing Kronplatz, or check our offer to Obergurgl-Hochgurgl and Sölden to ski with your family. Maybe you want to come on my group to ski with other like-minded skiers in Courmayeur in January 2020, staying at the Gran Baita hotel?
You can start thinking about your trip, by reading the articles on the Planning your Ski Trip tab.  Or how to pack for your family ski trip.  If taking your furry friend abroad to the continent, read about the new Pet Travel Scheme update from DEFRA. Self-drive skiers also need to plan for Brexit. Check out our tips for driving to the mountains.  If flying and renting a car in Europe, beware of the extra charges they will pass to you if you want winter tyres, snow chains or ski racks. If driving, check the winter tyres news for Europe and North America. You can see how our last family ski holiday was not as expected, even though one plans it to be a success, but how we could do the most of it. If you want to get better before getting to your next ski holiday, here is a quick guide to indoor skiing and dry slopes in the UK.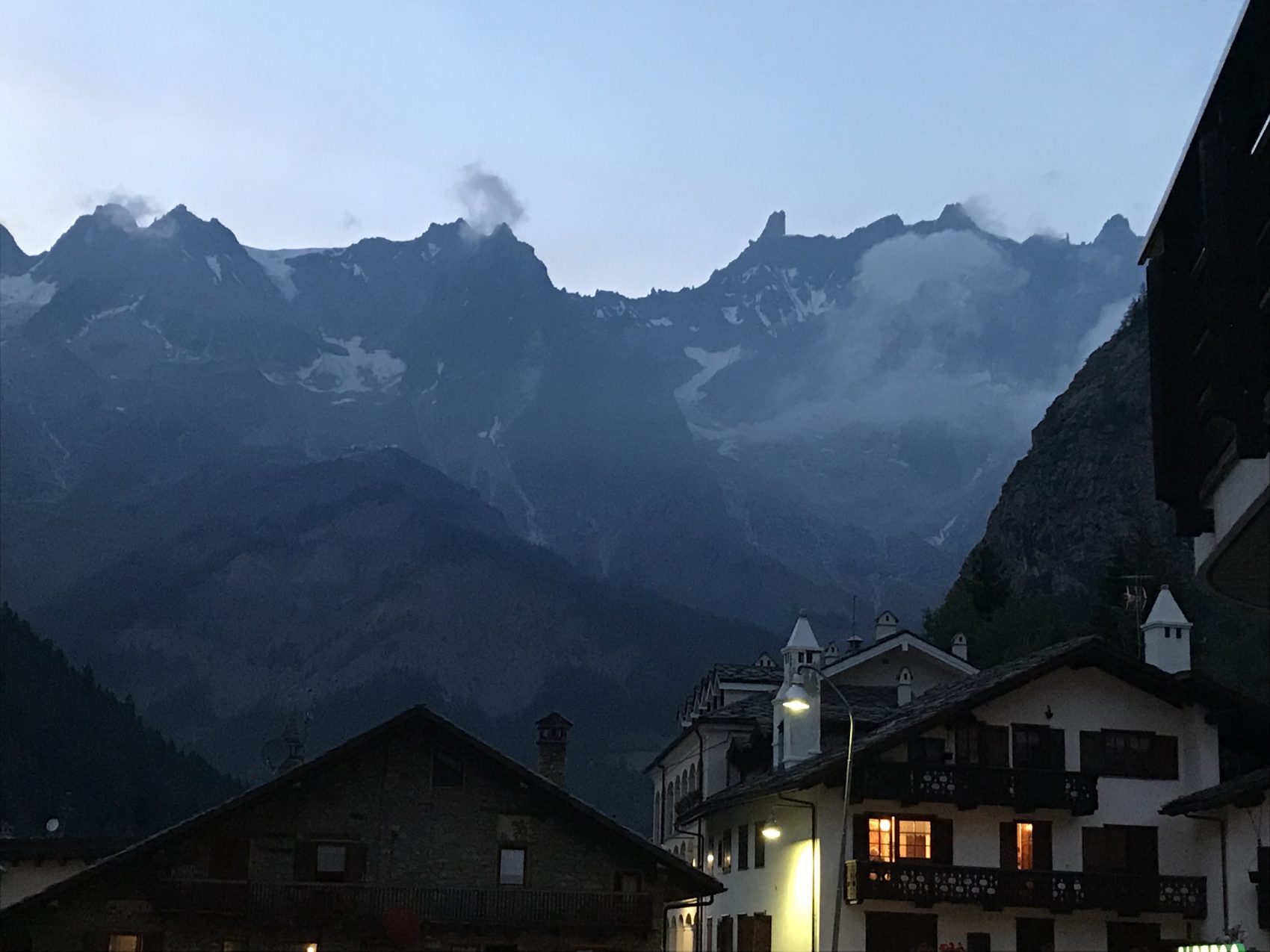 Featured Image: Courmayeur in the summer. Photo: The-Ski-Guru. Our summer in the mountains – one week in Courmayeur.
Please follow and like us: