Spot on Gasthof Post Lech.
This article may contain affiliate/compensated links. For full information, please see our disclaimer here.
Last week I was lucky to stay for a couple of nights at the Gasthof Post Lech in Lech am Arlberg. It was my third time in Lech, but the first time I was staying to sleep there, as I have been only a couple of times for lunch between meetings and going back to St Anton.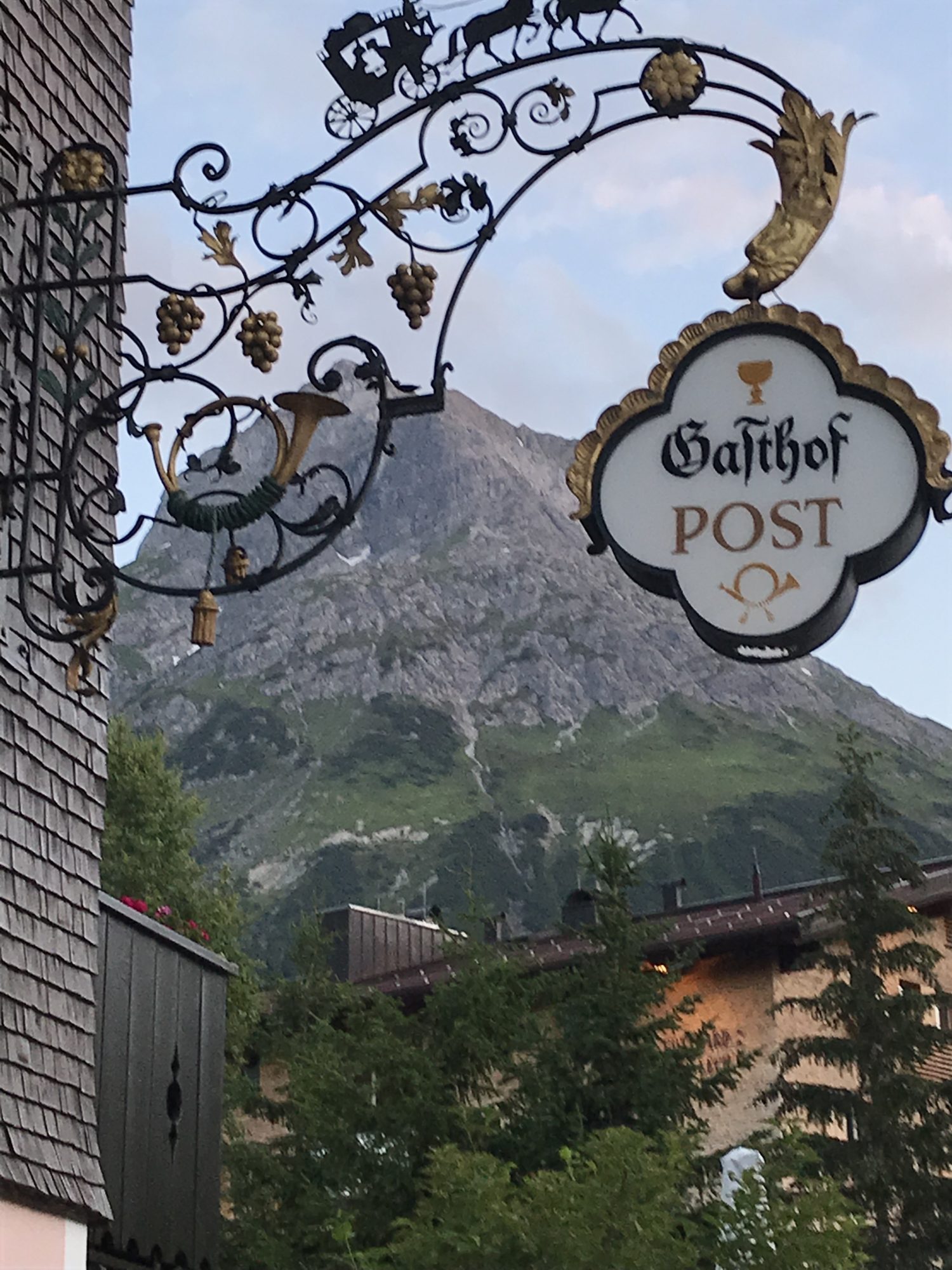 I really liked Lech, and I will write a Must-Read Guide on the destination soon. But I wanted to single out this stay at the Gasthof Post Lech. I did not know much about it, only that it was one of the best hotels in town and that it was very well located.
Lech is a small town, around the main road coming from Zürs and from the Arlberg Pass. In the winter, Lech is at the end of the road; in the summer you can continue through it to Warth. The Gasthof Post is on the main road, just steps to the Rüfikof cable car. When you come it looks like a typical Austrian building, all well taken care of with its nice flowerpots on the windowsills and a small unassuming door on the front. It belongs to the Relais and Châteaux selected group of hotels and is owned and run by the Moosbrugger family.
Coming in is a bit like going back in time, but to a very nicely decorated but charming and cosy hotel. The receptionist took my bag upstairs to my room, which was a Jäger Room. It was beautifully decorated, in the newer building of the hotel. The room had a lovely balcony where I liked to hang up to watch the stillness of the landscape, and a hand carved wooden bed that invited you to lie on it.

The bathroom had some nice Moorish green tiles with a stand-alone bath, a His and Hers basin, and separated toilet and shower.
It was so nicely decorated that I did not want to get out of the bedroom. But I had to do some other things, so eventually I did get out. I had the chance to have breakfast and dinner in the newly built Panoramic Postblick Restaurant and lunch at the Terrace on a lovely sunny day.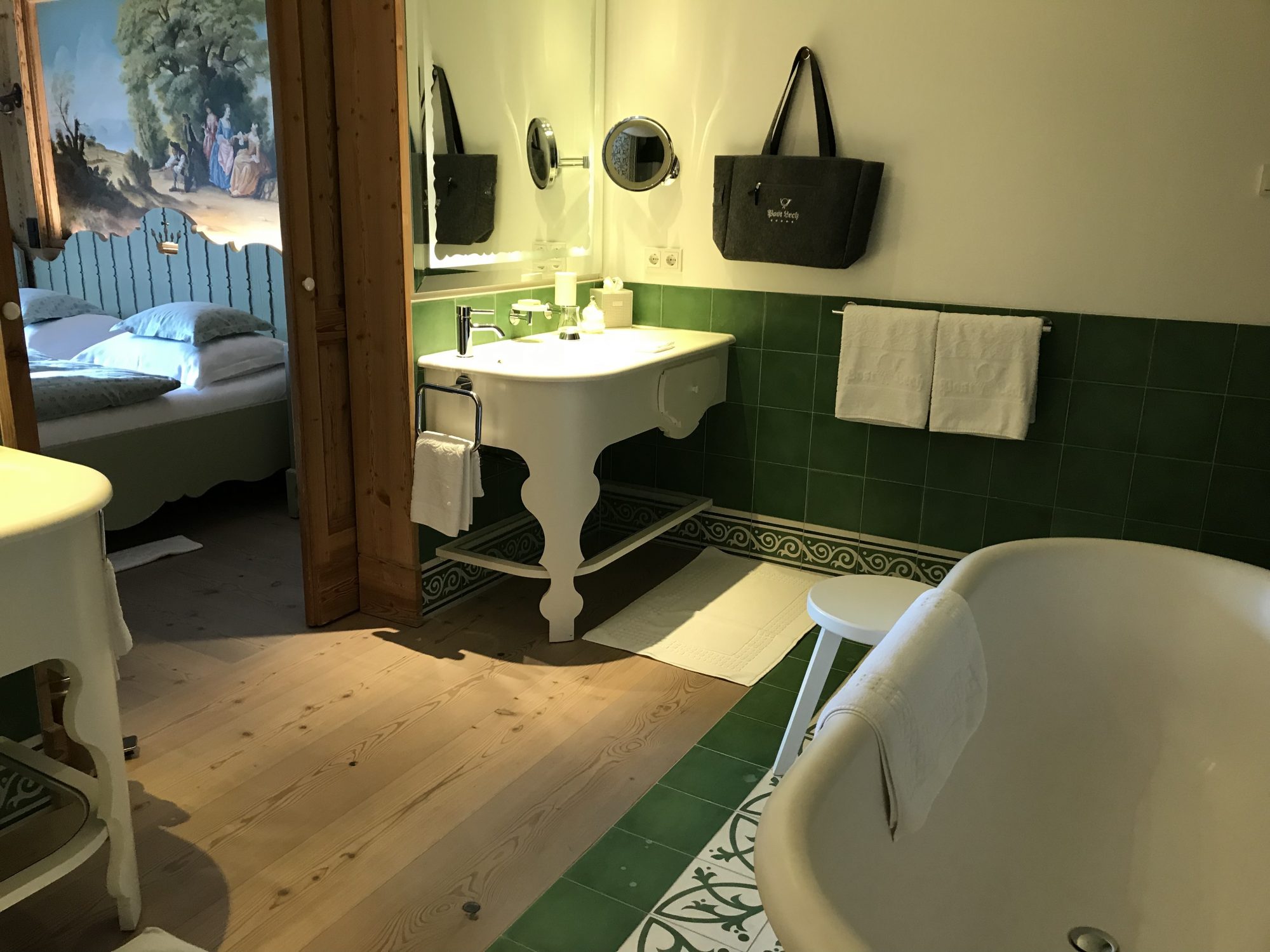 Breakfast was very well served with a menu of hot and cold choices, lots of juices and also the option of asking for your eggs as you like them. I love soft-boiled eggs and they bring them with their eggs cosies' and offer them to open the tops with a little gadget that does the job perfectly – never seen one of those before, but I want one now!
Lunch was with Gertrud Schneider, an hotelier of another beautiful boutique hotel Kristiana Lech that cooperates with the Gasthof Post in their marketing. As her hotel is closed for the summer, Gertrud invited me for lunch at the terrace of the Post, which was really nice, the weather was very bright and warm and I had some local goulash that was really delicious. They've brought as a small soup first that was also very tasty!
We had dinner with the hotel's owner Florian Moosbrugger, Lech Tourism Office Director's Hermann Fercher and Sales Manager Irmgard Huber (who was the one that took care and organise all my trip in an impeccable way!) – and a couple of North American journalists. We tried a Gourmet dinner of 7 different dishes, all small, but by the end I could not eat any more. Each dish was meticulously prepared and very nicely presented. Each one was paired with a different wine from the Moosbrugger winery, managed by Florian's brother. That night I had to finish with a digestive tea with all the food I had! But it was well worth it!

Just before that dinner, I had the chance to visit the Spa that was pretty newly rebuilt. With its 15 meters in/out pool you can enjoy doing some lengths while watching the tranquil garden and the Omeshorn at 2557 meters, which is the iconic mountain of Lech, the equivalent of the "Matterhorn" to Zermatt.
Inside the spa you have a couple of lovely recliners where you can relax after a swim, some with massive windows to see the outdoors and some downstairs in the tranquillity of the spa. Plus if you feel more active, a small gymnasium with big windows to be lost in the views while you workout.
I went afterwards to the sauna, with a window to watch outside and had a nice detox there, and then took a shower and had another rest on the relax area. This was a great way to unwind after having a morning hiking on top of the Rüfikop and then afternoon viewing hotels.
I can see why royalty, with the likes of the King and Queen of Denmark, prefers this hotel as it is very discreet but with superior service.
With our new opening of a tour operator, we will be offering the Gasthof Post Lech- please write to us if you want to book your holiday to this or other options in Lech at info@the-ski-guru.com
More information on the Gasthof Post Lech.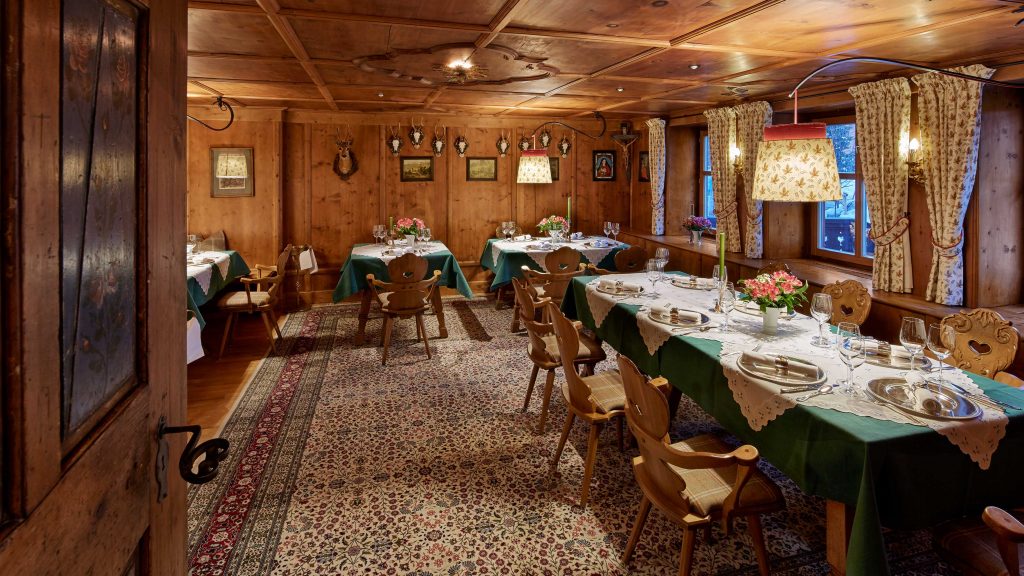 To keep on reading Ski News at your Fingertips, keep on visiting The-Ski-Guru, subscribe to our newsletter and follow us on Social media through our hashtags #skinewsatyourfingertips and #theskiguru.
The Ski Guru has launched a new Consulting Service and a Media Agency for snow/winter marketing platforms.
If you want help in putting together your bespoke trip, please contact us at info@the-ski-guru.com – Travel with us!
Featured Image: The Gasthof Post Lech, is centrally located in Lech, here with a view of the Omeshorn peak behind. 
Please follow and like us: