The Southern French Alps are the Best Part of the French Alps for Summer Activities.
As summer arrives in the Alps, the snow melts away revealing a spectacularly lush and colourful landscape with green pastures carpeted with alpine flowers teaming with butterflies, set against a backdrop of gnarly cliffs and glaciers with raging rivers and waterfalls cascading down to the valleys.
For outdoor lovers, the mountains also transform into a veritable adventure playground with everything from paragliding to rafting on offer!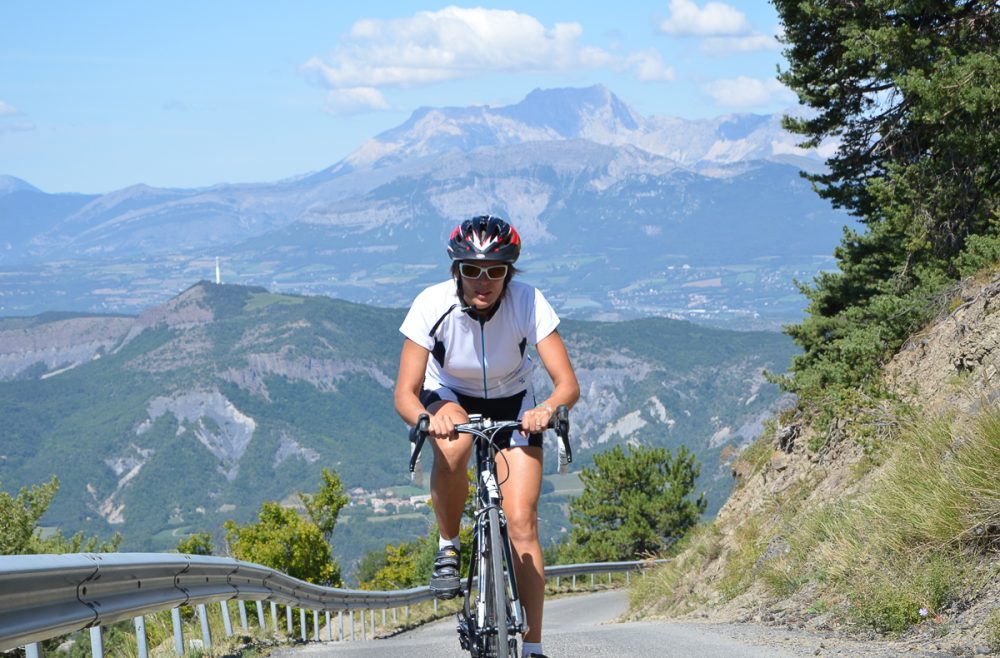 Adrenalin junkies will love sliding down the natural toboggans, abseiling down waterfalls and jumping into clear alpine pools canyoning ,  testing out their head for heights on a via ferrata or even going underground caving or to do a via souterrata (underground via ferrata).
Nature lovers will adore walking in the mountains and staying in one of the many high mountain refuges amongst the chamois and marmots with the howls of wolves now a relatively common experience, especially in the Southern French Alps.
Families will have fun rafting together on the roller coaster rapids, rock climbing and swimming in the beautiful Alpine lakes.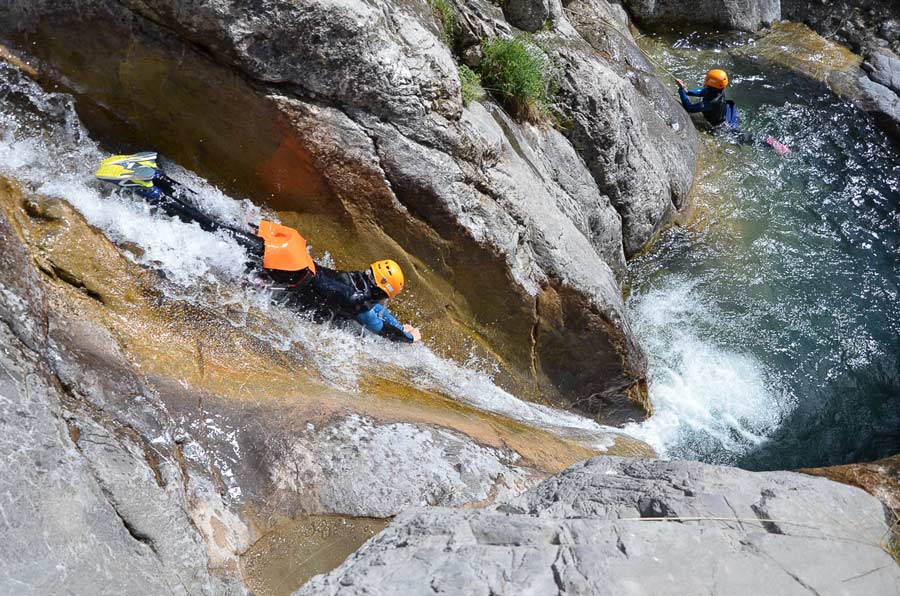 Bikers will appreciate the summer lift access to well designed single track descents and roadies will get high on endorphins from summiting a Tour de France mountain pass!
There really is something for everyone in the summer in the Alps!
So where is the best place to go to experience some of these fantastic activities?
Ask someone to name a place in the Alps and they will probably choose a ski resort such as Val D'Isere, Courchevel or Morzine, which for skiing is the crème de la crème.
Summer is a different proposition. For a summer holiday we want warm weather with lots of sun and access to all of these activities all within a stone's throw.

This is where the Northern French Alps, cede the number one position they hold for winter sports to the Southern French Alps. With high mountain glaciers to beautiful beaches by the lake all within an hour of each other and the best sun record in France with 300 days of sunshine per year, the topography and climate are pretty hard to beat.
Instead of purpose built ski resorts, the Southern French Alps is a thriving year round Alpine community with hundreds of pretty Alpine villages scattered through the valleys and mountains making for a truly authentic destination where you really can holiday like a local.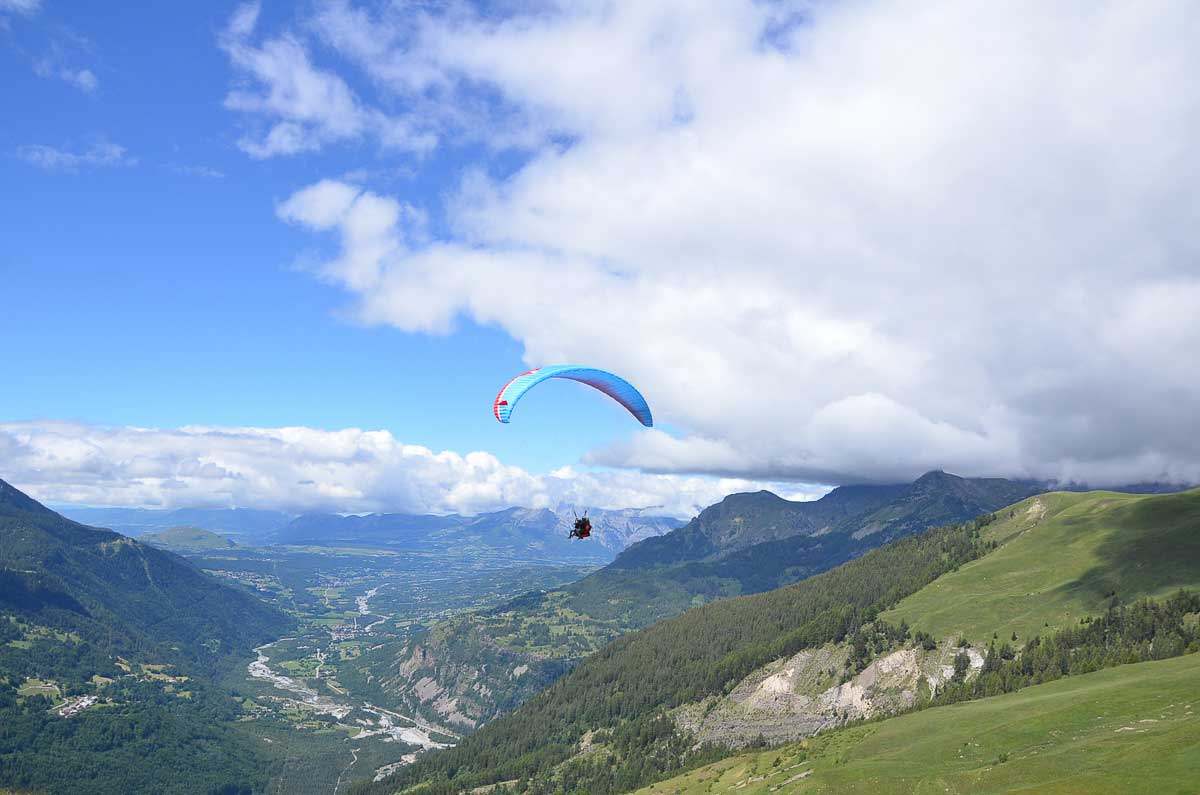 Undiscovered Mountains have been operating summer activity holidays in France's number one adventure playground for over a decade and offer everything from waterskiing to mountaineering in a fully customisable formula using their unique activity points system.
It is easy to get to via Lyon, Grenoble, Marseille, Turin or Nice airports or on the train from Paris on the overnight sleeper directly to Gap which is the main town or TGV to Aix-en-Provence or Grenoble and then on to Gap.
This destination is also perfectly situated to join up with a week in Provence or the Cotes D'Azur or northern Italy.
Written by our Guest Editor: Sally Guillaume, owner and director of Undiscovered Mountains
You can see more ideas of what to do during summer in the mountains here. If you can splash some money, I recommend a helicopter fly to see the majestic Mont Blanc. There is also a post of our last summer family trip to the mountains and beach combined.
The-Ski-Guru TRAVEL is a CONCIERGE service that can help you organise your bespoke ski trip to the Americas, Alps or Japan, including for those going from Britain to Europe, helping you book your Eurotunnel trip, and for all trips: lodging, lift tickets, rentals, ski school, and all you need for an excellent vacation. Go to https://www.the-ski-guru.com/travel and upload your information – this page will be updated soon with more travel ideas. Check our amazing Ski Safari in the Dolomites , stay at the San Lorenzo Lodge White Deer in the Val Pusteria of Sudtirol, in the Hotel Petrus in Riscone, for skiing Kronplatz, or check our offer to Obergurgl-Hochgurgl and Sölden to ski with your family. You can ski to have lunch in the Rifugio Sofie in Seceda, Val Gardena, in the Dolomites.
You can start thinking about your trip, by reading the articles on the Planning your Ski Trip tab.  Or how to pack for your family ski trip.  If taking your furry friend abroad to the continent, read about the new Pet Travel Scheme update from DEFRA. Self-drive skiers also need to plan for Brexit. Check out our tips for driving to the mountains.  If flying and renting a car in Europe, beware of the extra charges they will pass to you if you want winter tyres, snow chains or ski racks. If driving, check the winter tyres news for Europe and North America. You can see how our last family ski holiday was not as expected, even though one plans it to be a success, but how we could do the most of it.
Also for those interested in how resorts deal with the risk of avalanches, you can check the interview to Coco Torres, former Head of Operations at Valle de Las Leñas in Argentina, a highly avalanche risk resort.
Featured Image: The Southern French Alps are the Best Part of the French Alps for Summer Activities. Photo: Undiscovered Alps.
Please follow and like us: