Upcoming Projects at Nendaz Veysonnaz: new gondola, snowmaking and on-mountain restaurant
NV Remontées mécaniques has definitely obtained all the necessary authorizations for the construction of the Gondola connecting Prarion to Plan du Fou as well as artificial snow making of the Greppon-Blanc sector (Combatseline-Thyon).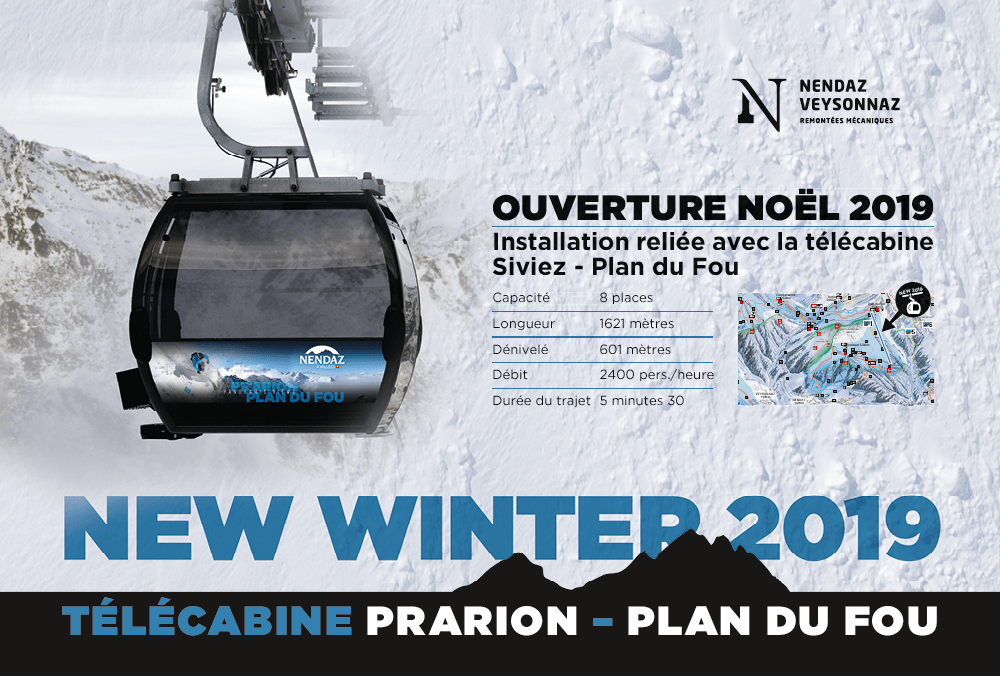 These two projects will be carried out during summer 2019 and the installations commissioned for the winter 2019-2020. In parallel, the artificial snow of the Plan du Fou's free track will also be finalized.
The total investment represents around CHF 25 million. NV Remontées mécaniques will therefore have invested a total of CHF 60 millions in 4 years (2016 to 2019) in order to improve its offer and best meet the expectations of customers.
Gondola Prarion – Plan du Fou
The Gondola will connect Prarion to Plan du Fou directly. It is intended to replace the Fontaines ski lift and the Plan du Fou cable car. The latter will be demolished while the ski lift will still remain.
The flow of this essential link axis will be multiplied by 3, from 800 people/hour to 2'400 people/hour, to alleviate an area where there were queues.
The departure station will be adjacent to the Prarion-Tracouet chairlift and will allow boarding of both facilities at the same level. The upper station will be fully connected to the Siviez-Plan du Fou Gondola. Users will have the opportunity to transit from Prarion to Siviez without leaving the Gondola. Skiers will obviously be able to go out at the Plan du Fou and ski on the slopes of both sides of the mountain.
The link between Haute-Nendaz and Siviez will now be possible for pedestrians without going by the road and using only cable facilities of the ski area.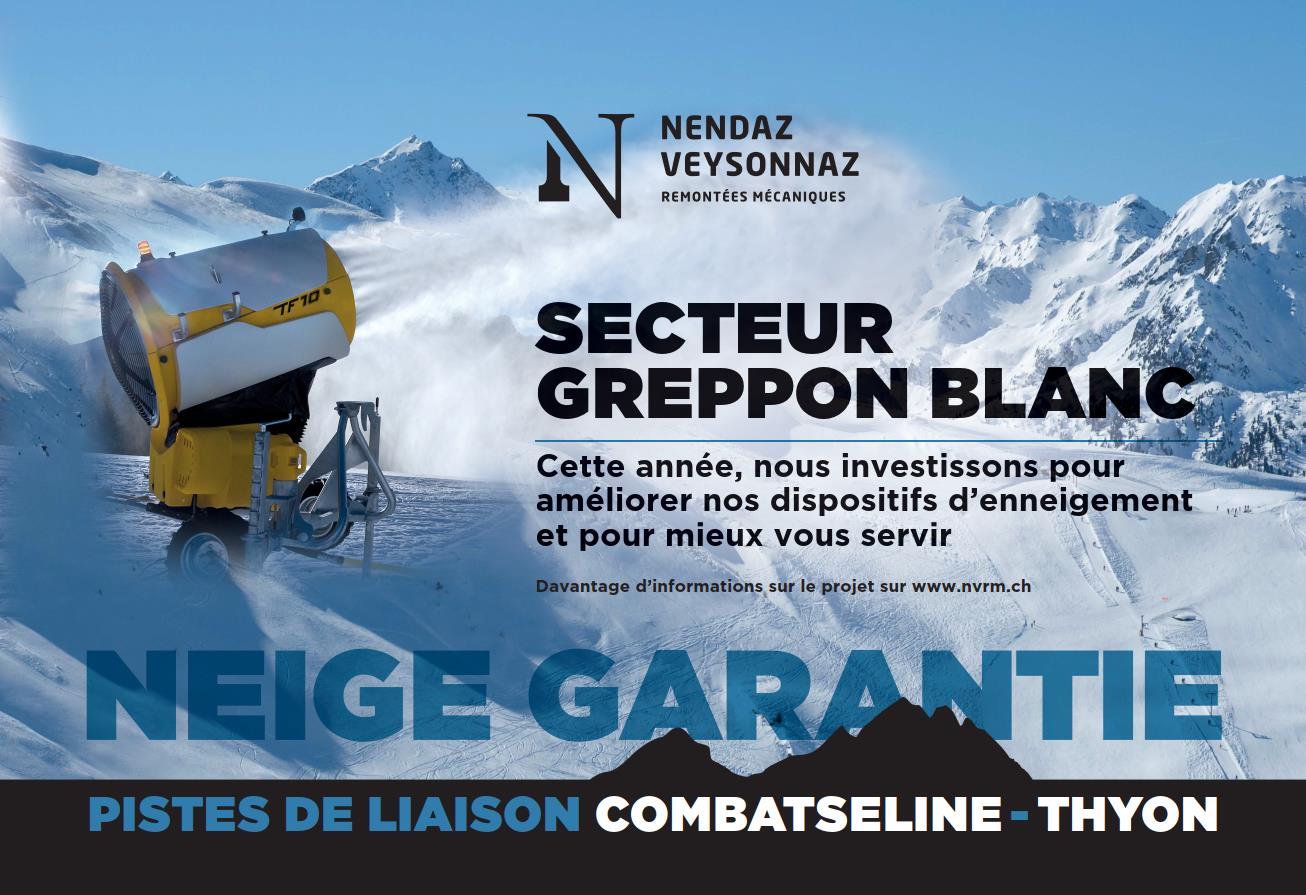 Artificial snow making – Greppon-Blanc sector
All the slopes linking Combatseline to Thyon 200 will be equipped with a state-of-the-art artificial snow system.
The network extends for more than 15 kilometres and will include a hundred snowmakers. Two pumping stations will be needed, one at Thyon 2000 and the other at the departure of the Greppon-Blanc chairlift.
Once this project completed, 95% of the slopes of Nendaz-Veysonnaz ski area will be equipped with artificial snowmakers. The ski will be guaranteed from November to April in ideal conditions!
A new restaurant
NV Remontées mécaniques SA is planning to develop its catering department by building a new restaurant to replace the Chotte de Tortin. The building authorization is already in our possession and the schedule of realization will be defined precisely once the projects above (artificial snow making and Prarion-Plan du Fou Gondola) completed.
More information: NV Remontées mécaniques

The-Ski-Guru TRAVEL is a CONCIERGE service that can help you organise your bespoke ski trip to the Americas, Alps or Japan, including for those going from Britain to Europe, helping you book your Eurotunnel trip, and for all trips: lodging, lift tickets, rentals, ski school, and all you need for an excellent vacation. Go to https://www.the-ski-guru.com/travel and upload your information – this page will be updated soon with more travel ideas. Check our amazing Ski Safari in the Dolomites , stay at the San Lorenzo Lodge White Deer in the Val Pusteria of Sudtirol, in the Hotel Petrus in Riscone, for skiing Kronplatz, or check our offer to Obergurgl-Hochgurgl and Sölden to ski with your family. Maybe you want to come on my group to ski with other like-minded skiers in Courmayeur in January 2020, staying at the Gran Baita hotel?
You can start thinking about your trip, by reading the articles on the Planning your Ski Trip tab.  Or how to pack for your family ski trip.  If taking your furry friend abroad to the continent, read about the new Pet Travel Scheme update from DEFRA. Self-drive skiers also need to plan for Brexit. Check out our tips for driving to the mountains.  If flying and renting a car in Europe, beware of the extra charges they will pass to you if you want winter tyres, snow chains or ski racks. If driving, check the winter tyres news for Europe and North America. You can see how our last family ski holiday was not as expected, even though one plans it to be a success, but how we could do the most of it.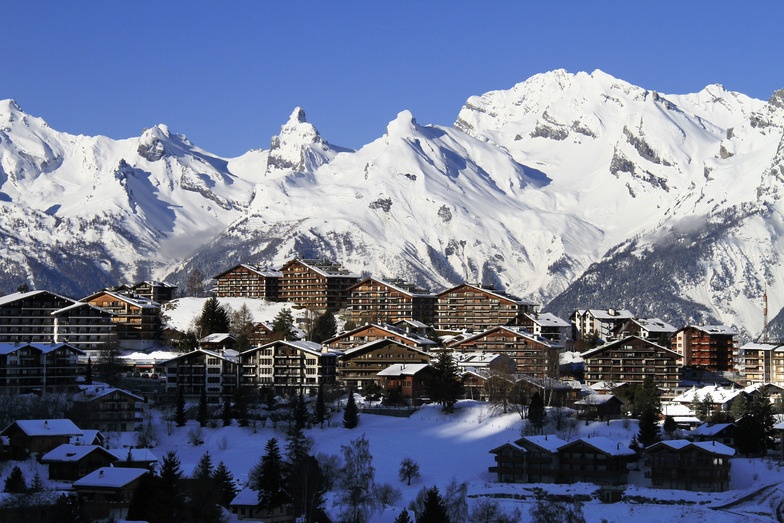 You can also look for your own accommodation in the snow through our Accommodation Search tab.
Featured Image: Nendaz. Photo: Yasmin Gaudin.Upcoming Projects at Nendaz Veysonnaz: new gondola, snowmaking and on-mountain restaurant.
Please follow and like us: