The new Future of Ski Bindings is here: Howell 880 Pro ACL friendly ski binding.
We all know how important ski bindings to skis are. You don't want them to pre-release, making it dangerous while coming fast down the mountain.  On the same way, you don't want them not to release, as this implicates potential damage to your limbs.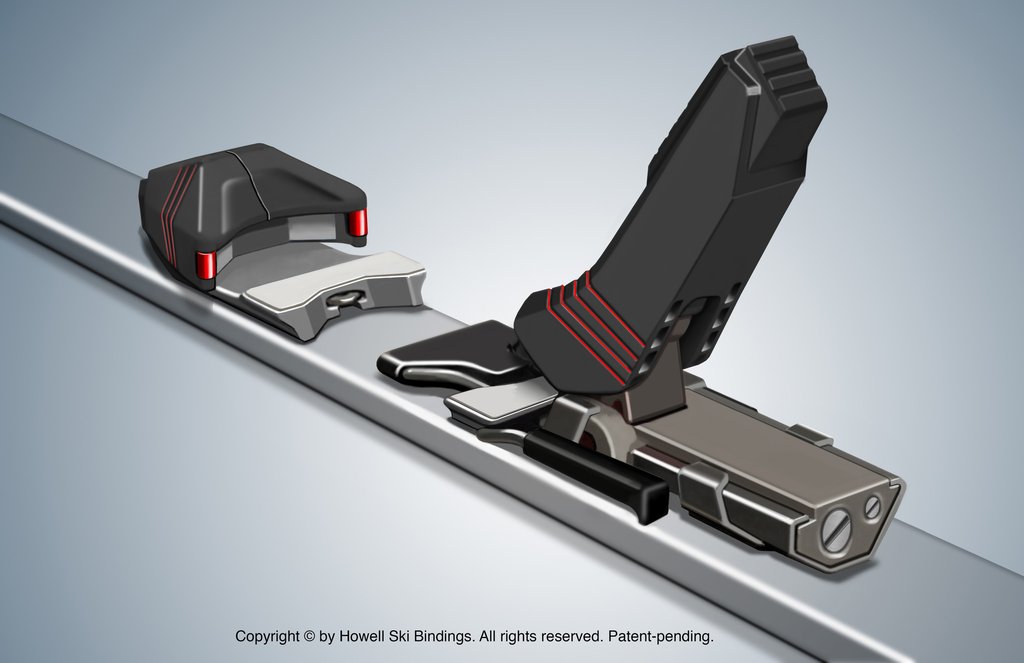 The typical binding has a lateral toe release and upward heel release. The Howell 880 Pro has both characteristics, PLUS a lateral heel release.
These bindings will be releasing end of October 2020 and you can pre-reserve with a USD 80 deposit here.
Rick Howell, owner of Howell SkiBindings has been in the business of creating bindings for over 4 decades. He was involved in the release of the Salomon 555, what became the number 1 selling alpine throughout the mid-1970's. He has a fascinating story about his life – it did grip me and read it all – you can check it here.
He was involved with a group of technicians from Stuttgart on what is now called the ''DIN' System', used worldwide for 37 years, by 20 million skiers, including today. Rick worked many years for Geze ski binding company and received the 'Glass Award' for successful business accomplishments that caused 'over 100,000 pair of bindings to be sold in a single year. '
Being an inventor, he also built the world's 1st hands-off clipless bicycle pedals – CycleBinding, which was sold to Shelburne Corporation of Shelburne, Vermont. Over 1-million pair of hands-off clipless bicycle pedals are sold per year – including today. He went also to invent, develop, pilot-manufacture and launch into the market the first complete line of high-tech snowshoes and snowshoe bindings for Tubbs snowshoe company, which are still sold today, 24 years later and are #1-selling snowshoes, worldwide.
He has dedicated his life to research and produce bindings maximising skiing safety. He kept on modifying during all these years his ACL-friendly ski bindings that do not pre-release.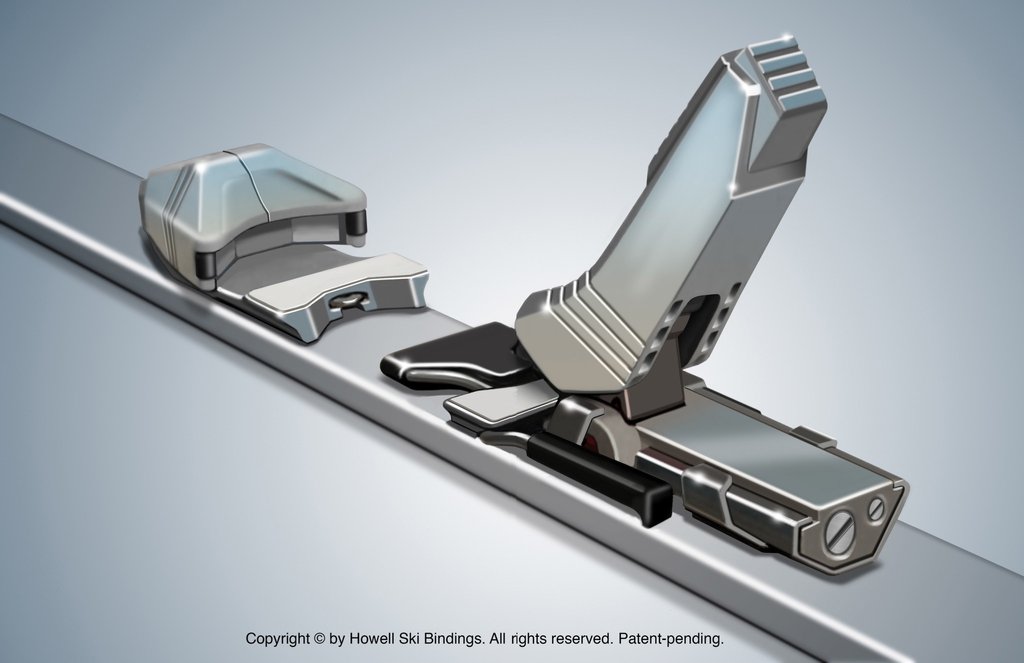 ACL-ruptures are, by far, the most frequent worldwide injury in skiing = ~50,000 skiing-ACL injuries per year, worldwide.  This frequency of skiing-ACL injuries has been on-going for decades — though, recently, the incidence (not 'incidents') is declining, slightly:  ACL-injuries are still, by far, the most frequent injury in skiing, today.  ACL-ruptures are also severe.  ACL-replacement surgery costs between US$20,000 to US$50,000 for diagnosis, treatment and rehabilitation, not including the cost of early arthritis, loss of income, loss of athletic performance, and pain.  Even highly rehabilitated World Cup ski racers who have sustained a skiing-ACL-rupture never return to their full-athletic potential.  Proper post-ACL-injury rehabilitation takes approximately 8 to 10-months to accomplish.  If every ACL-injured skier elected to replace their ruptured ACL, this scenario = $2.5-billion per year.  Researchers believe ~40% of all ACL-ruptured skiers seek ACL-replacement surgery = ~$1-billion per year for diagnosis, treatment and rehab.  Although medical-costs are socialized in some countries — there is no such thing as free-lunch.  Over the years, skiing ACL injuries have amounted to a total accumulated cost of ~$20-billion.  Further compounding the trauma of an ACL-injury, 50% of all ACL-injured people experience significant arthritis ~10-years after ACL-injury.  Skiing ACL injuries are a serious issue.
This is a problem Rick Howell decided to solve. 
Rick Howell has been working on this until today, when he is ready to release his Howell 880 Pro ACL friendly ski binding. His presentations are met with enthusiasm by most researchers — but not by the other ski binding companies and not by researchers who are subsidized by the other binding companies.  At the ESSKA orthopaedic conference in Barcelona in 2016, three leaders in the field stood — including Peter Brucker, MD, a German national ski team physician — to signal strong enthusiasm toward Rick's research.  Receiving this kind of enthusiasm at peer-reviewed scientific forums is unprecedented — and serves, in-part, to bio-mechanically-validate the technology.  Full validation must come from a prospective intervention study (presently being organized).  The planned prospective intervention study will be the first of its kind in the ski industry, though this kind of validation is mandatory in the pharmaceutical industry — and will take ~5-years and cost ~$4-million to perform.  Meanwhile, the biomechanical proof is compelling.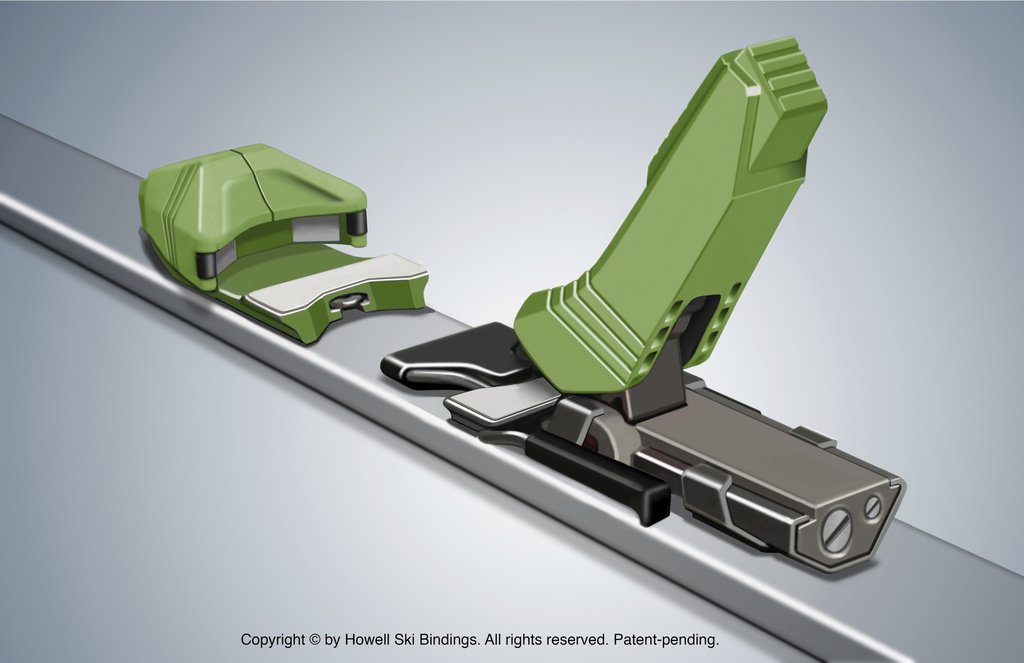 "Nothing seems to go wrong with Rick's testing because his methods are so simple."
      — a leading researcher in biomechanical engineering and sports science.
On October 11, 2016, Rick Howell was granted U.S. Utility Patent 9,463,370 that uniquely allows low stand-height in an un-patented, open, version of an alpine ski binding with non-pre-releasing lateral-heel release.
"Rick Howell is one of the foremost ski binding engineers in the world."
        —Chris Brown, PhD, PE, Professor of Mechanical Engineering, WPI, former NCAA All-American ski racer, peer-reviewed author of scores of scientific research papers on skiing safety.
On March 17, 2017, Rick Howell presented his latest pro bono research at the International Olympic Committee (IOC) conference on Sports Injury Prevention in Monte Carlo under the chairmanship of Professor Roald Bahr, PhD, of the Oslo Sports Trauma Research Center and under the session-moderation of University of Salzburg Professor Erich Müller, PhD:  'Mitigation of ACL Rupture in Alpine Skiing Through Ski Bindings' (see page-41).  The presentation abstract is published in the February 2017 issue of the peer-reviewed medical journal —  British Journal of Sports Medicine, 51:p-331  http://bjsm.bmj.com/content/51/4/332.1 
On April 22, 2017, Rick Howell presented further enhanced biomechanical research at the International Society for Skiing Safety (ISSS) conference in Innsbruck, Austria — hosted by University of Innsbruck, Department of Sports Science — under the session-moderation of University of Munich Professor Veit Senner.  Rick Howell's presentation:  "Theoretical ACL Integrity with Ski Bindings".  The slide-show of this abstract-presentation is free in the Howell SkiBindings on-line catalog.
Here's the current Position Statement a by SITEMSH  ( Société Internationale de Traumatologie et Médicine des Sports d'Hiver )
"There is enough mechanical and biomechanical evidence to assert that it is possible to reduce knee injuries in alpine skiing, especially those involving the ACL, with [specially] designed, manufactured and adjusted ski bindings. 
The presentations and demonstrations at SITEMSH and ISSS meetings, especially at SITEMSH since November of 2014, show ample support for this assertion.
Conventional modes of release are laterally at the toe and vertically at the heel.  To accomplish a reduction in knee injuries, ski bindings also need to have a mode of release, laterally at the heel.
This additional mode allows ski bindings to respond to lateral loads centered on the inside edge of ski, close to and at the rear of the center of the boot heel.
These loads result in a combination of valgus and inward rotational [torques] on the tibia.
These two [torques] together, not individually, have been shown to be responsible for increasing the risk of inducing injurious strains to the ACL.  Apparently, most of the ACL injuries in alpine skiing are caused by these kinds of loads.
Conventional bindings cannot respond appropriately, and clinical trials with new ski bindings should be designed to verify this thesis."
Rick Howell has parlayed his youth's athletics and injuries;  business and engineering education;    corporate marketing, manufacturing and distribution management experience in the category of ski-bindings;   repeated history of sports product development success;   special ski-binding know-how;  newly-patented intellectual property;  and scientific research on the validation of the ACL-friendly function — to develop new Howell SkiBindings.  
"If Rick's bindings do everything ordinary bindings do — and if there might also be the possibility of mitigating ACL-injury — why wouldn't you ski them?"
—Jake Shealy, PhD, Professor Emeritus, RIT, worldwide leading epidemiologist in skiing.
New Howell SkiBindings will be ready for shipment October 2020.   A 30% discount on the full-price and free shipping* is provided when reservation-deposits are placed now.   To Order by Reservation-Deposit, now:
Howell 800 Venus — Loaded with ACL-friendly features for lite & strong female skiers.   DIN 2.5—9
Howell 880 Pro — ACL-friendly without pre-release.   DIN 5—15
Howell 888 Max — CAUTION:  EXTREME SKIERS & RACERS, ONLY.   DIN 8—20  
More information: Howell SkiBindings.
I am tempted to get one pair myself – just bought some new ones last year, but I am waiting for a pair of skis that a friend promised will get from me – and those could have a pair of Howell 800 Venus and would look good!
I love buying ski equipment and clothing, obviously is not something you do every day- so that is why you have to shop smart. Here you can read when we bought the first pair of skis for our kids at Finches Ski Emporium (our local ski shop in Forest Hill, SE London). We'll have to get a new pair to my eldest for this coming season as he has grown up. But they give you 50% off your purchase towards a new pair when giving back what you've previously bought, not bad with growing kids. Same with kids clothing, you want it to last for a while. Check what Picture and Shred Dog.
Remember your Eurostar ski train is already on sale!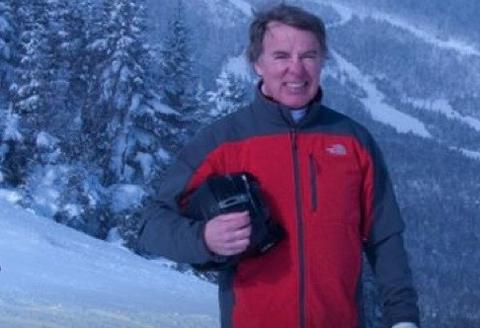 You can search for your own accommodation in the snow for your next ski holiday through our Accommodation Search tab.
The-Ski-Guru TRAVEL is a CONCIERGE service that can help you organise your bespoke ski trip to the Americas, Alps or Japan, including for those going from Britain to Europe, helping you book your Eurotunnel trip, and for all trips: lodging, lift tickets, rentals, ski school, and all you need for an excellent vacation. Go to https://www.the-ski-guru.com/travel and upload your information – this page will be updated soon with more travel ideas. Check our amazing Ski Safari in the Dolomites , stay at the San Lorenzo Lodge White Deer in the Val Pusteria of Sudtirol, in the Hotel Petrus in Riscone, for skiing Kronplatz, or check our offer to Obergurgl-Hochgurgl and Sölden to ski with your family. Maybe you want to come on my group to ski with other like-minded skiers in Courmayeur in January 2020, staying at the Gran Baita hotel?
You can start thinking about your trip, by reading the articles on the Planning your Ski Trip tab.  Or how to pack for your family ski trip.  If taking your furry friend abroad to the continent, read about the new Pet Travel Scheme update from DEFRA. Self-drive skiers also need to plan for Brexit. Check out our tips for driving to the mountains.  If flying and renting a car in Europe, beware of the extra charges they will pass to you if you want winter tyres, snow chains or ski racks. If driving, check the winter tyres news for Europe and North America. You can see how our last family ski holiday was not as expected, even though one plans it to be a success, but how we could do the most of it. If you want to get better before getting to your next ski holiday, here is a quick guide to indoor skiing and dry slopes in the UK. You can also read our week in the mountains during our summer holidays in Courmayeur.
Featured Image: Gear Tests- today: the new Howell 800 Pro ACL Friendly. The new Future of Ski Bindings is here: Howell 880 Pro ACL friendly ski binding. 
Please follow and like us: