Aiguille du Midi vs Punta Helbronner – which one you should do?
Aiguille du Midi or Punta Helbronner- which one you should go to visit? Honestly, I would visit both and connect from one another through the Panoramic Mont Blanc Tunnel gondola.
This article may contain affiliate/compensated links. For full information, please see our disclaimer here.
The case for Aiguille du Midi – Aiguille du Midi vs Punta Helbronner – which one you should do?
Aiguille du Midi (3842m) is located in Chamonix, in the border with Italy, and is one of the biggest attractions to go year-round, and lots in the summer to go and see the Mont Blanc (4810 m).
The funicular departs from a very modern lift base that has a shop, a food outlet and the big funicular that takes you to the middle station, from where you take a second funicular to the top. The top has a series of different terraces at different heights, to see 360-degree views of the French, Swiss and Italian Alps in all their splendour plus the magnificent Mont Blanc. Inside the structure is a bit old and you go within a cave, taking an elevator to go up the rock. This does not take the awesomeness of the landscape… It is really worth to go up there, you do feel you are on the top of the world, even though is really the top of Europe!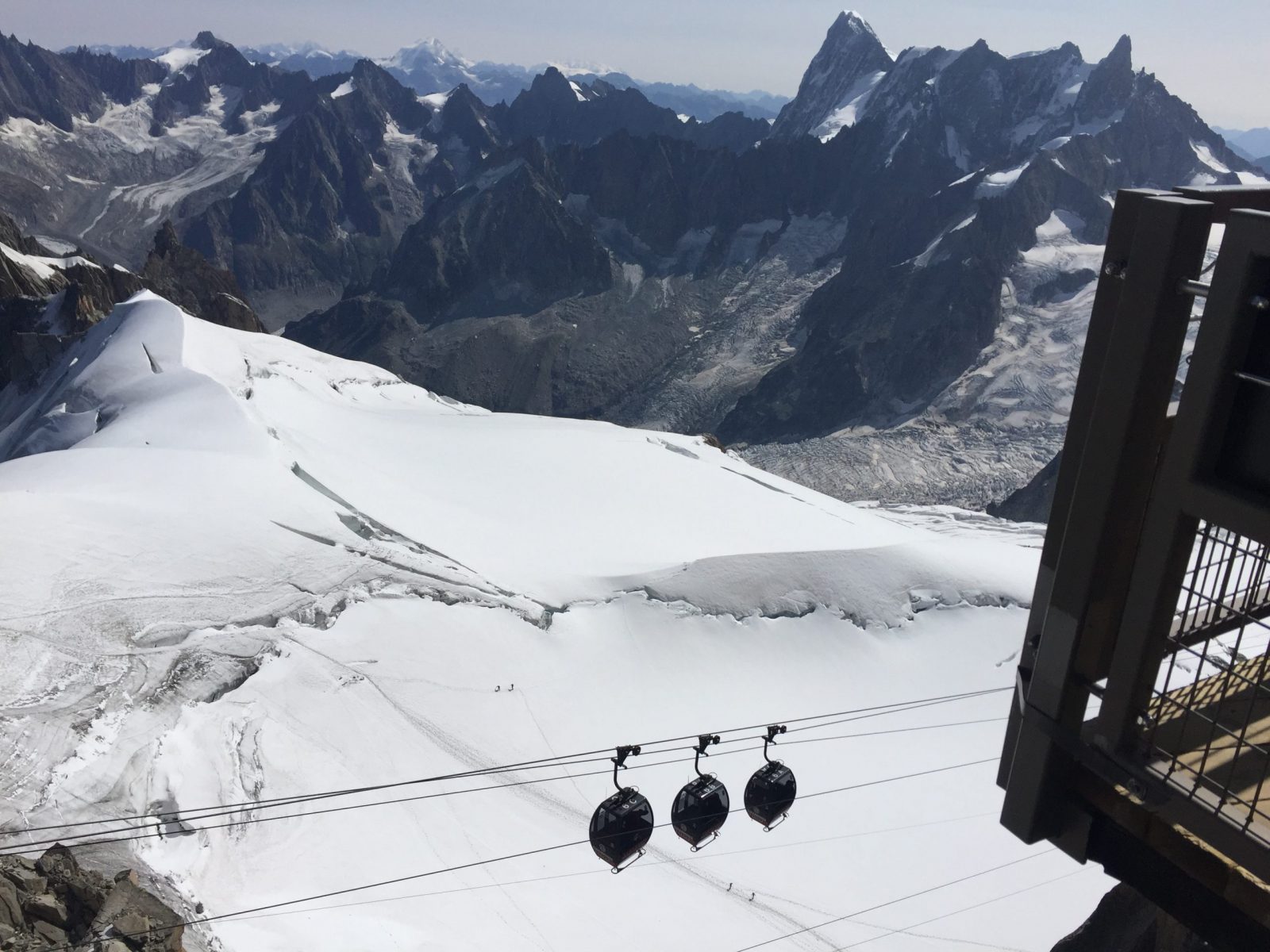 You can connect to go to Italy via the Panoramic Mont Blanc lift, which is a series of three gondolas (cable cars) going together on top of the Mer de Glace (the glacier sea) that zips you to Italy to Punta Helbronner (3466 m). This gondola has reopened last year after being closed for a bit due to one of the cabins falling on the glacier. I've written about it in this post some time ago. Still, this happened in winter, when this lift was closed, and it was due to a massive snow storm combined with really cold temperatures which froze the snow on top of the cable and its weight made it snap.
The case for Punta Helbronner – Aiguille du Midi vs Punta Helbronner – which one you should do?
Punta Helbronner, compared to Aiguille du Midi, is super modern. Dopplemayr/Garaventa has finished building this architectural phenomenon in 2015, and on top of the views, this place is great to just ride in taking the revolving cable car and to see the magnificent architecture done in metal and glass. So yes, comparatively, Punta Helbronner is, as an arriving station, together with the depart from the Courmayeur Valley and the Pavillion Middle station- prettier than Aiguille du Midi. Views are magnificent from both sides. I did both Punta Helbronner and Aiguille du Midi from Courmayeur and Chamonix respectively. Basically, from the bottom up each time. I did not cross the little cable-car on top of the Mar de Glace, (Panoramic Mont Blanc lift), which I hope someday I'll do, so I can do all the way from Italy to France and take the bus back through the Mont Blanc Tunnel. Or, go up, across, down, up, across down, so I am back where I started the day!
Our experience. Aiguille du Midi vs Punta Helbronner – which one you should do?
The time we did both lifts up and down. It was couple of years ago, coming back from Lago di Como with my husband, kids, and mother. We stopped in Aosta for a quick breakfast in the old city, and then drove to meet Claudine and Elisa (from the Courmayeur Tourism Office) in the bottom of Skyway. I remember we took a bit to get upstairs from the parking lot as my husband thought he had lost his credit card that morning in Aosta, when he stopped at the Miniardi shop to buy a pair of climbing pants. After a brief panic moment, he found the card and we could run upstairs to meet Claudine and Elisa and use our allotted time to get up.
Going up Skyway Monte Bianco to Punta Helbronner
We've sat our two kids in the middle of the rotating cable car by the column. The fun part was that we were rotating, and they were fixed in the middle, but for me they were the rotating ones. They loved it there. The cabin was with enough space for all people coming up to enjoy the views.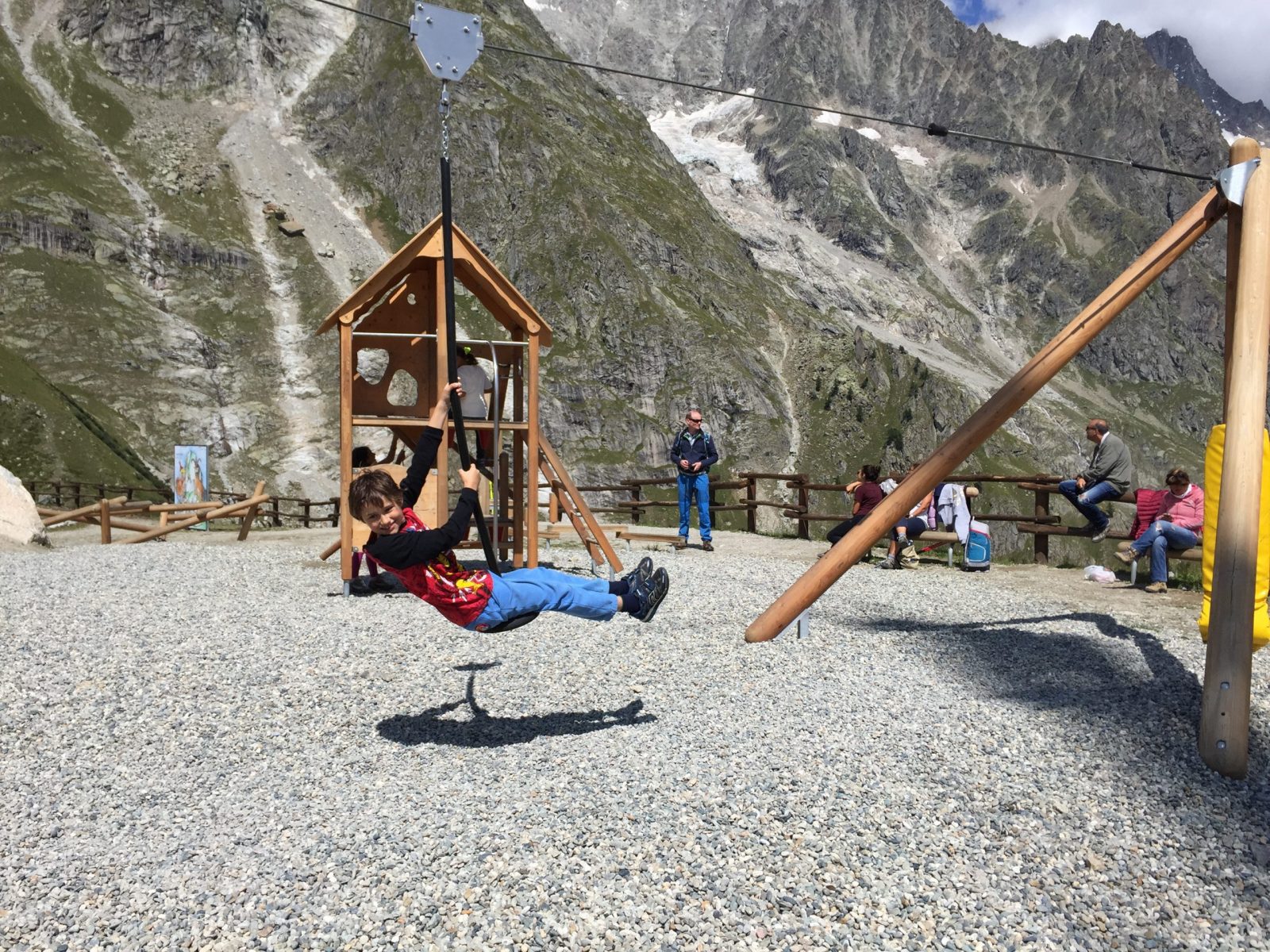 The Pavillion stop. Aiguille du Midi vs Punta Helbronner – which one you should do?
Claudine suggested us to stop in the middle station (Pavillion, 2200m.), so we didn't get altitude sickness. I've thought that I would not, as I always go to mountains. But I was wrong. I guess that high altitude is getting me with age. We've stopped in Pavillion, the middle stop, and we stayed having a coffee with the nice views, and suddenly I stood up to go and purchase some Courmayeur magnets for my fridge collection when it got me: I was completely dizzy. Ooops…so I have to take it slower I guessed. I was not up to taste the Blanc to Morgex & La Salle of Cave du Mont Blanc. They have there a small room where you can taste the different blancs done with the Classico method (basically is like Champenoise but with the controlled and guaranteed 'brand' in Italy).
We went out and stayed with the boys while they played in the kids outdoors game area. There was a small climbing wall, lots of different kids trails to climb, and also a rope to drag you from one place to the other. The best of it was a small platform, like a raft, that kids needed to move to go from one side to the other of the small lagoon.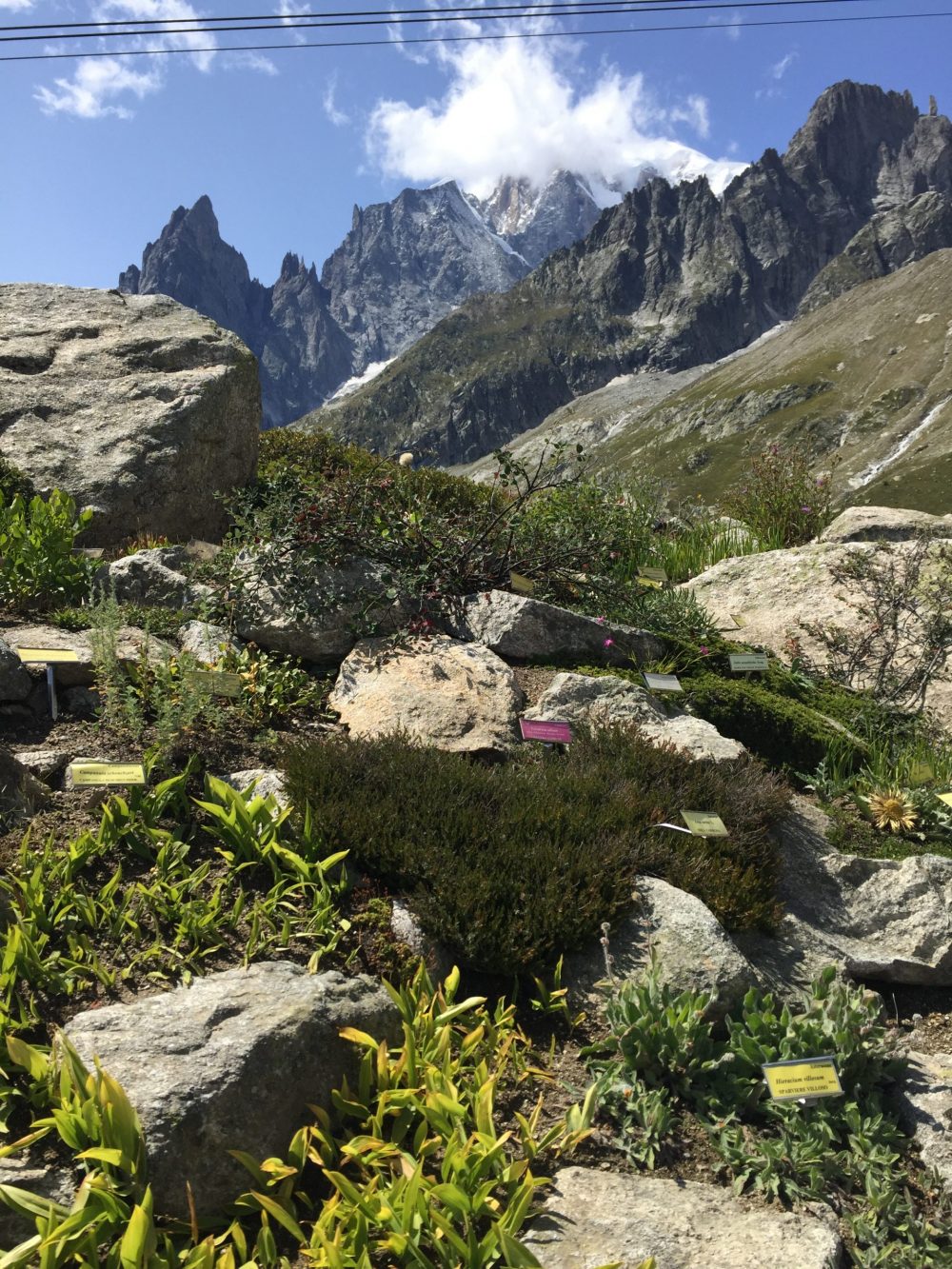 After the boys left off their steam, we went to see the Saussurea botanical garden. This is a garden of high altitude. It is really worth the visit. I am rubbish with plants names, but I really enjoyed it. You just walk up and down a little path and see the beautiful mountain flowers from all over the world.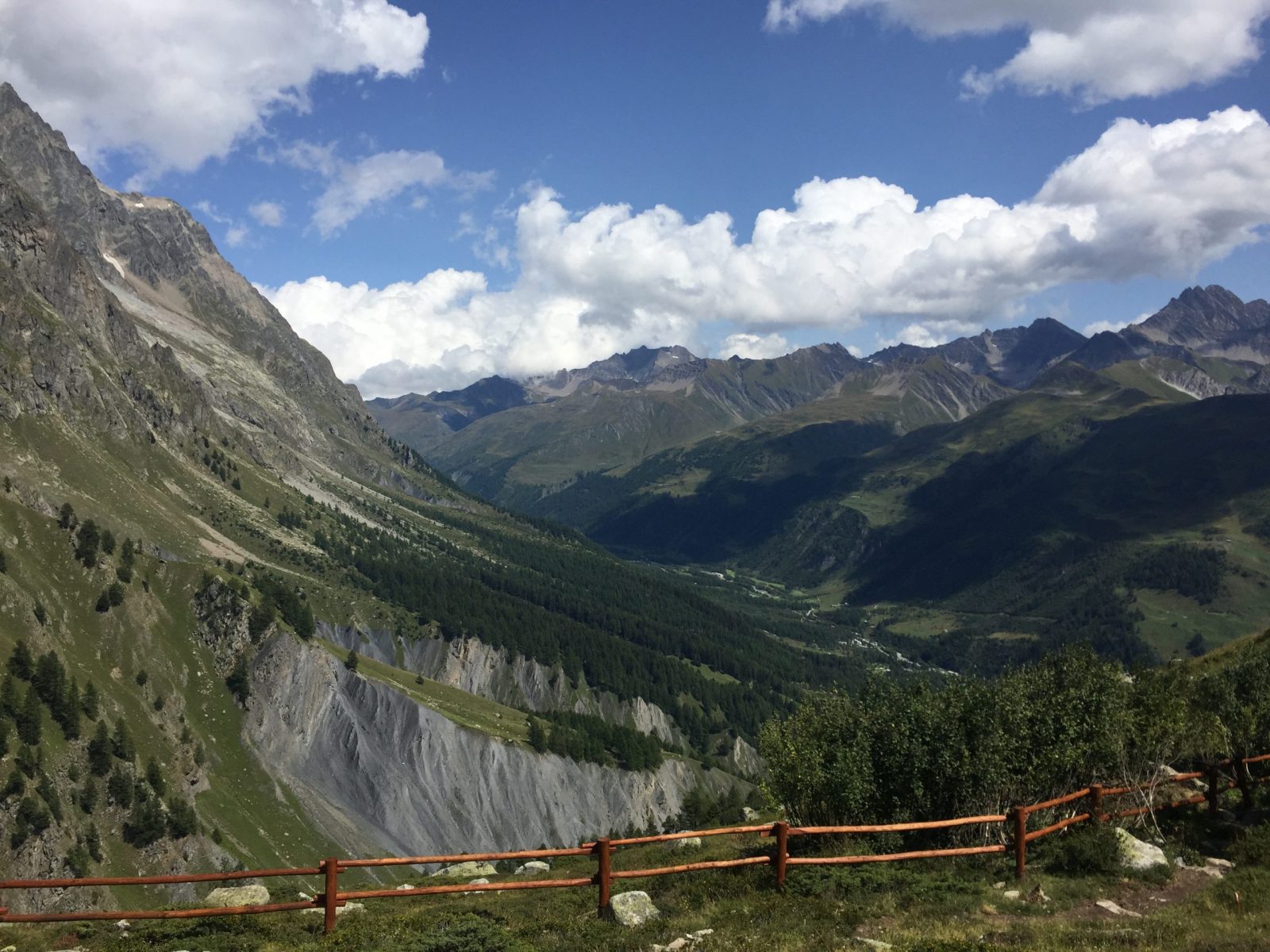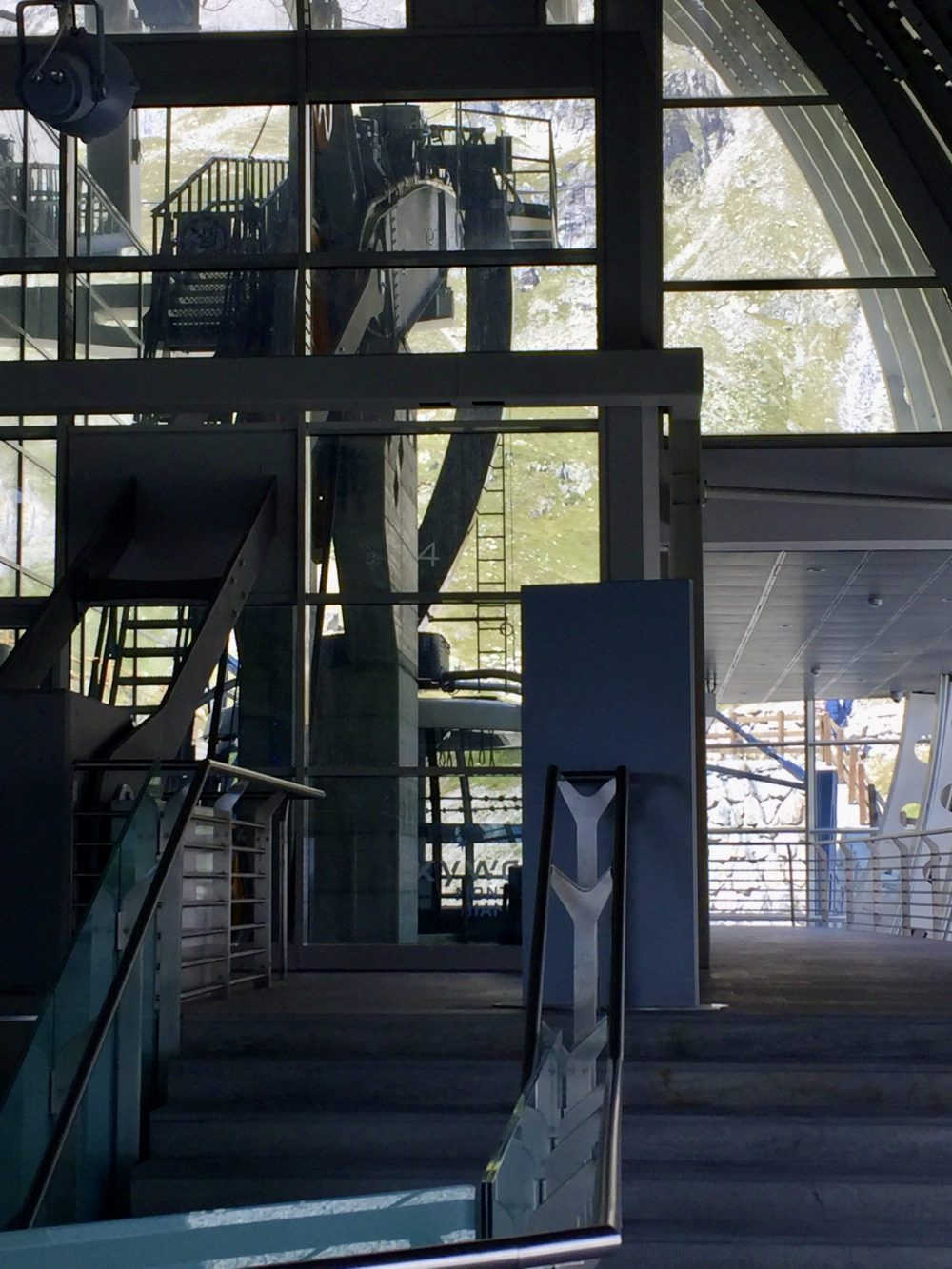 The top- Punta Helbronner. Aiguille du Midi vs Punta Helbronner – which one you should do?
When we finished that, we went to take the 2nd rotating cable-car to the top of Punta Helbronner. You arrive and you have to go upstairs if you want to see the main terrace. From the top, what a view!  You can see 360-grades views of all the mountains! From Dent de Géant, obviously the Mont Blanc, to the Grand Jorasses and also the Matterhorn.  It was a tad windy, so we stayed for a while, but not too much. We also had a sandwich and then we've seen very quickly the mountain crystals room. Now there is also a Feltrinelli book shop at 3,466m.
From there you can reach easily the Rifugio Torino, and many hiking trails, both towards Courmayeur and Chamonix. In winter, if you are an expert and are accompanied by a guide, you can go skiing off-piste towards Courmayeur or down the 24 km to the Mer de Glace towards Montenvers and Chamonix. Coming down the Vallee Blanche is easier from Punta Helbronner than from Aiguille du Midi. Guides are recommended, because, even the terrain is not that steep, there are some crevasses and you need someone that knows the terrain to guide down safely.
After our visit, we came down the valley, as we were on our way to Chamonix, and, as it was a Saturday, we have to count that we were going to be stuck waiting to cross the Mont Blanc Tunnel. Saturdays are known as "Sabato Nero" in Italy, and that is because all tourists cross on that date of the week, so you are sure you will be stuck at the border for a bit before crossing.
That time we were staying at L'Héliopic Sweet & Spa. I've written about the hotel here. And the boys were looking to go into the pool, so that was what made me move to come down.
Going up Aiguille du Midi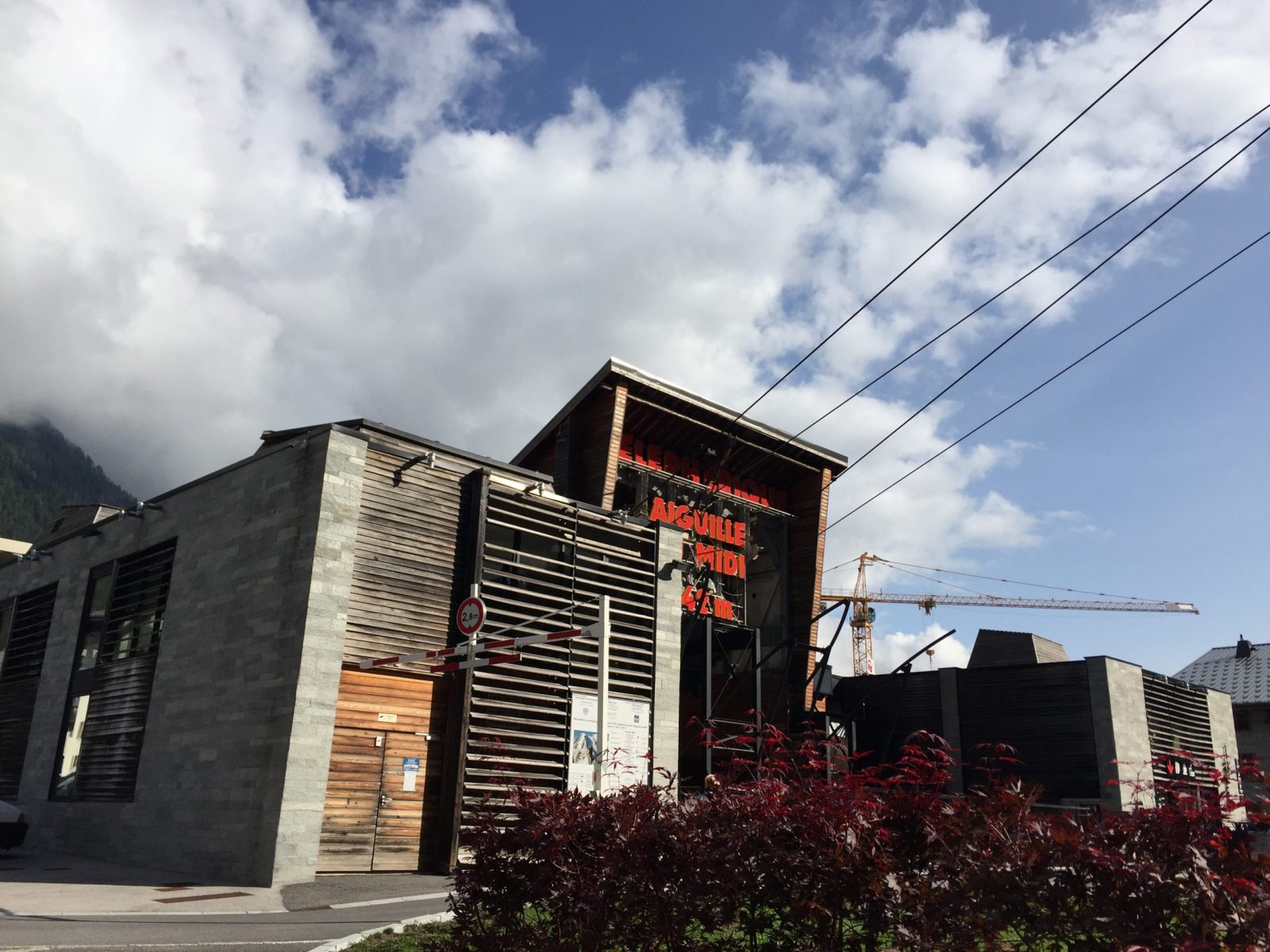 The next day we were going to go up to Aiguille du Midi. After a great morning, trying to get the boys to have "actual" breakfast instead of running to the lobby of L'Héliopic to catch the free sweets (that is why the hotel has 'sweet' in its name!), we were ready to check out the hotel and leave the bags in the front desk prior to going next of the hotel to the base of the Aiguille du Midi.
Going to the middle station on Aiguille du Midi lift. Aiguille du Midi vs Punta Helbronner – which one you should do?
There we picked up our tickets (it was really busy then- you can tell how Chamonix has a massive influx of tourists in the summer)- and we managed to take the shorter queue as we had reserved tickets and get up the very modern funicular (this is one of the biggest options that carry 68 people per cabin) to zip up to the middle station. There, after a couple of photos, we took the 2nd funicular up to the top. (Note, now due to the Covid19 pandemic, the Aiguille du Midi lift is reopening with only 30 people per cabin for the time being, with floor markings to show where people can stand.)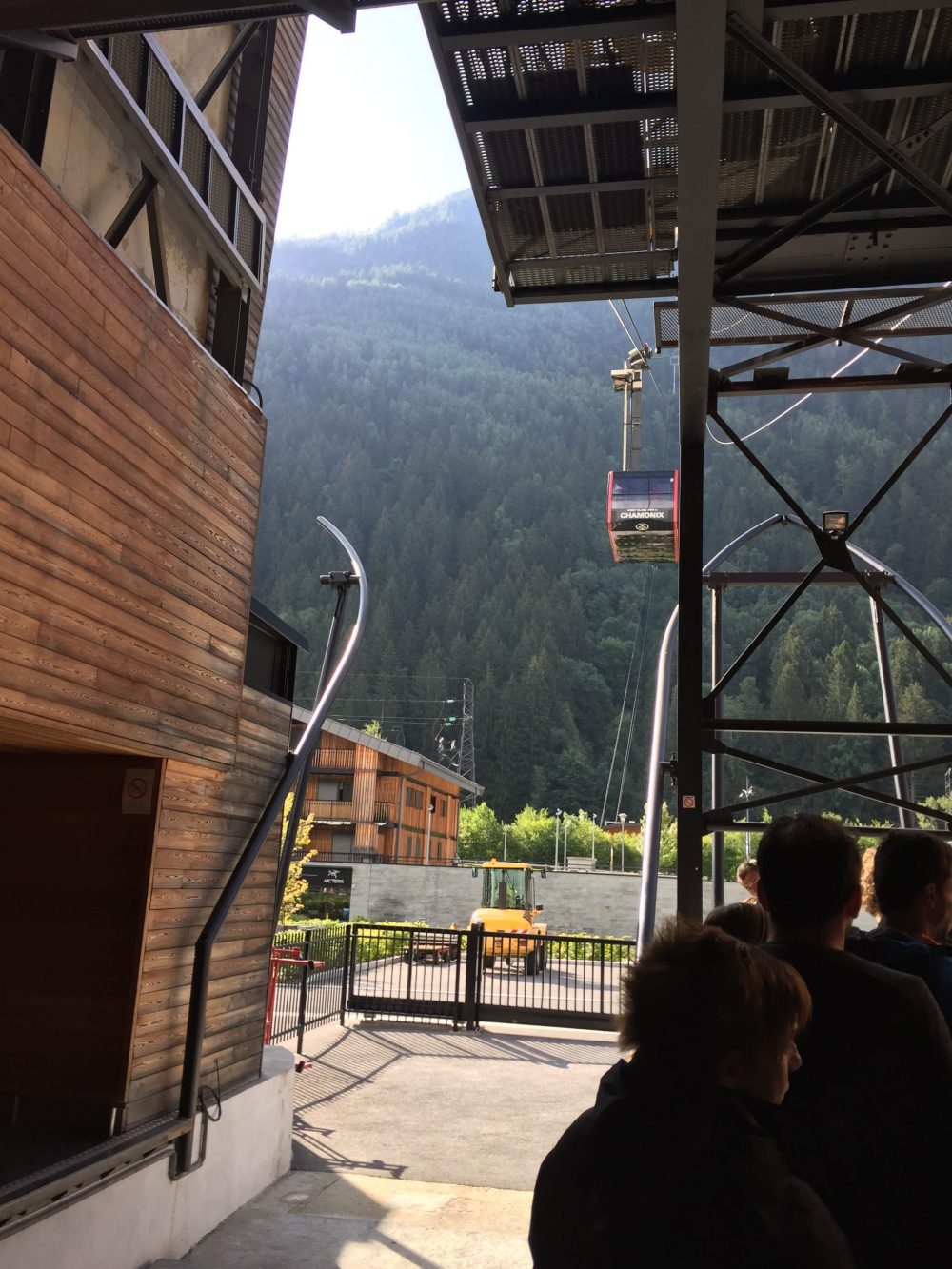 The top of Aiguille du Midi. Aiguille du Midi vs Punta Helbronner – which one you should do?
The top of Aiguille du Midi is a series of terraces and corridors that take you up and down the mountain. You can see the mountains from all these different terraces, and you see also many climbers getting off the top and going on with their adventures.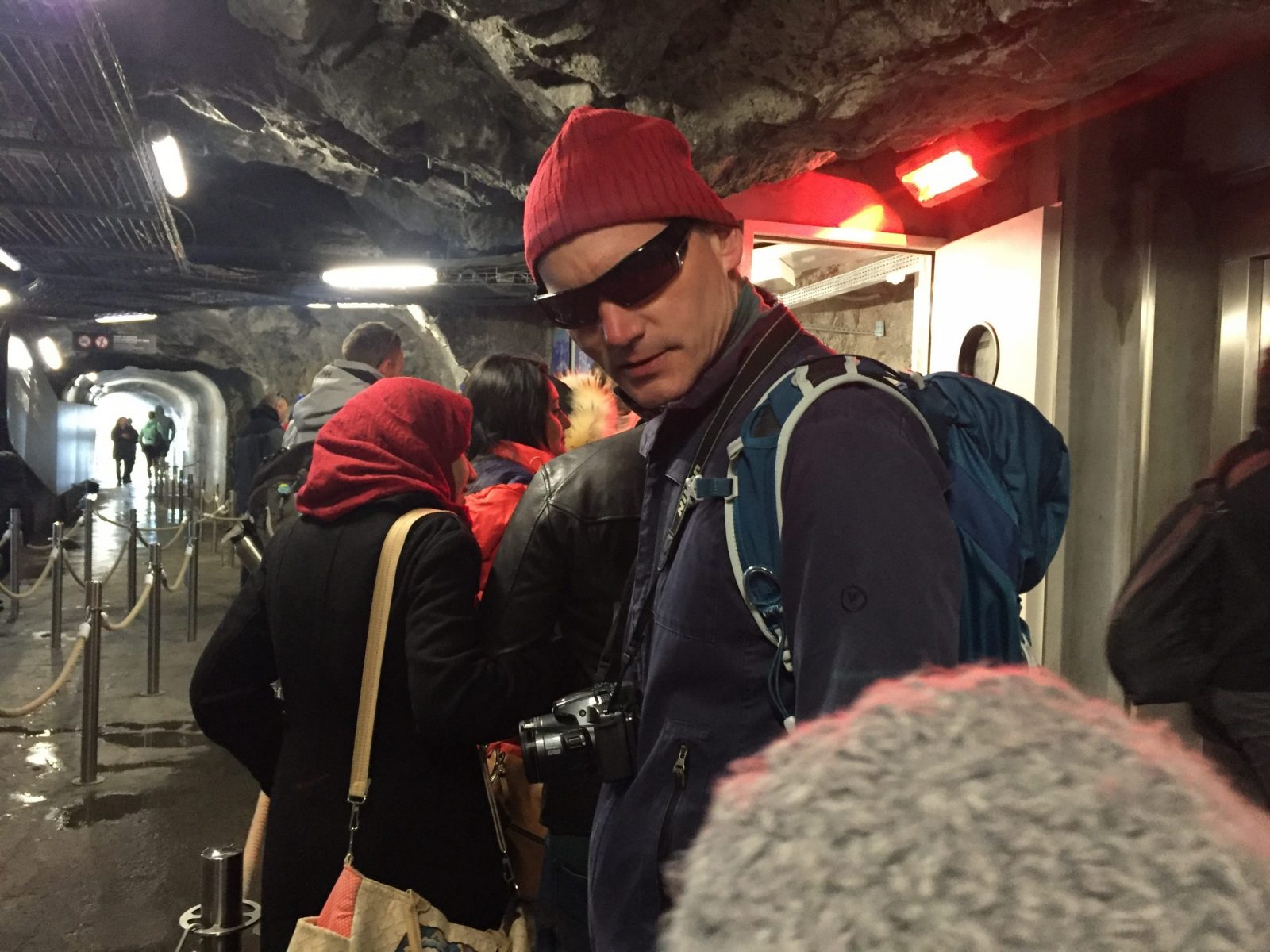 The famous 'Step into the Void' is a glass cabin that allows you to stand 3842 m on top of nothingness. It is pretty cool, but when I was there, the queue was so long, that I've preferred to go to the other side around the terrace and take a picture of it from there. My boys were not playing ball. Not sure if my eldest was suffering a bit of ear pain, that he had the day before while coming down from Punta Helbronner, and he was not a happy bunny. His little brother thought it was cool just to put a boring face all through, while I was ecstatic to be up there. Mountains are my happy place so I could not understand how they were not appreciating their luck!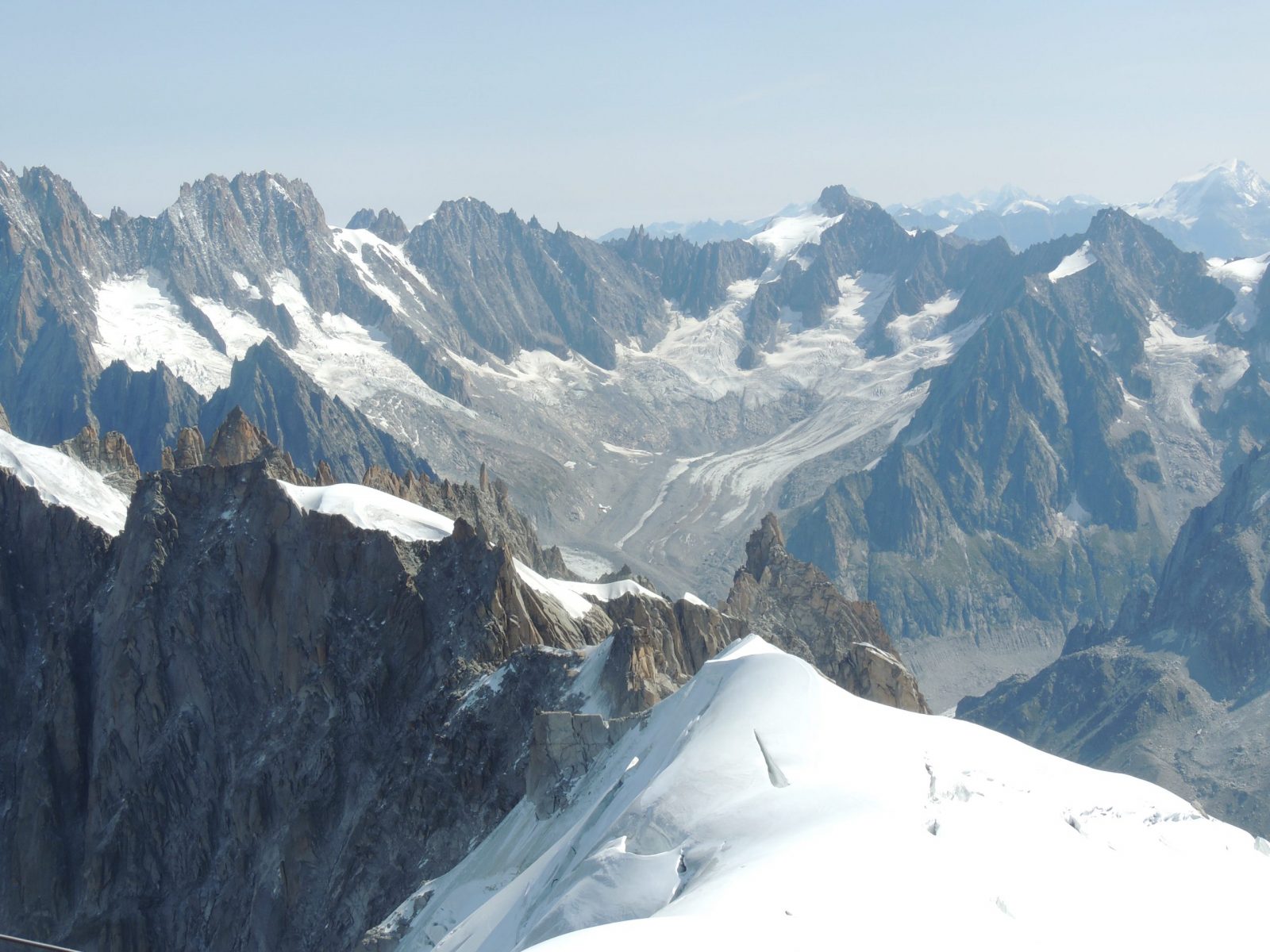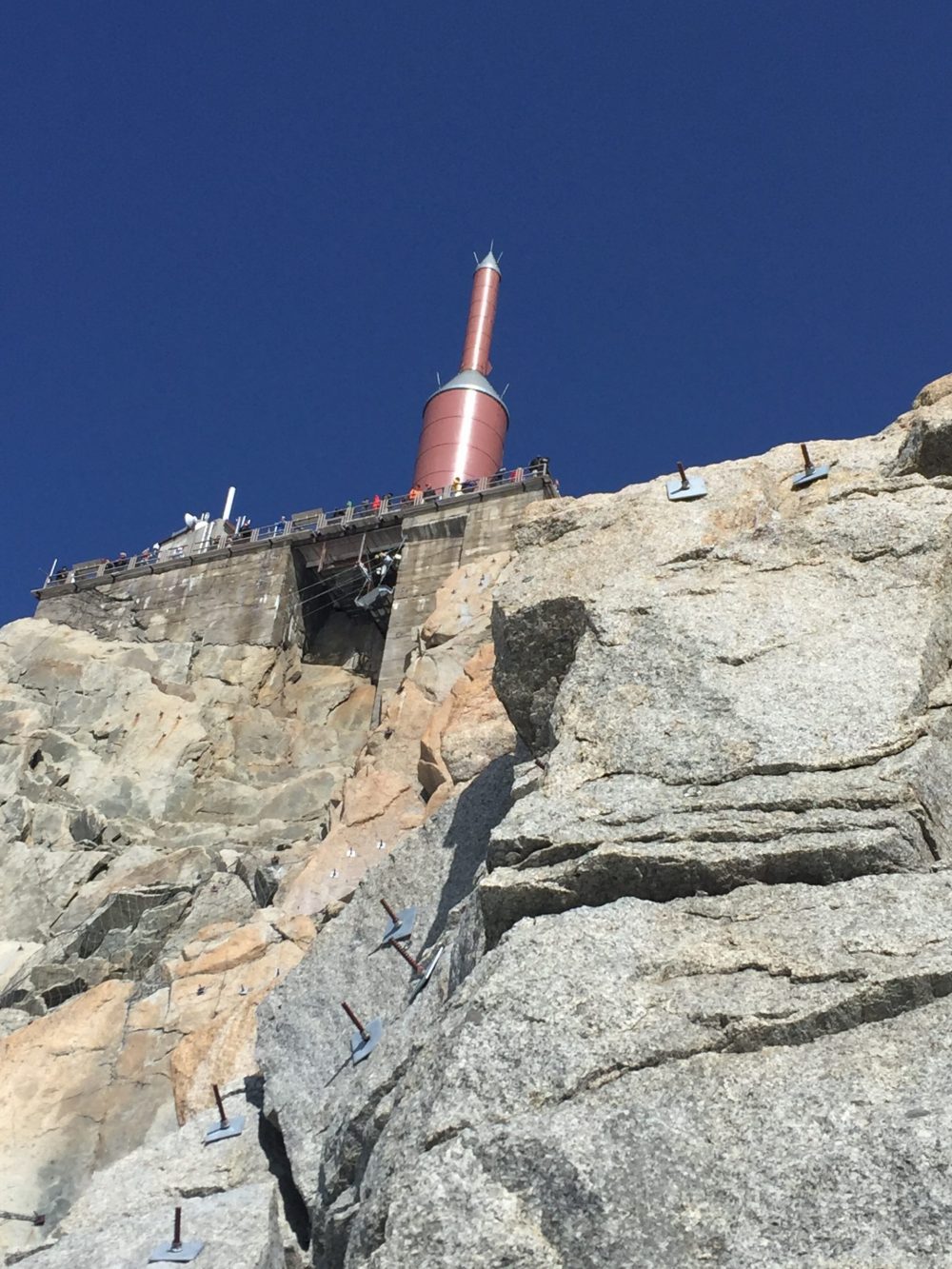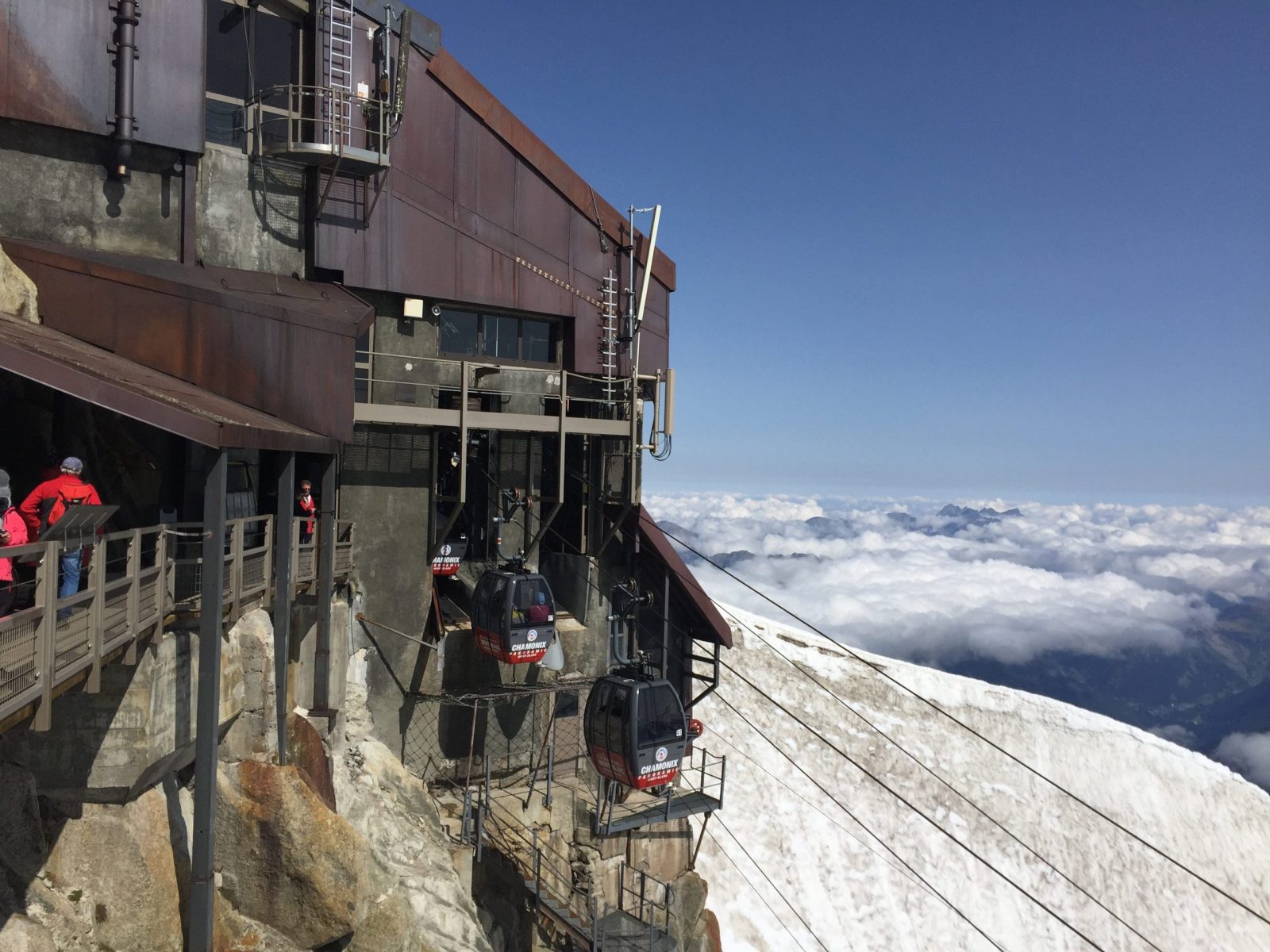 I guess that made me go and see all quickly, to be ready to come down. My husband was getting also worried that we needed to start driving back, as we had a long way back to Troyes, where we were sleeping that night. We finished going down, getting some nice souvenirs and t-shirts for the boys in the bottom shop of the Aiguille du Midi lift, also, taking some provisions and coffee from the side coffee shop of L'Héliopic to take on the road, and off we went, leaving Chamonix and the Alps behind for this trip.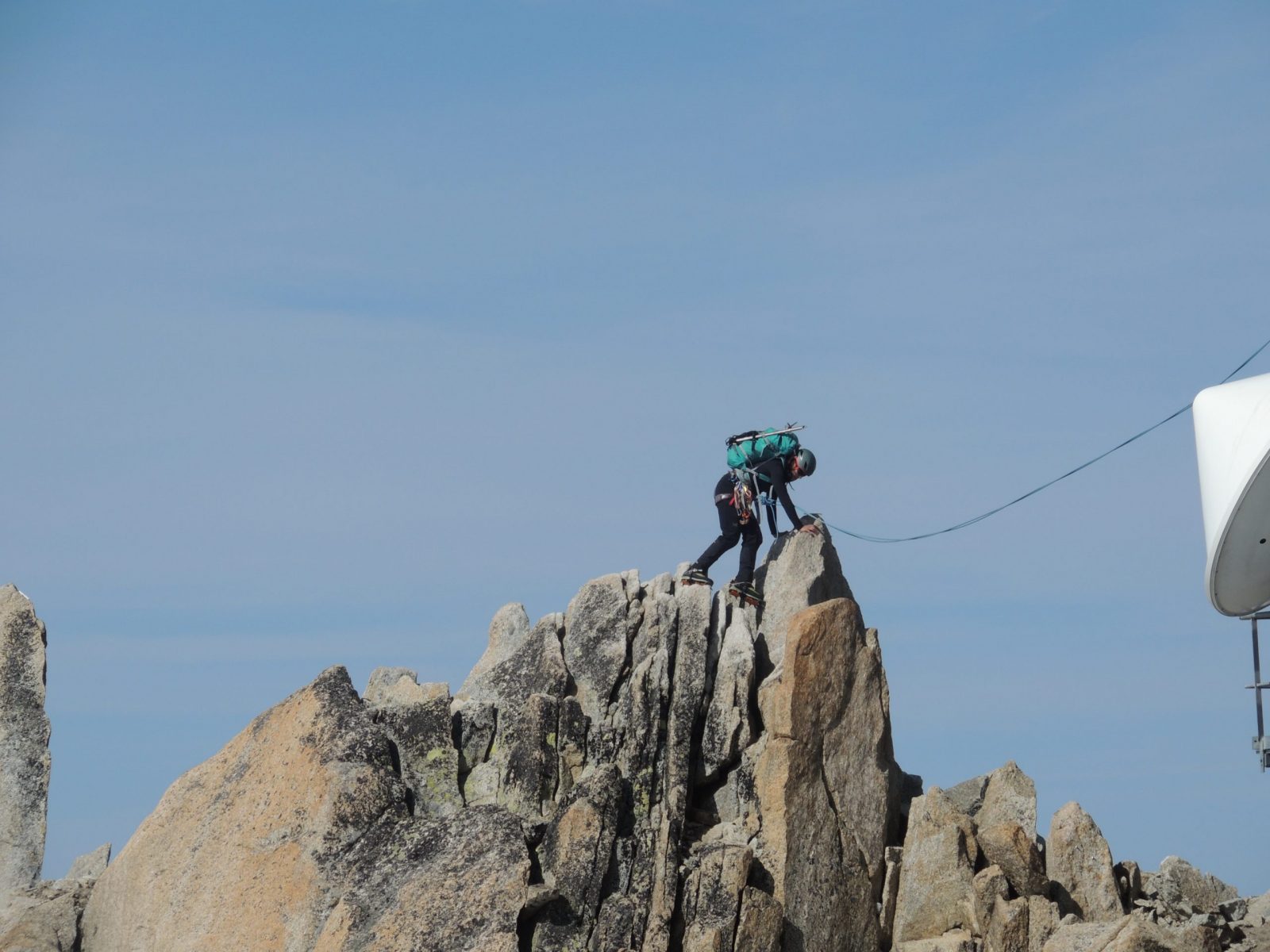 Link to Skyway Monte Bianco. 
Link to Aiguille du Midi/Compagnie du Mont Blanc-Mont Blanc Natural Resort website.
Where to stay in Courmayeur
A lovely four stars hotel around 1 km away from the start of Via Roma with lovely rooms, a great spa with an in/out pool and two restaurants (one with Valdostan food – La Sapiniere), and the other one is international, which also serves a buffet breakfast to die for – we'll have to see how this changes after Covid-19 though. I have written a review of the hotel here.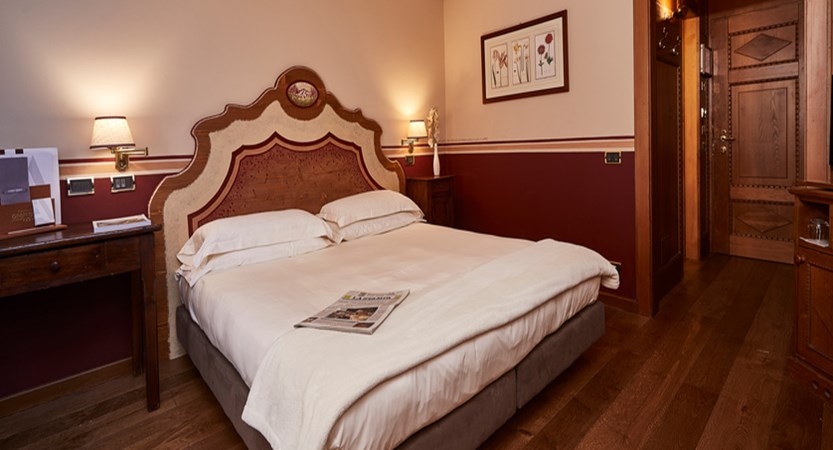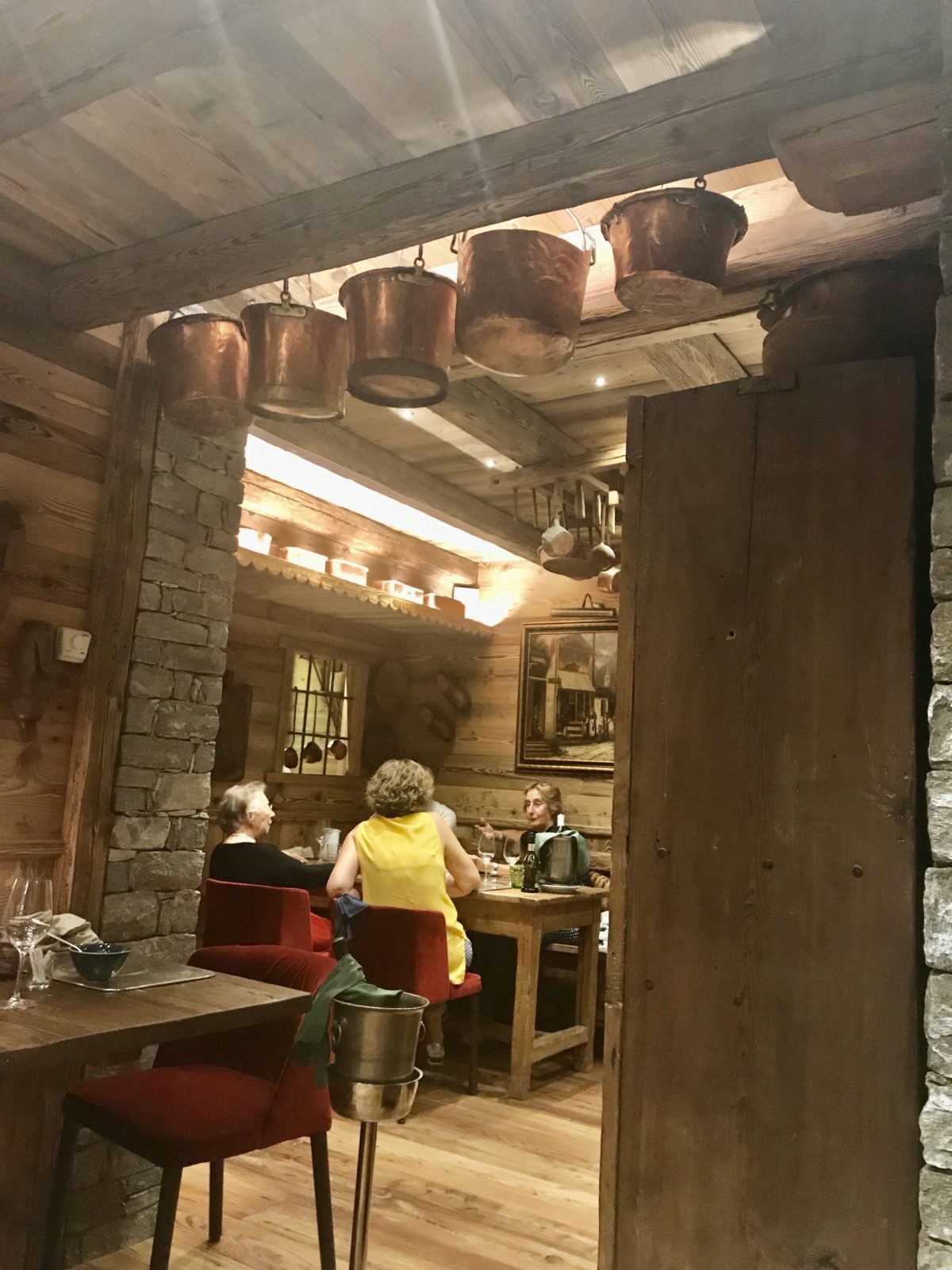 This property has a series of lovely rustic décor, but chic cabins, with its own private entrance from the covered garage, and a central type of club house with a bar and a lovely spa with a big pool with views and all types of resting areas. By the Armani funicular.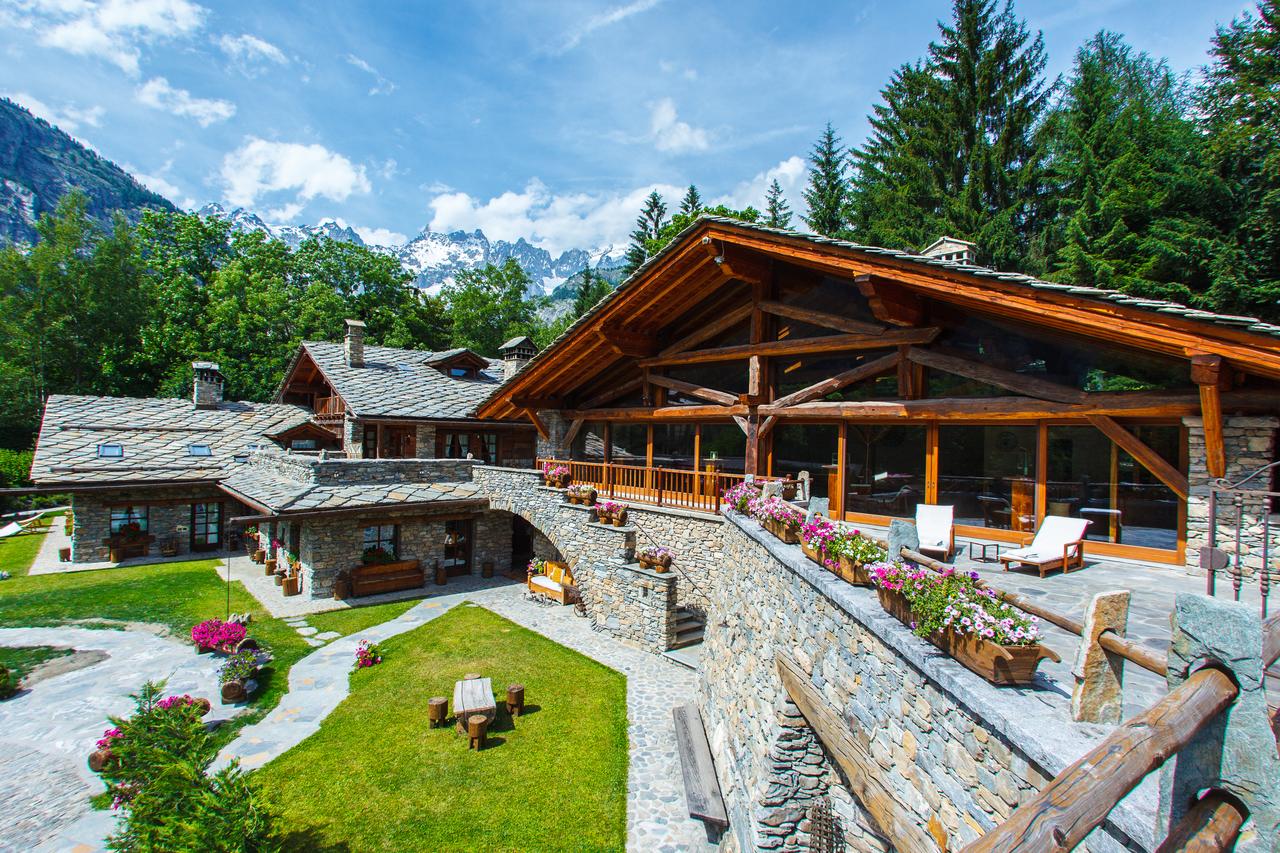 Villa Novecento is an old Villa converted into a 4-star boutique hotel with a small fitness centre and very cosy rooms. You are about 10 minutes from the start of Via Roma (it is on the road you would walk past if staying at the Gran Baita, but a couple of blocks nearer towards Via Roma). I never stayed myself there, but I've rented one summer a flat just next to it, and my views were towards the hotel- and could see a bit of Chécrouit- the big mountain that hides a bit the Mont Blanc in town. But the side of the building looking towards the west, has the impressive view of the Catena di Monte Bianco- ask a room with a view because it is really worth it. I just liked the look of the hotel; the restaurant was always full, and it smelled lovely just passing by it. The location where it is placed is lovely, because you are not within the busy Via Roma, but nearby, and it is really quiet in this area where the hotel is located.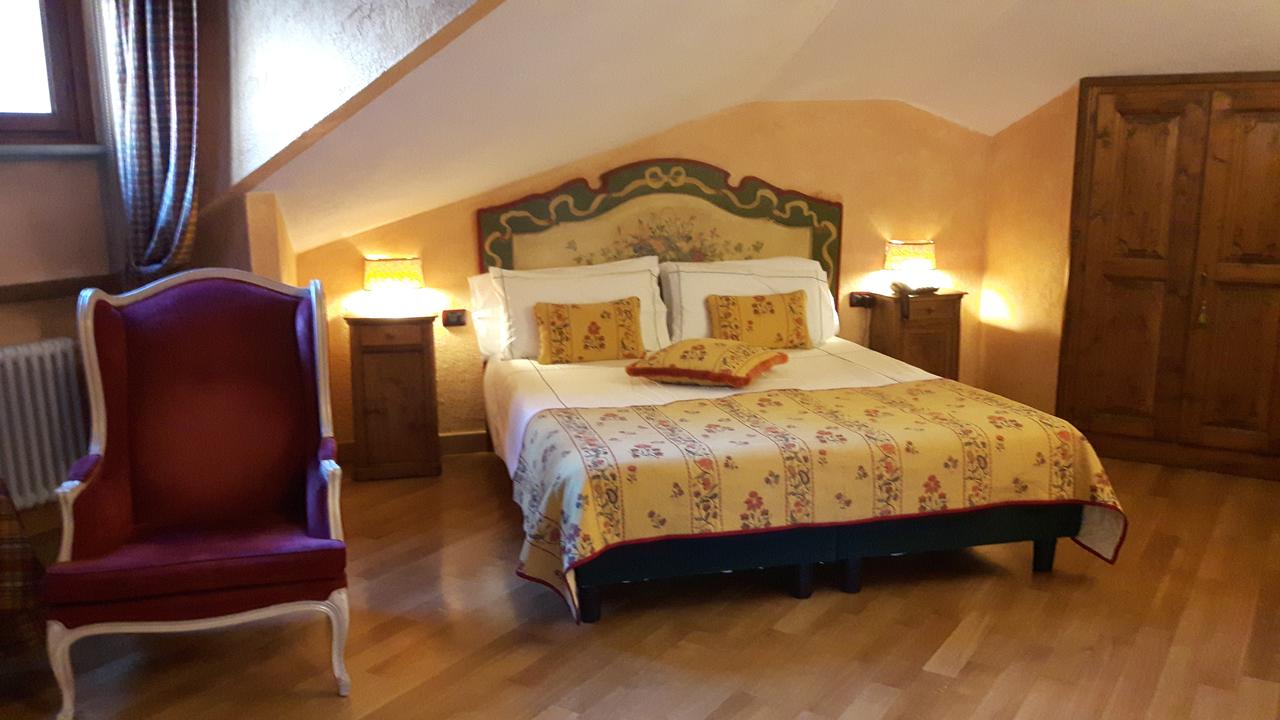 L'Auberge de la Maison
This is a kind of deluxe 4 stars small hotel that is the most liked property by any of the local people. You ask them what your preferred property in Courmayeur is, and they all answer L'Auberge. The owner is in all the details, it is a lovely property with a great wellness centre, that includes a sauna, Turkish bath, solarium and a massage area. The restaurant offers candlelit dinners with amazing views. The property is in the neighbourhood of Entrèves, more near the Val Veny (Monte Bianco) lift and the Skyway to go to Punta Helbronner.
This is what I would say cheap and cheerful and in a great location, just off Via Roma. So, it is very quiet, a 2-star family run hotel, that is simple, yet cosy, warm in winter and have breakfast in winter and the restaurant is also opened for lunch in summer. It has a small bar where people gather to share their day at the end of the day.  We've stayed there twice, and both times we had nice views of the nearby homes and the mountains from there.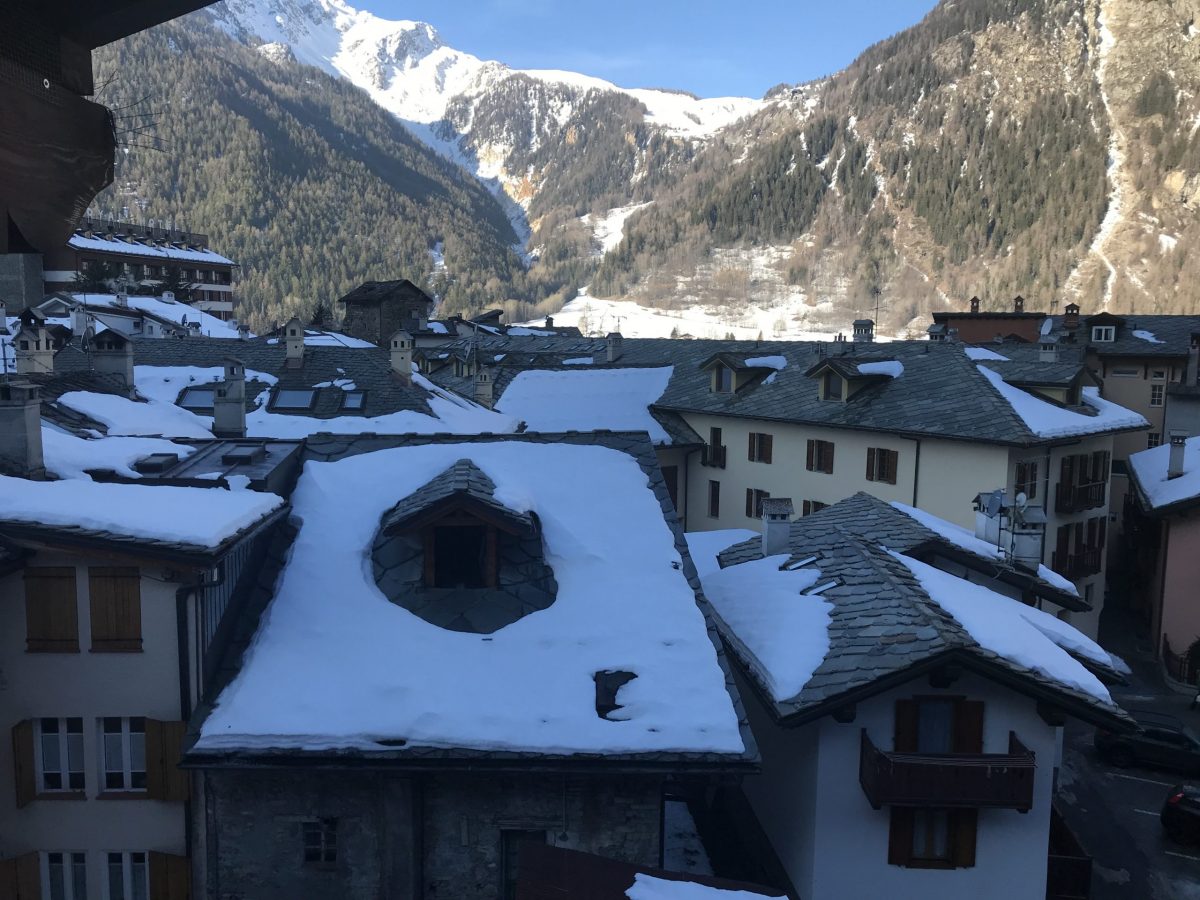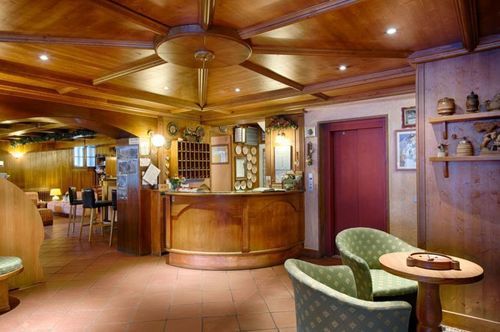 If you prefer to stay in a home or apartment, why not stay at il Cuore della Valdigne? This is my property located in the middle of Morgex, just 10' from Courmayeur by car, a lovely apartment of two bedroom and two bathrooms, really nicely decorated in stone and wood. The apartment can take maximum 6 people (1 or 2 sleeping in the sofa bed in the living room). You have bars and restaurants around the corner of the house, the Pré-Saint-Didier terme (hot springs spa) 3 minutes away by car, and lots of hiking and biking trails accessible from the house door. Also, for winter, it is strategically located for skiing in Courmayeur/Chamonix (if you go down the Vallée Blanche), La Thuile/La Rosière and Pila, so you can be based there to do a ski safari.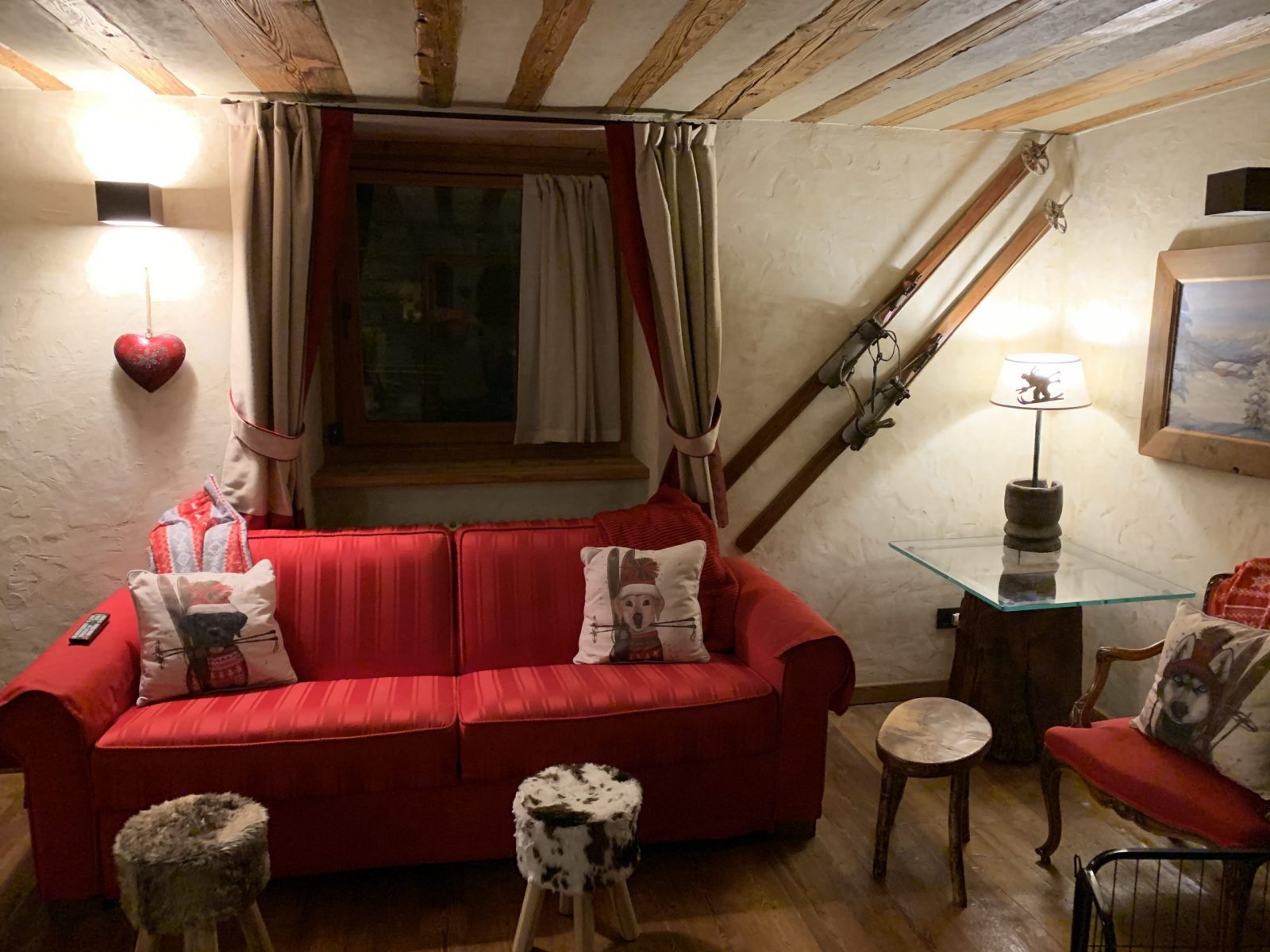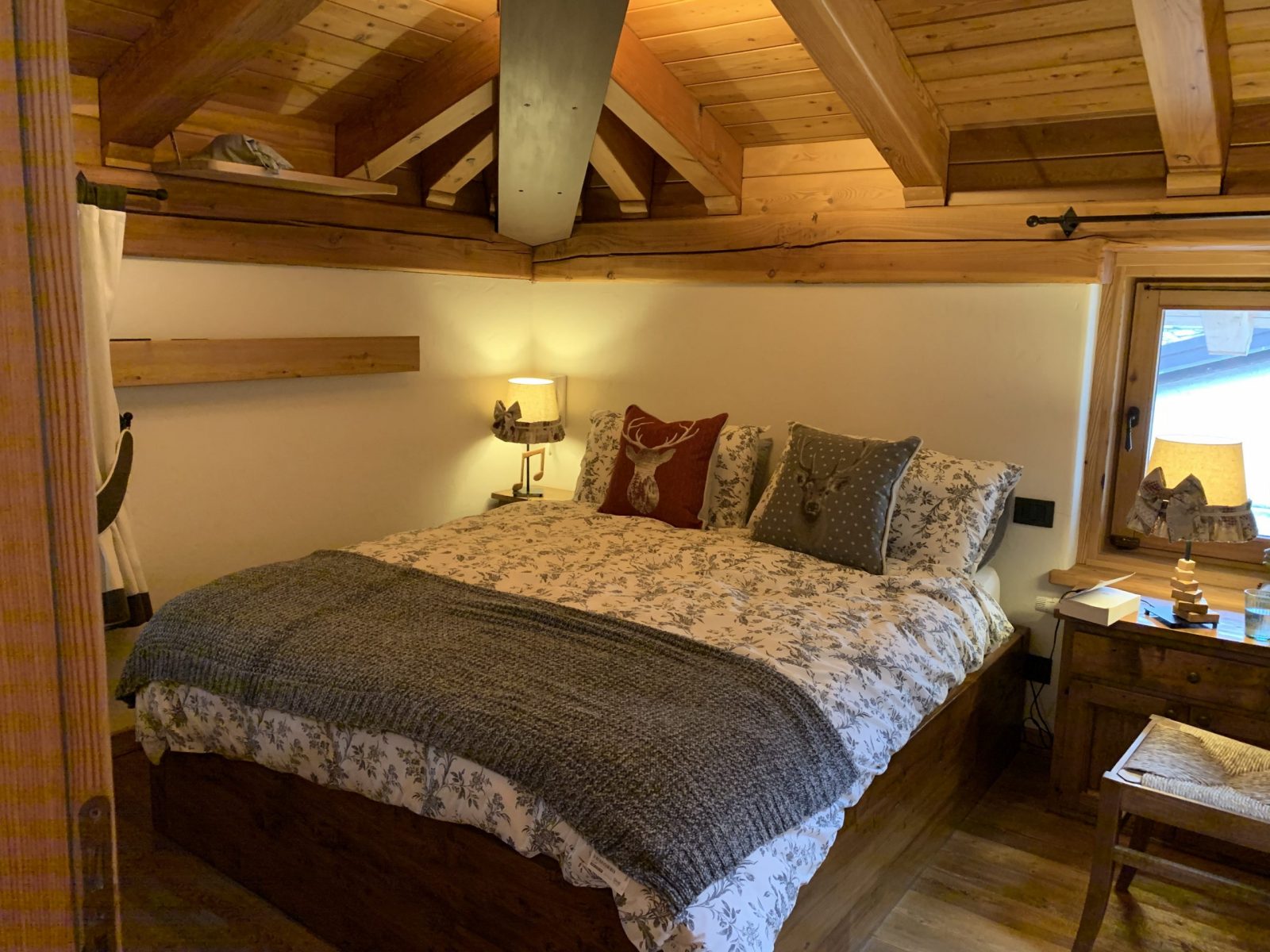 You can read a bit more detail of where to stay in our Must-Read Guide to Courmayeur here. For read all the guide, start here.
To see where to eat on-mountain in Courmayeur, check this post.
Where to stay in Chamonix
I have written one of our stays in this post here. The hotel is well located next to the Aiguille du Midi lift, it counts of very modern and cosy rooms and a bar, restaurant, and informal café open to the side of the Aiguille du Midi lift, and sweets and a special area for kids to use computers, some toys and games and virtual reality. My kids call it the best hotel in the world. I am not sure if it is so much, but it is a nice property. The pool and spa are very nice, with sauna, steam bath, ice cave, a long pool, hot tub and a resting area. There are also massages cabinets.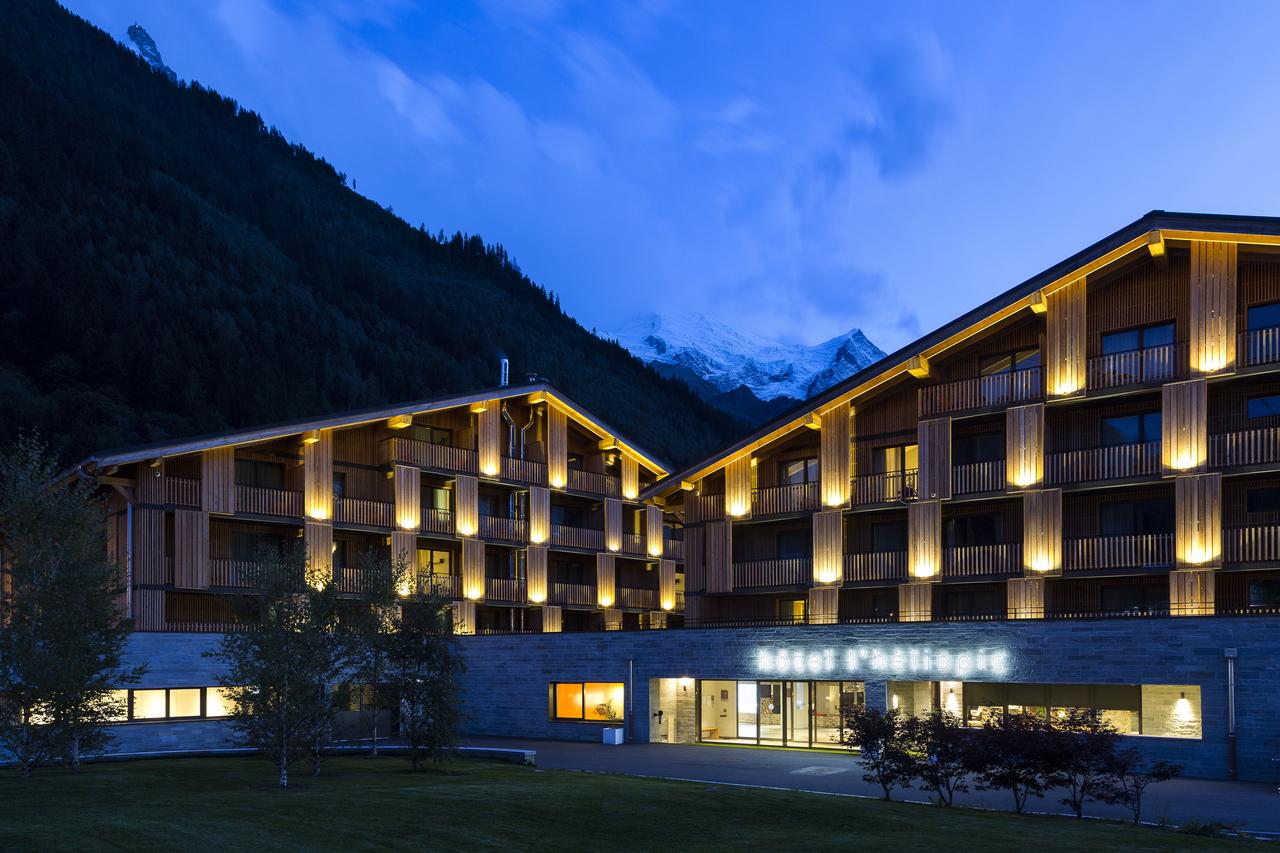 This hotel is in the centre of town within a garden, it has an indoor pool and outdoor hot tub, and it is very upscale. For me it looks more like city-like decoration, but with very good taste. It has an on-site restaurant and bar. The hotel offers a free shuttle to the ski slopes.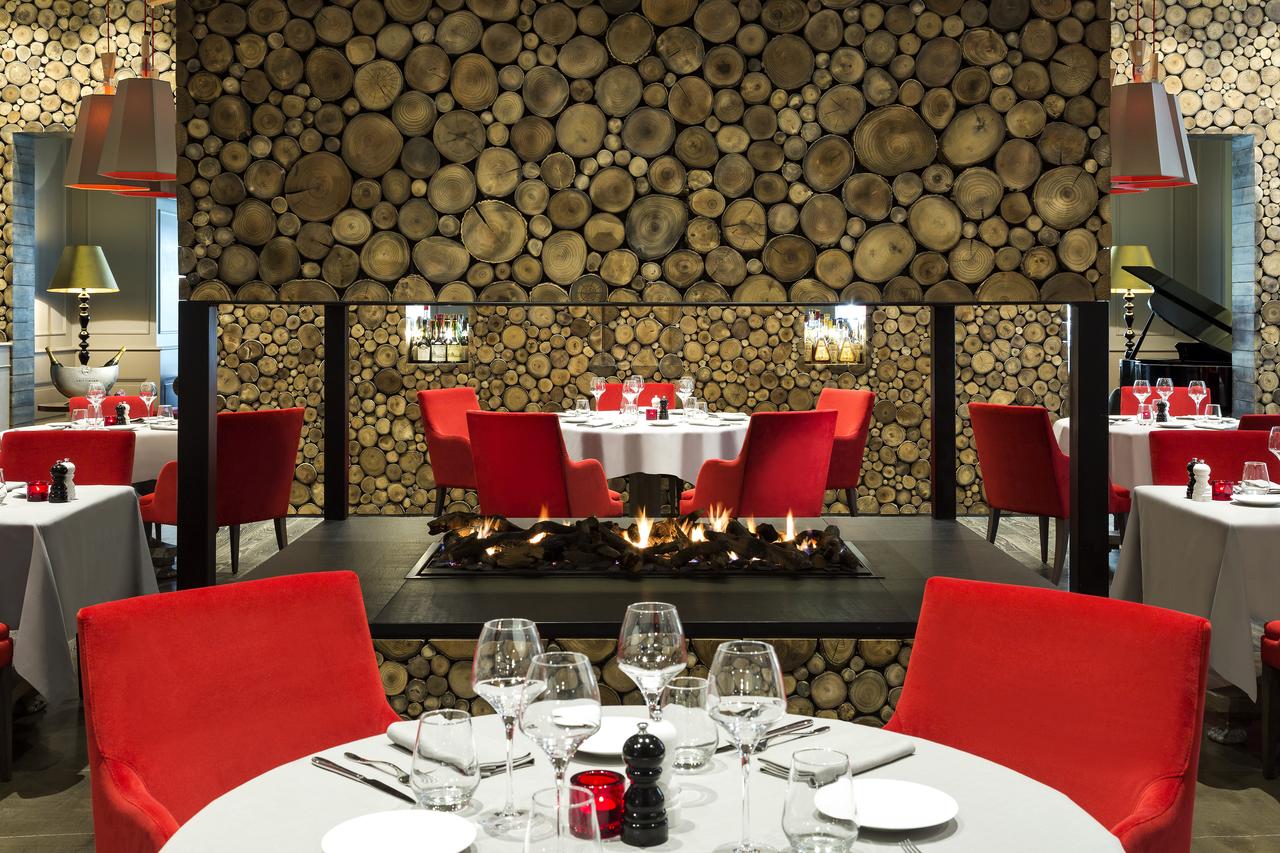 This is one of the favourite hotels in Chamonix for many people. It is a property, divided in two buildings called L'Albert 1er and La Ferme. Each room at Le Hameau Albert Premier is very nicely decorated. The hotel has a great restaurant with Savoyard specialties, and a wellness centre with hammam, hot tub, sauna and massage rooms. There is a free shuttle to the slopes, and you can walk to get to the Chamonix SCNF in 5 minutes.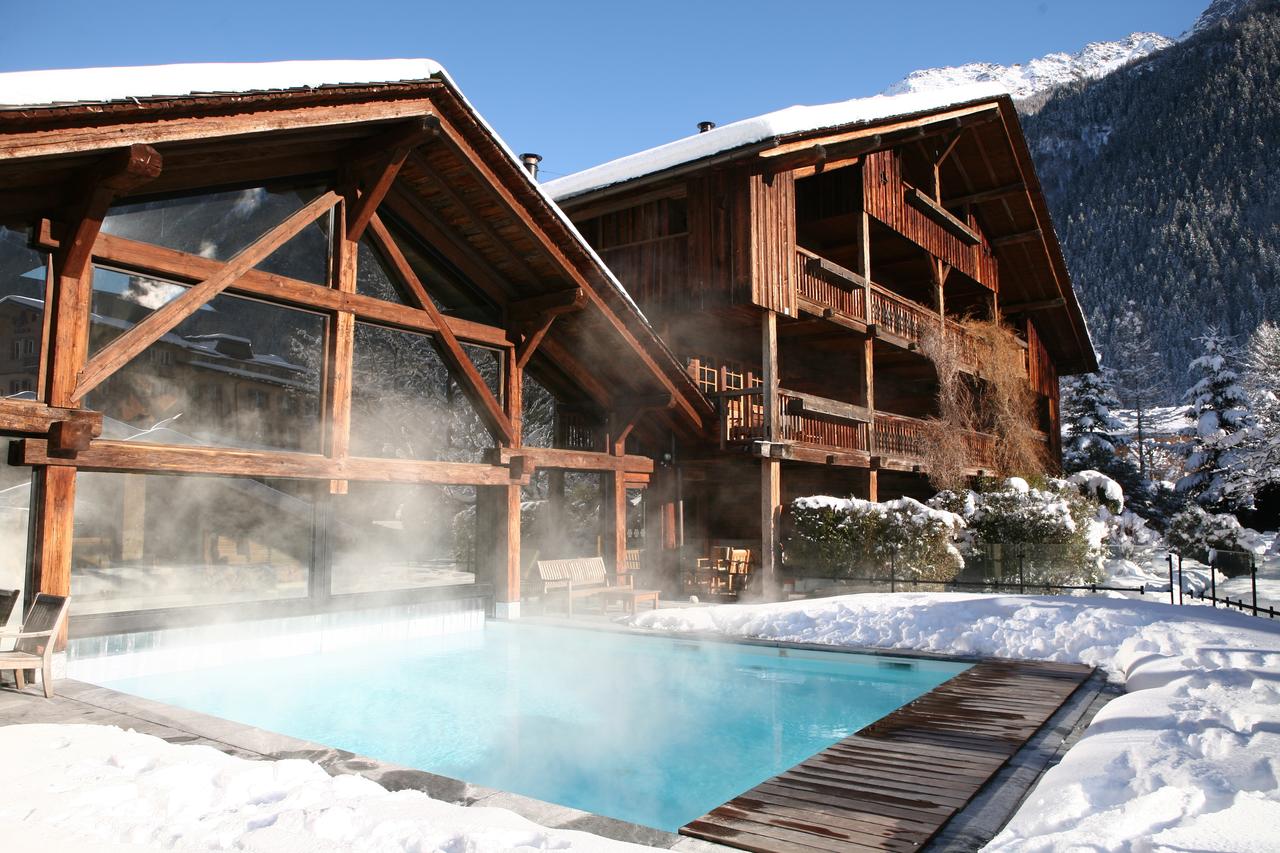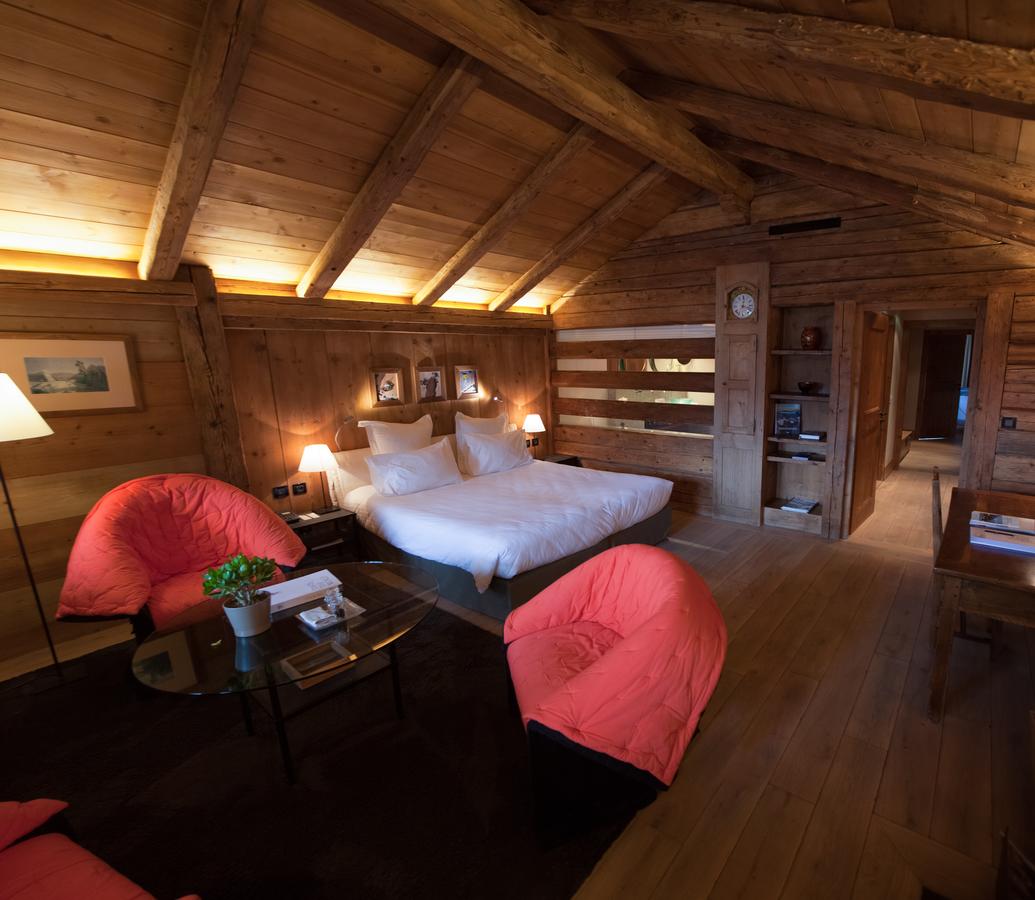 This is a very elegant hotel in the middle of Chamonix, good to be in the middle of town and 700 yards from the Aiguille du Midi funicular.  Some of its rooms are newer built with wooden interiors, and other ones are more classical but still very nice. The lounge has lovely views of the Massif de Mont Blanc. They offer also a bar next to the fireplace. The hotel offers also a well-appointed spa and wellness centre.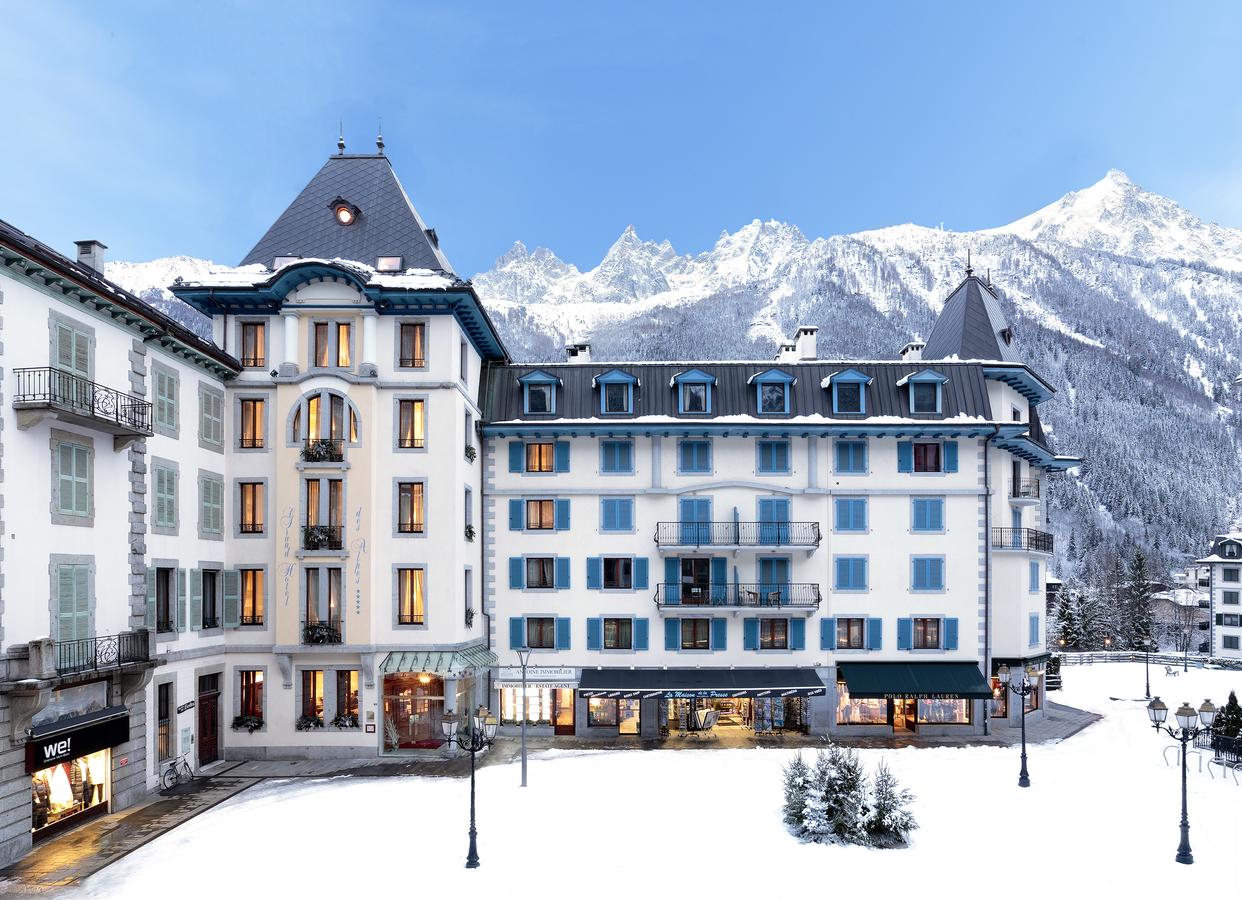 This two-star hotel is a favourite due to its location in the middle of town, and enough amenities for those not wanting to lose an arm and a leg on their holiday. The hotel rooms offer amazing views of the mountains and rooms are decorated in Alpine style, with lots of wooden walls. The hotel offers breakfast. The ski shuttle stop is 50 yards away from the entrance.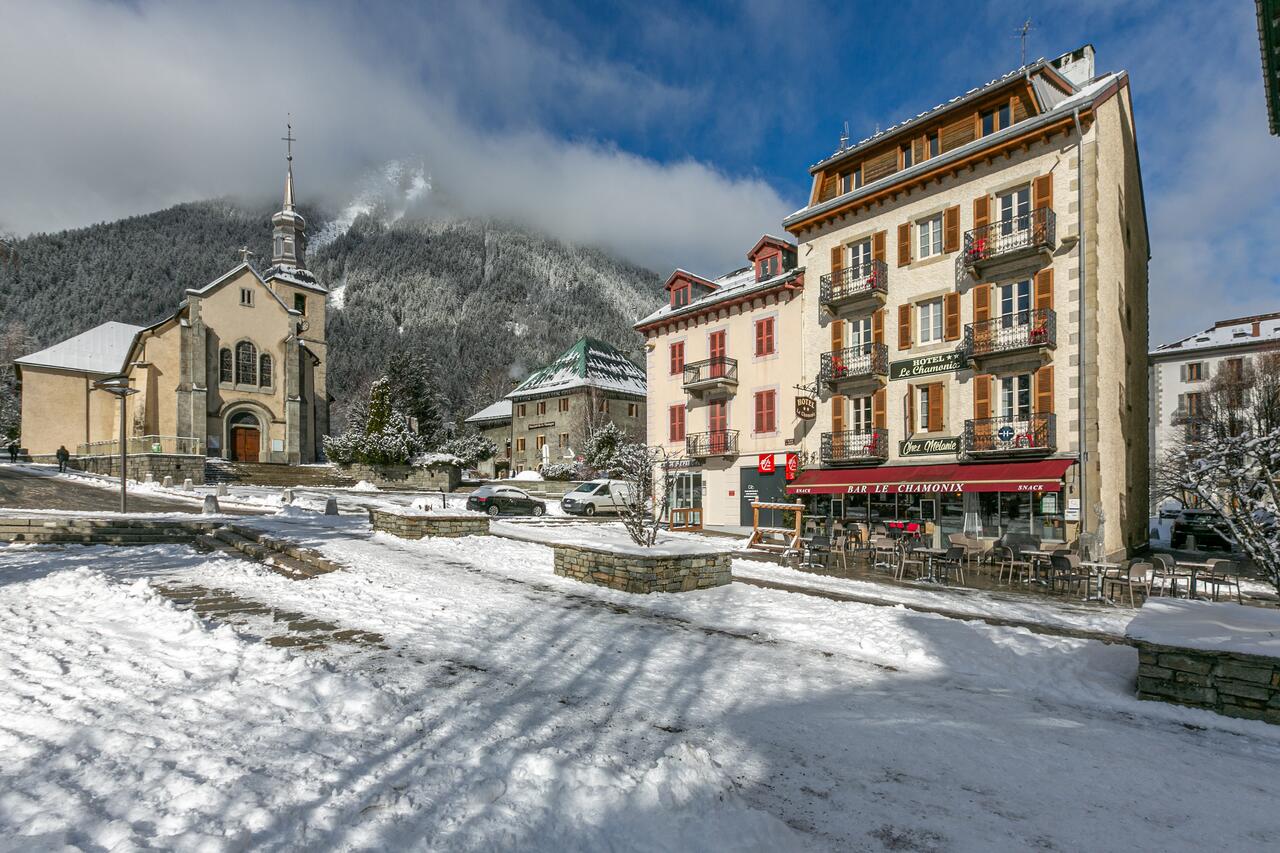 You can search for your own accommodation in the snow for your next ski holiday through our Accommodation Search tab. Or if looking to stay in the heart of the Mont Blanc Valley in the Aosta Valley, check Il Coure della Valdigne review here. This is our own family home in the mountains, that I am renting out when not using, you can always write me a private message if interested to info@the-ski-guru.com
You can book directly through Airbnb  through this link
If you want to take your family skiing and you don't know where to start, read here. And search for your ski transfers from all airports to the Mountains here. And for those that are like me, that are lazy to cook, you can get your food, even gourmet mountain food delivered to your home with Huski.
If renting equipment (skis or snowboards)  check our agreement with Skiset– you can get up to 50% off ski or snowboard rental rates. I have been using them for years every year when I go to America  and Europe and they are great!
You can start thinking about your trip, by reading the articles on the Planning your Ski Trip tab.  Or how to pack for your family ski trip.  If taking your furry friend abroad to the continent, read about the new Pet Travel Scheme update from DEFRA. Self-drive skiers also need to plan for Brexit. Check out our tips for driving to the mountains.  If flying and renting a car in Europe, beware of the extra charges they will pass to you if you want winter tyres, snow chains or ski racks. If driving, check the winter tyres news for Europe and North America. You can see how our last family ski holiday was not as expected, even though one plans it to be a success, but how we could do the most of it. If you want to get better before getting to your next ski holiday, here is a quick guide to indoor skiing and dry slopes in the UK. You can also read our week in the mountains during our summer holidays in Courmayeur.
Featured Image: Skyway Monte Bianco viewed from Pavillion, at 2,200m – mid-station of the Skyway Monte Bianco. 
Please follow and like us: