A Must-Read Guide to Summer in South Tyrol – Sudtirol.
South Tyrol (or Sudtirol) is open for visitors this summer. On June 3rd, borders will start opening for regional tourism within the EU and Schengen countries (all depending on Covid-19 cases keep on being down), so, I've thought I could put together a Must-Read Guide to Summer in South Tyrol.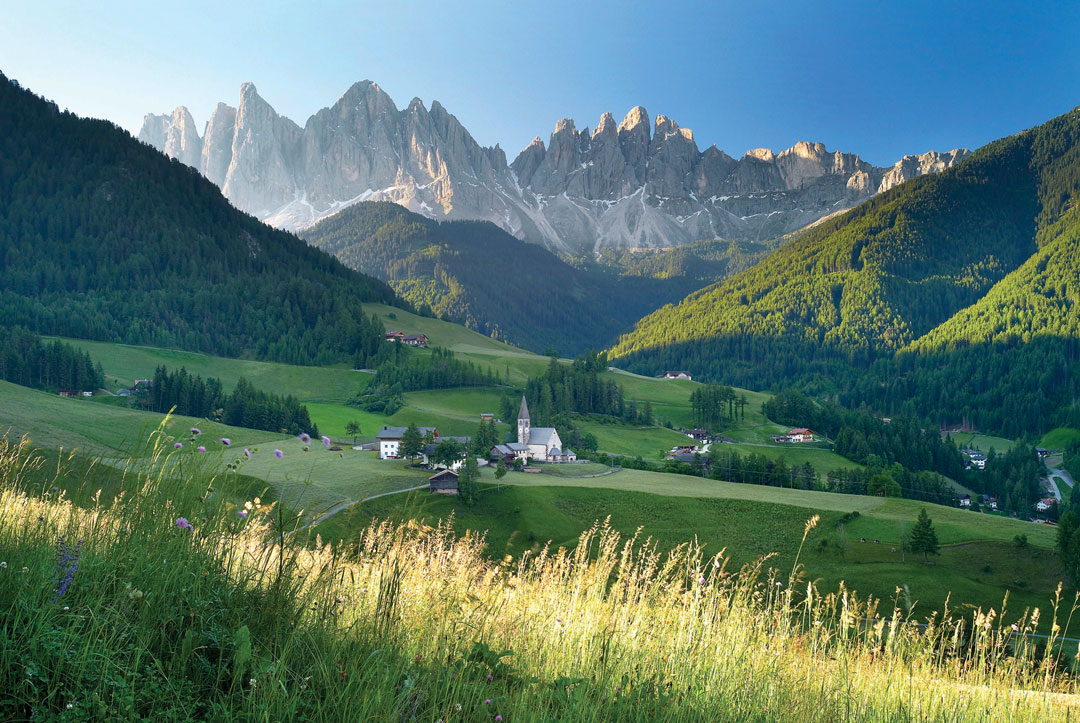 This article may contain affiliate/compensated links. For full information, please see our disclaimer here.
South Tyrol is the northernmost province in Italy, bordering the Tirol and Östirol regions in Austria. Actually, it used to be part of the Austrian-Hungarian empire as part of the Tirol region (it was actually called Mittletirol). It changed hands to Italy after the defeat of the central powers on WWI in 1918.
How to get to South Tyrol
Fly to Innsbruck in Austria or Verona in Italy. If not, you have the options of Bozen/Bolzano airport, that is a smaller regional airport, or Bergamo, Venezia, Milano Linate, Milano Malpensa or Munich.
Driving to South Tyrol
Coming from Austria, just pass Innsbruck and take the Brenner Pass, and you'll be there. From Verona, go up the Brenner Motorway (A22 Autostrada del Brennero) and drive north. South Tyrol is part of the Trentino Alto Adige province, located in the northern side (the Alto Adige side).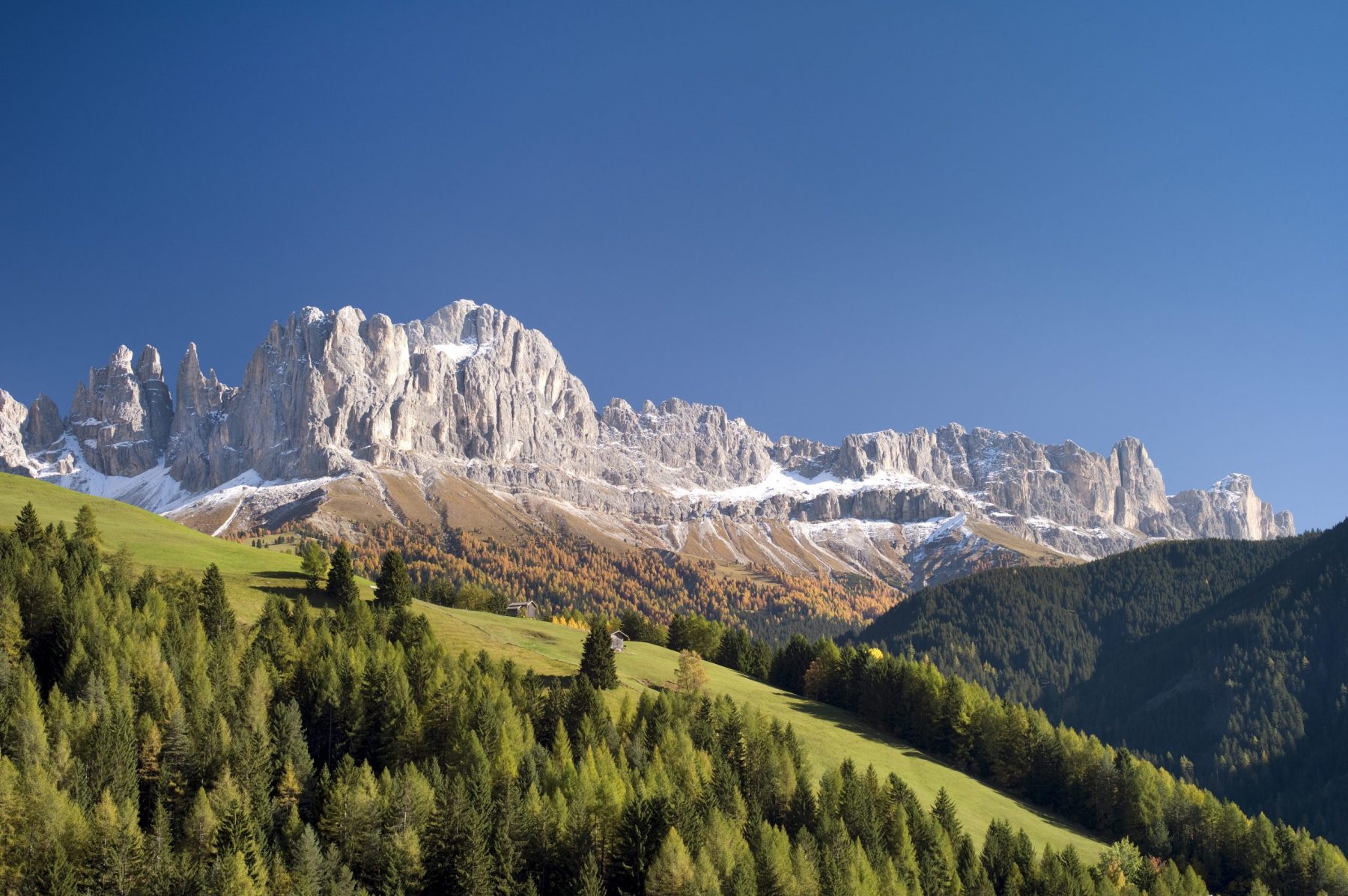 Languages in South Tyrol
70% German, 25% Italian and 5% Ladin. The Ladin is a mountain language, what is considered a Romansh language spoken in the Dolomite valleys of Val Gardena and Alta Badia.
What to do in South Tyrol in the Summer.
Go to the area of Kronplatz and Brunico.
Kronplatz is a mountain in the border of what is Dolomites and Alps. The mountain itself has a shape of a Panettone with a punch in the middle. It is a very interesting mountain, which is connected with four villages around and lifts to each one on each sides.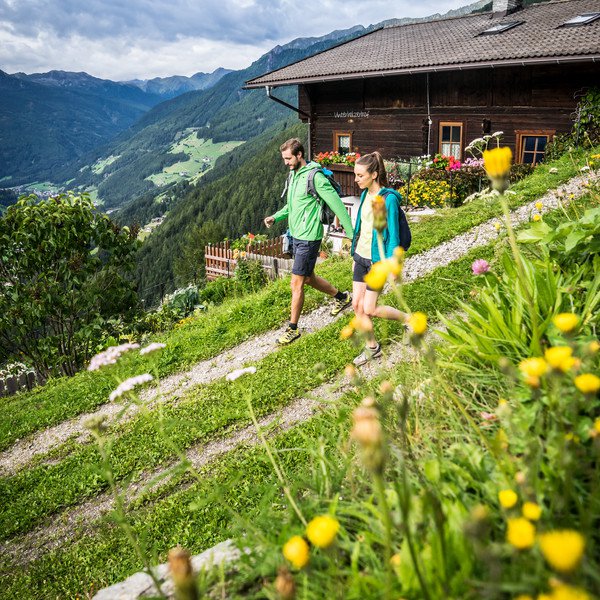 Kronplatz is not only interesting for skiing in winter or hiking and mountain biking in the summerr. There is a good reason to go to the top of the mountain all year round, even if you don't ski, ride, hike or bike! It is the only mountain, that I know of, with two really grand museums on its peak! These museums are Lumen Museum and MMM Corones.
Lumen Museum
It is a museum of mountain photography, and it is the newest addition to Kronplatz. It has impressive mountain photos in a very airy and spacious building. It shows the love of man about photographing mountains. The museum has massive pictures hanging out from its roof, plus an interactive adrenaline ride with the use of virtual reality visors, the history of what men used to photograph mountains, and an impressive mirrors room, that makes you think where does reality starts and ends- really cool to go and visit. There is also a room with a massive shutter where projections are done which is pretty spectacular.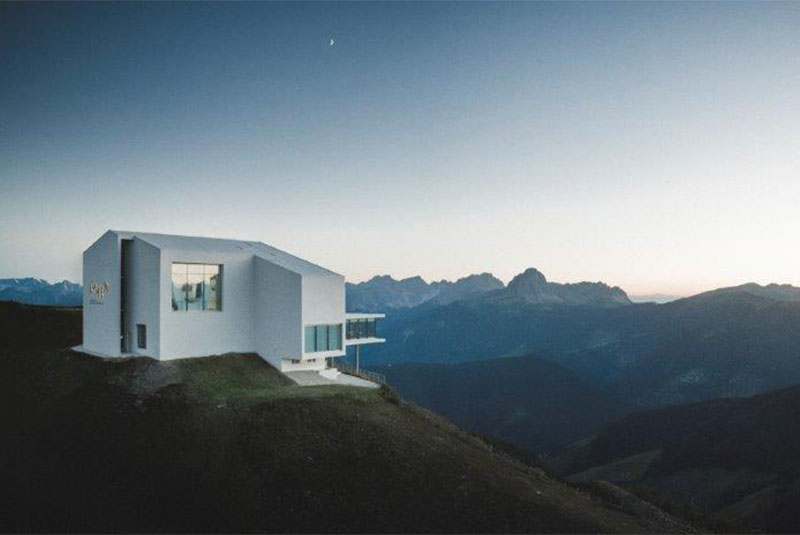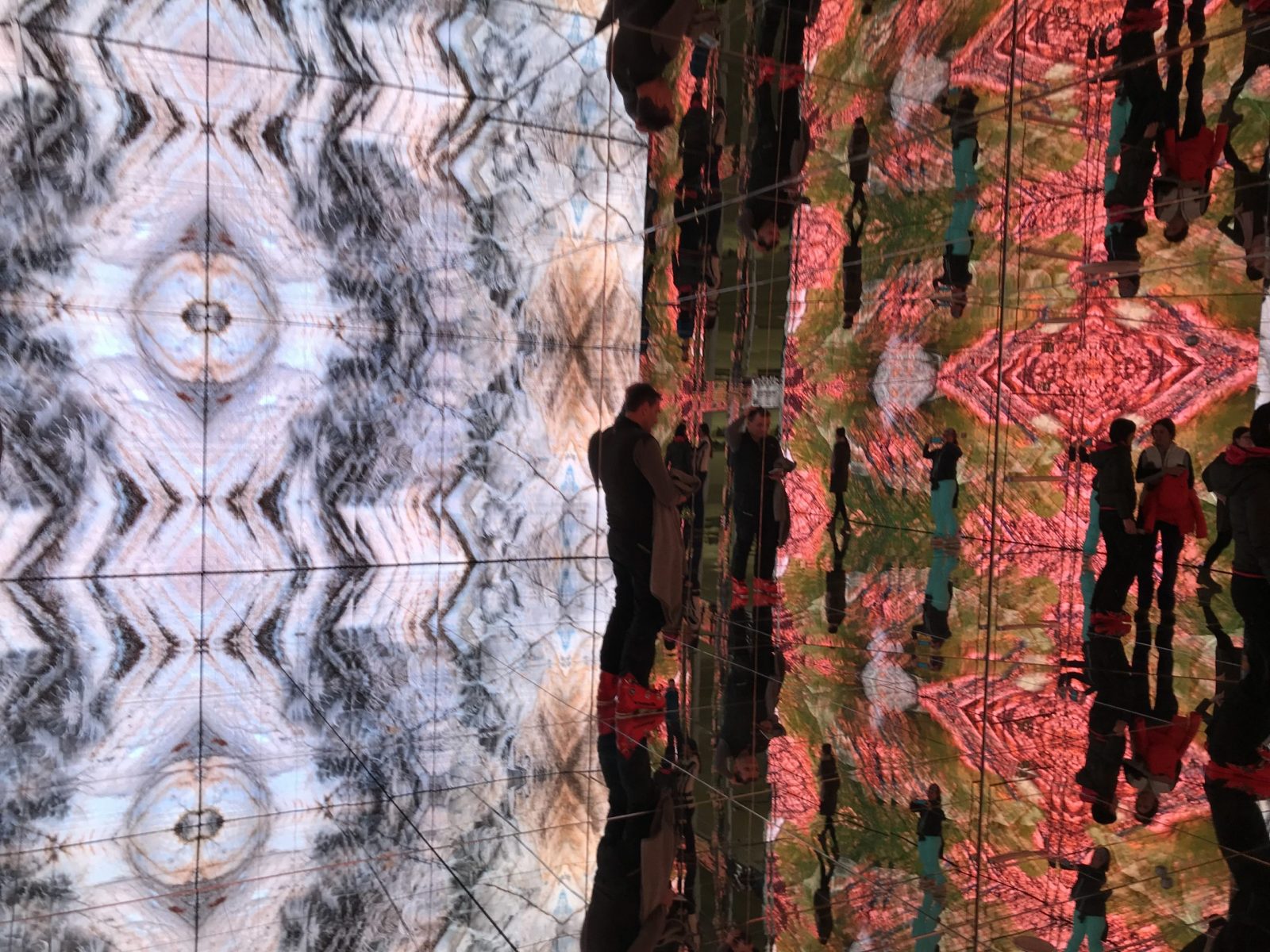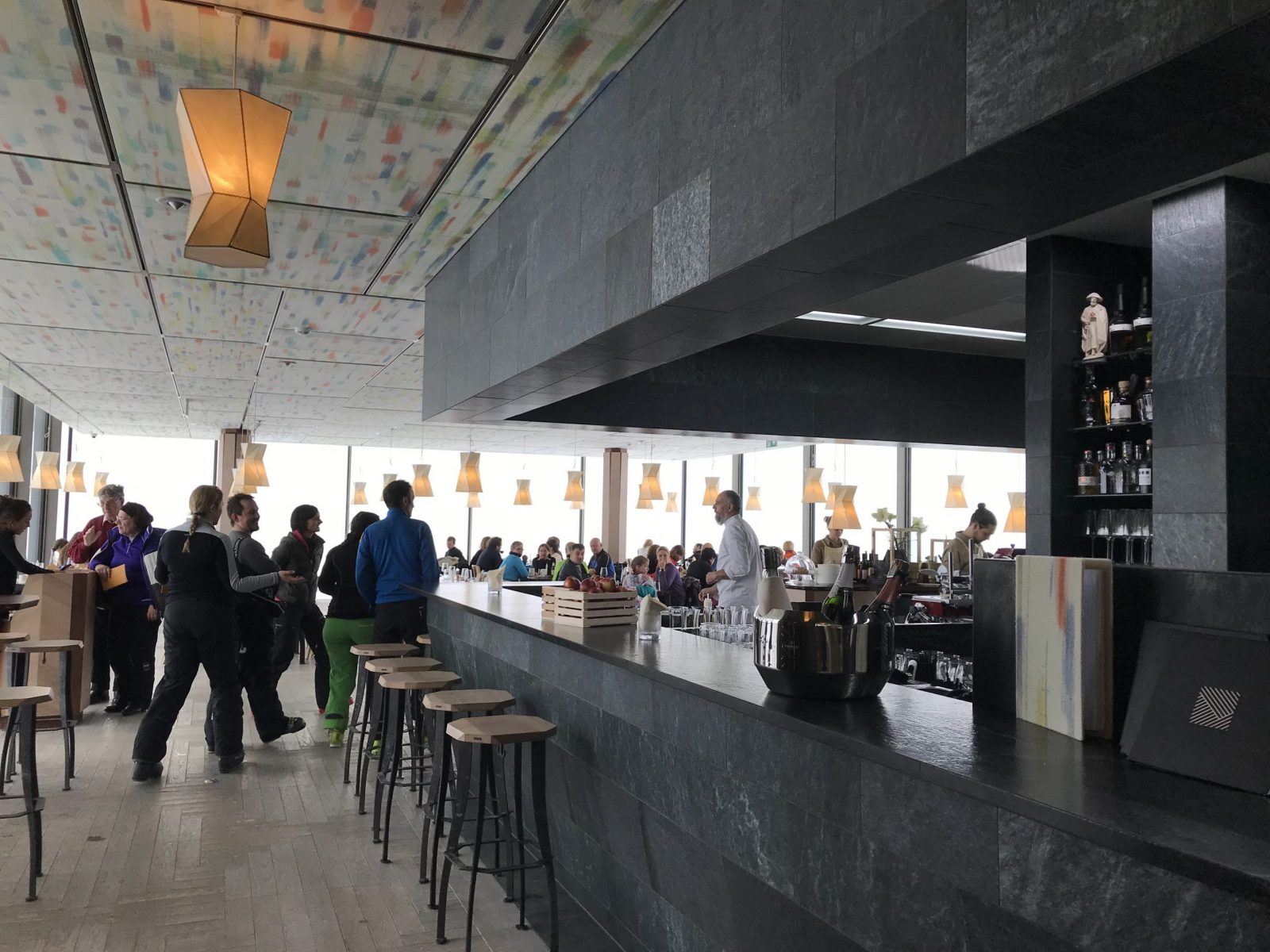 You can see also how the mountains have been shaped by over-tourism- there are pretty impressive pictures that you can move from one side to the other seeing the effects of the climate change on glaciers.  While you are there, you should reserve (in advance if you can) and dine at the AlpiNN restaurant where you can savour the cuisine of renown chef Norbert Niederkofler. I had a pasta carbonara to die for there. We had a sampler of all different dishes and everything was nice, so just go and visit it! Views are also spectacular from the restaurant and the museum.
This is a museum where you can go in ski boots if you go in winter, just beware when going to the toilet, as most of our group was sliding coming out of the stairs when going to the toilet downstairs! Just grab the banister and you'll be fine!
MMM Corones
The other museum on top of Kronplatz worth visiting is the MMM Corones. Also, on top of the mountain of Kronplatz, at 2,275 m, this is an alpinism museum, influenced by Reinhold Messner.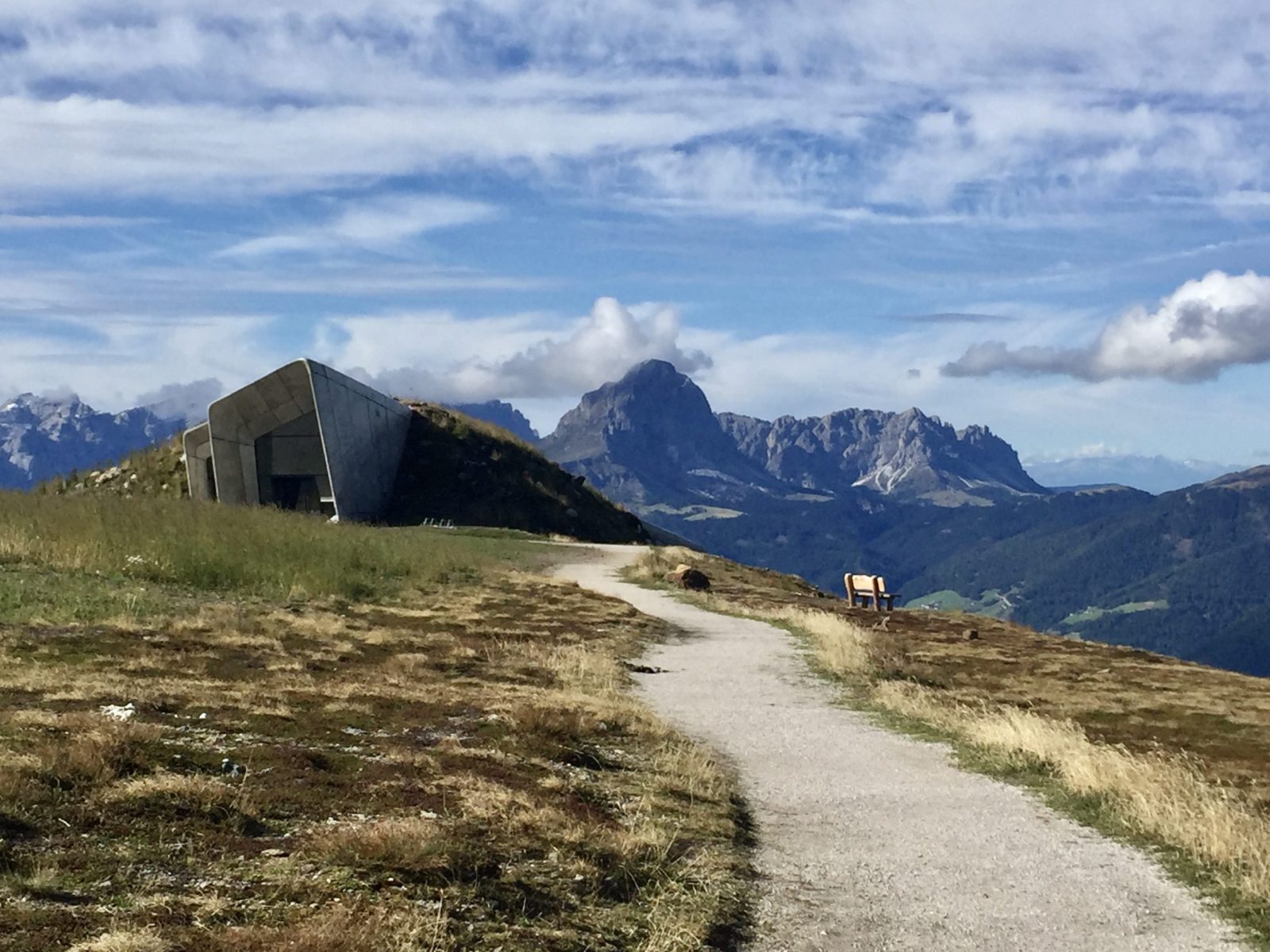 The museum showcases the mountain history and also offers unique views of the Dolomites and Alps- from the Lienz Dolomites in the east to the Ortler in the west, from the Marmolada in the south to the Zillertal Alps in the north. The museum building is worth visiting itself, as it was designed and built by Zaha Hadid (if I am not wrong, her last job before dying). Not sure how to explain it, but it has some esplanades that finish in a window with amazing views. All is built of reinforced concrete and glass.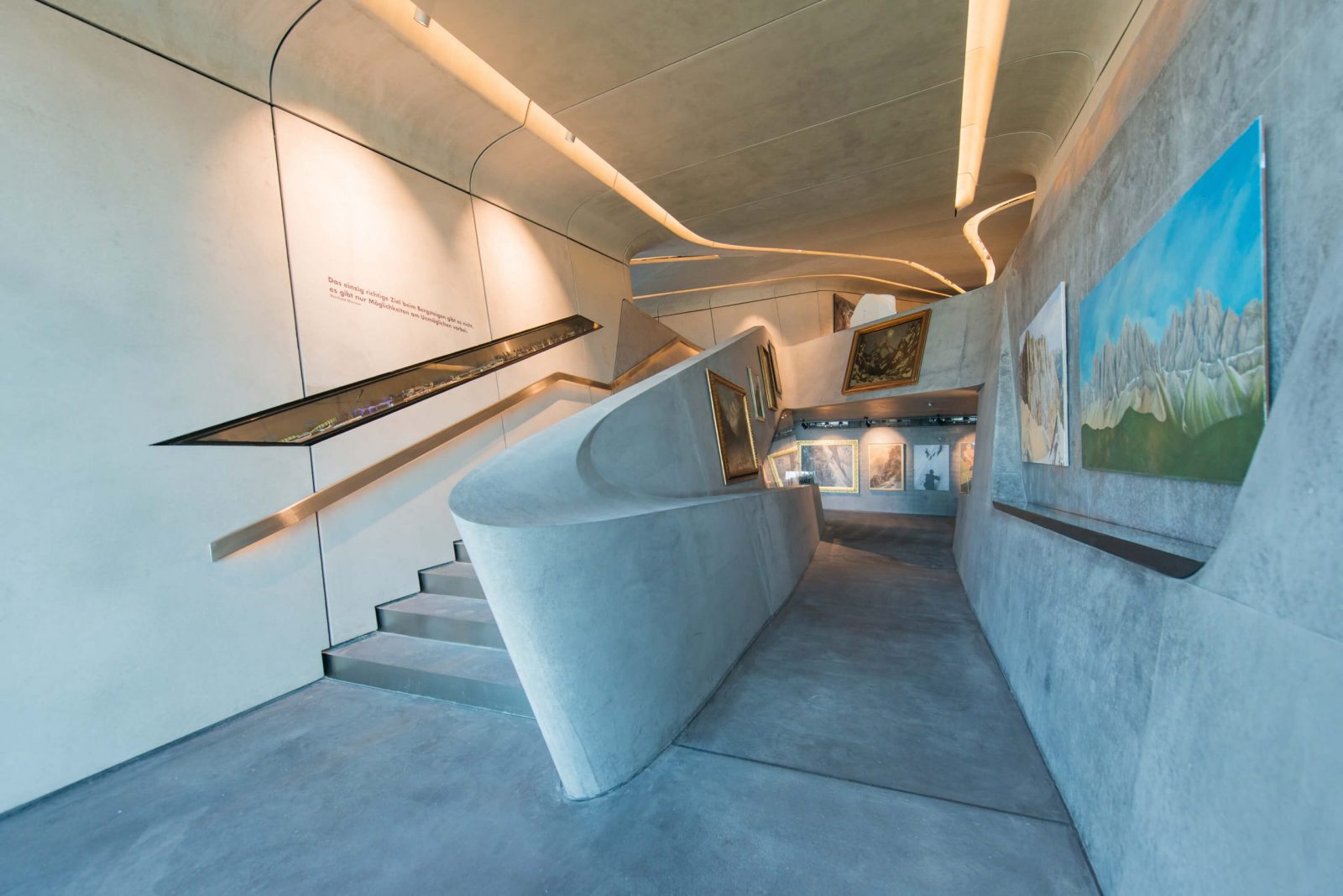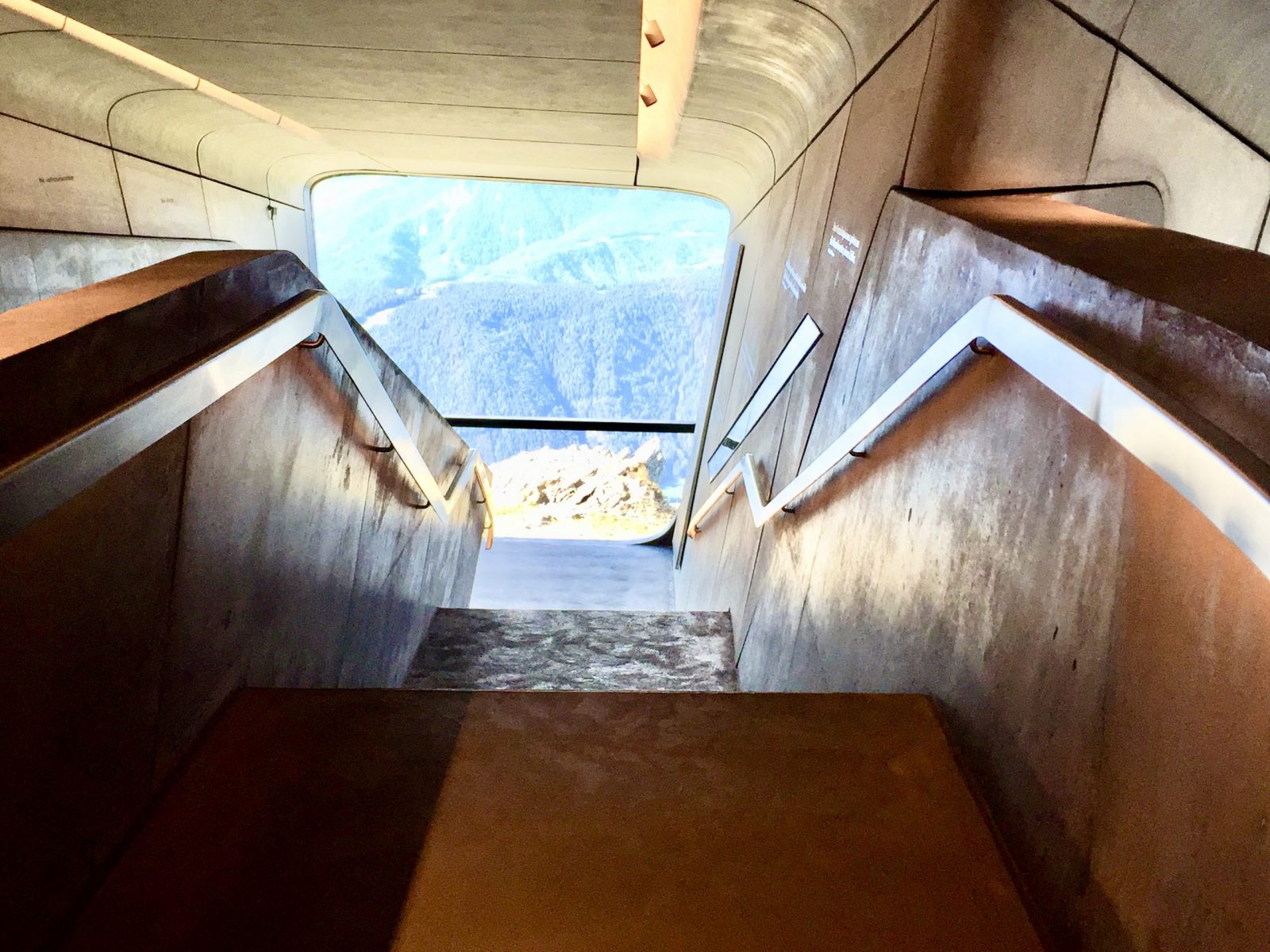 Brunico/Bruneck
Go also and visit the lovely town of Brunico. Located just down the road from Kronplatz, this is the largest town of the Pustertal Valley. Brunico, or Bruneck, in German, is a lovely small town, that was chosen in 2009 the happiest small town to live in Italy. I loved it the times I went, it is quaint, but still has lots of vibe. You can see the Bruneck Castle that is on a wooded hill and the Rainkirche Church. The town has lots of nice boutiques next to delis and cafes and lovely restaurants. A great place to hang out!
Der Genuss Bunker
Visit Der Genuss Bunker for a wine or beer pair tasting with the cheeses stored there year round at 100% humidity and 10C. Really worth it. You need to arrange a time to go and visit it, as it is not open all the times.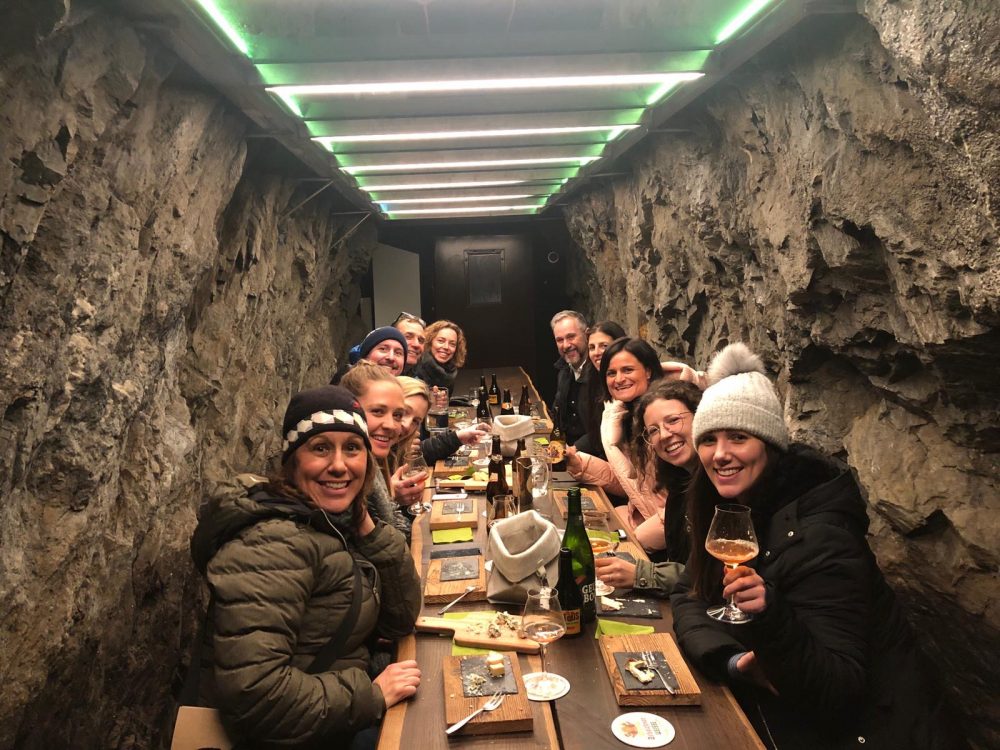 Link to Der Genuss Bunker Facebook page. 
Where to stay in the area:
Lovely hotel well located for skiing in Kronplatz. Rooms are very airy and cozy and all common areas and wellness is extremely inviting. All local produce in its restaurant and a great bar to hang out in.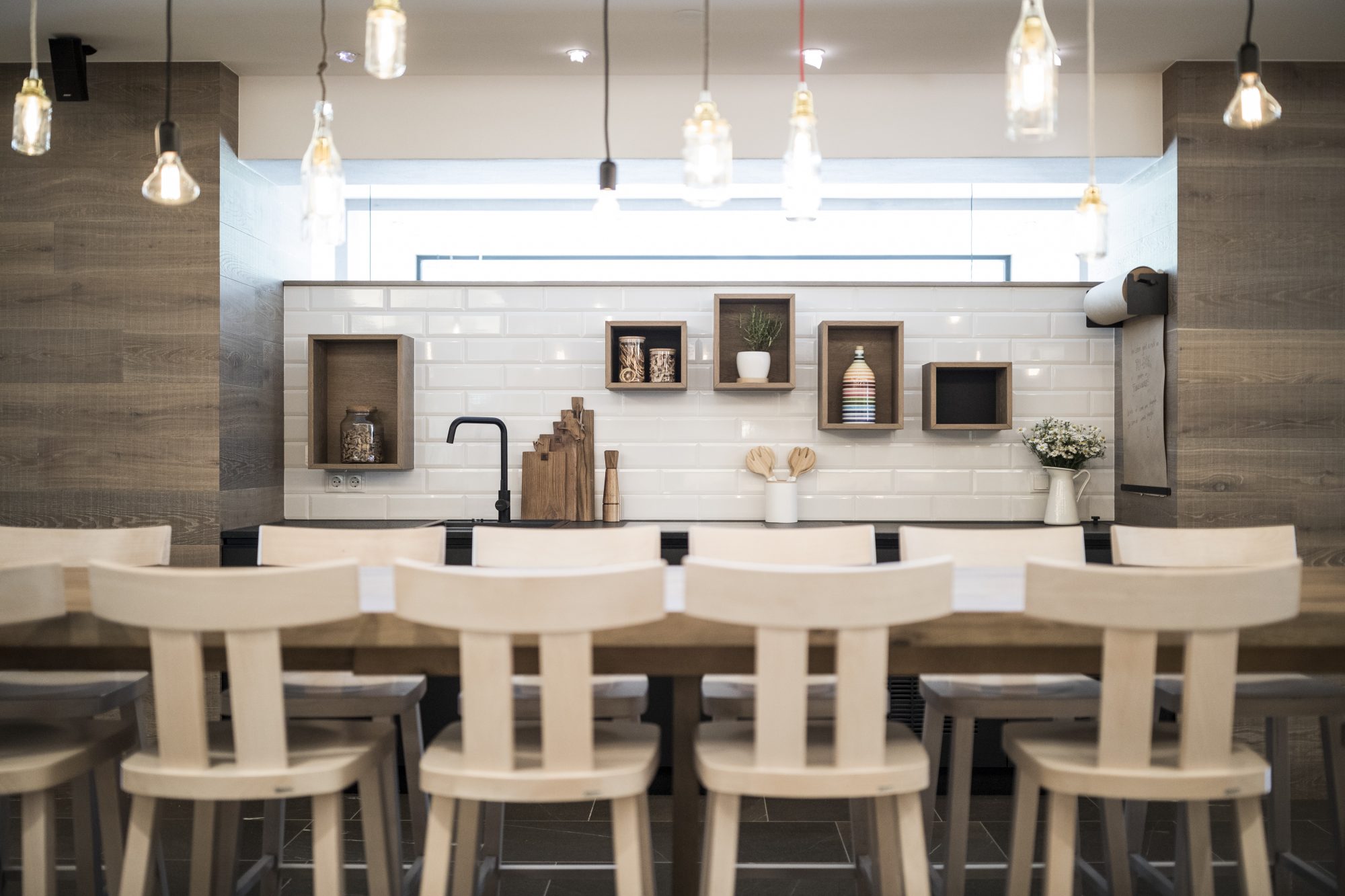 Book your stay at the Hotel Petrus here.
White Deer San Lorenzo Lodge –
I have also reviewed of the White Deer San Lorenzo Lodge before in this post.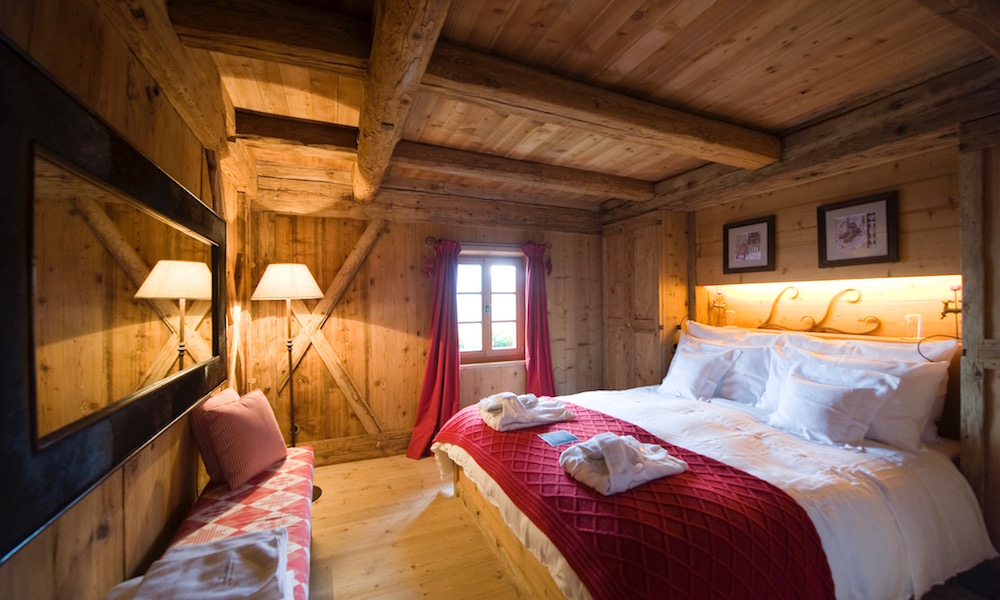 Book the San Lorenzo lodge here. 
The Hotel Post is one o the most traditional hotels in South Tyrol, located in the heart of Brunico and only 550 yards from Bruneck Castle.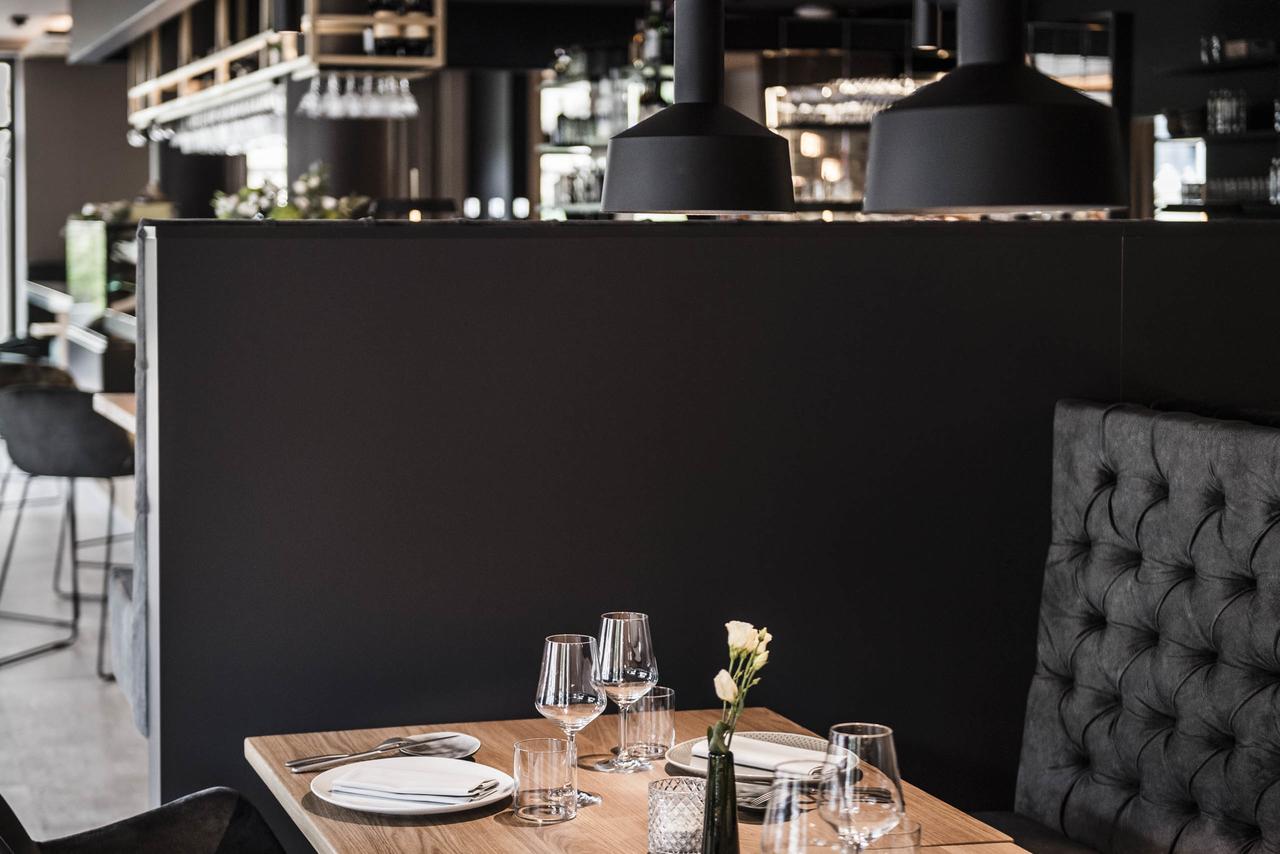 Book your stay at the Hotel Post Alpine City Flair Brunico here.
Bolzano and the Kalterer See Lake
Bolzano is the capital of South Tyrol. A mixture of Northern European and Mediterranean styles blends here, with a lovely vibe. Food in South Tyrol is amazing, you should try here the Törggelen, which is an ancient local tradition that comes from pressing the grapes. Basically, if going in the autumn, you can visit local farmhouses to try all type of treats of the season such as chestnuts, grape must, the AMAZING speck and new wine.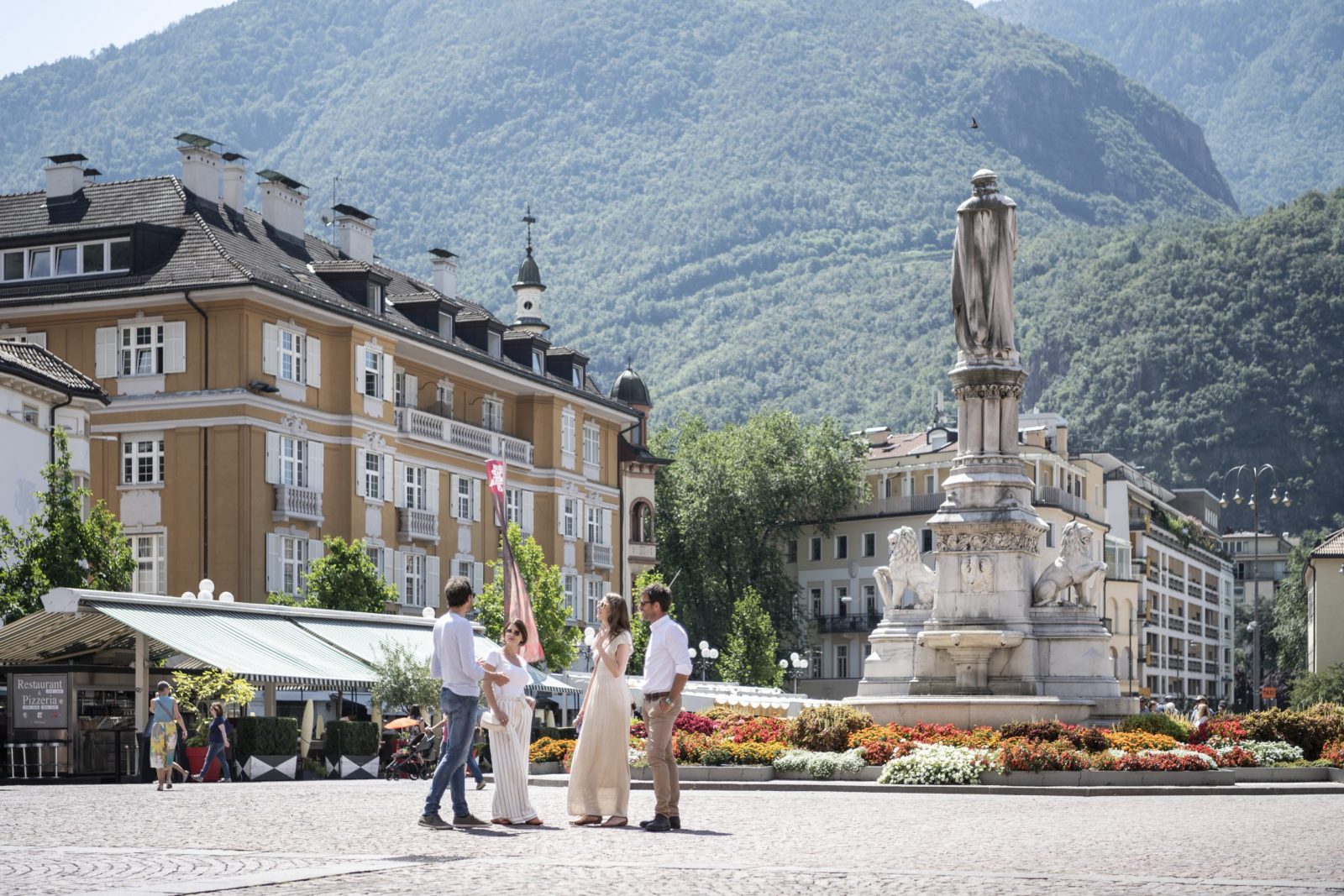 The city has lovely streets to walk around and the open spaces are just very nearby. You can go from town for a walk not far from the city centre, as well as take one of the three cable cars in the area to some plateaus that surround the capital and go trekking up high very easily!
Iceman Museum
You should go and visit the Iceman Museum and visit Ötzi, a mummy of just over 5300 years found by some hikers in 1991 with his clothing and equipment on the Schnalstal/Val Senales Valley glacier. As the story says, Ötzi was crossing the Tisenjoch/Giogo di Tisa in the Schnalstal/Val Senales Valley, when he was murdered, and he was preserved thanks to the ice. He became a sensation for archaeologists and visitors alike, as he is older than the Egyptian pyramids and Stonehenge! Ötzi was found with some stone tools and an innovative and very valuable copper axe. Pity he did not know about how famous he was going to become and had a tragic end of his life!
More information of the Iceman Museum and Ötzi here.
Kalterer See / Caldaro al Lago
Another place you have to go and see is Kalterer See or Caldaro al Lago. It is called 'one of the the most beautiful wine villages in the world'. Take a dip on this green lake, go and follow the wine trail – with a shape of an eight, that has its crossing at the Punkt Winehouse on the village market square, or go hiking through the wild Rastenbachklamm gorge from Altenburg/Castelvecchio to Lake Kaltern.

More information of Kalterer See / Caldaro al Lago here.
Where to Stay in Bolzano:
Castel Hörtenberg
This 5-stars hotel looks like a castle and is located in the old town of Bolzano, just 800 meters from the Christmas Market and less than a mile from Bolzano Victory Monument. The hotel has lovely ample rooms, a great spa, a great terrace where you can have breakfast al fresco and a pool. the hotel provides bike hire.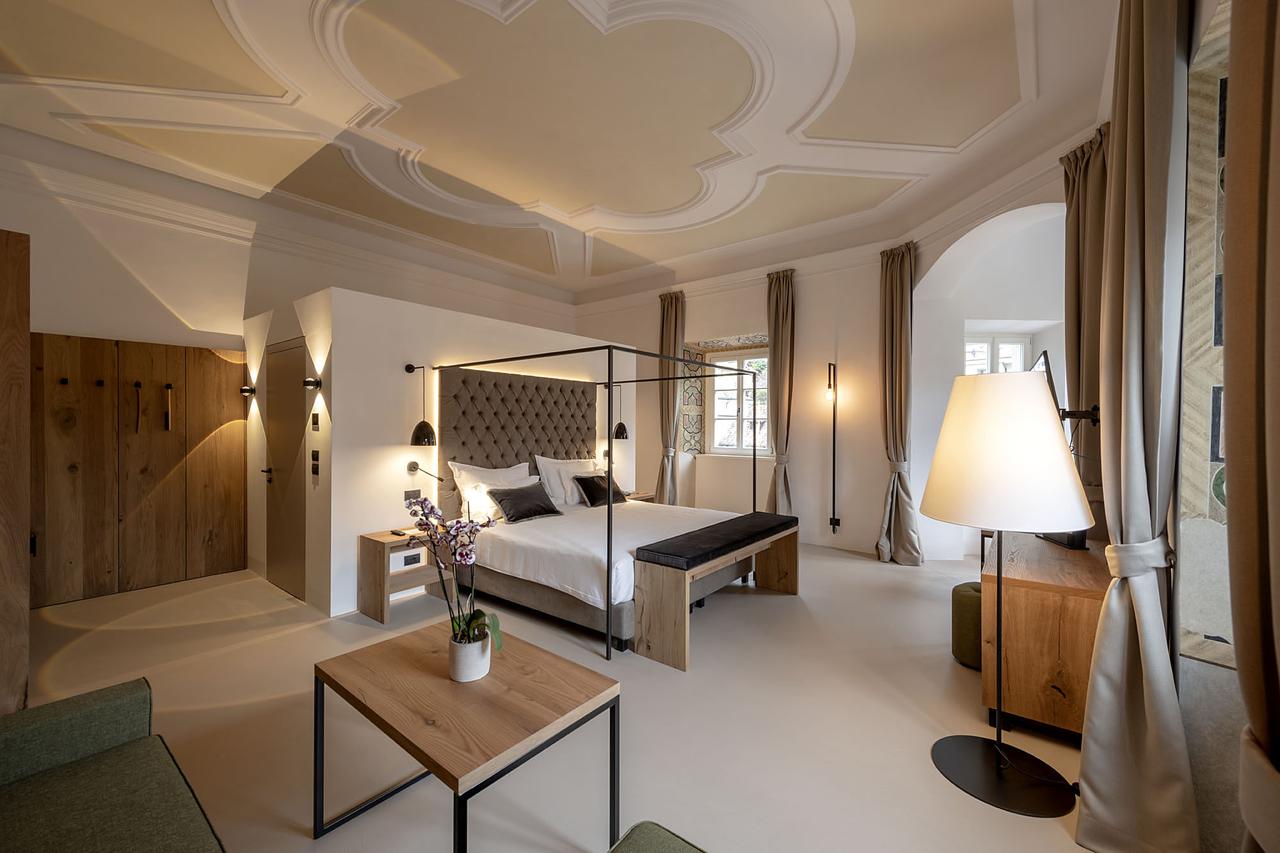 Book your stay at the Castel Hörtenberg here. 
A great quirky bed and breakfast located in the middle of town, with lovely furniture and features. Worth a stay!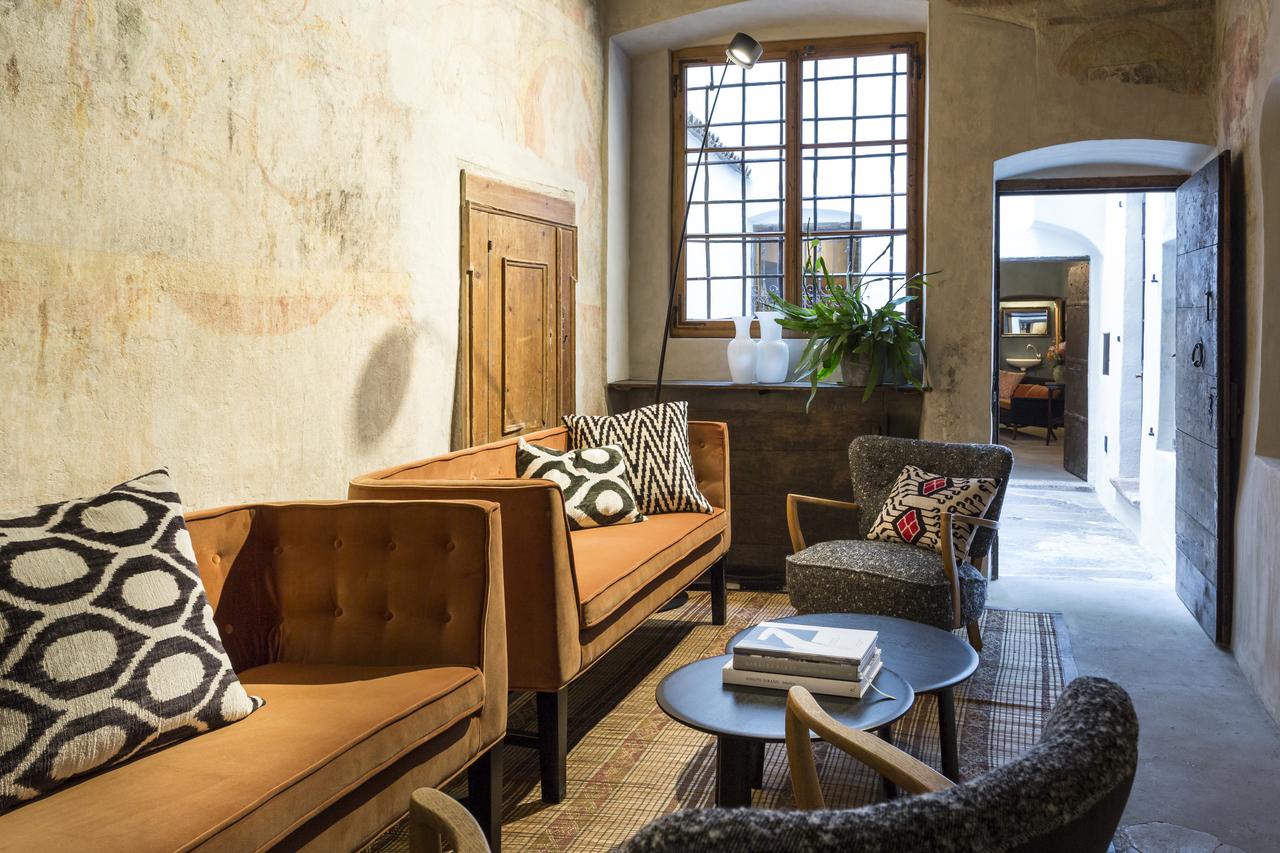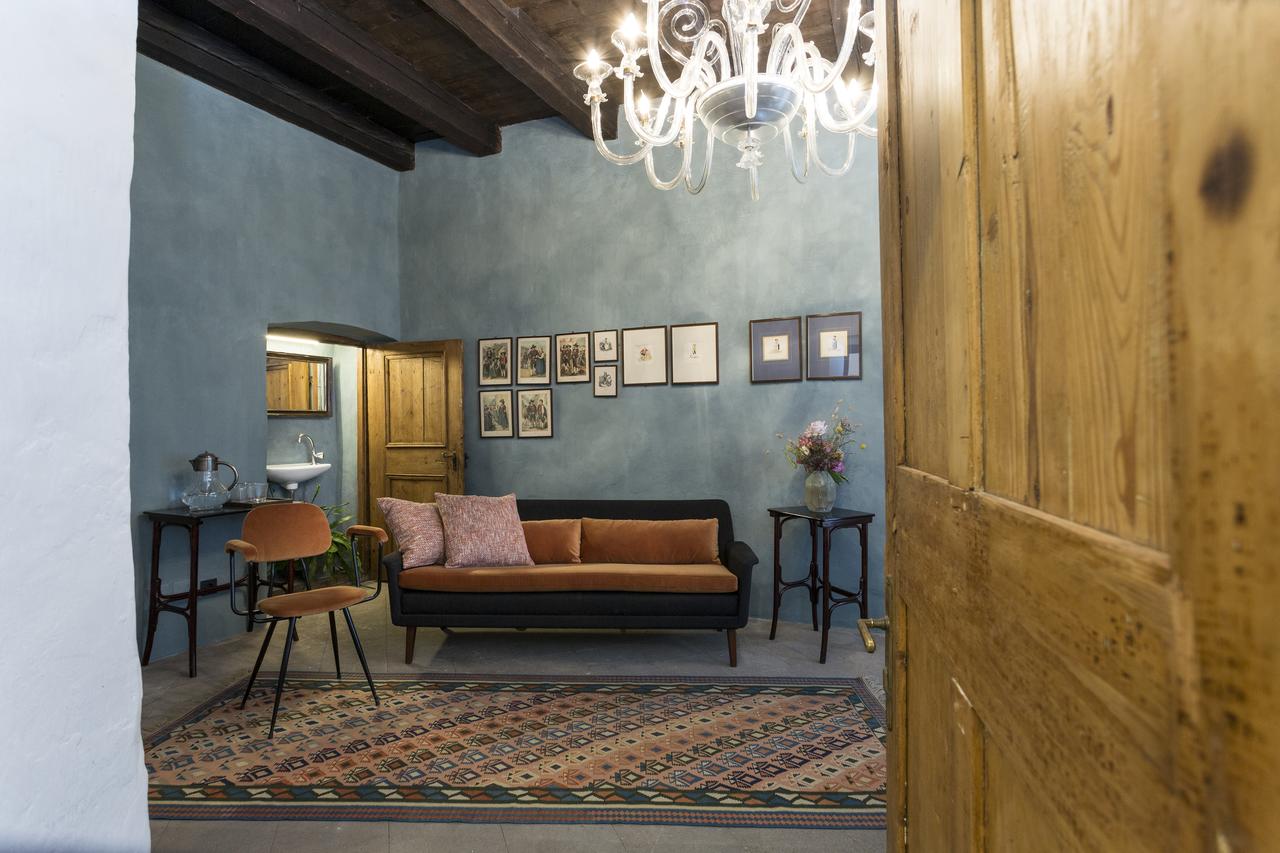 Book your stay at the Goldenstern Townhouse here. 
If you want to stay at Kalterer See/Caldaro, the Hotel Haus am Hang is an option with panoramic views of the lake. This four-stars hotel has a spa with an outdoor swimming pool, a fitness centre, a spa with a sauna, hammam and a lovely garden, a restaurant and a bar.
Book your stay at the Hotel Haus am Hang here.
Seehotel Ambach
This is a magnificent property by the Kalterer See or Caldaro lake. Kind of cool and minimalist, a bit like art-deco furniture (for me at least!) -the views are the protagonist of this hotel. With a sun terrace, outdoor pool and wellness facilities and by the lake, this is a property to make you stop and want to enjoy your time relaxing there. It offers free use of bicycles, kayaks and pedals boats. The wellness includes a heated pool, a steam room, a Finnish sauna and hot tub.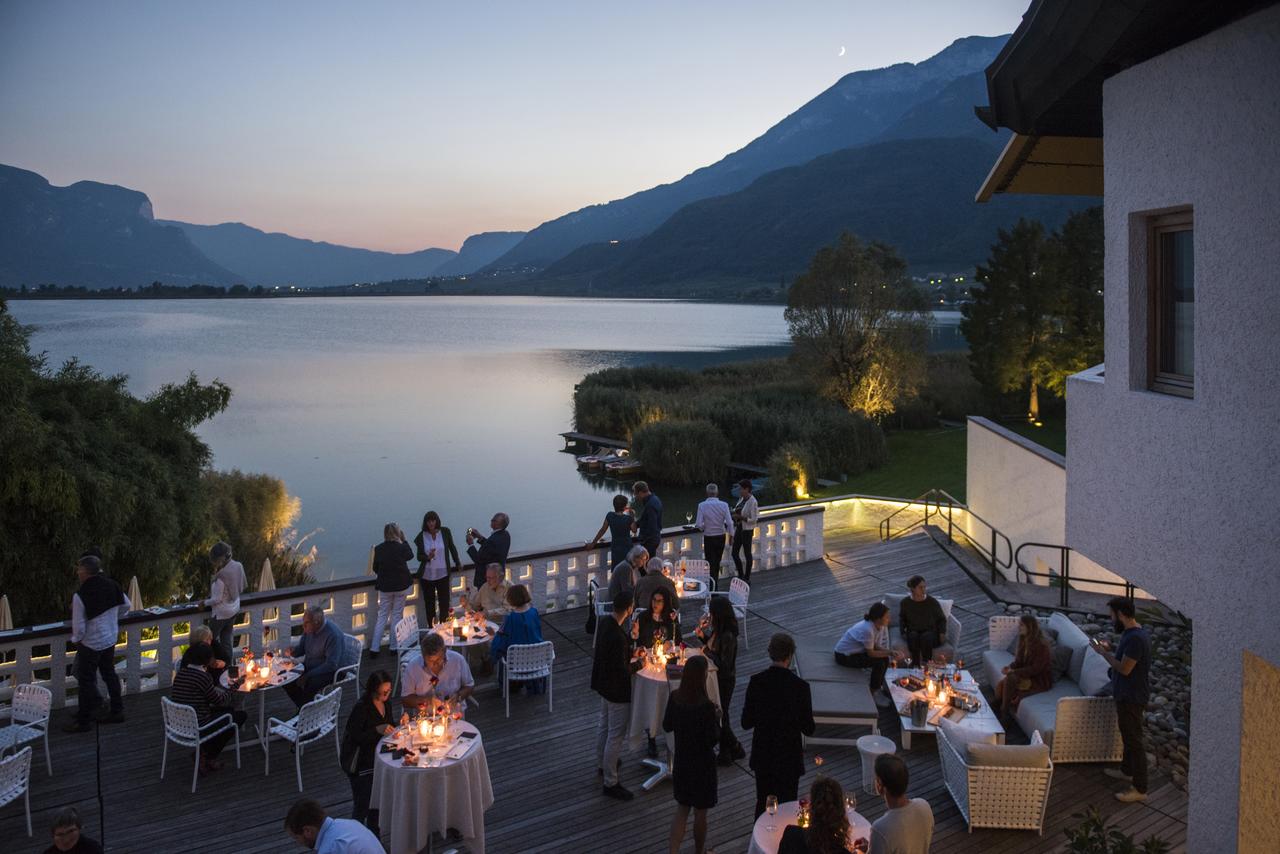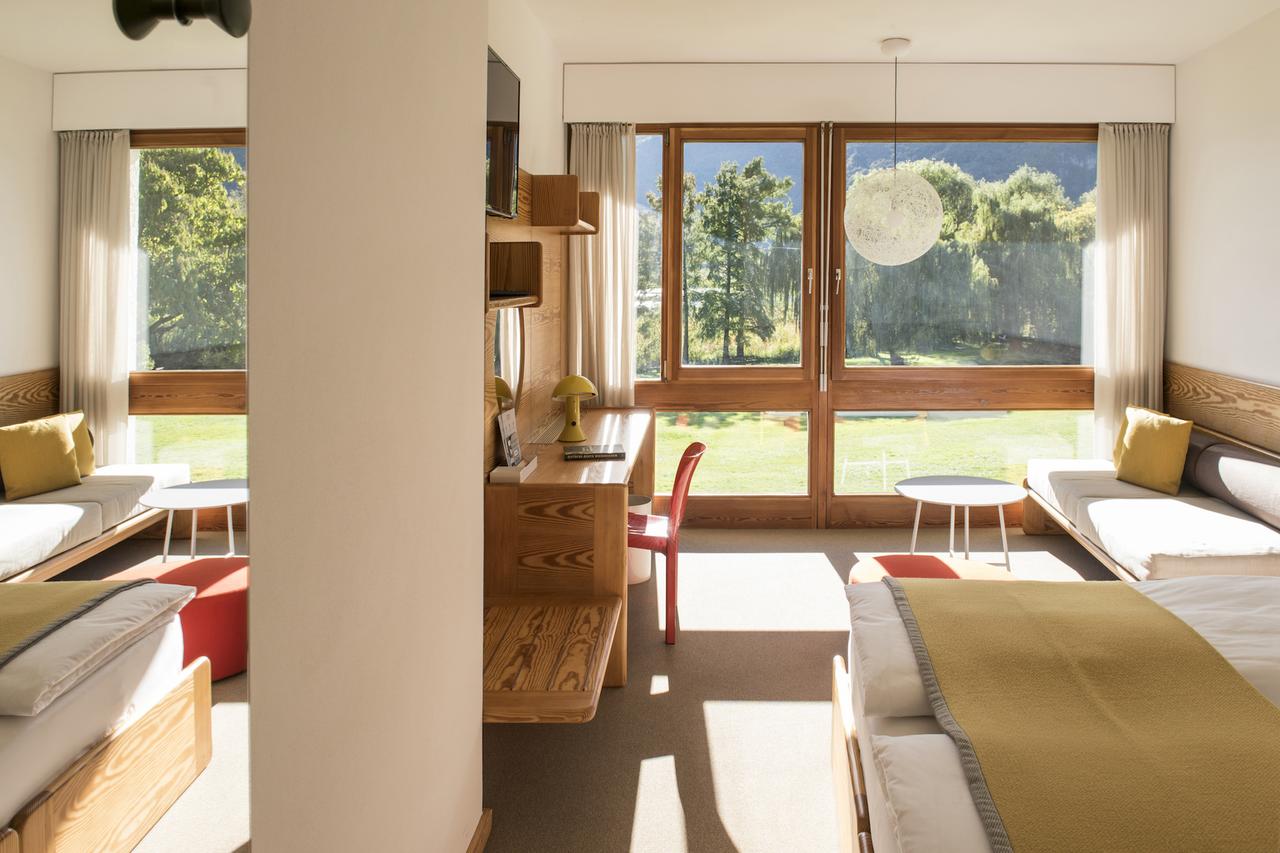 Book your stay at the Seehotel Ambach here.
Where to eat and drink in Kalterer See / Caldaro al Lago
If in Caldaro, go for a bite or to have some drinks to the lovely restaurant and Bar Gretl am See. You can combine that with a dip in the lake or on their outside pool.
Hiking in South Tyrol
This landscape in South Tyrol is the perfect place to plan a hiking holiday. The rugged peaks and the stone in the Dolomites give you a jaw-dropping experience, more during sunset due to the Enrosadira effect (or alpenglow)- when all the mountain rocks turn into orange and pink hues. The valleys are crossed with vineyards and apple orchards, passing imposing castles and amazing lakes and Waalweg canal trails.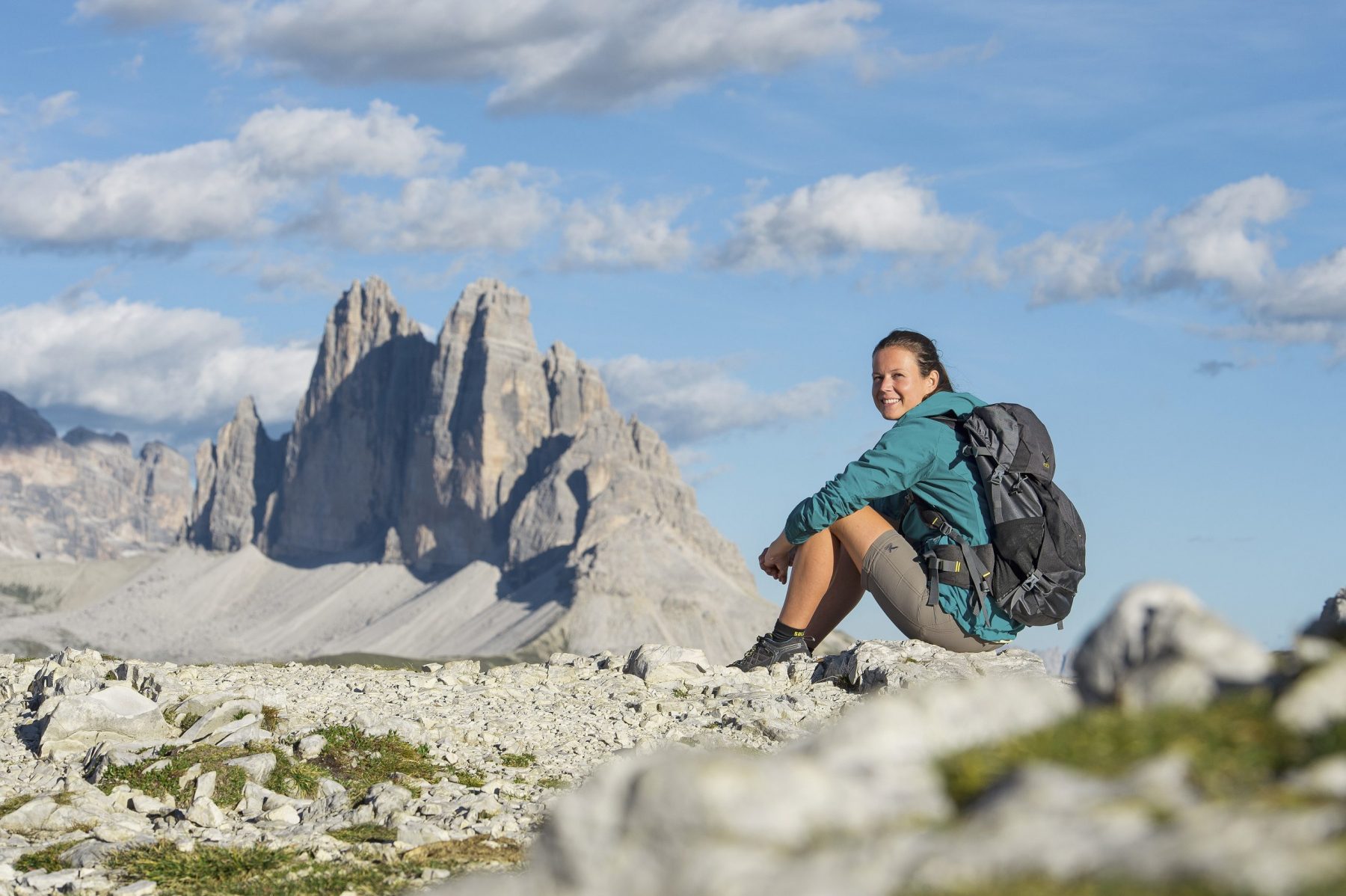 There are more than 16,000 km of signposted hiking trails in South Tyrol. You have themed trails, multi-day tours and also high-Alpine trails.
Some renown trials are the E5 European long distance hiking trail, the Way of St James and the Alta Via Europa 2.
There are mountain huts in the ways for getting some shelter, a respite and a bite to eat. These rifugios go from the small and rustic to the elegant with a sophisticated cuisine and wine menu.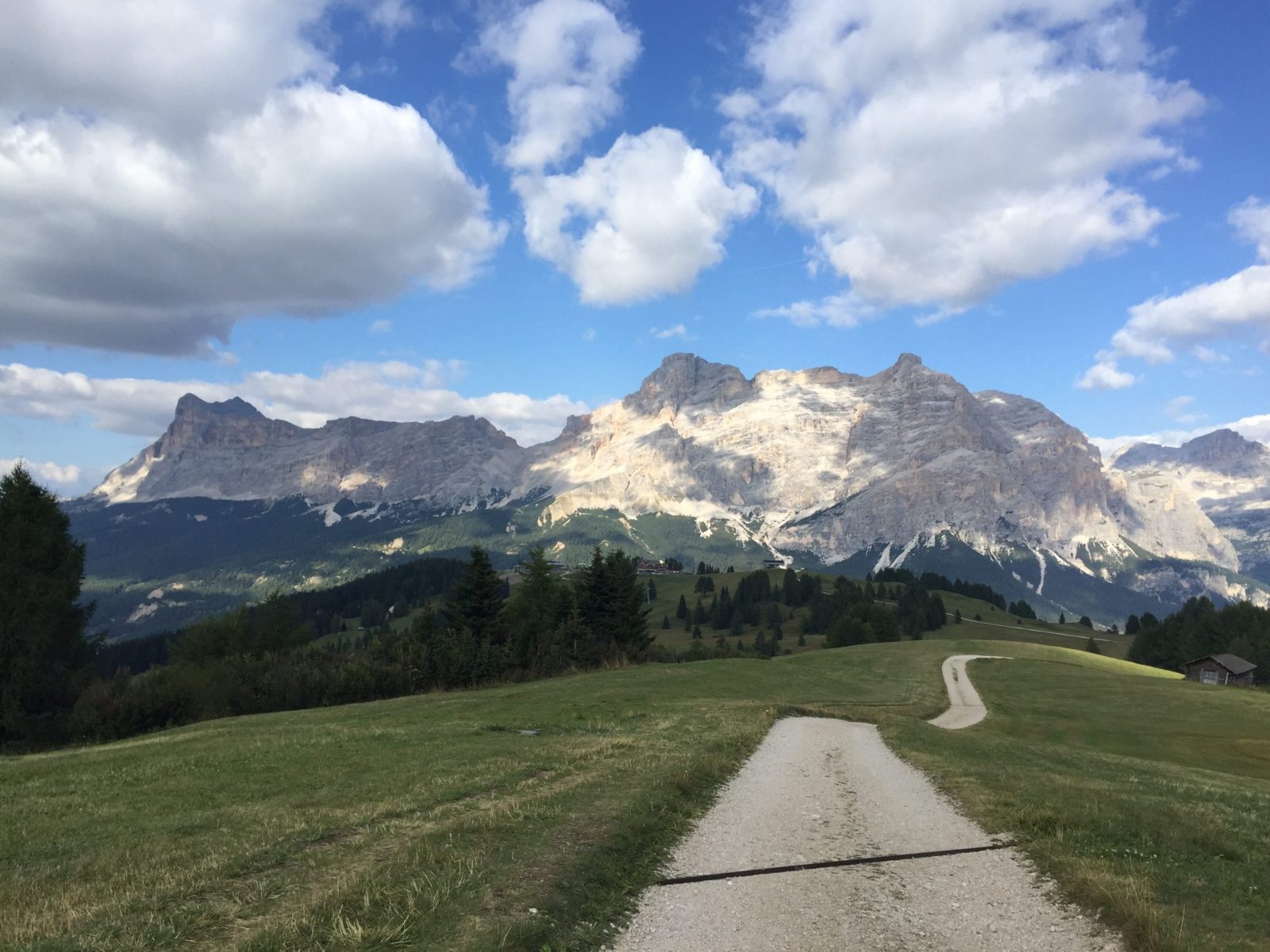 Sudtirol is also renown for 50 via ferratas, from difficulty levels A to F so from beginners to experts can enjoy this climbing experience.
If you are more into an active holiday with a bit of 'controlled' adrenaline, maybe then why not try a Via Ferrata in the Dolomites of Sud Tirol? The best and safer way to do it is with a local mountain guide. Plus with them, on top of knowing the area, being attentive to the weather conditions and any risk that could arise quickly, they can fill you in with lots of stories of the mountains, the area, and of the history of how the Via Ferratas came first to live.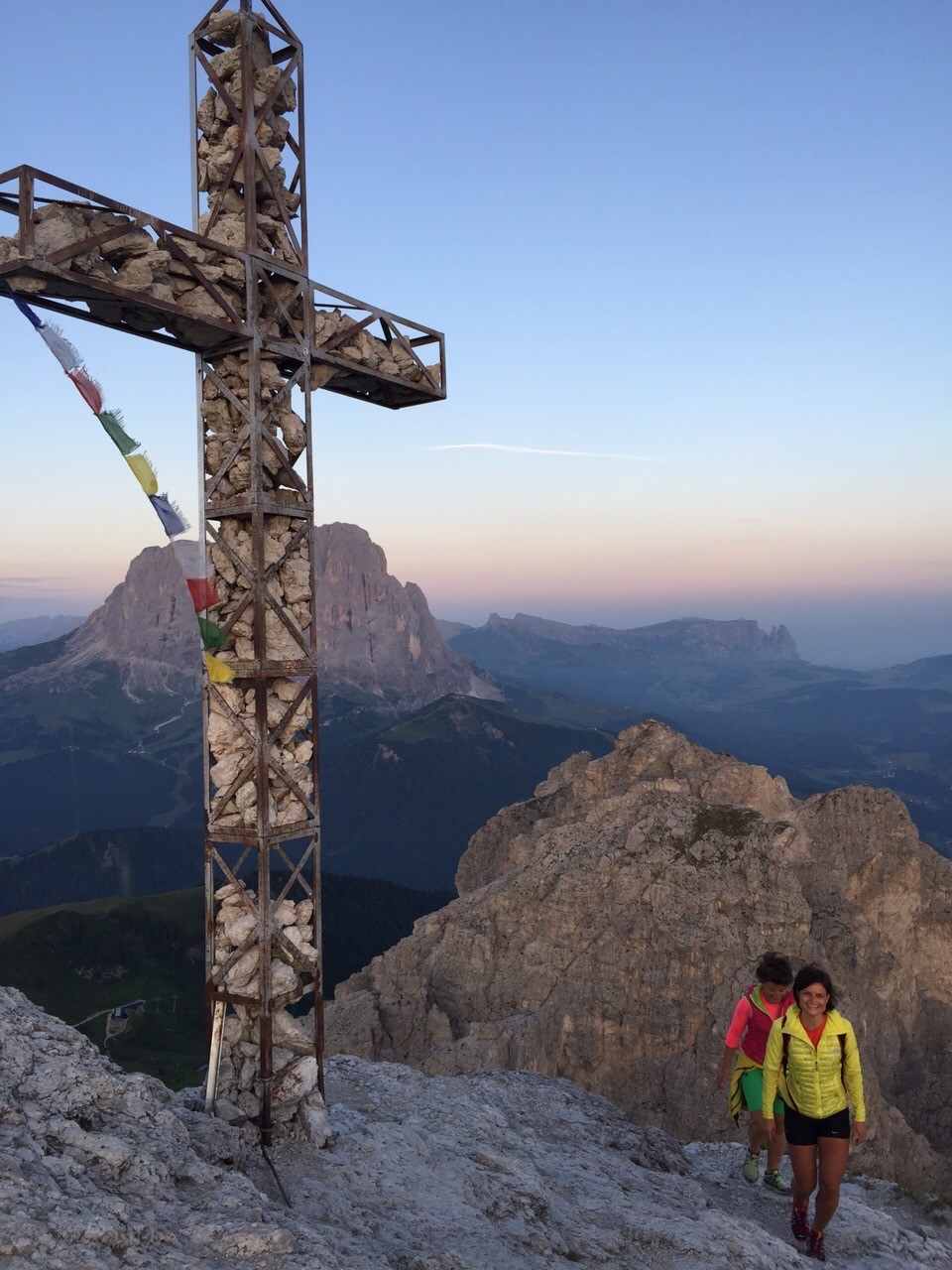 Here are some suggestions of guides to contact for your Via Ferratas:
History says that in 1914, the region was part of the Austro-Hungarian Empire, itself part of the Central Powers during WW1. In 1915, Italy joined forces with Great Britain, France and Russia and declared war on the Central Powers. Austria's troops were committed in Russia, but they quickly withdrew to a defensive line through the Dolomites. The Austrians were helped by the Germans.
The war was fought in the high peaks and to help soldiers moving around at high altitude in very hostile conditions, permanent lines were fixed to rock faces and ladders installed so troops could ascent steep faces. Also, there were many trenches, dugouts and caves within the mountains alongside the via ferratas. This network has been restored after the Second World War and steel cables installed replacing ropes, iron ladders and metal rungs anchored into the rock instead of flimsy wooden structures used by the troops. All these structures are now maintained by the Club Alpino Italiano – (CAI).
Some Via Ferratas worth the mention in the Dolomites of Sud Tirol:
Via Ferrata Les Cordes in Alta Badia 
Highlight: was open in summer 2019 and is located in an unknown area of Alta Badia, the Gardenacia mountain.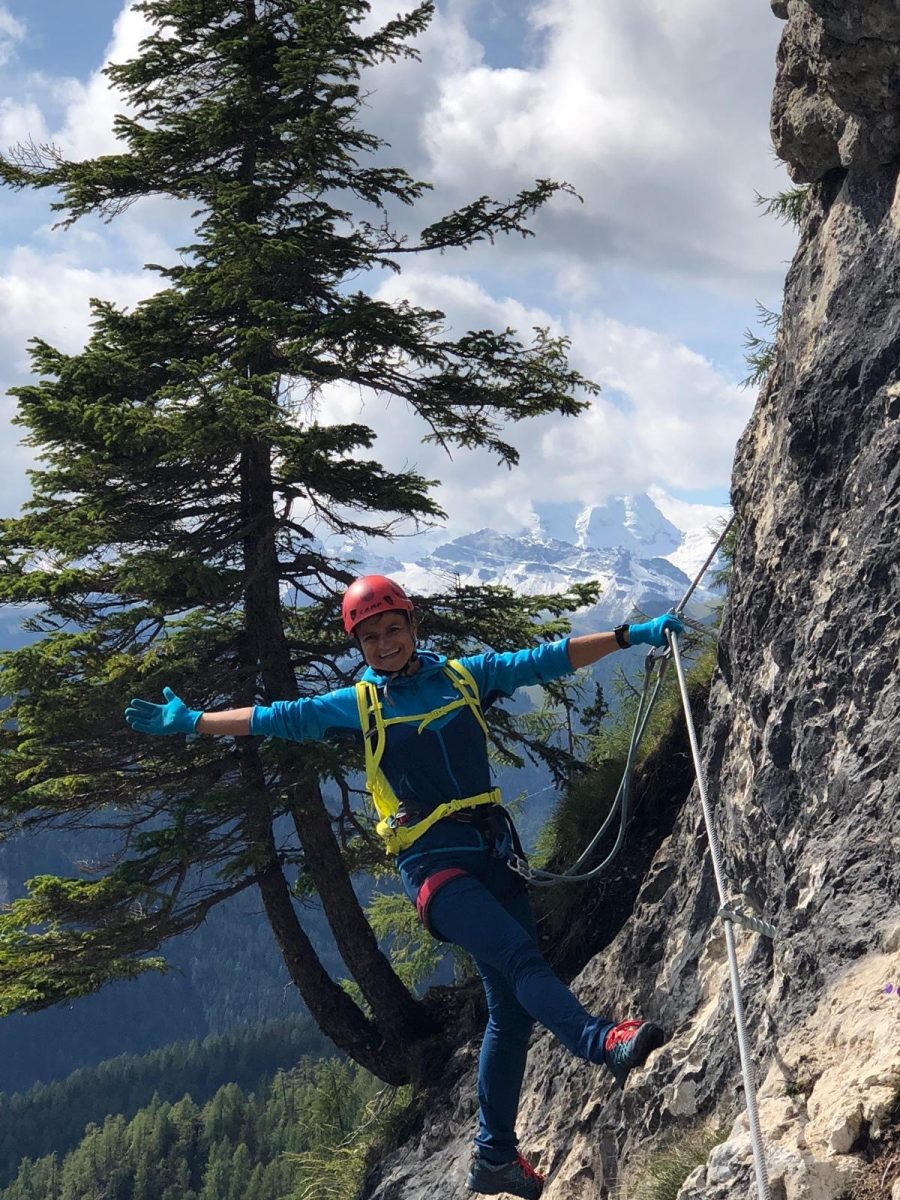 Must: lunch break in the Rifugio Gardenacia with an iconic view to the Dolomite Mountains Santa Croce, Sella, Marmolada
Via Ferrata Gran Cir Peak on the Passo Gardena 
Highlight: Climbing the Gran Cir at sunrise or sunset, very easy
Must: breakfast after sunrise or Aperitivo after sunset in the Rifugio Jimmy hut 
Via Ferrata Tridentina on the Passo Gardena 
Highlight: The Tridentina also calles "Via Ferrata Pisciadú" is a classic Via Ferrata in the Dolomites with the legend bridge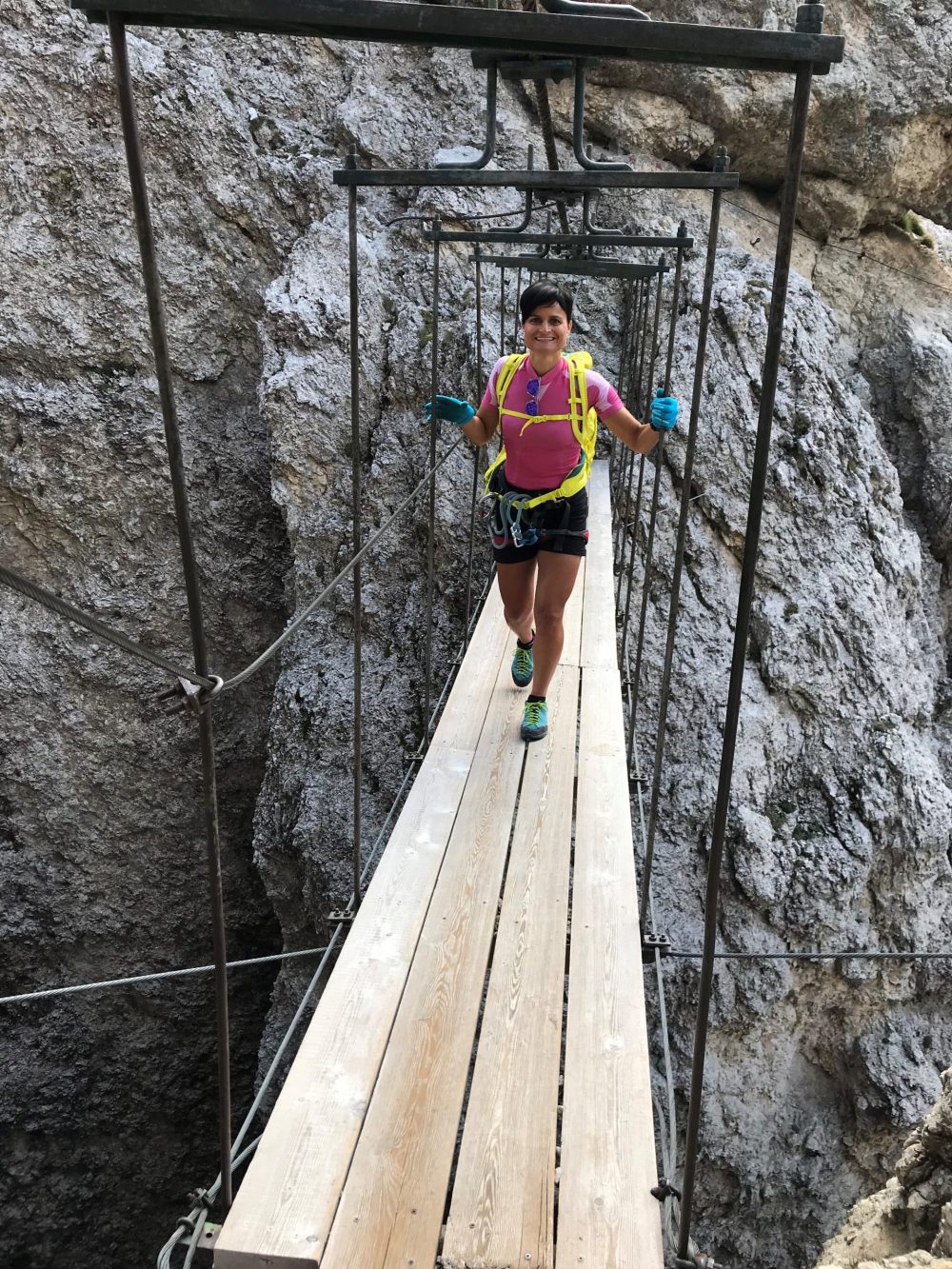 Must: lunch break at the Rifugio Pisciadú 
Via Ferrata "Heini Holzer" Ifinger at Merano 2000 
Highlight: Heini Holzer was the father of steep wall skiing undertook a spectacular descent on the SW face of the Kleine Ifinger peak.
Must: lunch break at the Rifugio Kuhleiten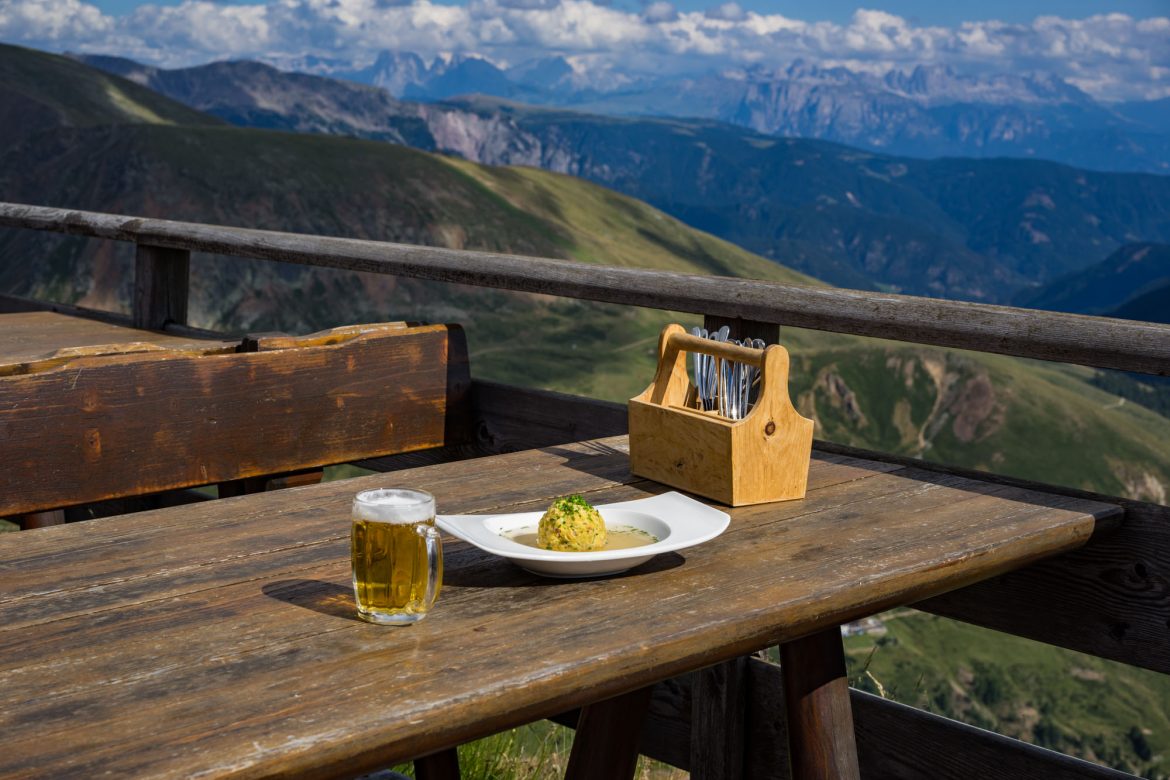 Via Ferrata Hoachwool near Merano 
Highlight: it's a demanding climb from the first to the last step, see the video link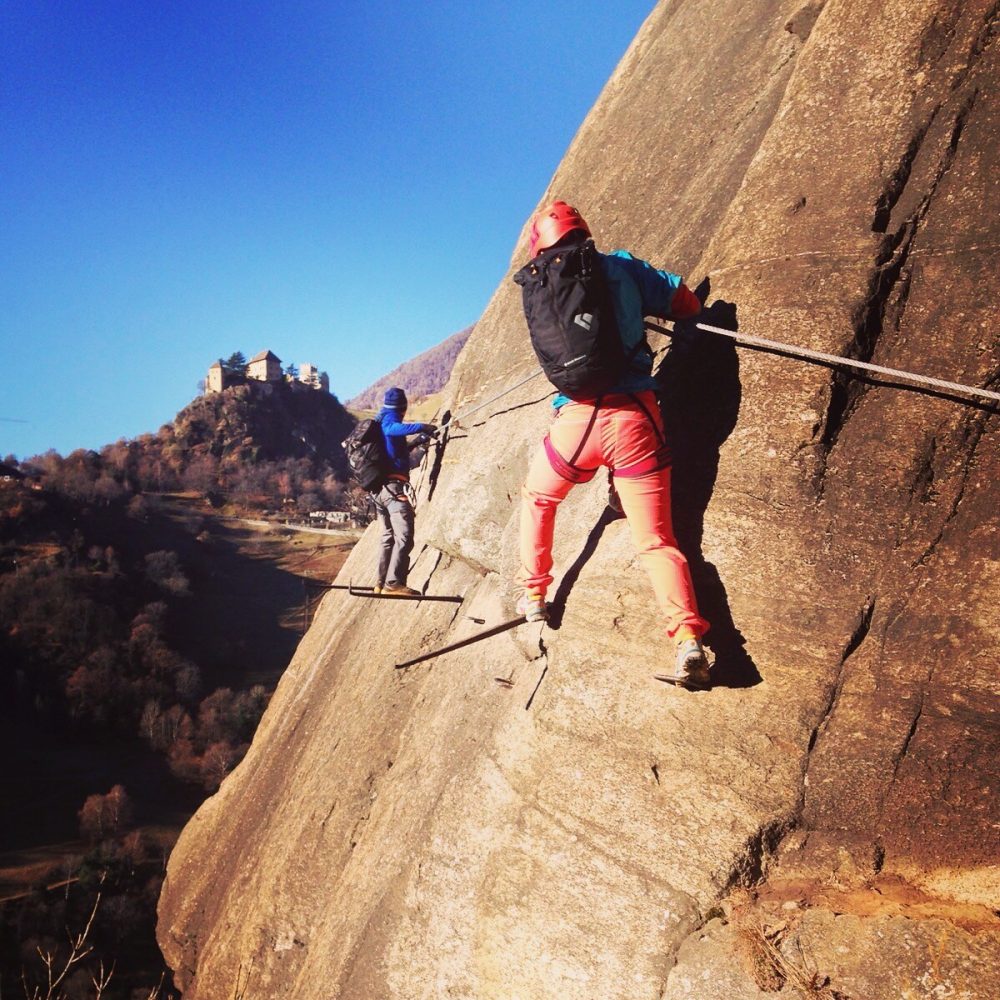 Must: Please avoid the Via Ferrata in July/August, as the weather is too hot!!
Via Ferrata Sassongher in Corvara/Alta Badia 
Highlight: Also the Sassongher Via Ferrata is a great climb for Sunrise with a perfect view to Colfosco and Corvara, very easy.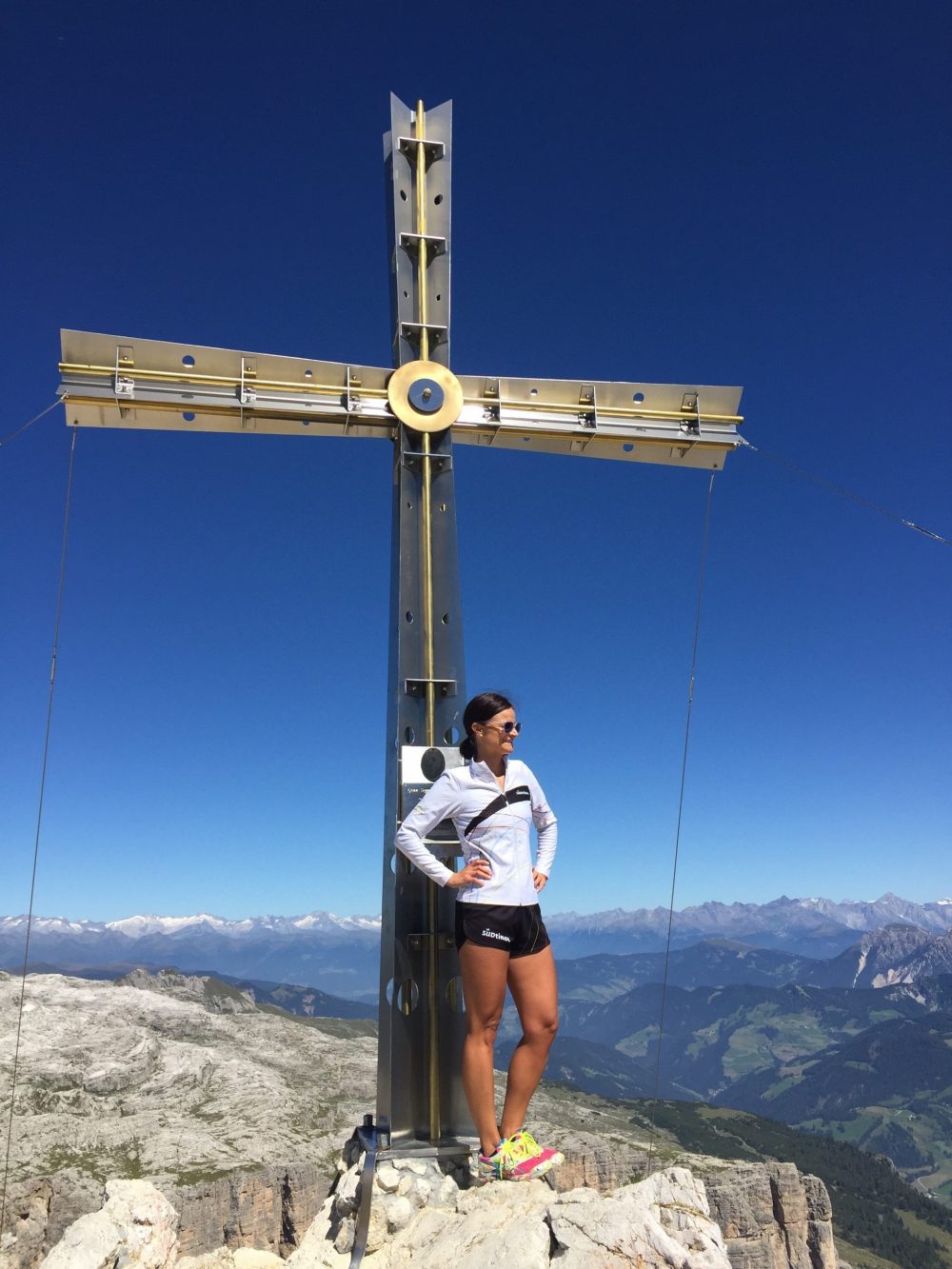 Must: lunch break at the Rifugio Col Pradat 
Here some local DMC's focus on climbing:
Enrosadira https://www.enrosadira.eu/en/
Dolomite Moutnains  https://www.dolomitemountains.com/en/browse-experiences/via-ferrata-climbing
Globo Alpin  https://www.globoalpin.com/en/summer/via-ferrata-iron-walkways.html
Arc Alpin https://www.arcalpin.it/
Biking in South Tyrol
The terrain in South Tyrol is especially made for cyclists. All these mountain passes with hairpin turns, is what road cyclists desire, plus the network of lifts adapted to carry your mountain bike up the mountain, allows you to be able to enjoy your time in some adrenaline descents down the valley!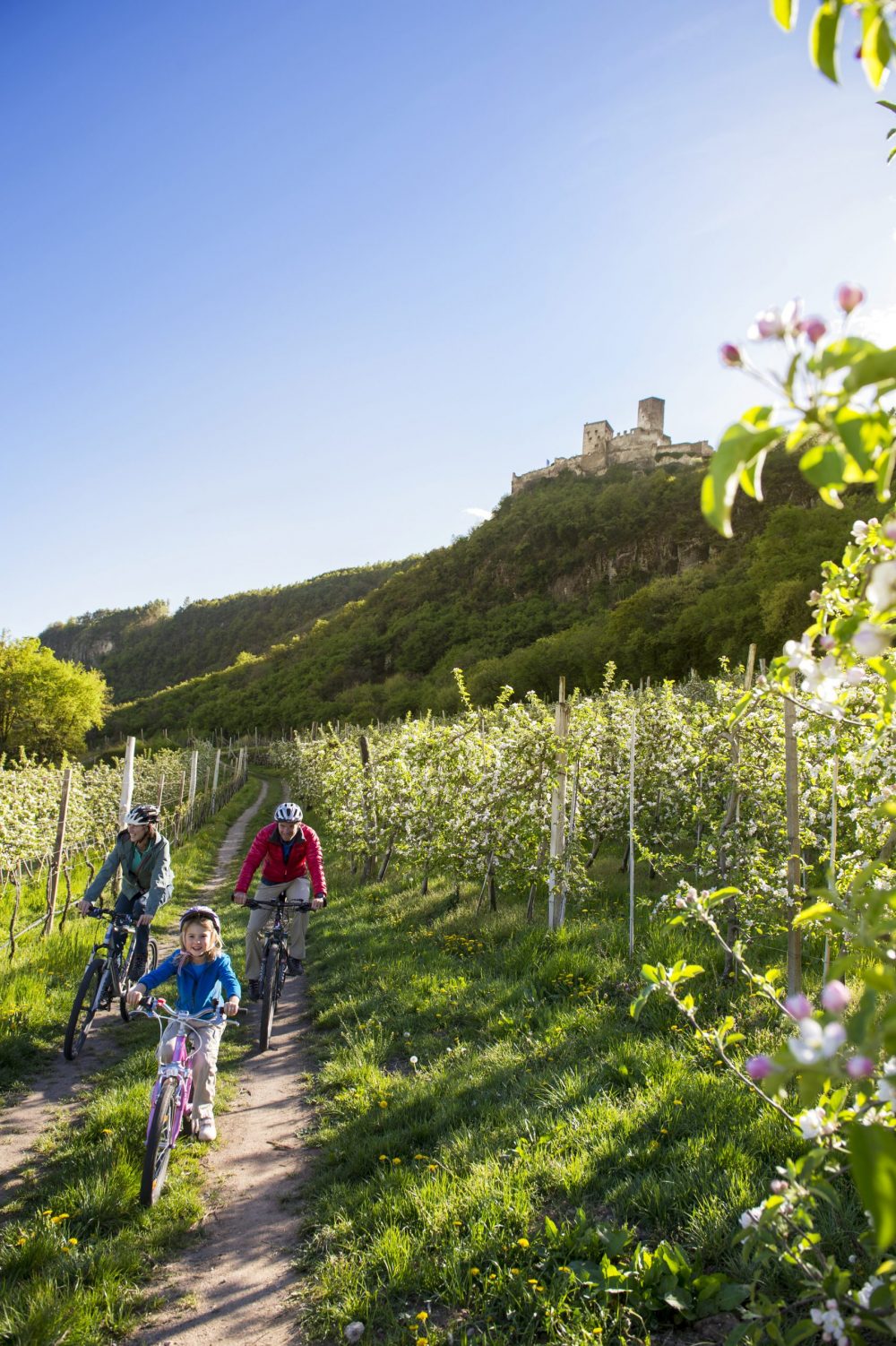 You can ride the Via Claudia Augusta cycle route, which is the oldest Roman road through the Vinschgau valley. If you go further south via Merano/Meran and Bolzano/Bozen on the cycle paths of the valleys of Eisaacktal and Pustterttal valleys, you can have lovely views of the Dolomites.
More information on cycling in South Tyrol here.
For more information on South Tyrol, check their website here. 
You can read other Guides to Resorts here. 
Or check our trekking day with the family in Cervinia. Here are more posts of summer in the mountains that might interest you.
You can search for your own accommodation in the snow for your next ski holiday through our Accommodation Search tab. Or if looking to stay in the heart of the Mont Blanc Valley in the Aosta Valley, check Il Coure della Valdigne review here. This is our own family home in the mountains, that I am renting out when not using, you can always write me a private message if interested to info@the-ski-guru.com
You can book directly through Airbnb  through this link
If you want to take your family skiing and you don't know where to start, read here. And search for your ski transfers from all airports to the Mountains here. And for those that are like me, that are lazy to cook, you can get your food, even gourmet mountain food delivered to your home with Huski.
If renting equipment (skis or snowboards)  check our agreement with Skiset– you can get up to 50% off ski or snowboard rental rates. I have been using them for years every year when I go to America  and Europe and they are great!
You can start thinking about your trip, by reading the articles on the Planning your Ski Trip tab.  Or how to pack for your family ski trip.  If taking your furry friend abroad to the continent, read about the new Pet Travel Scheme update from DEFRA. Self-drive skiers also need to plan for Brexit. Check out our tips for driving to the mountains.  If flying and renting a car in Europe, beware of the extra charges they will pass to you if you want winter tyres, snow chains or ski racks. If driving, check the winter tyres news for Europe and North America. You can see how our last family ski holiday was not as expected, even though one plans it to be a success, but how we could do the most of it. If you want to get better before getting to your next ski holiday, here is a quick guide to indoor skiing and dry slopes in the UK. You can also read our week in the mountains during our summer holidays in Courmayeur.
Featured Image: Copyright: IDM South Tyrol / Valentin Pardeller. The Dolomites are a UNESCO World Heritage Site. The rose garden glows impressively in the evening glow on the horizon of the regional capital of Bozen.A Must-Read Guide to Summer in South Tyrol.
Please follow and like us: