The Panoramic Mont-Blanc lift finished in the ground after suffering very weird conditions. A thick ice cover, thicker than the width of the cable covered a very long stretch of cable creating a very heavy mass, which made the cable collapse.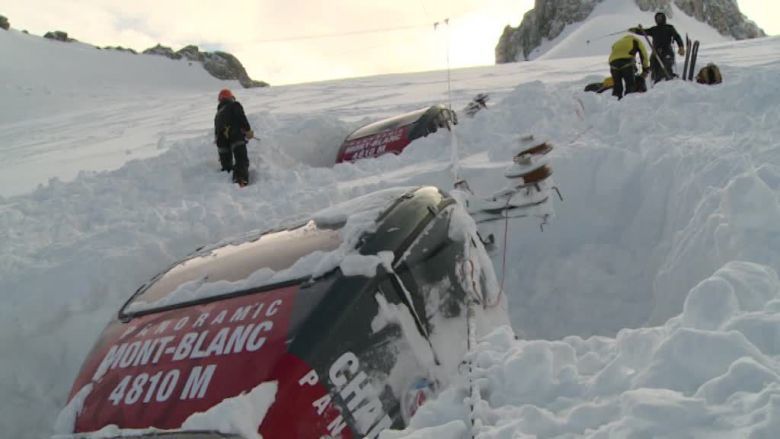 A couple of days ago, with the last very strong storm the cabins fell to the ground. The technicians found many of the cabins on the ground. Fortunately in the winter, these cabins do not function, so there were no people on them, which could have been a major catastrophe.
The theory the technicians have been evaluating is that the weight of the ice made the cabins fall into the ground. This added to the wind of the storm, made the cabins fell to the ground. It is an uncommon case that the ice is thicker than the cable.
During the past Eleanor storm, winds of more than 250 km/hour were recorded in some mountain peaks.
The cabins remain on the ground, as it is very difficult to take them away now due to the snow and ice, but in its place some signs were put for skiers that there are the presence of the cable and some structures. There are still making some operations to take away part of the material, which is expected to be completed this week.
The cable was installed in 1957. Now this cable will be needed to be substitute in its entirety. As this is a glacier area, it is very difficult to substitute the cable in winter, so this work will have to start in the spring. The Compagnie du Mont Blanc, the responsible for this lift, doubts it will have the lift ready for the summer season.
This lift of 5 km of length connects the Aiguille du Midi (3,842 meters- top of the lifts from Chamonix, France) with Punta Helbronner (3.462 meters- top of the lifts from Courmayeur, Italy) at more than 400 meters of altitude, with views to the Vallée Blanche and the glaciar Géant, very popular routes of High Mountain.
More info: Nevasport  
You can also read some more unfortunate news in Chamonix, where two Britons died last week skiing off-piste here.
Featured picture: The gondolas that go on top of the Mar de Glace, from Aiguille du Midi in France (Chamonix) to Punta Helbronner in Italy (Courmayeur).
Please follow and like us: