Different types of lifts on resorts (I can think of) and how to ride them.
If you love skiing and boarding, and you don't want to skin up or climb a mountain, then it is more than likely that you will be taking one kind of lift to get up to the top.
So how many ski lifts can you think of? Here is my humble list:
The rope tow:  Classic first lift for many of us, where skiing started. Just a rope with a small motor that activate it to go up (and down). You have to grab it with your gloves and it could really drag your face into the snow if you did not do it well.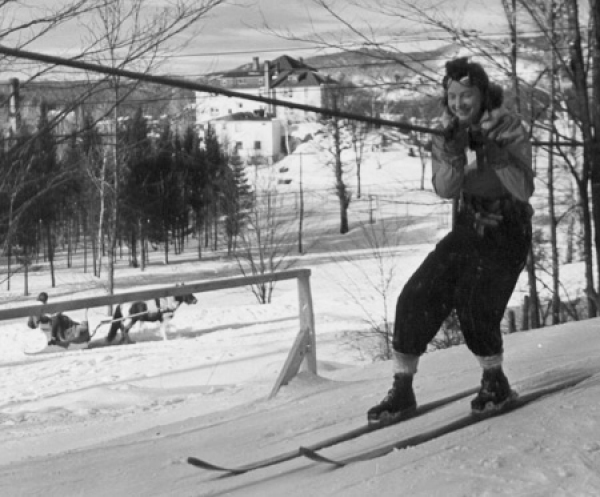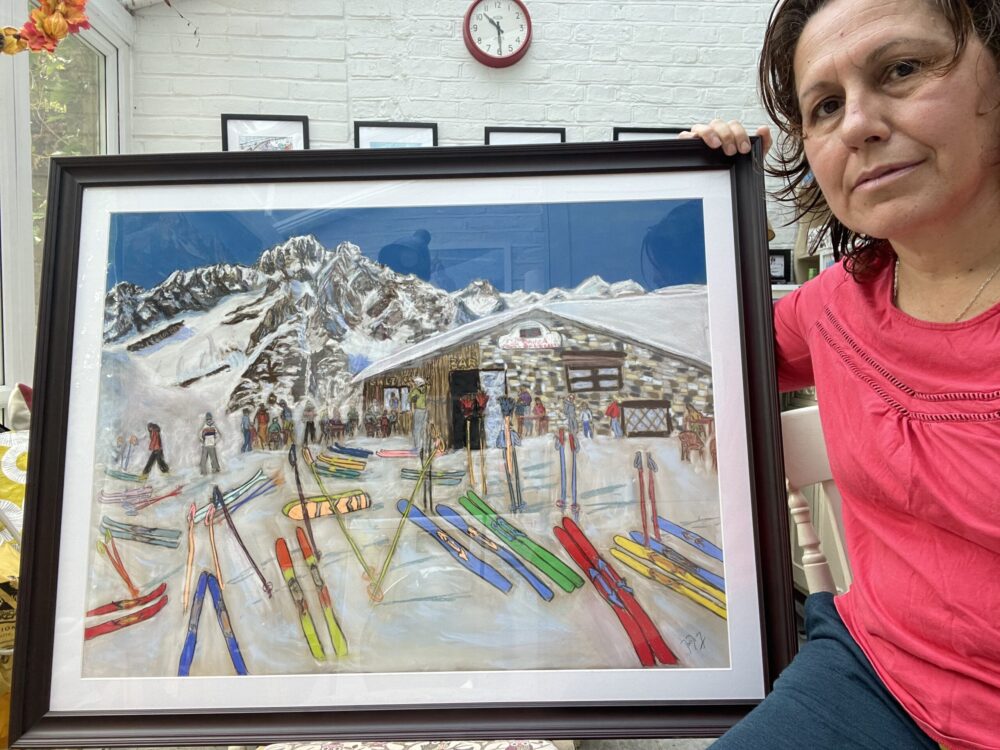 The magic carpet: this is a moving carpet belt that is used mostly for beginners' slopes. This is an improvement on the surface lift explained below, as it is easier for beginners to just let themselves slip into it and maintain the skis parallel to come up. Boarders have to undo one strap and try to balance on top of it – or if it is an easy slope, maybe is easier to walk up. The cons of this is when it is very cold and your skis have some freeze ice drops stuck on the bases, and you'll notice that your skis sometimes tend to slip down, so you can go down towards the tips of the person just behind you…. Not very convenient!

A covered magic carpet in Mount Snow – Photo courtesy Mount Snow. Different types of lifts on resorts (I can think of) and how to ride them.

The covered magic carpet – this is the same as above, but usually used in places where lots of wind could cover the belt, so this protects the people riding it, and there is no need to keep on cleaning the belt.
The surface lift – otherwise known as button lift or Poma lift- (that was one company that built many of them)- this is the little plate at the bottom off a pole. To ride it you first have to go to the entry point, put your skis parallel and when the pole comes, grab it, pull it down and put the plate between your legs. The plate will be placed in your bum and the pole will pull you up the mountain. It looks easier than it is. When you start, you have to bear in mind that you do not have to sit on the button part of the lift, but you need to maintain your weight on your shins – basically your shins need to touch the front part of the boot, and like that, with your skis parallel, you'll get eventually up the slope. Then when you reach the part where you see a sign to leave the pole, you need to take the plate from behind your bum (and the pole between your legs) and leave the pole so you can just descend a bit and get out of the way for the next skier or rider coming behind you. Boarders need to take one of their bindings off and put one foot before or behind the other and the pole and plate between their legs and try to make it balancing like that- I am not a boarder, but it does look even more difficult to ride up the poma lift as a boarder than a skier. The trick is not trying to get off before you reach the part where the terrain stops going up but does a bit of a descend. If you take your pole between your legs while going up, you'll notice that you'll fall backwards! And if you do fall because your legs or ski tips get tangled up, then you need to try to get away from the track to the side (careful that the opposite lift coming down does not get you!) and avoid the rider or skier coming behind you!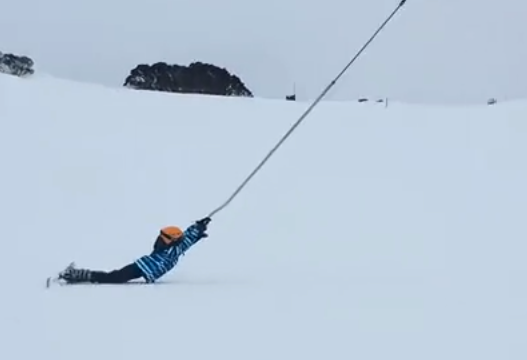 The T-bar or 'anchor', also surface lift- this for me is an evil lift. I have memories of riding it while being younger. It is like the "Poma lift", but you ride it in tandems. It looks like an anchor, where the bottom part has to go under your bottom (and the other's person's bottom riding next to you), and you both grab the middle pole. The fact is that rarely you find someone of your same height to ride next to you, so I had times when the anchor long side was behind my back or behind my knees, and is an awful thing trying to get to the top – more on those tracks that are a bit icy and your skis start skating apart with no control! There was one t-bar in the lower slopes of Crested Butte that I used as a Poma lift, when the ski patrol was not looking at me, as you are not supposed to do that. Basically, I pull it way down perpendicular to my torso (or parallel to my legs) and after passing it between my legs, I was putting it as it should go, with one leg each side of the anchor part. Like that I could ride it. There is also in Crested Butte, one T-bar on the top of The Headwall that was pretty fast and that was not so bad riding up – but I was never such a good skier to be doing laps there all the time, so thankfully, I did not ride it too many times. I do remember a girl from school telling me a story of her skiing in spring with her ski pants with suspenders, and riding with a taller guy on a T-Bar, when the side of the anchor got inside her suspenders, so she could never leave the T-bar when reaching the drop off point, and getting crashed against some bamboo poles at the end of the lift up that were having a sign of 'you should have exit by now and her ski pass that was on the top of her turtleneck zip got stuck to her swollen lips after hitting her face to the poles… it sounds hideous but we were laughing out loud imagining her bad moment- and more she was very funny telling the story! Ski passes at that time where made of paper and stick to a little metallic thingy that you just put around the zip tie.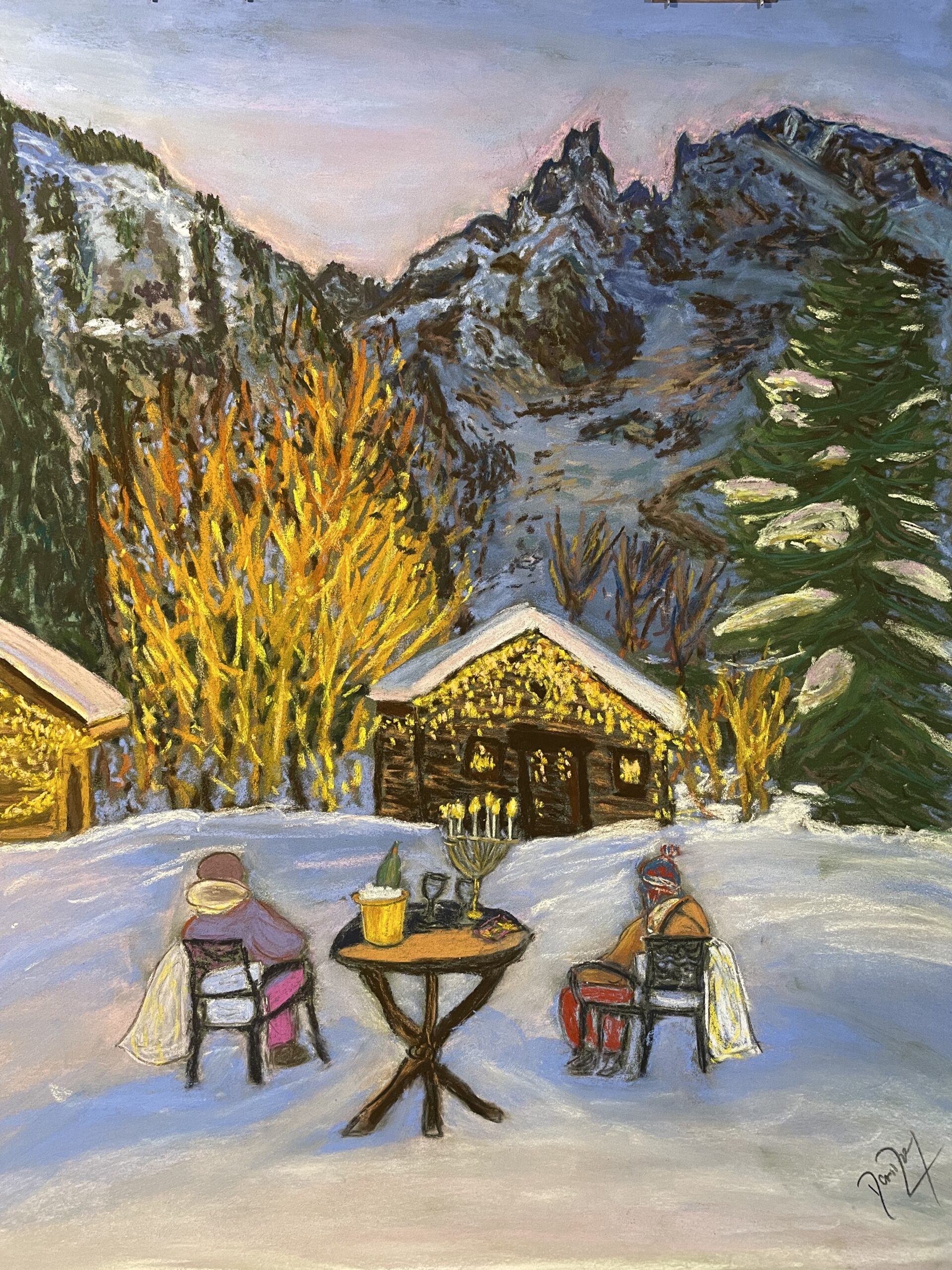 The J bar:  as many readers of the Elite FB group pointed to me,  I was missing the J bar- like the T bar but loosing one side of the top T. Maybe this is not such an evil lift, as you don't have to match the height of the other person to ride it well. And you don't put it between your legs, but behind your bum. I need to try one now!!! (if there is any out there!)
What I do love of surface lifts is that you keep yourself warmer riding in them, moving your legs, and being at snow level, whereas on the chairlifts, if the weather is fowl, there is not too much protection for you and you freeze like a stalagmite!
The va-et-vient: Well, this is something top of the league, or maybe, something that most mortals have not seen. The term is French for goes and comes, basically. It is a surface lift, ideal for places that are prone to avalanches, without towers, so patrol don't have to dig the lift each time an avalanche falls down that couloir. The place where you can see some, is Portillo, high in the Chilean high Andes. Basically, is a lift with a bar for your hands, and four or five button lifts (I would say baby size), one next to the other. There are two of these bars with baby pomas, one that goes up, while the other one comes parallel at a distance down. You are supposed to use it only to get up. When you have the lift next to you, you need to grab your little plate, put it between your legs, grab the pole and your poles with your hands, and then the lifts take off and you go up like the clappers, with all the skis of all on board flaking sidewise and you are wishing you don't overstep your fellow skier while trying to reach the top safe. Then, when you reach the top, the terrain does not descend, you have to leave the plate with your back to the valley and turn backwards to the side to stop yourself. The last one has to drop the full bar with baby pomas, ski backwards and stop sideways. First time I've ridden on it was fresh off the plane with the owners of Portillo. As soon as I made it to the top, my legs where two jellies flaking…. now you have to go down! But worth taking it for your chats at the bar later! Just go and visit Portillo so you can add this lift to your toll.
The single chairlift- you cannot see these anymore, but basically it was a lift for one, with a side pole to grab when sitting on it.

Single chairlift. Different types of lifts on resorts (I can think of) and how to ride them.

The double chairlift with no safety bar– I remember a couple of these in the front side of Crested Butte, when I was living there in the 90's. I don't think they are still used, but they consist on a double lift with a pole in the middle, so you go to the line – side by side with a fellow skier or rider and you look towards the inside. The chair comes up and hit the back of your legs and you sit and grab the pole, so you just don't jump off the chairlift… it was always a bit of a hissy trying to get on one of them. The good thing, for me, a lazy skier, is that the chair is slow, so you have time to see the scenery and catch up your breath!
The double chairlift with safety bar. There are several different models of this. You have to watch if the pole to grab yourself is to the inside of the chair or to the outside. Depending on that is with which hand you grab the poles and then you sit and grab the pole to feel secure, until the chair is airborne. Then you lower the safety bar. Some of the safety bars have the footrest coming from underneath. Just check that if this is the case, the footrest does not catch with your skis!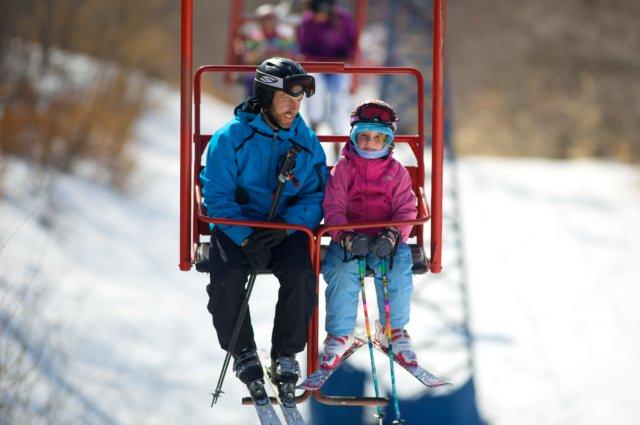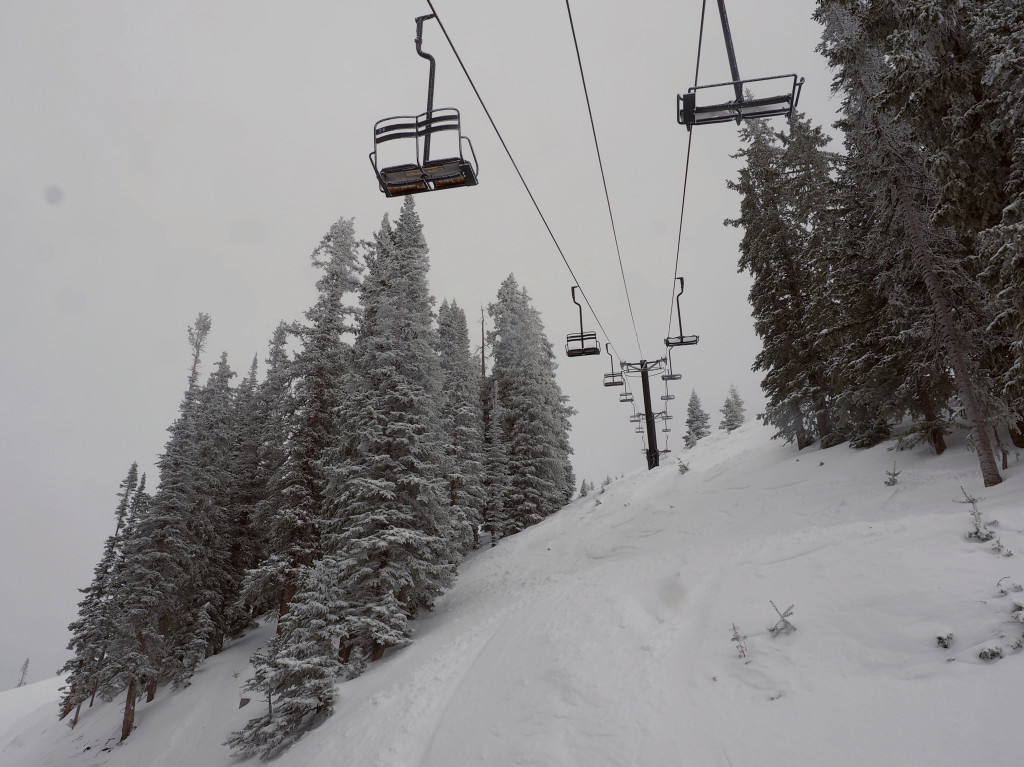 The fixed grip triple chairlift- Same as the double, but for three people. Before standing in front of the coming chair, please check how many people the chair can take- I have seen many times four people going on triples, or 5 on quads!! And obviously the lift has to be stopped in an emergency!
The fixed grip quad chairlift – Same as the double and triple, but for four. The thing is that if you are taking kids, it is always best that you use the side of the chairlift, so it easier for the lift attendant to help them sit down, and also when coming out of the lift, you can give them a small (I've said small, very small) push so you can get them out of the chair…not really a push, but you can help them slide down the chairlift when it is time to get out. Always watch that your little ones do not go down the safety bar please! There are newer lifts that have a security smaller safety perpendicular bit that comes out for smaller kids to put between their legs, to prevent them to slipping down the safety bar.
The high-speed quad chairlift. This lift comes with three different cables, two at the start and end of the chairlift in the loading and unloading area, and one is the middle one. The two edge cables slow down, so people have more time to load and unload. Then the trip is faster to get on top- these are now used a lot by ski resorts to increase their upload capacity- but beware, the more the upload capacity, the busier the slopes… And another drawback, is that if you are going faster, you feel more wind on your face.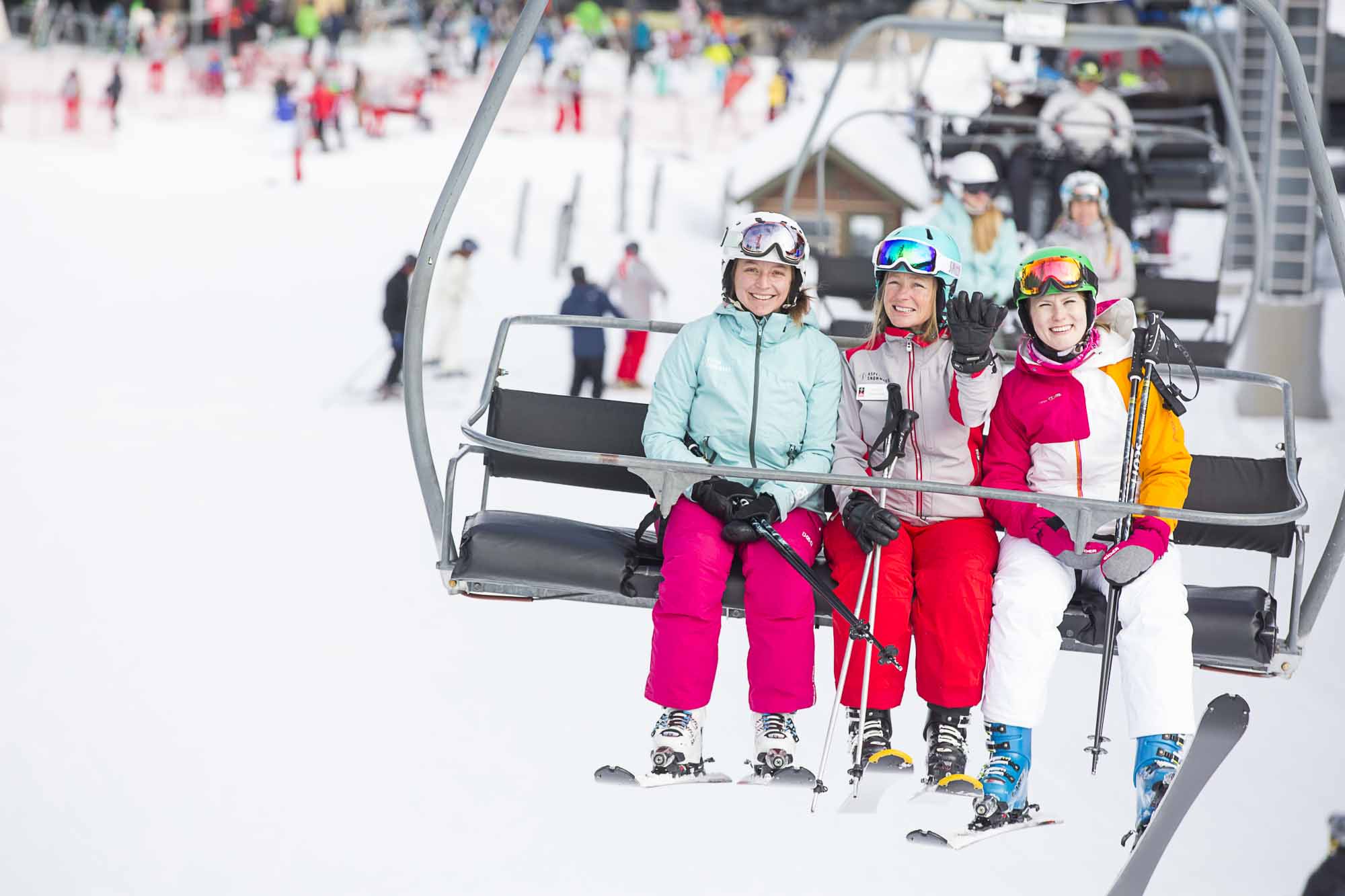 The fixed grip sextuple – Another lift, for more people, just try to be on the sides when loading, so it is easier to unload…it is also that the ones on the right want to go to the left and vice-versa, and the ones of the middle finish going straight into a wall or abyss as you cannot get to either of the sides of the lift!
The high speed-sextuple, same thing as above, but goes faster, which makes it a shorter ride, but colder.
The high speed eight-seater– like the new one in Big Sky, called the Ramcharger. It does take lots of people fast up the slopes- just figure out how to get out!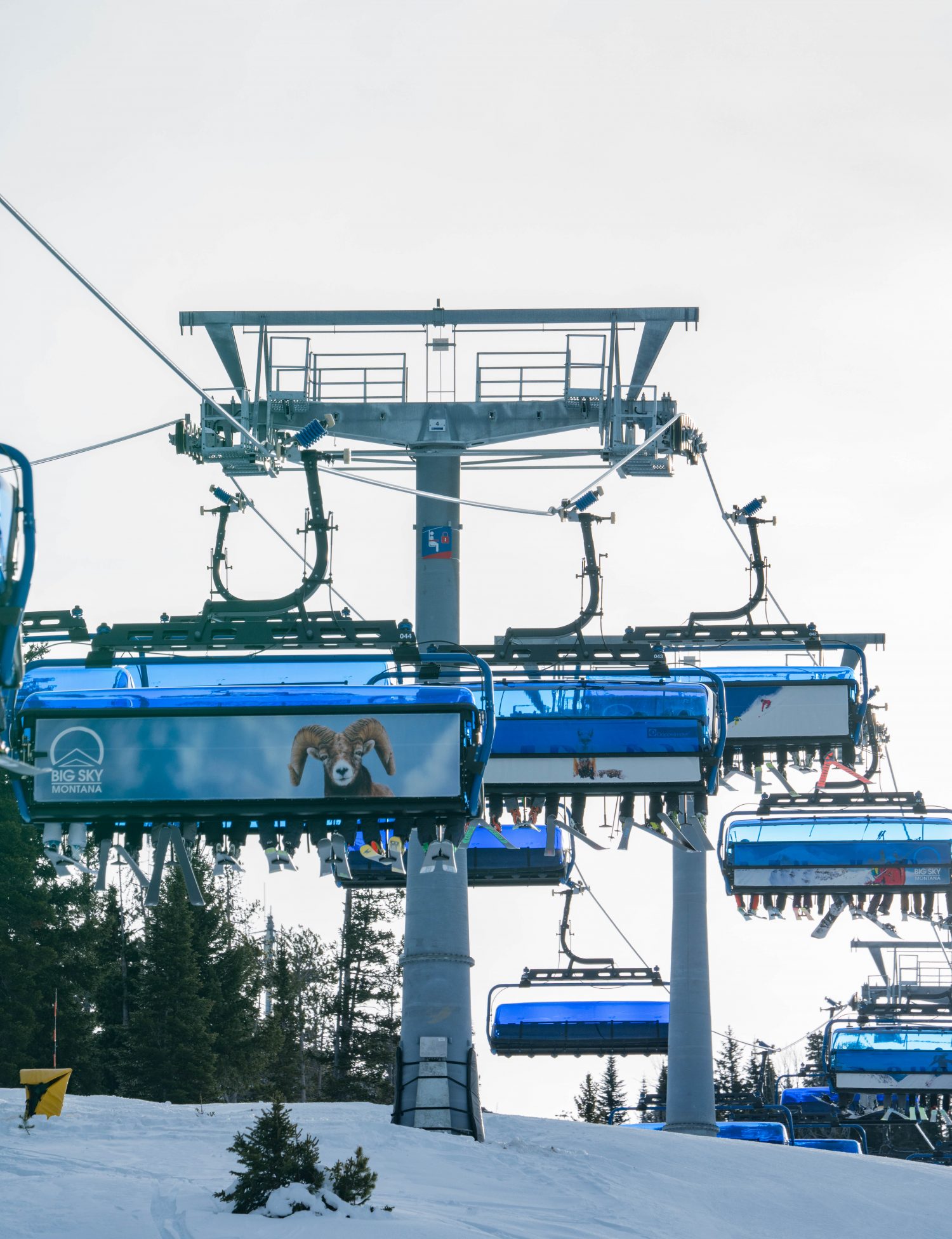 Any high-speed chair with bubble cover- this helps contra rest the aspect of more wind in your face, and also is great when it is snowing, more if it is wet snow – or plain rain, (that happens normally in lower altitude resorts)…nothing more off-putting that rain on your face when skiing – believe me… been there too many times!
The gondola or cable car– This is a cabin for usually 6 to 8 or 10 passengers (there are smaller and bigger ones), with doors that close when you get in and the gondola arrives the end of the loading platform. You enter and leave the cable car walking. Usually you put your skis or boards outside in a specially designed holder, but there are some that have specially designed holes inside- which is pretty good. I don't like hurrying in and out gondolas when I have to put and take my skis and my kids skis… I like it in those where there are still some people helping you in handing your skis- that is very civilised! There are some that are very sophisticated, like the Matterhorn Glacier ride with Swaroski crystal and a glass to see down to the valley floor. Another one that is pretty cool is the Peak2Peak gondola ride in between Whistler and Blackcomb – this is great as there is a long portion of this that is suspended with no towers supporting it. Both have a special couple with glass floors so you can see the bottom of the valley, if you dare!
The rotating cable car – like the one in Engelberg or the Skyway Montebianco. These are bigger cable cars that keep on rotating – great to see the panoramas in 360°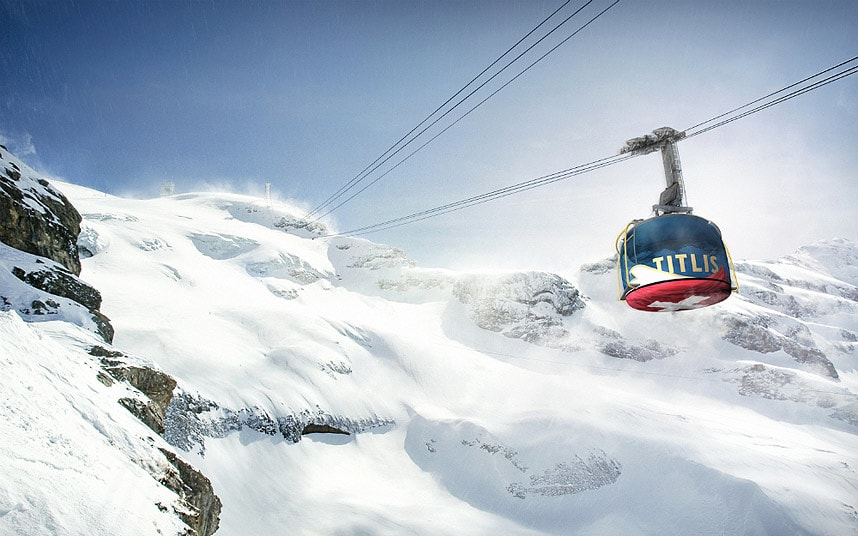 The chondola– this is a newer invention, that incorporates both cable cars and high-speed chairlifts intercalated. They have two loading and two offloading areas so that the people riding the cable cars can get off walking.

The tram– these are bigger carriages that carry lots of people together. There is one that goes up while the other one comes down and meet in the middle going opposite ways. People carry their skis/snowboards on their hands.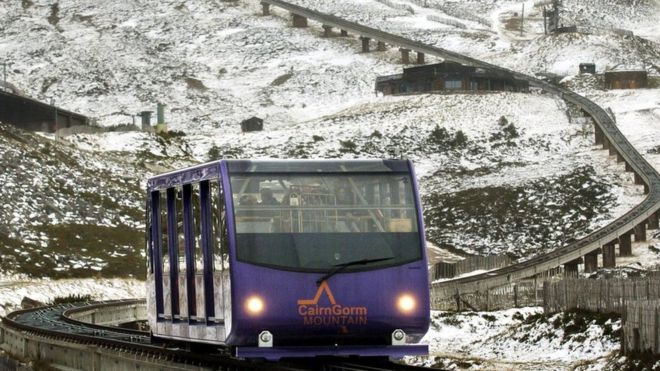 The double-decker tram, like the CabriO, located in Stanserhorn, Switzerland, is the world's first (and only) cable car featuring aa roofless upper deck. There is now another one similar to this, produced by Garaventa AG in Tignes.
The funicular – is like a cog train that goes up and down, usually a shorter distance. You have the ones that go above the ground so you can see the scenery, like the one from Sierre to Montana (Crans-Montana), and there are the ones that go underground, like the Sunnegga in Zermatt or the Gernschialp in Engelberg.
The train – some ski resorts offer a train to take you from resort to another one- which is pretty great if you want to ski in different resorts- for example, the train that connects Kronplatz and Drei Zinnen in Sudtirol. Very civilised way to travel.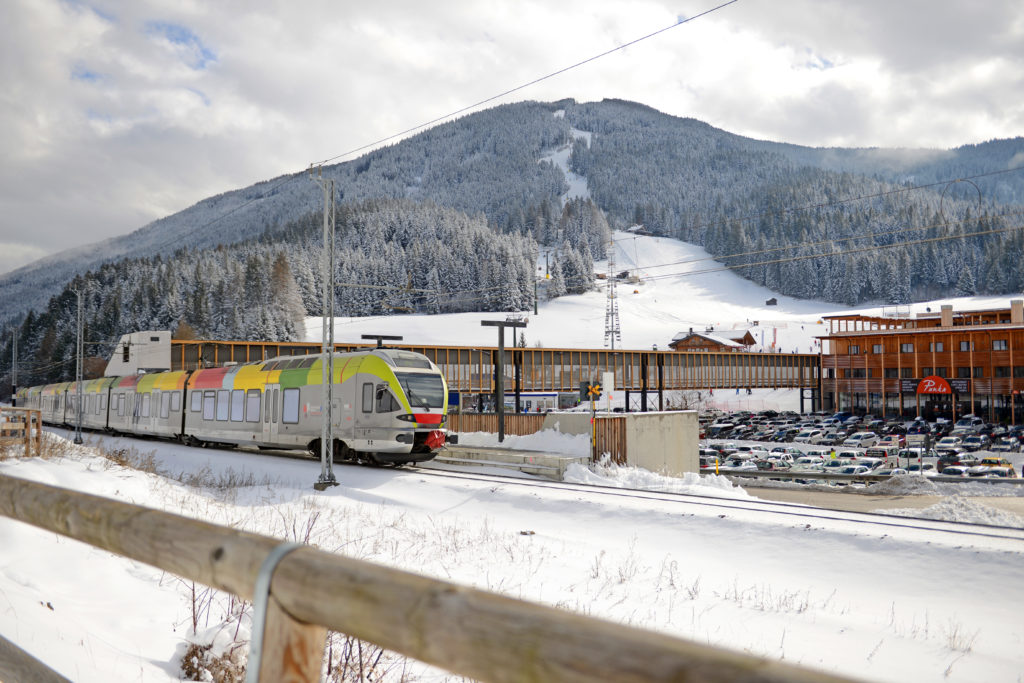 Do you know any other one? Feel free to comment below!
You can search for your own accommodation in the snow for your next ski holiday through our Accommodation Search tab.
Start planning your next trip!
You can search for your own accommodation in the snow for your next ski holiday through our Accommodation Search tab. Or if looking to stay in the heart of the Mont Blanc Valley in the Aosta Valley, check Il Coure della Valdigne review here. This is our own family home in the mountains, that I am renting out when not using, you can always write me a private message if interested to info@the-ski-guru.com
You can book directly through Airbnb  through this link
Or check Booking.com on this link.
If you want to take your family skiing and you don't know where to start, read here. And search for your ski transfers from all airports to the Mountains here. And for those that are like me, that are lazy to cook, you can get your food, even gourmet mountain food delivered to your home with Huski.
If renting equipment (skis or snowboards)  check our agreement with Skiset– you can get up to 50% off ski or snowboard rental rates. I have been using them for years every year when I go to America  and Europe and they are great!
Imagine waking up and being transported to your happy place in the mountains. The paintings of Martina Diez-Routh/The-Ski-Guru HOME can help you to remind yourself of your happy place. Shop online for your favourite or contact Martina at martina@the-ski-guru.com to discuss any potential commission.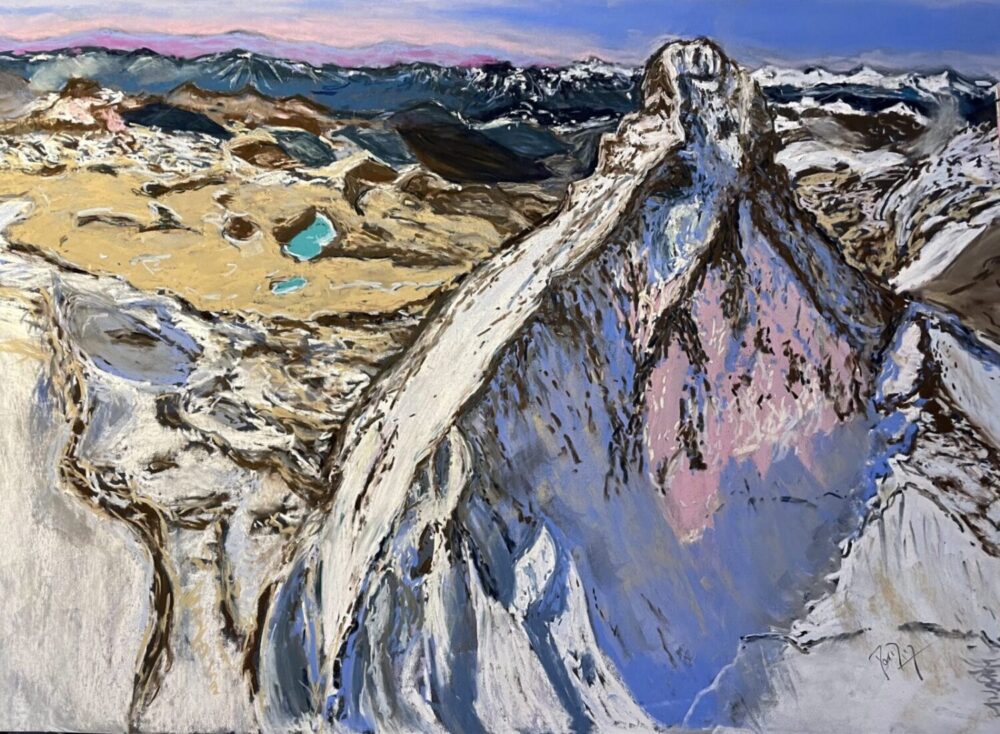 Featured Image: Peak 2 Peak Gondola in Whistler Blackcomb. Photo: The-Ski-Guru. Different types of lifts on resorts (I can think of) and how to ride them. 
Please follow and like us: