A Dolomites train project could be ready for the 2026 Olympics
The project that will link the provinces of Trentino, Alto Adige (Sudtirol) and Veneto has a high degree of feasibility according to former councillor Mauro Gilmozzi. The cost is of one billion two hundred million Euros to be absorbed by the State and the provinces.
The Dolomites train could become a reality by 2026, in time for the Winter Olympics. Connecting Trento to Bassano, then to Feltre, Belluno, Calalzo, Cortina, Dobbiaco, Bressanone, Bolzano and returning to Trento.
A challenge that has a very specific name: Ring Dolomiti. The feasibility is "high" according to Mauro Gilmozzi, former councillor for infrastructures and the environment of the junta Dellai. "We keep in mind that for the most part this ring is already there."
Total cost: from one billion two hundred million upwards. What seems an onerous amount, "… would be a cost to be divided between various agencies, the Provinces, the State."
Therefore, the maximum collaboration between the different territorial subjects is needed. "We had said this since we started thinking about the Winter Olympics in Trentino: this is a game that is worth playing only if it becomes an opportunity to work on the connections between territories, that is, mobility. Otherwise it is a lost train opportunity».
I have the chance to hear of this project a couple of years ago, when travelling visiting clients through all these three provinces. I heard it in Cortina, from the people that were at that time at Cortina Marketing, and then when asking the people at Sudtirol and Trentino, both laughed thinking it was science fiction to get people of Belluno moving and this would never be going to happen. Hopefully it would, because it would help a lot the tourism getting to the areas for skiing and trekking in the summer and be much more environmentally friendly. Plus much cheaper than paying transfers, even though maybe this would not be that good for transfer companies.
More information: Giornale Trentino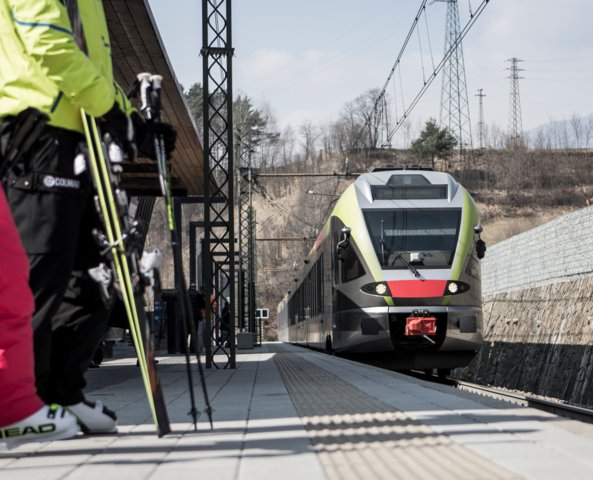 We have recently written about Milano-Cortina been awarded the 2026 Winter Olympics. Also how Cortina is gearing up for the 2021 Ski World Championships. Also in December the Mille Miglia will be running the Coppa delle Alpi through that area and also neighbouring Austria, Switzerland and Germany, through 15 mountain passes.
You can search for your own accommodation in the snow for your next ski holiday through our Accommodation Search tab.
The-Ski-Guru TRAVEL is a CONCIERGE service that can help you organise your bespoke ski trip to the Americas, Alps or Japan, including for those going from Britain to Europe, helping you book your Eurotunnel trip, and for all trips: lodging, lift tickets, rentals, ski school, and all you need for an excellent vacation. Go to https://www.the-ski-guru.com/travel and upload your information – this page will be updated soon with more travel ideas. Check our amazing Ski Safari in the Dolomites , stay at the San Lorenzo Lodge White Deer in the Val Pusteria of Sudtirol, in the Hotel Petrus in Riscone, for skiing Kronplatz, or check our offer to Obergurgl-Hochgurgl and Sölden to ski with your family. Maybe you want to come on my group to ski with other like-minded skiers in Courmayeur in January 2020, staying at the Gran Baita hotel?
You can start thinking about your trip, by reading the articles on the Planning your Ski Trip tab.  Or how to pack for your family ski trip.  If taking your furry friend abroad to the continent, read about the new Pet Travel Scheme update from DEFRA. Self-drive skiers also need to plan for Brexit. Check out our tips for driving to the mountains.  If flying and renting a car in Europe, beware of the extra charges they will pass to you if you want winter tyres, snow chains or ski racks. If driving, check the winter tyres news for Europe and North America. You can see how our last family ski holiday was not as expected, even though one plans it to be a success, but how we could do the most of it. If you want to get better before getting to your next ski holiday, here is a quick guide to indoor skiing and dry slopes in the UK.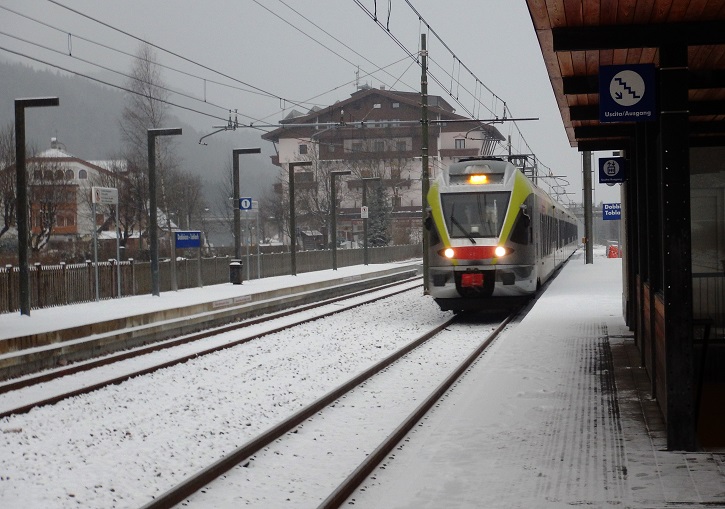 Featured Image: A Dolomites train project could be ready for the 2026 Olympics. This train is one working at Sudtirol. IDM Sudtirol. Photo: Hans-Peter Leu. A unique experience is provided by the new railway line from Merano/Meran to Malles/Mals: the train brings you to Malles, where you can rent a bike and return slightly downhill alongside the orchards and ancient sites of the old Roman trade route Via Claudia Augusta.
Please follow and like us: