Saalbach to Host 21st World Games of Mountain Biking
Saalbach's World Games of Mountain Biking will be held on 05th – 08th September 2019.
New for this event: The Cross-Country category celebrates its comeback!
Over 1,000 athletes from over 20 nations will battle it out for the title of the World Games Champion between 05th and 08th September at Saalbach. Five marathon distances between 21 km and 80 km demand every effort from the athletes while pushing them to their limits.
A choice of five distances is offered again this year at the World Games of Mountain Biking. Marathon newcomers can try out the Marathon 21 with 891 metres altitude difference, while experienced marathon riders can pedal between 1,160 and 2,920 metres of altitude difference on distances 31, 42 and 58 over the grass mountains of Saalbach Hinterglemm. If you have underestimated your energy levels and would spontaneously like to attempt a longer distance, you have the option to do this at each junction during the race.
Mountain Hero
The absolute heroes and heroines of the World Games of Mountain Biking are those who despite burning calves complete the 80 km marathon distance. 3,678 metres of altitude difference has to be tackled. The best time is 4:17:14.8. However, the title of "Mountain Hero" is awarded for a result combination of the Marathon 80 and Mountain Attack which takes place in January.
Comeback: Cross-Country
The Cross-Country discipline celebrates its comeback in 2019! This is for those who want to challenge themselves along with their competitors the day before the marathon, and still have sufficient power to participate the next day, proving who the best all-rounder athlete is.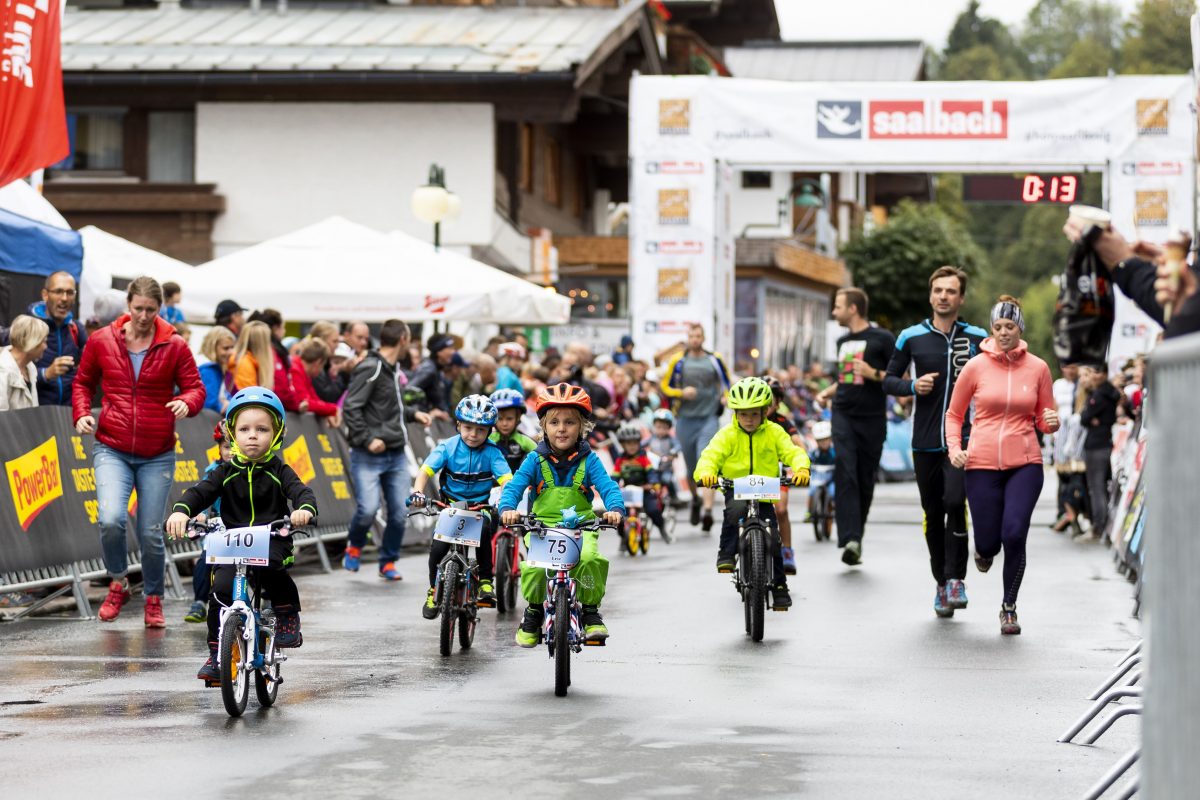 Young Guns
This is a chance to participate in a mountain bike race just like the grown-ups! Ride over the same finish line as the professionals, being cheered on by countless jubilant spectators. Take in the race atmosphere – this is not only fun for the kids, but also the parents and spectators. The day before the marathon, the start/finish area is the place to be for all kids up to the age of 13.  The race for both boys and girls takes place on the 500 or 900 m long circuit of varying difficulty, and there are six age groups.
Biking for a good cause
Once again this year, as part of the World Games of Mountain Biking, a charitable organisation will be supported. If you sponsor a competitor, you donate one Euro per kilometre to the Debra Austria association for the benefit of butterfly children. Emotions are high when at the end of the event the amount of money raised is declared. The "Biking 4 Butterfly children" association has raised and donated to DEBRA Austria around € 10,000 per year since the World Games of Mountain Biking have been taking place.
Registration is now open. Secure your starting place now: saalbach.com/worldgames
About biking in Saalbach Hinterglemm
Saalbach Hinterglemm offers an abundant mix of 400 km paths, routes and trails to suit everyone. Adrenaline junkies will simply love the numerous single trails and downhill tracks. Four operating lifts with bike transport and neighbouring Leogang Bike Park, the region invites you to enjoy mountain biking both before and after the competition.
The-Ski-Guru TRAVEL is a CONCIERGE service that can help you organise your bespoke ski trip to the Americas, Alps or Japan, including for those going from Britain to Europe, helping you book your Eurotunnel trip, and for all trips: lodging, lift tickets, rentals, ski school, and all you need for an excellent vacation. Go to https://www.the-ski-guru.com/travel and upload your information – this page will be updated soon with more travel ideas. Check our amazing Ski Safari in the Dolomites , stay at the San Lorenzo Lodge White Deer in the Val Pusteria of Sudtirol, in the Hotel Petrus in Riscone, for skiing Kronplatz, or check our offer to Obergurgl-Hochgurgl and Sölden to ski with your family. You can ski to have lunch in the Rifugio Sofie in Seceda, Val Gardena, in the Dolomites.
You can start thinking about your trip, by reading the articles on the Planning your Ski Trip tab.  Or how to pack for your family ski trip.  If taking your furry friend abroad to the continent, read about the new Pet Travel Scheme update from DEFRA. Self-drive skiers also need to plan for Brexit. Check out our tips for driving to the mountains.  If flying and renting a car in Europe, beware of the extra charges they will pass to you if you want winter tyres, snow chains or ski racks. If driving, check the winter tyres news for Europe and North America. You can see how our last family ski holiday was not as expected, even though one plans it to be a success, but how we could do the most of it.
Also for those interested in how resorts deal with the risk of avalanches, you can check the interview to Coco Torres, former Head of Operations at Valle de Las Leñas in Argentina, a highly avalanche risk resort.
Featured Image: World Games of Mountain Biking Marathon in Saalbach – Saalbach to Host 21st World Games of Mountain Biking.
Please follow and like us: