Demaclenko is launching a new way to clean cablecars on the go.
Demaclenko is coming with a breakthrough idea and launching a new way to clean cablecars on the go.
When I wrote the post on how the resorts were going to clean their gondolas, I thought it was going to be difficult. I was imagining some lift operators rushing with a cleaning product and rag. They would have like 10 seconds to clean all well. This was the time between skiers and boarders gets off the gondola. And then the new ones load on when they are trying to descend. It seemed bonkers!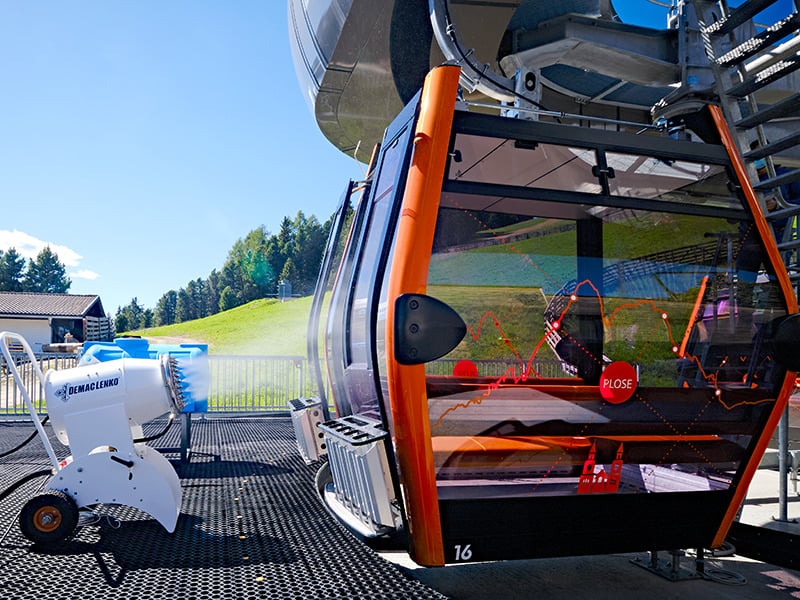 But then, always a clever person or company comes around with a great idea! Demaclenko, the snow-making giant from Vipiteno (South Tyrol, Italy) had this great idea. Transforming their snow-fan machines into disinfection ones.
Closed gondola lifts are critical points where is difficult to follow hygiene regulations. Demaclenko has built an automatic and comprehensive solution. It allows a complete and efficient disinfection of every model of cablecar. Thus, it is very flexible.
How does the Demaclenko system works. Demaclenko is launching a new way to clean cablecars on the go.
These machines do not need personnel. They can
be preconfigured
and they will start thanks to a sensor.
Fine stainless steel nozzles spread the disinfectant agent throughout the cabin. The cabins gets completely cleaned. As the system works in an automatic way, results are consistent.
The ropeways does not need to stop. The disinfection continues during the cabin's passage to the valley or summit stations. The machine is compatible with any disinfecting agent.
There you have it, I do hope resorts put this in place for the coming winter season!
Start planning your next trip!
You can search for your own accommodation in the snow for your next ski holiday through our Accommodation Search tab. Or if looking to stay in the heart of the Mont Blanc Valley in the Aosta Valley, check Il Coure della Valdigne review here. This is our own family home in the mountains, that I am renting out when not using, you can always write me a private message if interested to info@the-ski-guru.com
You can book directly through Airbnb  through this link
If you want to take your family skiing and you don't know where to start, read here. And search for your ski transfers from all airports to the Mountains here. And for those that are like me, that are lazy to cook, you can get your food, even gourmet mountain food delivered to your home with Huski.
If renting equipment (skis or snowboards)  check our agreement with Skiset– you can get up to 50% off ski or snowboard rental rates. I have been using them for years every year when I go to America  and Europe and they are great!
Coming soon, a new line of furnishings for your mountain home, or for your home outside the mountains, just to have a bit of the mountains in it. These are hand-paintings done by me, applied to cushion covers, coasters and mugs.
Something more to read in this blog
Featured Image: A cablecar in Stubai is cleaned by the Demaclenko disinfectant fan machine. Photo: Demaclenko. Demaclenko is launching a new way to clean cablecars on the go. 
Please follow and like us: