So we made it to Aosta, back in the flat we always rent in Charvensod, at the outskirts of Aosta, and we went for dinner to meet our family friends that are also with us during this week. Dinner in this family restaurant and Pizzeria Millenium is always fun, easy with the kids, and good on the wallet!
We went to sleep ready for the first day of going skiing – for me it is always a bit of a nightmare to organise the first day of skiing – more if I am carrying my family with me.
I went back to the flat and started putting together piles of clothes per each member of the family: ski socks, thermals, salopettes, turtlenecks, a mid layer, (or two, depending the weather), a necktie, beanies, helmets, goggles, sunglasses that we take in a backpack for the boys, suncream, normal gloves for when we go up and down the gondola from Aosta to Pila and ski gloves for skiing, and something that I had to use this week, which I have not used since the 90's while I was leaving in Colorado, is handwarmers…. great invention for the cold weather! Thankfuly I've bought some the year before last on Amazon and I've brought them, thinking I was never going to use them– how wrong I was, it was one of my coldest times skiing ever!
But if you dress as an onion, you can survive the cold. I prefer the cold to the heat. Moreover, in the mountains, the cold is very dry, so a -15C feels like a -2C in the UK, which is very damp.
Sunday morning we got quick breakfast, dressed, washed teeth, put suncream and went to the parking lot – we were going a bit late, as the boys were having a private lesson for two hours at 12. On the first day I prefer to have a slower morning, that allows us to get our bits and bops. For us was the locker on the top of the mountain to leave our equipment – so we do not carry it back and forth to the house and I needed to pay the ski school private and group lessons for the boys, as I've only reserved them via email with the Ski School. This year, as we had all our own skis, we needn't go to the ski rental noleggio shop, so that was good!
We always use the Scuola Sci Pila, which is the traditional ski school in Pila. There is another one that is called Evolution Ski School, but we have not tried it. Some friends have and they say it is OK. We got our locker, then I went to pay our ski school lesson and we had a change of plans for a confusion, but finally got the ski lesson for the boys a bit late- so we had an early lunch. My little one was heart-broken, because his ski instructor was changed, and he does love this special ski instructor – Ricardo Sartore. He was the one that taught him for the first two years he went skiing, and he gives them chocolate – he knows how to get to the kids' heart! It wasn't meant to be for this confusion, and after some – many tears, he finally ate his pizza and went reluctantly with another ski instructor.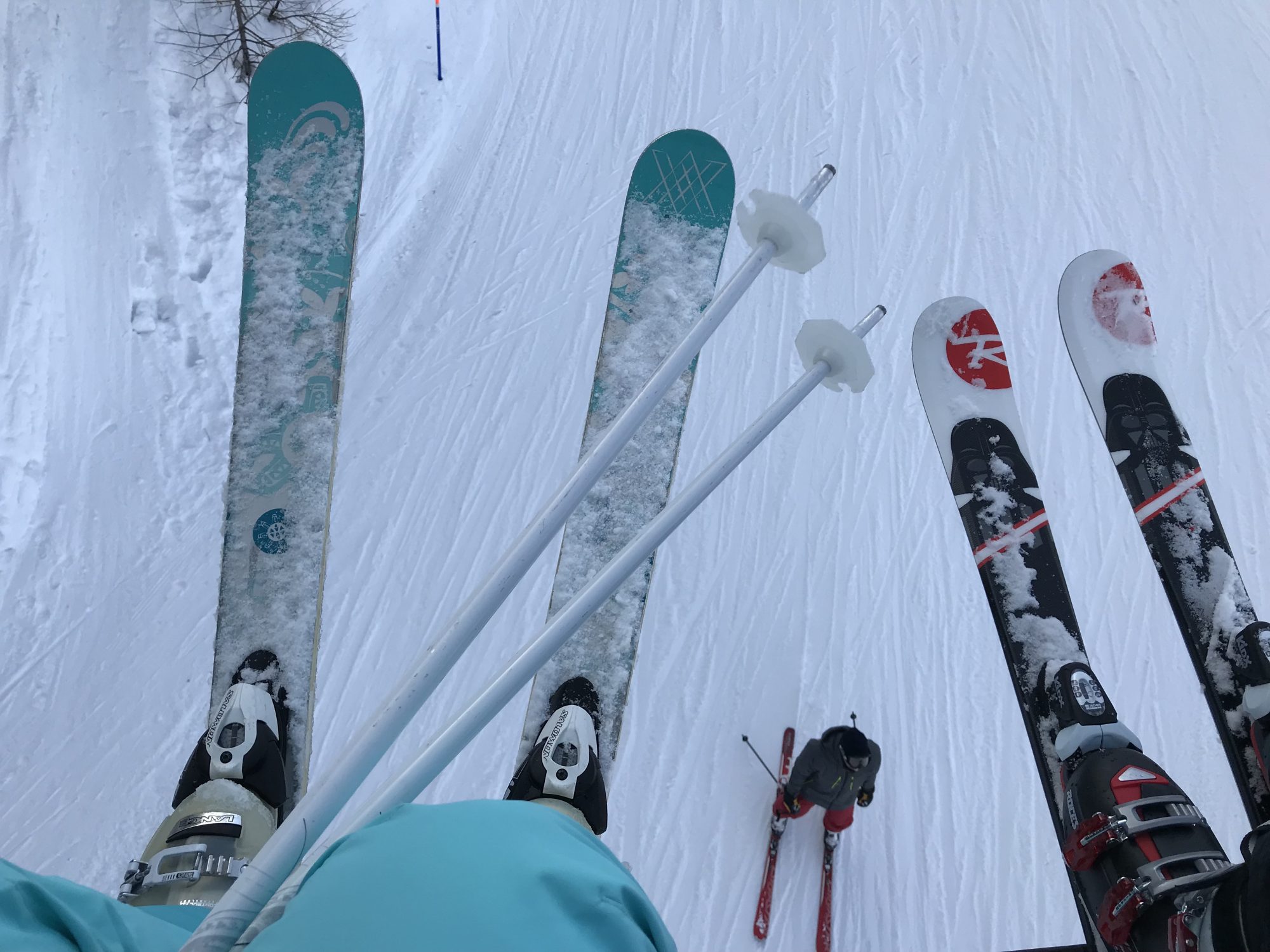 That was the time for my hubby and myself to go skiing – we did a bit of the two sides of the mountain – going down to Chamole, number 2 run that is a nice red piste between the trees, I think my preferred piste in Pila really. Then back up Chamole lift and we had a quick hot chocolate and off we went to the other side to ski Grimondet, that is the furthest west you can ski. Then we had to come and pick up the boys. My youngest one was happier, even he told me that nobody could replace Ricardo! I've promised him that next year he will be able to ski with Ricardo for sure.
We met with all the other families after the ski school, as the first day, each one was doing something different, and came down the gondola with one of our family friends – the Cornwells. We decided to go for aperitivo once down in Aosta.
We've stayed local in our area of Charvensod, by the Pont Suaz, in a small bar that is very lively- they serve you the aperitivo with lots of snacks – that makes you think you do not need dinner after eating so much! We had a lovely time, the boys were ok, until they all wanted to go and play outside, and it was time to leave….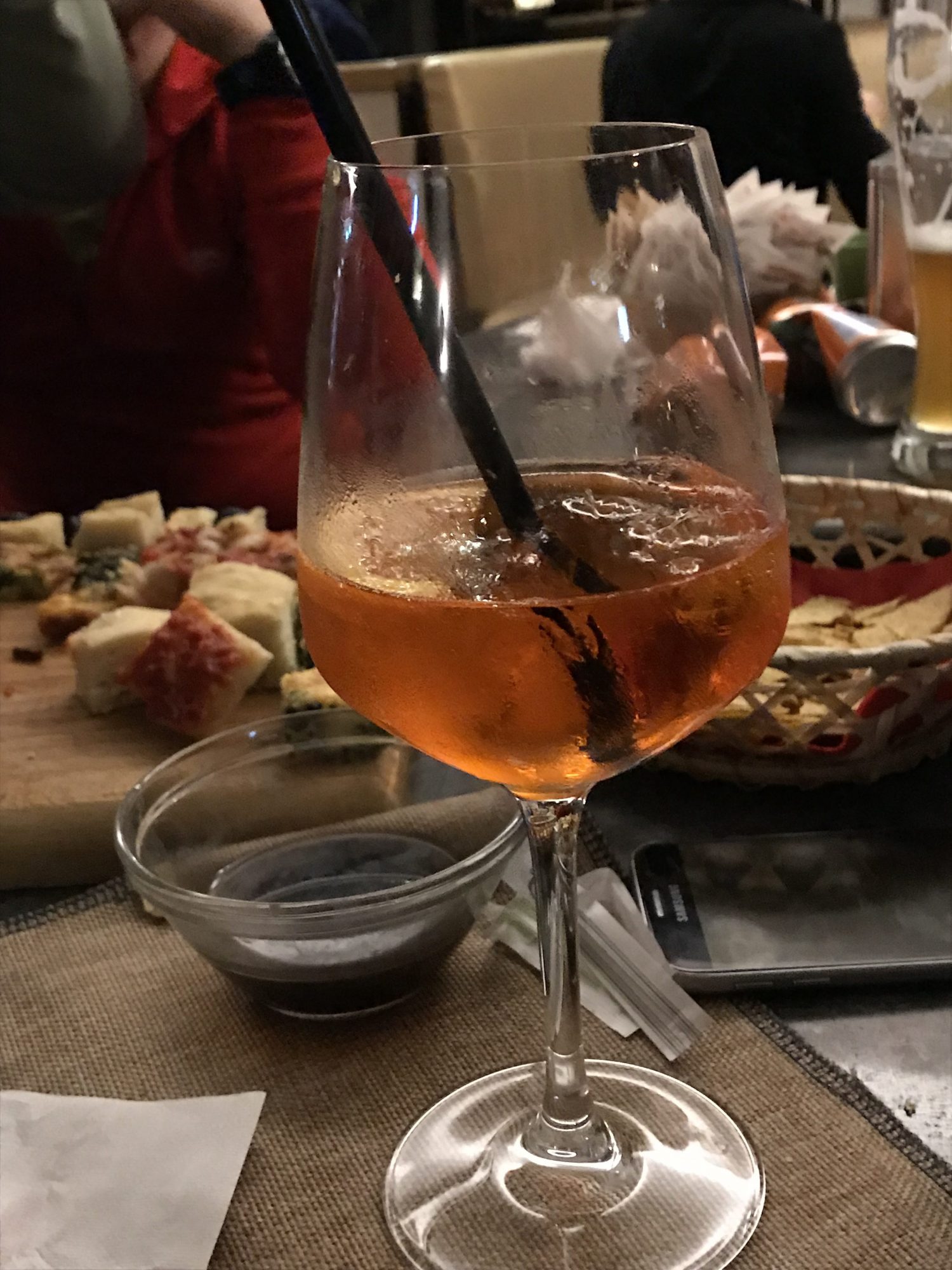 Monday started and we needed to get up the mountain early now – we tend to try to be leaving the house at 8 AM, to be early in the parking lot and get up before all the passengers of Interski – a massive tour operator from Britain that operates with schools and families in the Aosta Valley- appear in the gondola – if not queues can be VERY long.
As the kids are skiing now, we can always from the locker go down to the Chamole high speed quad, instead of walking up to the slow fixed grip triple that is always a bottleneck at the arrival of the gondola to the base of Pila. So in reality, we should not hurry too much to avoid the Interskiers, but we are used now to move fast.
We got our skis, went down to get the quad chairlift, there we met the Cornwells and the Hinchys, and  went down to Chamole and up, then took the blue piste 5, which is a nice long run for a quick warm up, all the way down to where the ski school was. We had time for a quick machiatto inside the Maison de Jean, just across where the ski school building is.
Now it was time for the boys group lessons – my youngest had three friends with him in the red group, and my eldest had one in the orange group. Off they went and I left with my husband, our friends Sam and Patrick, and Pat Hinchy to go skiing. We had a couple of warm up runs, number 2, number 5 down to the Leisse lift, then down number 15 and all the way down to Grimondet, and a couple of runs there, before coming back to pick up the boys from ski schol.
We had a big table lunch (you do need to reserve your table in the morning if you are intending to have lunch, as it gets very busy) at Trattoria dei Maestri in the base area. We know them since the first time we went to Pila 7 years ago. They are very nice, have great pizzas (a pizza Margarita costs EUR 6!) – and great pasta, Valdostan food (lots of polenta and meat dishes), steak… very good. And Chicho is a great waiter. We did not have him this year very much, as we finished being inside, not in their glass area outside, but he still helped and greeted us each time.
After a full-on lunch we went for an afternoon skiing all together – this is fun – and hectic. Although I love skiing with the family, I find it stressful too. The kids want to go all together on the lifts, near misses and small accidents happen, they all cross each other paths, but oh well… a bit of that is fun, and a bit that I am masochist!
We've finished another glorious day with lovely temperatures and went back home for dinner and a quiet night. I like it that in our flat we have no internet, and even though, my husband brought his computer to study for an exam he was having soon, he never really took it out of the bag, so the boys were very creative drawing and making stories, or crafting their own ski maps.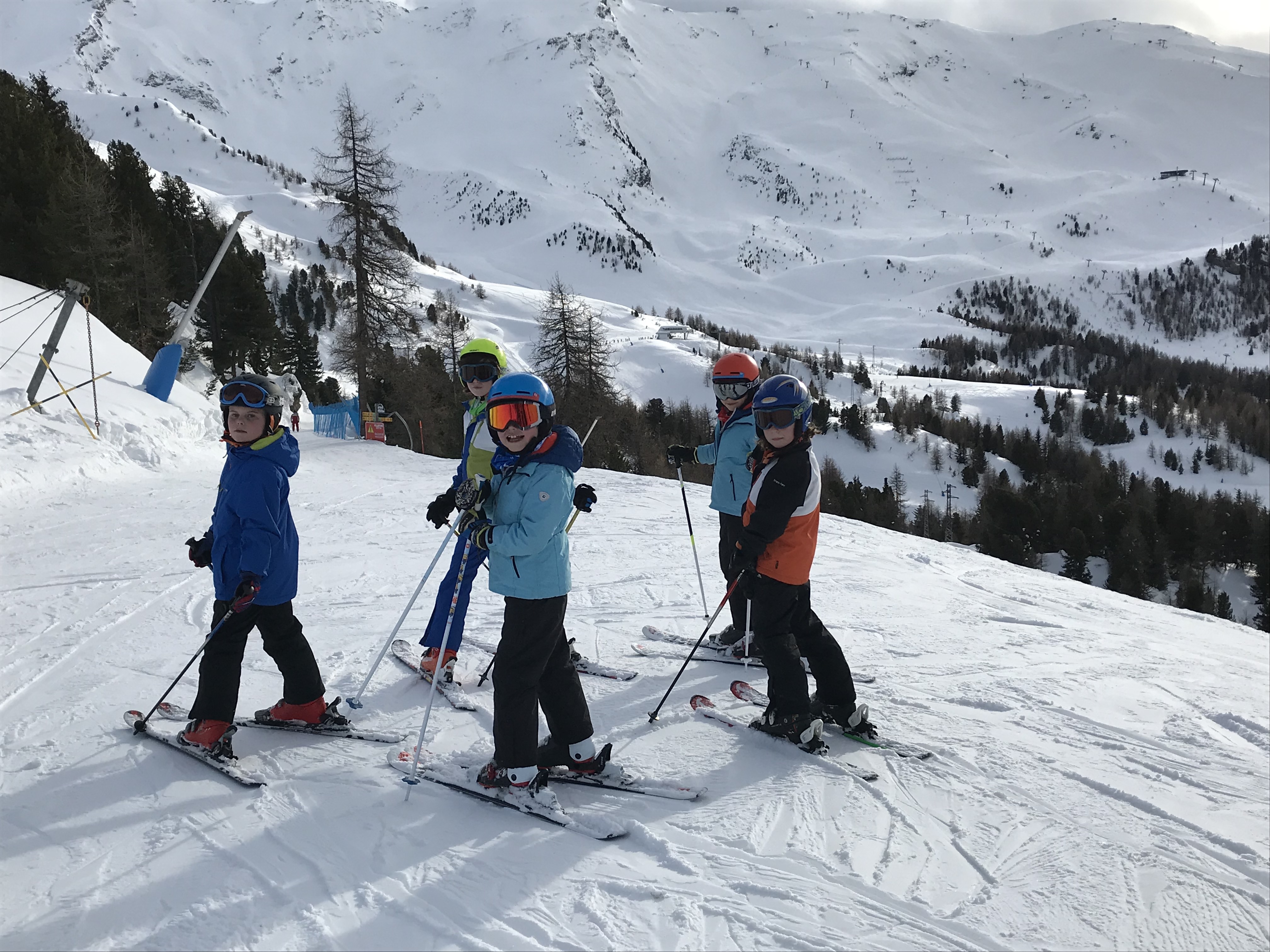 The rest of the week became VERY cold. We had -16C in the mountain, which was very testy. Fortunately there we used our hand warmers. I would have loved to have feet warmers, as my feet were two blocks of ice, but I did not have them… I could keep on moving, but part of the day I was feeling that my feet were not reacting anymore – thankfully before a pit stop for a hot chocolate.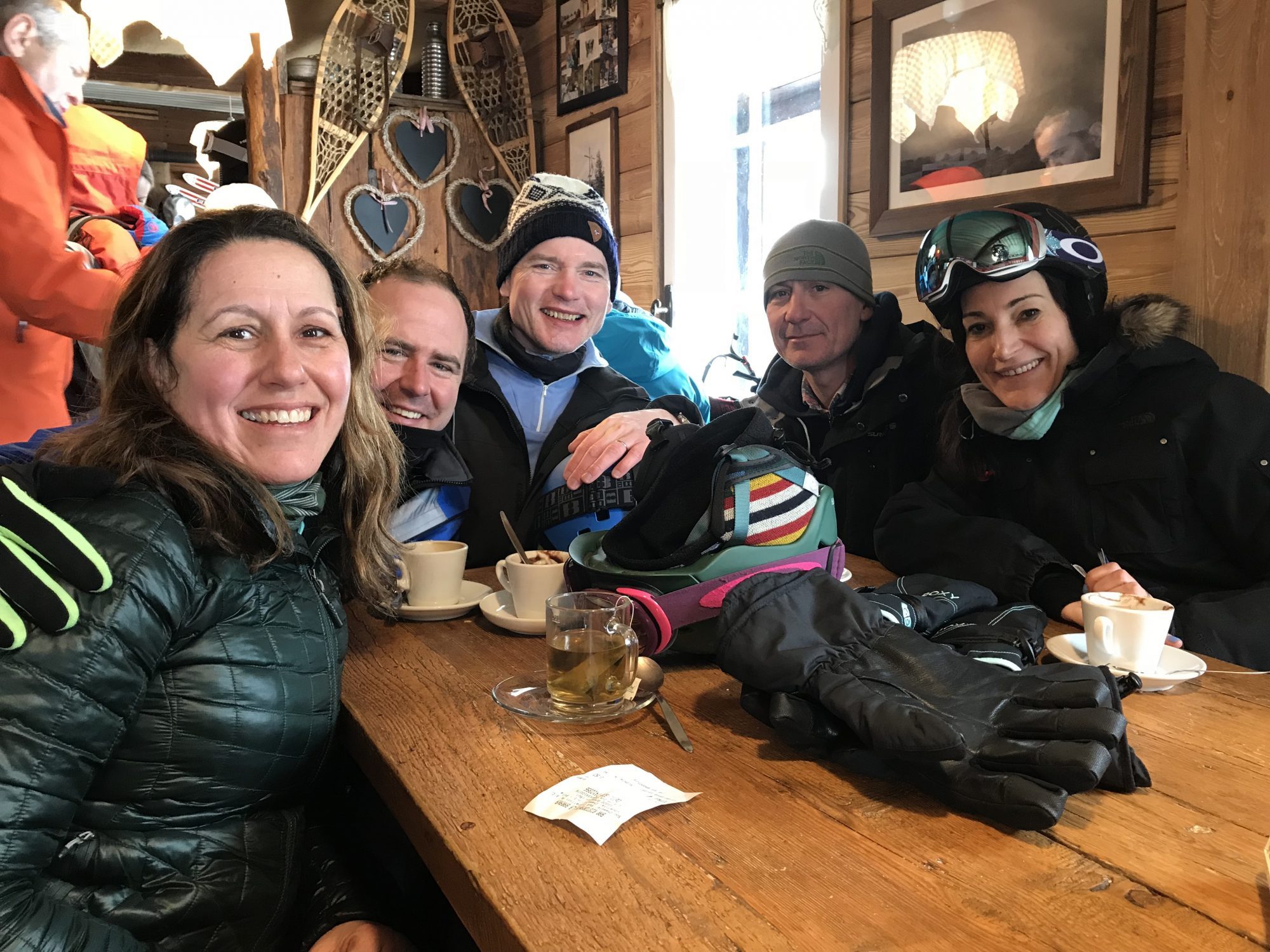 Ahh, the hot chocolates – they are nothing as you know. Italian hot chocolate is more like a thick chocolate dessert! And our favourite spot for our morning stop is La Baraka – on top of the Chamolé lift. It is very cozy inside, good for a cold winter day, and has a lovely terrace with magnificent views. They have an outside barbeque where they offer some sandwiches, and also a small menu for lunch. We've only been there for lunch once the year before, we had polenta with deer, it was really nice! And the owner, Freddie, if I do not say wrongly, looks like a rock star, plays great music and he is a character (a nice one!)
One afternoon, I cannot recall which one, but by the beginning of the week, we've decided to take all the families with us skiing to Grimondet. When my husband suggested that, I've thought, yeah, the slope is a bit like a roller coaster, is a red but an easy red, it should be fine. It looks like my brain was not on, I had a couple of restless nights, as maybe it was not such a good idea. There were a couple in our group that should not have come. The road towards the chairlift is the bottom of the piste, and that is ok, the top part to get out of it is not that good!  Basically when coming up with my little boy on the chairlift he told me he was a bit afraid of this red as he has never skied it with his ski instructor. I always tell him that first he has to ski a run with his ski instructor before we take him into it, so he is confident enough he can ski it well.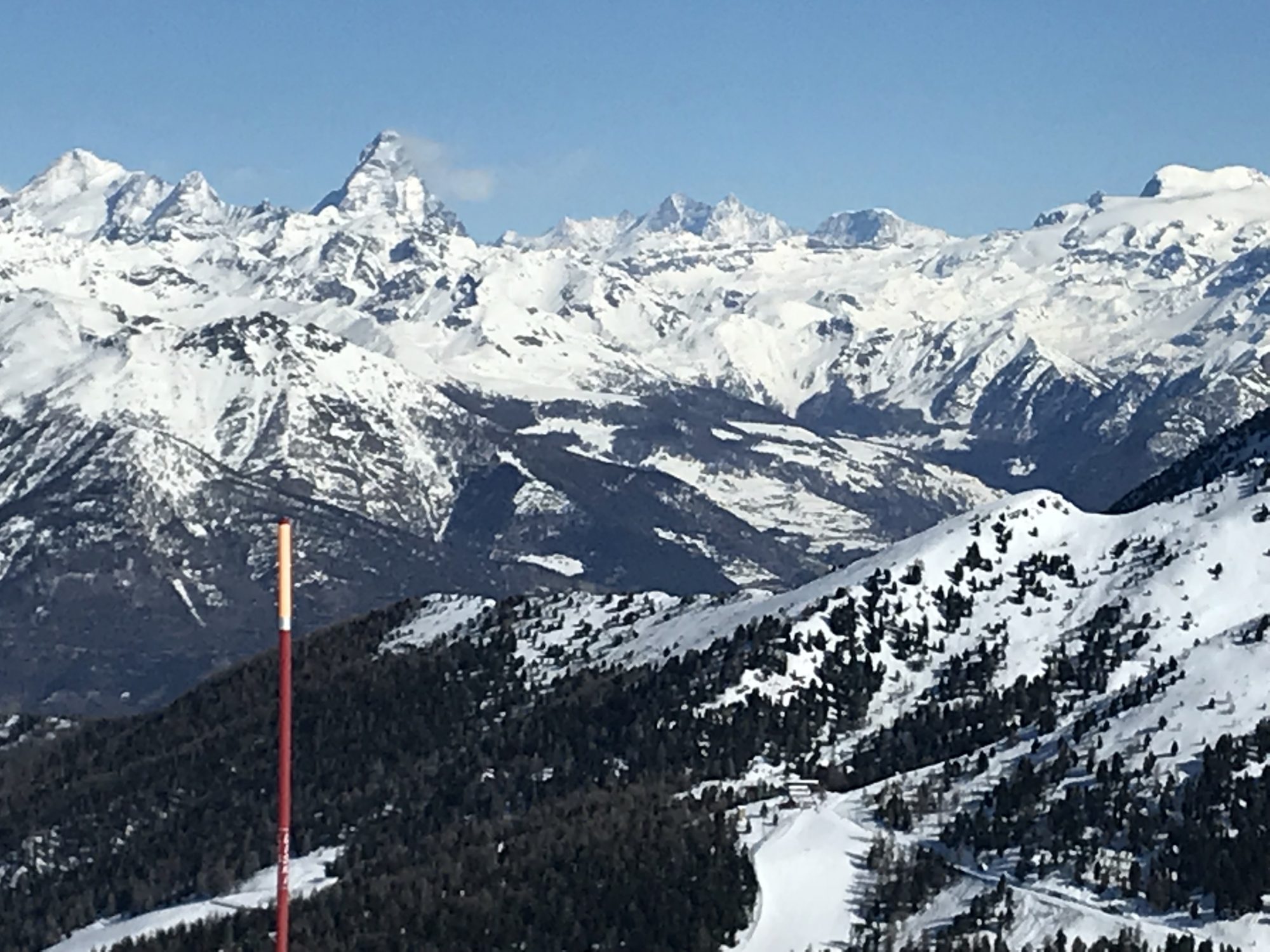 Anyways, we arrive to the top and suddenly I was really needing to go to a bathroom – this -16C was not fun! So I've told my husband to wait for the group and to keep to the left skiers side for coming down the piste, as this side was less steep than the right side of the piste. Also one of the other kids lost his ski on the chairlift and his dad had to go and find it near one of the towers in the middle of the forest. So my husband was going to be there for a while!
I've brought my two boys finally down the piste looking for the easier part of the slopes to come down. They did a great job! We all finish going running to the toilet int he bottom of that piste and had something warm while we were waiting for the rest to come down.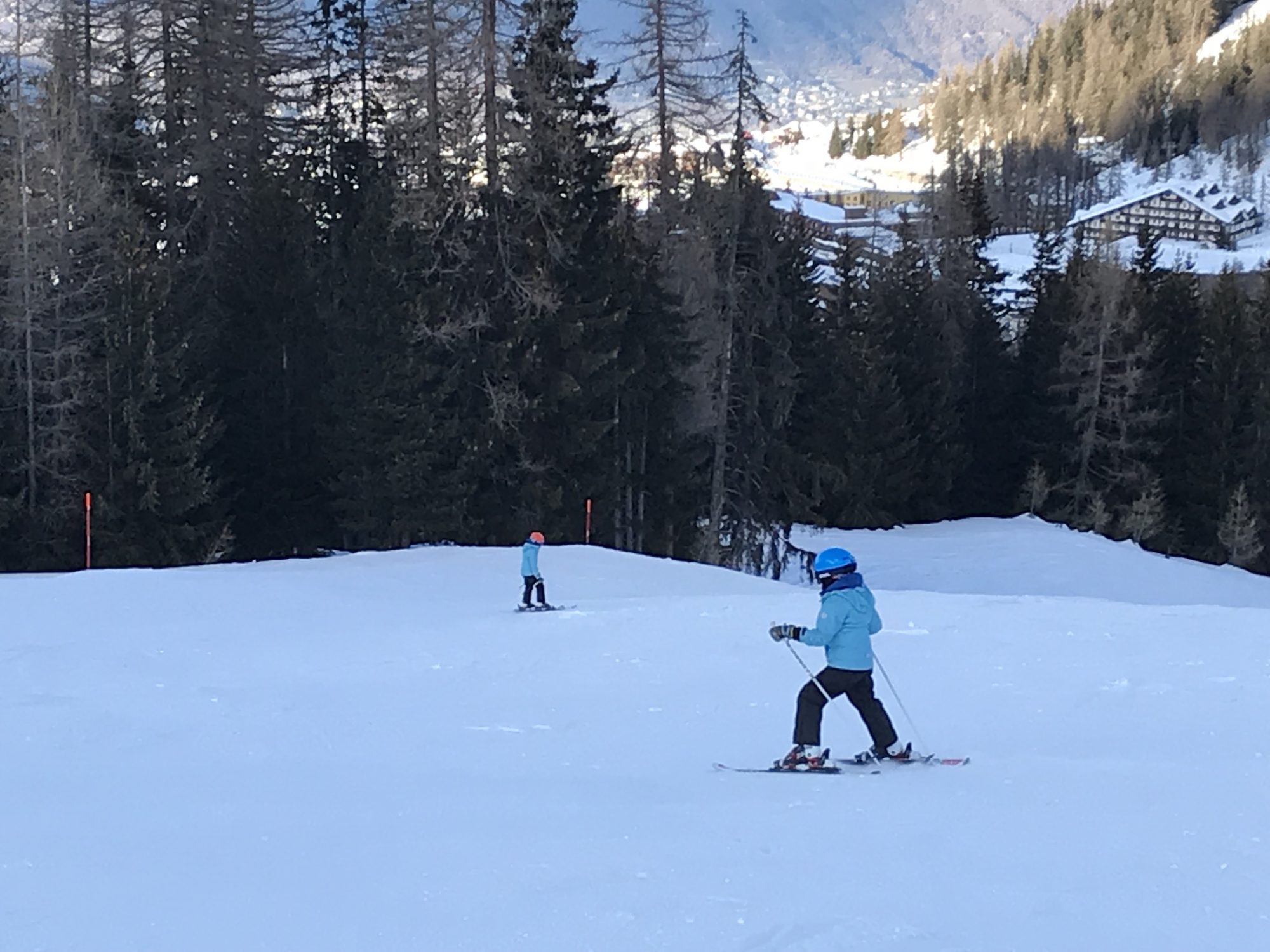 One of the families started going down before they had the lost ski to all come down together, and Chris told them to keep to the left, but that meant that instead of staying to the left of the piste I was talking – number 17, they went down number 18, that is another piste that is a bit all over the place, finishes in a small steep catwalk and then continues a steep bit between trees. Obviously the mum of this family, that was just getting her feet into skiing, did not have a good time at all! This is another story that she should tell better herself, but at least when she realised that she finished again in the bottom of the Grimondet  lift and that she was not going to ride that chairlift again, was lucky and determined to hail a snowmobile ride down to more secure grounds with her boy. So something good came out of it after all!
My kids love Pila and all that it entails. So much that I say, that my youngest, my oldest is cool about it but does not talk about it all the time- should be selling for the resort, because he is telling me all the USP the resort has and why we have to keep on coming here. And asks me time after time if we are going again next year.
Thursday was the day of the races – it was snowing pretty hard and visibility was not good. The first run down the pistes at 8.30 AM was very good as there was a layer of about 10 cm of fresh snow, and it was pretty easy for skiing. Later everyone found it a bit more difficult when the snow was cut out by other tracks. I really enjoy that day though. That afternoon I had some laps with my eldest boy, while my husband went with my youngest, Pat, Sam and their boy Charlie to the half pipe. We did runs 1, 2 and 3 that are in between trees, and had a great time. Finally I've thought I've got the rhythm with it. But our time in Pila was reaching an end. We were going to leave that afternoon to go and ski our last day in Courmayeur- and this will be on my next post.
Keep on reading for more ski news The Ski Guru or follow us on social media through our hashtags #theskiguru and #skinewsatyourfingertips. Also, feel free to subscribe to our newsletter – that is on the works, I am not planning to send too many of them though, we all have already too much emails in our inbox!
If you are planning a ski holiday with your family, you can check a packing list here.
Or check the prices of the European ski resorts.
You can read also our first instalment of driving to Aosta. Or see our tips if you are planing to drive to the mountains.
Featured image: Family trip to Pila, Valle d'Aosta – Half term- Photo by The-Ski-Guru.
Please follow and like us: