Zermatt to try recycled plastic 'green' road re-surfacing project
From Traffic Technology Today.
Zermatt is always a leading resort in lifts development and now it has taken a 'green' approach in resurfacing roads. They are using a new technology from a Scottish company that uses waste plastic to create an environmentally-friendly pavement.
Already Zermatt is a car-free town and uses electric cars to whizz passengers and their luggage from the train station into their lodgings. For this pilot project, one of the main road junctions has been re-surfaced using this new technology from MacRebur, an award-winning Scottish company that allows waste plastic that wold go to incineration or landfill to be used in an asphalt mix.
The plastic consumption is increasing worldwide with lots finishing as waste. The Swiss Government is trying to meet their environmental ambitions trying to see different financeable suitable solutions for recovery and disposal. This project in Switzerland is led by Kik Tinham of clothing company Tinham & Co GmbH, with the asphalt produced by Ulrich Imboden AAG and laid by Zermatt's public works department.
Tinham explained "I first heard about MacRebur from a friend I had surfed with whilst living in Bali several years ago. Plastic pollution is a big topic among the surfing community, so we agreed that MacRebur was a great idea. I recognized that this could be a great product for the Swiss market and took the initiative to call MacRebur to enquire about distribution and several weeks later my wife and I were on a plane headed for Scotland to meet the team. Although Switzerland has a fantastic recycling collection system in place, more than 80% of the collected waste plastics are incinerated rather than repurposed. With the Swiss being proud of their fresh alpine air, this practice is particularly unpopular, but with MacRebur we have the potential to make use of the efficient collection system and reuse the waste plastic to create a greener outlook for the future."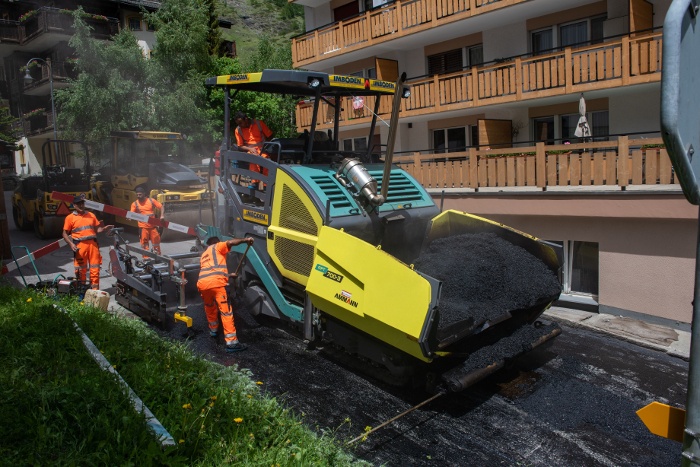 MacRebur's CEO, Toby McCartney, said, "We hope this road will be the first step towards opening our first factory in Switzerland and it is an excellent opportunity to show the performance of our roads. Temperatures in Zermatt range from below minus 15 in the winter to up to around 30 degrees in summer, however, as our roads contain plastic, they are more flexible. This means they can cope better with the contraction and expansion caused by changes in the weather, reducing cracks and potholes. Our roads have no difference in appearance to regular asphalt, but by using our technology, Zermatt is able to offset some of its plastic waste generation. We are working across the world to set-up factories in Europe, America and beyond to allow plastic waste to become part of sustainable local circular economies. We are very proud to be working in Switzerland, a country known for its cleanliness, and the fact that our product has been used there shows that we are a high-quality choice for better roads everywhere."
More information: Traffic Technology Today. 
Vail had announced the past season the Commitment to Zero emissions. Aspen also published its sustainability report 2018. Check also our Must-Read guide to Zermatt here.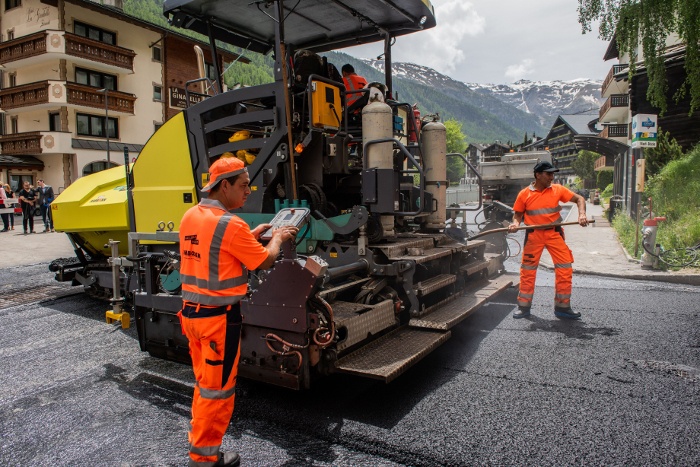 You can search for your own accommodation in the snow for your next ski holiday through our Accommodation Search tab.
The-Ski-Guru TRAVEL is a CONCIERGE service that can help you organise your bespoke ski trip to the Americas, Alps or Japan, including for those going from Britain to Europe, helping you book your Eurotunnel trip, and for all trips: lodging, lift tickets, rentals, ski school, and all you need for an excellent vacation. Go to https://www.the-ski-guru.com/travel and upload your information – this page will be updated soon with more travel ideas. Check our amazing Ski Safari in the Dolomites , stay at the San Lorenzo Lodge White Deer in the Val Pusteria of Sudtirol, in the Hotel Petrus in Riscone, for skiing Kronplatz, or check our offer to Obergurgl-Hochgurgl and Sölden to ski with your family. Maybe you want to come on my group to ski with other like-minded skiers in Courmayeur in January 2020, staying at the Gran Baita hotel?
You can start thinking about your trip, by reading the articles on the Planning your Ski Trip tab.  Or how to pack for your family ski trip.  If taking your furry friend abroad to the continent, read about the new Pet Travel Scheme update from DEFRA. Self-drive skiers also need to plan for Brexit. Check out our tips for driving to the mountains.  If flying and renting a car in Europe, beware of the extra charges they will pass to you if you want winter tyres, snow chains or ski racks. If driving, check the winter tyres news for Europe and North America. You can see how our last family ski holiday was not as expected, even though one plans it to be a success, but how we could do the most of it. If you want to get better before getting to your next ski holiday, here is a quick guide to indoor skiing and dry slopes in the UK.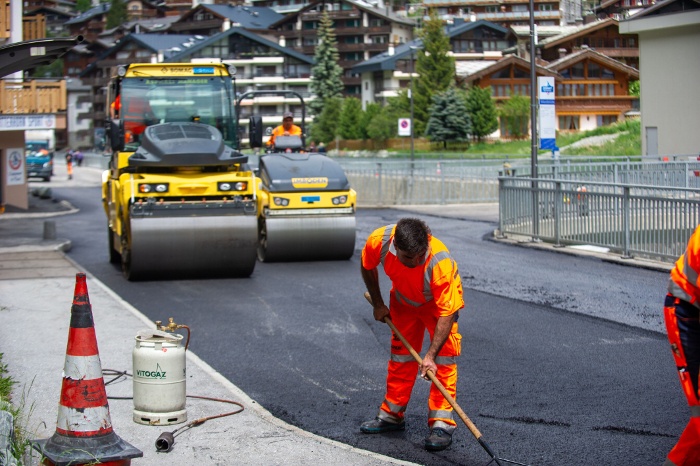 Featured Image: Matterhorn, the classic view from picture-perfect Zermatt. Photo: Kurt Müller. Zermatt to try recycled plastic 'green' road re-surfacing project.
Please follow and like us: