Our Route des Grandes Alpes to cross from France into Italy
This past summer we went to have a holiday in the mountains. From Chamonix we were off onto Courmayeur. But it was a Saturday – what is considered here in the mountains as a Samedi Noir or Sabato Nero, meaning very long queues to cross the Mont Blanc Tunnel.
This past summer was ridiculously hot – even in the mountains – with the temperature being 31 C in Chamonix in the morning – imagine staying a couple of hours in line to cross the Mont Blanc Tunnel did not seem too much fun at the time.
I've asked the evening before some friends I have in Chamonix on how other way we could go – and how about taking the Petit St Bernard Pass. Arnaud Jamson, the deputy director of the Chamonix Tourism Office suggested me to go all around and stop in Megève for lunch, then go to the Lac du Roselend and from there go up to La Rosière to cross into La Thuile through the Petit St Bernard. This is a typical road for motorcyclists and bikers alike – many of these roads have been used by the Tour de France!
As I have a memory of a mosquito, I've asked at the hotel's reception where I could get a good map, and I was told to go into the main street in Chamonix. There is a wonderful books and magazine store – that I could stayed for hours just looking around, where I bought the IGN Map of Route des Grandes Alpes. I love maps and this one was a great addition to my collection.
So off we went from Chamonix back towards Les Houches, Passy and there before we turned to St Gervais-les-Bains. St Gervais looks like a lovely old spa town, worth staying for a while for a hike or to go skiing, but we were on a mission, and needed to get to Courmayeur in time.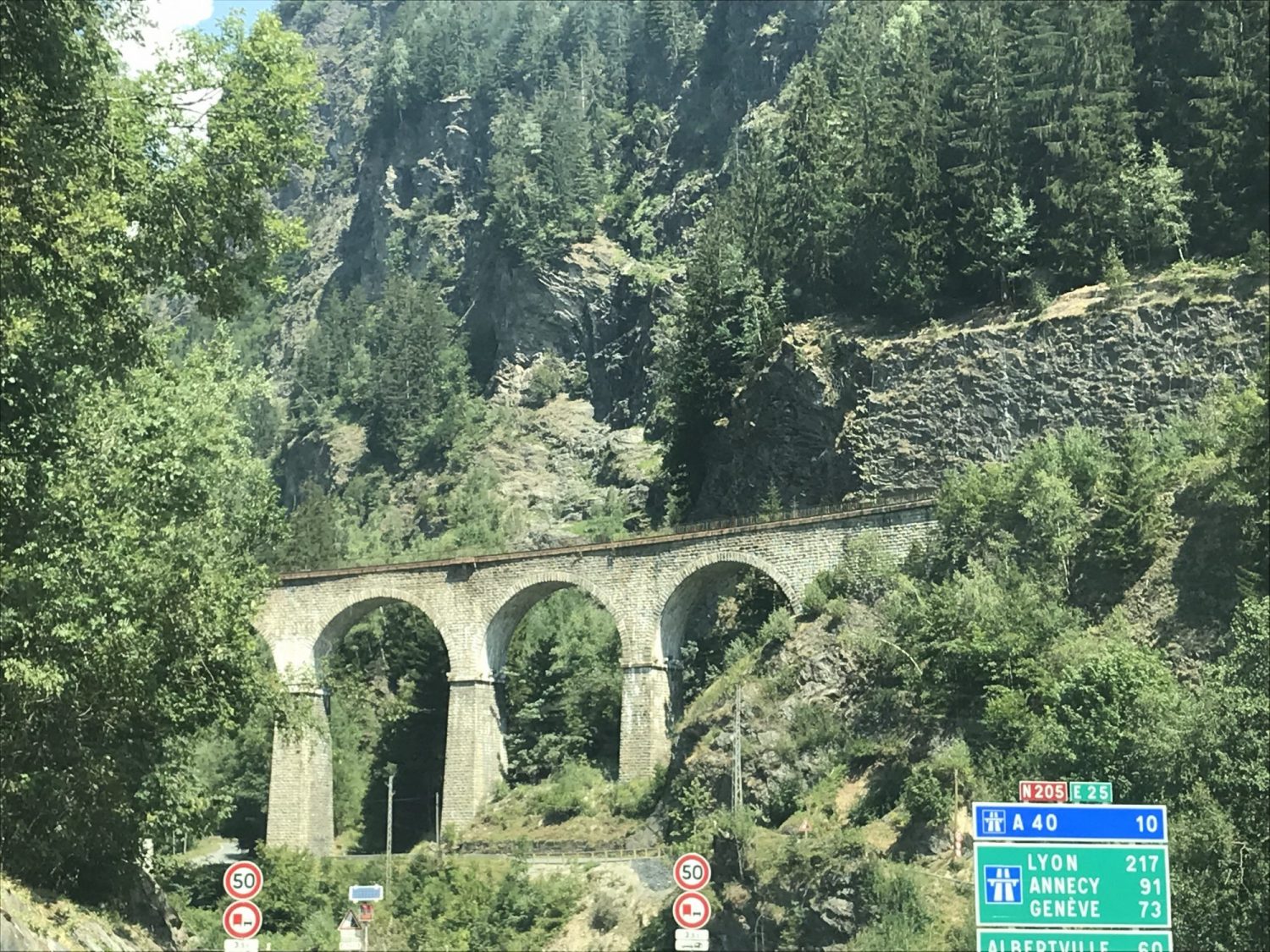 Off we went on the D909 and turned to the D1212 that passes through Megève. We've passed only through the edges of town in Megève. My husband was not ready to stop for lunch yet, so we've decided to keep on going through the winding road. This was not that windy yet, there was more to come. It is a lovely road, I do recommend it to anyone that has the time to do it – but if you get dizzy with too many turns, maybe avoid it.
We've arrived Notre Dame de Bellecombe where we needed to turn, but it looked so pretty that we've found an open café and stopped for lunch. There we had a nice chat with a British family that owns an apartment on site and go every summer and winter. Where we stopped it was an actual ski mountain restaurant. The 'formule' was lovely and cheap! And the views of the Savoy Alps and Mont Blanc chain where magnificent!
From there we needed to keep on going, even though it was lovely stopping at a place where time seems still. We turned to the D218B towards the Col des Saisies. Here is where the road gets interesting. Curves and counter-curves galore! The wildflowers and trees of the Alps offer a lovely entourage to the road to discover.
When we arrived to Beaufort we've turned into the D925 for more 'tornantes' and arrived after a while to the Lac du Roselend, a massive dam in the mountains, just below the Cornet de Roselend, a mountain pass. This is bikers playland- you see lots of them here. Views are amazing, worth a stop for a picnic.
We continued zig-zagging the road up the mountain and went pass the Cornet de Roselend at 1967 meters and then down towards Bourg St-Maurice, which is a good-sized city. From up there we started going up again on a series of hairpin bends. Here, if you get sick in the car, this is the road you don't want to take. I love it, if I can look out the window, but I can imagine I would be a bit nervous doing this in winter. Still, the bends have a guardrail on the side – I did worst ones (in Valle Nevado with 69 hairpin bends where the Americans I was taking on a trip where praying to the All Mighty to protect them- and where when you've found a car coming the other way, one needed to reverse back to the curve so the other one could go through – this only happens in mid-week as on the exchange day there is one way traffic allowed for some hours!).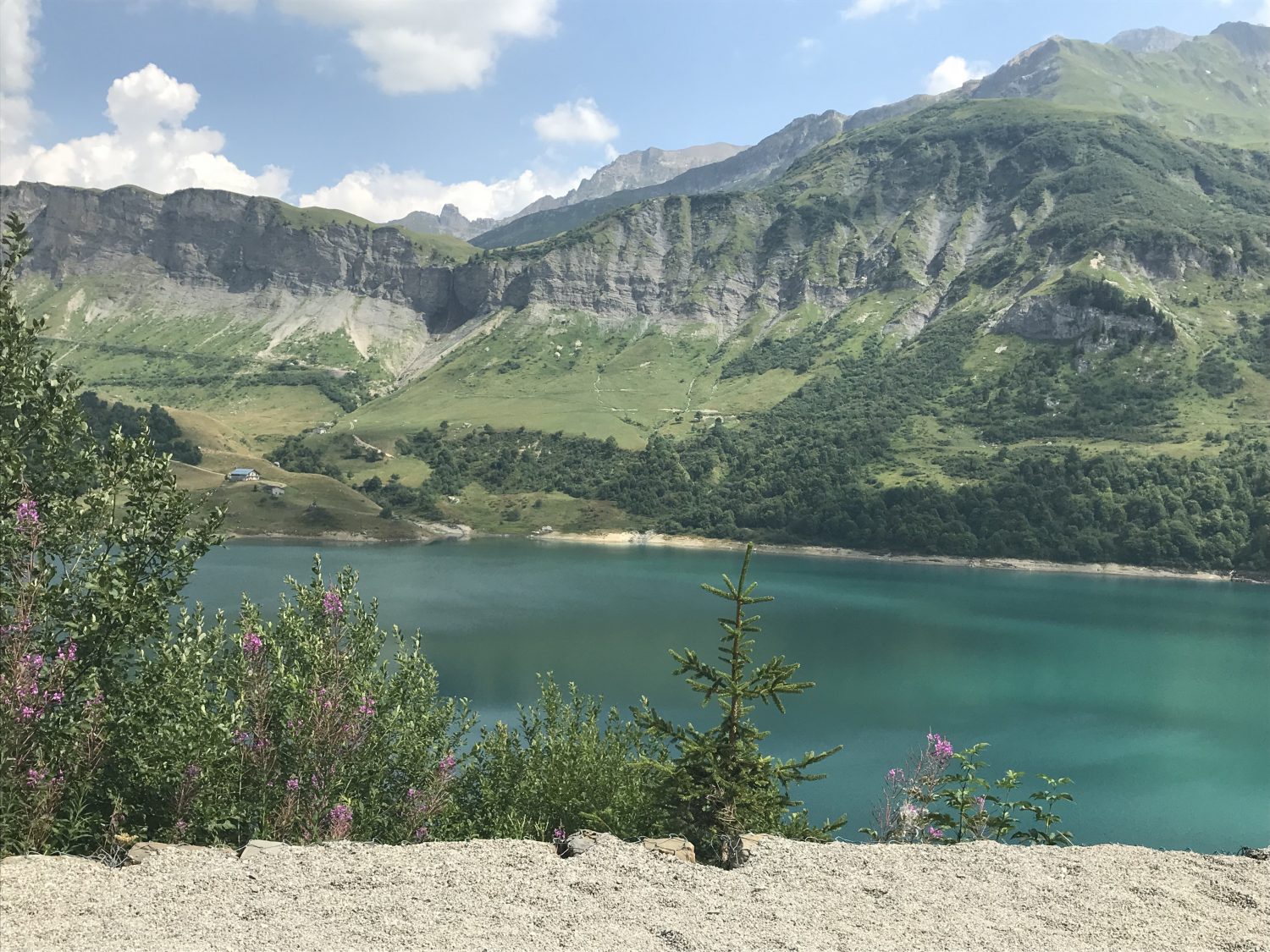 But when we arrived in La Rosière, it was time for a stop, and to have some fresh air after so many bends! We went on the main drag and had a coffee with some pastry. Obviously, I would have loved to have more time to see more, but we still needed to get to Italy. We were so near now!
Here now you are on top of the mountain in what I would consider a mesa, and a long and not so windy road goes to the border, to the Petit St Bernard Pass. The Col du Petit-Saint Bernard, as it is called in French is at 2,188 meters. Just southwest of the pass, there is a hospice that was founded by St Bernard of Aosta in the 11th century. Some scholars say that Hannibal led the Carthagian Army over the Petit St. Bernard Pass on his way to Rome in 218 BC.
The landscape is pretty bare up here and we came in a windy and a bit cloudy day too – We've continued going down and we've went by one chairlift – now in La Thuile part of L'Espace San Bernardo. La Thuile and La Rosière ski resorts are together combined in a bigger ski area that expands into two countries.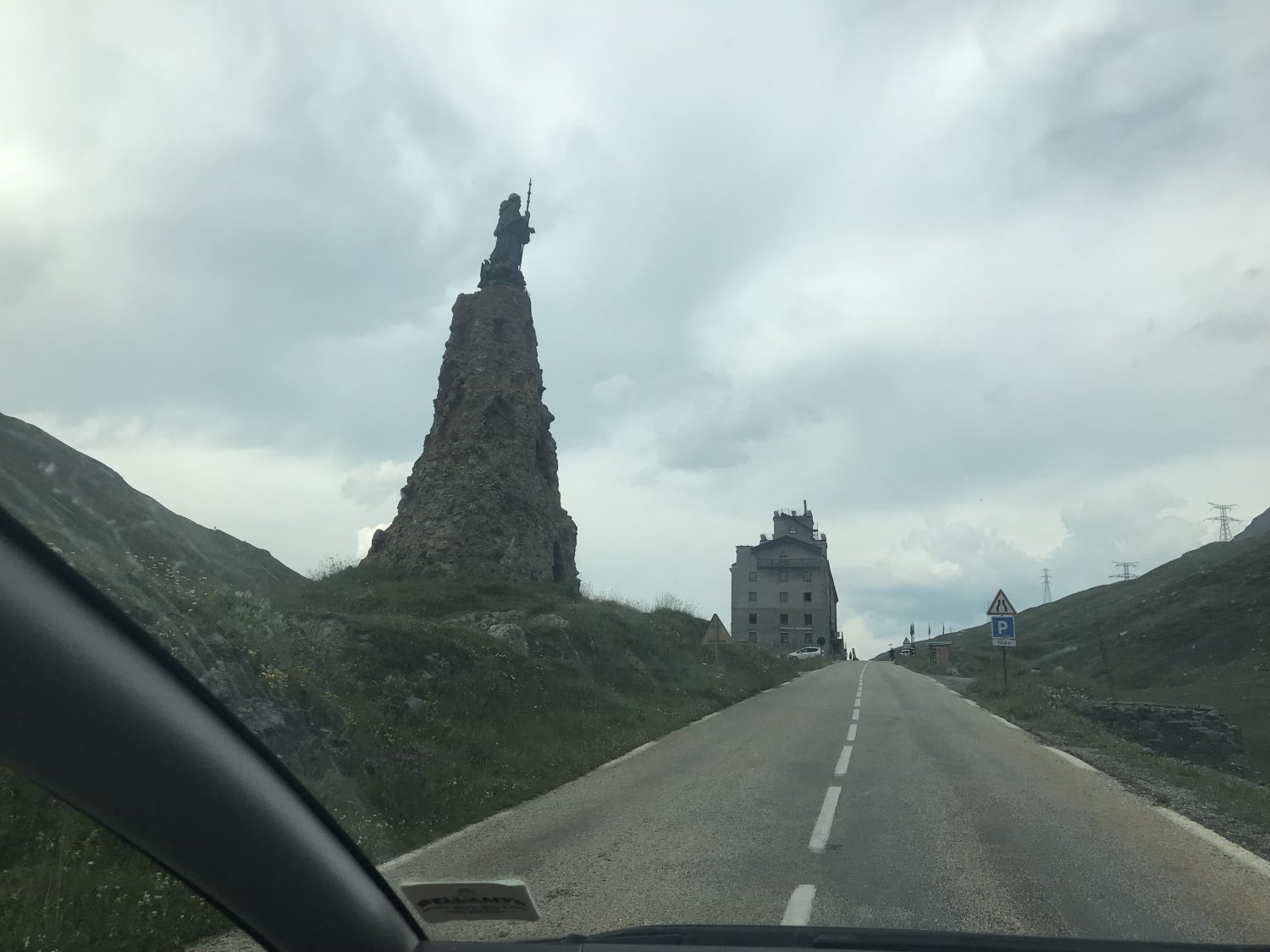 We've just drove through La Thuile, which looks like a quirky old town. Definitely something to come for a longer time in another occasion!
Just in case we were missing our tornantes, here we had many coming down the mountain towards Pre de St Didier, the home of the amazing QC Terme! Still, these tornantes were not as intense as the ones on the French side!
Off we turned now to the S26A and we reached very quickly Courmayeur!
A trip that should have taken us 30 to 45' but was going to be much longer as it was on a Saturday, finally took us a good part of 4 or 5 hours. But it was definitely worth-it!
More information on the Route des Grandes Alpes
There is work going underway to clear the snow of the Petit St Bernard pass. You can read more about La Rosière in winter here. Or Chamonix in winter here. We have a Guide to Courmayeur to plan your trip to this beautiful town and resort, and also how they opened two panoramic pistes this past season.
You can also read about our day on the Terminal Neige in Montenvers– while visiting Chamonix in the summer, and the review of L'Heliopic Sweet and Spa.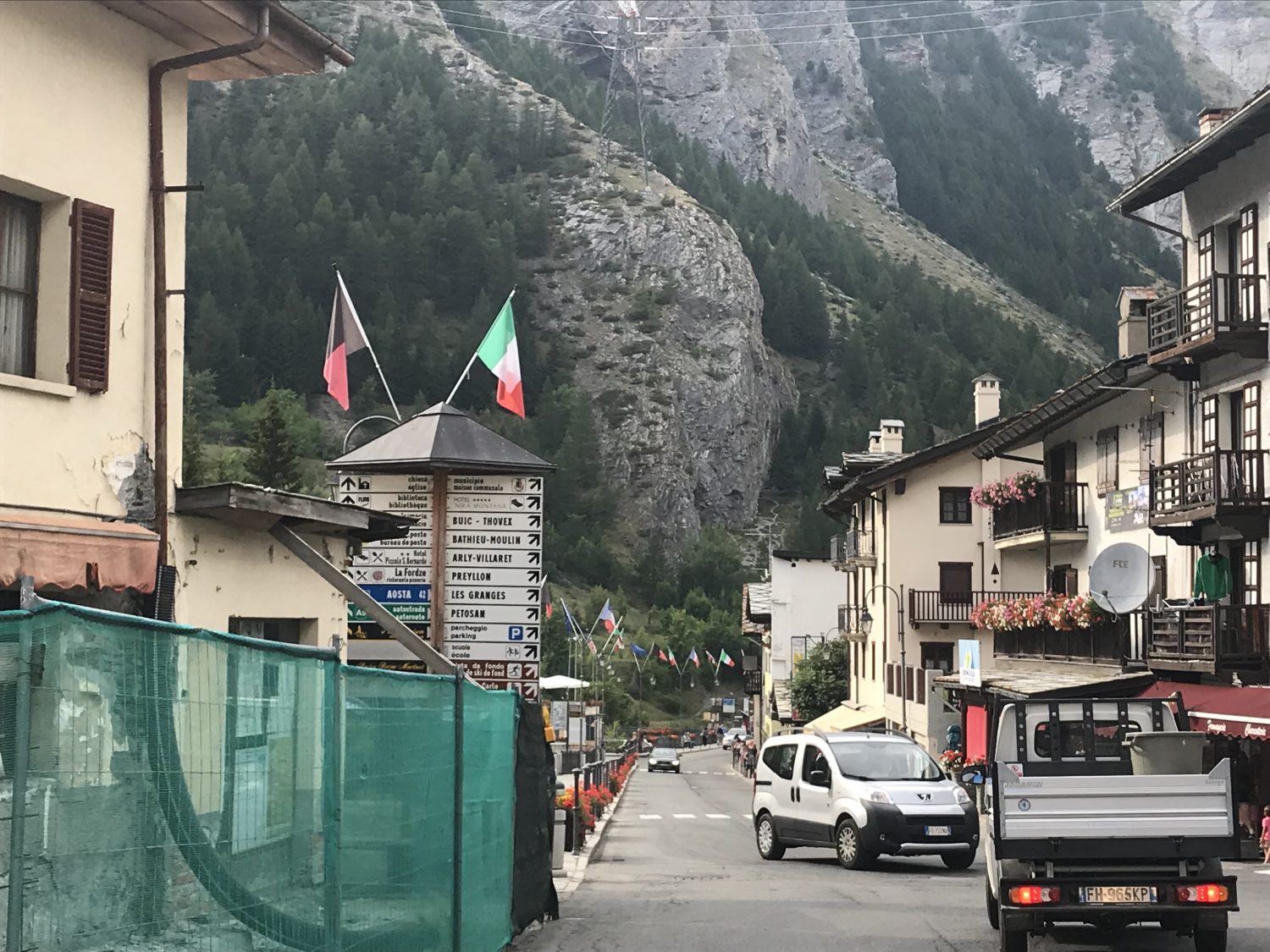 The-Ski-Guru TRAVEL is a CONCIERGE service that can help you organise your bespoke ski trip to the Americas, Alps or Japan, including for those going from Britain to Europe, helping you book your Eurotunnel trip, and for all trips: lodging, lift tickets, rentals, ski school, and all you need for an excellent vacation. Go to https://www.the-ski-guru.com/travel and upload your information – this page will be updated soon with more travel ideas. Check our amazing Ski Safari in the Dolomites , stay at the San Lorenzo Lodge White Deer in the Val Pusteria of Sudtirol, in the Hotel Petrus in Riscone, for skiing Kronplatz, or check our offer to Obergurgl-Hochgurgl and Sölden to ski with your family. You can ski to have lunch in the Rifugio Sofie in Seceda, Val Gardena, in the Dolomites.
You can start thinking about your trip, by reading the articles on the Planning your Ski Trip tab.  Or how to pack for your family ski trip.  If taking your furry friend abroad to the continent, read about the new Pet Travel Scheme update from DEFRA. Self-drive skiers also need to plan for Brexit. Check out our tips for driving to the mountains.  If flying and renting a car in Europe, beware of the extra charges they will pass to you if you want winter tyres, snow chains or ski racks. If driving, check the winter tyres news for Europe and North America. You can see how our last family ski holiday was not as expected, even though one plans it to be a success, but how we could do the most of it.
Also for those interested in how resorts deal with the risk of avalanches, you can check the interview to Coco Torres, former Head of Operations at Valle de Las Leñas in Argentina, a highly avalanche risk resort.
Featured Image: A stop for lunch at Notre Dame de Bellecombe. Our Route des Grandes Alpes to cross from France into Italy.
Please follow and like us: