Family trek to Lago d' Arpy, Morgex, AO
Sentiero to Lago d'Arpy, Morgex, AO (Aosta Valley) – Family trek to Lago d' Arpy, Morgex, AO.
Summer in the Italian Alps.
We came to take a five-weeks long holiday at our home in Morgex, called Il Cuore della Valdigne. This is a great spot for hundreds or thousands of trekking paths. Italian called them
sentieros.
This article may contain affiliate/compensated links. For full information, please see our disclaimer here.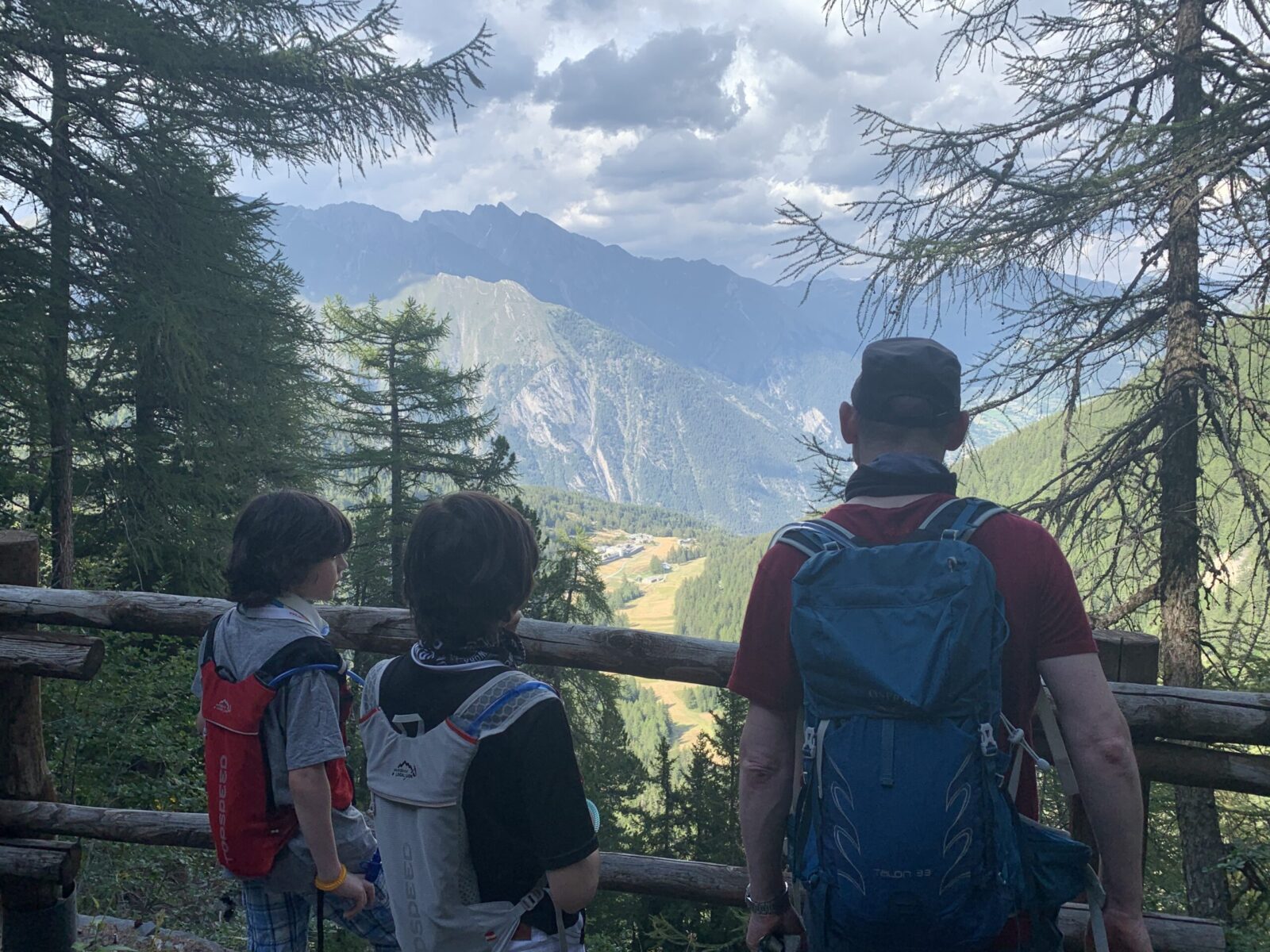 The most renown place in the Morgex area I would say is Lago d' Arpy. Arpy is a great spot in winter for its cross country trails and snow-shoeing paths. In summer it is the place to go out for treks, mountain biking and swimming in the freezing lake. The lake is further up the road from the Ostello di Arpy. The Ostello is a rustic lodge that has a cafeteria/restaurant and some rooms. It also offers rental for cross country skiing and snow shoes.
We went up the road until passing the hotel La Genzianella and we parked next to some public restrooms. There it was the start of the sentiero 15, at 1,954 m, that takes one hour and five minutes to reach the lake. The sentiero is pretty simple categorised as T: turista. It has a bit of a climb, but nothing major (140m) and an average gradient of 3%.
Sentieros' classifications in Italy.
Sentieros
are classified
, at least in Italy, in T as Turista, E, Escursionistico and EE Escursinisti esperti (expert)
.
Then there you have the alpinist classifications, EEA is for expert with via ferrata o attrezzata, EEA-F (ferrata facile); EEA-PD (ferrata Poco dificile), EEA-D (ferrata difficile) and EAI (excursionism in snow)
.
While you walk through the
sentiero,
you have amazing views of the Macizo di Monte Bianco. Usually this path is very busy with families and dogs, but we managed to go pretty late, and it was pretty quiet.
Another option for reaching Lago d' Arpy
You can do a bit of a more challenging walk with more climb if you stop at the Ostello d'Arpy. That is a sentiero classified E: Excursionista. To be honest I was not sure where to start, so we kept on going up the road as there was a sign to Lago d'Arpy. And then we've stopped before what it looks to go to the Colle San Carlo and down towards La Thuile.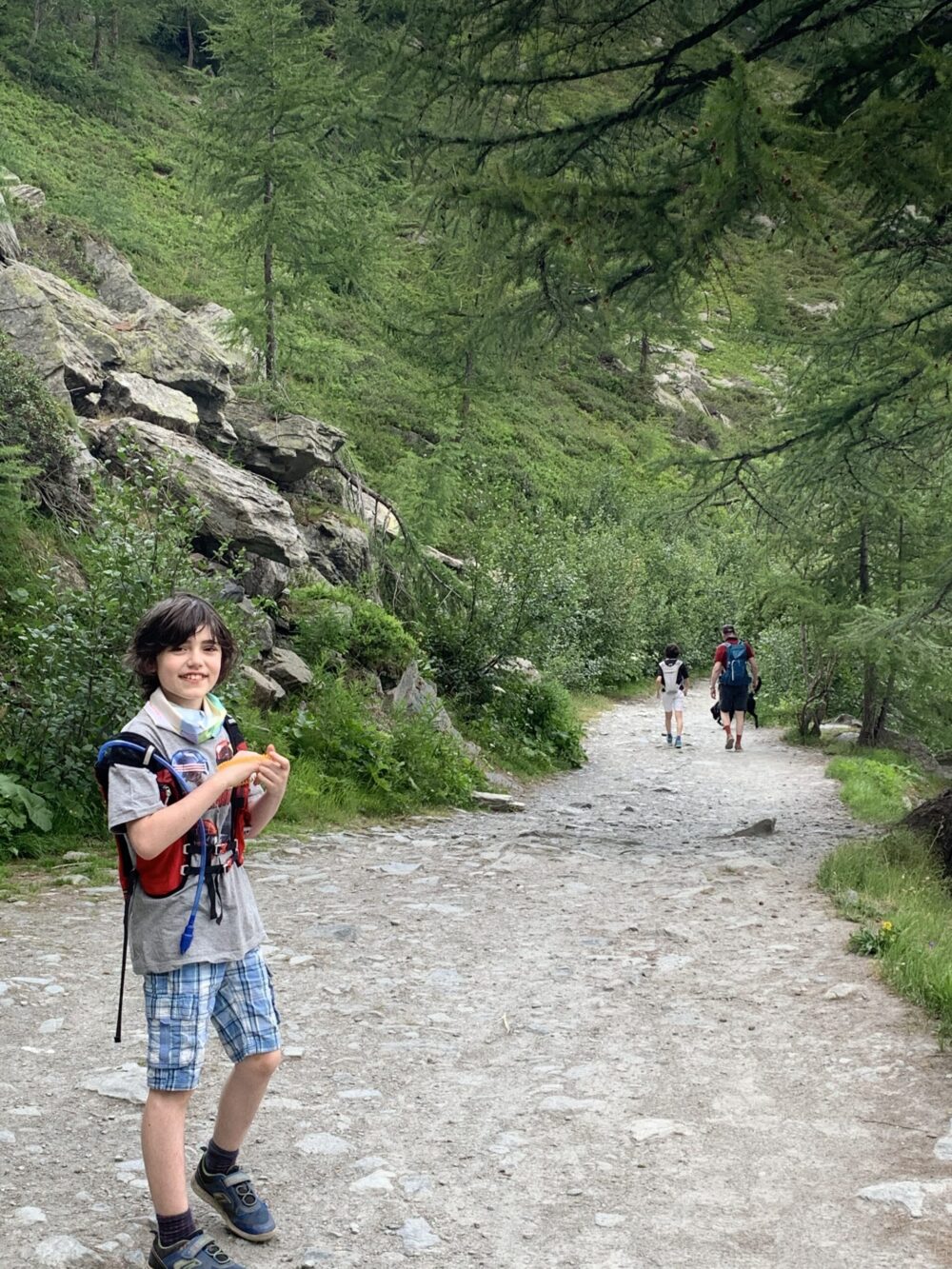 When we arrived, our dog ran straight into the freezing lake. The views were magnificent. It was a tad cold as it was windy, and up at 2,066 m you had not much to guard you.
My eldest decided to take his trainers and socks off and try the water… He changed his mind in a second after trying the water. It did not sound inviting for me, moreover as we were not that hot!
I guess it would be different if it was a hotter day.
The option of Lago di Pietra Rosa
If you have more time and have kids that want to walk more (not like mine), you could continue in that sentiero 15. This will take you to the Lago di Pietra Rossa in a total of 2.45 hours per way. I've heard is amazing. This would be for me for another trip! Lago Pietra Rosa is at 2,583m, a vertical drop of 725 m from Colle San Carlo.
But back in Lago d'Arpy, we enjoyed our time absorbing the magnificent views. We had some snacks up in the lake, and then we came back down, as the sun was starting to descend. It was a great first walk to get our legs into it.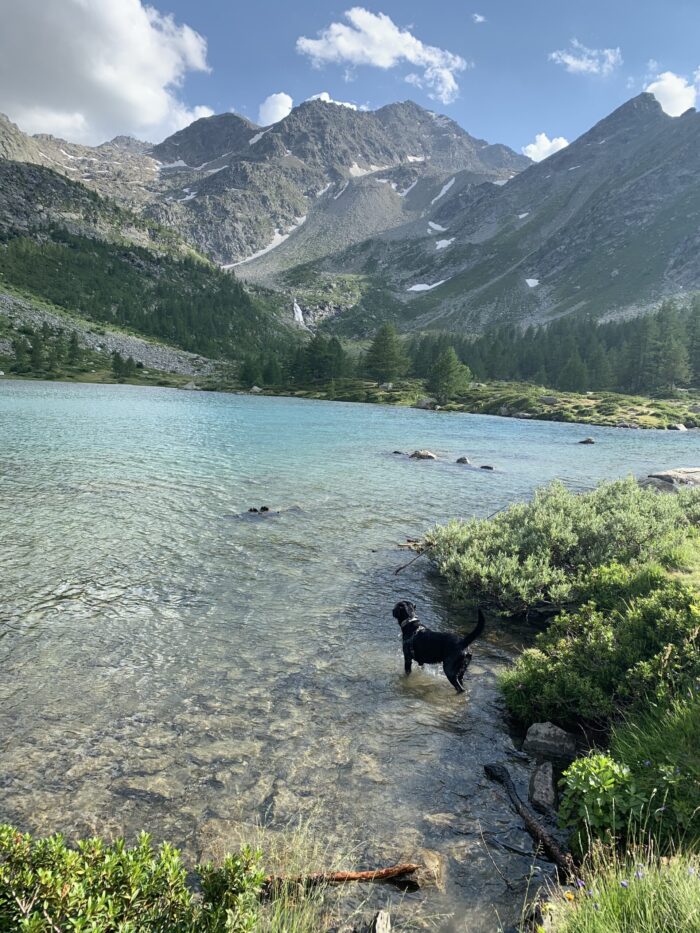 How to get to Lago d' Arpy:
Arrive to Morgex – from France, through the Mont Blanc Tunnel and drive down the SS26 towards Morgex.
In Morgex turn where you see the church Santa Maria Assunta on your right and cross the bridge of the Dora Baltea River
. There take the SR39 to the Colle San Carlo. You see the Genzianella hotel and park there.
From Aosta, go towards Morgex and turn left at the church. Continue across the Dora Baltea River up the SR39 to the Colle San Carlo.
Where to Stay to visit Lago d' Arpy:
If I am not using it. Our lovely home in the mountains, all stone and wood, über cosy. Two bedrooms-two bathrooms, sleep 6 max (with two in the living room). But I would suggest it better for 4 guests. Right in the middle of Morgex, in the heart of the Valdigne. Great for all seasons. In the summer, tons of paths for trekking and mountain biking (or e-biking). White water rafting, all at its footsteps. Year round for the
terme
, you have the QC Terme de Pré Saint Didier at 3 minutes by car (or 1 1/2 hour walk through sentiero 8). Winter is great for skiing in Courmayeur (10′), La Thuile (20′) and Pila/Aosta (30′). Cross country in Arpy (10′) or Val Ferret (20′), plus other options through all the valleys down into Aosta.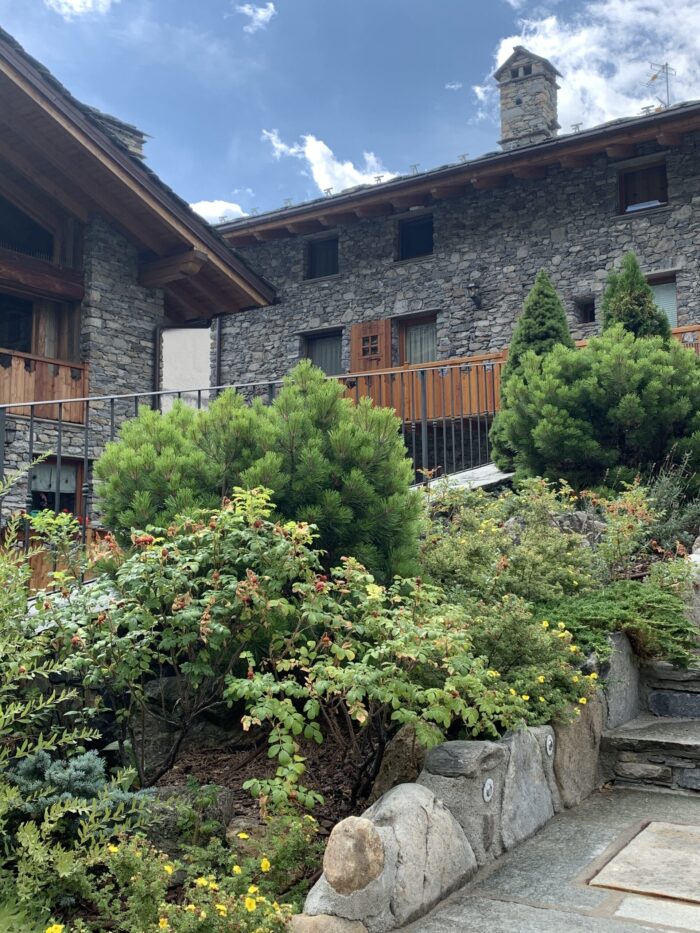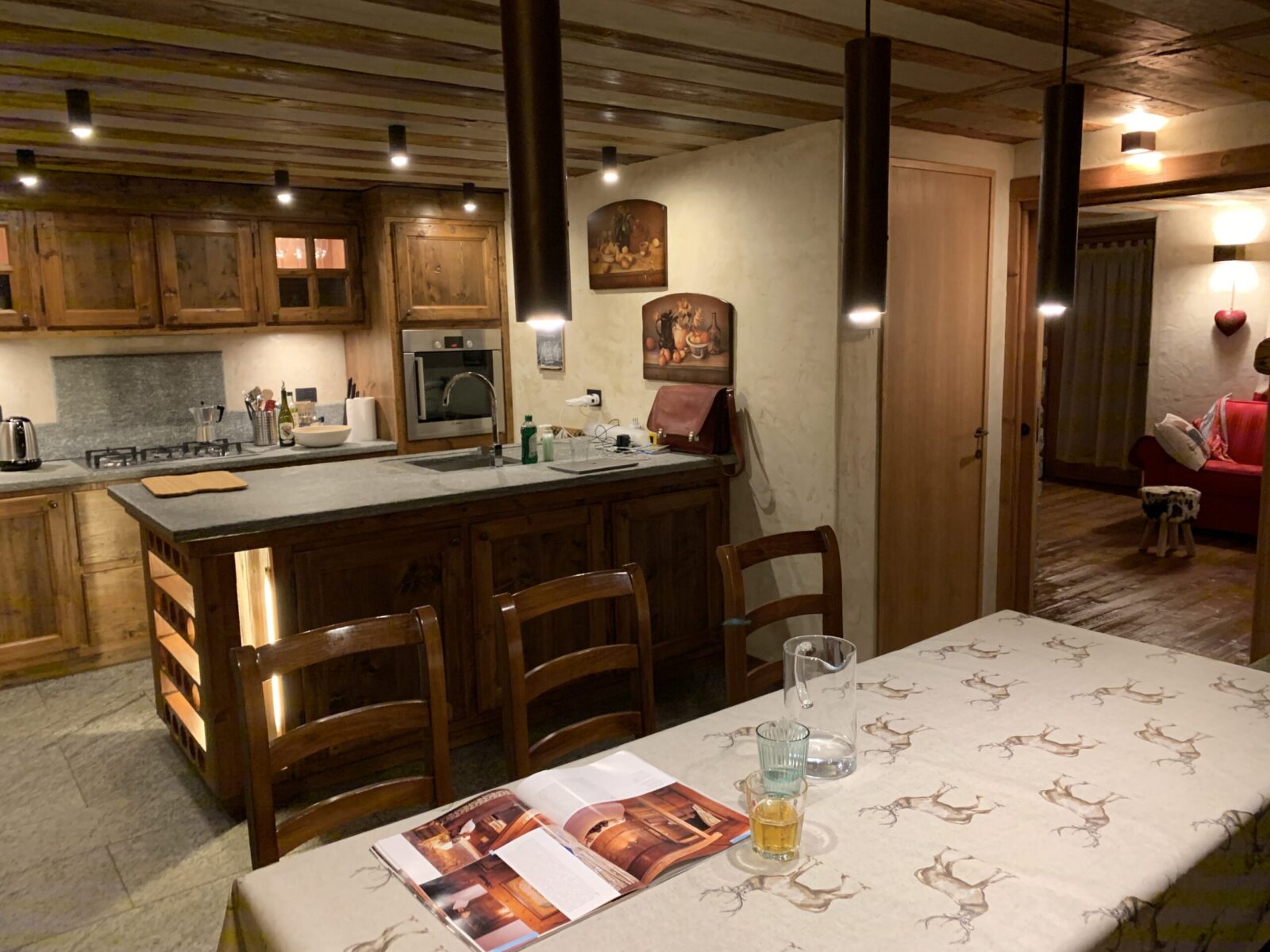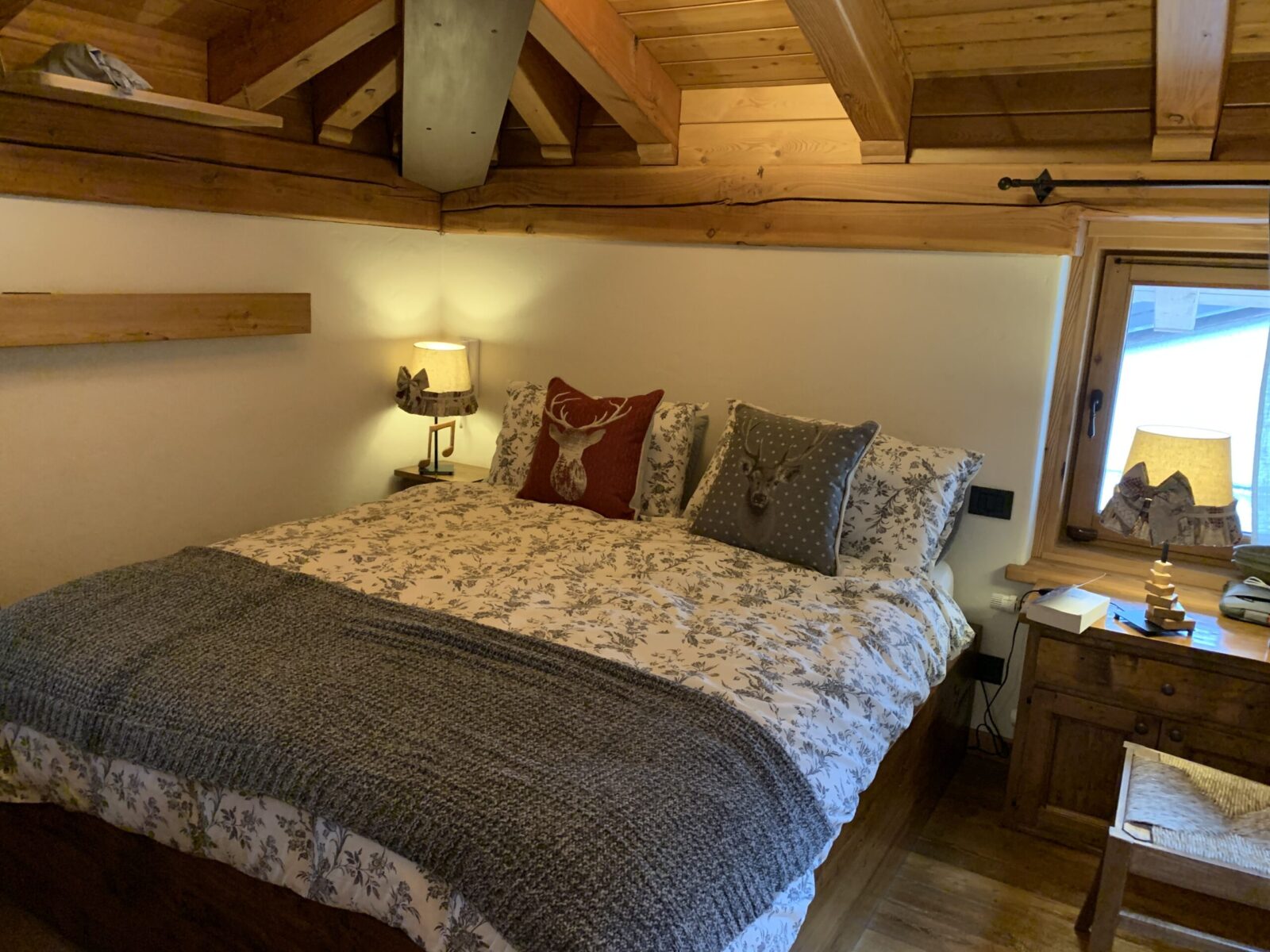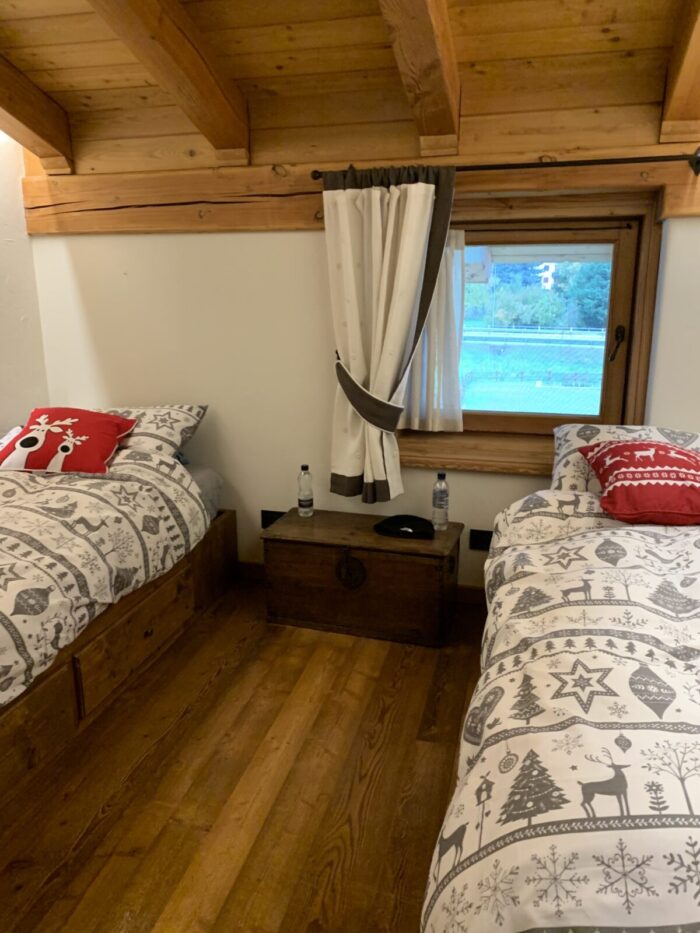 Other Places Where to Stay in the Morgex Valley
Located at the end of town in Morgex, towards the Famila supermarket. This is a lovely hostelry in wood and stone. Rooms are very spacious and decorated in warm tones. They offer breakfast plus a sauna with a sun terrace. Across the street you get a lovely place for aperitivo, ice-cream and coffee with biscuits. It is the Gelateria Pilier Central – Pasticceria.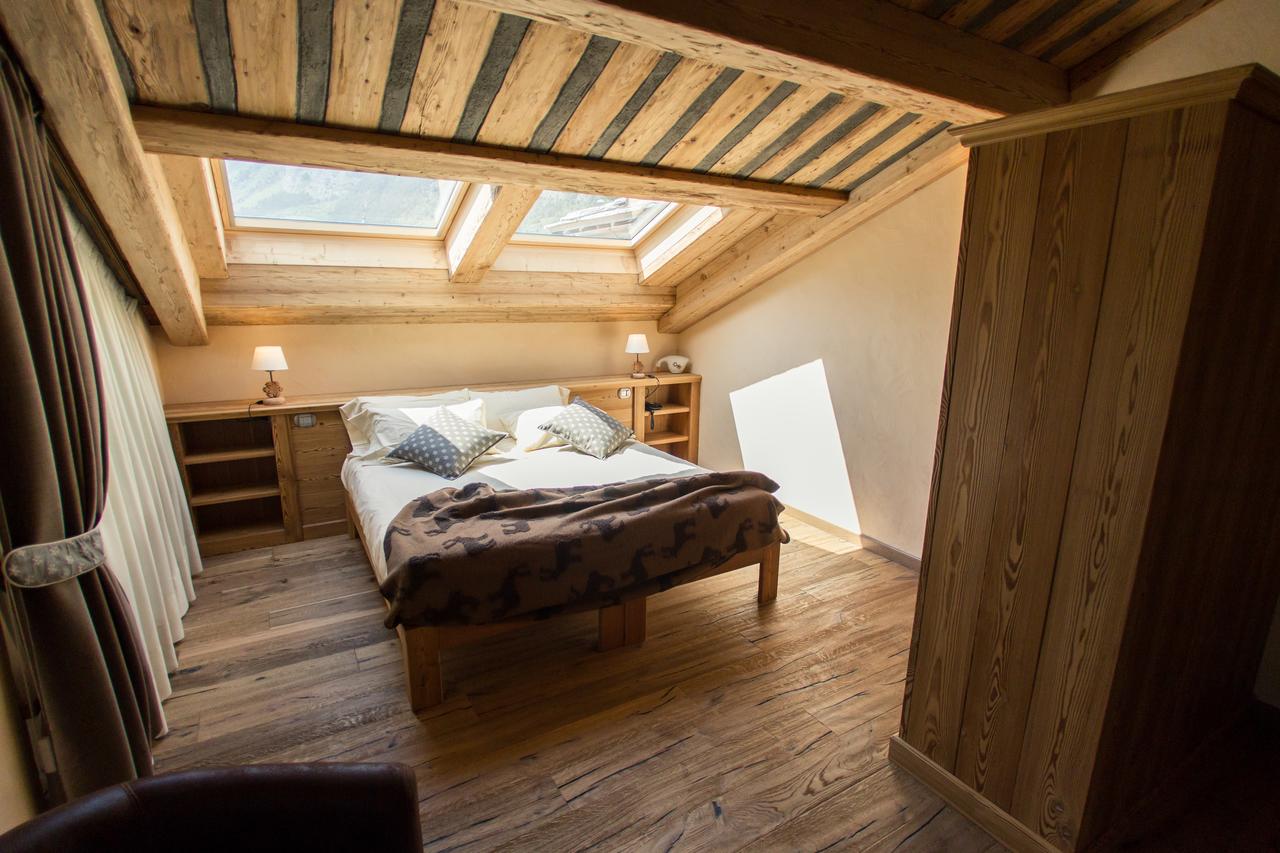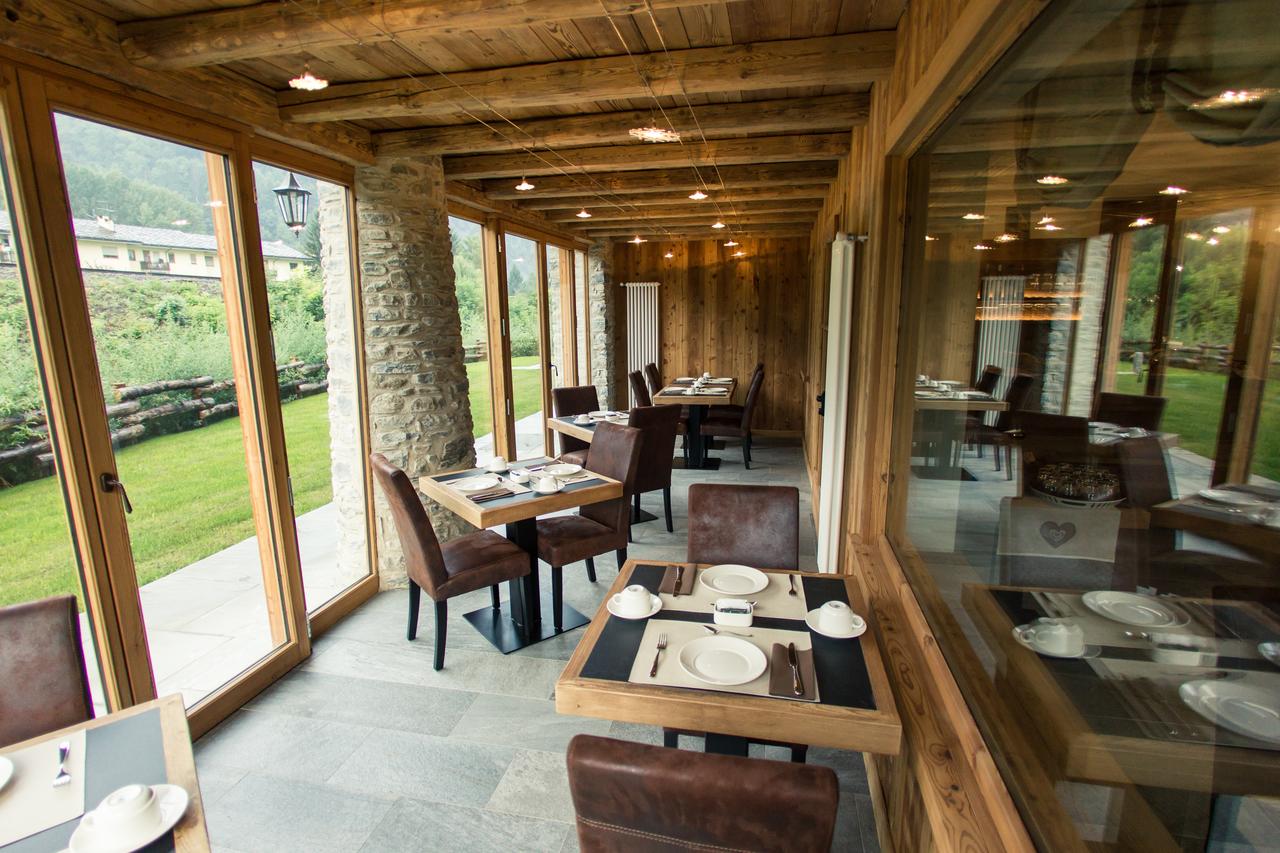 4 minutes down the road from Morgex you get this Small Luxury Hotels of the World in the small town of La Salle. Located on the sunny slope of the village, with uninterrupted views of the Monte Bianco. Some rooms have panoramic mountain views. There is a spa (for an extra fee). You should try the panoramic view Jacuzzi. The restaurant offers Italian specialties. During winter you can only book the hotel for weekly or longer stays.
Start planning your next trip!
You can search for your own accommodation in the snow for your next ski holiday through our Accommodation Search tab. Or if looking to stay in the heart of the Mont Blanc Valley in the Aosta Valley, check Il Coure della Valdigne review here. This is our own family home in the mountains, that I am renting out when not using, you can always write me a private message if interested to info@the-ski-guru.com
You can book directly through Airbnb  through this link
If you want to take your family skiing and you don't know where to start, read here. And search for your ski transfers from all airports to the Mountains here. And for those that are like me, that are lazy to cook, you can get your food, even gourmet mountain food delivered to your home with Huski.
If renting equipment (skis or snowboards)  check our agreement with Skiset– you can get up to 50% off ski or snowboard rental rates. I have been using them for years every year when I go to America  and Europe and they are great!
Something more to read in this blog
Featured Image: We finally arrived at Lago d'Arpy. Photo: The-Ski-Guru. Family trek to Lago d' Arpy, Morgex, AO.
Please follow and like us: