To extend or not to extend… that is the question:
By Chino Martinez Ski Pro at Aspen Mt Ski School
To extend or not to extend… that is the question:
Up and down, down under, cross over,
retraction turn, bend you knees… etc etc etc.
what happened with this "old skool words"?
How come we could ski like this for years and years, but now we don't do it anymore…
I know most of you are going to answer like a ski instructor or a coach:
-"the equipment has changed"!
-I understand that but the mountains and the snow DON'T. They didn't change.
-So how come we don't talk any more about extension, and flexion?
Has it become too complicated and confusing to teach our clients, student, and racers?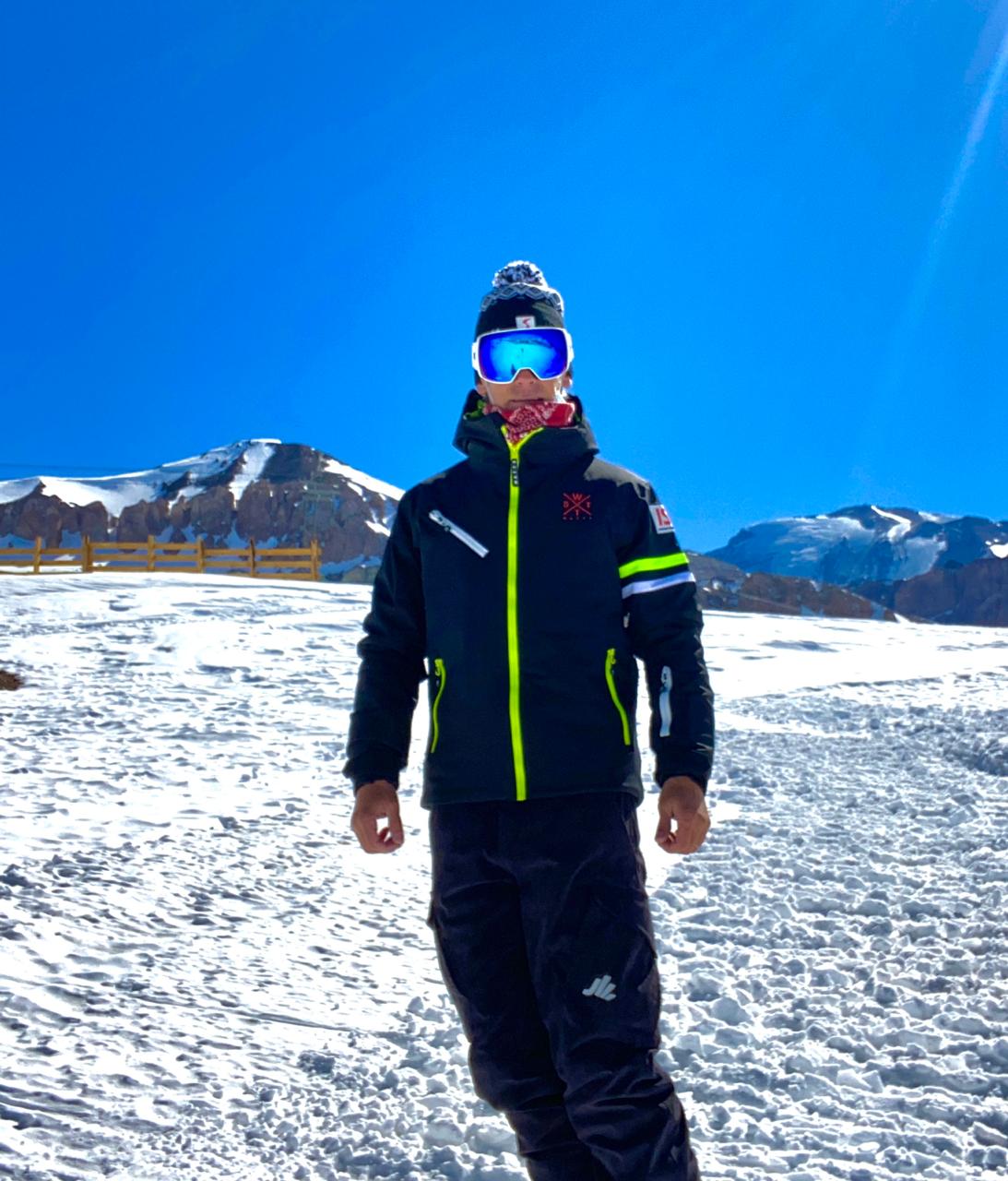 This is simple physics: the mountains (as we skiing down) is falling down, dough!
So if you want to stay in touch with the snow you have to extend and flex? Otherwise you……..?- jump, yes!.
Ski-snow contact is coming from your extension and flexion: period.
As you start a new turn your legs are getting longer and as you finished the turn your legs are getting shorter!, How can we call this anything but flexion and extension?
Long legs at the turn initiation (pic. A) – To extend or not to extend… that is the question:
Short legs at the end of the turn (pic. B) – To extend or not to extend… that is the question: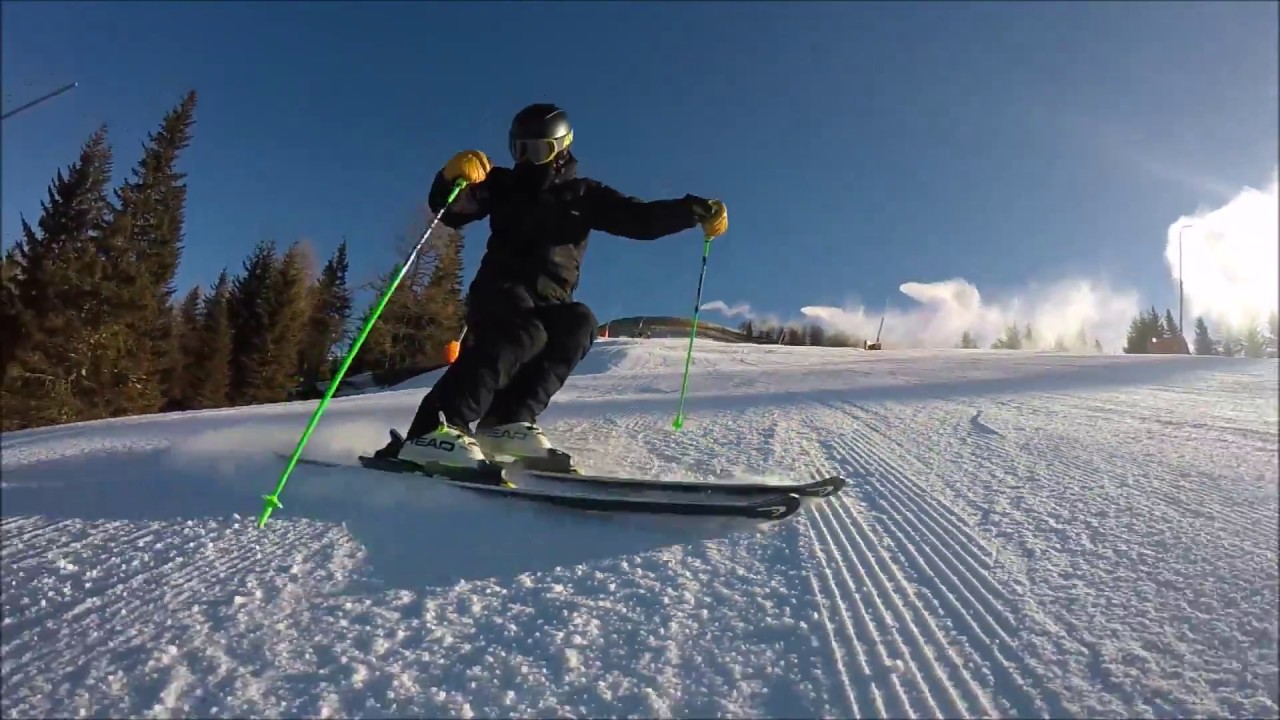 -Yes, I know the extension is not more UP (see pic A), ok, but is somewhere… If he didn´t do something, he couldn´t keep his skis on their edges and in the snow!
Flexion begins as the terrain forces on the skis come back towards your body.
If you did not absorb with flexion you´d start flying in the air! (see pic B).
-Are we on the same page yet?…
So then we have what I call "Different planet", not Disciplines:
Let me explain this:
– In new skoolers we call it: Racing, and into the racing we have SL; GS, SG and DH;
-then Free riders, then Big Mountain skiers, Slope stylers, and not many but good:
Bumps skiers.  Also what ski instructors call them: "Technical skiers": those are not more than phenomenal groomers skiers with lots of technical knowledge and incredible athleticism, ex racers.
This category discover that the only way to make money in this industry and afford to leave in Aspen is teach skiing at a high level clientele, for the Aspen Ski School.
Anyways each of these categories are different planet: why?
-Because of speed management, different ideas of taking air, different interpretation of how to get from point A to point B.
These different interpretations lead to different techniques like a SL racer has totally different goals when it comes to turn initiation than bump skiers.
SL RACER – To extend or not to extend… that is the question: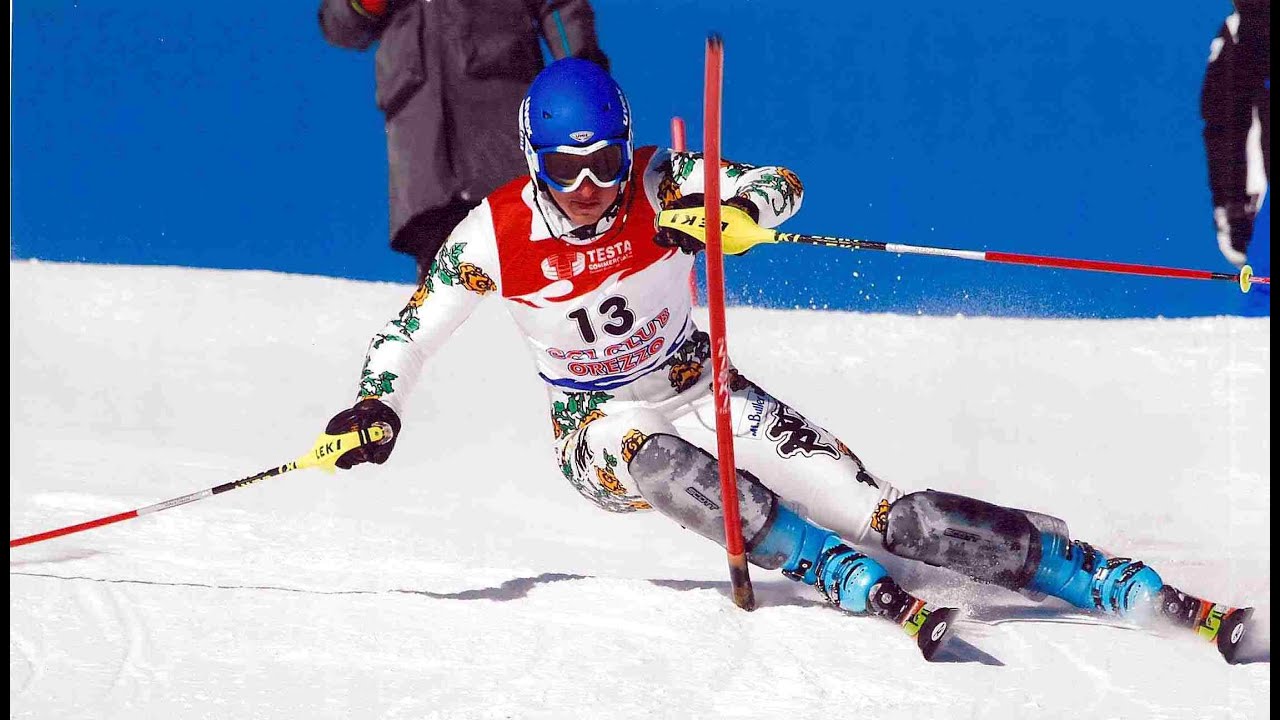 BUMP SKIER – To extend or not to extend… that is the question:
So let´s go back to the beginning on how we could teach our clients/skiers how to do this?
Let´s divided into concepts:
Ski snow contact: if your intention is to control you speed and or ski with grace and good balance I recommended to keep your skis on the snow, "most of the time" then flexion and extension play a big roll, YES! You must extend and, YES! You must flex, how much, how smooth it varies as the terrain develops in any different snow conditions.
Extension down the mountain: if you think that you have skis under (attached) your boots, so your skis are a platform where you flex and extend from, right? So when your skis are in an angle you have this angle to extend from, for example at the beginning of the turn skis mostly are facing down the mountain, so if you extend there only would be one direction.
Because (at the end of the turn) the uphill or swing leg is flexed in relation to the support or stance leg, we have an opportunity to extend away from the inertia of center of gravity–which is being pulled down the hill and down towards the center of the earth. It is important to understand that this is a lateral extension that moves our hips and core towards the center of the next turn, without up motion.
Matching angles skis vs legs – To extend or not to extend… that is the question:              
Extension down the mountain – To extend or not to extend… that is the question:
Early on the outside ski: this won´t be an easy one… here we go:
On an article in the New York Times, they describe as: "No skier in the world carves turns the way Ted Ligety does. The American has practically invented a new way of skiing".
And this is coming from an early engage of the uphill ski, or the outside ski in the turn.(this concept by itself can take hours and hours of ski instructors/coaches discussions)
Now if you do that, you better be ready for the next turn baby! You probably would come out if this turn SO fast, that if you didn´t work out as much as Ted, good luck!
-So is it possible to do this in slow motion, or at a slower speed?
-YES, let´s check what John Clendenin (2-times world champ and phenomenal bumps skier still today!) is saying about starting the turn with you weight on the uphill ski:- Released first the downhill ski to start the turn put you on the uphill, so he wants you to be on your little toe side on you uphill ski, NOT on your big toe! Wow this is very technical but yes try this…. And you probably will have the same result as Ted on the GS courses but at a slower speed, who wants to ski faster than Ligety? May be Bode Miller does.
Ligety starting tipping way early in the turn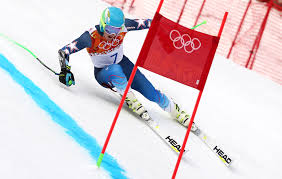 John Clendenin Method on moguls
So last but not least, should we talk about the "TRANSITION"?
Well this should be a full chapter, may be a new book?
This is not an easy one, do you notice that not many ski gurus talk about transition, or how to do it?
Well is not easy, how to release, when, how much, how fast, intensity, which ski first, simultaneously, both? who knows?.
Reilly McGlashan at the transition of the turn
Johnathan Ballou smooth transition-PSIA-Demonstrator and Examiner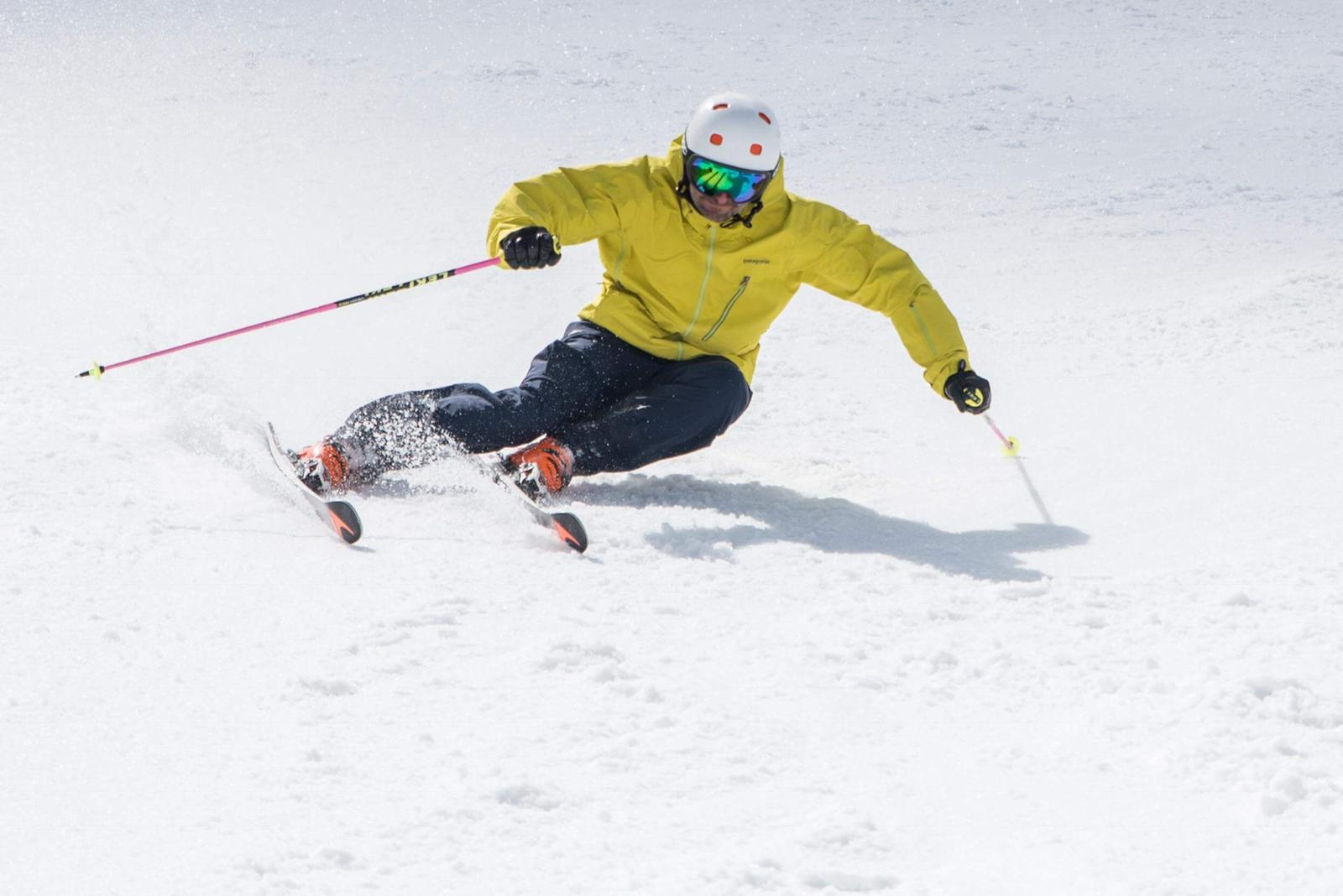 The question is how this skier is going to go from these amazing angles thru the transition, to the entry of the new turn?
That is the question…
To be continued…
Aspen, April 2019
Chino Martinez
Ski pro
To book with Chino Martinez your next ski lesson or trip, contact him at www.whitetrips.com
Start planning your next trip!
You can search for your own accommodation in the snow for your next ski holiday through our Accommodation Search tab. Or if looking to stay in the heart of the Mont Blanc Valley in the Aosta Valley, check Il Coure della Valdigne review here. This is our own family home in the mountains, that I am renting out when not using, you can always write me a private message if interested to info@the-ski-guru.com
You can book directly through Airbnb  through this link
If you want to take your family skiing and you don't know where to start, read here. And search for your ski transfers from all airports to the Mountains here. And for those that are like me, that are lazy to cook, you can get your food, even gourmet mountain food delivered to your home with Huski.
If renting equipment (skis or snowboards)  check our agreement with Skiset– you can get up to 50% off ski or snowboard rental rates. I have been using them for years every year when I go to America  and Europe and they are great!
Coming soon, a new line of furnishings for your mountain home, or for your home outside the mountains, just to have a bit of the mountains in it. These are hand-paintings done by me, applied to cushion covers, coasters and mugs.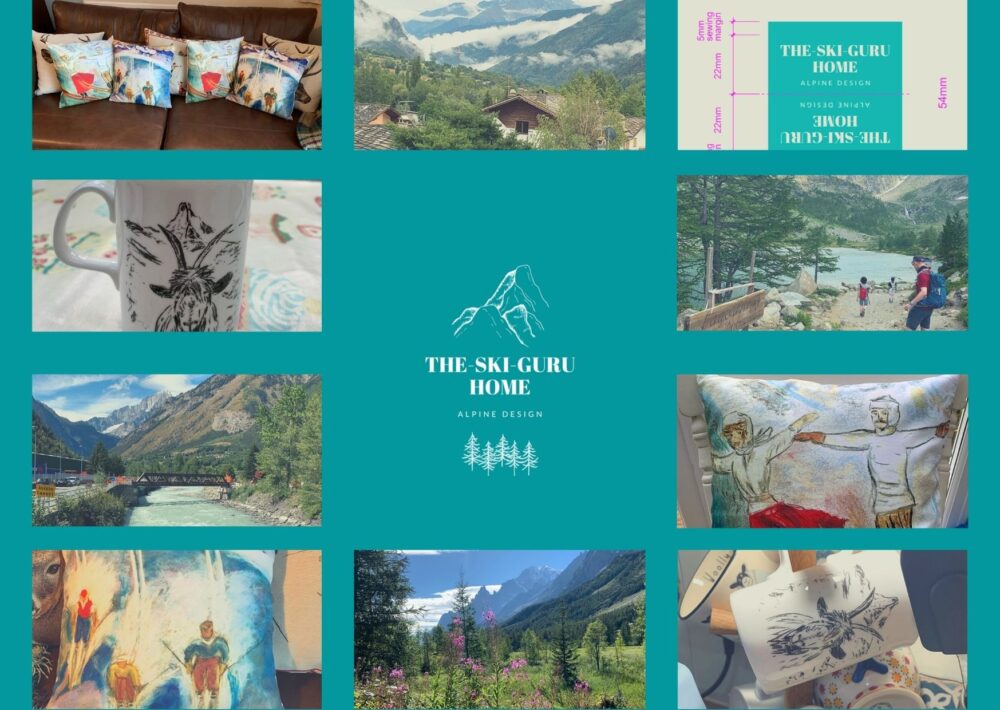 Something more to read in this blog
Please follow and like us: