The Drive to Our Summer Holiday on Covid-19 Times
The drive to our summer holiday on Covid-19 times. Finally the day has come, we put the alarm at 2.30 AM and started to get ready the car refrigerator to get going. Prepared the flasks, went to wake up the boys, like three times, and finally, we were all ready to go.
This article may contain affiliate/compensated links. For full information, please see our disclaimer here.
My husband did the packing of the car, and as usual, we were full. And still full after I took things from the bags three times during the preceding week!
Anyways, we finished all in the car with the dog and off we went towards Folkestone.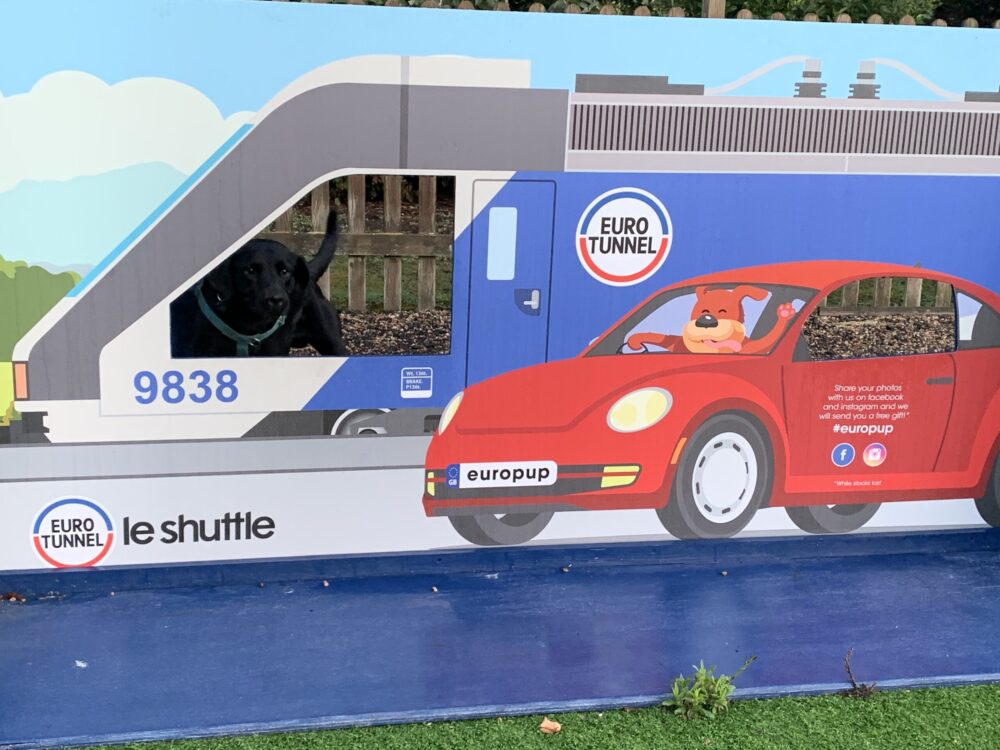 Getting on the Eurotunnel. The Drive to Our Summer Holiday on Covid-19 Times
The terminal of Eurotunnel was open, which I was not expecting. The food stalls, as Starbucks and Leon, were publishing that they were taking food to your cars. We did not need that, as we had lots of food in the car.
We did go to the bathroom there, all with masks, in and out, and then clean well our hands…. I was trying to avoid this, but at least it was early on and we did not meet many people on the way.
We got in our car and we loaded on the Eurotunnel. The loudspeakers said that you could not get down your car during the crossing, so it was quieter than usual. This was great to have a little cat nap and have time to change the miles/h to km/h and adjust the clock one hour forward.
On French soil. The Drive to Our Summer Holiday on Covid-19 Times
When we arrived in Calais, it was smooth and easy to get out of the train. We went straight to the A16 and A26 in our road to Chaumont.
We had a good drive, stopped at an open 'aire' for a bit. Tried the bathroom and it was awful! That was our last going to the bathroom. Or I find some trees, or use my little Travel Janes that were on my gloves compartment.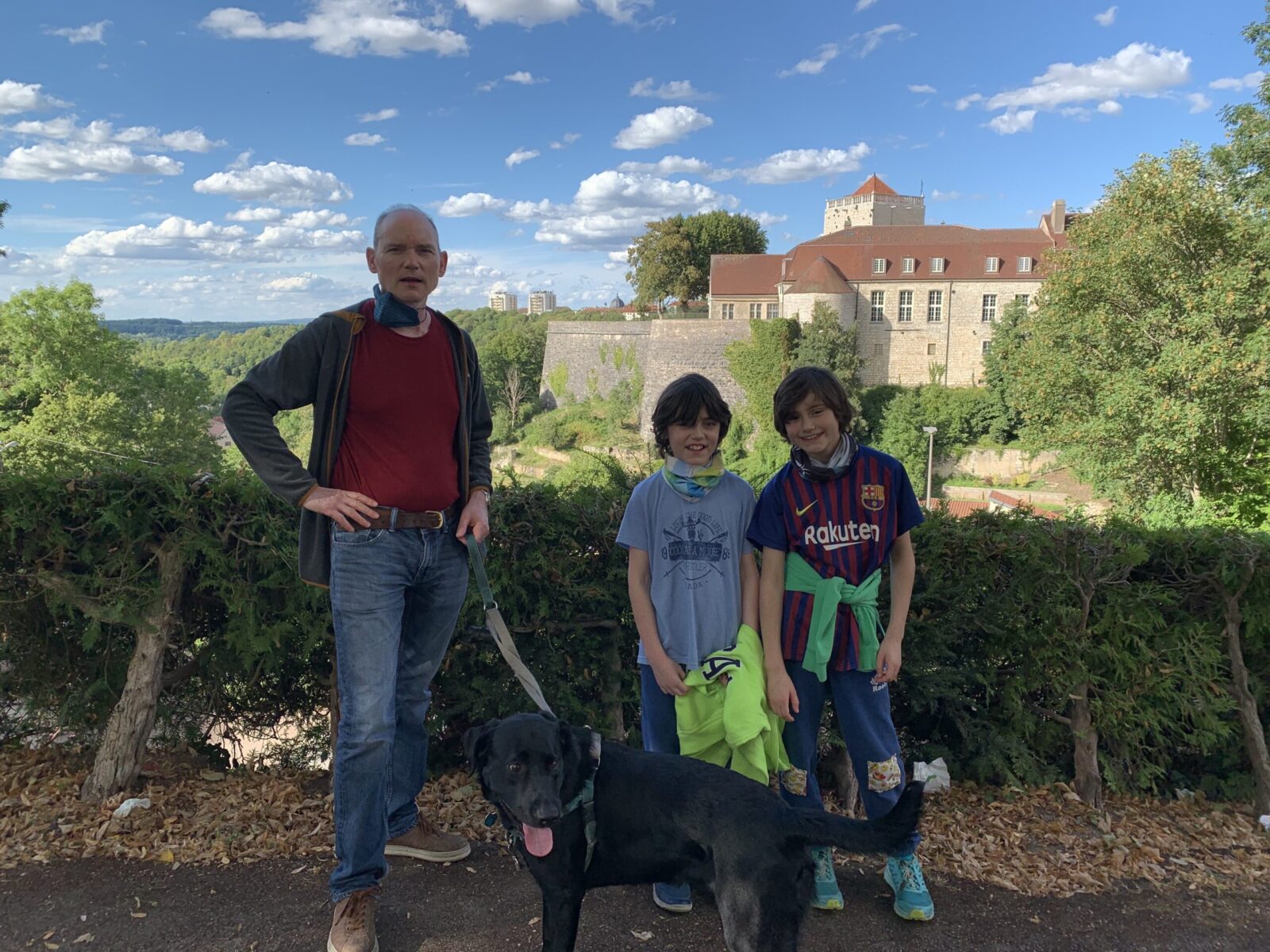 Our pit stop in Chaumont. The Drive to Our Summer Holiday on Covid-19 Times
We arrived around 1 PM at Chaumont at the Ibis Styles Hotel Centre Gare. It was weird to see Chrystelle, who manages the hotel with a mask, as we were. We went upstairs and had a nap. Then we went off for a walk with the dog, all the way a road down from the park across from the library. It was a windy road that we've continued until we finished in a field full of fruit trees. There were a couple of people picking up fruit to take home. One of them told us of a small passage to go back to the centre of Chaumont. It was lovely as it was a path for walking with no cars. It was shorter going this way and it finished behind the local police station.
We walked across town and we went to buy some sushi delivery from Bouddha Zen. It was my first real take away buy since the pandemic. I've thought it was very well organised. There were social media stickers for people waiting to stand outside. Alcohol dispensers to wash your hands were on the entrance and by the till. I ordered for the family and waited across by the park with our dog, until one of the girls from the shop came out to call me. We went back to the hotel, and then we had a lovely meal.
After showers we went all to bed and passed out. We were needing our sleep time. The beds at the Ibis Styles Chaumont Centre Gare are very comfortable. I woke up around 7ish, and tried to get all up and coming. I was not sure of getting breakfast at the hotel, only if we could eat al fresco. At the end, we took too long to get up and going, so it was past the time of breakfast. Chrystelle told me no problem to have it yet, but I had everyone (including the dog) in the car. So she told me to take some goodies and some coffees in take away cups for the way. That was lovely and kept us going.
Second day of driving, to the mountains. The Drive to Our Summer Holiday on Covid-19 Times
After filling up the tank, we took the D619 all the way to the A31 (direction Langres). This is a beautiful piece of road and you see the lovely countryside of France. This second date is my preferred drive, as it starts to be on more interesting terrain.
I did not want to use the bathrooms today, so we've found an 'open air' before arriving to Bourg-en-Bresse. It was lovely because there was a big forest behind the stop. We've had our picnic there. I have prepared milanesas (breaded chicken) and home-made bread at home. I have put them together in sandwiches for all!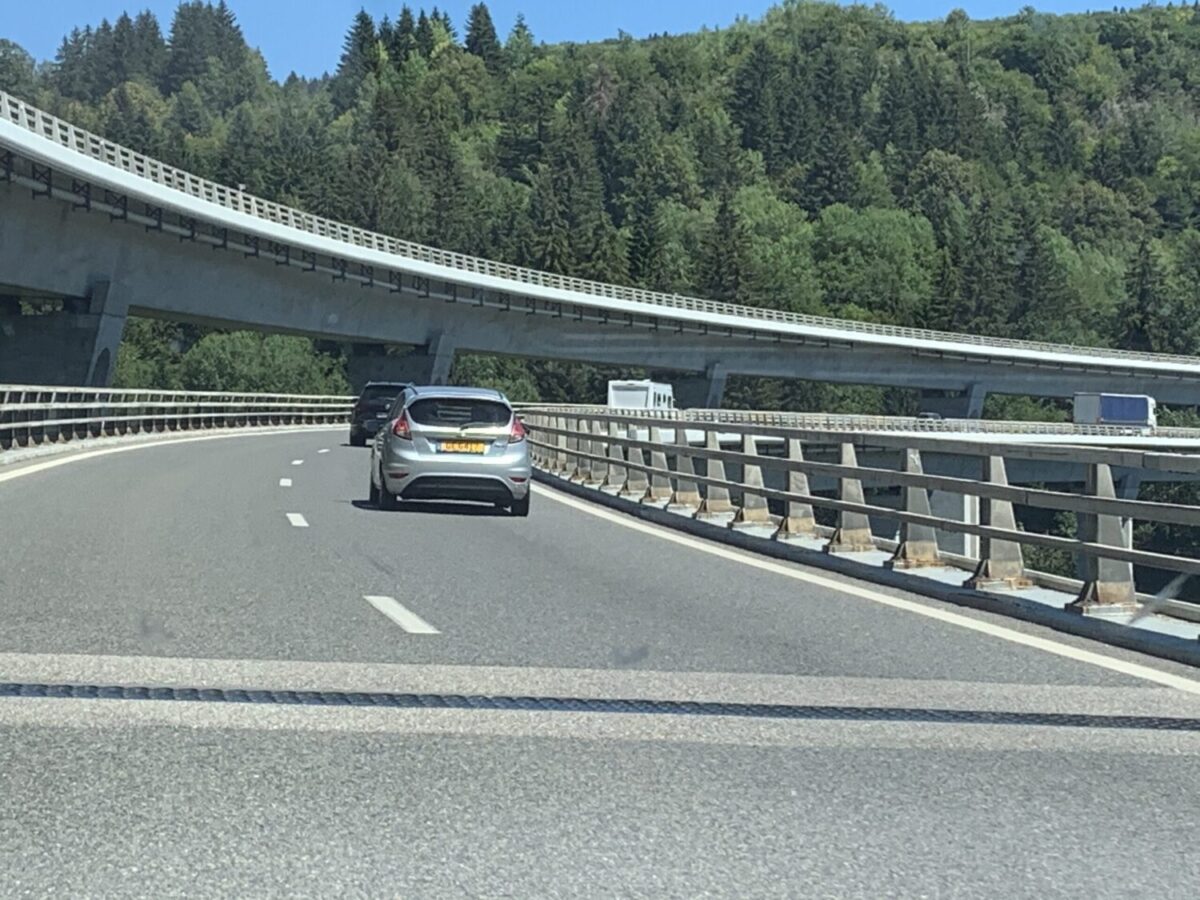 Lucky to get what? The Drive to Our Summer Holiday on Covid-19 Times
Then we went to the forest for a quick wee! It was perfect. The not-so-perfect moment was, that after a while, my youngest complained of pain in his neck back in the car. Thanks to be middle aged, now my sight is crap so I could not see what was going on. I've told him not to do anything until we reach Morgex.
When we've arrived, in the sun with glasses, I've looked at my youngest's neck and seen a tick- A TICK! I knew about them from stories when I was young on a friend got stung when young in Canada and got Lyme disease. Also, I read on three of the Swiss newsletters I receive, that it was high season for ticks in Switzerland.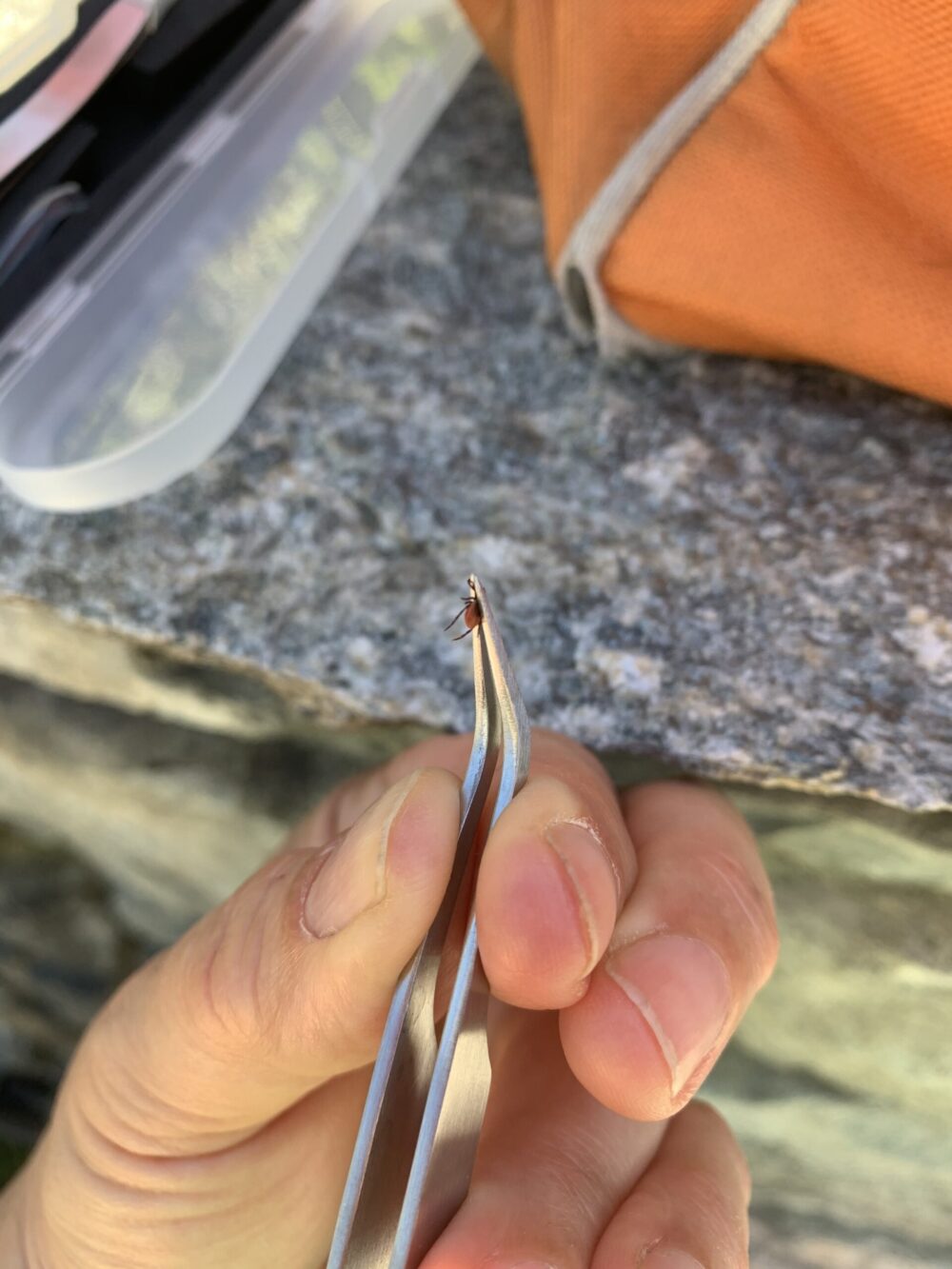 Looking on Google a bit, I've found that there were some cases in Aosta. But as Valais (the other side of the mountains here), have many cases, I thought here there could be too.
So it was a tick! The Drive to Our Summer Holiday on Covid-19 Times
I've never thought of France to be honest. And I got a kit of some thin tweezers to take the ticks from their stingers. I've told my husband and he was telling me that I was acting hysterical -which I was… but
thankfully
I was ready for it! I got out my tweezers, put my kid on a place with lots of light and pull the bugger off. Then I took couple of pictures of it and let it on a rock to bake off!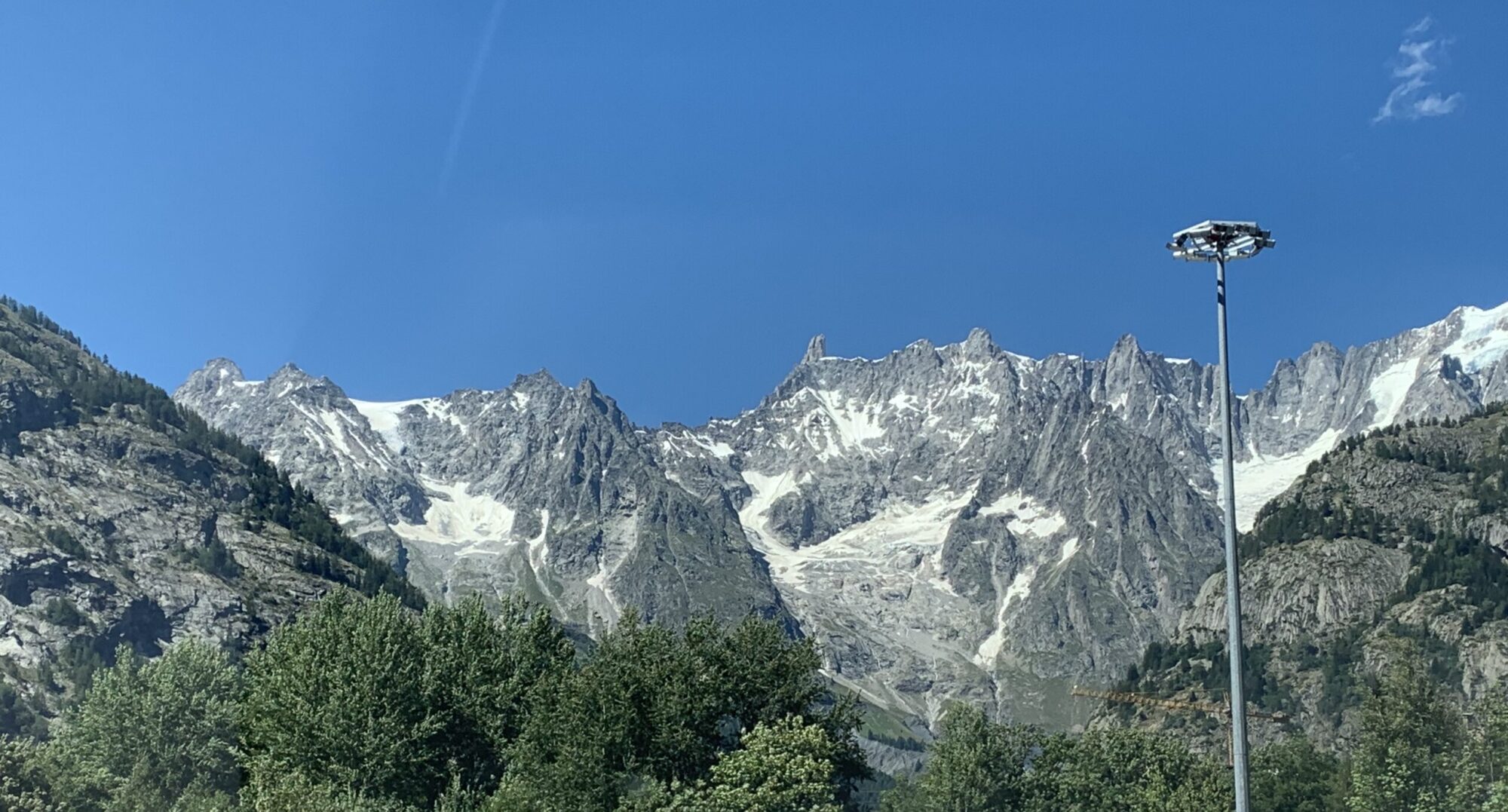 As I am no expert, I wanted to check with the doctor. I went with my youngest to the Ambulatorio here in Morgex, but went passed the time they open, so went on to the pharmacy. There the pharmacist looked at my kid's neck, and told me that it seemed I took it well. He saw also the pictures. He told me that all looked well but to check how it evolved. If the sting got redder and swollen, go back and they would give him antibiotics. He thought that was not the case, but at least, I had a professional view.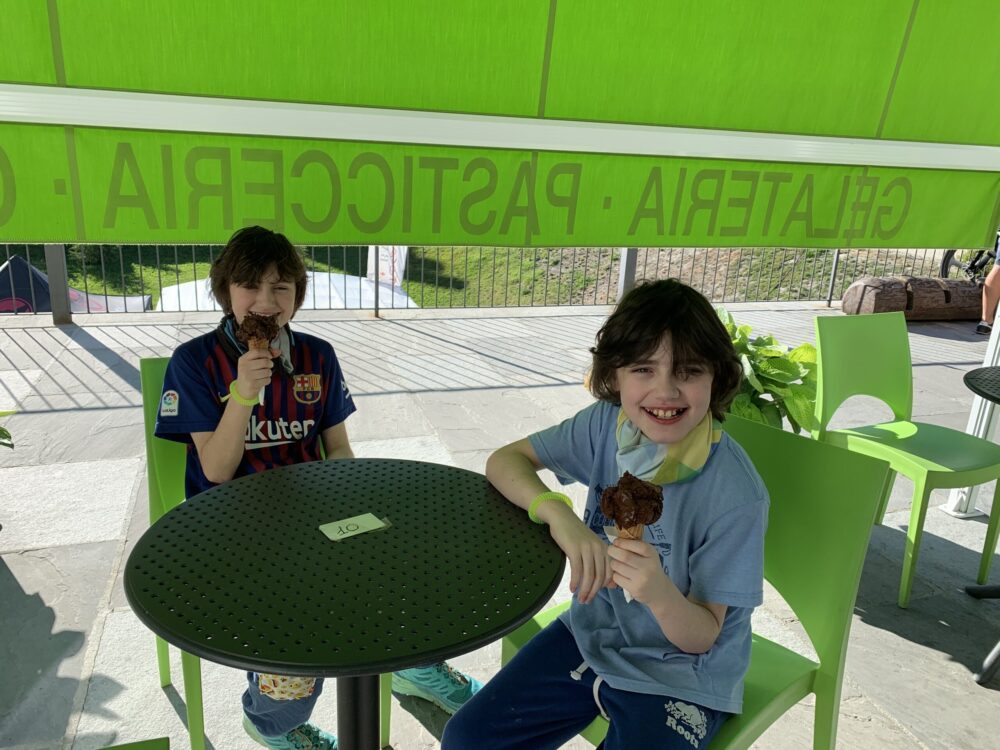 So after this start of trip, we went on for a well-deserved gelato! And it was worth it! We were back in the mountains!
Start planning your next trip!
You can search for your own accommodation in the snow for your next ski holiday through our Accommodation Search tab. Or if looking to stay in the heart of the Mont Blanc Valley in the Aosta Valley, check Il Coure della Valdigne review here. This is our own family home in the mountains, that I am renting out when not using, you can always write me a private message if interested to info@the-ski-guru.com
Lately I have not put space in Airbnb, so ask me directly if interested.
You can book directly through Airbnb  through this link
If you want to take your family skiing and you don't know where to start, read here. And search for your ski transfers from all airports to the Mountains here. And for those that are like me, that are lazy to cook, you can get your food, even gourmet mountain food delivered to your home with Huski.
If renting equipment (skis or snowboards)  check our agreement with Skiset– you can get up to 50% off ski or snowboard rental rates. I have been using them for years every year when I go to America  and Europe and they are great!
Something more to read in this blog
Please follow and like us: