The plans for reopening the mountain huts (rifugios) during summer in the Italian Alps in times of COVID19.
This article may contain affiliate/compensated links. For full information, please see our disclaimer here.
There are plans to start relaxing the lockdown in Italy, starting gradually on different weeks starting on May 4th. Some people are starting to think on how they will vacation on the mountains and the beach. Beach private clubs are thinking on how installing the different tents with social distancing.
In the mountains, I've read that at first, they were thinking on not opening the rifugios, but today I've read on the Corriere della Sera that the Club Alpino Italiano is planning on how to open during COVID19 times.
Summer in the Italian Mountains
The Club Alpino Italiano has 326 facilities in all the country. They are planning in putting Covid kits with oximeters and ozonators to purify the air.
The ozonators are very quick and easy to use and is a product that does not leave odours such as chlorine or alcohol. These are now in phase of production now.
The CAI is thinking of getting everyone to bring their own sleeping bags and light tents, and for big rifugios to allow people to eat in different times, and clean thoroughly between seatings, and clean sanitaries often. They are talking also of providing baskets with dinners to the different tents, so as to avoid people being in cramming conditions indoors.  Shelters with two or four rooms for families could be used for a family group.
The "Covid Kit" will comprise a non-touch thermometer to measure the fever of those clients who are not well and also the oximeter that will measure the concentration of oxygen in the blood. The most important thing would be the ozonator that will be a sort of portable sanitiser that will destroy all bacteria and virus after each use of the family rooms and the common areas such as dining room and corridors.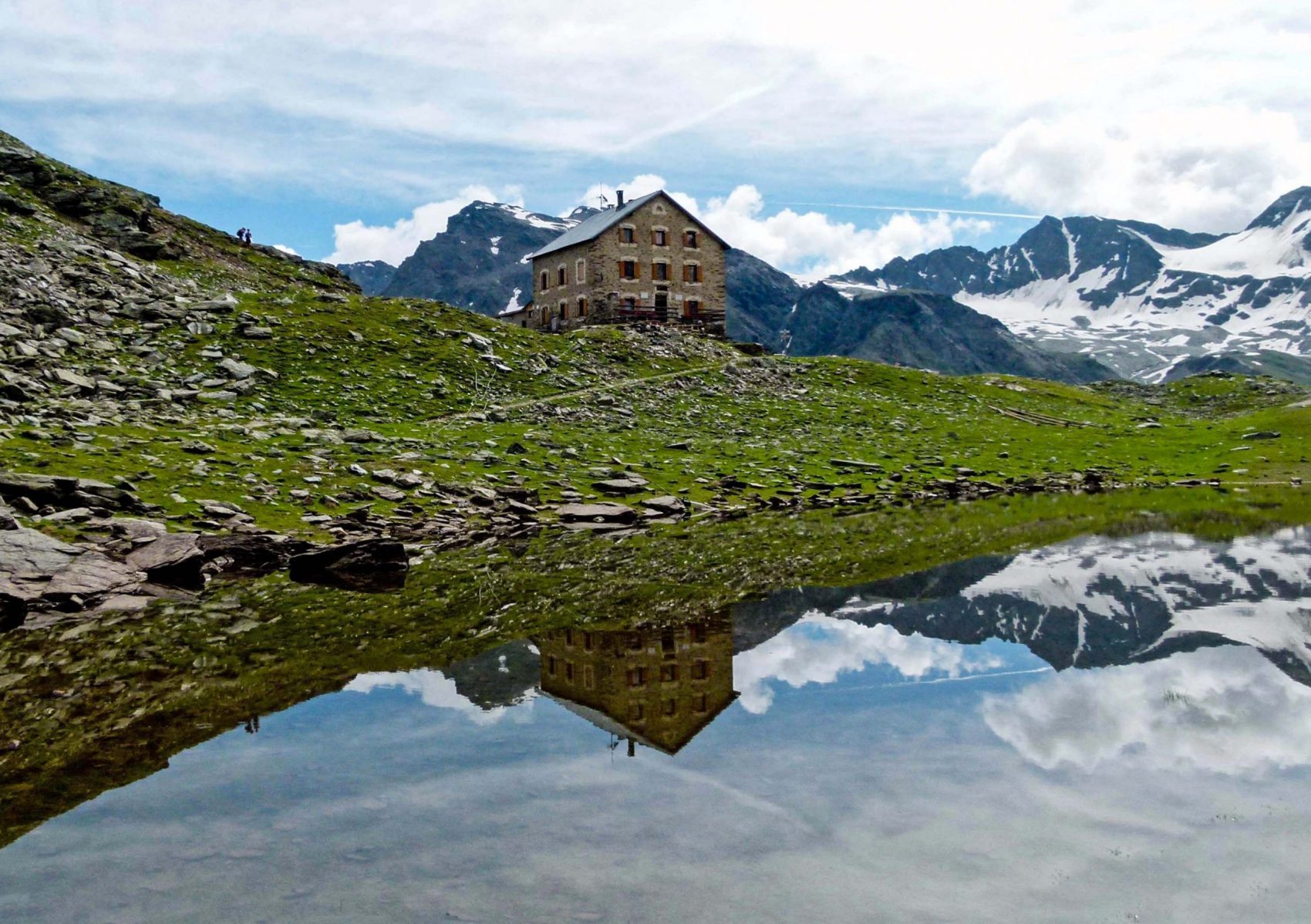 To facilitate the access, people will need to book their overnight stays, leave their backpacks and coats at the entrance and wash their hands and faces as soon as they arrive.
As Covid19 situation changes daily, these measures might change.
For having a base where to start your mountain adventures in Italy (if we are allowed to travel, or when we are allowed to travel), check our link to Booking. You would help me if you book through my special link, and I would really appreciate it! I get a small contribution for each thing booked or bought that I recommend, and I recommend things that I would buy myself only, or things that I have already bought and tried and tested!
Here you can read my experience of buying a home in the Italian Alps.
You can search for your own accommodation in the snow for your next ski holiday through our Accommodation Search tab. Or if looking to stay in the heart of the Mont Blanc Valley in the Aosta Valley, check Il Coure della Valdigne review here. This is our own family home in the mountains, that I am renting out when not using, you can always write me a private message if interested to info@the-ski-guru.com
You can book directly through Airbnb  through this link
If you want to take your family skiing and you don't know where to start, read here. And search for your ski transfers from all airports to the Mountains here. And for those that are like me, that are lazy to cook, you can get your food, even gourmet mountain food delivered to your home with Huski.
If renting equipment (skis or snowboards)  check our agreement with Skiset– you can get up to 50% off ski or snowboard rental rates. I have been using them for years every year when I go to America  and Europe and they are great!
You can start thinking about your trip, by reading the articles on the Planning your Ski Trip tab.  Or how to pack for your family ski trip.  If taking your furry friend abroad to the continent, read about the new Pet Travel Scheme update from DEFRA. Self-drive skiers also need to plan for Brexit. Check out our tips for driving to the mountains.  If flying and renting a car in Europe, beware of the extra charges they will pass to you if you want winter tyres, snow chains or ski racks. If driving, check the winter tyres news for Europe and North America. You can see how our last family ski holiday was not as expected, even though one plans it to be a success, but how we could do the most of it. If you want to get better before getting to your next ski holiday, here is a quick guide to indoor skiing and dry slopes in the UK. You can also read our week in the mountains during our summer holidays in Courmayeur.
Featured Image: Club Alpino Italiano- Photo by giorgio Rodano – Rifugio Bonatti with views to the Monte Bianco. The plans for reopening the mountain huts (rifugios) during summer in the Italian Alps in times of COVID19.
Please follow and like us: