Alpe Cimbra, is still an unknown secret and a real gem in the Trentino Dolomites.
People travelling to the Trentino Dolomites tend to go to Madonna di Campiglio or Val di Fassa, which are both great destinations – Madonna di Campiglio also share its slopes with Pinzolo, and Folgarida and Marilleva in Val di Sole.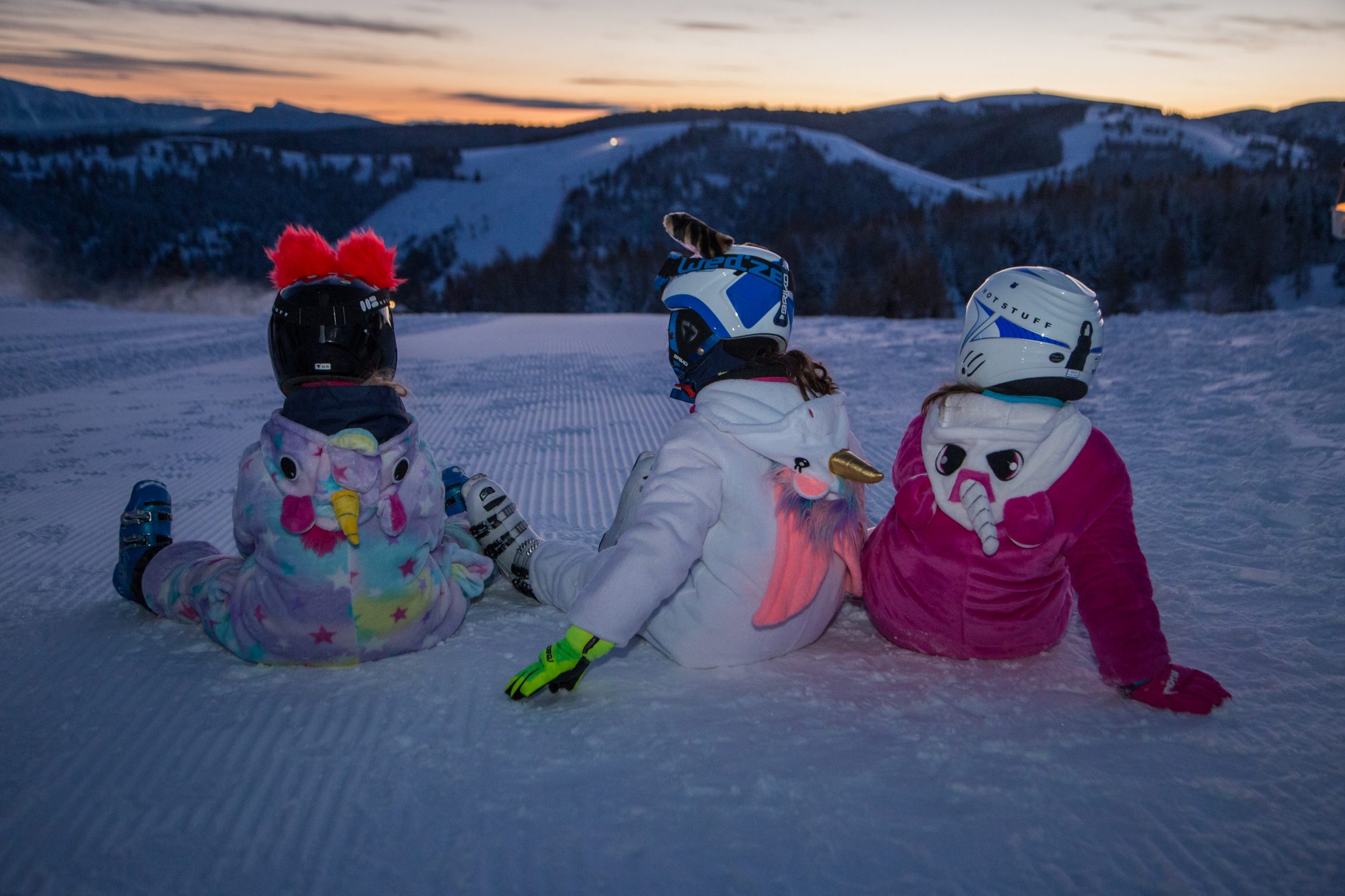 Then Val di Fassa is connected to the Sella Ronda – a massive ski carousel of 1,200+ km of skiing around the Grupo della Sella massif. There are some little jewels such as San Martino di Castrozza, Andalo Paganella and Val di Fiemme (which we have produced a Must Read Guide). But Alpe Cimbra is not very renown in the UK and USA.
Alpe Cimbra is located in the Northern Italian Alps of Trentino. It is a different alternative to the better-known resorts of the Dolomites.
It is composed of the wide ski area Folgaria-Lavarone of 104 km of slopes and is ideal for skiers and snowboarders of all levels. Modern ski lifts, cutting-edge snowmaking system – guarantee to ski from December to April – and the quality of the slopes makes Alpe Cimbra very appealing.
The proximity to the main Northern airports such as Verona (1 hour), Venice (1 hour and 30 min away) and Orio al Serio-Bergamo (2 hours away) represents a significant additional value to the ski holiday allowing guests to ski down the Alpe Cimbra mountains in only 4.00 hours when departing from any London airports.
Alpe Cimbra offers many outdoor experiences to undertake like dog – sledding, fat – biking, snowshoeing, mountaineering, ice- climbing and horse – trekking. Not only outdoor, but also indoor activities such as discovering the local food and wine in stylish restaurants or romantic Alpine huts and chalets tucked away in the woods or on top of a mountain or visiting very detailed museums telling the history, culture and traditions of Alpe Cimbra.
Alpe Cimbra ski resort has been elected a preferred destination for families. This is due not only to the quality of the runs but also the comfortable and well-equipped baby park, ski schools, mini club and the themed ski runs. Contributing to the success of the area is the gentle and kind hospitality of tourist suppliers and the professionalism of the animation team.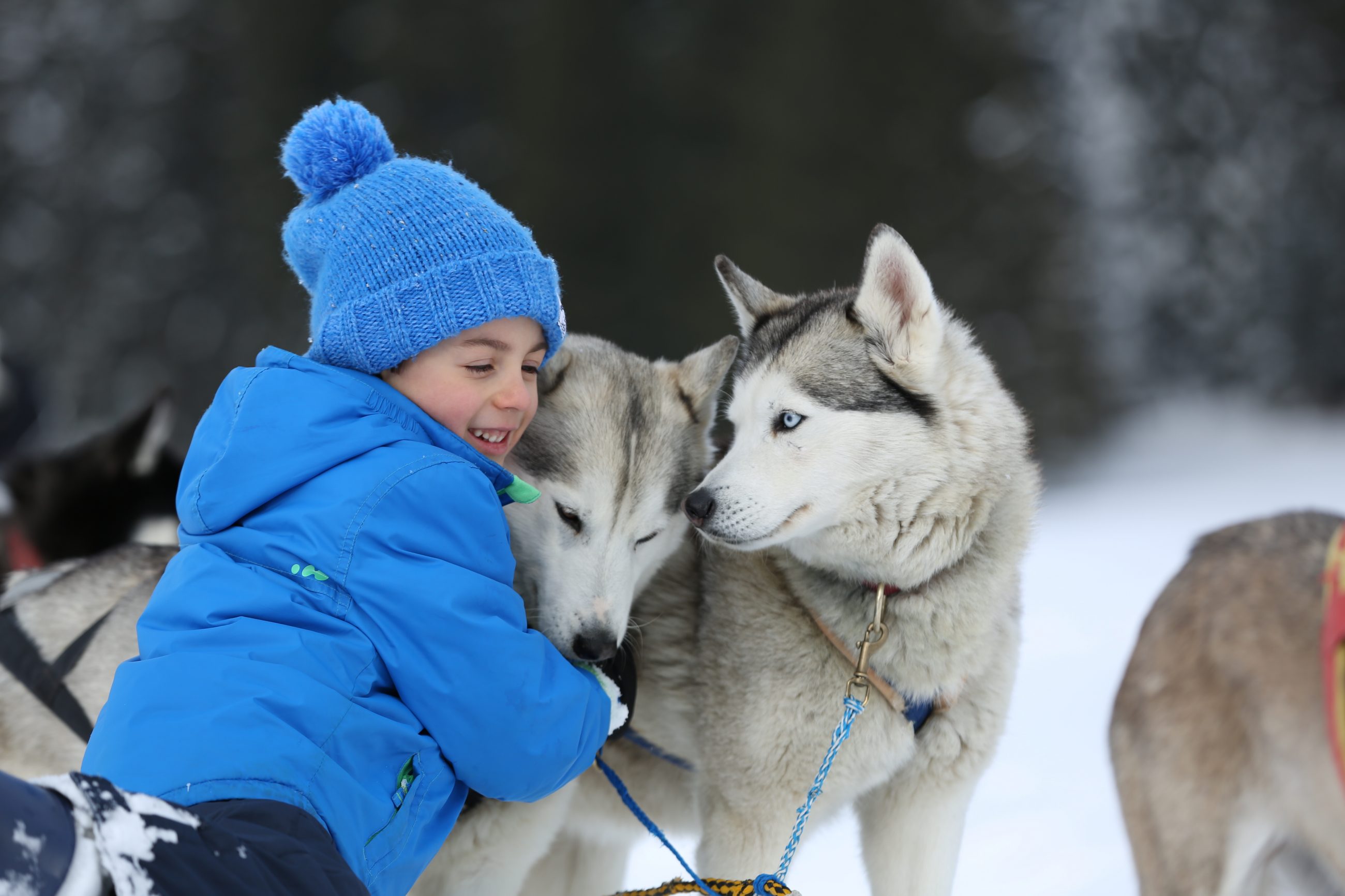 Alpe Cimbra have organized an alliance with some hotels, called the "Family Emotions Hotels and Residences "– these offer a real family-friendly hospitality, services and a holiday program.
Only by choosing to stay in these accommodation facilities you will benefit the Family Emotions daily program. This will make your holiday a wonderful experience for the whole family!
If you are staying in one of these accommodations, your children will entry in the Baby Park and Kinderheim of Costa, Fondo Grande and Fondo Piccolo FOR FREE.
Only in Alpe Cimbra your holiday will be #Emotion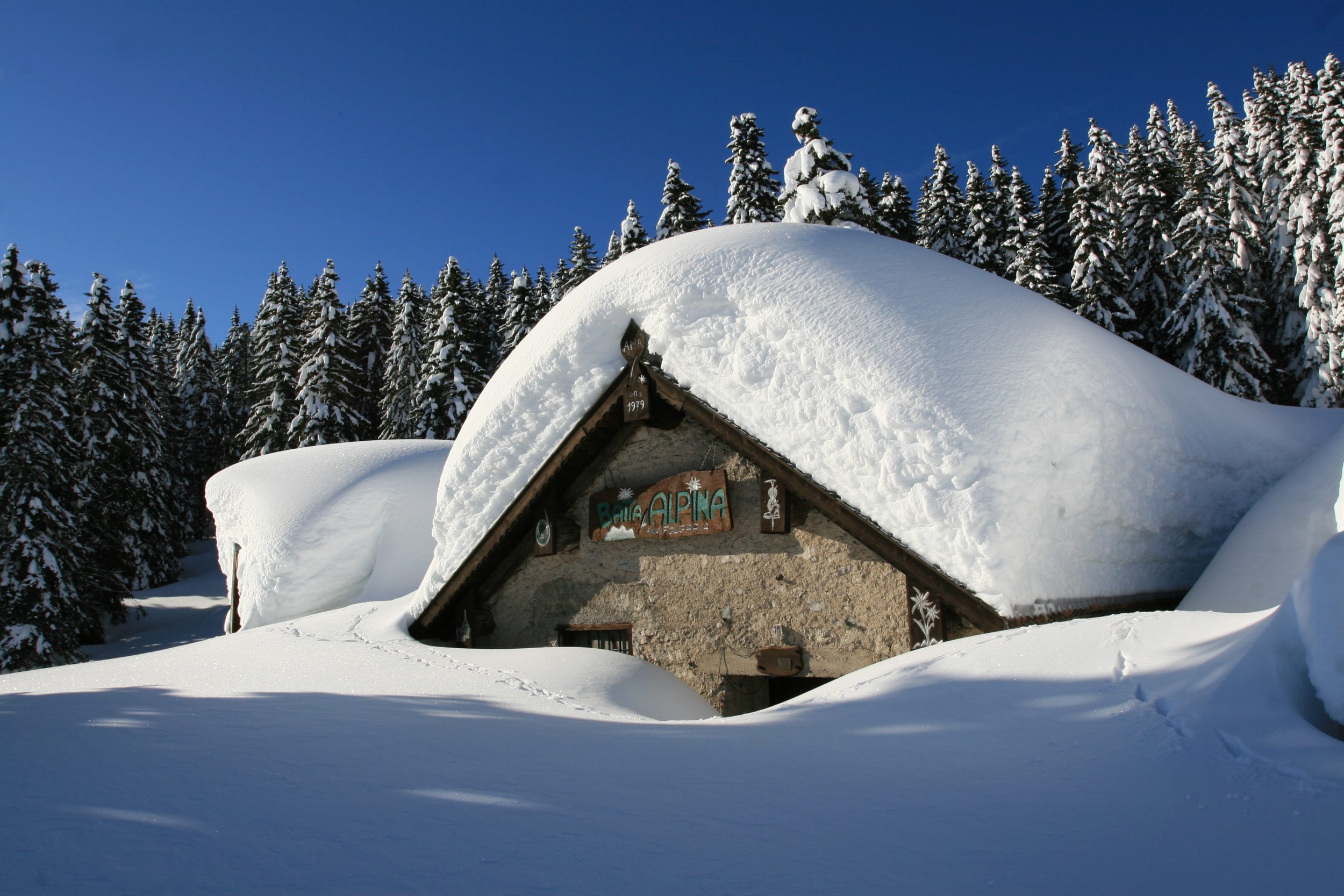 The Skiarea Alpe Cimbra offers different opportunities to beginners who want to approach snow sports: easy tracks, equipped with specific ski lifts for inexperienced skiers.
Baby ski areas are located in the proximity of the ski schools
COSTA:First steps tapis roulant
Chair lift Dosso
Chair lift Costa-Moreta
FONDO GRANDE: First steps tapis roulant
Baby ski lift
Fondo Grande
SERRADA:
First steps tapis roulant
FONDO PICCOLO:
First steps tapis roulant
Chair lift Cargaore
Chair lift Cengio Rosso
Baby ski lift
ALPE DI FOLGARIA-COE: First steps tapis roulant
Chair lift
Malga Piovernetta-Termental
FIORENTINI: 
First steps tapis roulant
SMILE CAMP:
FUN NEWS: on the slopes of Folgaria, the "Smile Camp" baby ski area in Alpe di Folgaria – Coe welcomes all children offering games, curious characters and fantastic adventures.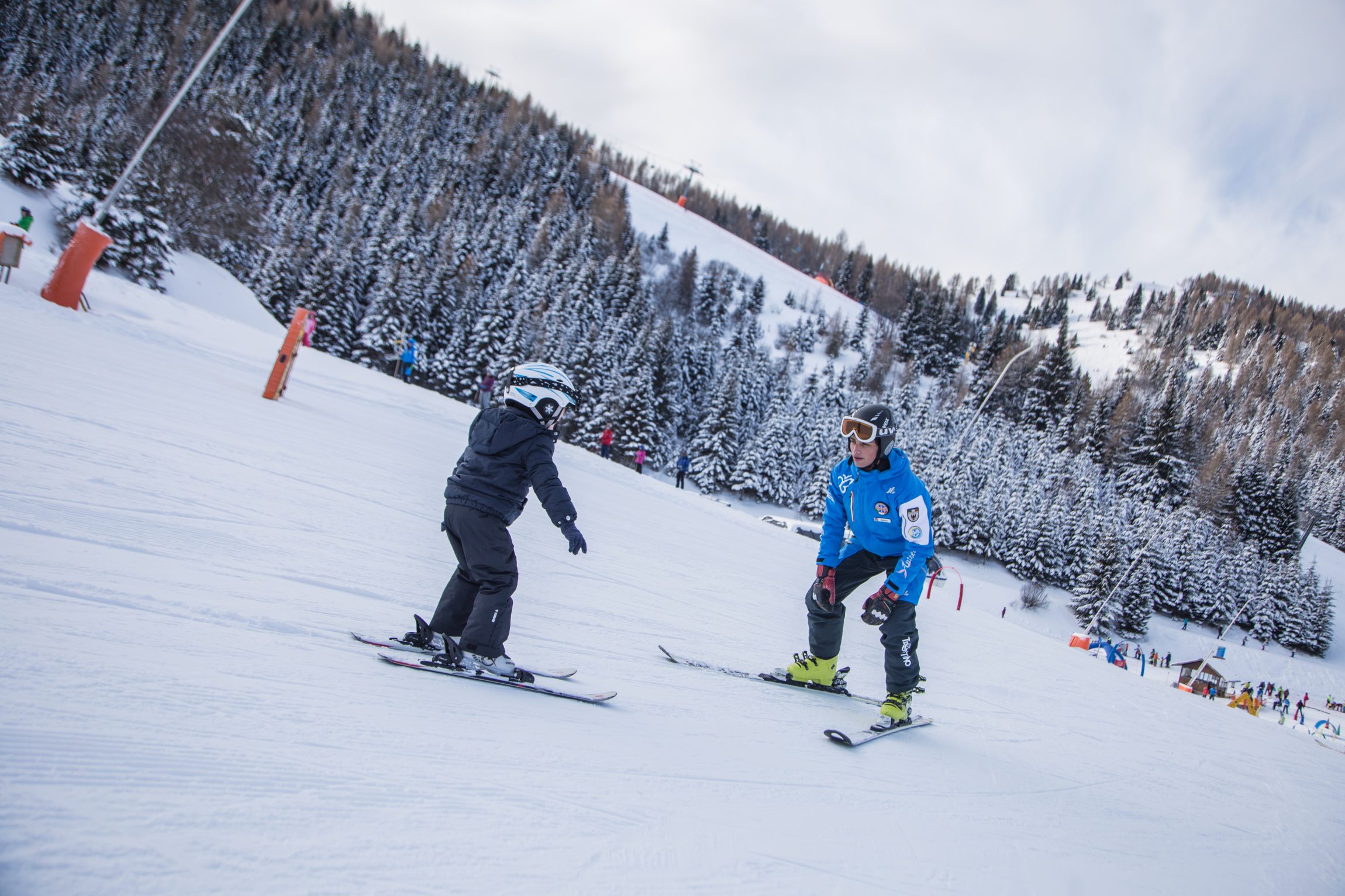 ALPE DI FOLGARIA – COE You will find: a covered tapis roulant with music and colours, a child-friendly track, a dedicated area for first steps on the snow with dedicated games and the funny and mysterious hut "Baita Smile".
For the bravest skiers, a crazy track with little jumps and parabolic curves and a funny slalom.
Smile, Perty and their friends are ready to ski and have fun with you!
BERTOLDI: 
Baby track and tapis roulant at Neveland park
VEZZENA: 
First steps tapis roulant "Vesan"
Skiing World Champions choose the Alpe Cimbra Ski Area!
The Alpe Cimbra Ski Area has converted in the training ground for Lindsey Vonn and Ted Ligety, from the US Ski Team; Ronald Leitinger and Stefan Brennsteiner, from the Austria Ski Team; and Sofia Goggia, Federica Brignone and Manfred Moelgg from the Italian team. They've chosed Alpe Cimbra for their training before the Olympic Games in Pyeongchang, because of its perfect snow conditions and the technical features of the slopes.
Which runs are the 'cult' ski slopes in Alpe Cibra?
The ski area Alpe Cimbra offers a rich variety of slopes for any skier, but some are those are a MUST TO SKI ON for their past relevance, technical features and breath-taking views.
Alpe Cimbra is part of the Skirama Dolomiti multi-areas pass.
For more information on Alpe Cimbra read here.
To see more on Val di Fassa in Trentino read on here
To see what we've written on Madonna di Campiglio click here
To see our Must Read Guide to Val di Fiemme, click here.
To keep on reading more ski news at your fingertips, keep on coming to The-Ski-Guru or follow us in our hashtags #theskiguru #skinewsatyourfingertips
Featured Image: Alpe Cimbra resort – Fancy a bit of horse-riding through the snowy forests? Photo by: Azienda per il Turismo Folgaria Lavarone Lusérn

Please follow and like us: