Nested in the border of the division of Trentino and Sudtirol, with terrain in both provinces, Val di Fiemme is a very special place. This incredible natural landscape heritage of the Lagorai Chain, Pale di San Martino and Latemar Group inhabited by 60 million trees that originate from a millennial culture, amidst two national parks houses a large ski carousel of 5 ski areas, with 110 km of downhill slopes, 150 km of cross country skiing tracks, snow parks, 4 sledding runs, 4 ski-kindergarten and a 1 km of parabolic downhill.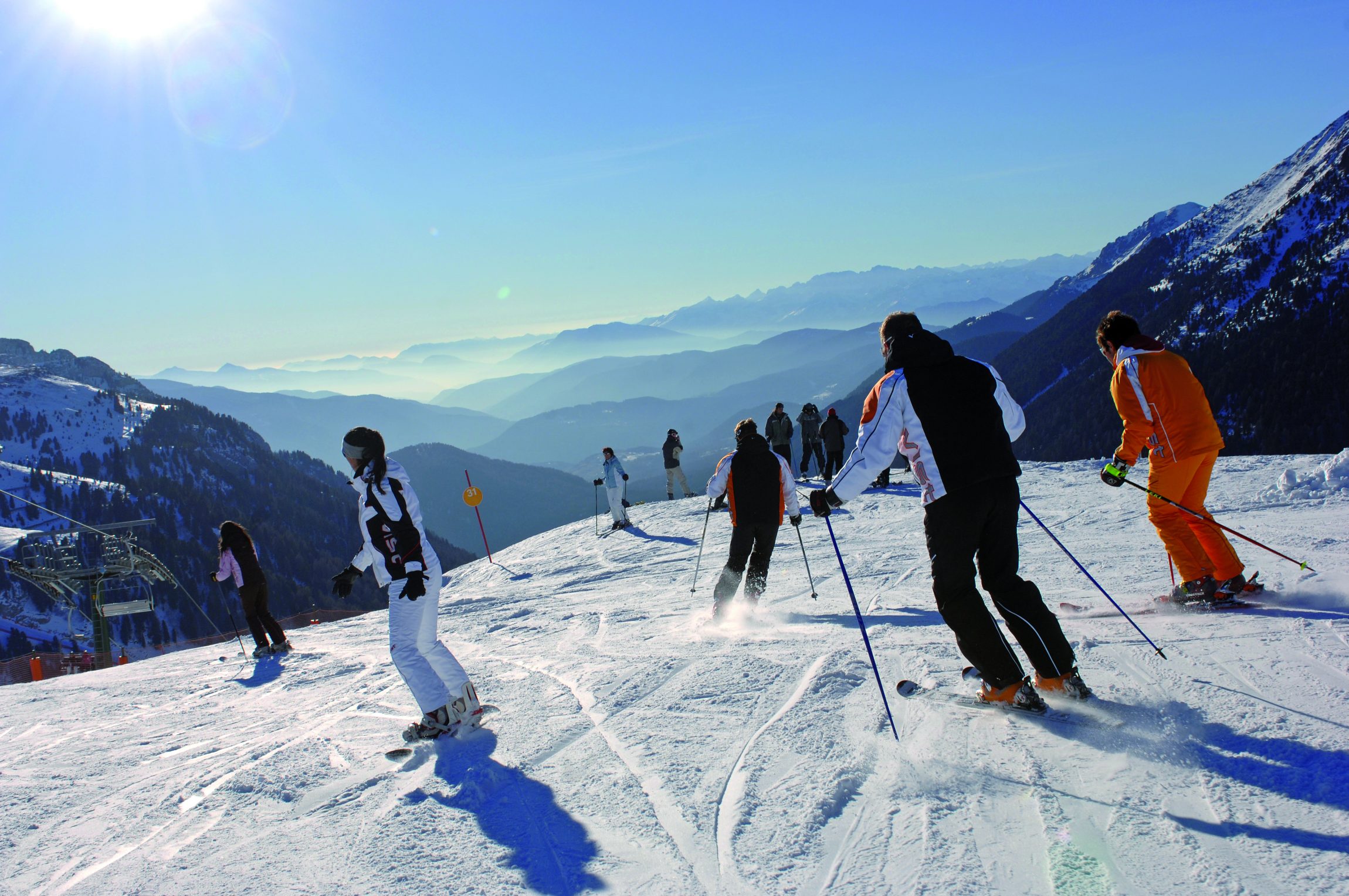 The views in Val di Fiemme are spectacular, it is a very long open valley, which does not feel enclosed at all, with lovely views wherever you see.
People can stay in the towns of Cavalese, Predazzo, Tesero, Ziano and Varena. Cavalese at the base of the ski resort of Alpe Cermis. There is also some lodging at the base of the Ski Center Latermar in Pampeago and in the base of Obereggen (this last base area of same the Ski Center Latemar is in the province of Sudtirol, as opposed of the rest of Val di Fiemme that is located in Trentino).
Shopping:
Cavalese is a lovely town that has many shops to entertain the most avid shopper. There is a pedestrianized street with lovely boutiques, local produce and ski shops to be entertained. This is the home of La Sportiva technical apparel, which is produced in Ziano di Fiemme. Downtown Cavalese there is a very well equipped shop of La Sportiva.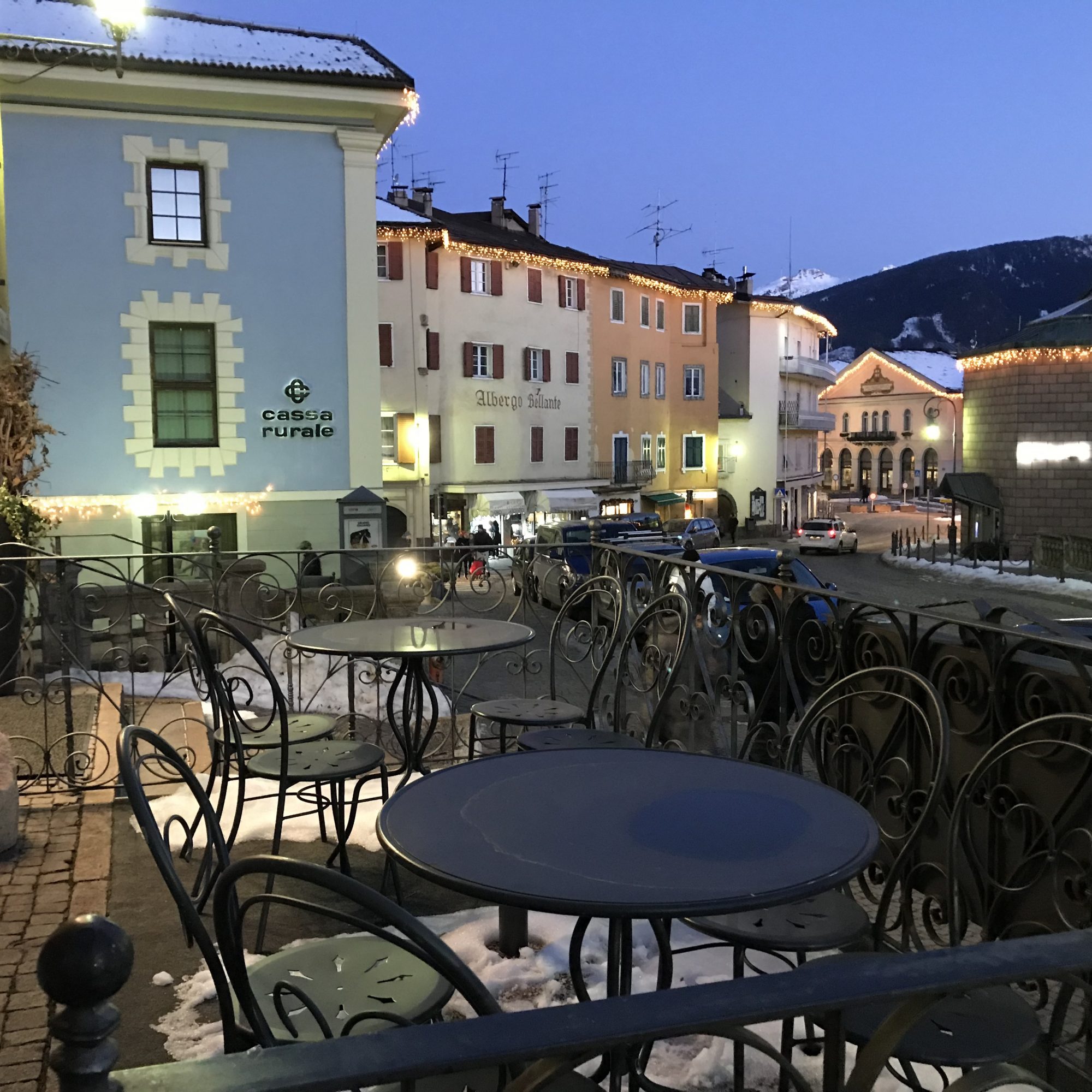 Restaurants:
The food in Trentino-Alto Adige (the area formed by Trentino and Südtirol) is amazing- from very refined Michelin-stars restaurants (as the one Michelin star El Molin, at the Romantic Hotel Excelsior), to great food trattorias.
Lots of local cafeterias and bars abound in the different towns. Cavalese would be my preferred choice where to stay, as it is pretty central and is a lovely historic town with lots of charme.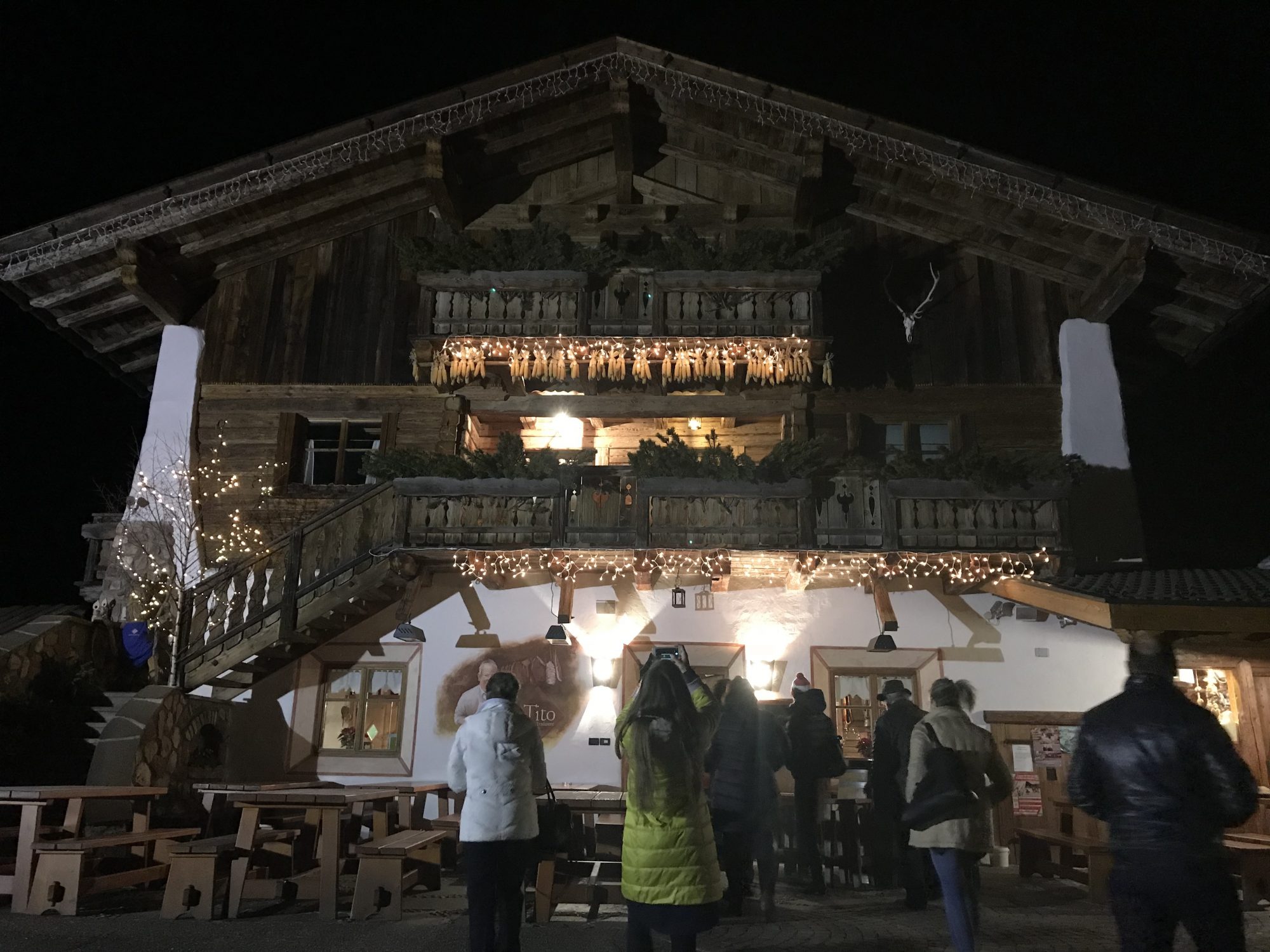 However, if you stay at the base of Pampeago, one of the bases of the Ski Center Latemar, the Hotel Lo Scoiattolo has a very nice restaurant, and a lovely out-house that serves pizza till late and where people hang out for après-ski.
Where to eat in Val di Fiemme:
As said before, food in Trentino and Sudtirol is amazing, and Val di Fiemme offers lots of great food.
Fine Dining:
El Molin: Very elegant restaurant located in an antique mill with modern cuisine that is rooted in the mountains, that tastes of wood, wild herbs, moss and lichens. (Michelin Guide) http://www.alessandrogilmozzi.it/EN/ – this is in the Romantik Hotel Excelsior, downtown Cavalese.
Costa Salici: Nice place with modern cuisine (similar to El Molin); it proposes typical dishes using local products with a twist. http://www.costasalici.com/cucina
Hotel Ristorante La Stua : The restaurant Sissi Stube à la carte, with its typical mountain furnishings, proposes dishes of tradition and innovation, placing special attention in every detail and always using fresh and seasonal products. http://www.hotellastua.com/en/1/2875/restaurant.htm. This is the restaurant of Hotel La Stua, in downtown Cavalese.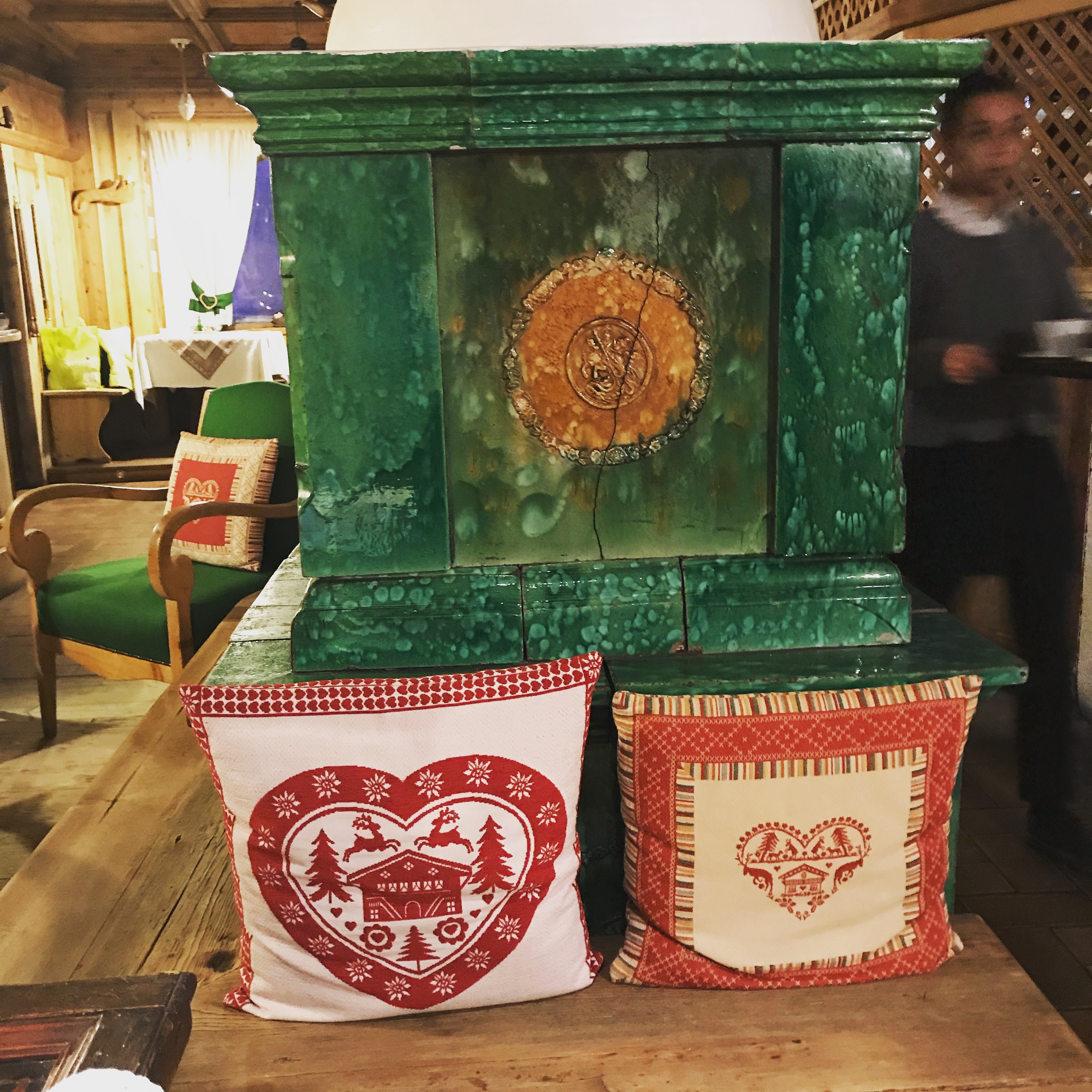 Fine/Mid Range
Mid Range
Ristorante Orso Grigio: in the historical centre of Cavalese, the hotel restaurant offers a fusion of the ancient culinary secrets with their deep mountain-agricultural roots and innovation, a combination of the wholesome, natural, traditional ingredients and excellent seasonal raw materials selected, if possible, from local producers and farmers. In the hotel Orso Grigio in downtown Cavalese. https://www.hotelorsogrigio.it/en/restaurant
Ristorante La Primoteca: New cosy restaurant, near the town centre of Predazzo, on the main road. It offers several types of appetizers and it's specialized in first dishes, with homemade pasta. Before you leave, you should treat yourself with some delicious desserts. https://m.facebook.com/laprimoteca/?locale2=it_IT
Il Maso dello Speck in Daiano with typical dishes and a shop next door with local Trentino produce (salamis and specs) http://www.titospeck.it/index.php/chi-siamo/la-cucina
La Stregona – Cantinetta: a small restaurant in Varena which offers typical Trentino dishes http://www.lastregona-cantinetta.it/
Ristorante Miola in Predazzo, furnished in typical Fiemme country style. Guests get spoiled with a wide range of excellent typical food. The Restaurant's special dish: mushroom dumplings (chanderelle), polenta with cheese, mushrooms and grilled meat http://www.ristorantemiola.com/index.html
Hotel Ristorante Zaluna: in Predazzo – traditional Trentino dishes http://www.zaluna.com/en/the-hotel/
Capanna Passo Valles: a mountain restaurant in Primero, San Martino di Castrozza (not on the slopes) with dishes mostly based on cheese, mushrooms and local game, homemade sweets and cakes and the healthy herb infused grappa. http://www.passovalles.com/en/ristorante.php
Vecchia Osteria (also pizzeria) in Cavalese. https://www.tripadvisor.it/Restaurant_Review-g656841-d2307369-Reviews-Vecchia_Osteria-Cavalese_Province_of_Trento_Trentino_Alto_Adige.html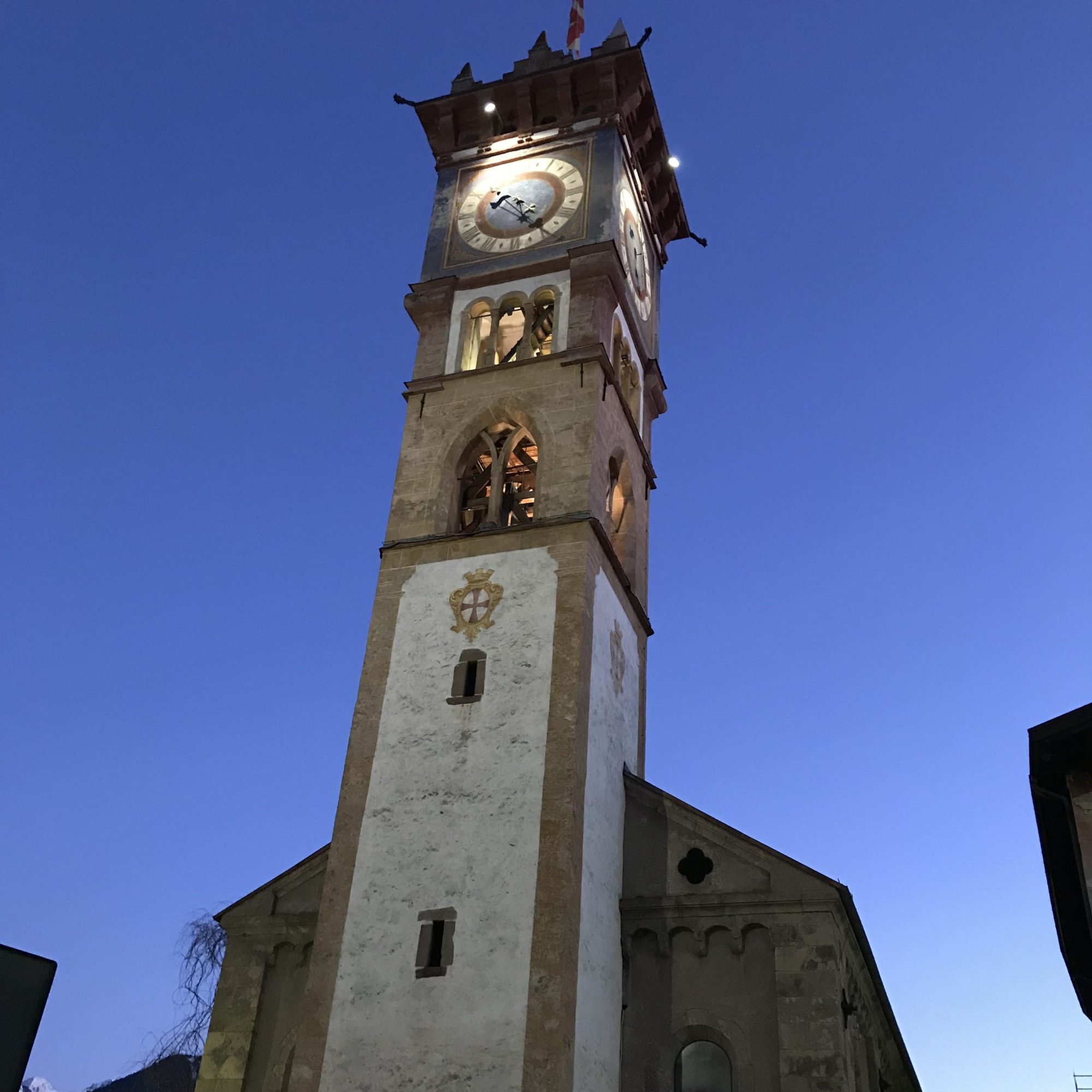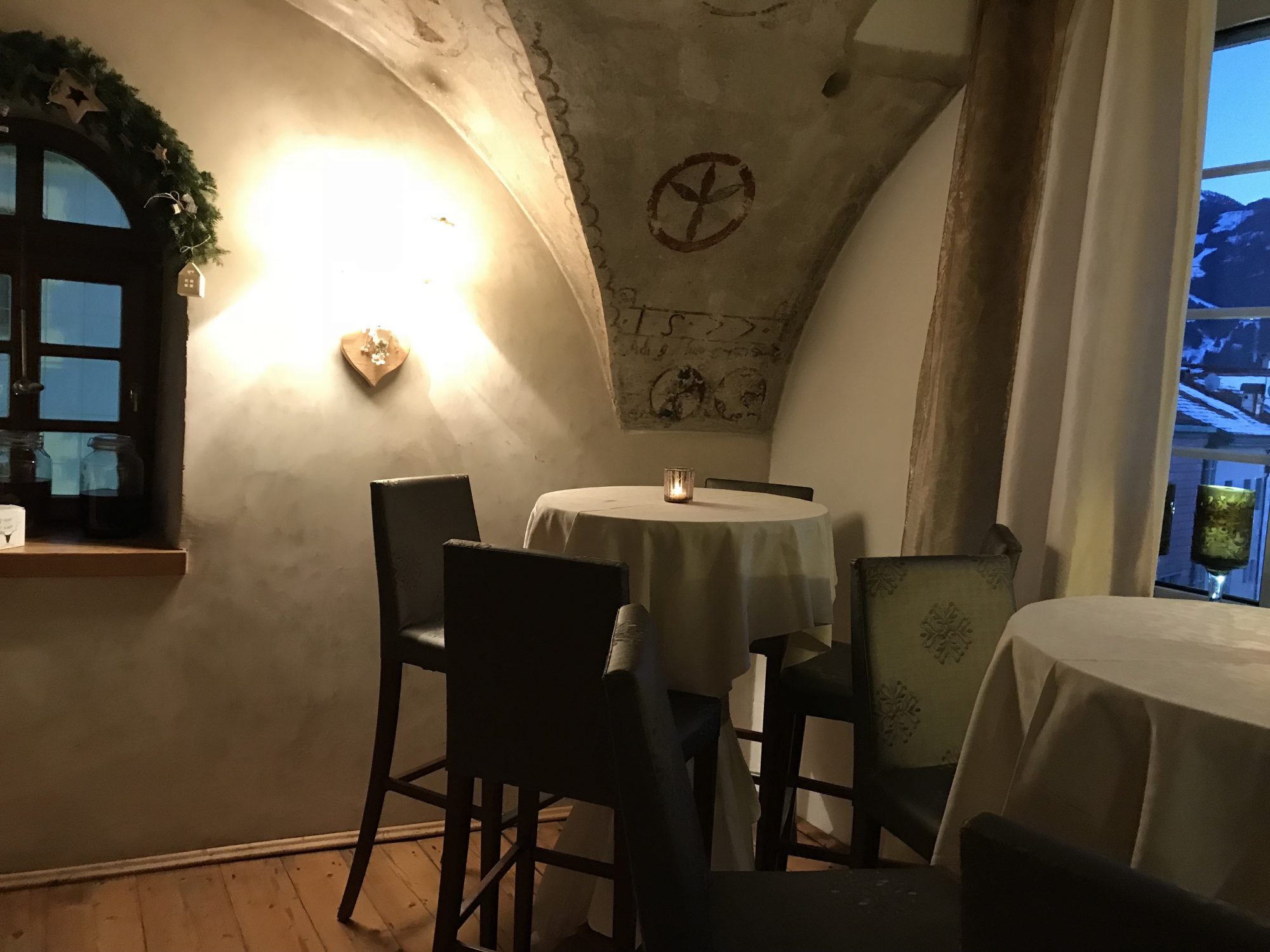 Coffee houses: Caffè da Te (Cavalese), Al Canton (Cavalese), Kiki Bakery (Cavalese), Tana del Grillo (Cavalese) http://www.tanadelgrillocavalese.it/, Kiss (Cavalese),
Bottega dal pan http://www.botegadalpan.it/, Caffè gelateria Mezzaluna (Predazzo)
Bars: Wine Bar El Molin (also restaurant) Cavalese http://www.alessandrogilmozzi.it/enoteca-bistrot-wine-bar-trentino.php, Aspen Bar (Cavalese), Cheers (Cavalese), Chicchetteria Roma (Cavalese), Poldo Pub (live music) Predazzo, Gams (Predazzo), Black Out (Predazzo), Caffè Ancora (Predazzo), Cafè Pasticceria Scarabellin (Predazzo), Dixie Pub (Tesero)
Discos: Mardok Disco Club (Cavalese), The Club https://theclubtesero.com/ Tesero
Where to go for Aperitivo: Wine Bar El Molin (Cavalese) http://www.alessandrogilmozzi.it/enoteca-bistrot-wine-bar-trentino.php, Chicchetteria Roma (Cavalese), Aspen Bar (Cavalese), Cheers (Cavalese),
Il Ghiottone (Cavalese) http://laltroghiottone.com/language/en/home-page-en-2/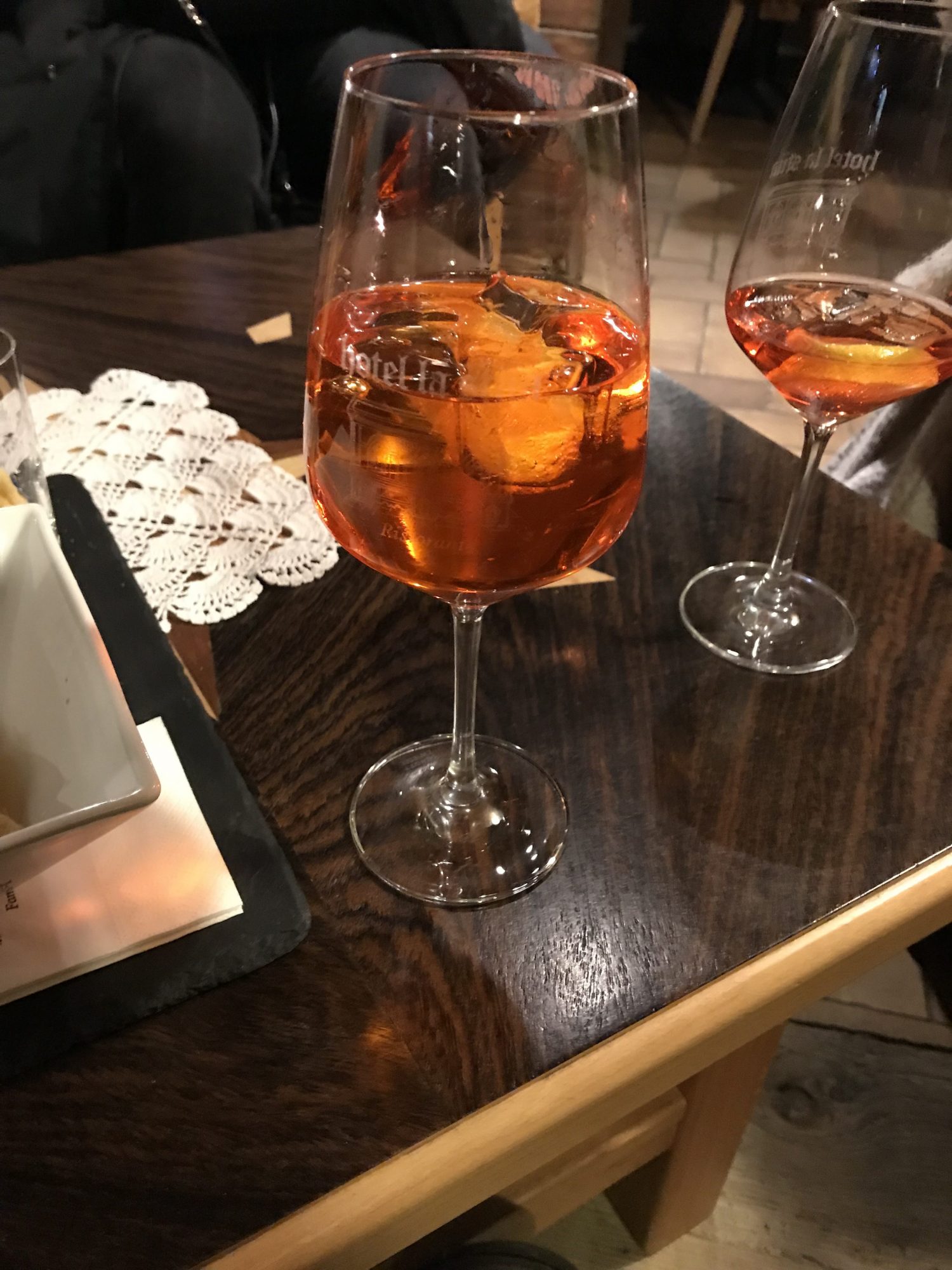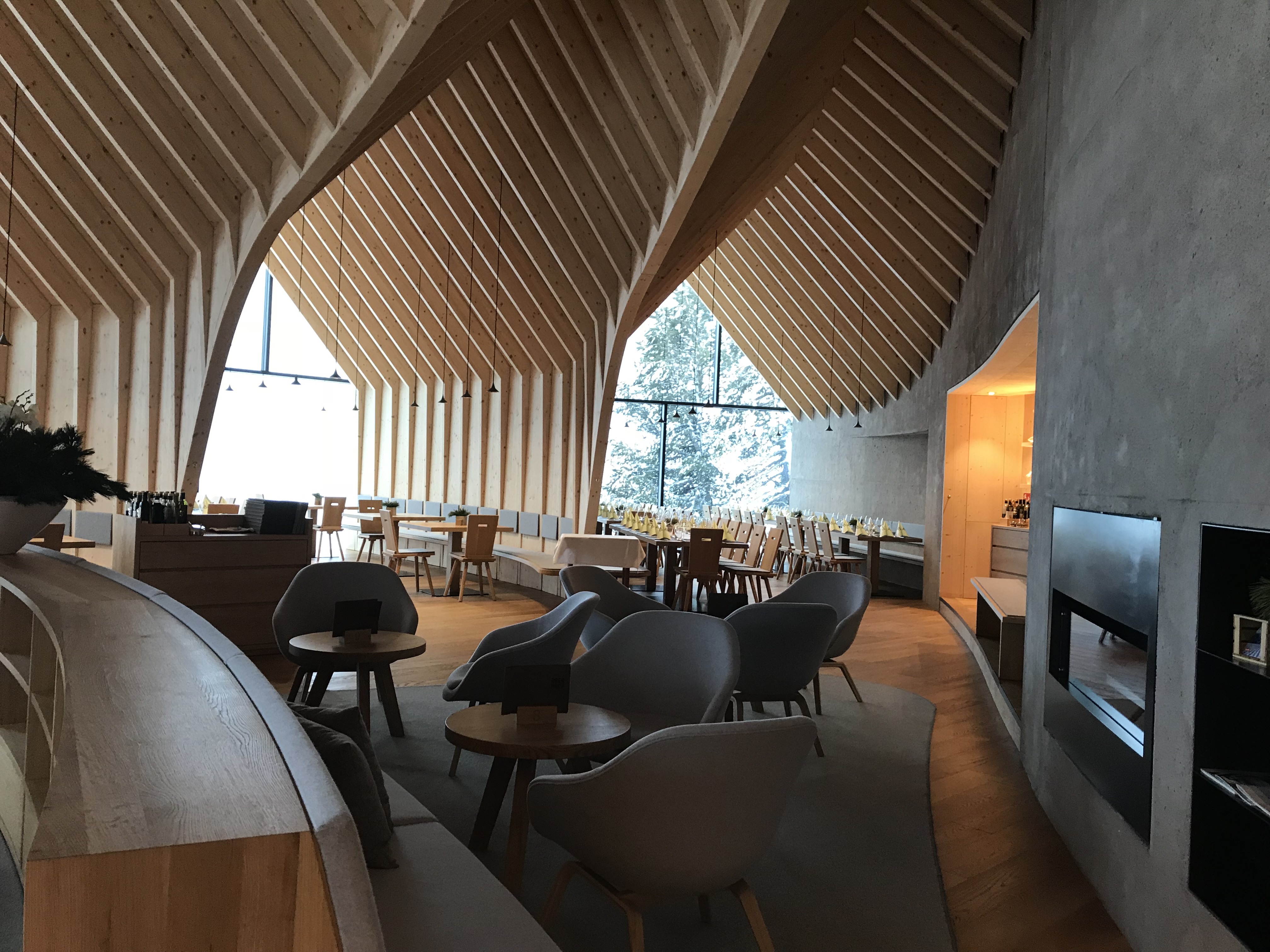 Where to Après Ski
La Stala del Nono (Pampeago) at Hotel Scoiattolo in the base area of Pampeago;
El Zirmo (Bellamonte)
Next page – The Ski Areas
You can also read of the Valley next door – Val di Fassa here.
Val di Fiemme – The Ski Areas:
Val di Fiemme has a large carousel with 5 ski areas, which combined have 110 km of downhill slopes, 150 km of cross-country skiing prepared tracks, several snow parks, 4 ski kindergartens and ski schools in each mountain, and 1 mile of parabolic downhill.
This is a family friendly resort with lots of initiatives to entertain the small people in the families.
At the Latemar Ski Center, the main area of the carousel, with 49 km of pistes that connects the areas of Pampeago, Predazzo and Obereggen, the culinary tradition meets the design for a delightful gourmet break at Rifuguio Passo Feudo, with a panoramic room where now there is a top quality table service with a delicious menu with typical dishes of the area.
The Rifugio Oberholz is accessible with the new Lanem telemix (a chondola –, which combines chairs and cabins on the same rope). The Rifugio Oberholz' s design has three modern ski verandas that overlook down the ski slpopes towards South Tyrol, with local typical dishes of the area.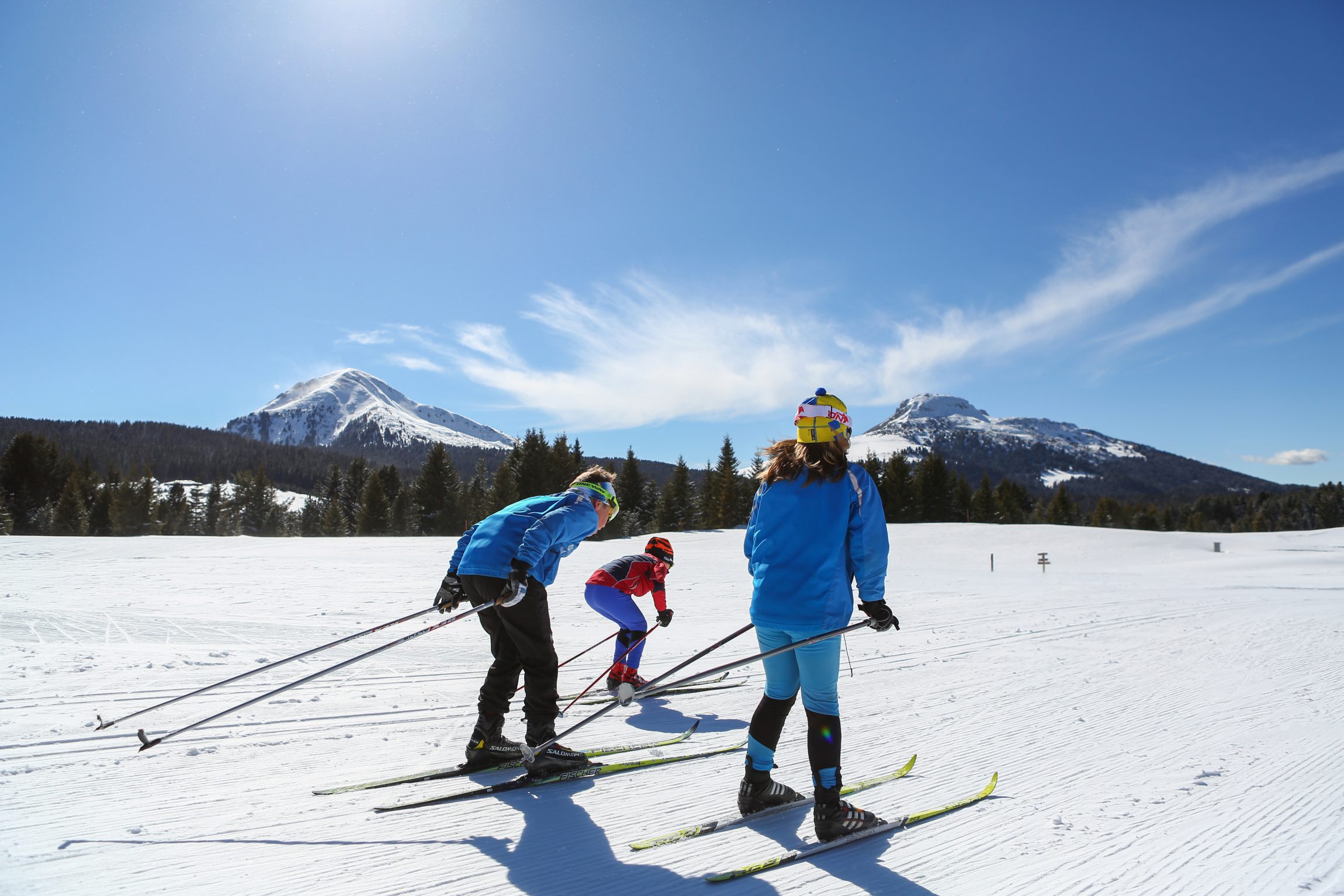 In the Latemar ski Center the art gets in touch with nature, at the RespirArt park, where every season there are new entries of art sculptures. The most popular is one big frame sculpture where people stop for a 'selfie' with the striking Latemar Mountain group in the background.
At the Bellamonte-Alpe Lusia ski area, the slopes touch the boundaries of the Paneveggio-Pale San Martino Natural Park and it is quick to get to 1,967 m altitude thanks to the modern and silent 3.0 cable car. With a capacity of 10 seats per cabin, it can also carry sledges. Its second stop is at the entrance of the Fraina track, of 2 km of length.
Every descent in the Passo Rolle area offers a wonderful view of the Dolomites, which reminds you why Val di Fiemme is home of UNESCO World Heritage sites.
In Alpe Cermis you can ski at night, every Wednesday and Fridays from 7.30 to 10.30 PM, along the Olimpia III run.
http://www.visitfiemme.it/en/active-relax/snow/night-skiing
And at the arrival station of the Alpe Cermis cable car, the new Restaurant Baita Granda and the lounge bar La Baita Tonda have an Alpine design with large windows and great views of the surroundings.
Passo Lavazè-Oclini is a mecca for cross country, with lots of kilometres of technical and challenging trails, as well as some easier for beginners. http://www.visitfiemme.it/en/active-relax/snow/cross-country-skiing
The Fiemme-E-Motion Winter card is a passport offered to all those staying in a participating hotel in Val di Fiemme, giving you discounts, free ski bus to take you to the different ski areas within the carousel, free entrance to museums and castles, also walks, guided tours, and recreational activities and tastings.
Families might choose to stay in one mountain of the carousel, as their kids might be in ski school. But families with older kids not taking ski lessons, or just group of friends or couples, might want to purchase a combined ski pass Val di Fiemme/Obereggen + Dolomiti Superski (ex. 5+1 see the prices on the website http://www.visitfiemme.it/en/active-relax/snow/skipasses) and then ski one day in Sella Ronda area using the service of Ski Chauffeur http://www.visitfiemme.it/en/more-info/useful-info/mobility, otherwise if you prefer to be accompanied by a ski guide it can be organised on request paying an extra rate.
Other useful information: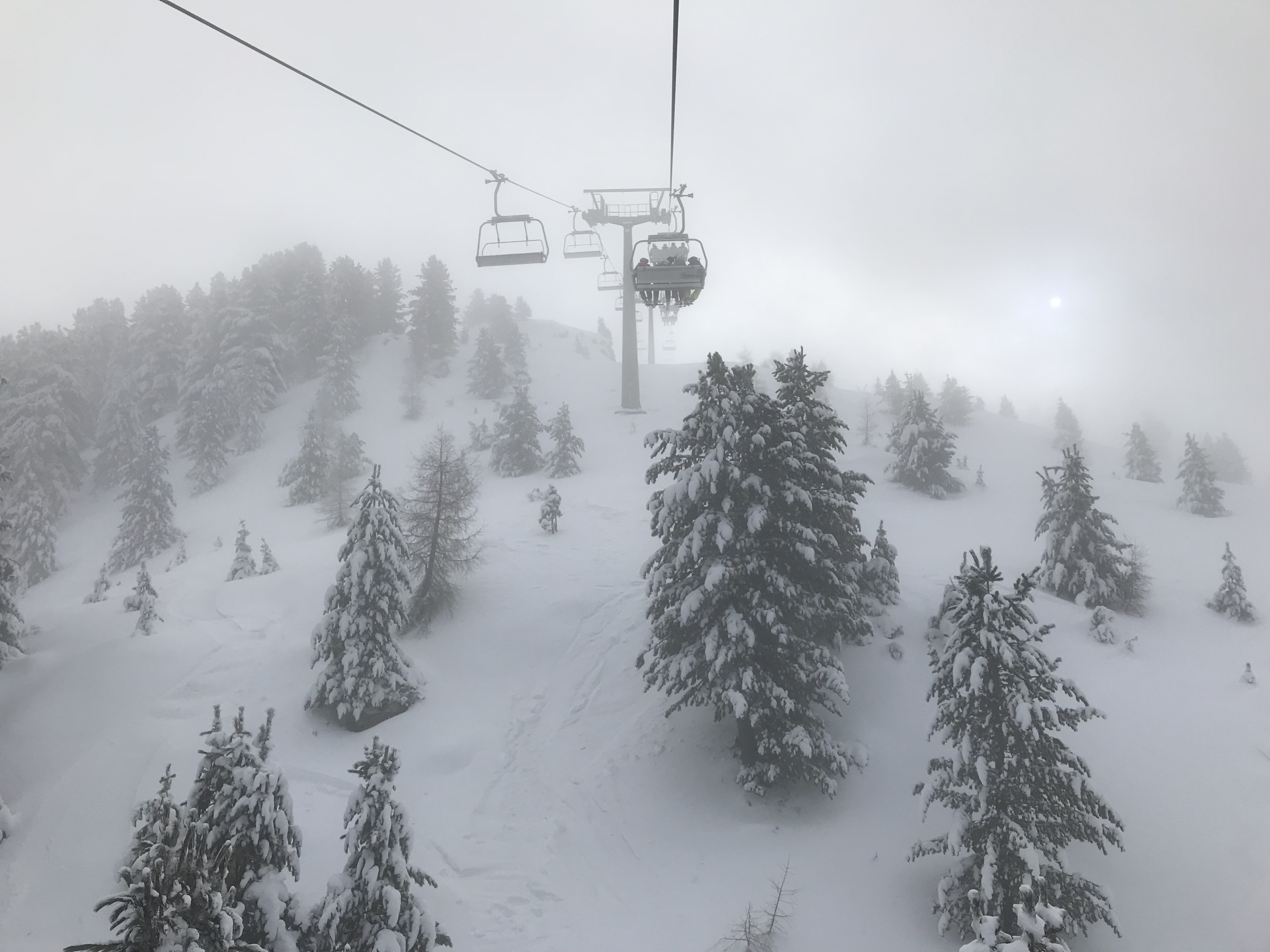 Each mountain has lockers where you can leave your skis and boots so you do not have to carry them around.
Lifts open every day at 8.30 am and close at 4.30 pm 
For those wanting to see the sun coming out, there is an early breakfast deal on top of the mountain, where you can get up before the sun goes up, have a hot breakfast on top of the mountain, and then enjoy the first tracks with empty slopes: http://www.visitfiemme.it/en/italian-style-and-events/events/events/Trentino%20Ski%20Sunrise_de97478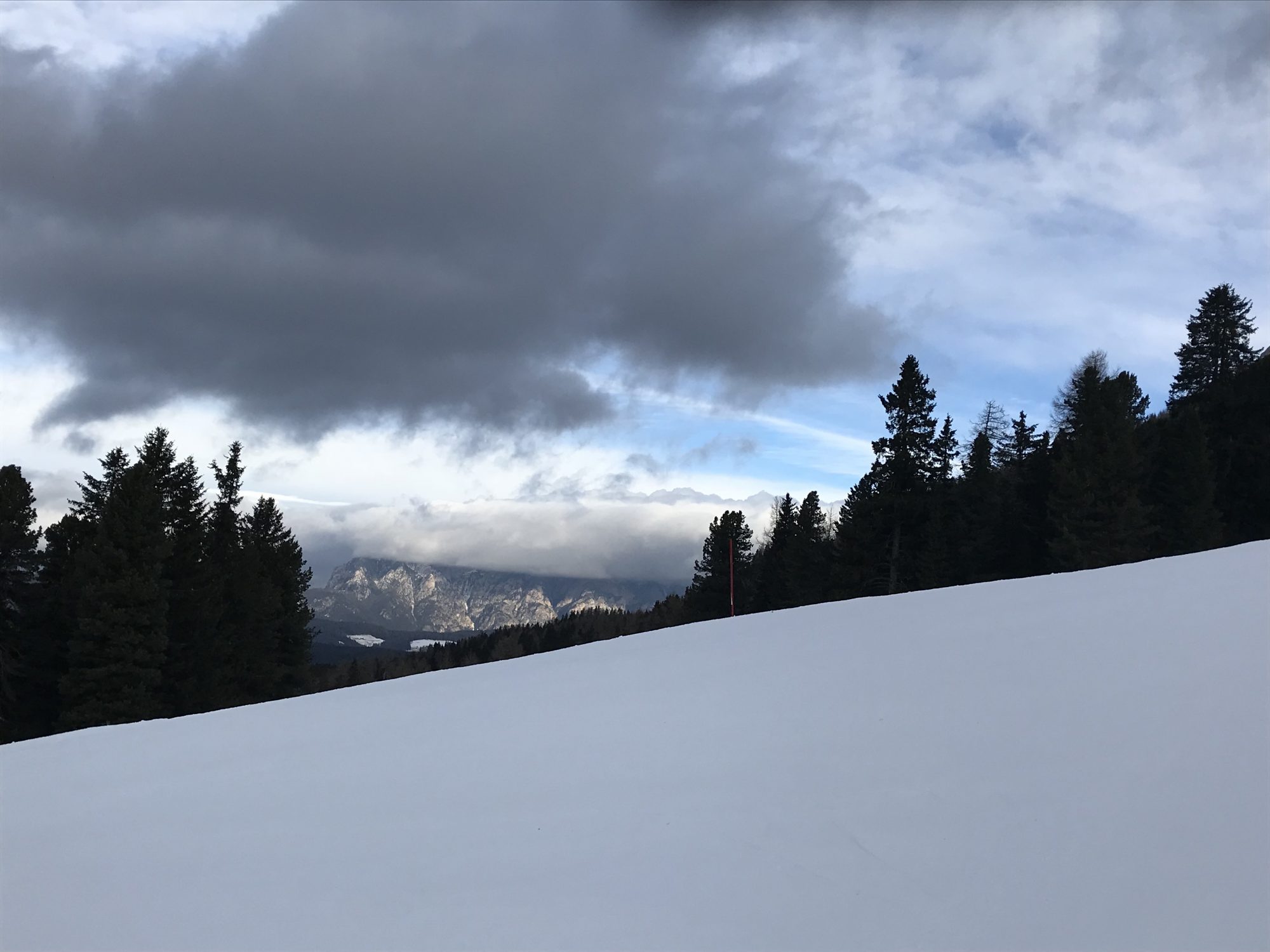 There is a free bus/skibus with your Fiemme Card – more info here: http://www.visitfiemme.it/en/active-relax/snow/skibus-map
For those wanting to go to the slopes but have a private service, you can get a private bus to the resort/ ski chauffer for € 5,00 per person per way, thus to reach Pampeago for example it would be € 20,00 for a family of four: http://www.visitfiemme.it/en/active-relax/snow/ski-chauffeur
Your skipass gives you a free entry to the community pools in Cavalese and Predazzo (except on Tuesdays and Saturdays)
http://www.visitfiemme.it/en/family-paradise/sport/swimming-pools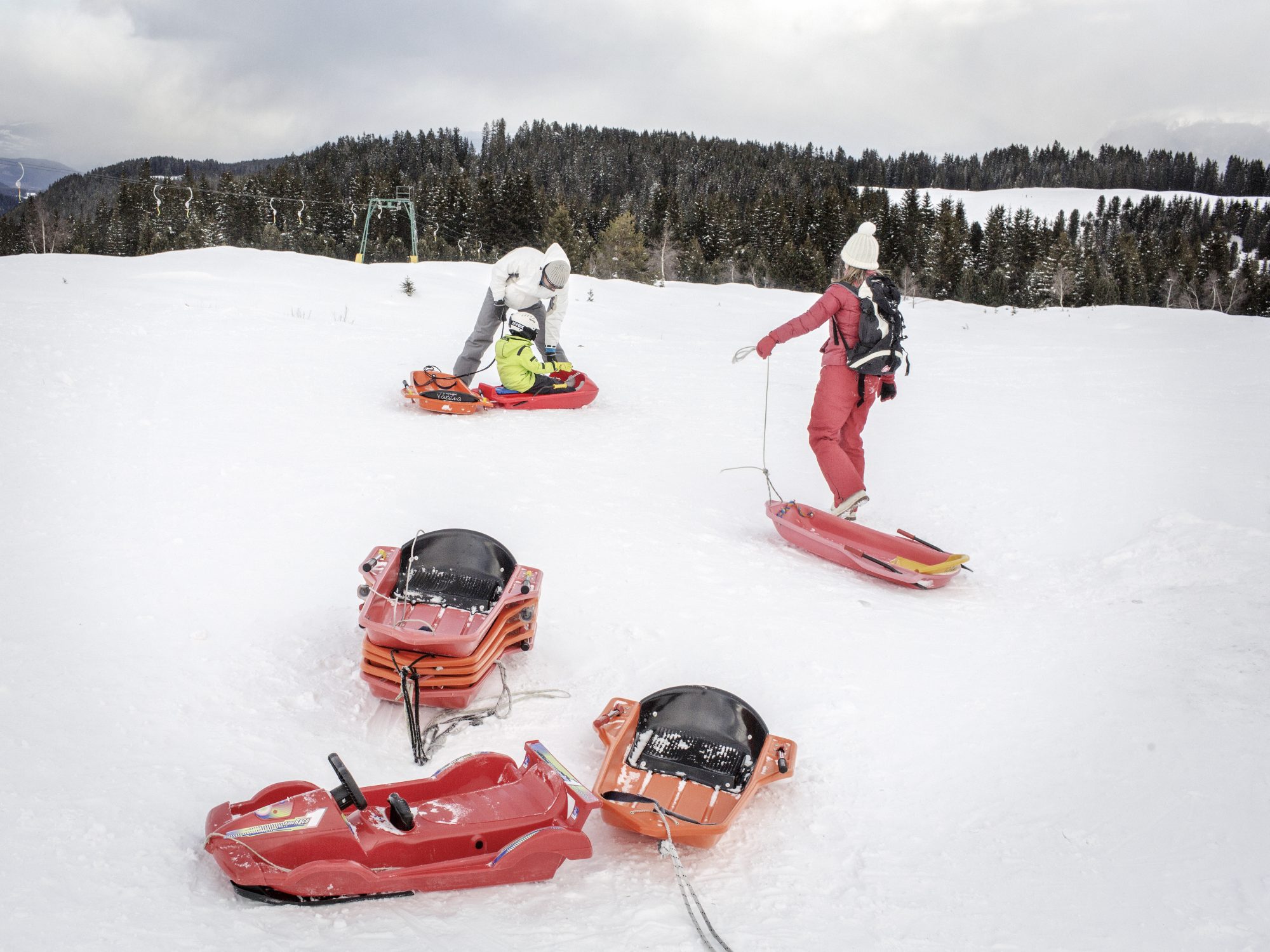 Off-snow activities:
Program of organised and guided activities
http://www.visitfiemme.it/en/active-relax/snow/fiemmemotion-winter-card/weekly-program
http://www.visitfiemme.it/en/active-relax/other-sports/ice-skating
Snow shoeing: http://www.visitfiemme.it/en/active-relax/snow/snowshoes
Tubby/sledge –For those that won't ski or those who want to do something different, the new Absam sled track offers 750 me of fun, and the bobsleigh on rails at the Alpine Coaster Gardonè offers one kilometre of parabolic, jumps and breath-taking curves in the forests.
http://www.visitfiemme.it/en/family-paradise/fun/sledge-and-tubby-slopes
For those wanting to venture off-piste, there are 2 companies of alpine guides:
In each resort there is a kindergarten that offers babysitting services:
http://www.visitfiemme.it/en/family-paradise/fun/ski-kindergarten
Another option is to ask your hotel for a babysitter service.
Calendar of Events
Romantic Mercatino Magnifico di Natale: in Cavalese in December on the weekends. Small Christmas market very nice with local produce and Christmas decorations, a great thing to do after a day in the slopes.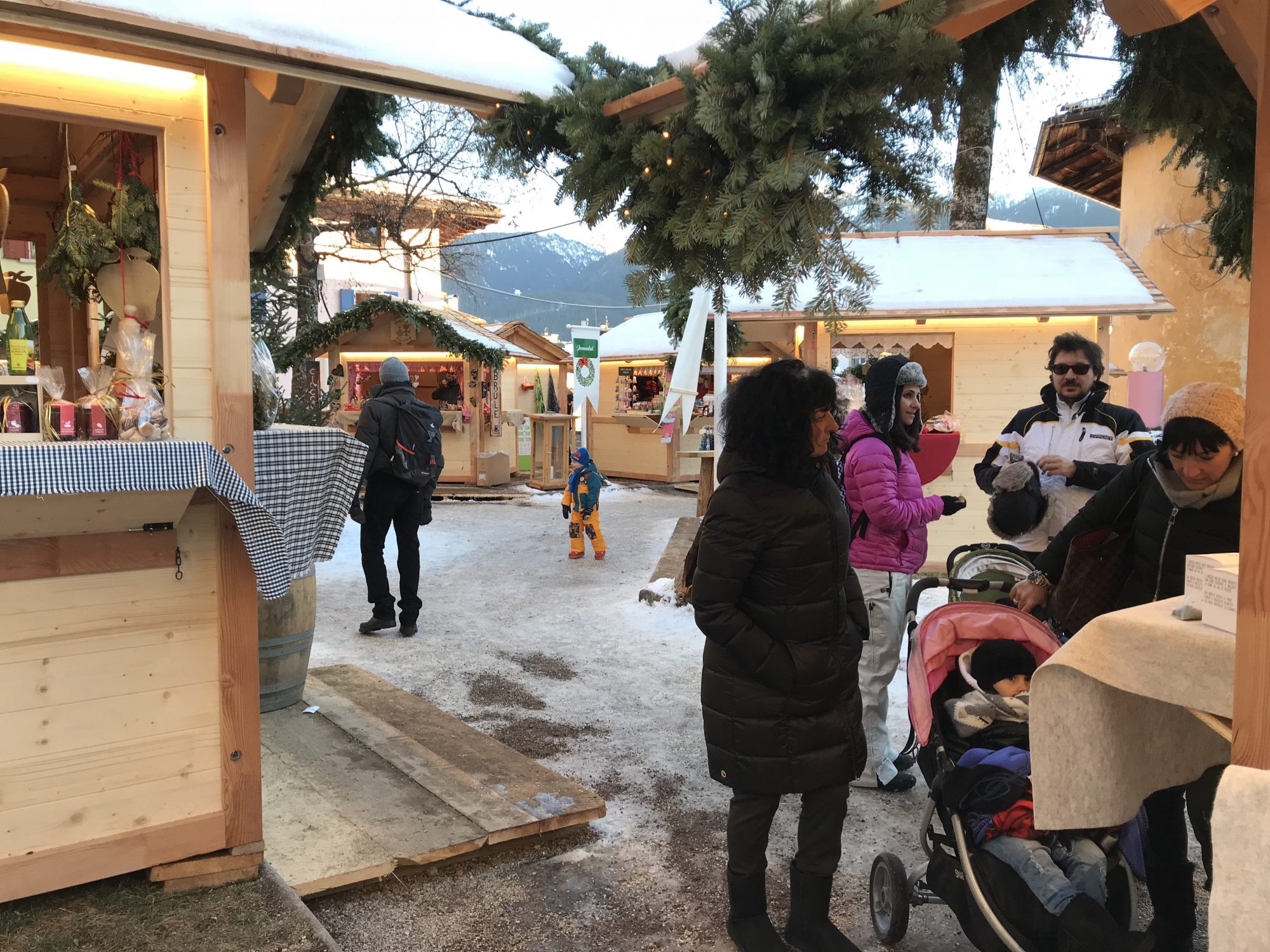 Next – Where to Stay
You can read also the Must-Read Guide to Courmayeur here.
Where to Stay – Val di Fiemme
Hotel La Stua 4* (Cavalese)
The Hotel la Stua lies in the very centre of Cavalese at the corner with the Piazza dei Francescani, right at the beginning of the village. Despite it's centrality, the hotel is quiet and peaceful, a calm corner with a well equipped garden where you can enjoy the view on the tower of San Sebastiano and the Lagorai Group while being enlighted by candles made of pure wax. Enjoy delicate meat and venison until late… with superfine local Grappas.
Ask for the rooms with views to the Piazza and avoid the ones with rooms to the side of the building, so you have more light!
The restaurant is very nice, breakfast is very good, and the attention is great. There is a small spa downstairs with a sauna, steam bath, hot tub and a small area for relaxing with some lounge chairs. You can reserve a massage in advance as well. http://www.hotellastua.com/en/1/2853/hotel-la-stua.htm
Hotel La Roccia 4* (Cavalese) Big hotel with lots of services and a big spa, with nice views over the valley of Val di Fiemme – Near downtown, (going through the back door of the hotel), just across the municipal gym and pool. Big well appointed rooms. http://www.hotellaroccia.it/lang/EN/homepage
Hotel Garni Laurino 4 Sup (Cavalese) – Lovely small hotel with lots of charm, each room is different; the attention to detail is great. Located in downtown Cavalese, but on a quiet road. Serves great breakfasts and have a lovely living room and bar area. http://www.hotelgarnilaurino.it/EN/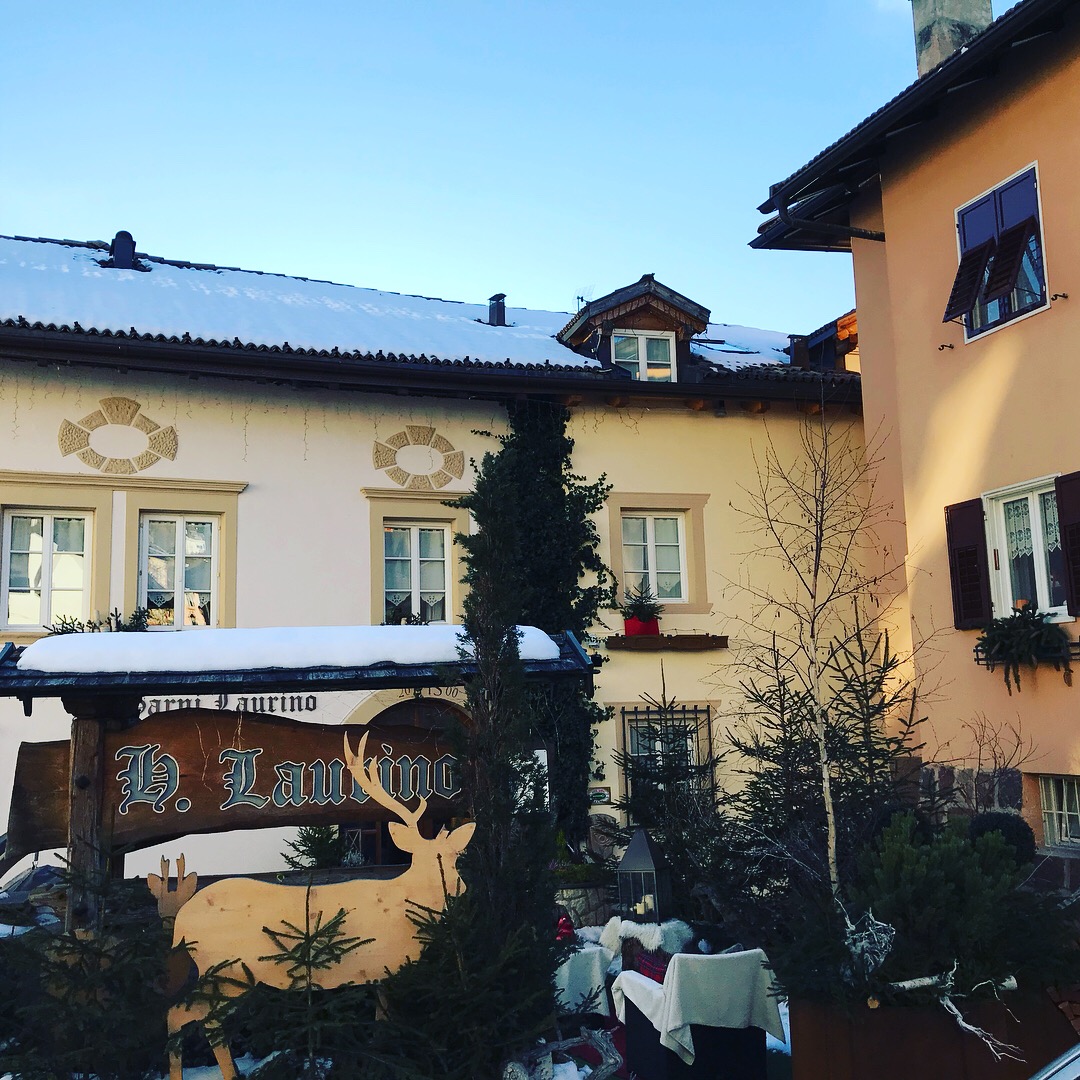 Hotel Orso Grigio 4* (Cavalese) Excellent location in downtown Cavalese, the hotel has been recently refurbished; all rooms are modern and well appointed. It has a spa in the lower ground floor and a good restaurant. https://www.hotelorsogrigio.it/
Romantic Hotel Excelsior 4* (Cavalese) A former 3 stars that has been refurbished and houses the Michelin star restaurant El Molin. Very well located in a lovely old grand building (Palace Riccabona) http://www.excelsiorcavalese.com/EN/ 
Hotel Castelir 4 Sup (Panchià) – lovely small hotel with very nice suites, a bit tucked away of it all, serves breakfast and offers dinner in their sister 3* hotel across the street. Lovely spa. http://www.castelir.it/en-us/p/47/home
Hotel Nele – 3*Sup (Ziano di Fiemme) A 3* superior hotel, all refurbished with nice rooms and nice common areas. It has a residence next door with apartments with kitchenette, very nice family owner, well located for the Marcialonga (the cross country race that takes place in January every year). The father of the family was one of the organisers of this iconic race. The hotel has lots of old pictures showcasing the race in its corridors- http://www.hotelnele.com/en/
Hotel Alpino – 3* (Varena) – Family hotel in the town of Varena – relatively nearby the ski center Latemar and also the cross country area of Lavazé Pass (the extended family is owner of Lo Scoiattolo, at the base of Pampeago (Ski Center Latemar – more below)- https://www.hotelalpinovarena.it/en – 3 km from Cavalese- the hotel has some new rooms that are tastefully decorated.
Hotel Veronza 3* (Carano) – rooms and apartments with a big spa including an indoor pool. Originally a time-share, it is located in the small town of Carano, good to ski either in Alpe Cermis as is near Cavalese or Centro Sci Latemar. Great family hotel with lots of activities and areas dedicated to the little ones. http://www.hotelveronza.it/inverno/
Lo Scoiattolo 4* (Tesero) – One of the only hotels in the base of Pampeago – Ski Center Latemar – and the only 4*, just across the parking lot from the start and the end of the pistes. Pretty much ski in (not ski out, as you have to walk across the parking lot to get to the chairlifts of the base area). Nice rooms, family rooms, great spa with indoor pool and outside hot tub; good bar for après-ski or late pizza dinner bar. Very good option if you came to Val di Fiemme to ski every day. Ski Center Latemar is the biggest of the ski areas of Val di Fiemme. http://www.scoiattolo.it/en/
Hotel Torretta 3* (Bellamonte) – traditional family hotel with classic décor managed by a third generation family owners. You can see the mother of the actual General Manager, still overseeing what is going on. The hotel is in a great location for its views; you can see the Lagorai Chain and the Pale de San Martino. Better placed to ski at Alpe Luisa, and good also for getting a transfer for getting to Val di Fassa and ski the Sella Ronda (a carousel that interconnects 1200 km of slopes, the largest ski carousel in the world). http://www.hoteltorrettabellamonte.it/
Agriturismo Pianrestel (Cavalese) A small house that works as a farm and offers bed and breakfast in an agriturismo setting. 1 km from Cavalese and 800 meters from the lift to Alpe Cermis- It has well appointed rooms, with a nice restaurant and spa. http://www.agriturpianrestel.com/
Transfer company from airports"
Featured Image: Coming from the winding roads of Val di Fiemme towards the Brennero route direction to Trento – Photo by The-Ski-Guru.
For more ski news at your fingertips, keep on reading The-Ski-Guru.
You can check also the Must-Read Guide to Courmayeur.
Please follow and like us: