Will we ski this December?
It is almost mid-November and we are stuck in the lockdown 2.0. Many of us are thinking if we will ski this December. What is going to happen? Who knows? The reality is that we are all locked in- to be honest, this is not too much of a lockdown, so for me, at least, is not so bad. I do feel bad for those with shops, gyms, pools that have to close down. And for the restaurants, bars and cafes that can only sell take away.
I myself have not been going to much to any bar or restaurant inside since March. I did go twice in the summer in Morgex, to my beloved La Locanda. But we've eaten outside once, and once inside because the weather was foul. But there was no virus going around Valle d'Aosta at that time and it felt safe. And this lockdown gave me time to fall in love with cooking all over again. And planting, and drawing more. But I do go and get coffees from my local shops and sausages for my dog Ozzy!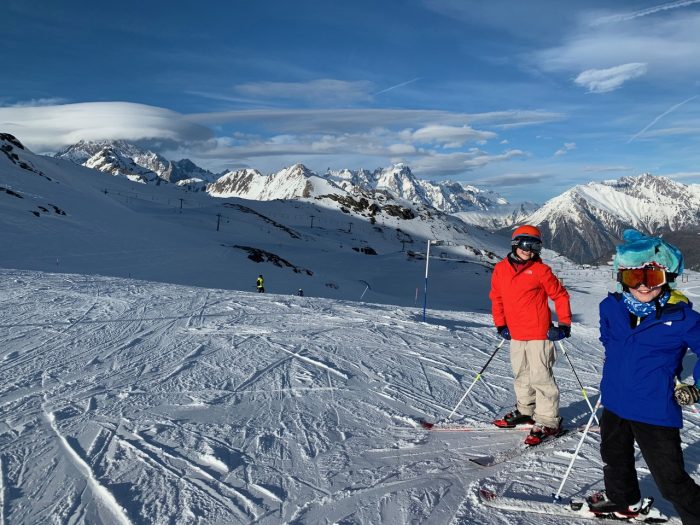 This article may contain affiliate/compensated links. For full information, please see our disclaimer here.
Now, as kids go to school, and work is picking up (
slowly
), I cook what I need only. So this is lockdown without the plus of waking up whenever your body tells you to do so! It is ok, there will be light at the end of the tunnel. I am only very sorry of the quantity of people missing dear ones to this pandemic. We become untouched with the reality hearing like about 400 people died today of Covid. It is awful if you think about it. I guess is that your brain tries to protect you of the terrible news to keep going on.
Dreaming of skiing and white Christmas. Will we ski this December?
Right now, I am thinking a lot about our trip in December to the mountains. We have already given up to our October half term drive to Morgex due to many factors. From the testing in the UK (that was aprox £600 more), and then the coming and quarantining for two weeks. I would have done it, but the boys would not be able to go to school and who knows how the schools react…. (being Argentine I don't see it how people in the UK sees it…for me there is no better experience than travelling). So we've missed the autumn colours in the Aosta Valley. At least I could see them online thanks to the many accounts I follow on social media. Next year, is what I have to remind myself, I will be there.
Now we are having some promising news from vaccines, but we don't know how fast they will roll out. It is early days and we have to see.
Yesterday on the radio, Grant Schnapps announced a test and release system to
implement
. I don't keep my hopes up. Italy has been testing on airports since when, August? I always thought the Brits were ultra- organised, but it seems I was wrong…..
And we could not even drive through France unless we are on business, as they have a lockdown. Also Italy in many regions. And Austria. Switzerland is the only country having some ski resorts open at this moment.
Italy started its ski season and Cervinia has to close after the first weekend. Cases were going up too fast in the Aosta Valley, plus there were some pictures on social media. They were showing long queues of skiers and boarders waiting to buy their tickets. Not sure if that hurried up the decision of the authorities to close the resort. Cervinia re-opened mid-week but only for athletes and ski clubs. The resorts in South Tyrol stayed open as the province is an independent one. And they could take their own rules. Unfortunately the region of Trentino- Alto Adige has now got into the rosso category (red). This implies that they had to close.
Same happened to the glaciers in Austria and to the early openers of France. Val Thorens was to open November 21st, but it has to postpone the date. Talking to a director of one of these French resorts, he told me he would be happy if resorts open for Christmas. But he doubts that resorts will open on the first week of December as the lockdowns might last longer. Here in the UK they say we come out yes or yes on December 2nd. This was Boris Johnson. Who knows? He u-turns a lot, so I guess if cases go down. I hope they don't do this too fast that we come immediately to another lockdown…. (I am completely thinking in a selfish way, as I want to go skiing!)
What is happening with the tour operators. Will we ski this December?
People are wary to book and it is completely understandable. I read today in a Twitter of @skipedia that Hotelplan is not running ski holidays in December. They are the owners of Inghams, Esprit Ski, Ski Total and Flexiski. I understand that for them, with such a big operation, they don't put people in places early on. This way they can focus on January onwards.
So, will we ski this December? I don't know. I guess if resorts open, more people living nearby would go and visit. Resorts will have to prepare to receive other kinds of tourists, not the skiers and boarders. This past summer, there were hordes of people in the mountains. People wanted to have space, so they chose the mountains for that. This can happen and the mountains could attract local people that do not go usually there. In the States, resorts are starting to plan other activities for those that don't ski and won't ski. From snow shoeing, walking on snow, to having a park where they people can play in snowball fights! Who knows? This might be a new start for the business and more people fall in love with the mountains.
Will we ski this December? I
truly
hope so.
Start planning your next trip!
You can search for your own accommodation in the snow for your next ski holiday through our Accommodation Search tab. Or if looking to stay in the heart of the Mont Blanc Valley in the Aosta Valley, check Il Coure della Valdigne review here. This is our own family home in the mountains, that I am renting out when not using, you can always write me a private message if interested to info@the-ski-guru.com
You can book directly through Airbnb  through this link
If you want to take your family skiing and you don't know where to start, read here. And search for your ski transfers from all airports to the Mountains here. And for those that are like me, that are lazy to cook, you can get your food, even gourmet mountain food delivered to your home with Huski.
If renting equipment (skis or snowboards)  check our agreement with Skiset– you can get up to 50% off ski or snowboard rental rates. I have been using them for years every year when I go to America  and Europe and they are great!
Already selling some alpine design items for your house. #bringthemountainshome with The-Ski-Guru HOME and put a smile in your face. These are hand-paintings done by me, applied to cushion covers, coasters and mugs.
Something more to read in this blog
Please follow and like us: