EcoSki- a new way to think about ski clothing
EcoSki is a new concept that will help people to change the way to think about their ski clothing. Their aim is to stop unnecessary purchases and waste. There is a most cost-effective way of dealing with this.
They aim to do so with four different avenues. EcoSki- a new way to think about ski clothing. 
2. Rent – this will be a new project that will go live any time. It will feature a full range of high performance items. Brands such as Patagonia, Ortovox, Mammut, Picture and Amundsen. Items will range from socks and water bottles to ski jackets, pants and mid-layers. Not to forget also about avalanche safety equipment. EcoSki will sterilise between uses (
O Zone Treatment
). This will work in conjunction with My Wardrobe HQ.
3. Buy New but Buy Better. Do so from responsible brands. These are working to reduce their social and environmental impact. You will have the option to trade in when you no longer need them. They will then sold again preloved.
4. Buy Preloved. EcoSki will repair and list any items you don't need anymore. They will then go again and list it on their preloved page (
Ecoski'd
). At this moment you can find the preloved stock on Instagram. They soon will have their own website. EcoSki works also with
Bluebird Exchange
and will start working with
WhoSki.com
. Both companies specialised in Preloved outdoor wear.
The idea behind EcoSki is to change the "Make-Take-Dispose". The new way should be a full circular life system.
Right now they are thinking how it will be the end-of-life of products and are looking at options.
How EcoSki was born.
EcoSki- a new way to think about ski clothing. 
This is the brainchild of Rachael Westbrook, a keen skier and mum of three. When taking her family skiing for the very first time she needed to upgrade her skiwear of 20 years old.
She found what some brands, such as Picture Organic, Icebreaker and Patagonia were doing to be responsible
.
Protect our Windows' opened her eyes to the environmental and social impact of the winter textiles
EcoSki will donate 1 percent of net proceeds of each sale to 1% For the Planet.
This organisation supports four charities: Protect Our Winters, Ghost Fishing UK, Root and Branch Out, and the Leicestershire and Rutland Wildlife Trust
.
EcoSki's ambassadors. EcoSki- a new way to think about ski clothing
EcoSki's ambassadors are Martin Hartley, a photographer and polar explorer. Also Chemmy Alcott, renown in the ski world, as she is an Olympic skier turned into TV presenter. Both will donate items for auction, from which all proceeds will go to 1% For the Planet.
Chemmy says: "I am
truly
honoured and excited to be working with the incredible team at EcoSki.
I had never
really
appreciated how impactful our clothing choices were on the environment
.
I still have a lot to learn but I am looking forward to helping support and promote inspirational brands while also having an avenue to 'give back'
."
Martin has
witnessed
first-hand
just
how
quickly
the planet is responding to global warming and the effect of the clothing industry
. He says: "I am so proud to support EcoSki and all they are doing to help keep our hard-wearing kit in circulation.
Helping skiers to opt for more natural choices with base and midlayers, and encouraging people to
really
understand the impact man-made fibres have on the environment is
truly
fantastic
."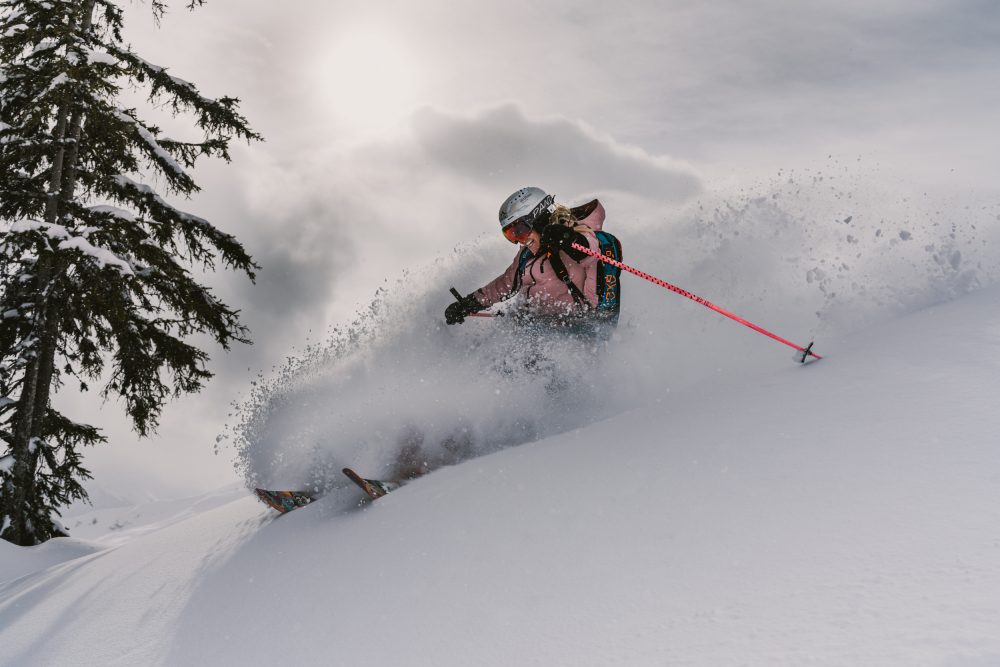 In compiling its stock and scrutinising brands — which include Patagonia, Picture Organic, Planks, Marmot, Yuki Threads, Icebreaker, Mammut, Amundsen and Mons Royale — EcoSki works with advisors including fashion stylist Rachel Fortune, founder of the Sustainable Lifestyle Awards and sustainability consultant Lucie Harrild
.
EcoSki founder Rachael Westbrook says: "I am not saying we are 100% sustainable, as everything we produce comes at some cost to the environment, but all the stock meets our baseline
requirement
of being
responsibly
sourced and made, PFC free and/or recycled
. It is what I often refer to as 'kit with a conscience'."
"
Ideally
we want to find a way of giving it back to
be refurbished
and recycled again and again – we take accountability for the kit we sell
. If it's fixable, we will do our best to fix it!"
* Created in 2002 by Yvon Chouinard (founder of Patagonia) and Craig Mathews (founder of Blue Ribbon Flies)
.
1% For The Planet is an international organisation whose members contribute at least one percent of their annual sales to environmental causes
.
Their mission is to 'build, support and activate an alliance of businesses
financially
committed to creating a healthy planet'
. (onepercentfortheplanet.org)
Start planning your next trip!
You can search for your own accommodation in the snow for your next ski holiday through our Accommodation Search tab. Or if looking to stay in the heart of the Mont Blanc Valley in the Aosta Valley, check Il Coure della Valdigne review here. This is our own family home in the mountains, that I am renting out when not using, you can always write me a private message if interested to info@the-ski-guru.com
You can book directly through Airbnb  through this link
If you want to take your family skiing and you don't know where to start, read here. And search for your ski transfers from all airports to the Mountains here. And for those that are like me, that are lazy to cook, you can get your food, even gourmet mountain food delivered to your home with Huski.
If renting equipment (skis or snowboards)  check our agreement with Skiset– you can get up to 50% off ski or snowboard rental rates. I have been using them for years every year when I go to America  and Europe and they are great!
Already selling some alpine design items for your house. #bringthemountainshome with The-Ski-Guru HOME and put a smile in your face. These are hand-paintings done by me, applied to cushion covers, coasters and mugs.
Note: We are bringing shopping capability to this site. This free shipping is only to the United Kingdom. Different shipping rates apply abroad- please contact me for details.

Customers from the EU please note

; From 1st January 2021 if are buying products, you are responsible for the payment of import taxes, customs fees and any local taxes payable to the tax authorities in your own country when your order arrives in your country.

Also check my Contrado Store, with lots and lots of items added weekly!
Shop at the Contrado Store of The-Ski-Guru HOME for great presents for all those mountain lovers in your life.
Something more to read in this blog
Featured Image: Chemmy Alcott is charging down the mountain on skis. Chemmy is an ambassador of EcoSki. EcoSki- a new way to think about ski clothing. Photo: EcoSki.
Please follow and like us: