Skyway Monte Bianco. Courmayeur Mont Blanc announces new sustainability strategy to 'save the glacier'
Skyway Monte Bianco, part of Courmayeur Mont Blanc announces a new sustainability strategy. The aim of it is to 'save the glacier'.
Skyway Monte Bianco is a unique
rotair
cablecar that reaches 3,466 and takes you in two steps.
Skyway is the first company proposing an environmental sustainable project to preserve the Mont Blanc glacier
.
The cablecar Skyway Monte Bianco unites the Italian Alps to the French. Therefore, the idea of this project is to create a plan that is social and friendly to the environment.
This article may contain affiliate/compensated links. For full information, please see our disclaimer here.
The Skyway Sustainability Initiative
Skyway has curated this report out of a three-years' study. They have formed the
Save the Glacier project
. They started by cleaning up an area of he Gran Flambeau glacier. Here there were many signs of human damage left behind. Partnering with the technicians operation and the Grivel, they retired twenty tons. Scrap and iron materials taken downstream to dispose with safety.
After studying how glaciers are suffering, Skyway wants to take concrete actions. This will be in form of green-certified supplies. Skyway intends to reduce waste volume. These will also reduce energy sources and emissions and water. The idea is to have a green consortium.
"Glaciers are the most immediate evidence of climate change.
The highest glaciers in Europe are those of Mont Blanc and the forecasts, if confirmed, say that they will be among the last to die out
.
To preserve them we need to work together and act
sustainably
, so that we can all continue to treasure and enjoy these mountains for centuries to come
." President of Skyway Mont Blanc, Federica Bieller.
Energy sources –
Skyway Monte Bianco. Courmayeur Mont Blanc announces new sustainability strategy to 'save the glacier'
The buildings' windows of the cable car collect the heat and avoid dispersion. The three stations have radiant floor and wall panels managed by electric heat pumps. Skyway does not burn fossil fuels. This helps to reduce it's CO2 emissions. The energy that is not self-produced by Skyway, comes from a network. This network guarantees they produce the energy 100% of renewable sources.
Water
–
Skyway Monte Bianco. Courmayeur Mont Blanc announces new sustainability strategy to 'save the glacier'
There are free water distribution. Employees receive thermal bottles so they don't use plastic. These bottles are a tribute to the Ferrino company. This company has always paid attention to sustainability issues. They will also be on sale at the Skyway Boutique at Pavillion. Glass bottles with micro-filtered water were also placed on the alpine buffet.
A green consortium –
Skyway Monte Bianco. Courmayeur Mont Blanc announces new sustainability strategy to 'save the glacier'
These people and companies are in favour of this green initiative:
Valeria Ghezzi. President of Anef, National Association of Cableway Operators. Also of the Assessors of the Aosta Valley Region.
Through this research, Skyway hopes that others will want to join in this type of project.
The Skyway Monte Bianco Experience
–
Skyway Monte Bianco. Courmayeur Mont Blanc announces new sustainability strategy to 'save the glacier'
Skyway Monte Bianco
is much more than a cableway to look above the clouds. It's an idea: drawing man closer to the mountain and sky.
The cablecar is part of a story that began in the 1930s. Count Dino Lora Totino, part of a family of wool industrialists in Biella thought of this. He loved the mountains so kept on going to the Aosta Valley and its trails. And it was during one of these excursions that he had a visionary idea. Why not uniting two neighbouring countries through the sky? He thought that uniting Courmayeur and Chamonix will get Italy and France closer. The cablecar has to stop it's building during the Second World War. It continued its construction and opened in 1947. This allowed everyone, not only expert mountaineers, admire the Mont Blanc up close.
The new cablecar Skyway.
Skyway Monte Bianco. Courmayeur Mont Blanc announces new sustainability strategy to 'save the glacier'
The new cablecar came in 2015. Now it enhances the customer experience whilst ensuring the highest safety standards. It is a work of art to visit, as its construction, of steel and glass is impressive. I recommend it. Being twice with my mother and husband and kids. I want to go back! With four spherical rotating cabins, you can have 360° panoramic views of the peaks. From the Monte Cervino, Gran Paradiso, Monte Ros and Combin. And also the Mont Blanc. From the top in the Punta Helbronner station, at 3,400 meters you can set to ski off-piste. You have the choice to go down to Courmayeur or get to ski the Vallée Blanche. Please hire a mountain guide, as even the descent is not too difficult, it has technicalities. An example is crevasses, you need a guide to tell you the way down.
Skyway has lots to offer to the visitors. From the most unforgettable views, but also an historical museum. You can enjoy relaxing at the sun terrace, taste mountain delicacies or wine at the Cave Mont Blanc. This is the highest altitude wine in Europe you can taste. Skyway hosts "New Moon" parties, also cinema screenings at an auditorium for up to 150 people.
The Feltrinelli bookshop is also at Skyway. I recommend you to stop in the intermediate station and acclimatise before going all the way up! At least that was my experience when I've visited three years ago. I do hope I can go up soon!
+39 016589196) start from £25 / €28 on a return basis.
Where to Stay in Courmayeur near the Skyway Monte Bianco.
If going up Skyway is your main aim of your trip, I would stay at Entrèves to be nearby. You could actually walk to the lift! And there you are well placed to take the Val Veny cablecar up the main ski area of Courmayeur.
Remember that Courmayeur Mont Blanc has two separated sections. One is the main mountain, which itself has two sides, the Chècrouit and the Val Veny sides.
The Chècrout side is accessible via the Armani funicular in town, and by the Dolonne cablecar (from Dolonne)
. To get to the Val Veny side is better to park by the Val Veny big cablecar. Then you have the Skyway Monte Bianco rotair big gondola. This lift takes lots of guests up that do not ski, that go to enjoy the views and see all what Skyway has to offer. And then you have the skiers that go down back to Courmayeur or to Chamonix via the Vallée Blanche. Or, you have the option (closed in winter) of taking the Panoramic Mont Blanc lift to Aiguille du Midi. From Aiguille du Midi you have more uninterrupted views of the Alps. Some people ski down (again with mountain guides) or take the Aiguille du Midi funicular down. And then you are in Chamonix, France. If you finish in France, you can always take a bus back to Courmayeur. SAVDA and Flixbus offer this service.
Hotels to stay near the Skyway Monte Bianco in Courmayeur Mont Blanc.
Skyway Monte Bianco, part of Courmayeur Mont Blanc announces a new sustainability strategy. The aim of it is 'save the glacier'.
One of the favourites hotels in Courmayeur, located in Entrèves. Walking distance to both the Skyway (350 yards) and the Val Veny lift (400 yards). It houses a great spa and restaurant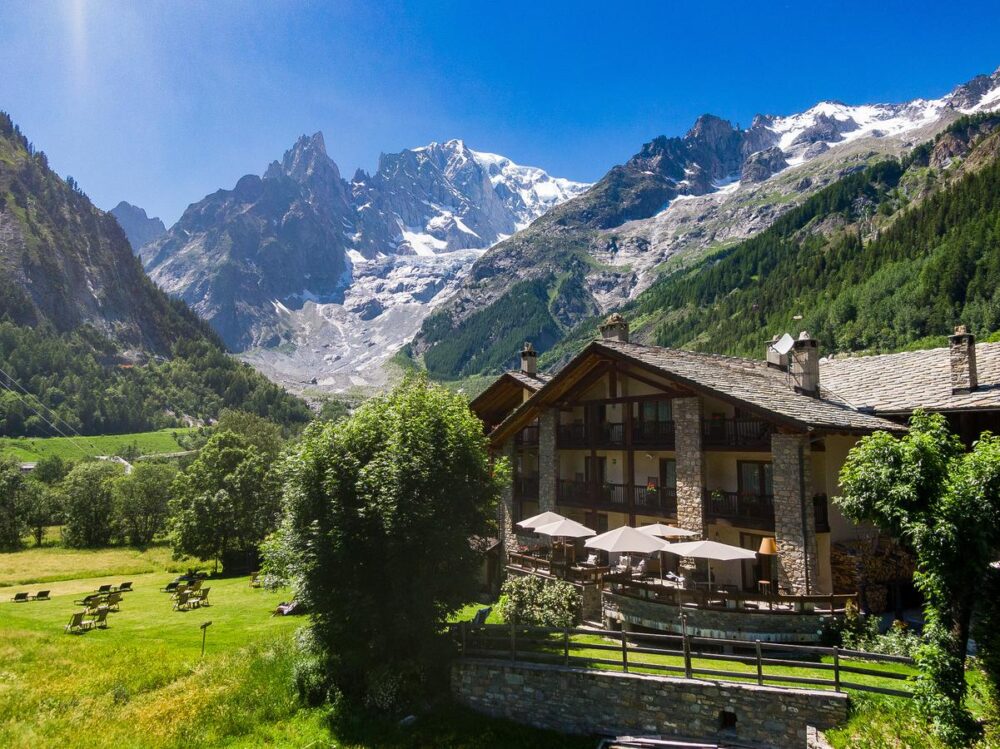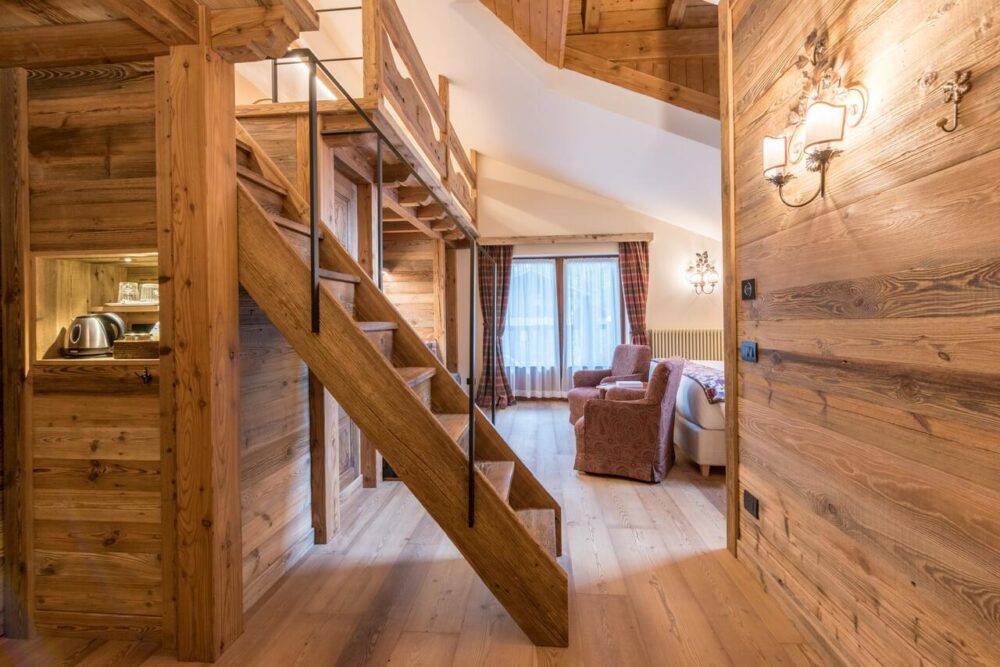 Also in Entrèves, is 500 yards from Skyway and 350 yards from the Val Veny lift. It has a small fitness center and a sauna that one can book. It
is decorated
in mountain style with lots of wood and stone.
A buffet breakfast is available every morning.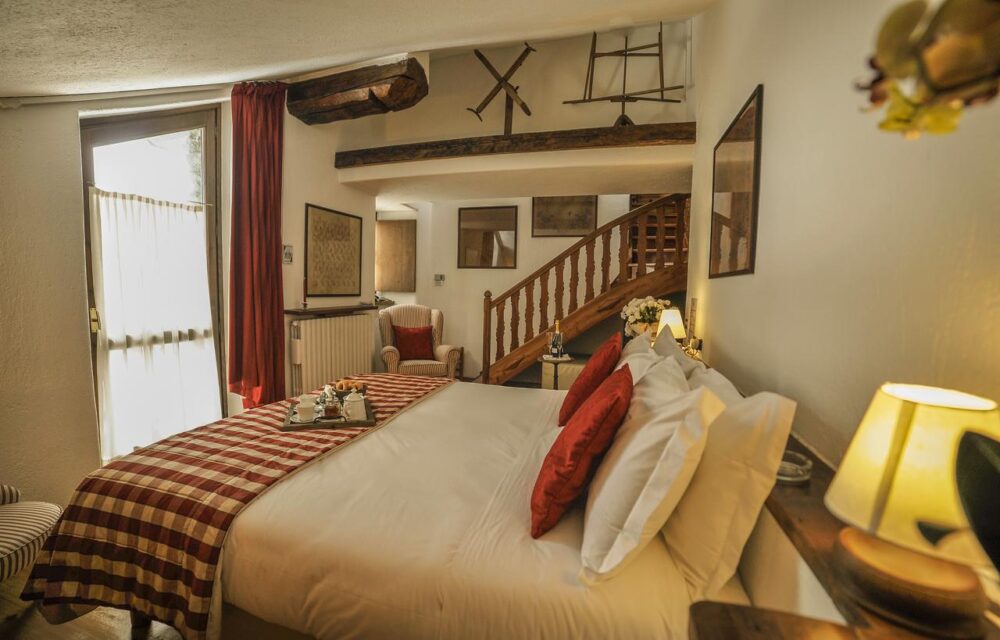 This is a new addition for Courmayeur as from last year. A 4 stars hotel, pretty clean lines, as chain hotels are, with a restaurant and bar. It offers also a fitness centre and a sun terrace.
Located 750 yards from Skyway Monte Bianco and 400 yards from Val Veny lift.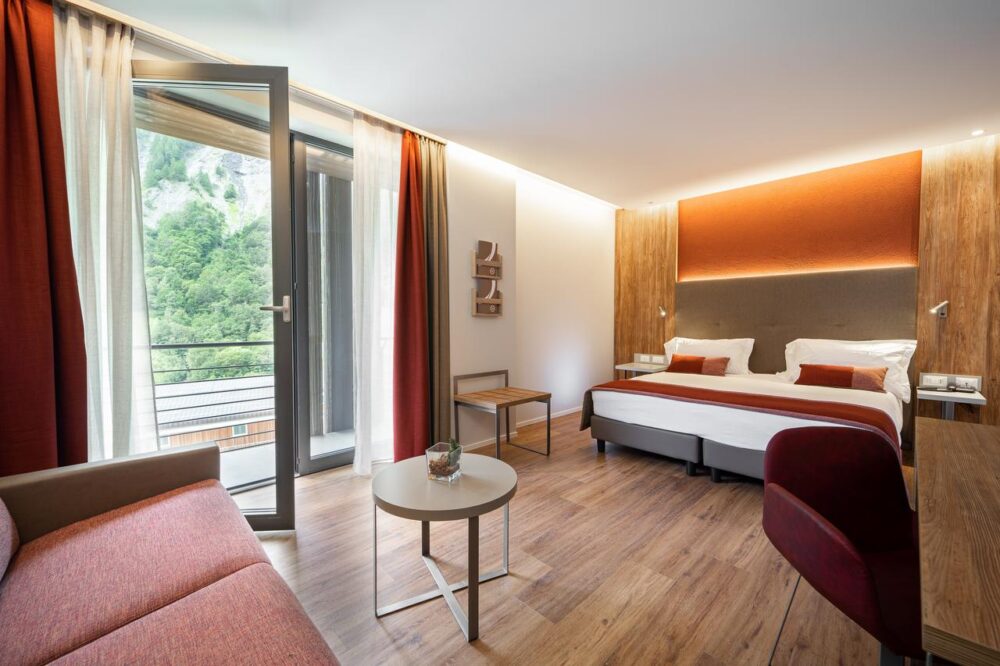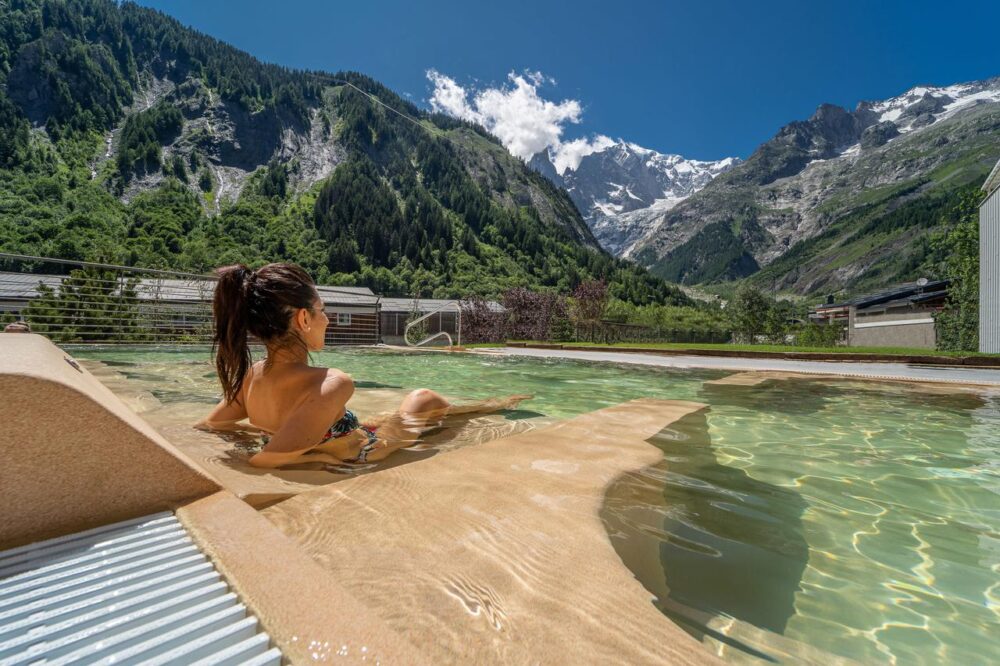 Or if you don't mind to be 10′ from Courmayeur down the road, stay at my home in the mountains – 2 bedrooms, 2 bathrooms. Four people very comfortable, could take up to six if somoene sleeps in the lviign room.
You have the bus stop 200 m from the apartment, to go to either Courmayeur, La Thuile (changing at Prè-Saint-Didier) or Pila/Aosta
. The flat offers a garage box for your car, so you can drive there. 10′ to Courmayeur, 20 to La Thuile and 30′ to Aosta/Pila. A great place to base yourself for a ski safari!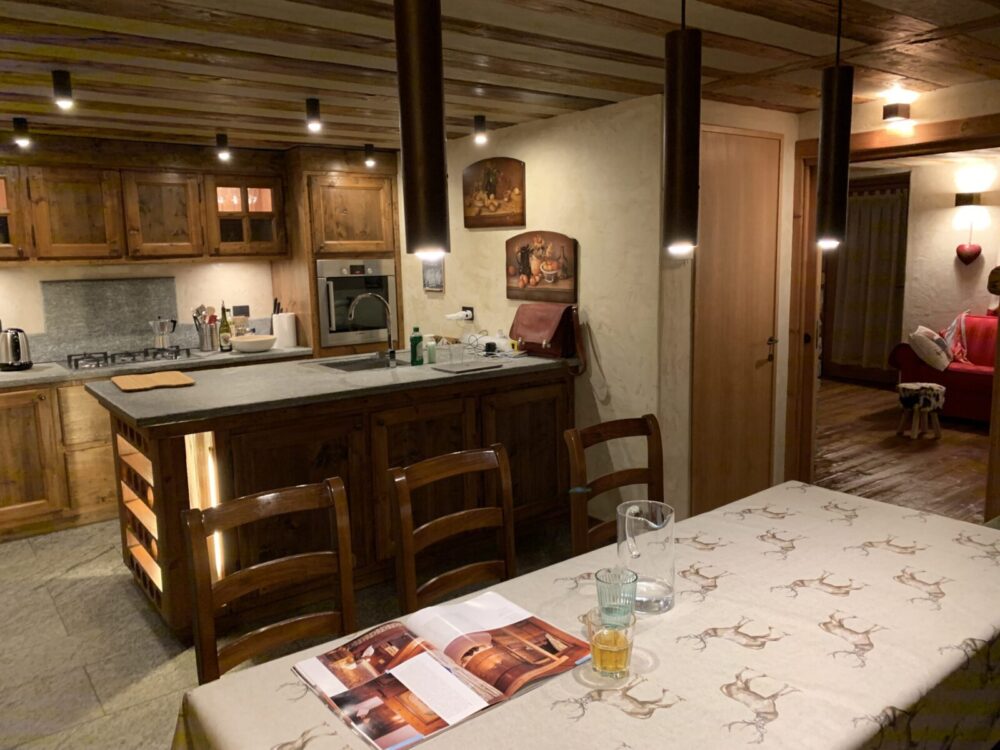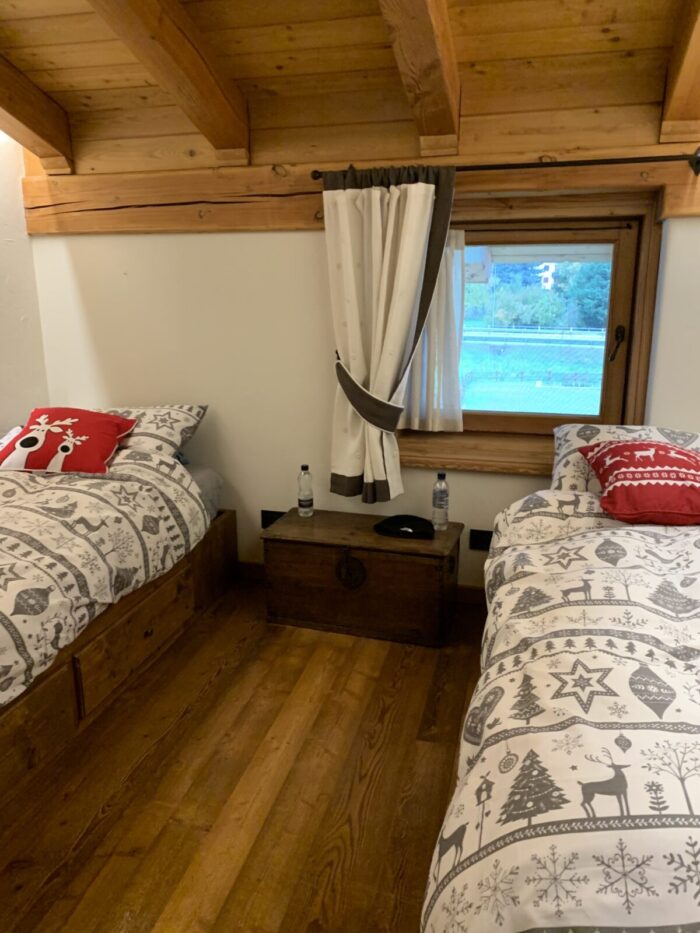 Start planning your next trip!
You can search for your own accommodation in the snow for your next ski holiday through our Accommodation Search tab. Or if looking to stay in the heart of the Mont Blanc Valley in the Aosta Valley, check Il Coure della Valdigne review here. This is our own family home in the mountains, that I am renting out when not using, you can always write me a private message if interested to info@the-ski-guru.com
You can book directly through Airbnb  through this link
If you want to take your family skiing and you don't know where to start, read here. And search for your ski transfers from all airports to the Mountains here. And for those that are like me, that are lazy to cook, you can get your food, even gourmet mountain food delivered to your home with Huski.
If renting equipment (skis or snowboards)  check our agreement with Skiset– you can get up to 50% off ski or snowboard rental rates. I have been using them for years every year when I go to America  and Europe and they are great!
Coming soon, a new line of furnishings for your mountain home, or for your home outside the mountains, just to have a bit of the mountains in it. These are hand-paintings done by me, applied to cushion covers, coasters and mugs.
Something more to read in this blog
Please follow and like us: